The eCommerce industry is one of the fastest growing rates markets out there. As such, if you're an e-commerce business, it's essential that you're aware of the best ways to go about promoting your business if you're going to remain competitive.
The pandemic has played a major role in the growth of eCommerce over the past few years. And despite the world slowly returning to normal, that hasn't stopped the meteoric rise of eCommerce.
A recent article by Shopify stated that in 2022, eCommerce is expected to generate $5.5 trillion in sales worldwide.
Unsurprisingly, that makes eCommerce an incredibly competitive industry and one that's not easy to break into, let alone thrive. One of the keys to being able to do this is embracing effective email marketing solutions. 
Email marketing is one of the most cost-effective, value-for-money forms of marketing.
As much as 87% of marketers find it useful to use email as a distribution channel and say that it's something that many of them are doing to drive traffic. Given some of the many benefits of email marketing, it's not hard to see why.
These range from:
Emails are regularly checked
An Adobe study of email usage found that US adults spend up to five hours a day checking their emails. That's an incredible opportunity to have your campaign get seen by its target audience. 
With various countries offering different restrictions on social media, email marketing is one of the most broadly accessible marketing solutions out there. As it stands, there are almost seven billion email accounts in existence. That's a lot of potential customers.
For marketers working on a budget, email is one of the most cost-effective solutions out there. Not only is the technique itself relatively easy to use and understand, but email marketing tools and software are often cheaper than you'd think. This is because they will also need remote work software for their team, communication tools, a DMARC checker for security, and other paid solutions.
If you've ever interacted with an eCommerce business, you've no doubt experienced the effect great email marketing can have on you. 
From following up for feedback, advertising promotions, and building brand loyalty, having an effective email marketing solution can go a long way to ensuring your eCommerce business is a success.
5 Effective Email Marketing Solutions for Your eCommerce Business
ECommerce is an incredibly fast evolving and competitive industry. If you're able to get your products in front of potential customers, you're guaranteed to grab a piece of what's becoming one of the world's most profitable pies. 
Using one of the 5 email marketing solutions below can help ensure you do just that.
Most powerful: ConvertKit
If you're a marketer or blogger, you're going to love Convertkit. 
When it comes to options, Convertkit offers a large amount of flexibility while you go about implementing your marketing strategy.
Offering powerful, helpful time-saving automation to help improve overall productivity, as well as create customer funnels to create flexible email campaigns, Convertkit is a great option for marketers looking for in-depth solutions.
Convertkit is able to offer incentives and upsells using email signup forms used throughout your website. It can also maximize the value of your sales funnel by segmenting subscribers in terms of current and potential customers so you know exactly how to go about targeting them. 
Combining this with knowing how to check email validation in Angular can ensure you're able to make sure your email leads are real, and potential clients can massively improve the effectiveness of your email marketing.
Offering everything from A/B testing to landing page builders and smart workflows, Convertkit is guaranteed to have your team operating as productively and efficiently as possible.
Most user-friendly: Flodesk
Flodesk is one of the best, most user-friendly, and customer-centric email marketing solutions out there. 
If you're looking for Convertkit alternatives, you don't get much better than Flodesk. 
Clean, with an email builder that's easy to navigate and use, it's got everything you need to effectively target your mailing list and get the most out of your subscribers.
Flodesk also provides content generation as well as lead generation tools to help you not only promote content but make sure it reaches the right users. 
It also offers useful analytic tools to ensure your email marketing is as effective as possible. One of these is by offering features such as a double opt-in feature to ensure your leads are quality ones. 
More than that, Flodesk offers a variety of well-designed templates, forms, personalization options, and even A/B testing to make sure your marketing campaign goes off without a hitch.  If it does, try combining Flodesk with the incredibly useful user tracking software from Watchthem.live and you'll know exactly why your subscribers didn't convert to customers.
And for the moments when your subscribers miss your carefully crafted, intelligently targeted, and detailed emails? Flodesk even offers a feature that allows you to resend emails to anyone who hasn't already opened it.
Most comprehensive: Hubspot
No list containing marketing solutions of any kind would be complete without including Hubspot and its various software solutions. 
So it's no surprise that they've earned a spot on this list, especially for their incredibly comprehensive email marketing tools.
Since Hubspot's email marketing tools are linked to their incredibly powerful and well-developed array of tools from their CRM, sales tools, live chat assistance, website builders, and so much more that Hubspot simply can't be ignored. 
The fact that all of its tools integrate seamlessly with one another is just one more reason to go with their solution. Integrating its email marketing solution with Hubspot's CRM enables you to personalize emails for specific subscribers which helps them feel valued and unique. This can even be specific to their country or device.
In addition to those personalization tools, automation tools are included as well as an easy-to-use, "drag-and-drop" interface. This makes it so that even amateur email designers can use their software to create creative, unique-looking emails. Meaning you can be as brand specific as possible!
One area where Hubspot does tend to slack is its ability to harness social media to generate leads. Luckily, services like Ainfluencer.com can provide you with niche, influencer-based marketing to help boost Hubspot's already incredible array of services.
One of the most useful things about choosing Hubspot is its free subscription plan which allows you to send as many as 2,000 emails as well as store an unlimited number of subscribers. 
Having that kind of free capabilities, when combined with their already robust CRM platform enables you to have a holistic solution to all your marketing needs.
Most popular: Mailchimp
Mailchimp is the number one solution for email marketing services online. At least in terms of sheer popularity.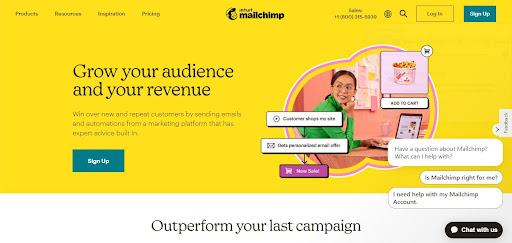 As far as solutions go, Mailchimp has everything an eCommerce business requires. From an easy-to-use drag-and-drop email builder, in-depth analytics, and vast integration capabilities.
Whether you're running your business through WordPress, Shopify, or even Magento, Mailchimp is capable of some incredibly smooth and efficient integrations. In addition, another cool feature of Mailchimp is its ability to schedule delivery times based on the user's time zones which helps ensure you get them at the moments they're most likely to see your email.
Due to Mailchimp's incredible popularity, they're able to provide a network of comprehensive support that few email marketing solutions can compare to. Between email, live chat, and various tutorials, help is only ever a click or two away.
For budget beginners: Constant Contact
Constant Contact is one of the most cost-efficient, bang-for-your-buck email marketing solutions out there.
Whether you're a small business,  non-profit, or a blogger that's just starting out, Constant Contact is perfect both power-wise and cost-wise. They've got a great variety of templates, and training materials as well as a fantastic support team that makes it easy to learn and adjust on the go.
They're perfect for users that don't have all the technical know-how in the world because they provide an intuitive dashboard with user-friendly, easy-to-access features. This enables you to provide your subscribers with an email marketing campaign that's as creative and well-designed as any solution out there.
Constant Contact is a simple yet effective solution that's perfect to help get a budding marketer or company going in terms of creating successful email marketing solutions. 
Final Thoughts
eCommerce is well on its way to becoming a massive source of sales for any business. According to Shopify, by 2025, sales as a result of eCommerce could amount to just under $7.5 trillion a year.
Ensuring that you do everything you can to be a part of this boom is essential if you want to remain competitive. That means making sure that you've got the most effective marketing solutions to engage with your subscribers and turn them into regular buyers.
Failing to consider embracing these solutions because email marketing is supposedly a "dying" technique, is not only untrue, it's a dangerous idea to base the future of your business on. Email marketing is not only effective, it's one of the most effective marketing tools out there. 
In fact, contrary to popular belief, some reports say that when it comes to actually driving sales, email marketing is more effective than social media!
With an ROI of $36 per $1 spent, you'd be hard-pressed to find a better solution for your business.
Not only is email used all over the world, but the number of people with email accounts is also growing every day. That's a powerful force that any eCommerce business looking to thrive in the future needs to invest in in order to successfully invest in their own future.