Promoting your services or products in a market of cutthroat competition can be challenging! As an entrepreneur, you must be knowledgeable about marketing your goods to consumers. Consequently, you already know how to pitch to other companies.
B2C and B2B, however, involve two separate procedures. While discussing growth strategies, people think you are talking about B2C. Efficient B2B marketing is challenging to get right! Amid budget constraints, innovative demands, and channel decisions, today's marketers juggle a lot while creating their marketing strategy. According to Statista, 41% of B2B companies prefer in-house marketing activities, and a quarter of B2B companies assign only 5% of their entire budget to marketing. 
Compared to marketing to individual customers, marketing to businesses is substantially distinct. B2B marketing is a unique marketing strategy, which is also, why we created this guide. Let us explore the best B2B Marketing Strategies and more!
What is B2B Marketing?
B2B marketing is one of the best business processes for marketing its services or products to another business. When the output of one firm is necessary for the operation or maintenance of another company, business-to-business marketing is indispensable. Some of the leading B2B marketing examples include:
A commercial construction firm tries to market and build a strong contract to build office space for a law company.

An oil & gas supplier is the target market for an industrial pump company's marketing and sales efforts.

A construction firm is the target market for marketing and sales efforts by a large machinery dealership.
The main motive of B2B marketing is to make every business well acquainted with your brand name and your product is worth and convert them into regular customers.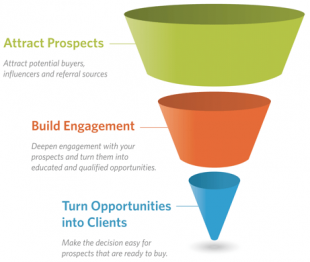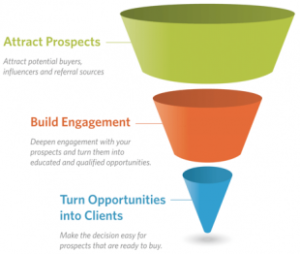 B2B Marketing Strategies
As we have already defined what B2B marketing is, let us discuss the five best B2B Marketing Strategies, which you can implement to assist your company in being successful in the competition: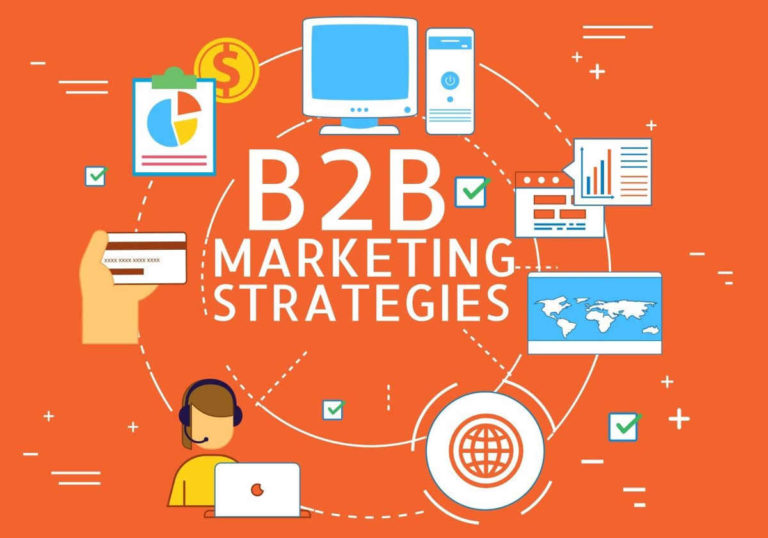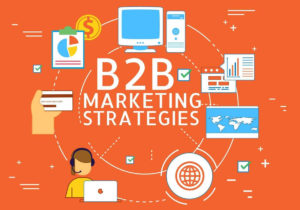 Do Your Research
Research is the cornerstone of every contemporary marketing endeavour. From brand to marketplace research, in-depth scientific studies will assist you in making decisions that are more knowledgeable. They will offer you a factual foundation for your marketing efforts as well as provide you with useful starting points for gauging your success.
With detailed research, you will get to know your clients, which will be conducive to serving them better. Conducting in-depth market research is one of the well-known B2B Marketing Strategies, giving you the perception of your undertakings' performance. 
The impact of research is apparent, which means the firms that perform methodical research on their prospects and existing customers develop 3 to 10X faster and gain 2X more profits than their competitors. 
Focus on the User Experience and Interface
It is known as UI and UX, which are the two major aspects of taking a customer from acquisition to buying a product in a hassle-free way. It is your responsibility to ensure the journey is straightforward for the user and their experience is extraordinary, something they must never forget.
An emphasis on UI/UX, as Conrad from GrowHacks points out, may truly make an impact in drawing more people, retaining them around, and turning them into paying clients.
Apple is an organization that pays much attention to UX/UI and is an outstanding instance focusing on UI/UX. These twos likely serve as the two main drivers of their goods and the manner in which they have developed their organization.
Build Trust on Your Site
Trust is one of the most crucial factors allowing website visitors to have a strong opinion about your business. You need to move your site to an HTTPS platform. It will secure the correspondence between the visitor's browser and your site's server. In case you have several domains and subdomains, you must not worry! An SSL certificate is enough to save your website from potential hackers. Moreover, a website can go with an EV SSL certificate where it requires higher authenticity and validation. Such websites deal with large transactions on daily basis.
Search engines like Google have made the need for SSL certificates mandatory by labelling non-HTTPS websites as "Not Protected." Even surveys have revealed that 90.2% of Google surfing time is spent on HTTPS sites. Non-HTTPS websites cause people to leave your website and browse your competitors; they never return to your page.
Optimizing for Search Engines
Your target audience must find your website, and here SEO comes into play. Additionally, it has been seen in the most recent iterations of the High Growth Study that stronger SEO expertise appears to be associated with a greater percentage of online leads. The fact that digital leads typically require fewer resources to produce suggests that greater SEO maturity and higher profit margins are related, according to the same study.
Try Inbound Marketing
Inbound marketing aims to increase traffic to your web page by developing a customer-focused marketing plan and participating in online discussions. You may start by generating content that can be downloaded from your website instead of giving you their email ID. Twoodo said that the forms of content that create maximum B2B leads are slideshare, eBooks, and webinars. They must be well connected to what you provide and educational and have an authentic need to assist people.
You will quickly get a suitable lead when a person obtains the program and enters their personal information. After some days, you can contact them by phone or email to check if they are curious about developing a profound working relationship with you. 
Conclusion
Do you know numerous strategies are available for business expansion? Some of them may have displayed greater awe-inspiring performance for specific organizations than other organizations. Therefore, opting for an argument or perspective that will resonate most powerfully with the demographic depicted at the article's outset. Following this will help you stay laser-focused and succeed. 
We firmly believe you should not invest even a single penny in something that cannot ensure a return on investment. Thus, there is no use in haphazardly attempting various strategies and tactics without a clear, focused plan and approach.