Instagram is currently one of the most popular social networks in almost the entire world; it stands out for its engaging and fun features. In general, this social network is managed from the mobile application, which is why most users usually log in and then leave it open all the time, which can cause them to forget their password and make users change their Instagram password. 
Instagram users can search for people and upload photos without any type of limit, upload stories and share them with their followers, or use Instagram to expand their business and bring brand awareness through this social media platform.
Therefore, if you happen to log out of the app, or if you have created an IG account and for some reason, you stopped using it, it is possible you do not remember the username or password. 
In this case, you need to reset your password.
In this article, we are going to show you how to change or recover your Instagram password quickly and easily.
How to change Instagram password on Mobile? 
It is recommended to change Instagram password from time to time, just to be extra safe. Better to be safe than sorry, right? 
So if you already know your current password, you can take the following steps and change it to a new one. 
Take your mobile phone and enter the Instagram app.

Click on the icon of your account (it is the one on the right), and once inside, tap on the three-line icon located in the upper right corner.

At the top, click on "Settings".

Enter the "security" section and then tap on "Password."

Enter your current password and then the new one you want to use in the next two fields. Then click on save located in the upper right corner.

Clever. You already have your Instagram password changed.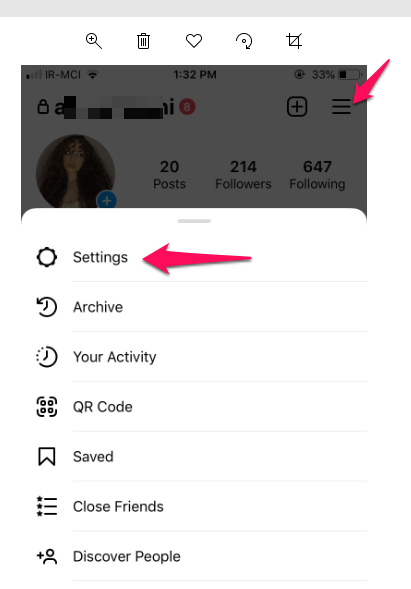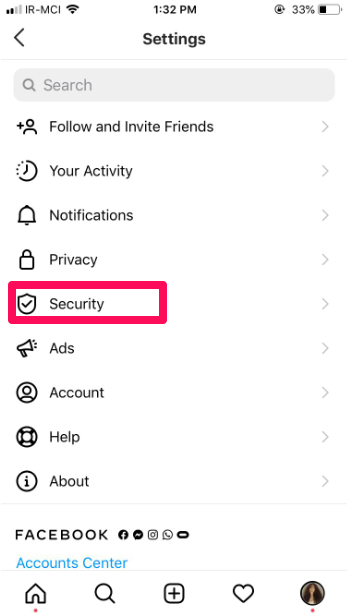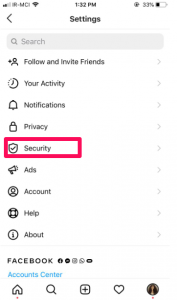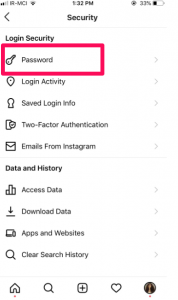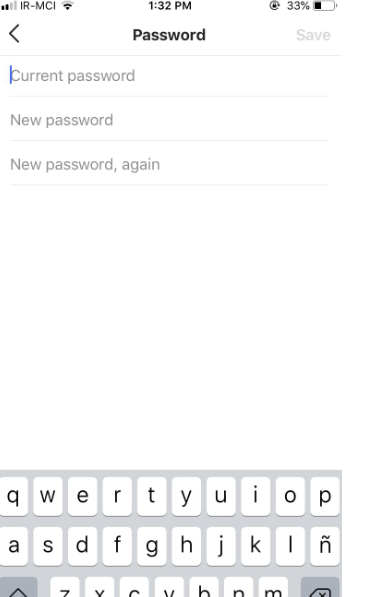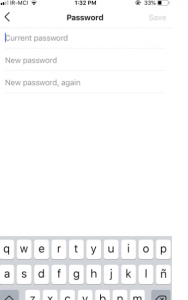 Tip: Enable your Two-factor authentication to be 100% safe.
You'll be asked to enter a special login code or confirm your login attempt each time someone tries accessing Instagram from an unrecognizable device. 
How to change Instagram password on desktop? 
You can also change your Instagram password and make it more secure from your computer. To carry out this process, you must follow the following steps:
Enter your profile on Instagram in the PC version and touch the account settings wheel located next to the "Edit profile" button.

A menu with several options will appear on the screen, the first of which is "Change password." Press there.

Enter the old password once and the new password twice. By confirming, you will have completed the process of changing the password.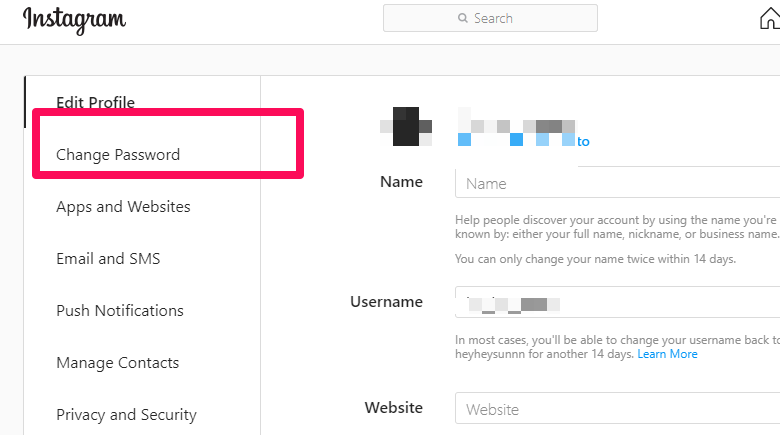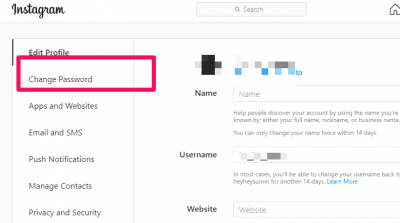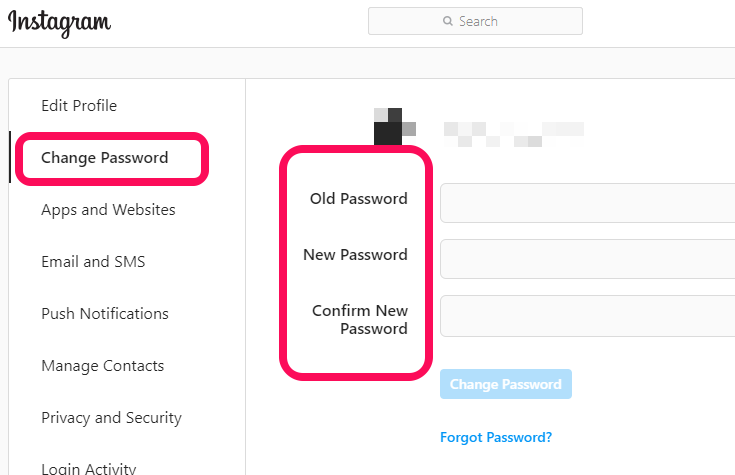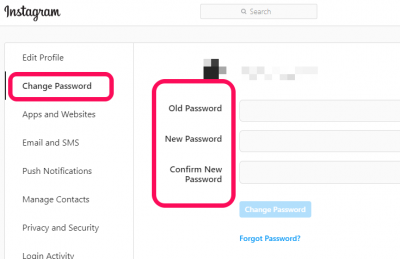 How to change or reset your Instagram password if you forgot it?
If you do not remember your Instagram password and cannot access your social media profile, you can recover your password or simply generate a new one. In this case, IG gives you the ability to reset the password either using your username, phone number, or your email.
Therefore, if what you want is to reset the security key, follow the steps that we will teach you below:
The first thing will be to enter the Instagram mobile application on your monitor.

In the part that says enter "

username

and

password

," you must select the option that appears at the bottom.

Have you forgotten your password?

Now a new window appears where it asks you to write either the username, phone number, or email with which you registered.

Once you have written down any of these three data, you must click on the "Next" option.
Now a new window will open where you have to select the way you want to reach your account. Email or phone, choose what is more convenient for you, easy, and quick to reach.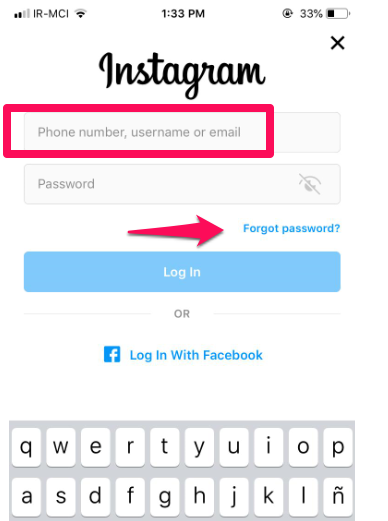 IG will automatically send you an email to your email address, or a reset code to your phone number.
The next thing will be to enter your inbox to continue with the process.
And now like this, your Instagram password will be reset successfully so that you can log back into your account. Once the process is complete, you will be able to share photos with your friends and followers again, enjoying this social media once again.
How to change Instagram password without email?
Do you want to recover the Instagram password directly from your smartphone? 
To get started, launch the Instagram app on your Android, iOS, or Windows 10, or any device, and on the login screen, hit the blue link Trouble signing in? Located at the bottom.

On the screen that opens, click on the Phone tab, type your phone number in the corresponding text field and then tap on the Send link button.

In a few moments, you will receive a six-digit code that will be sent via SMS to the number you have just indicated: enter it in the Confirmation code text field and press the button. 

Now you have just one more step to reset your password.

Type the new password in the corresponding text fields and then press the Reset password button that appears on the screen. 
That's all you needed to do to recover our Instagram password with your phone number in case you had no access to your email.
Conclusion 
In this article, we talked about ways to change and recover your Instagram password in 2021.
It is very simple to change Instagram password or to reset it. You can take notes somewhere to keep your password in mind and keep it in a safe place where no one can see it for security. We have also included the steps to recover your password. It is quite the same for Apple and other devices.