You may wish to delete Instagram posts after some time for respective reasons. 
In addition to this, there are situations in which you need to mass delete or even delete all posts on your Instagram feed. 
Consequently, this might sound a bit time-consuming, especially when you post lots of content on your Instagram, and you have to remember which of them were not supposed to be on your feed permanently.  
However, you don't need to be worried about it as we are going to tell you how all of this could be done automatically or with a single click.  
How to delete Instagram posts automatically?
Today, Instagram tools and generators are popular with marketers because of their features which help them do almost everything automatically on Instagram. And what's more, they can use them to increase their engagement rate and grow their business organically. 
In order words, after using one of the top Instagram tools, you won't have to make yourself busy with doing everything on your own. On the contrary, you will keep yourself busy thinking of new ideas to optimize your Instagram marketing. 
AiSchedul is one of the most effective Instagram tools and generators that makes all your ideas possible on your Instagram business profile. 
For this reason, we recommend using AiSchedul to delete Instagram posts automatically after publishing them. Follow this step-by-step guide to remove a post from your Instagram feed automatically. 
1. Sign up
Firstly, you should sign up for free on AiSchedul.
2. Connect

 
Secondly, you need to connect your Instagram account to its dashboard.
3. Schedule your content to be posted automatically
Next, click schedule on your dashboard. Afterward, you will see a list of where you can post your content, including three sections, feed, story, and IGTV. 
Clearly, regarding our subject in this article, you should choose feed.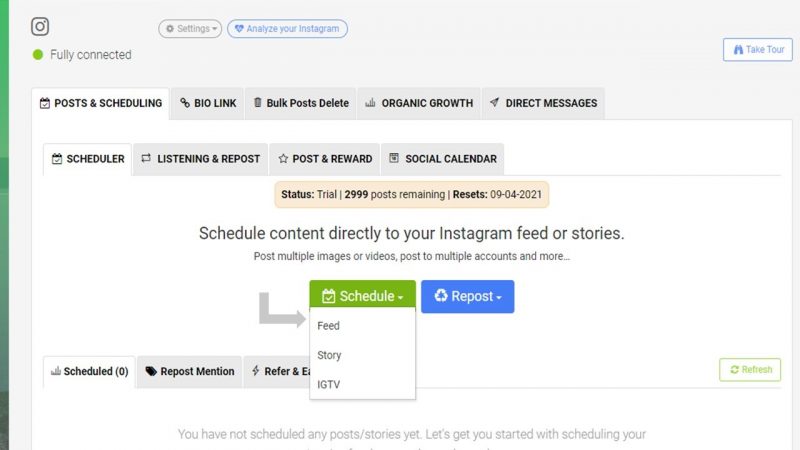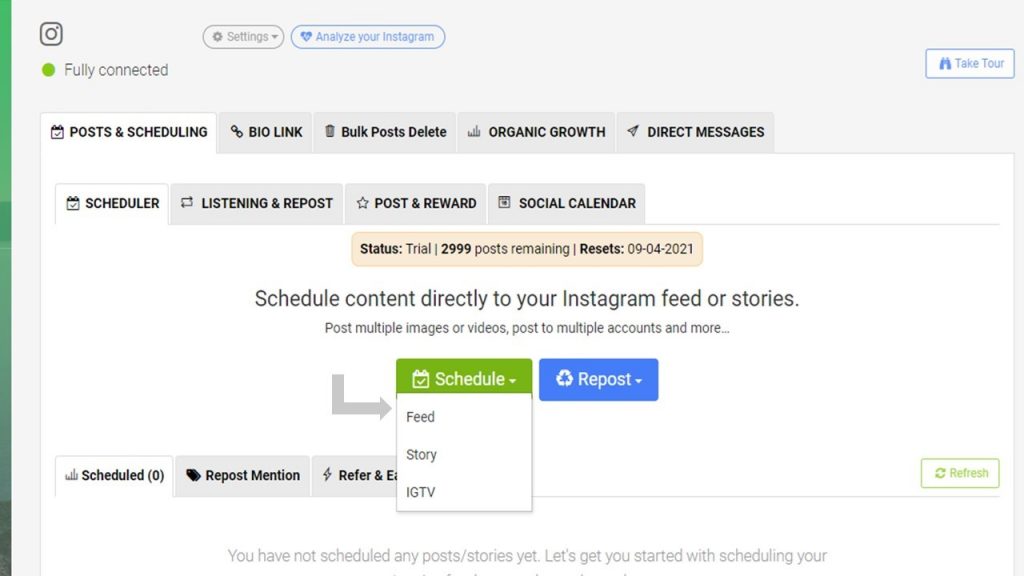 Then you will see a page where you can upload your photos and videos using different methods to either make a usual post with one slide or create an Instagram carousel. 
4. Schedule your Instagram post to be deleted automatically
If you scroll down the same page, you will see different options to consider before setting your calendar. 
You can enter a caption, generate the right hashtags relevant to your post, add locations and decide whether or not you prefer to also post it on your Instagram story. 
Finally, you can tick the option "delete the post after a period of time". Next schedule when you wish to delete the Instagram post automatically after publishing. You can choose any number of hours, days, or weeks.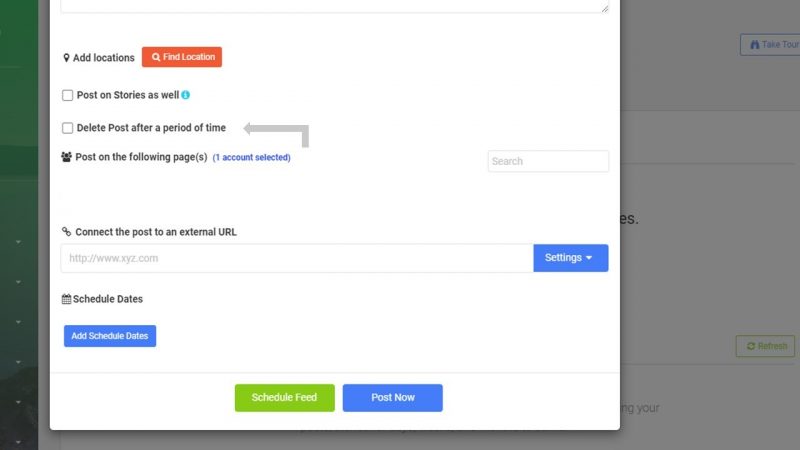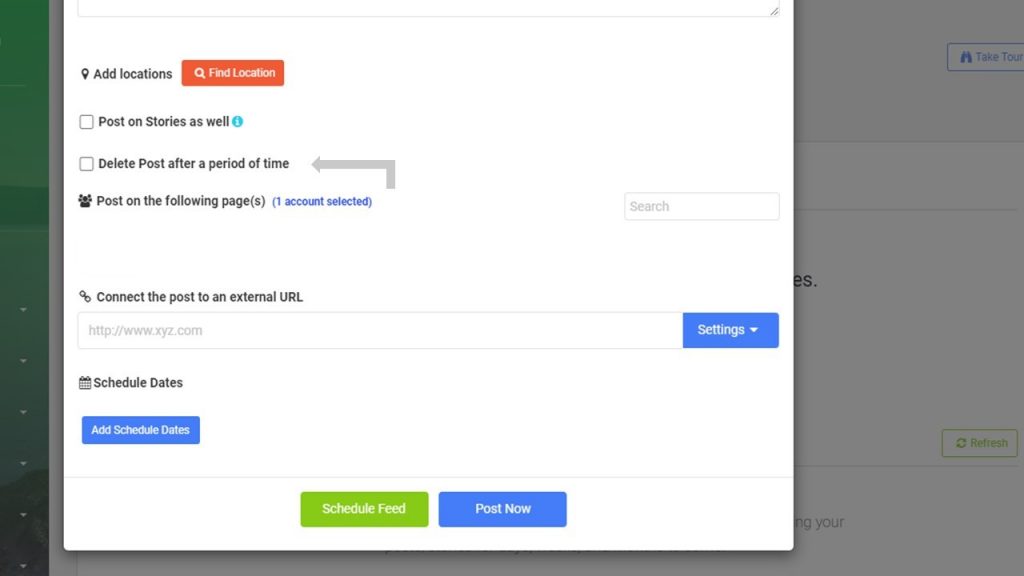 5. Set your calendar 
Now that your content is ready to be both posted and deleted automatically, you should select a date and time on your calendar. Then AiSchedul will do the rest. 
How to mass delete Instagram posts after publishing?
In case you haven't created a post on AiSchedul, but you want to use its feature to delete the post, or if you want to mass delete Instagram posts or delete all Instagram posts, AiSchedul offers another effective feature. 
Here is how: 
After signing up for free on AiSchedul and connecting your Instagram to your dashboard, you can see the option "bulk posts delete.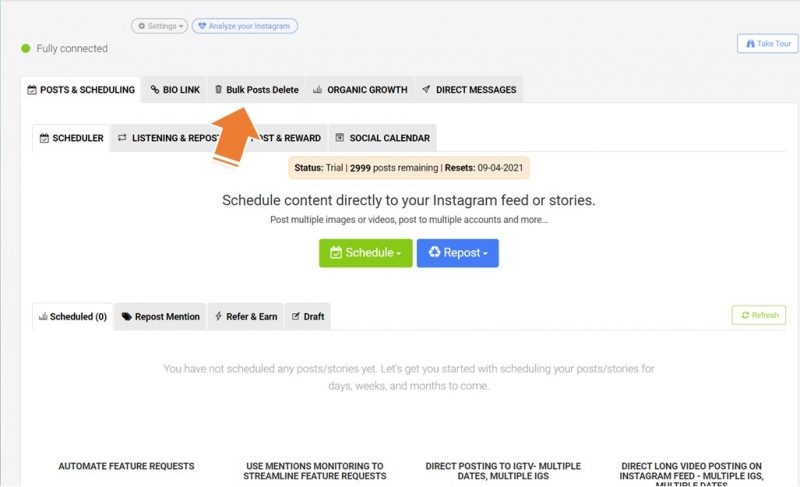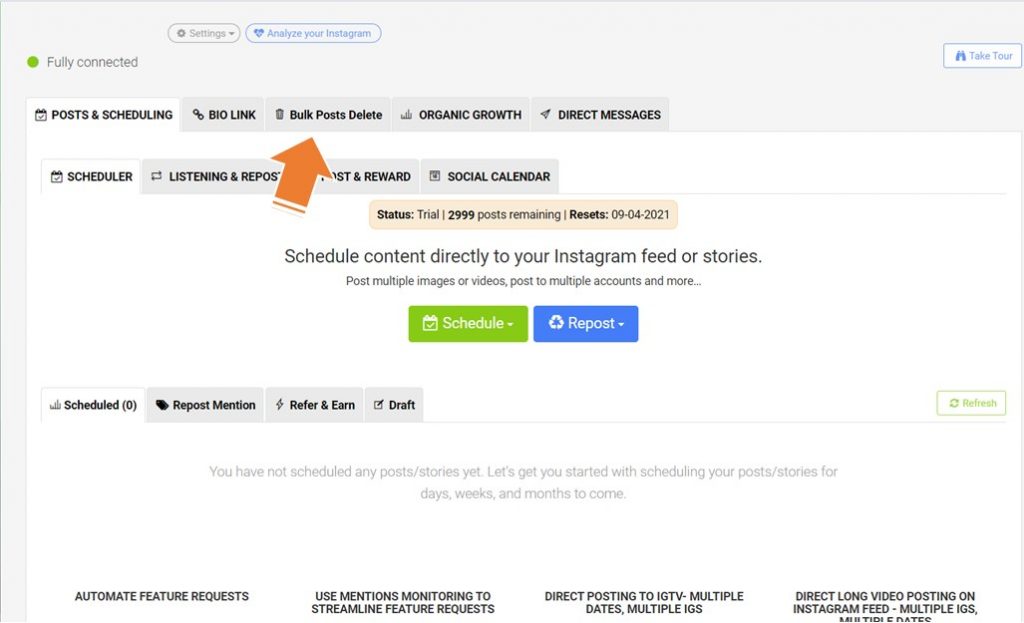 2. Next, you can preview all the posts you have ever shared on your Instagram account. 
3. If you want to delete all of them at once, you should click on the "Select All to Delete" option. On the other hand, if you wish to keep some of your posts, you can mark the ones that are supposed to be removed to mass delete your Instagram posts.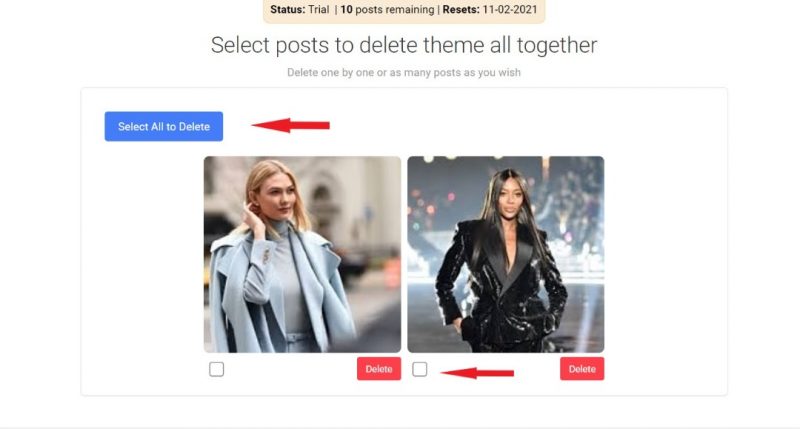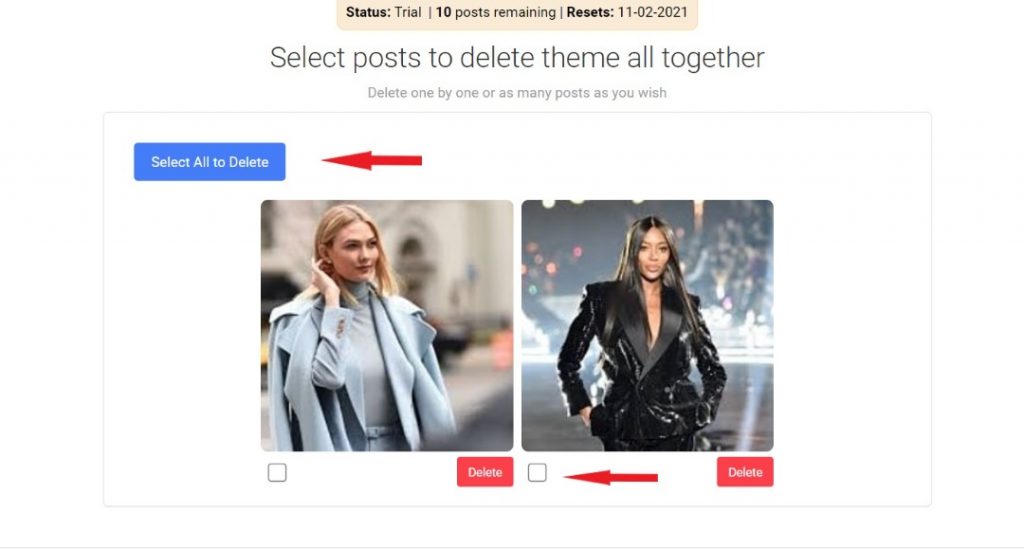 Conclusion
As our fast-paced lifestyle is getting faster every day, there is no room for procrastination and delays. We always look for a solution that is convenient and quick, and if you need to delete one or more Instagram posts we offer AiSchedul so that everything will be done automatically.  
AiSchedul allows you to schedule deleting an Instagram post automatically before you even share it with your audience. 
Additionally, it allows you to delete a post that was not created on AiSchedul, and you can also choose to mass delete or delete all of your posts on Instagram in the simplest and fastest way.