Marketing experts suggest that businesses should use online promotions, contests, campaigns, and giveaways to increase exposure and develop their brands. They can do so using several platforms and Instagram giveaway apps; one of them is Easypromos. With its help, users can manage their audience and use their sites and social media channels to run their promotions.
In this article, we will share with you the most important and reliable information about EasyPromos. To make this article short, clear, and useful for you, we have divided it into 3 main parts: features, reviews, and pros and cons. So read this article carefully to know more about EasyPromos.
Do you want to boost your Instagram reach? Click here.  
What Is EasyPromos?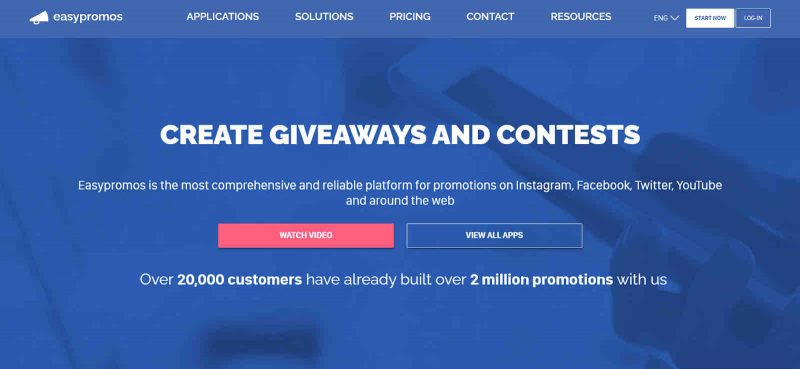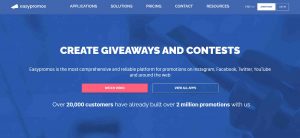 EasyPromos enables businesses of all sizes to create and manage online promotions, contests, campaigns, surveys, and giveaways. EasyPromos is a self-service platform. Customers can collect leads with photo contests or Facebook giveaways and boost engagement with Twitter or Instagram giveaways.
Features of EasyPromos 
EasyPromos has developed a suite of apps that enable you to run sweepstakes, contests, and quizzes, manage your customer or employee loyalty program, and even create surveys. Here are the features EasyPromos offers: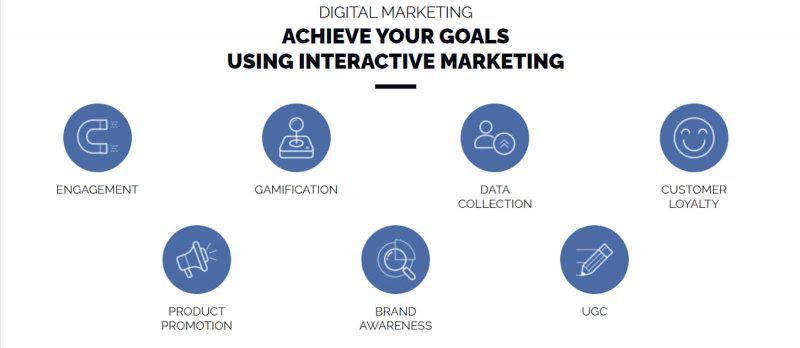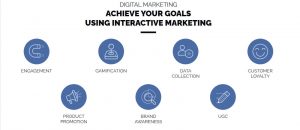 Gamification

Data collection 

Brand awareness

Customer loyalty

Product promotion

User-generated content
For these features, EasyPromos offers six application types:
Giveaways 
With EasyPromos Instagram giveaway app, they run giveaways on Facebook and Instagram, in your newsletter, among e-commerce clients and event attendees, and have a random giveaway picker.
Contests 
Using this EasyPromos app, you can sponsor contests on Instagram, Facebook, Twitter, or other social media sites to encourage the viral reach of your photos, text, or video content.
Games 
To encourage engagement, you can use games and contests that are fun and entertaining to capture leads. Then you can share them on your blog or other channels.
Quizzes 
You can create an app that allows users to enter a prize draw using short multiple-choice questions and answers. Then you can use the data you collect to get in contact with all of your participants and gather qualified leads.
Instant prizes
You can use interactive features such as spin wheels, scratch-off cards, and coupon codes to distribute prizes and gifts among participants in exchange for their contact details.
Multi-stage
You can reinforce your relationship with your audience by running long-term promotions and campaigns that involve multiple levels of participation. Gamification, for example, offers points in exchange for actions on your site.
Since one of the most important apps of EasyPromos is its giveaway/contest app and a giveaway picker, let's have a brief comparison between EasyPromos giveaway services and AiSchedul's-which has one of the best giveaway services in the market- in the table below:
Easypromos vs. AiSchedul
| | | |
| --- | --- | --- |
| Features  | EasyPromos | AiSchedul |
| Customized hashtags | ❌ | ✅ |
| UGC content for IG giveaway | ❌ | ✅ |
| Auto DM in bulk to the winners  | ❌ | ✅ |
| Giveaway templates | ✅ | ❌ |
| Multi-network giveaway  | ✅ | ❌ |
| Scheduling the giveaway post  | ❌ | ✅ |
| Trustpilot reviews score | 4.7 | 4.8 |
| Price  | $29,$49,$199,$399 | $20,$40,$120 |
As you can see despite the interesting features EasyPromos offers, still there are some features that it lacks that can make running your giveaway contests much more effective and convenient.
Do you want to run a Giveaway in an easy and fast way? Click here
Reviews of EasyPromos 
EasyPromos has an average rating of 4.7 out of 5 on Trustpilot, suggesting an overall positive experience for reviewers. However, the reviews are somewhat mixed, with some users expressing dissatisfaction with certain aspects of the service. Let's look at some EasyPromos reviews below: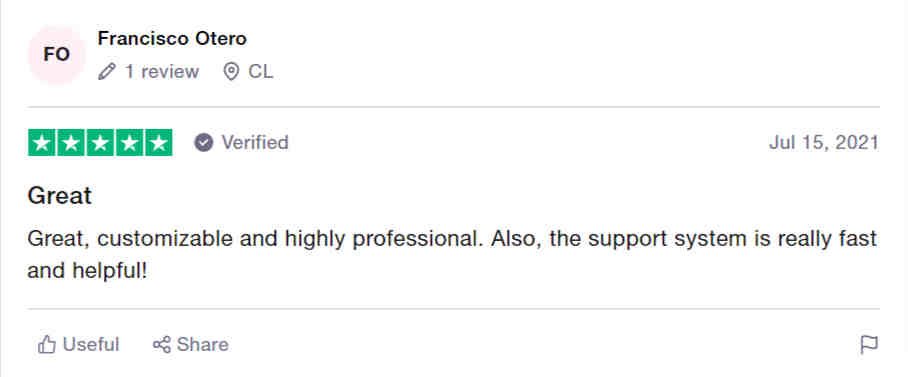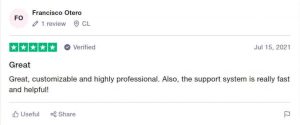 "Great, customizable, and highly professional. Also, the support system is really fast and helpful!"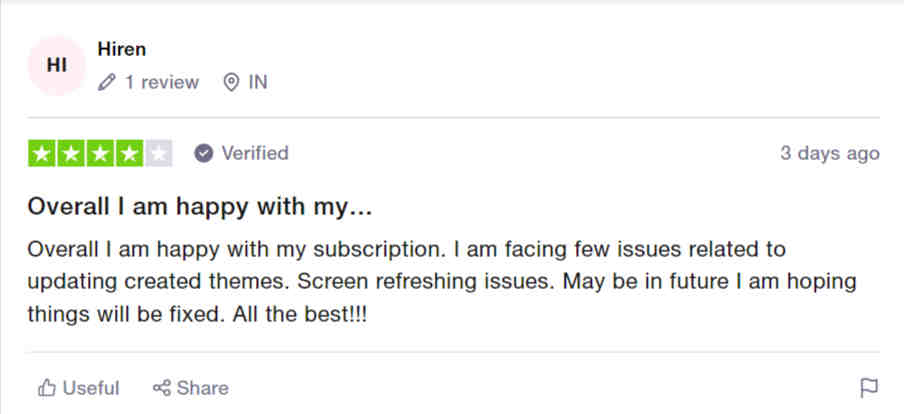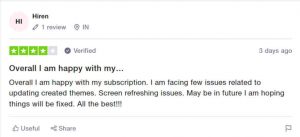 "Overall I am happy with my subscription. I am facing a few issues related to updating created themes. Screen refreshing issues. Maybe in future, I am hoping things will be fixed. All the best!!!"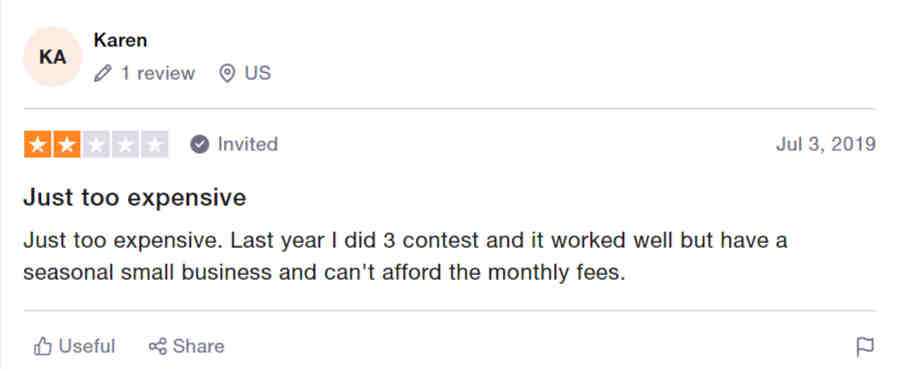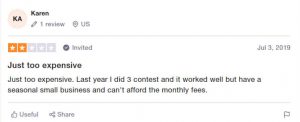 "Just too expensive. Last year I did 3 contests and it worked well but have a seasonal small business and can't afford the monthly fees."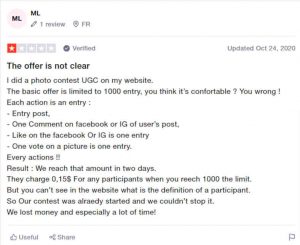 "I did a photo contest UGC on my website.
The basic offer is limited to 1000 entry, you think it's comfortable? You wrong!
Each action is an entry :
– Entry post,
– One Comment on Facebook or IG of user's post,
– Like on the Facebook Or IG is one entry
– One vote on a picture is one entry.
Every actions !!
Result: We reach that amount in two days.
They charge 0,15$ For any participants when you reach 1000 the limit.
But you can't see in the website what is the definition of a participant.
So Our contest was already started and we couldn't stop it.
We lost money and especially a lot of time!"
If you want to run an Instagram giveaway but don't want to do all the work of setting it up, we'll do it all for you. Just click here to find out how.
Popular reviews on Instagram giveaway apps you should also read:
Pros of EasyPromos
Different applications for its features

Customer support is fast and effective

Easy set up on the platform

User-friendly interface
Cons of EasyPromos
Costly in comparison to other applications

It can't be scaled for small business

EasyPromos includes "created with EasyPromos" in Basic and Premium contests plans.
Do you want to run a Giveaway in an easy and fast way? Click here
EasyPromos Pricing
The EasyPromos website features five pricing plans ranging from $29 to $3,490. Compare prices below: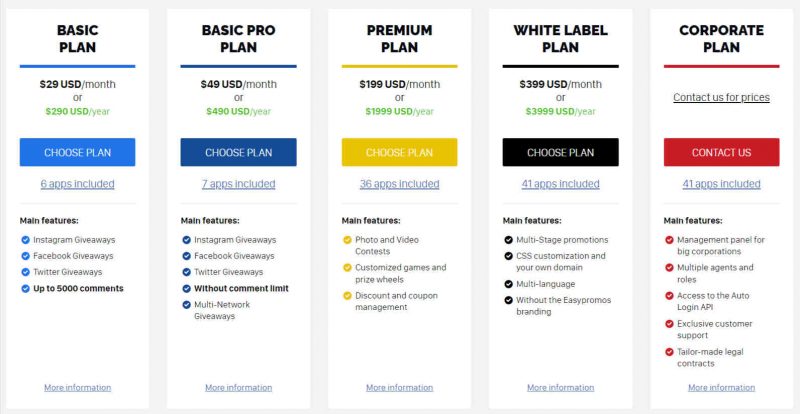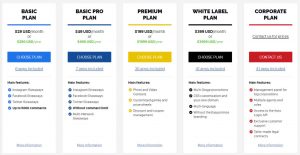 Want to grow your Instagram followers faster? Click here
EasyPromos Alternative
After all that has been said, you may be looking for an affordable alternative to EasyPromos for running your Instagram promotions. AiSchedul is the solution you seek; it offers you more options to design a giveaway from scratch and then picks and announces your giveaway winners.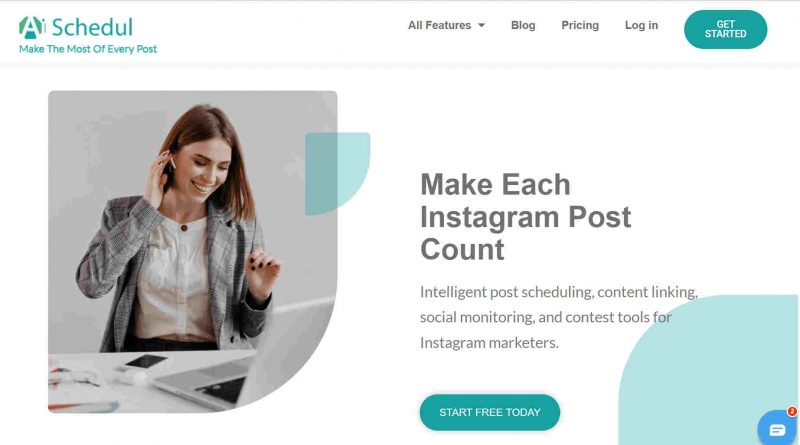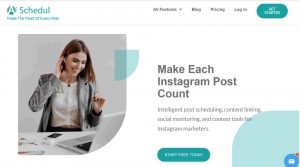 AiSchedul is a tool that automates sending posts at the best time possible, finding qualified users, entering them into giveaways, then picking the winners fairly and notifying them by DMs. This frees you to focus on creating high-quality content rather than checking the rules you've set for winning by yourself.
 Let's see how you can use it in the sections below:
How to Create a Giveaway Post, And Reward Using AiSchedul?
Before getting to the steps, don't miss watching this video on creating a giveaway with AiSchedul post and reward feature:
Sign up for AiSchedul

and connect your account to the dashboard.

 On the 'Dashboard,' tap on the 'Manage' button, and then, from the left navigation bar, select 'Post & Reward.


Click on the "Schedule a contest" button.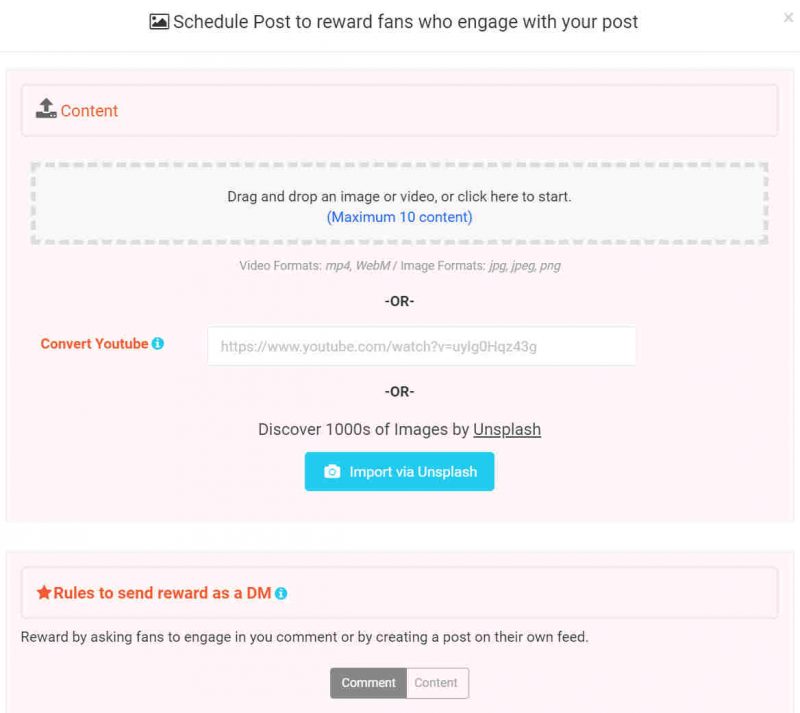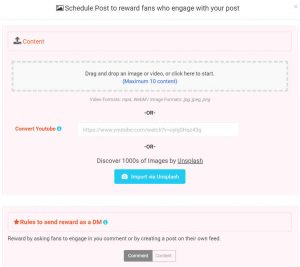 Upload a photo and define the rules for participation. You can also set a DM that will be sent automatically to any qualified participants.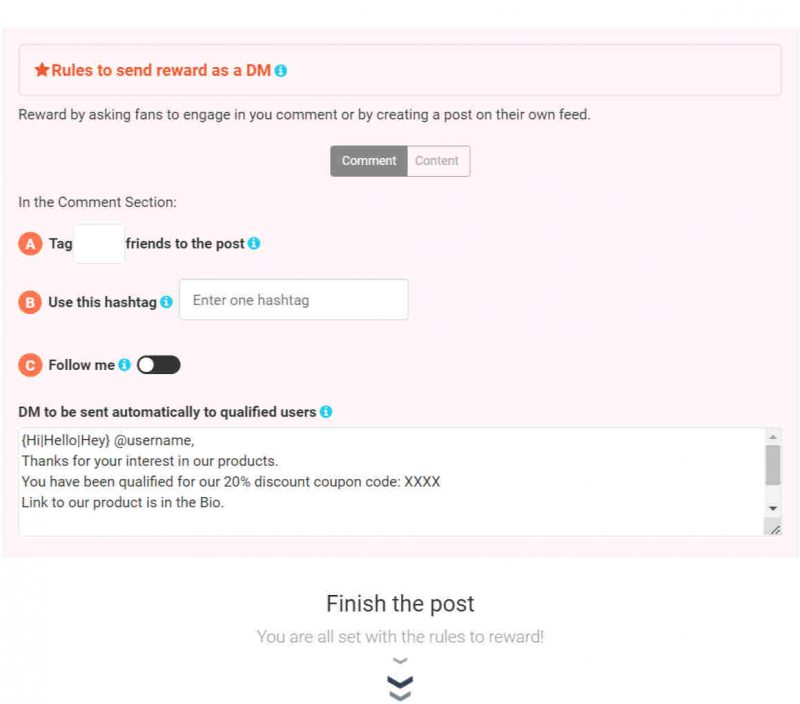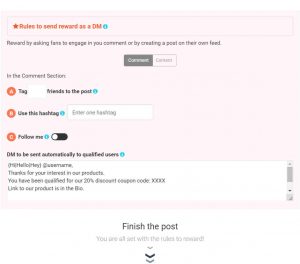 Content is another option you have here to share the posts your users created and tag you on them. In fact, by building a two-way relationship with your users, you are encouraging them to engage more.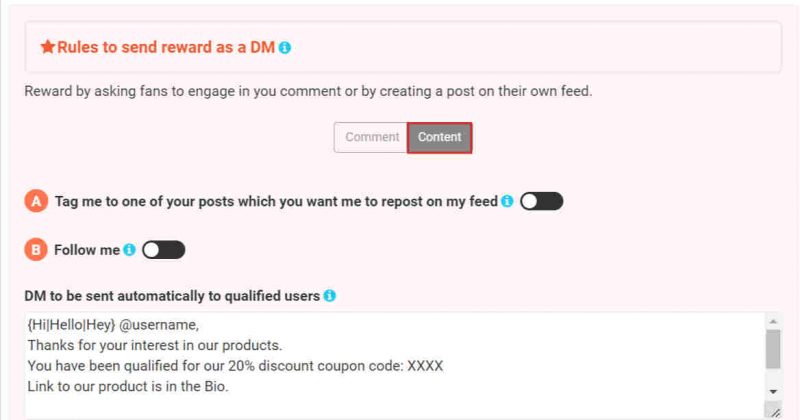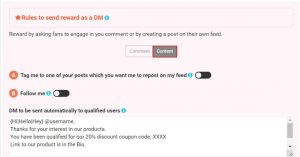 Type the giveaway's caption. Next, choose hashtags to accompany the caption. Then set a date and time for the giveaway to begin and decide which accounts to share it with. Hit "Schedule Post" to continue.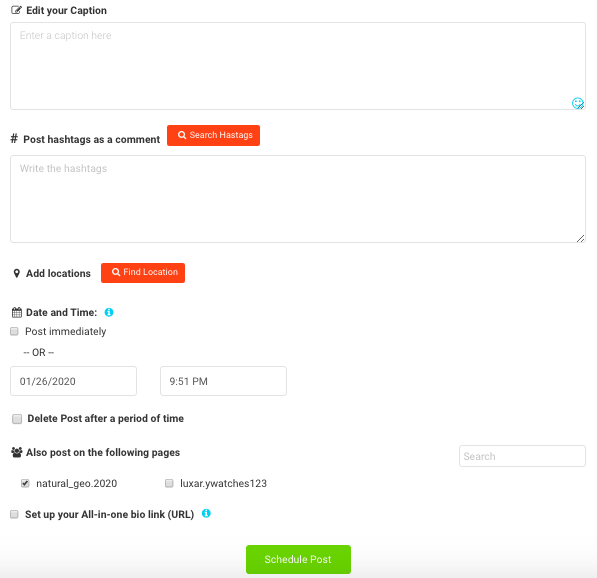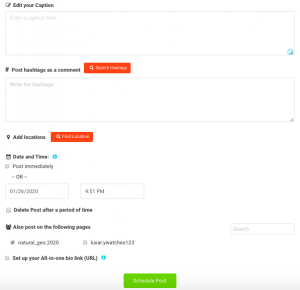 There you have it! You have saved yourself a lot of time, and all you will have to do is sit back and watch the results of your giveaway campaign.
Note: AiSchedul post and reward checks every 3 hours to find qualified users who followed your rules and send them your DMs; this continues up to 7 days.
Delegate running your Instagram giveaways to AiSchedul 
How to Use The Instagram Giveaway Picker of AiSchedul?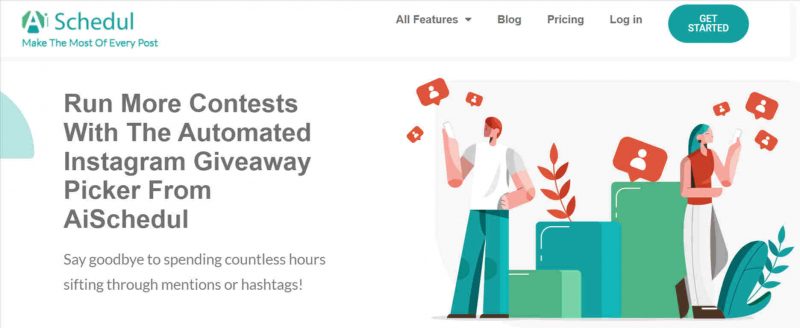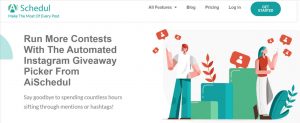 The process of picking a winner fairly from all those giveaway contest participants can be tricky since you must ensure that they follow all the rules.
Manually picking a winner from a group of contestants is difficult and sometimes unfair. We have developed an Instagram giveaway picker for convenience to avoid this problem. 
You access the post and reward feature I explained above through this tool, a perfect feature to plan your giveaways from scratch.
To use this unique comment picker after signing up on AiSchedul, log into your dashboard and choose the account you want to run a giveaway on  (tap on manage account), then select the "Giveaway Picker" tab from the top-left bar.


Enter the URL of the giveaway post in the first box, and then type the contest name you want to create in the second box.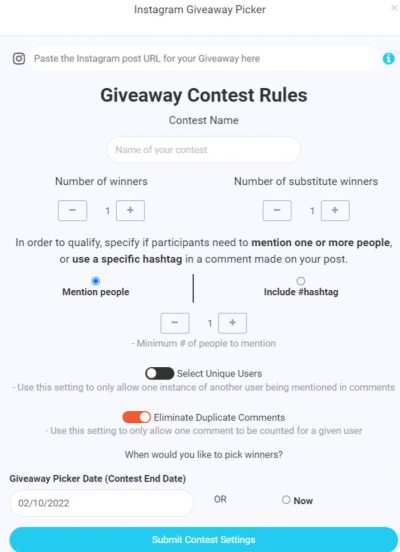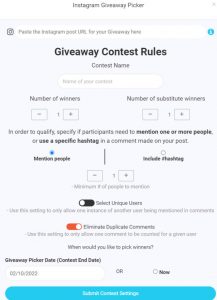 You can choose to filter all comments mentioning a specific number of accounts or using a given hashtag.
You can also avoid repeating the same individual in multiple comments by selecting "Select Unique Users." Duplicate comments will be removed automatically by selecting "Eliminate Duplicate Comments.
The final step is to set a date to pick the winners. You can give it a try now.
AiSchedul Instagram Giveaway Picker Pricing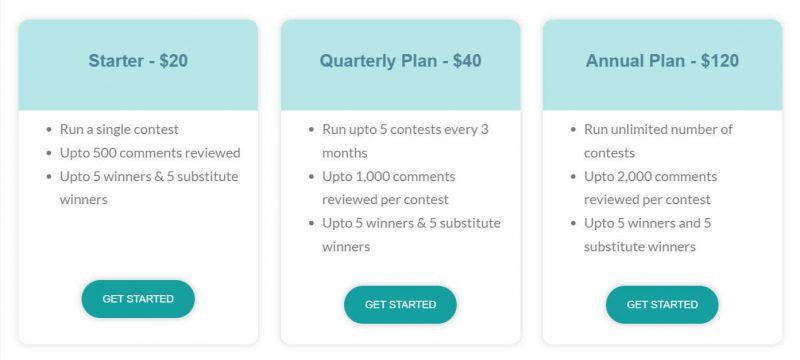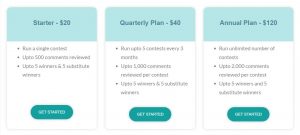 The price of this tool varies depending on the number of contests it can run and the number of comments it is set to review.
Pick a package to plan your giveaway now
Popular reviews on Instagram giveaway apps you should also read:
Conclusion
So what is the overall verdict on EasyPromos? There is no doubt that you will have a much better experience running your Instagram promotions with EasyPromos than most giveaway tools. However, the platform still won't necessarily be a complete fit for every person who runs Instagram promotions. 
As I mentioned earlier, AiSchedul is a great alternative to EasyPromos. If you have been disappointed by your experiences with EasyPromos, or don't want to use it for any reason, you should give it a try. 
The dashboard is beautifully designed and gives you plenty of options to customize your own promotional activities on Instagram.