Using Instagram giveaway hashtags can help increase the visibility of your giveaway posts. However, if you use incorrect or irrelevant hashtags for giveaway, you will get very few comments and entries. 
For brands and individuals, giveaway hashtags can be a great source for growing followers, increasing engagement, and earning contest entries. The challenge is that you might not know what are the best hashtags for Instagram giveaway to get maximum reach and the most entries.
In this post, I will explain how giveaway hashtags work and show you how to use them to increase your Instagram giveaways exposure. As well as introducing you to the winning hashtags and best giveaway tools to run your giveaway (which gives you the best contest hashtags automatically) and an Insta giveaway picker.
Do you want to boost your Instagram reach? Click here.
Why Should We Use Giveaway Hashtags?
Imagine that you run an Instagram giveaway, but only your followers entered because you forgot to put the hashtags! ?‍♀️
Based on our experiences, we have learned that in many cases, including the right hashtags in your giveaways can get you more engagement than doing giveaways without them.
Comparecamp revealed that posts containing at least one hashtag receive 29% more interactions for profiles with 1,000 or fewer followers.
While the above reason is important, other relevant factors make it a smart act to use the right hashtags in your giveaways:
Recognition:  Adding top giveaway hashtags to your post makes it more recognizable and therefore more likely to be seen by the target audience.
Exposure: Using the best giveaway hashtags for Instagram makes it easier for people to find your giveaway and participate. This increases the chance of your page reaching a new audience.
Engagement: Using the best hashtags for a giveaway can help your posts go viral, creating a trending topic that makes people want to discuss the posts and pass them on to friends.
So, to successfully run an Instagram giveaway, you must use "giveaway hashtags Instagram."
Run a flawless giveaway with AiSchedul!
What Makes The Best Hashtags For a Giveaway?
Longer hashtags tend to receive more engagement on Instagram because a dedicated audience typically uses them (e.g., fans of your brand, who follow you of their own volition).  
This means that longer hashtags are useful not only for tracking the success of your giveaway but also can help your giveaway stand out from the noise of the broader hashtags.
However, be sure that hashtags are not so long as to be cumbersome to type and still understandable when they lack spaces. No words must be created by removing spaces from a hashtag.
Additionally, for increased exposure, use the best hashtags for giveaways to match the number of your followers and performance. (big hashtags: have millions of posts, medium hashtags: have around a million posts, community hashtags: have less than 1 million posts, micro-community hashtags: have less than 50,000 posts).
Want to run a successful giveaway? We can help.
How can you Find the Best Instagram giveaway Hashtags?
Instagram allows you to search and add a specific hashtag in a post. However, if you are running a giveaway and wish to add more hashtags, you must go to Instagram's search function and find all of the relevant hashtags yourself. 
In addition, if you want to include hashtags in your post, you need to type them exactly as they appear on the list of trending giveaways topics. If you make a spelling mistake, you may lose the opportunity to attract engagement from that hashtag.
Later in this post, I will introduce you to an Instagram management tool that automatically generates a list of relevant hashtags for your giveaway posts. Now let's go on the best hashtags for giveaway on Instagram in the next section.
Top 50 Hashtags For Instagram Giveaways
Here are the top 50 Instagram giveaway hashtags in 2022, collected in separate tables for those of you who are looking for giveaway hashtags to copy and paste: 
Popular Giveaway Hashtags 
| | | |
| --- | --- | --- |
| No. | Hashtag | Posts |
| 1 | #competition | 15.8M  |
| 2 | #giveawaycontest | 2.9M |
| 3 | #contestalert | 1.5M |
| 4 | #Instagiveaway | 600K |
| 5 | #newgiveaway | 40K |
Hashtags For Offers 
| | | |
| --- | --- | --- |
| No. | Hashtag | Posts |
| 1 | #deals | 8M |
| 2 | #offers | 3.5M |
| 3 | #bestdeals | 1M |
| 4 | #onlinedeals | 400K |
| 5 | #offersomthing | 7K |
Collaboration Hashtags
| | | |
| --- | --- | --- |
| No. | Hashtag | Posts |
| 1 | #Collab  | 5.5M |
| 2 | #collaborations | 400K |
| 3 | #collaborationwork | 77K |
| 4 | #community | 31K |
| 5 | #teamwork | 15K |
Winner Hashtags 
| | | |
| --- | --- | --- |
| No. | Hashtag | Posts |
| 1 | #champions | 9.5M |
| 2 | #winners | 4.9M |
| 3 | #winnercity | 300K |
| 4 | #winnercircle | 97K |
| 5 | #winnerteam | 39K |
Hottest Instagram Hashtags 
| | | |
| --- | --- | --- |
| No. | Hashtag | Posts |
| 1 | #trending | 181M |
| 2 | #fashions | 5.8M |
| 3 | #instamoods | 1M |
| 4 | #hottest100 | 166K |
| 5 | #garammasala | 135K |
Music Promo Hashtags
| | | |
| --- | --- | --- |
| No. | Hashtag | Posts |
| 1 | #musical | 13M |
| 2 | #musicpromotion | 874K |
| 3 | #musicpromo | 368K |
| 4 | #musicpromoter | 63K |
| 5 | #musicpromotions | 53K |
Book Giveaway Hashtags
| | | |
| --- | --- | --- |
| No. | Hashtag | Posts |
| 1 | # bookclub | 4M |
| 2 | # bookworms | 1.2M |
| 3 | #bookgiveaway | 291K |
| 4 | #freebooks | 355K |
| 5 | #giveawaybuku | 32K |
Hashtags For Business Promotion
| | | |
| --- | --- | --- |
| No. | Hashtag | Posts |
| 1 | #businessbranding | 379K |
| 2 | #growbusiness | 133K |
| 3 | #busniesspromotion | 82K |
| 4 | #businesspromo | 19K |
| 5 | #advertisingbusiness | 2K |
Top Giveaway Hashtags
| | | |
| --- | --- | --- |
| No. | Hashtag | Posts |
| 1 | #giveaway | 41M |
| 2 | #giveaways | 3.6M |
| 3 | #contestwinner | 174K |
| 4 | #luxurygiveaway | 11K |
| 5 | #giveawayina | 15K |
Instagram Photo Contest Hashtags
| | | |
| --- | --- | --- |
| No. | Hashtag | Posts |
| 1 | #photographers | 14M |
| 2 | #photocontest | 1.3M |
| 3 | #photographycontest | 234K |
| 4 | #photoshoot | 162K |
| 5 | #travelphotographyy | 12K |
Using Instagram Management Tool to Find the best Instagram Giveaway Hashtags
To find the best hashtags and promote giveaway on Instagram, you can get help from third-party apps. AiSchedul is a popular ready-to-use tool that you can use to schedule and manage your Instagram giveaway campaigns.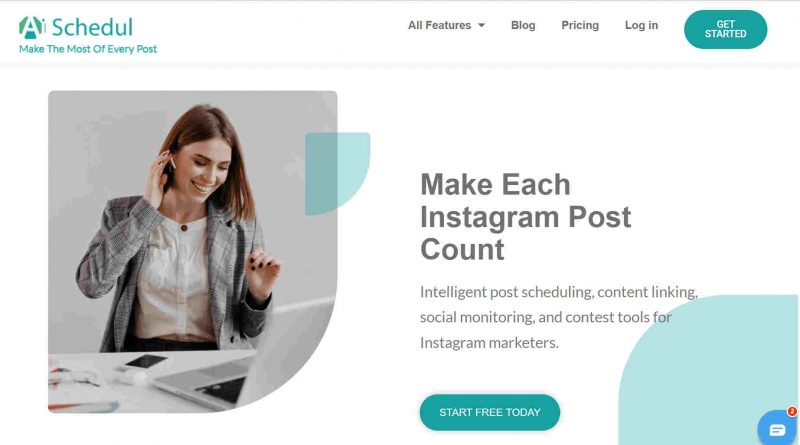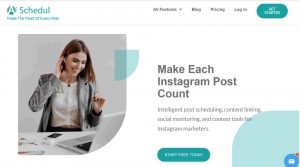 Post and reward is a feature within this tool that lets you generate and add up to 30 hashtags to your posts automatically.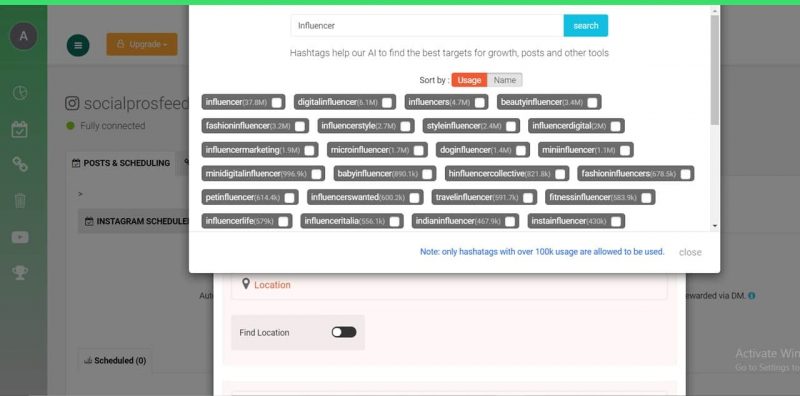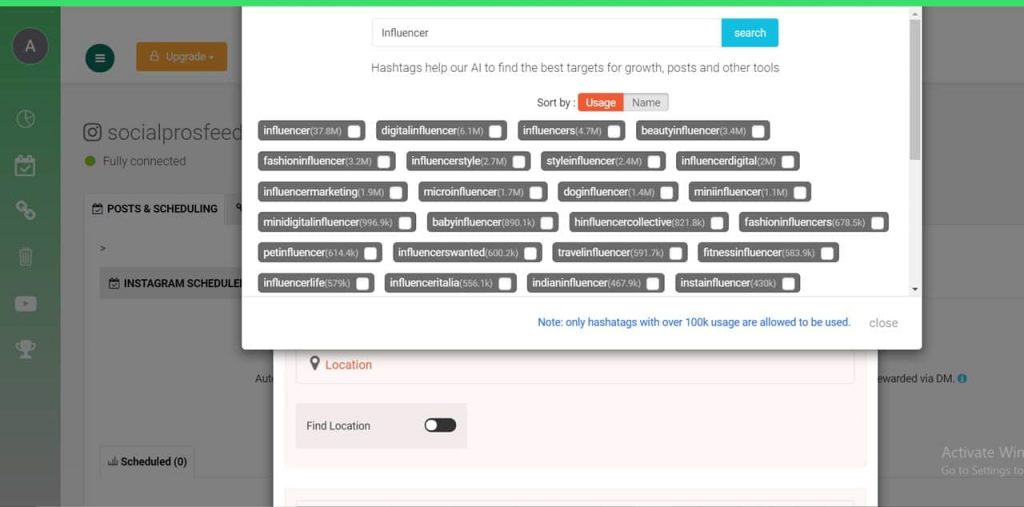 But how to search multiple hashtags on Instagram using this tool? Here is a complete guide to finding the best giveaway hastags for Instagram and creating a giveaway post for your account using this unique feature.
Delegate running your Instagram giveaway to AiSchedul 
How to Use the AiSchedul Post And Reward Feature?
Sign up on AiSchedul

, tap on add accounts and add your Instagram account. Now, click on "manage account" to connect its dashboard to your Instagram account.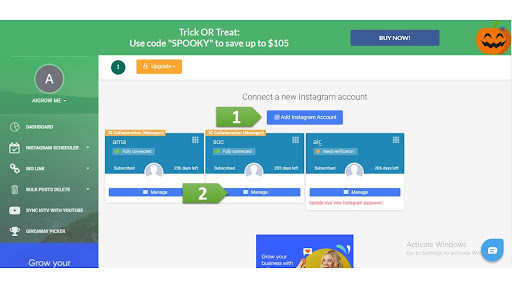 Here click on "Post and Reward".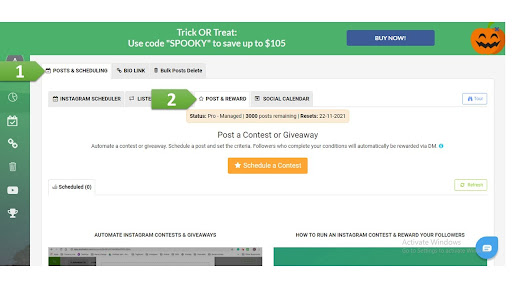 Now, click on the "schedule contest" to set up your giveaway. You may design an Instagram carousel post by dragging and dropping or uploading up to 10 images and videos,

or

add a YouTube video link to share it to your feed without having to download it. You

can also use

Unsplash

to get access to thousands of free

images.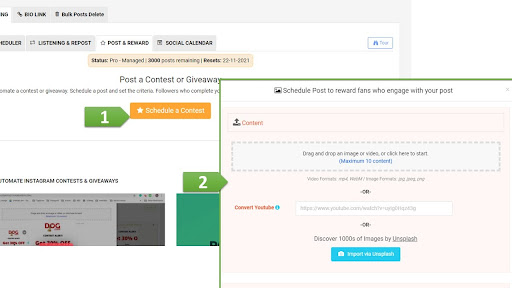 As you can see below, you need to ask your followers to comment on your posts (comment) or to tag their own posts with your account name (content).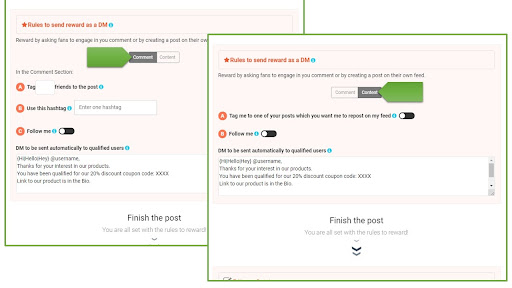 In the next step you need to decide how the winners will be selected; by tagging a number of their friends to the post, using a specific hashtag in the comments, and following your account. Then in the DM section write a text that is supposed to be sent to the qualified users of the campaign.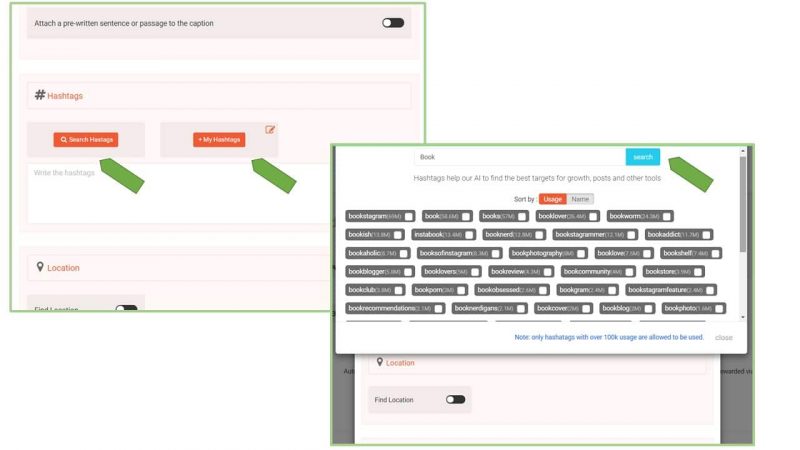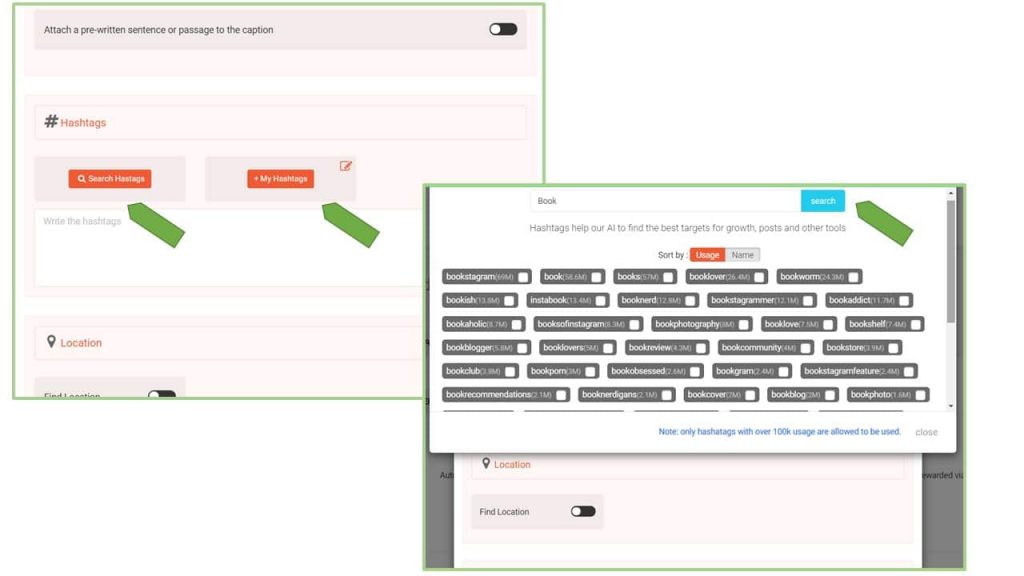 To increase the exposure of your Instagram competition post, you should use relevant hashtags for the contest. This will help you attract the target audience for your competition.

AiSchedul's post and reward feature enables you to choose the best hashtags for competitions to increase the reach of your posts. Give it a try now to see how it works.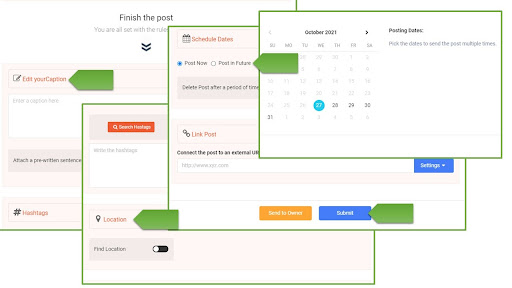 Once you have written your caption, add a location to your post, and decide whether or not to publish the post immediately or schedule it for a later date.
You're all done! You've designed an Instagram giveaway from scratch in just a few minutes, but your giveaway is not completed yet. After designing your giveaway, it's time to set the rules to pick the winners using the AiSchedul Instagram giveaway picker.
Note: Using AiSchedul Instagram giveaway picker, you can also access the post and reward feature where you are allowed to host a single contest, 5 contests every 3 months, or unlimited contests for your Instagram account, depending on the package you choose.
How to select a winner for an Instagram giveaway using AiSchedul Instagram Giveaway Picker?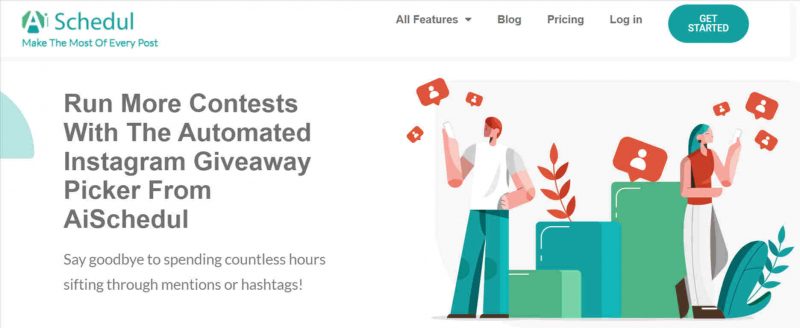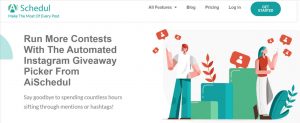 AiSchedul's giveaway picker tool for Instagram enables you to select winners for giveaways fairly and randomly. You can use a post and reward feature to design your customized giveaways as I mentioned above. 
If you wonder how to export Instagram comments for giveaway to pick the winners, this tool is the answer! Let's see what steps you need to take to use this:
Sign up on AiSchedul; then you'll be directed to your dashboard, where you can find the giveaway picker tab.


After entering the URL of your giveaway post and naming your giveaway campaign go for the next steps.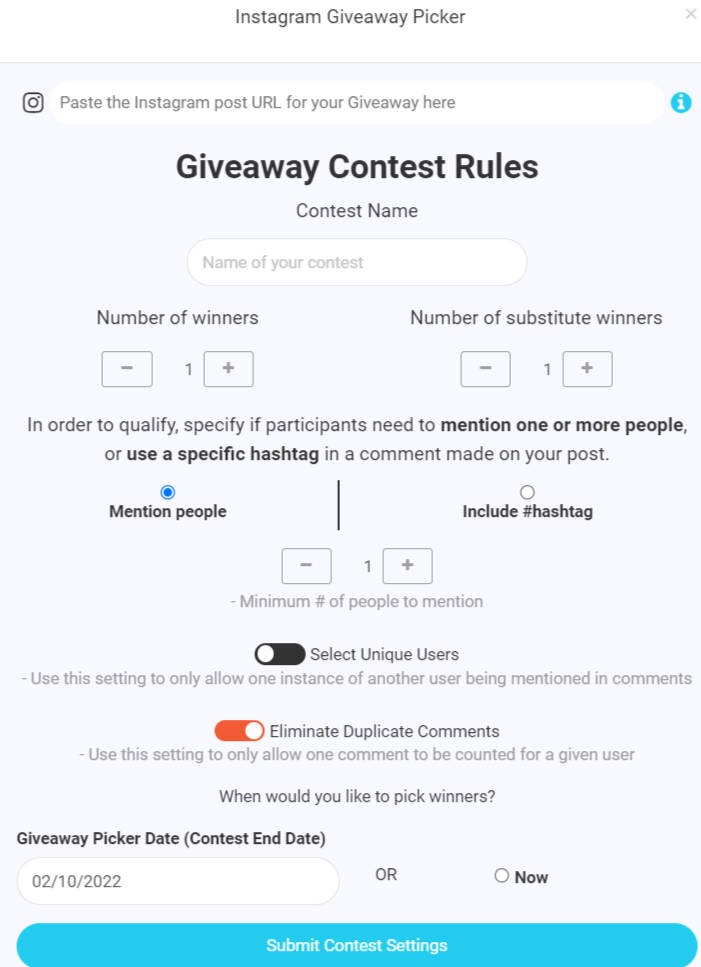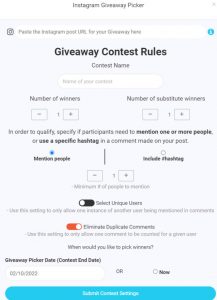 Select winners using a specific giveaway hashtag or a minimum number of mentions in the comments section.
Decide if you want to use the select unique users and eliminate duplicate comments options to choose winners among unique participants.
When you are done setting up your giveaway rules, decide to pick the winners immediately or at the end date of the giveaway.
Try AiSchedul giveaway picker now
AiSchedul Instagram Giveaway Picker Pricing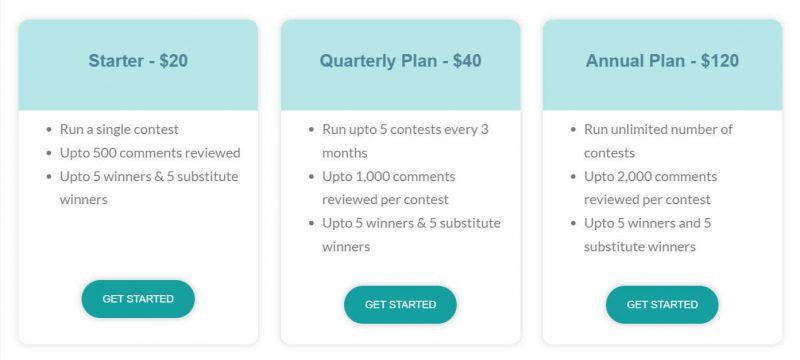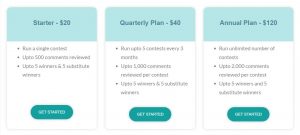 Prices for the AiSchedul Instagram Giveaway picker are based on the number of contests and comments you wish to review. For instance, the annual plan includes unlimited contests and up to 2000 comments per contest for a more affordable price.
Pick a package and sign up now!
What Hashtags Should You Use in Your Giveaway?
So what Instagram contest hashtags should you use? There are several ways in which hashtags can be used effectively, like using a branded hashtag.
To make a branded giveaway hashtag, you can use your brand name or product linked to the giveaway or contest, for example:
#productgiveawayyourbrand

#yourbrandgiveaway

#yourbrandcontest
This way, it's clear to see who the message belongs to, what the product is, and that it's a giveaway.
Besides, when you create a giveaway post, consider using hashtags that other users are already searching for. You can attract their attention and increase your exposure. However, keep in mind that the most successful hashtags are not overly common, which can attract spam or get lost in the sea of those using the same hashtag. 
For instance, the hashtag for promotion #giveaway currently has 45 million posts that contain the hashtag.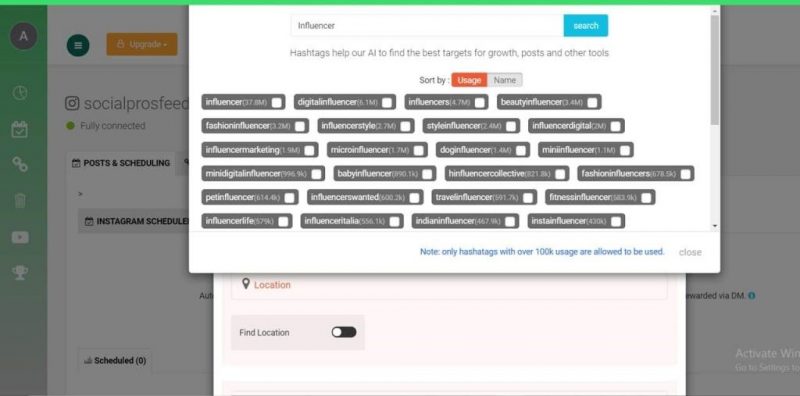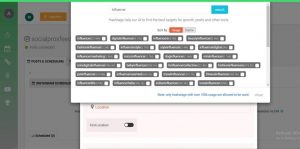 If you think a hashtag is too popular to use, you can use related, less popular Instagram competition hashtags instead. AiSchedul giveaway hashtag generator has an  Instagram multiple hashtag search function that will generate related hashtags for you.
Sign up and get instant access to AiSchedul giveaway tool
A give away hashtags should be built around your giveaway theme, but as I mentioned above, you should include hashtags related to your industry or target audience. These will help expand your reach beyond giveaway participants and build your Instagram following.
And at the end of the day, since Instagram doesn't offer specific recommendations on hashtags, it's up to you to experiment and decide what works best. But  here are some tips to use while choosing hashtags for your giveaways:
Tips to Create the Perfect Giveaway Hashtags:
It is important to know whether or not the hashtag you are using is already being overused on Instagram, as you do not want irrelevant entries ruining your contest.

The hashtags should stick in people's minds; they should be unique, memorable, and easy to search and write.

A company hashtag should be related to its brand, service, or product.

Consider the potential entries of your giveaway. If you have an international audience, avoid slang words or idioms that might be difficult to understand.
Where to Put Giveaway Hashtags Instagram In a Post?
Advice on where to place hashtags on Instagram is mixed. Some say that the best way to ensure visibility for hashtags is to include them in the caption, while others believe that doing so cuts into valuable characters and prevents users from posting longer captions.
Putting hashtags in your Instagram giveaway caption or in the comments is up to your preference. However, Including several hashtags in a caption is likely to overwhelm the viewer.
For example, using a specific hashtag for giveaway in the caption and then including hashtags below the caption or in a comment can be a good choice.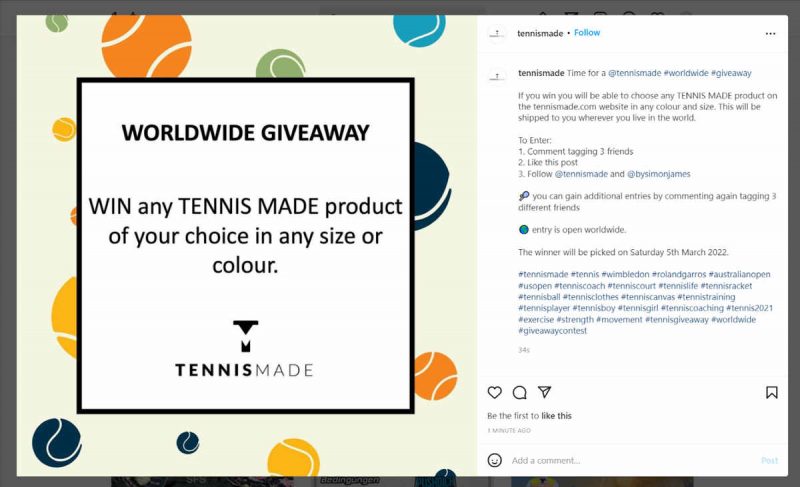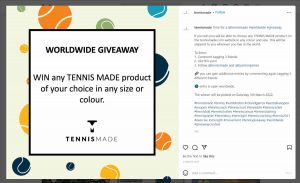 How Many Hashtags to Use For Giveaway?
On Instagram, you can use a maximum of 30 hashtags in a single post. However, be sure to use relevant Instagram giveaway tags that will appeal to your target audience. 
If you do not do this, then you may lose engagement rather than gain it because the wrong people may enter your contest.
Conclusion
Are you about to run a giveaway and not sure of the giveaway hashtags you should use?؟ Here, we gave you a list of the IG top 50 hashtags that you can start trying out. 
It consisted of hashtags for collaboration, hottest hashtags on Instagram, hashtags for winning, the hashtag for music promotion, the hashtag for promotion, and best Instagram hashtags for book promotion. You can always add your own as you discover new ones.  
AiSchedul is one of the best giveaway apps for Instagram you can always count on it to run successful giveaways. With the help of its unique features, there is nothing to be worried about, whether designing your giveaway from scratch to finding the best giveaway Instagram hashtags and picking the winners fairly and quickly.