Instagram direct messages have increased in popularity to 375 million users, and that number continues to grow every day.
2020 brought people closer to social media, and people started working from home.
As businesses and brands rely more on working online and from home, Instagram became essential for contacting customers and growing your sales.
Online businesses communicating with customers often use direct messages to clarify order details and answer complex product questions.
This leads to a tremendous rate of sending direct messages online.
In this article, we will teach you how to send Instagram messages online and through a desktop.
How to check your DM on Instagram online?
Using Instagram from a computer might not be the easiest thing to do, especially if you are running one or multiple Instagram accounts for your business.
People keep on seeking a convenient way to access DMs on Instagram online on their desktop. 
Replying back to your customers or reaching out to people to present your brand from your mobile is time-consuming.
Aischedul DMpro is an Instagram DM tool that lets you send automated direct messages and so much more.
So first step, if you are already an Aischedul User, Click on Direct Messages on your dashboard, and you will be led straight to the DMpro/ Direct message tool.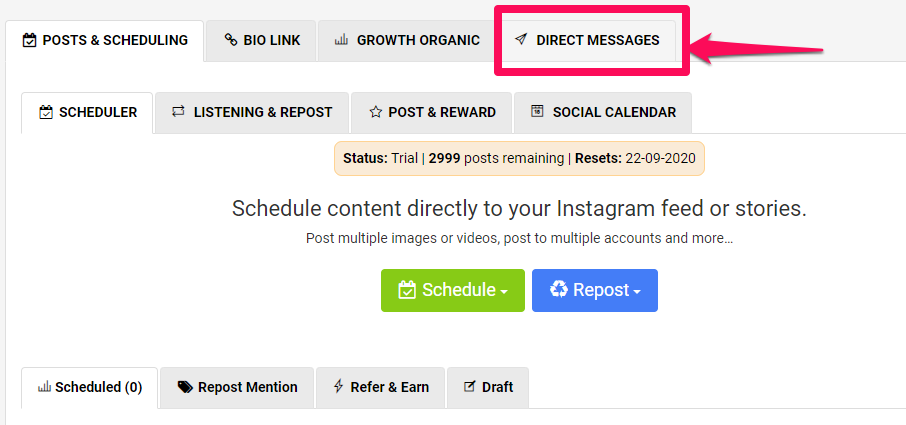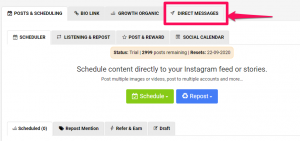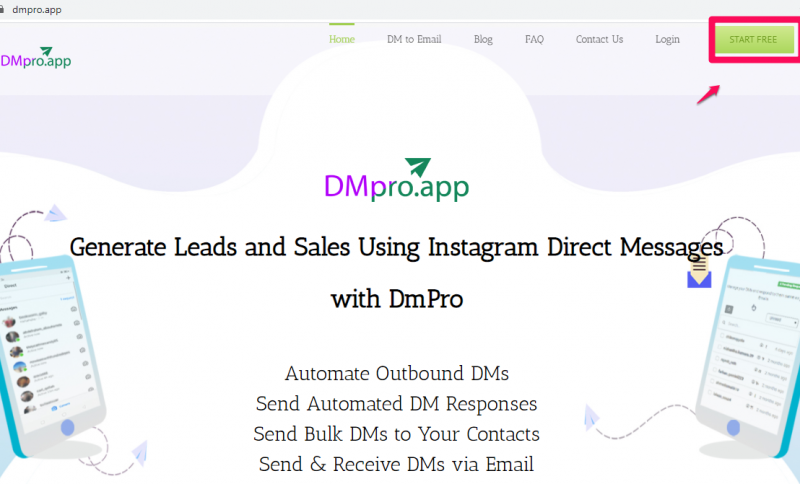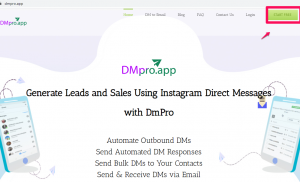 DmPro is a  desktop app that gives you an immediate solution to access DMs on Instagram online, Simple and transparent pricing, multiple features for as low as $5/ a month.
How to use Aischedul DMs Feature 
To use Aischedul DmPro, you need to visit the Aischedul DMpro website, create an account using your email, add your Instagram account, and enjoy managing your DMs online on your desktop. Once you log into your DMpro account, you have full access to your Instagram inbox, and you can try all the DMpro features introduced in this article
Here is a list of things you can do with this Aischedul Dmpro 
Send Automated DM Responses

Automate Outbound DMs

Send Bulk DMs to Your Contacts

Receive & Send  DMs via Email
 For instance, You can easily send messages to a group of people automatically at the same time, write your message in the box, select your audiences, and hit Start DM. DMpro starts sending your message to people automatically.  
There is an option in your inbox tab that organizes your direct messages into three parts : 
Messages that you have already read

Unread messages 

DMs that are in sent mode and are waiting for your response.
Moreover, if you open the Direct Messaging tab on the DMpro website, you can send a particular message to a large number of users.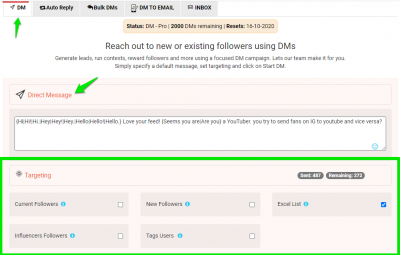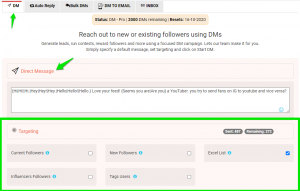 DM each new follower, existing followers, people who use specific hashtags, or followers of competitor accounts, easily with merely a click.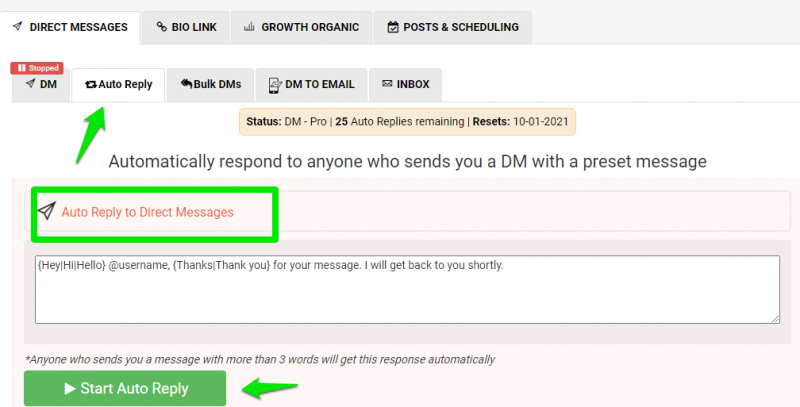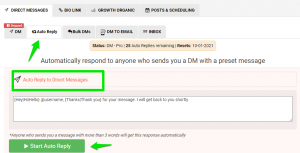 Anyone who sends you a message with more than 3 words will get an automatic response, a preset text that you have written on the empty box. 
With this tool, you can also send bulk messages 
Here is how to send bulk DMs online?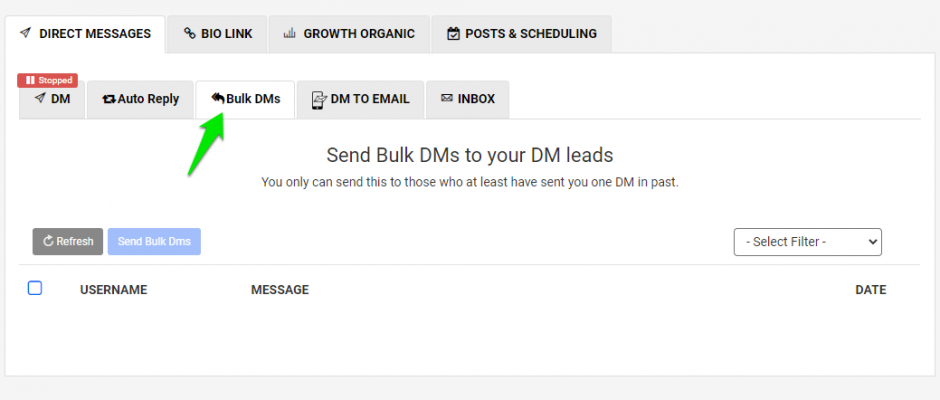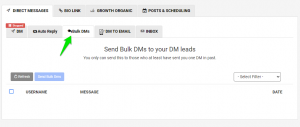 First of all, Bulk Instagram DM lets you automatically send bulk Instagram direct messages on a PC or Mac to a group of recipients. Recipients will each receive an individual message from you as if they are in a one-on-one chat.
Send a message to hundreds or even thousands of your contacts in a matter of minutes.
DM to Email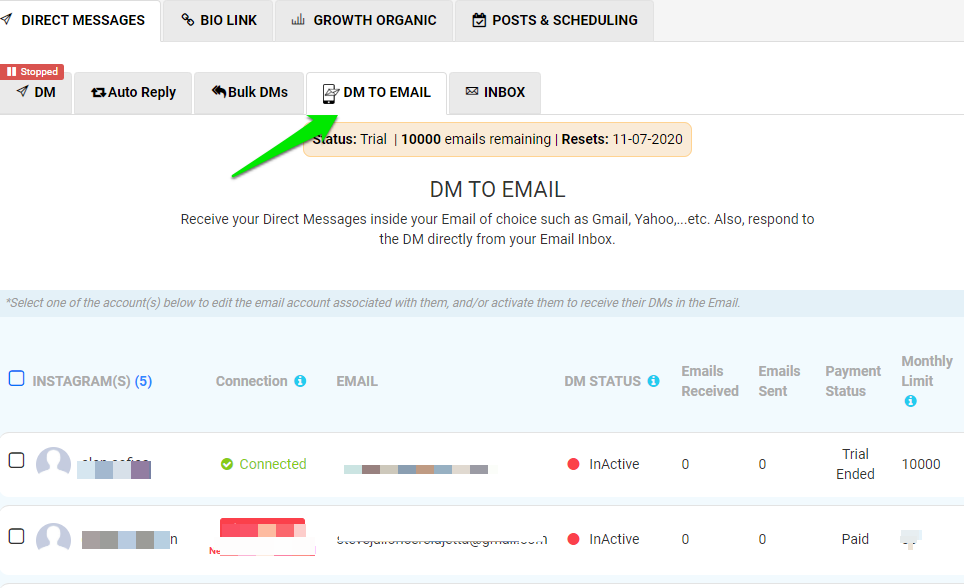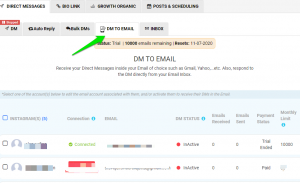 Did you know you can actually answer your DMS via Email? 
Yes, this tool made this possible for you.
Receive your Direct Messages inside your Email of choice such as Gmail, Yahoo, etc. Also, respond to the DM directly from your Email Inbox.
You don't have to worry about switching between apps anymore 
with this feature, you have access to your DMS and Emails together. 
You can also recover your deleted Instagram messages and see the old ones!
How to check your Instagram inbox online from a desktop?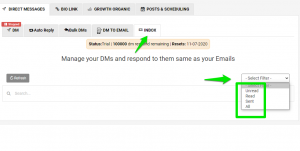 Reply, organize, delete and filter Direct Messages from your PC, or desktop,  even mobile browser.
When you open the inbox tab in DMpro, you'll get the ability to read, reply and send DMs at the same time.
Don't let a DM go unresponded for days at a time. Get all your DMs directly in your email inbox. 
 DMpro creates a reliable environment that helps you avoid the bothersome process of sending messages on the Instagram mobile app. 
To sum up on Instagram DM online
Generally, by Instagram direct messages, you can increase your engagement rate, build a better relationship with your followers, and as a result, promote your business.
At last, for easy access to Instagram DMs from your Pc, you need the help of a tool that we talked about in this article.
Get your free account on Aischedul DMpro and start engaging with your followers 
Take our Instagram account to the next level by sending Instagram DM online!