E-commerce and Instagram eCommerce are significant and growing parts of global retail. Online sales accounted for 18% of worldwide retail sales in 2021, a figure that is forecasted to reach 22% by 2023 (Statista, 2021). The stats agree: even in these uncertain times, e-commerce is thriving. In fact, the global state of affairs appears to be contributing to online retail growth. 60% of shoppers say they've done more shopping online during this time, including 6% who shopped online for the first time (Shopify, 2020). It seems online shopping is part of the "new normal," and this trend doesn't show any signs of stopping. In fact, 53% of North American shoppers said the pandemic had changed the way they'll shop going forward. With its inherent convenience and increasingly attractive options, online shopping is here to stay.
As consumer demand for online shopping increases, brands are responding. With e-commerce fast becoming a crucial part of organizations globally, digital marketers are searching for ways to integrate social media channels such as Instagram into marketing strategies for online products. In particular, Instagram is the platform's many rules around who can add links to posts and where. Unless you're posting a paid ad or have gone through the extensive process of setting up shoppable posts, there is no way to add links to posts. To add swipe-up links to Instagram stories, you have to be a verified account or a business profile with more than 10,000 followers. These rules restrict e-commerce businesses' ability to convert on Instagram and drive Instagram traffic directly to their website. The solution for Instagram e-commerce? AiSchedul.
How to set up a shoppable feed using your free AiSchedul bio link
Essentially, AiSchedul lets you build your Instagram account by selling your stuff to your existing followers. This management tool has lots of effective features. It helps you grow your business.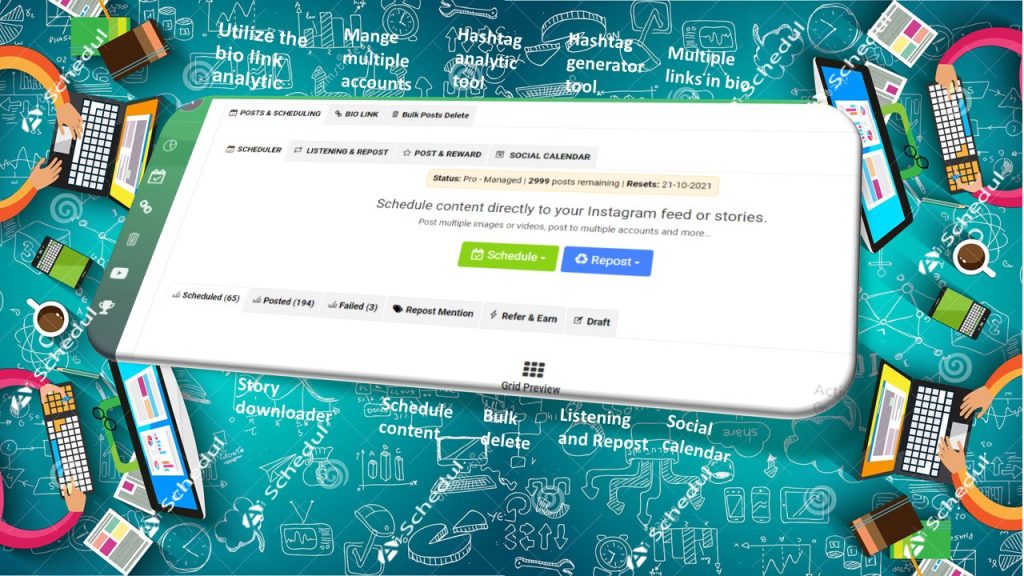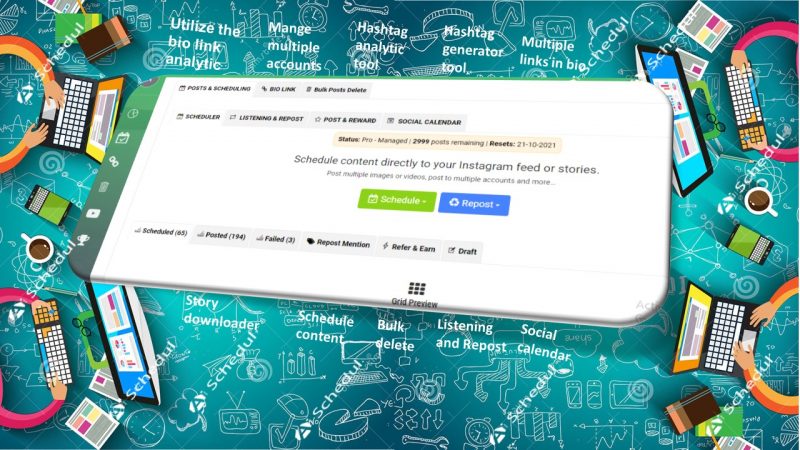 With the FREE AiSchedul Instagram bio link feature, you can turn your bio link landing page into an interactive hub featuring a shoppable feed of posts and stories that fans can access with a simple click. Connect posts to product pages, link blog posts, testimonials, and build a shoppable version of your Instagram feed right in your bio link landing page that drives traffic where you need it to go and makes your Instagram eCommerce page. We'll show you how!
Step 1
First, sign up for free on AiSchedul make sure you've added your Instagram account to your AiSchedul app and claimed your FREE custom URL on the Bio-Link page.
Step 2
On the Bio-Link editor page, you'll see a feed of your recent Instagram posts located underneath any links you've added. Select the "Tag Product" button under one of these posts and click anywhere on the pic to tag. A screen will pop up to add your product name and URL link—Hit Save and Ok.
Step 3
If you scroll up, you'll see your newly tagged post above the rest of your feed. When customers click on it, they'll be directed to the link that you chose. You can edit or delete your tags at any time by simply clicking the post. Now repeat and create a beautiful, shoppable feed that lives on your bio link landing page. Easy!
AiSchedul's free bio link landing page is a simple, powerful tool to multiply your Instagram bio link and turn your bio link landing page into a shoppable feed that drives traffic to your e-commerce pages. Make the most of your Instagram bio link and drive IG traffic to your online shop. Try AiSchedul for free!