Are you looking to start a fashion account on Instagram but don't know where to begin? That's the question everyone has been asking. It is easy to start, but you need to know more about key factors in the social media world for something professional. We are here for a step-by-step guide on running a fashion account on Instagram and sharing Instagram fashion clues on making your account attractive.
How to Start Your Instagram Fashion Account?
Starting an Instagram fashion account is easier at some levels than starting other fashion pages like fashion blogs. You don't need professional skills such as web-designing to run an Instagram page, but you need to be a web designer or hire one from LinkedIn for your business for running fashion blogs.
However, running an Instagram page has its own techniques and complexities too. In the next sections, we will introduce some hacks that can help you start your fashion page. But first, we are going to introduce you to an assistant platform that makes managing your account too much simpler and less time-consuming.
There are many ways to grow your Instagram page faster, but if you don't use assistant tools, they will take lots of time and be tiresome and ineffective. AiSchedul is an Instagram management platform that can help you in many ways. It offers various tools based on different features of Instagram to help you in growing your page. Some of its features are:
Scheduling posts and stories and directly publish them on Instagram
Repost others' posts and stories on your page with a couple of clicks
Organizing giveaways on your page automatically
Designing an attractive bio-link landing page to target your followers to all of your sources
Moreover, this platform offers a free trial plan to let you know its services better. Hit the button below to sign up and try AiSchedul for FREE!
Choosing A Design For Your Instagram Fashion Page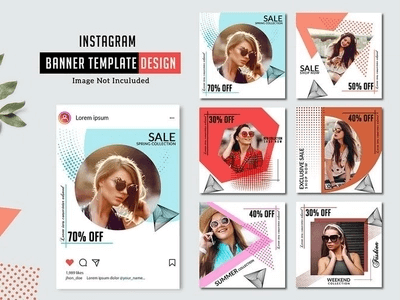 Your account needs a design that represents your unique style. Your page in the best state can inspire others to follow your approach. If you are familiar with website design and its features, you can set your fashion account on your own platform. But, if you don't know about this field, No Problem! Most fashion bloggers on Instagram are not designers. There are plenty of Instagram templates represented by websites such as Dribbble.com. Dribbble helps you discover and use the world's top free themes and designers for your Instagram account. Regardless of which theme you choose, you will find tons of customization over time and improve your Instagram page tip gradually.
Add Useful Content To Your Fashion Account
After you set a functioning design in place, you can start working on content. Your captions on your Instagram fashion need to be entertaining, informative, and helpful. Regularly, you will need to develop new data about the fashion world and professional writing style to tempt people to follow you strongly. Here are some of the top Instagram fashion account examples that you can follow for inspiration.
Affordable paper writers can help make sure that your fashion Instagram account is successful by providing high-quality content that adheres to your feed's aesthetic. By working with them, you can get professional-grade content without having to worry about creating it yourself.
https://www.instagram.com/p/CCmSQyfH3ic/
https://www.instagram.com/p/B2ZfUJgAaY_/
https://www.instagram.com/p/CA3AkljHPIP/
https://www.instagram.com/p/CB2W38YBYqr/
Be Smart With Your Hashtags
Hashtags are a smart way to get rid of Instagram's limits in finding active followers. You can use as many as possible that are relevant to your fashion posts. Hashtags have an important role in getting noticed by the people you want to interact with within your posts. Choose hashtags relevant to your Instagram fashion, and you can also make your own hashtags for branding or put a spin on trending topics. Type Hashtags into or below the caption, and Instagram will suggest other hashtags for you to use. Customizing hashtags will help the right Instagram users see you.
Instagram Fashion Stories
Another way to be interactive is by using Instagram Stories, and you can post videos and images that your followers can enjoy. An eye-catching background and design have a deep influence on your followers. In addition to Instagram's options for its users in the stories feature, you can refer to some websites such as graphicpanda.net. Such sites prepare great themes for your account on different topics. Instagram stories are a practical feature for running your fashion account.