As you probably already know, Instagram post and reward feature is a fantastic way to grow your Instagram following, leading to increased attention on your products and services.
We've decided to design an Instagram contest feature specifically to facilitate a user-friendly contest, which will be right up your alley. If you are expanding your Instagram presence and want to leverage its growing popularity, the AiSchedul Instagram giveaway tool is exactly what you need. 
With the AiSchedul Post & Reward tool, you set the following:  the start and end time of the contest, rules for the followers in order for someone to qualify as a winner, Instagram hashtag contests, the Instagram contest captions, and DM to be sent automatically to qualified users. It's that simple!
Let's get into the details and see how you can use this feature of Aischedul and a unique  Instagram giveaway picker in the following sections.
Note: If you want to get quick access to the post and reward tool, sign up on AiSchedul and try it now.
Instagram Giveaway Picker of AiSchedul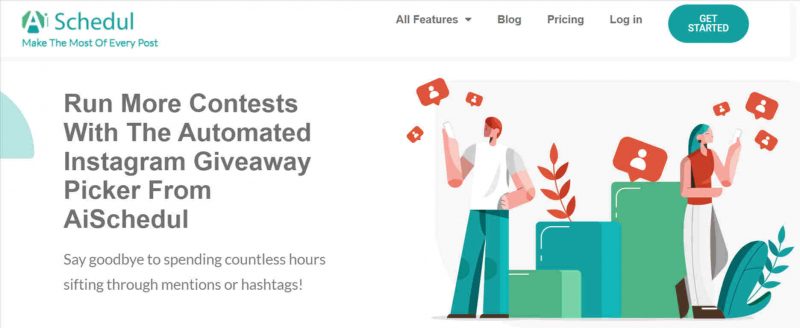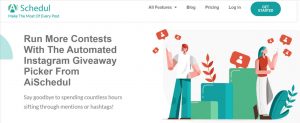 Before getting to AiSchedul post and reward and the way it works, let's introduce you to a new feature of Aischedul, an Instagram giveaway picker since through this feature you can access post and reward tool as an advantage!
If you are planning to pick a winner from your likes, followers, and more,  AiSchedul is the best solution for that. The simple user interface and a lot of useful features will make your life easier!
The process of picking a winner fairly from all those giveaway contest participants is not as easy as it may seem. You have to check all the entrants to make sure if they are qualified to win.
Qualified entrants are those who have followed all the contest rules, including leaving comments, liking the post, following your account, tagging friends, and whatever the rules are.
After that, it's time to pick the winner. Picking the winner manually is kind of impossible and unfair. So you need an Instagram contest app to give you a hand in the process of picking the winner.
Try AiSchedul's Instagram giveaway picker
To pick Instagram contest winners, on your dashboard, after choosing the account you want to run or already run a contest on, open the Giveaway Picker tab. Paste the URL of your giveaway post into the first box, and select your criteria to pick winners.


Instagram giveaway picker will help you choose random winners for an Instagram contest. You can even specify the number of winners and substitute winners and filter the results using certain criteria like selecting only from people who mentioned one or more people or used a specific hashtag in a comment made on your post.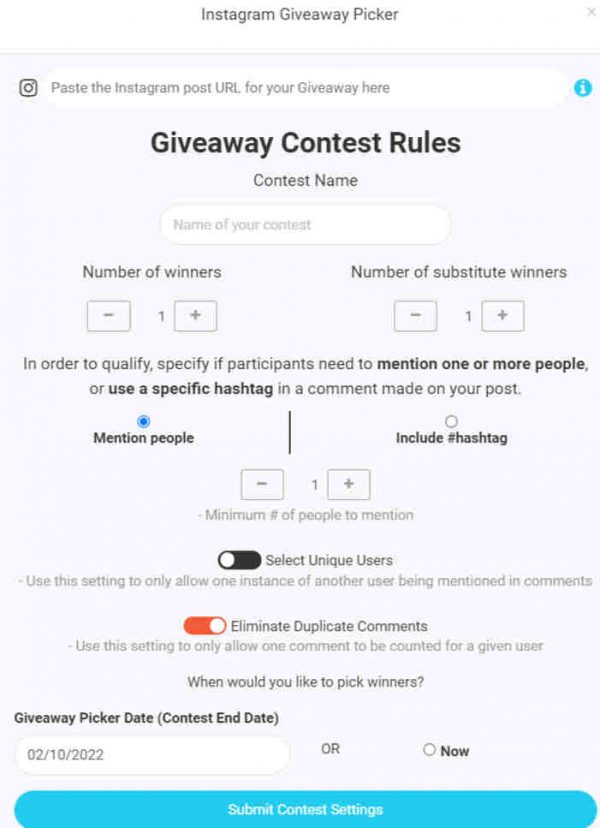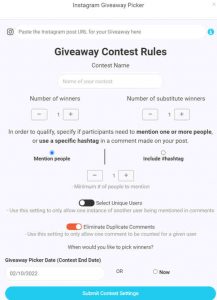 Select Unique Users
The "Select Unique Users" option doesn't Allow multiple mentions of a single user in comments. Use this setting to only allow one instance of another user being mentioned in comments. 
Eliminate Duplicate Comments
"Eliminate Duplicate Comments" will only allow for one comment per user. If a single user leaves multiple comments, only the first comment counts.
The final option for this unique Instagram giveaway picker is to select a date for the winner selection. The option can be set to either pick winners at the end of the giveaway or right after you set the options.
Easily pick your Instagram giveaway winners with it!
AiSchedul Instagram Giveaway Picker Pricing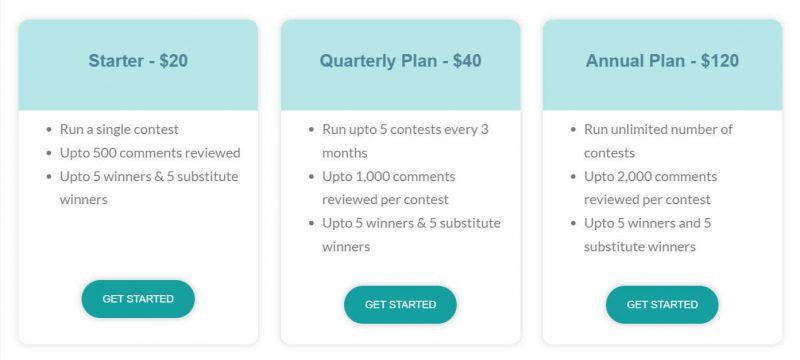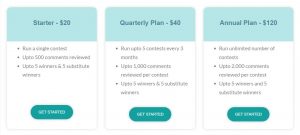 There are three different pricing packages for this feature depending on the number of contests you can run (with post and reward tool) and the number of comments that it reviews per contest.
Pick a package and sign up right now!
Now let's go on the AiSchedul post and reward feature and how it works in the next section.
What Is Post And Reward Feature? 
Basically, post and reward is one feature of the AiSchedul scheduler that enables you to condition your follower to do a set of actions to win your prize instantly.
You can use AiSchedul to organize successful Instagram contests and define rules for users.
This feature will give you the most widely used hashtags, which will make your posts in the top post position to be seen, and it will increase the engagement rate of your page.
The Post and Reward feature is actually straightforward to set up. I will show you how you can hold your contest automatically using this feature by AiSchedul.
The video below will give you an idea of how the post and reward feature works.
Sign up and enjoy the benefits.
What Are The Most Important Features of Post And Reward? 
This Instagram contest platform automates the entire process of running a contest.
AiSchedul will automate all the steps so you won't have to go back manually and check the comments to see who actually follows the rules.
Below are the steps you need to go through to get started with an Instagram contest.
Schedule An Instagram Photo Contest
After signing up on AiSchedul, go on your dashboard and choose the account you want to run an Instagram contest for followers. (If you already run some contests through your AiSchedul dashboard you can see and choose from them in the lower-left corner of your screen.)


To get started, after tapping on the post & reward tab, select the photo or video you want and drag and drop it in the photo box to upload.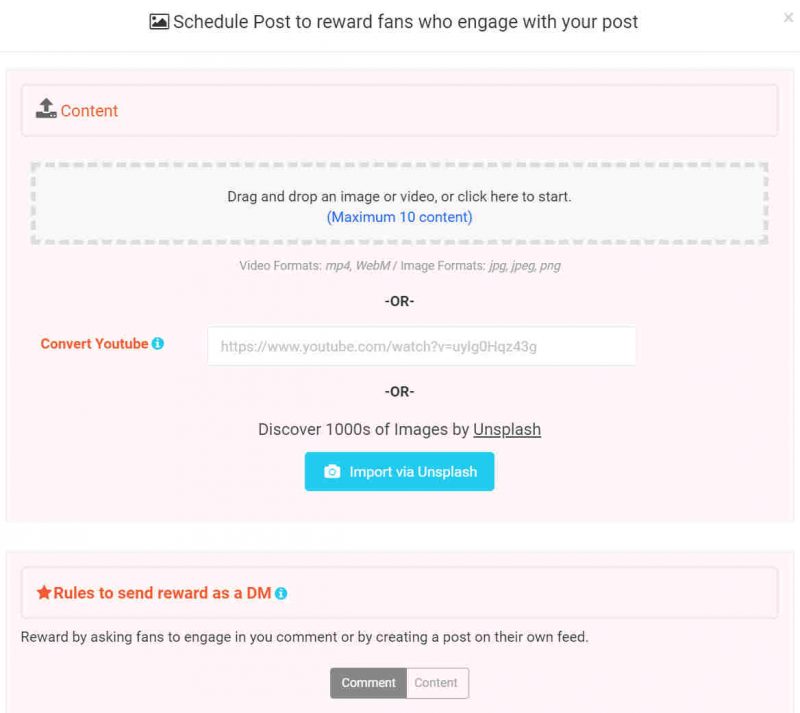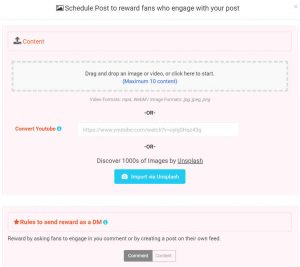 You can also drop a YouTube URL and convert it to an Instagram post with a simple click. You need to confirm you have the right to publish this video on Instagram. Another option you have here to choose an image or video is importing pictures via Unsplash.
When setting up an Instagram contest, you can choose to reward your followers by asking them to comment on your post or by creating their own posts tagging you. (content).
Then to decide who wins, you'll need to set your Instagram rewards rules and decide how winners will be selected.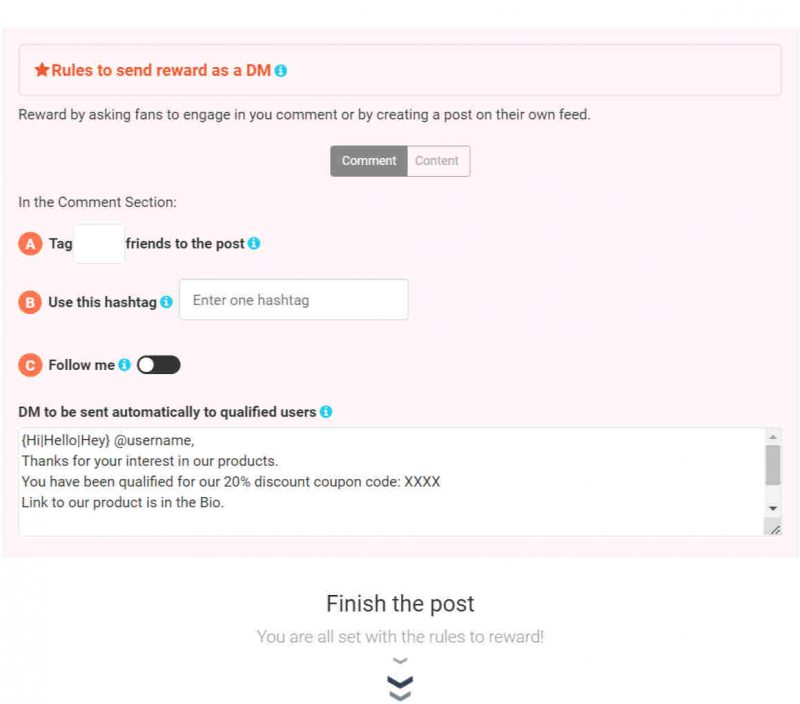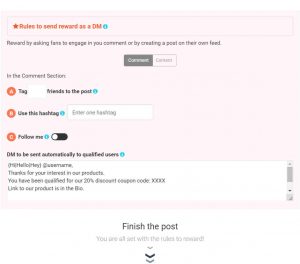 Choosing "comment" you can set rules in the comment section of the post to receive Instagram prizes ( a coupon, a link to a free book, etc.) We send the DM automatically when a user meets the criteria. 
Tag Friends to The Post
Proper use of tags is one of the most important ways to attract engagement. That's why you can use it as one of the rules for participating in rewards.
People who want to participate in your contest should tag a number of their friends in the comments section. however, it is possible to tag up to 10 people, but we don't recommend tagging more than 5 people.
Use This Hashtag
You can create your hashtag and ask users to use this hashtag to participate in the contest. This way, you can make a specific brand for your business and create a hashtag that belongs to you.
Also, the more people who use this hashtag, the more popular that hashtag will be. Try to make the hashtag you create relevant to your business.
Choosing the content tab, you will have these two options to set the rules: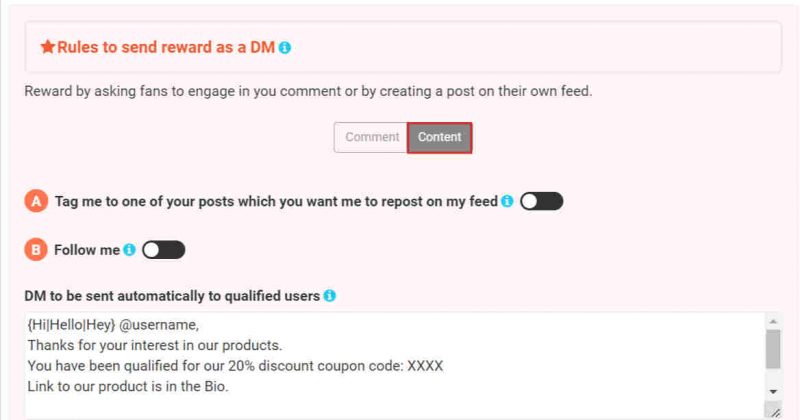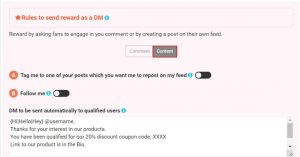 Tag Me to One of Your Posts That Want Me to Repost on My Feed
By activating this option, you should share the posts that your users tag you on them. In fact, by building a two-way relationship with your users, you are encouraging them to engage more.
Of course, if you do not enable this option, it will be deleted and will not be subjected to contest rules.
Follow Me
This option will be the same as your target option, i.e., increasing the number of followers on your page.
Your followers will tag their friends on your page and advertise your posts on their page with hashtags related to your business. Then they all follow your page and do the same with their friends.
Now, in addition to increasing the interaction on your page, you increased the number of your followers.
Automatically Reward Followers by Sending DM
When you have decided on the rules of a contest, it is time to decide on the winners and the reward.
In this section, write a text that is supposed to be sent to the winners of this campaign.
We check every 3 hours to find qualified users who followed your rules and send them your DMs; this continues up to 7 days.


Enter Instagram Contest Captions
You can either write a caption in the box or attach a pre-written sentence or passage to the caption.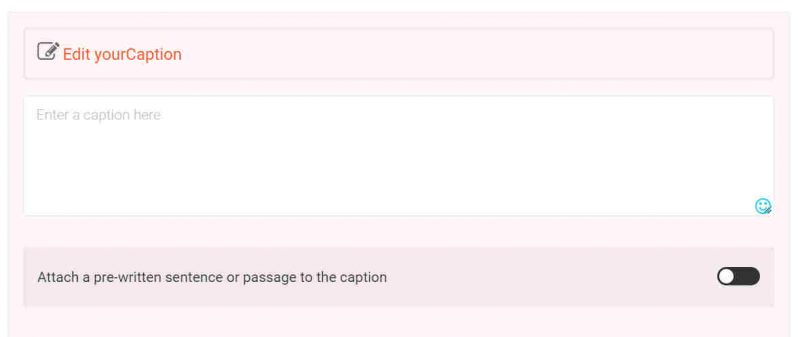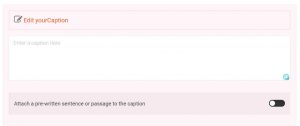 Search the Best Hashtags For Your Post
One of the most important features of Instagram is the use of hashtags, which can be used to increase post views.
One of the things that you need to pay attention to is how much your posts are viewed.
There are many ways to increase the number of followers, one of which is to use hashtags correctly.
Followers who are looking for specific content can easily access it via the Instagram hashtag.
AiSchedul provides you with a tool that allows you to find the most suitable hashtags.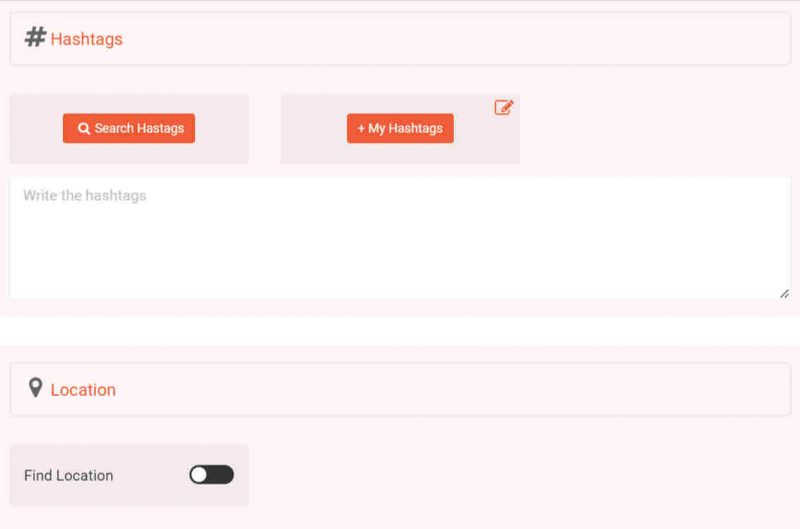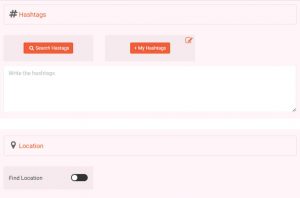 All you need to do is enter the keyword, then you will be presented with a list of the most popular hashtags, and next to each of these hashtags, you will see a number that indicates the amount of usage per hashtag.
In fact, these numbers indicate which hashtags are best for use in your posts.
The selected hashtags will be sent to the comments section, and you will get similar benefits. Except that your title will seem more tidy and orderly, and your caption will be more readable to the user.
Add a Location to Your Posts
Adding a location to your posts will allow your posts to be displayed in the area you want.
For example, if you live in an area of ​​New York City and activate the location of that area using AiSchedul, users can see the location of the area where you are located by touching the location.
As a result, you can attract followers who live in your city or area.
Scaleup Post


If you post on multiple Insta (IG) accounts the same rules will apply to all IGs.
 Schedule Dates


After deciding on the time of publishing the post, you can even set a date for your post to be deleted automatically after a while. For example, when you hold a contest, you can specify that your post is automatically deleted when that contest is over.
Link Instagram Contest Post


With Link Post you can make your giveaway post linkable, then you can have the link of the post in an organized page that can contain multiple links in your Instagram bio.
If multiple users are working on the Instagram account, by clicking on Send to Owner, it'll be sent to the original owner of the page.
Sign up on  AiSchedule and get access to everything you need to run your giveaways.
What Are The Uses of Post And Reward Feature?
Schedule post to reward

Sending reward as a DM automatically to qualified users

Holding Instagram contests automatically

Finding appropriate hashtags for your post

Automatically reward followers for sharing your posts

Instagram contest to get followers and

drive engagement, and Sell more products
Sign up to get started with the AiSchedul post and reward 
Conclusion
Wondering how to do a contest on Instagram and overwhelmed with the task of selecting winners for your Instagram reward?
Since the advent of Instagram contests, many businesses believe Instagram contests can bring them a lot of traffic and sales. However, they still put too much effort into planning their contest and use the wrong tools to run their contests.
At Aischedul, we acknowledge the importance of Instagram for boosting brand image, increasing traffic and engagement, and bringing leads and sales to your website.
That's why I presented you with a list of reasons why you should run an Instagram contest and how to do it in the most effective way with the help of AiSchedul post and reward and giveaway picker tools.
This best Instagram contests tool provides you with the easiest way to create a contest for Instagram and helps you get more exposure for your brand or product. It's safe, simple, fast, and does all the work for you. Try it now!