In the world of online social media, Instagram direct messages have become an essential part of online marketing strategies, because Instagram DMs allow business owners to communicate with their customers directly on the platform in an interactive manner.
If you are an Instagram user, you know how great it is to share photos, videos, and most importantly, sending Direct messages to your friends and followers.
In this article, we will talk about the possibilities of expanding your business by sending a direct message.
Keep reading for some new facts that you weren't aware of! 
How Can I Creatively Use Instagram Direct Messages to Build my Business?
200 million Instagram users visit at least one business profile daily, and if you are one of those users, you love to use Instagram for business purposes. The social media site is constantly changing and growing, so there's always something new to explore.
How do you use Instagram Direct messages for business? 
There are several ways to market your company using social media, including connecting with your audience, providing helpful information, attracting new customers, and more. If you want to get started, make sure you're using the latest tools available on Instagram, and start sharing some pictures of your company.
Instagram direct messages is a simple but effective way to thank someone for purchasing from you (including your own business), respond to queries, make money online, or resolve a conflict before it gets too heated.
Keep in mind: it is the details that really make all the difference. While Instagram offers a great, unique environment to build and nurture relationships, it does its best to keep things light and fun. It ensures that your Instagram direct messages will be read and re-assured by offering a quick and easy way for followers to connect with each other.
Can you easily find your customers on Instagram?
Direct messaging is probably one of the first underestimated tools available when it comes to online social media marketing. However, if businesses finally realize the full potential of this new social media platform, they may actually re-planned their entire online marketing strategy, devising a new space for DMS marketing on Instagram.
The key to doing this, is by being able to send your customers useful Instagram direct messages. If you can teach your followers to respond to your Instagram direct messages effectively,  then you will have already won half the battle.
Instagram has a feature that allows you to see everyone who has tagged you, so you can see if your brand is making the grade by connecting with your customers directly. With this powerful tool, you can identify customers in your location, follow them, and get in touch with them. As a result, you can easily find Instagram direct messages and provide feedback to your customers so they can improve their business performance.
Can you promote your business using Instagram direct messages?
Yes! You can create Instagram blurbs about your company and post them on your Instagram page.
As soon as someone clicks on your posting, they will be taken to your Instagram page, where they can view your latest products and services and get in touch with you. You can even use your Instagram account to promote events, promotions, new products, and sales.
As a growing number of people continue to turn to social media platforms to connect with friends, family, and the people around them, the importance of Instagram direct messages cannot be overlooked.
As someone who works in the social media industry, we are constantly looking for creative ways to reach more people and build long term relationships with them. Thanks to the functionality of Instagram's latest updates, this is now easier than ever.
 Can you target your customers on an automated basis?
Instagram DMs allow meaningful communication about your brand, its services, and who you are as a business!
However, reaching out to your customers or followers one by one could be very time-consuming, but today we will introduce a DM tool that allows you to send DMs & bulk messages at the same time to multiple users, that would save you a lot of time and makes things easier for you. 
How to send automated Instagram Direct messages? 
Dm.pro is an excellent tool that allows you to send automated direct messages as many as you want, target your audience, and hit Start DM, fast & super easy.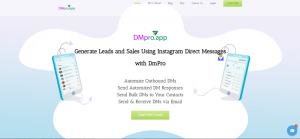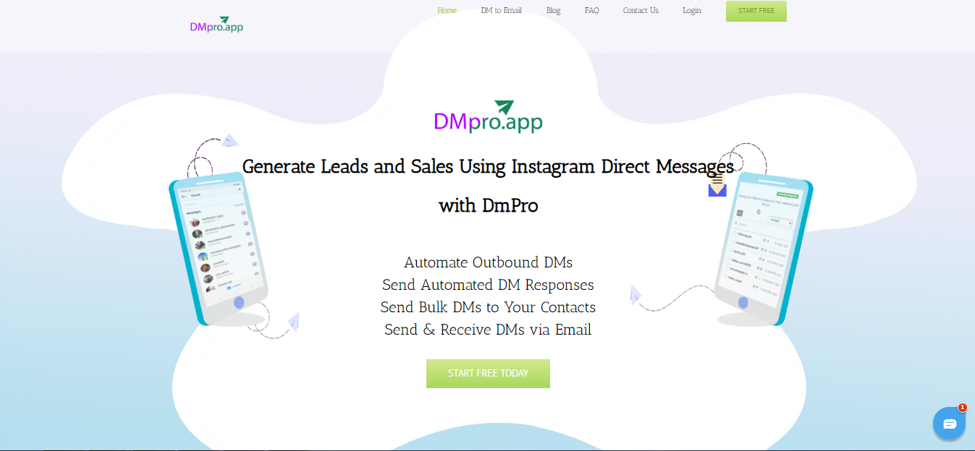 Reach out to new followers, current followers, or the usernames you have selected. This tool enables you to generate leads, run contests, reward followers, and more to use a focused DM campaign.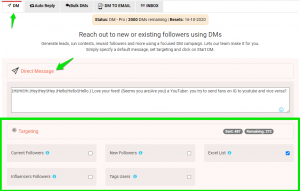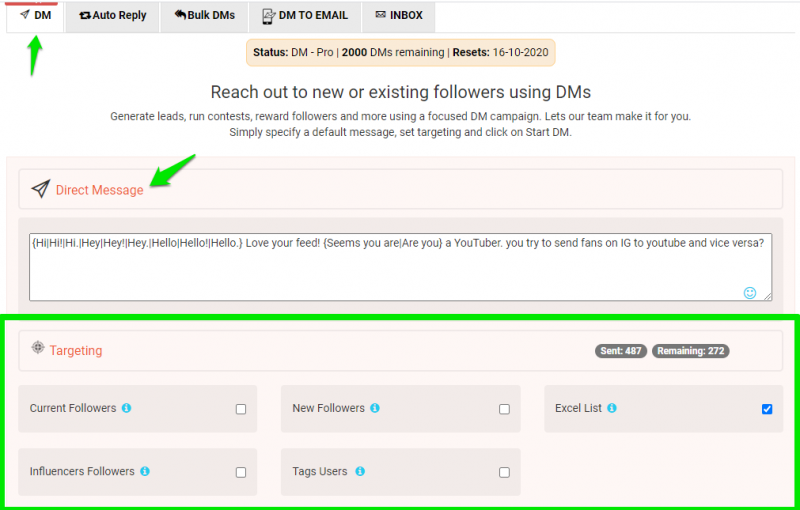 Another great feature of this amazing tool is an Auto reply to Instagram Direct messages; anyone who sends you a message with more than 3 words will get a response automatically (you can write your chosen template message).
If any customer tries to reach out to you with this setup message, you can get back to them as soon as possible.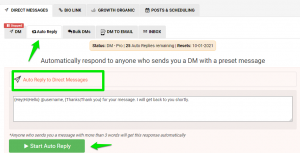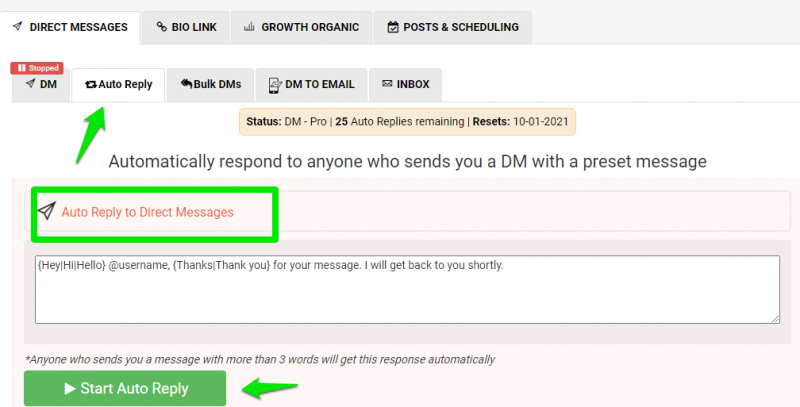 Connect Your DMs to Email,

don't let a DM go unresolved for days. Get all your DMs directly in your email inbox. You can even respond right from the email. With this feature, you can respond to all your customers without leaving any behind. 
Conclusion 
Instagram direct messages are a great way to build relationships with your customers and gain new followers. You can use Instagram direct messages to communicate directly with your customers and get more sales online; in this article, we talked about ways to promote your business using Instagram DMS.