Are you after a strategy to scale up your followers, engagement rate, and reputation? We've got a quick solution for you. Run a contest with an Instagram giveaway app! 
Running Instagram giveaway contests can be extremely beneficial in terms of gaining new followers, increasing brand visibility, and promoting a business. You do, however, need to spend a noticeable amount of time analyzing followers, generating the content, selecting prizes, and effectively managing your Instagram account. An excellent giveaway app for Instagram can assist you in automating this process.
Yet, with all the services in the market claiming to be the best, who knows what tool will serve them best?! That's what we're here to help you find out! This article provides you with a list of the best giveaway apps for Instagram.
In case you're looking for the best Instagram giveaway picker, skip this blog and sign up on AiSchedul right now!
Why Put Up Instagram Giveaway Posts?
According to the research we have done in AiSchedul, users are more likely to like and less likely to comment. In other words, it takes more to get a user to comment rather than just double-tap the post. That is kind of obvious. Now we studied the posts that got more than 1000 comments. You'd be surprised to know that %91 of these posts were giveaway posts.
Still, there is more to that. Accounts that run Instagram giveaways regularly get 70% more followers than accounts that don't.
And finally, giveaway posts get 3 times more engagement than accounts that don't.
Surprises do not stop there! Despite all benefits of giveaway campaigns, only %2 of users run strategic giveaway campaigns.
Considering the huge benefits behind giveaway campaigns and low competition in this field, you'd be missing out on a perfect opportunity if you ignore them.
Yet, we do understand if you don't have the time or patience for a giveaway. That's why we're going to introduce a reliable Instagram giveaway app as we go on! Use an Instagram giveaway app!
What Is An Instagram Giveaway App?
You should pick a winner fairly, so, an Instagram giveaway picker app is the safest and best way.
With an app to choose your giveaway winner on Instagram, you can conveniently set the contest rules for your Instagram giveaway. Then, you can have the app pick a winner and randomly raffle for your lucky followers to boost your Instagram account's popularity. 
Why Do I Need To Run Instagram Giveaways?
Instagram giveaway helps you to increase your engagement rate, reach more audiences, and increase brand awareness.
According to statistics, more than 91% of Instagram posts with over 1000 comments are contest posts.
No matter what your business is, running an Instagram giveaway helps you reach your audience and turn them into avid fans of your products and services. 
Moreover, there are some special days in the year when running an Instagram giveaway can affect your popularity. For example, holding a contest during Christmas, on Valentine's day, or on Thanksgiving can help you find your place with your target audience.
Top 5 Giveaway Apps For Instagram 
All in all, Instagram doesn't have a giveaway picker feature inside the app, so you should use an Instagram giveaway app if you don't want to go through every comment and participant!
There are lots of apps to do giveaways on Instagram, but we are going to provide you with the best of them.
AiSchedul

 
AiSchedul is a free all-in-one Instagram management tool that allows its users to schedule Instagram posts, stories, and IGTV. But AiSchedul services go beyond that of a simple scheduler. One of the best advantages of this service is that it also functions as an Instagram giveaway app.
As a giveaway picker, AiSchedul helps you implement interesting Instagram giveaway ideas to reach your target audience.
The best part about AiSchedul is that it practically comes with two giveaway picker tools. With one tool, you get to schedule your giveaway, specify the giveaway rules and deadline, and preset a message to be sent to all those who comply with your rules. With the other, you can set the deadline and contest rules, determine the number of giveaway winners, and have the tool come up with a list of winners and substitute winners.
One of the reasons why AiSchedul is considered the best giveaway app for Instagram is that it can automate the whole process of a contest and provide you with a list of random winners in a matter of seconds.
AiSchedul is also compatible with all operating systems since it is a web-based tool. However, you can download the AiSchedul app from Play Store if you are more comfortable with the app.
How To Use AiSchedul Giveaway App For Instagram
Watch this YouTube video to see how to use the AiSchedul Instagram giveaway picker.
If you're not a visual learner, you can follow this instruction to understand how the giveaway picker works.
How To Use the Instagram Giveaway App Of AiSchedul?
Before anything,

sign up to AiSchedul for free

and connect your IG.
Open the Giveaway Picker tab on your AiSchedul dashboard to select an Instagram contest winner. Paste the URL of your giveaway post into the first box and select your criteria.
You can easily specify how many winners and substitute winners your campaign will have and set certain criteria like selecting only from people who mentioned one or more people or using a specific hashtag in a comment made on your post to pick the winners.
The "Select Unique Users" is an option to not Allow multiple mentions of a single user in comments. And "Eliminate Duplicate Comments" will only allow one comment per user.  
The last step for this unique Instagram giveaway picker is to select a date for the winner selection. You can either pick winners at the end of the giveaway or immediately.
Easily pick your Instagram giveaway winners with this tool.
Speaking of the date and time, do you know what is the best time to post a giveaway on Instagram? And how long should a giveaway last? If not, then keep reading!
AiSchedul Features
Schedule Instagram posts, stories, and IGTVs

Automate Instagram giveaways

Repost YouTube videos directly without downloading needed

Add multiple links to the Instagram bio

Mass delete feature

Download Instagram stories

Monitor your competitors 
With all these features, AiSchedul gets near to perfect on Trustpilot.com, so it is known among its customers as a trustworthy Instagram giveaway app.
So, what are you waiting for? Sign up now on AiScheul!
2. You to Gift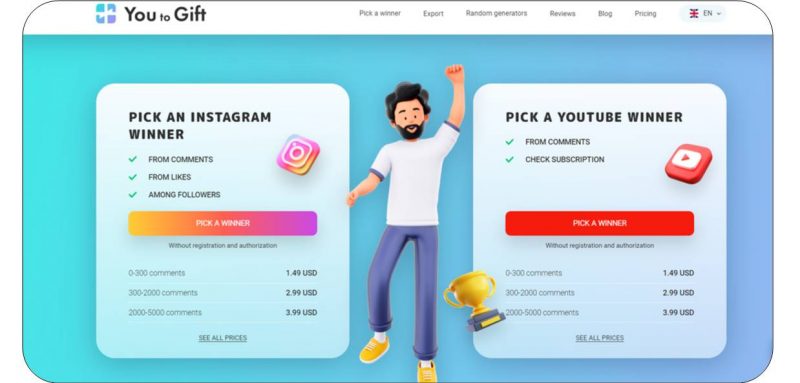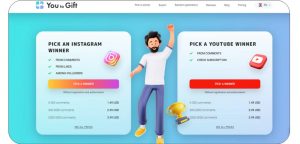 Use You To Gift to pick out a fun, creative, and ideal winner of your YouTube or Instagram giveaway. You To Gift provides an app that enables a fair selection of winners to be raffled off based on your criteria, whether you are selecting winners for a more sizable or smaller giveaway.
Download from App Store and Play Market.
Why Choose You to Gift?
You don't need to give your Instagram username and login password for your giveaway. To make your service as safe as possible, all you need is a link that directs users to your post.
You can select a winner based on who won the Likes, comments, or subscriptions you choose. As an added bonus, you can download your follower database from any publicly available Instagram account in your preferable format.
You to Gift is an established company with more than 3 years of experience and over 2K satisfied customers.
You don't pay a dime until you sign up and run a couple of giveaways for free.
You to Gift is available on App Store and Play Store.
3. Agorapulse Instagram Giveaway App 


Agorapulse, like Gleam, is a social media management tool with so many features, including IG contest automation.
This platform conditions the contest with these three plans;
Sweepstakes

Quiz

Photo contest
Sweepstakes
In this plan, you pick the giveaway winner among followers who liked or commented.
Quiz
Have you ever wanted to turn the giveaway into a quiz and pick the winner from the users who commented on the correct answer? This Agorapulse plan promises to do that.
Photo Contest
In this plan, the service helps you find the most likes in comments.
4. Wask Giveaway App For Instagram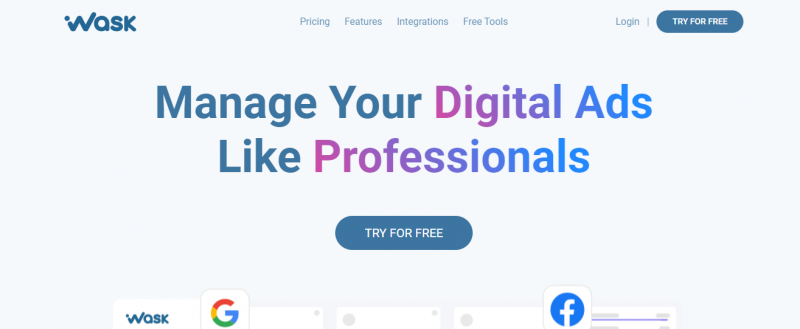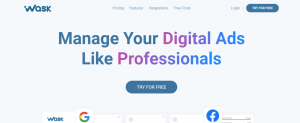 5. Gleam
So, you're curious about Gleam, huh? The platform for hosting giveaways that supposedly helps you connect with your audience and increase your online presence? Well, aren't we all just desperate for attention these days…
To get started, you'll need to create yet another account, because why not add to the ever-growing list of logins you have to keep track of. Then, you get to choose what type of giveaway you want to run. Simple, complex, it's all up to you – but let's be real, the more complicated the rules, the more likely you are to weed out those who don't actually care about your brand or product.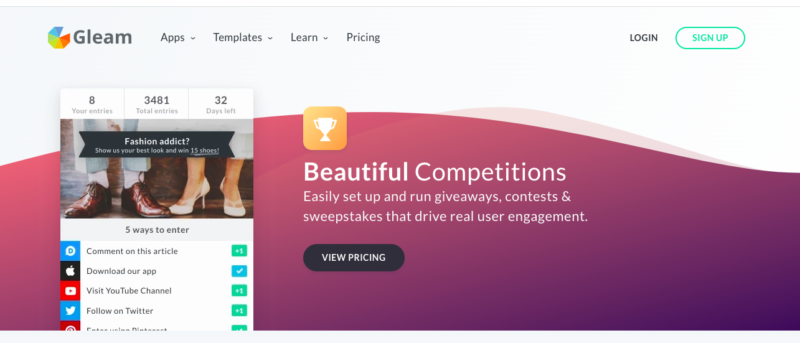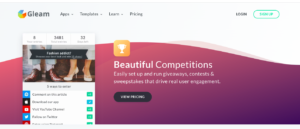 Sign up on AiSchedul for free!