Instagram has proved to be a great platform for both small businesses and major marketers, and every feature or creative idea like the Instagram giveaway and its template works well for both if it is done the right way. 
In fact, contests and Instagram giveaways are a great tool to increase your engagement rate, increase people's awareness, showcase products, reach new audience and followers, 
But how would you do it right, and how could an Instagram contest go wrong? 
Instagram giveaway templates help you save time and increase the chance to have a successful contest. This article discusses 5 top Instagram giveaway templates and introduces one of the best giveaway tools to make sure you get the most out of your content. 
5 Instagram giveaway templates 
These templates are professionally designed so that you can customize them in a way that suits your brand best. Here are the top 5 Instagram templates.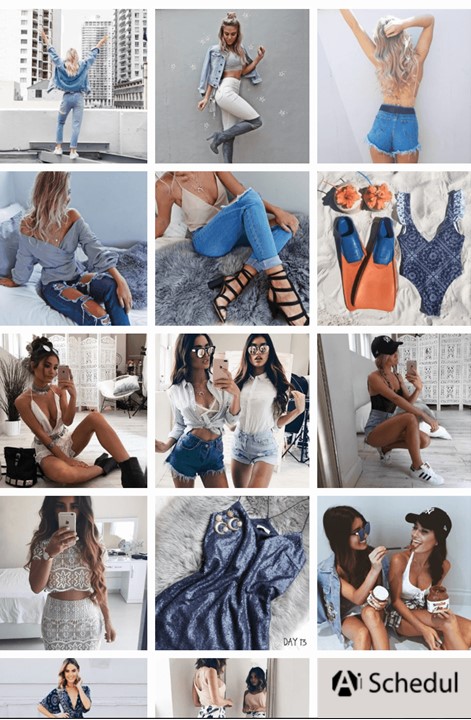 1. Social galleries
Place a link in the bio section of your Instagram profile that directs users to a page displaying a gallery of clickable and interactive thumbnails. With this Instagram giveaway template, you can leave the judgment to people while you increase engagement and brand presence by the best authentic UGC (User-Generated Content) uploaded directly to your gallery. 
Moreover, you may never wish to change the link in your bio, and every time you plan to host a giveaway, use the same link after updating the gallery. 
However, the one issue you will come up against is that you can only place one link there so you need to use a tool that allows you to share multiple links to your Instagram bio. We recommend using AiSchedul as it is one of the most effective Instagram tools for marketers and easy to use for your audience. 
Here is how you can share multiple links to your bio with AiSchedul. 
Step #1 – First, Sign up for free on AiShcedul and add your Instagram profile to its dashboard.
Step #2 – Next, Select the bio link option on your dashboard and choose the links to social media networks you wish to share. Here you can not only add a link to your dashboard but you can also place the link to your main website and other social media networks that you have.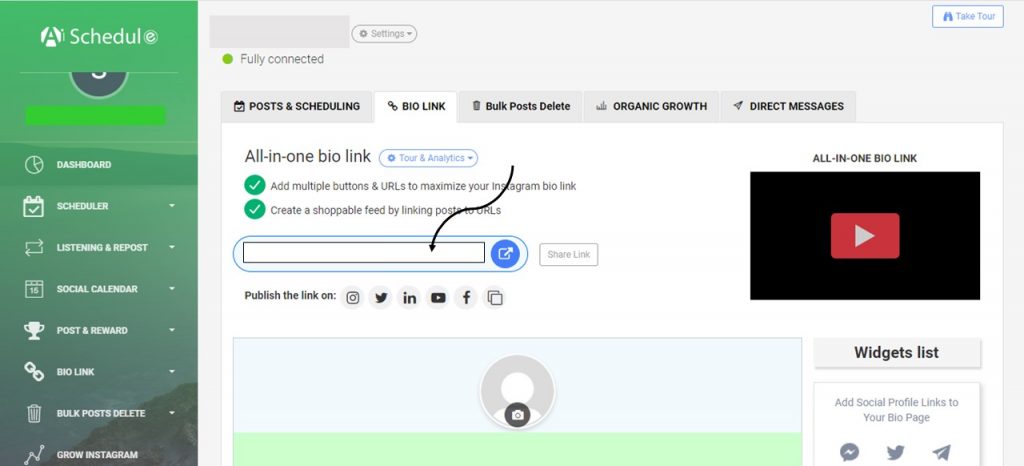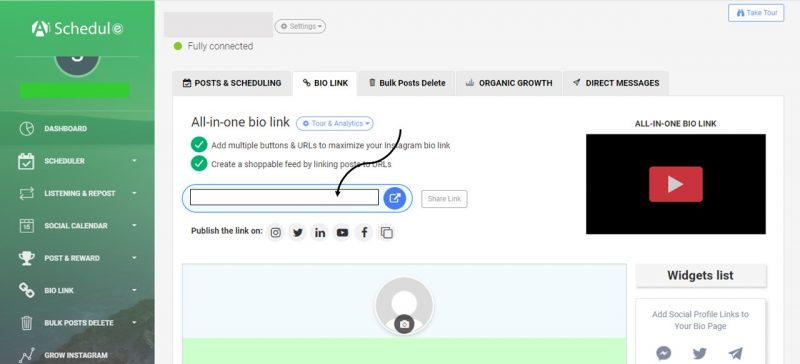 2. Launch countdown
Launch countdowns can generate excitement by nature. On top of that, you can add to this excitement by involving your audience and hosting a giveaway. 
In this Instagram giveaway template, you can ask your audience to take different types of actions. For instance, you can ask them to post your countdown to their stories, and tag or mention a friend to win a discount or something related to your new product.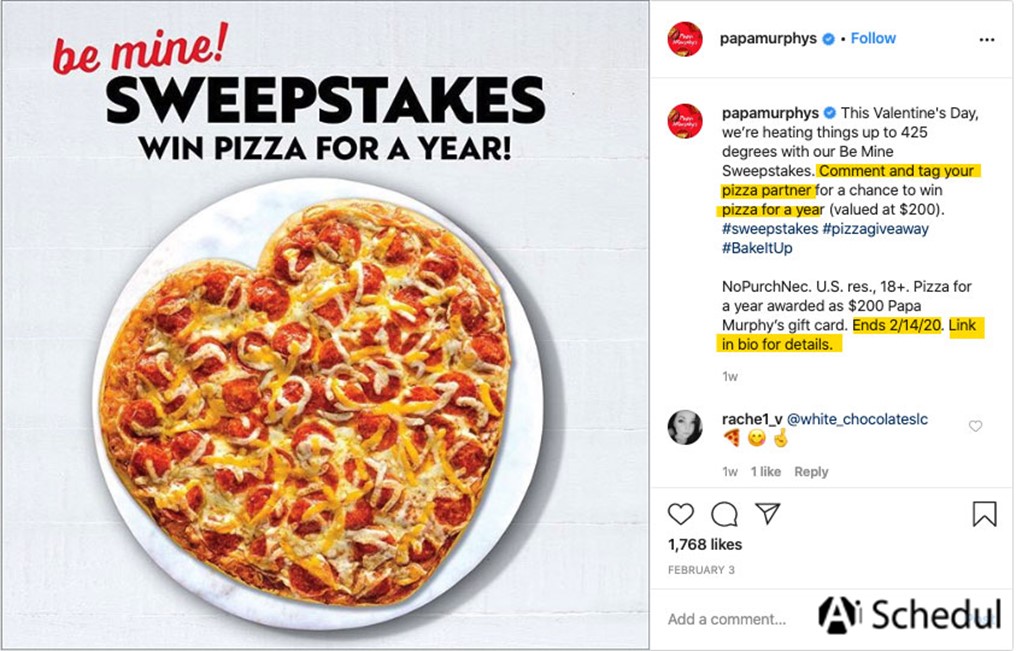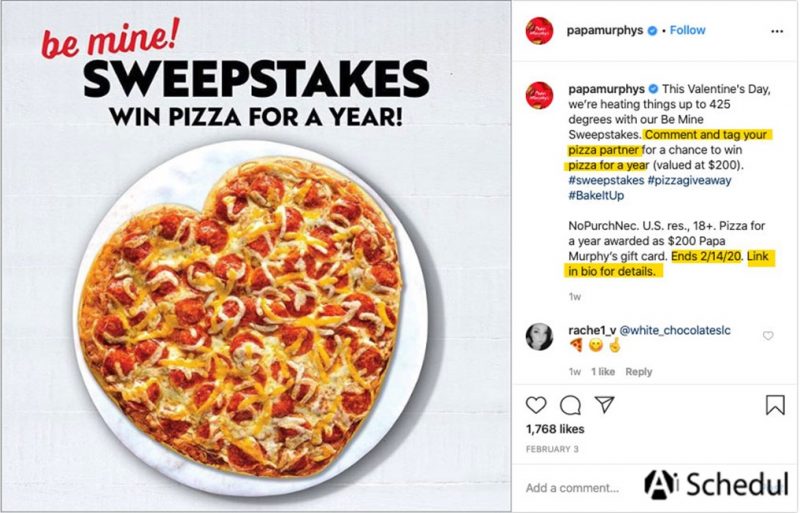 3. Sweepstakes
Sweepstakes are a great way to easily engage your followers and reach a new audience at the same time. Here is how you can use this Instagram giveaway template and reap the benefits of it. 
Step #1 – Pick your prize
It is important to consider the following points when you choose what to give away as a reward. 
It should be a relevant prize to your niche; otherwise, you will find lots of entries who are interested in your prize, but not necessarily interested in your business. 

Do not forget about the second or third places. You can even reward more people, but never give a prize to only one person. 
Step #2 – Create your sweepstakes rules
There are different types of Instagram sweepstakes rules. The one rule which should be inseparable from your sweepstake is asking entries to follow you. Then, you have a variety of choices to add to the rules of your sweepstake. 
Like-to-enter

tag/comment-to-enter

share-to-enter
Step #3 – Build your sweepstakes
Building your sweepstakes is pretty easy. The following is a step-by-step guide to finalize your sweepstakes. 
First, take a great-looking photo or video of your prize. Additionally, add a text to describe the prize clearly to the people. 

Next, create the caption. Here is where you clarify the rules of your sweepstakes. 
Step #4 – Follow up, wrap it up
When you meet the deadline, no one else can enter the sweepstakes. However, unlike an Instagram contest, everyone has an equal chance of winning. 
Finally, you should drop all the names in a randomizer and once you announce the winners and give them their awards, make sure you continue having other offers for them to have them as your customers.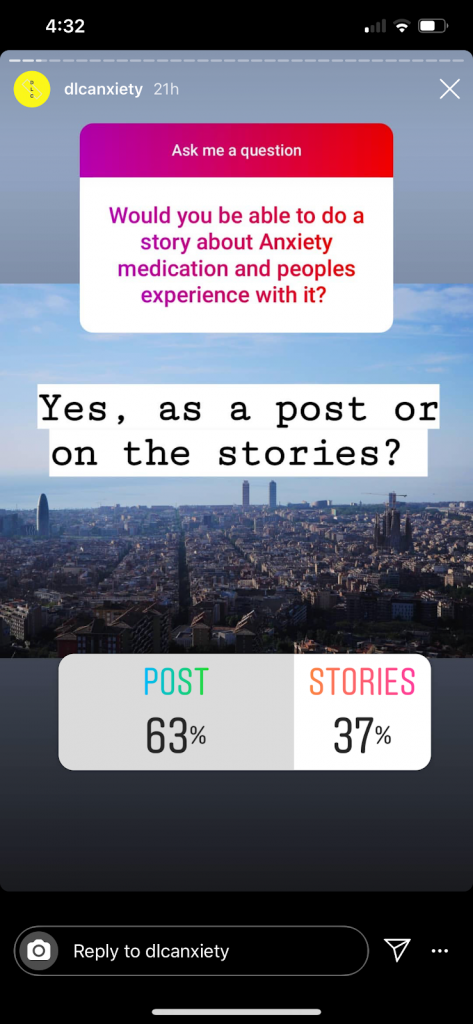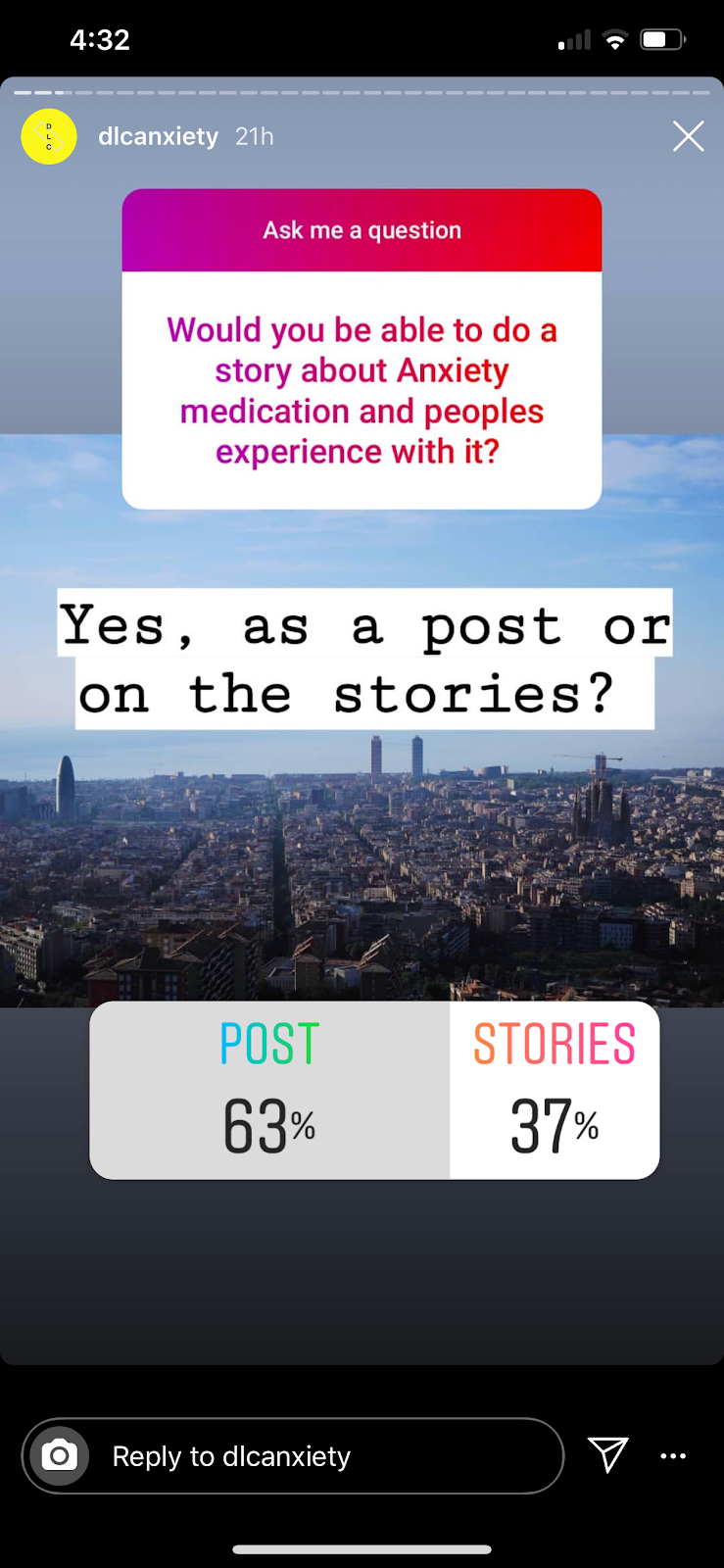 4. Vote contest
This Instagram giveaway template uses a story to pull in entries that include a "vote" sticker. There are different ways to generate excitement by adopting a vote. 
For example, people could choose between different products, and the one product that wins means every entry who voted for that particular product is a winner. 
Another way that is mostly used by different shops, cafes, and restaurants is to put two names to vote. Anyone whose name is the same as the winner can buy from that store and use a discount. 
Keep in mind that a social gallery is a kind of vote contest since the entries choose the best photo (the winner).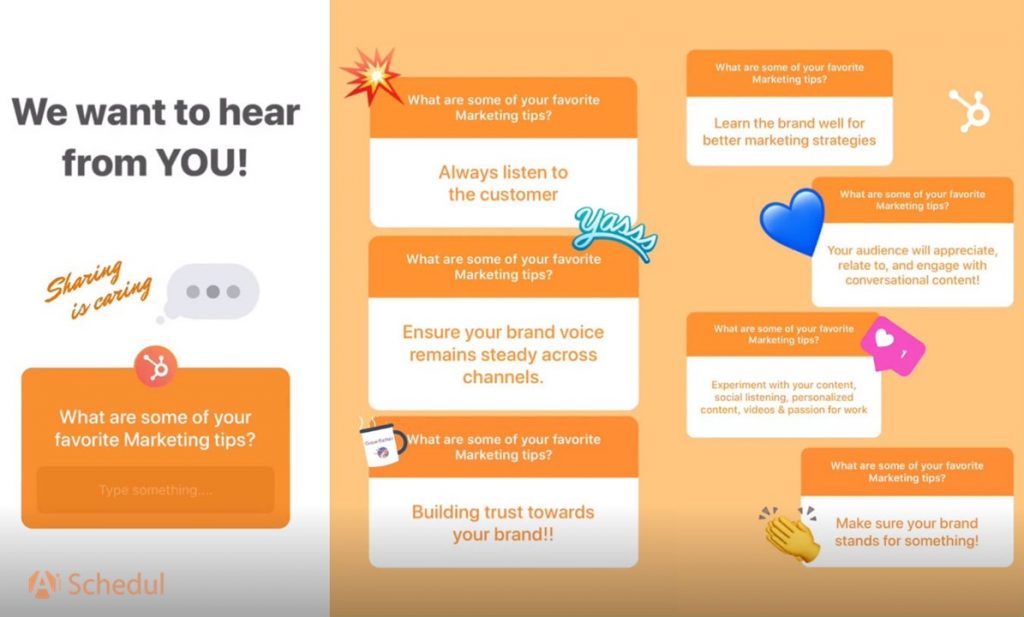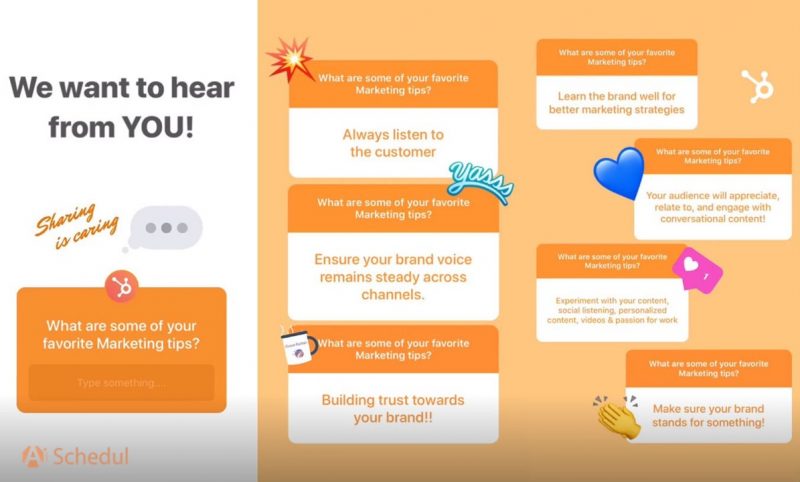 5. Customer feedback
Every business can benefit from customer feedback, but it is not an easy feat to get them from your customers. 
However, this Instagram giveaway template is an effective way to get the feedback you need while showing your customer how much you care about them.
Additionally, customer feedback always builds up a closer relationship with your customers and changes them to your loyal customers.
The hashtagged reviews will be pulled into a feed or displayed on a different number of stories and displayed on your campaign. 
What is an effective giveaway tool?
As mentioned earlier, we recommend AiSchedul for its user-friendly dashboard and the wide range of features it provides you with. 
Another feature we wish to introduce you is "Post and Reward." using this tool, you can schedule your giveaway posts, automate your contests and get more accurate results with ease. 
After signing up on AiSchedul and adding your Instagram profile to it, the following steps will guide you to creating your "Post and Reward" easily. 
Step #1 – Choose "post and reward" and click "schedule a contest".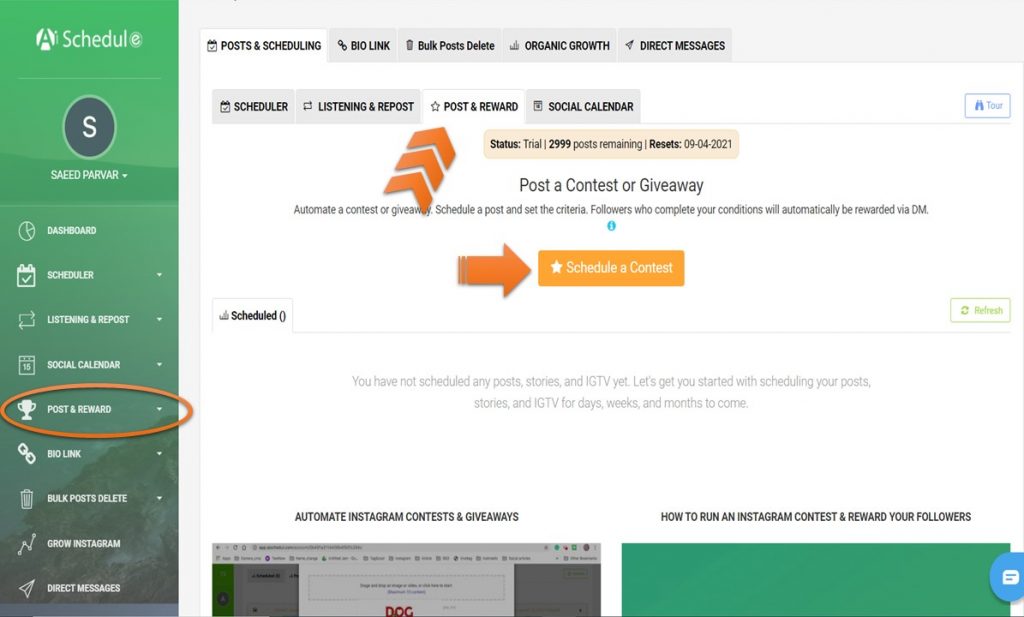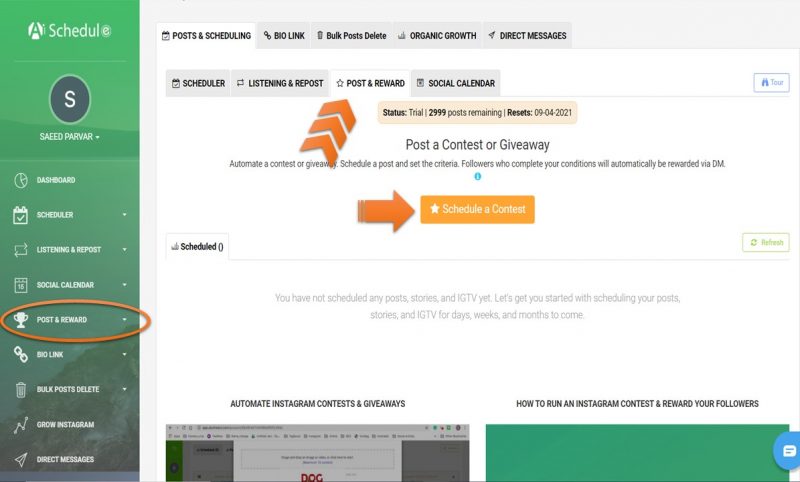 Step #2 – Upload your photo, video or share a link to upload a YouTube video directly to your Instagram profile. Then, set the rules for your contest. AiSchedul will give the results automatically.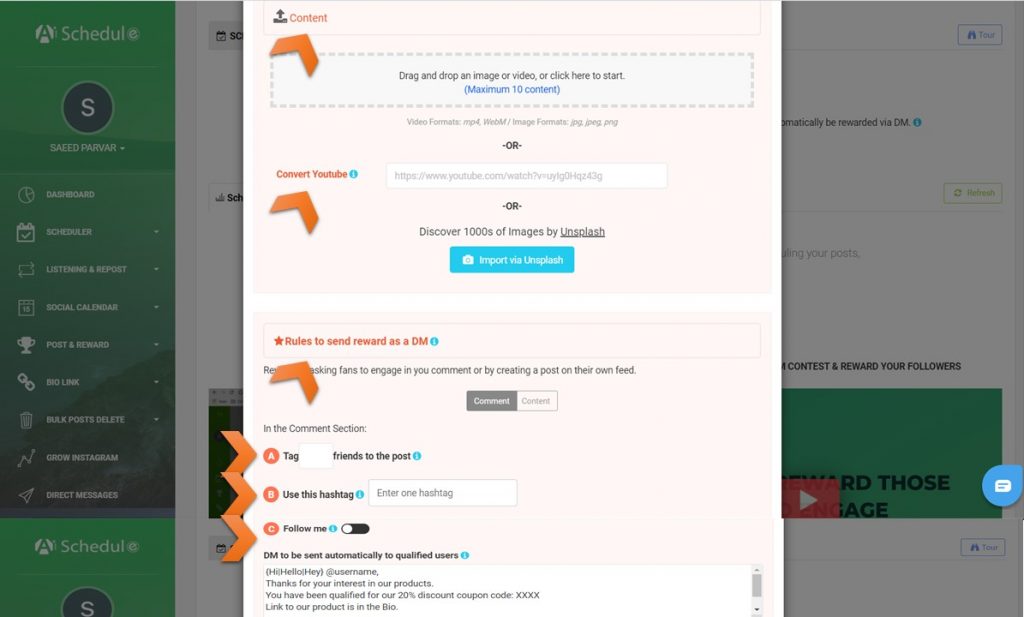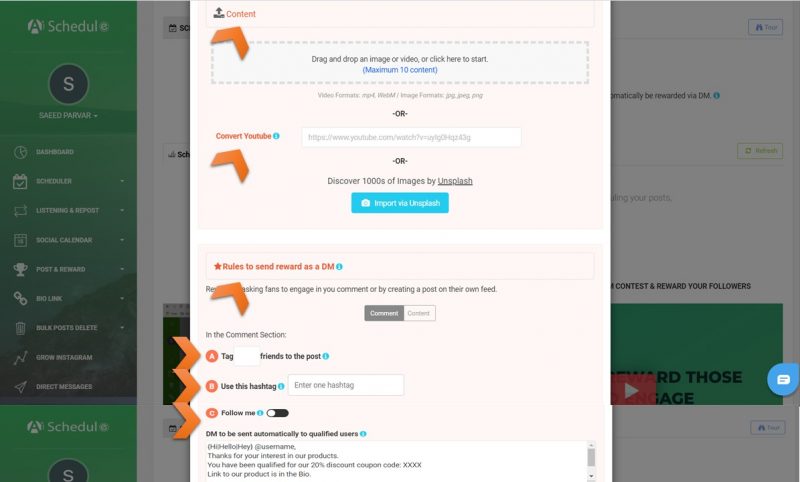 Step 4 – Next, write a caption, set the date you wish to have it posted automatically, and finish the contest automatically by AiSchedul. Finally, you can post it and have the most effective contest with the least effort. 
You can use a two-week free trial to get to know it better, you will need to decide whether or not this app suits you. The good news is that there are no complicated policies to make you puzzled choosing the package with the right features for your business. 
AiSchedul pricing and packages
In fact, you can have all the features on your dashboard for 9$ and $19 per month, as you see below.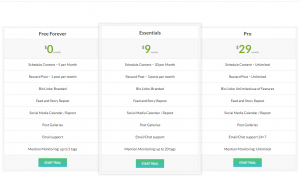 Conclusion
Instagram giveaways are effective if they are made creatively. It is a fun tool for your customers and followers to reach a new audience, fresh feedback, and many more advantages for you.