Instagram grid layout has a major role in creating unique Instagram aesthetics.
Your Instagram feed is the main key to keep your profile eye-catching, and many successful creators are aware of its importance. 
That's why professionals use numerous Instagram grid layout styles.
If you also want users to click the follow button as soon as they view your Instagram profile, you will find this article interestingly useful. 
10 Instagram grid layout styles
Every photo or video you share fills one square on your grid. Today, we are going to introduce 10 Instagram grid layout styles to show you how they correlate highly with each other as well as they play a significant role individually. 
1. Vertical lines 
Our first Instagram grid layout is very popular with users thanks to its simplicity and beauty. Pull it off by posting something like quotes with a consistent background in the middle of your feed so that it creates a vertical line in the middle. 
On top of that, the images on each side of the middle line could share the same theme to demonstrate vertical lines more vividly.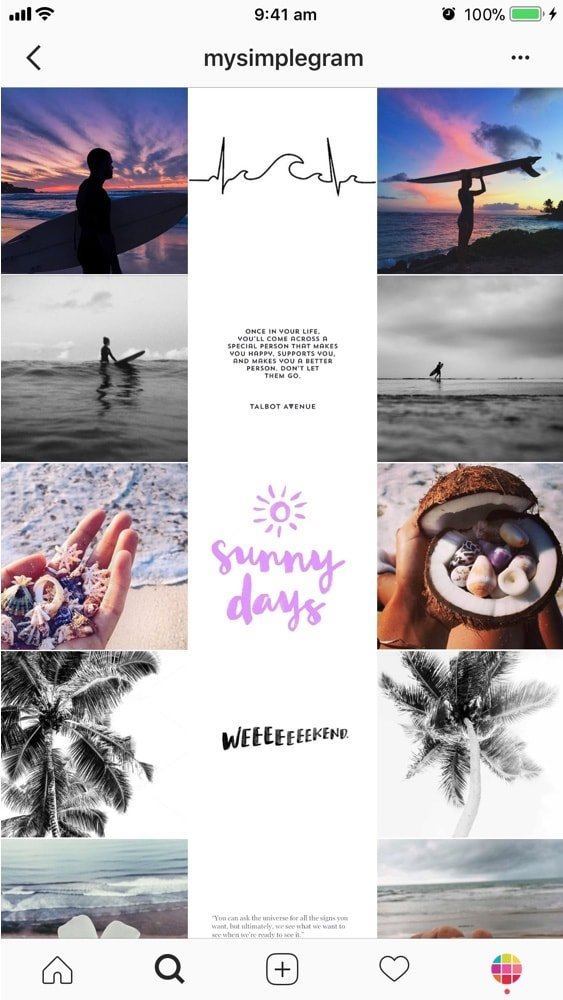 2. Diagonal grid
Our next suggestion to create an attention-grabbing Instagram feed is to post images or objects with similar visual aesthetics in diagonal lines. 
Make sure you use color or filter in the grids that have the same shape.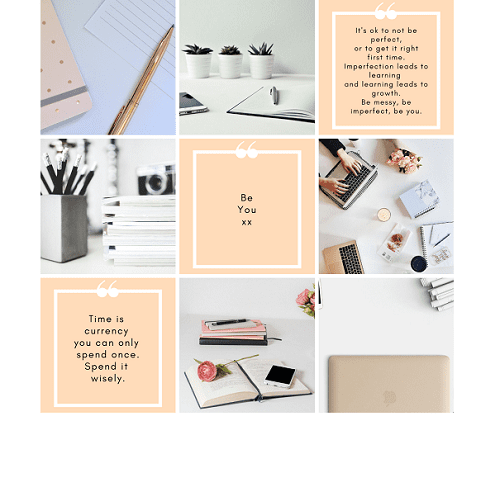 3. Squares layout
This is the most fundamental Instagram layout, which pretty much relies on each square you fill every time you post something; however, the key to having a successful grid here is to maintain consistency by choosing the same tone or filter in every post you share. 
Note that popular Instagram feeds don't have more than a couple of prominent colors.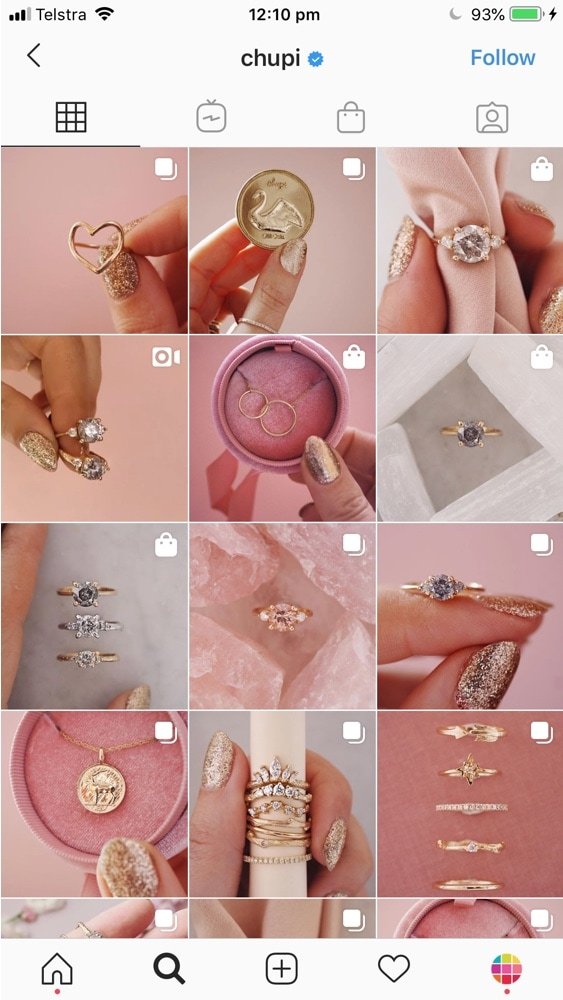 4. Checkerboard feed 
Many successful creators use this Instagram grid layout style by posting a picture, then a quote to create a feed that alternates between two colors and two post types.
A key to creating this style successfully is having the same font, tone, or background in your quotes.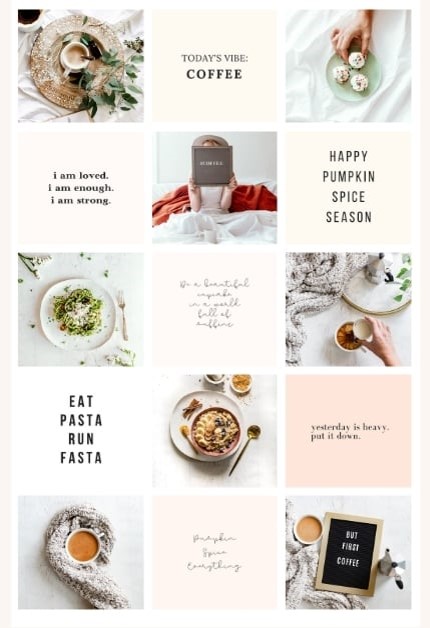 5. Row-by-row
If you wish to create a feeling that your audience is browsing through a catalog or magazine, this Instagram grid layout is what you are looking for. 
It is important to keep the posts in each row visually related to each other. On top of that, you can share a story every three posts to draw more attention to your row.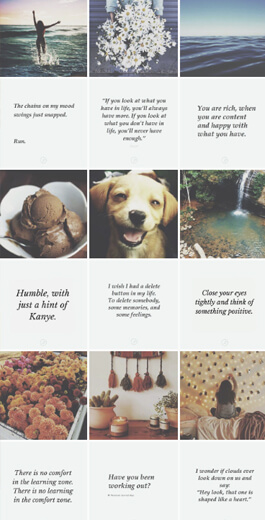 6. borders
Besides tone, font, or background, picking a border is capable of creating a visually stunning consistency. Stick to borders with a particular color or shape and easily make your feed visually attractive.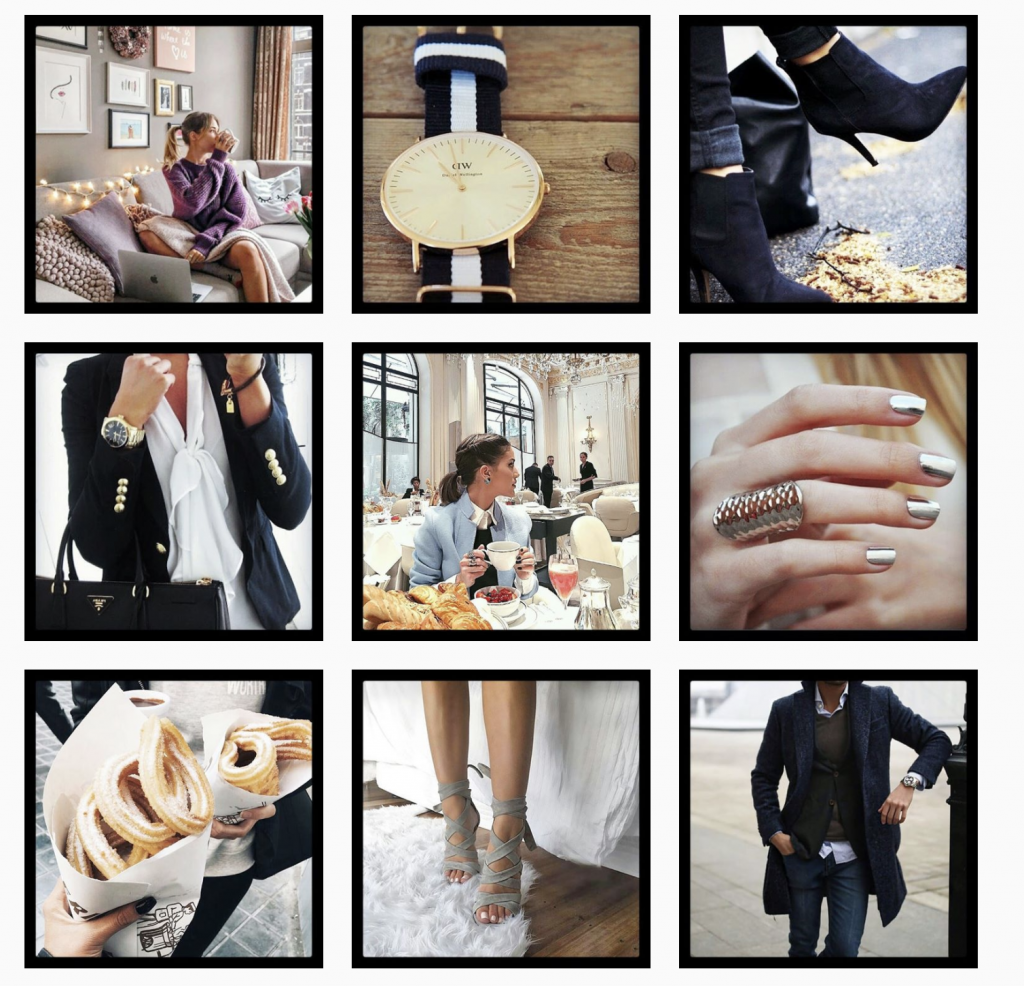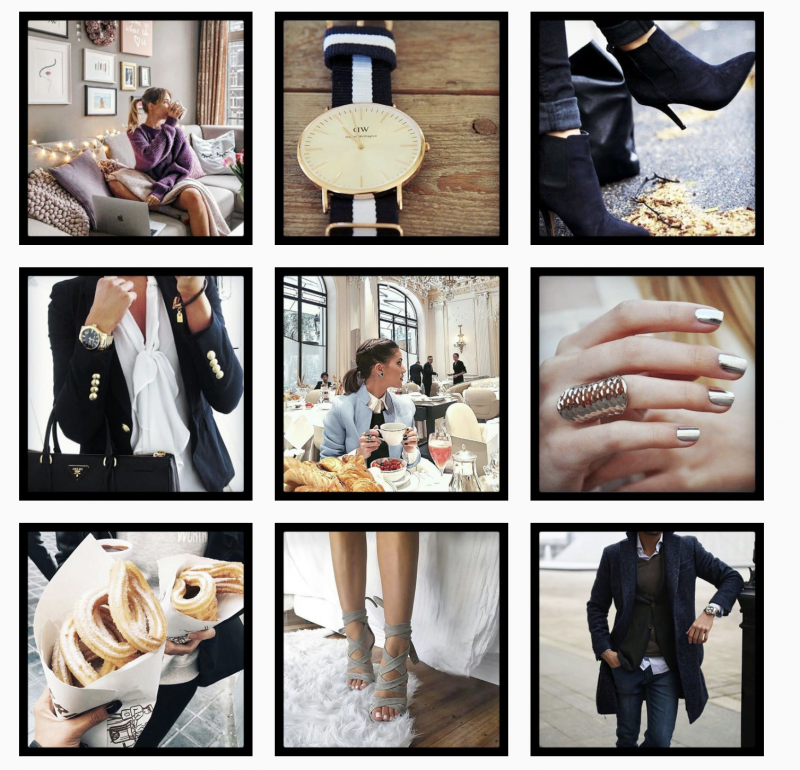 7. Rainbow feed 
If you don't want to stick to one or two prominent colors, then the rainbow Instagram feed is the perfect Instagram grid layout for you. You can change your selected filters and colors after every 3, 6, or even 9 photos.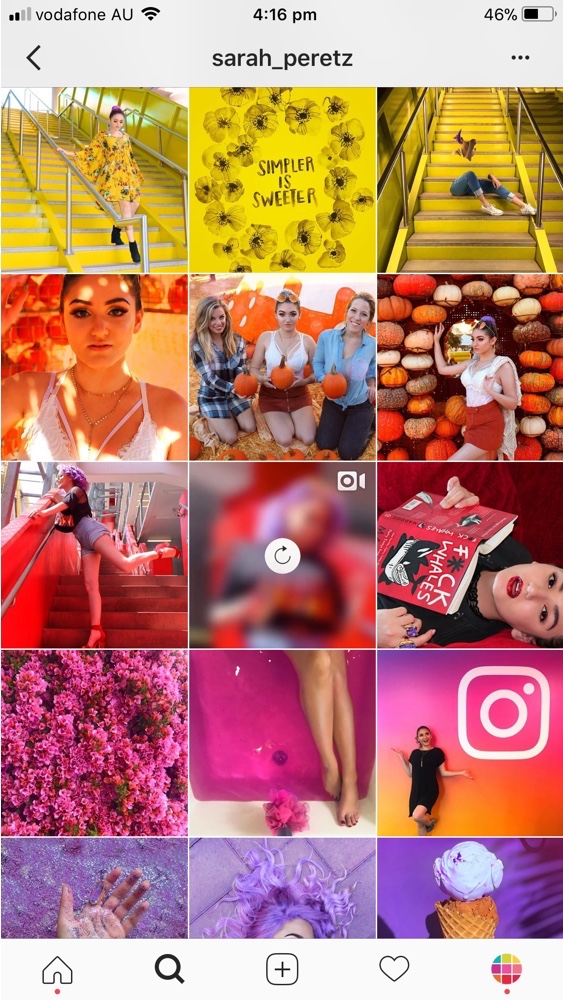 8. Tonal
As a different strategy from rainbow style to create a stunning Instagram grid layout, you can choose only one particular color and filter for every single photo you post. Both styles need a lot of effort, but they worth the time you spend to design and prepare the content you share. 
9. Puzzle 
One of the most creative Instagram grid layout styles is to feature a single image split into multiple posts. However, you need to remember not to edit each piece of your puzzle with different filters.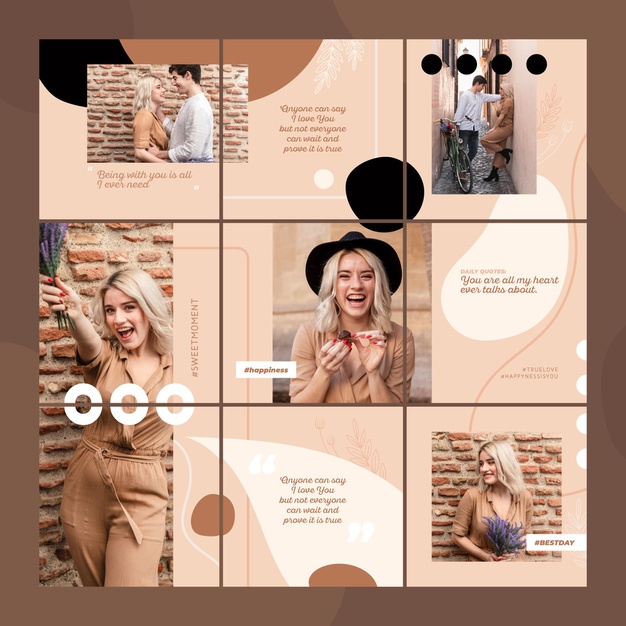 10. Mixed
A Mixed Instagram grid layout gives you the opportunity to select various styles both simultaneously and after every 3, 6, or 9 posts. 
For example, you can mix border and puzzle styles or change your row-by-row grid to a feed with vertical lines.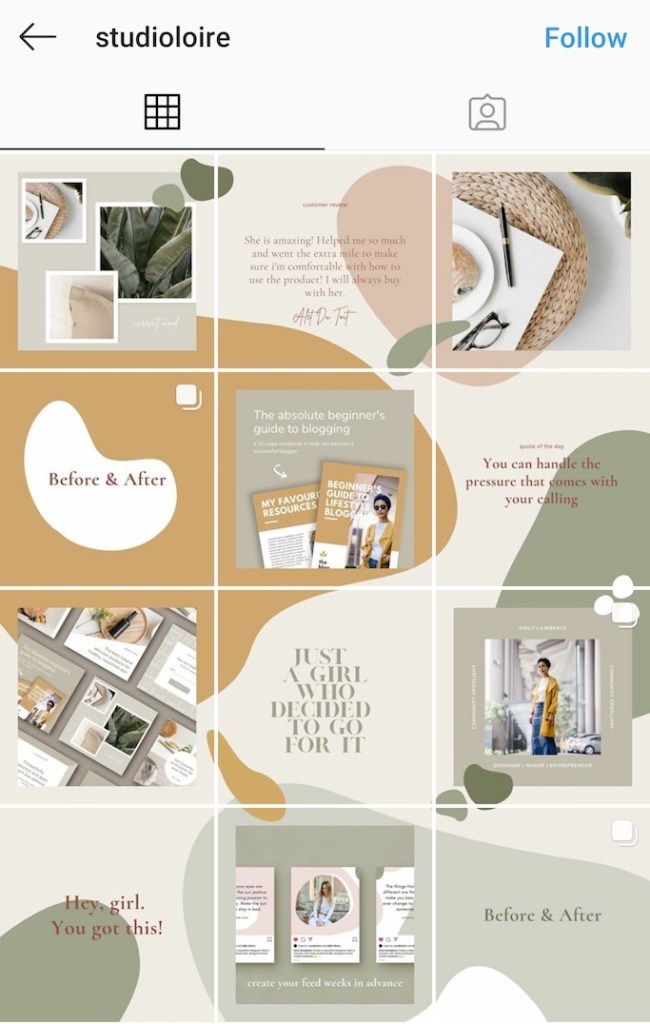 Best Instagram grid planner  
No matter what Instagram grid layout you pick for your profile, you are expected to have plans for your Instagram feed. 
Also, you can watch this video for more details
One of the most effective Instagram grid planners is AiSchedul. Here is a step-by-step guide to easily plan your Instagram grid. 
Sign up for free on AiSchedul

and add your Instagram account to its dashboard. Then select your account and click on "Manage". 


2. Then select "Schedule" from the "Scheduler" tab on your dashboard. After that, click on feed.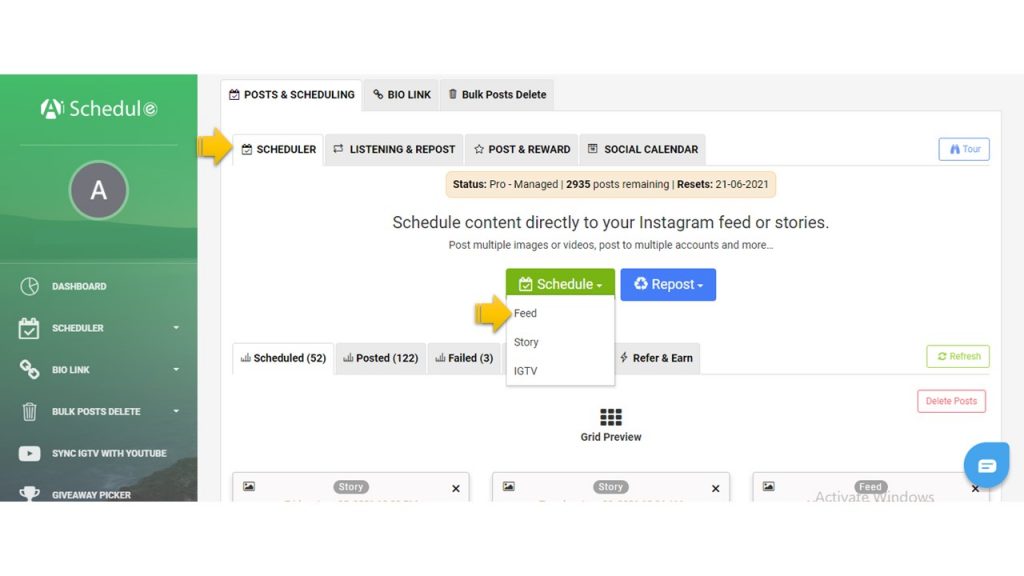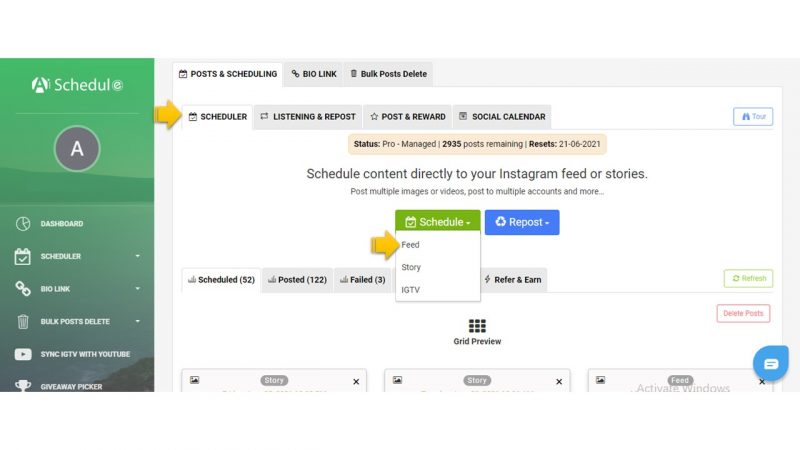 3. Next, upload your content and choose "Post in Future" to plan your content on AiSchedul's calendar. Later, it will be posted automatically to your feed. Repeat this action several times to have different posts so you can design your grid.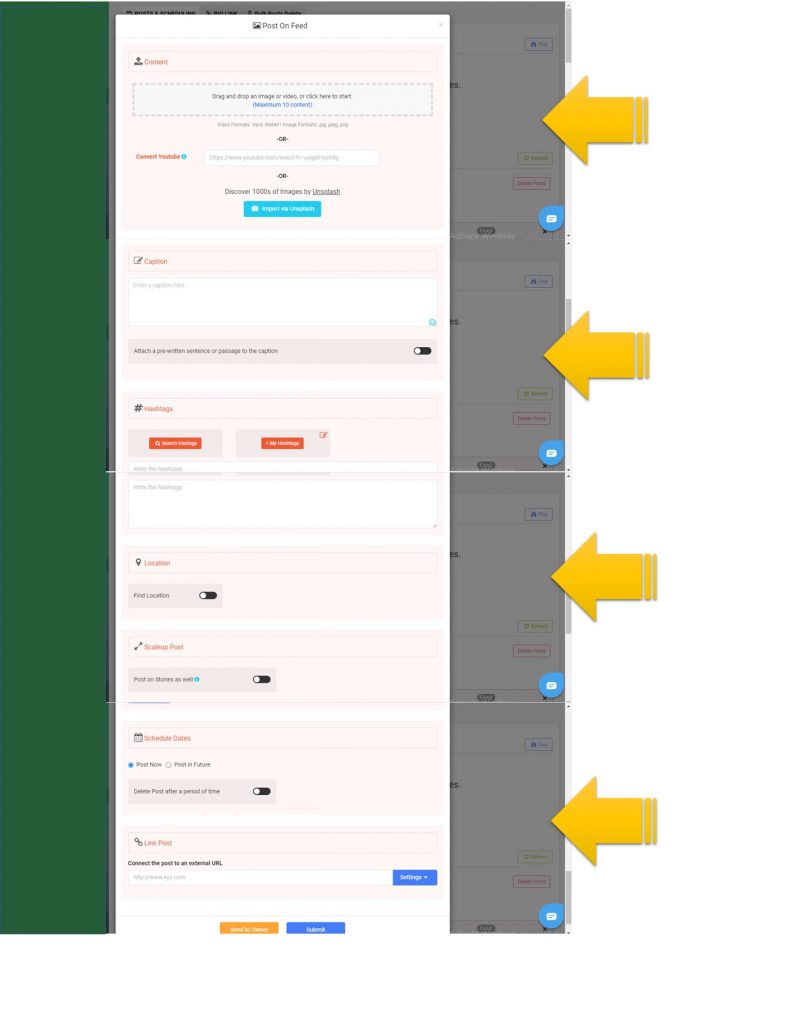 4. Now, click "grid preview" on top of your grid. You can shuffle the posts if you wish to change the order of the posts that are going to be published.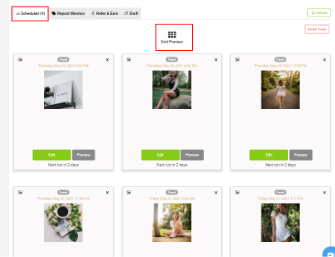 On top of that, AiSchedul offers a lot more features. For example, you can schedule your posts to delete comments on Instagram in addition to planning them so they will be posted in the future. The following is a list of major features you can have with AiSchedul. 
AiSchedul's pricing
While you can use all these features a limited number of times each month, there are two more packages that AiSchdul offers for $7 and $23 per month that are designed for professional creators and marketers who find it so effective to work with the app. 
Conclusion
After gaining a deeper insight into the top ten Instagram grid layout styles and learning how to use AiSchedul's grid planner tool, you can have a better opportunity to edit and design your profile so you can meet with criteria of Instagram's aesthetics. All it takes now is consistency and creativity to make a successful and eye-catching Instagram account. Sign up to AiSchedul for free.