After IGTV videos, the success of Instagram guides proved that long-form content has lots of potential for marketers, brands, and Influencers. 
While Instagram TV, also known as IGTV, has been around for some time, it is definitely growing bigger with a more effective use for creators and brands. 
An IGTV video allows you to get closer to your audience, and also allows more new people to discover you particularly through Instagram explorer.
In this article, we will discuss all you need to know about Instagram IGTV in 2021. 
What is IGTV and Why should you be using it?
You can access IGTV within Instagram or use IGTV as a standalone app. An IGTV video has the great advantage of being longer than typical Instagram posts and stories. 
Accordingly, IGTV videos can last up to 10 minutes for regular users and an hour for verified accounts. 
The latest Instagram algorithm prioritizes content from the accounts you interact with the most and suggests IGTV videos in relevant explore pages.
So IGTV can provide you with the perfect opportunity to increase your reach, impressions, and engagement rate as you can improve your marketing strategy by building up a closer relationship with your audience and getting discovered by new people.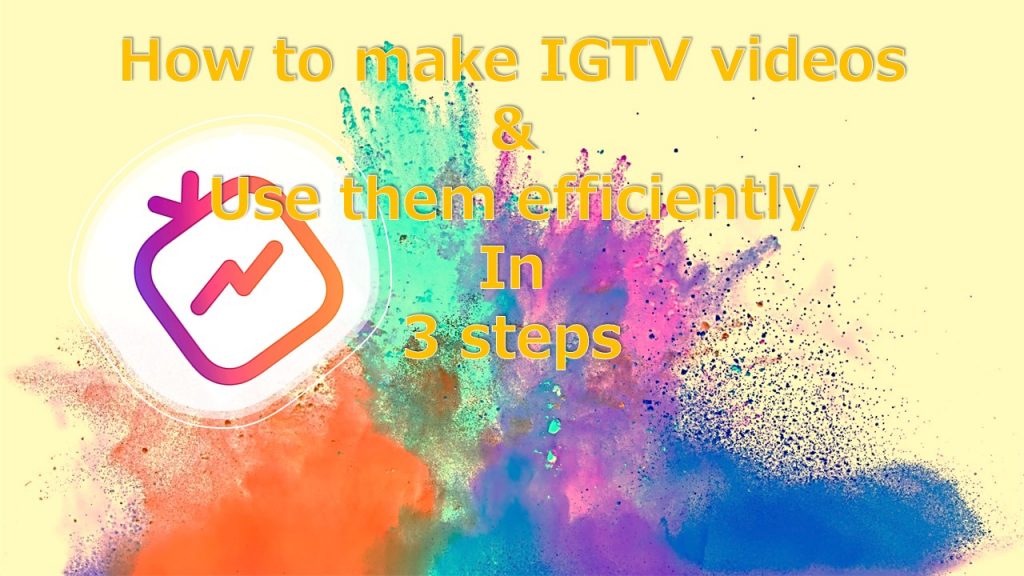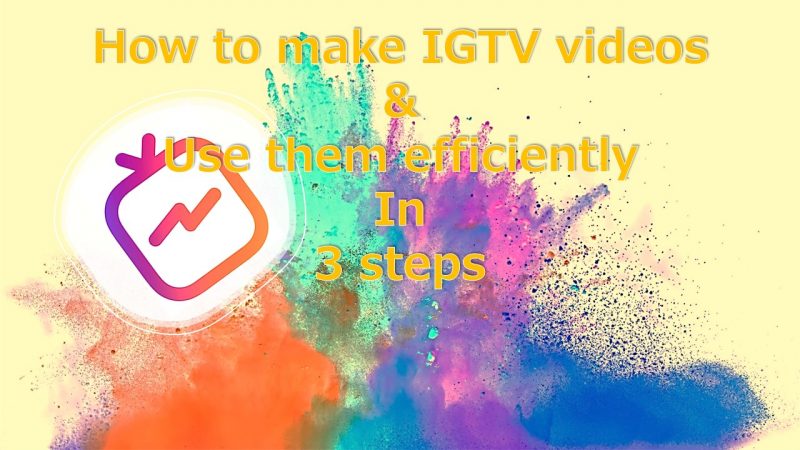 How to make an IGTV video and use it efficiently in 3 easy steps? 
IGTV is a great feature if you know how to use it effectively. The following is a step-by-step guide to making IGTV videos and putting them to good use. 
Step #1 – Create an IGTV Channel
All you need for your IGTV channel is to have an Instagram profile. Although it is not required to install the IGTV app, we recommend you have it. 
Step #2 – Upload an IGTV video
There are 2 ways to upload your IGTV videos on Instagram. The first approach is to do it within the Instagram app. 
First, open your Instagram profile and tap the "+" icon at the bottom of your screen to upload your video. Make sure your video is longer than a minute; otherwise you won't be able to make an IGTV video.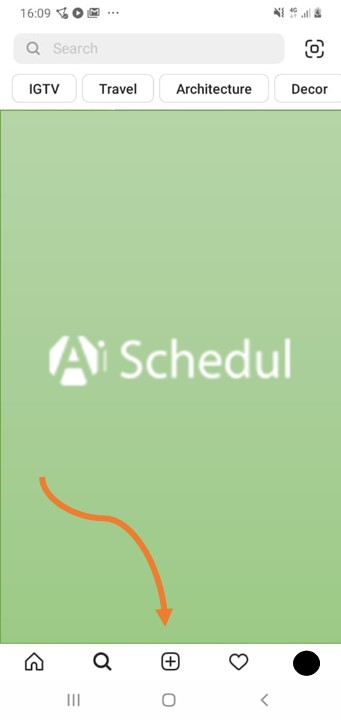 2. Next, you need to tap the blue arrow on the top right of your screen.
3. Then, you will see the "share as …" menu. Choose "long video" and tap continue.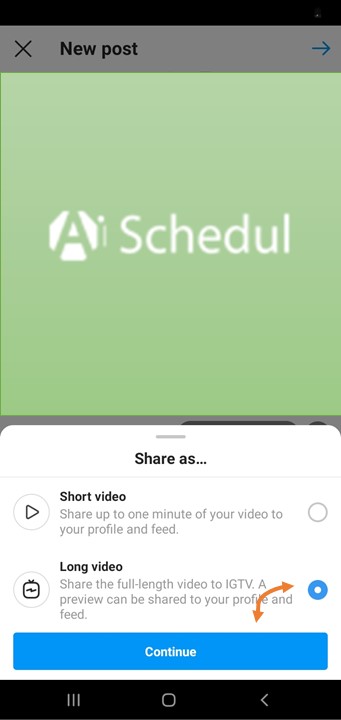 4. Now, you can choose a cover image from your video or gallery. Making a cover image and choosing it from the gallery will make your IGTV channel look organized while creating a unique Instagram aesthetic that fits your brand. After that tap "Next".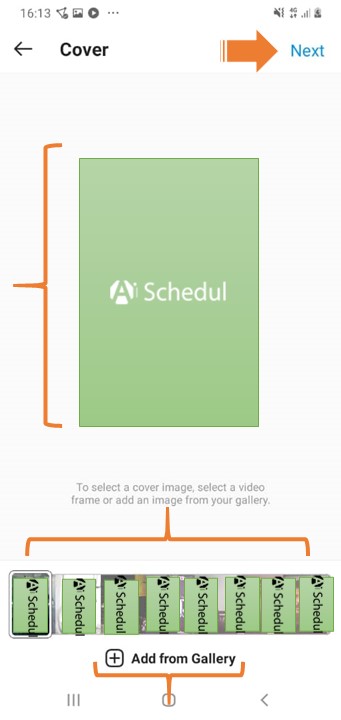 5. Finally, choose a title and write a caption for your IGTV video. You can also add your IGTV video to your story. However, if you want your cover image to draw more attention and arouse people's curiosity, you can disable post preview. You can also add it to your Instagram series. Tap "post to IGTV", or "save as Draft" if you wish to post it later. 
The second approach is to upload an IGTV video with the IGTV app. Here is how. 
Open your IGTV app and tap the "+" icon on the top right of your screen.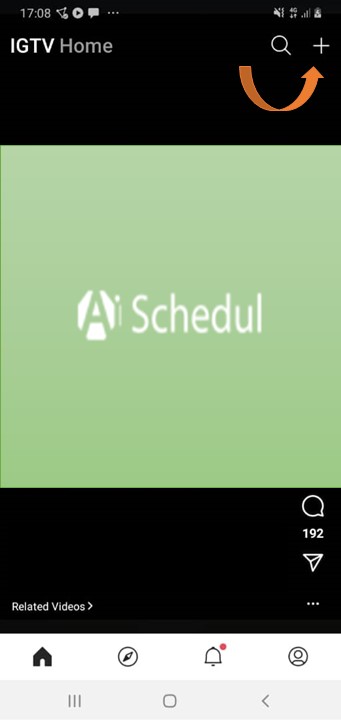 2. Next, you need to upload your video, which is longer than a minute, and tap next.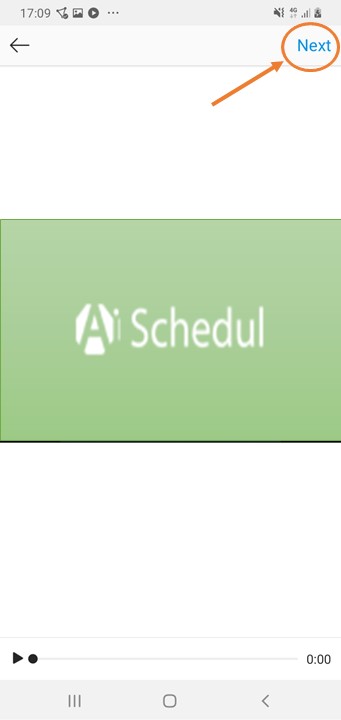 3. The rest of the procedure is similar to Instagram as you need to choose a cover image and then fill out the title and description before you post it to your IGTV or save it as a draft.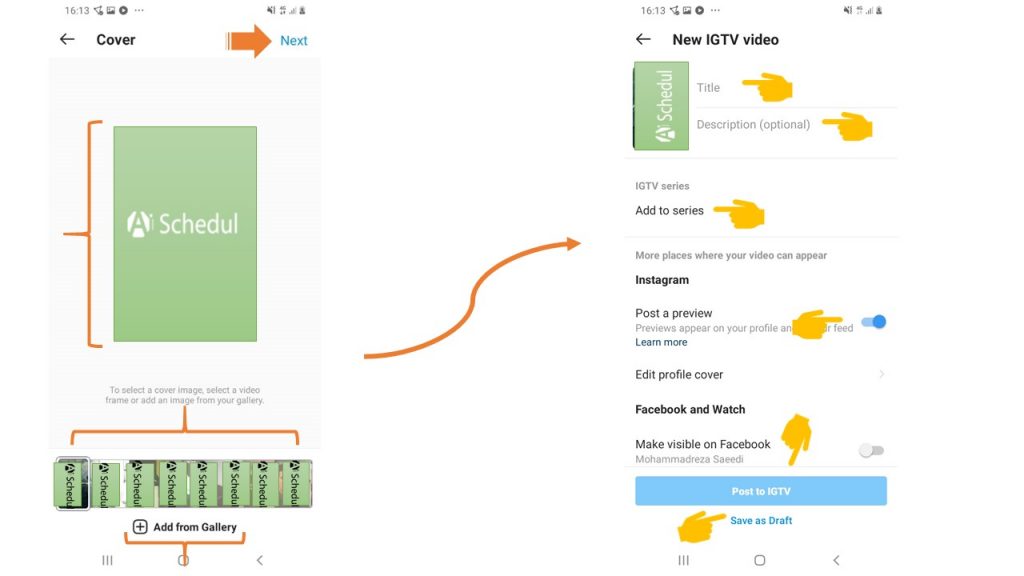 Step #3 – Make an IGTV series
Creating an IGTV series can help you find more loyal followers looking forward to your next video. While it is important that you keep your consistency, making an IGTV series is so simple and effective. 
When you are uploading an IGTV video, in the last step, you have the option "IGTV series," which allows you to add your video to series that already exists or create a new one.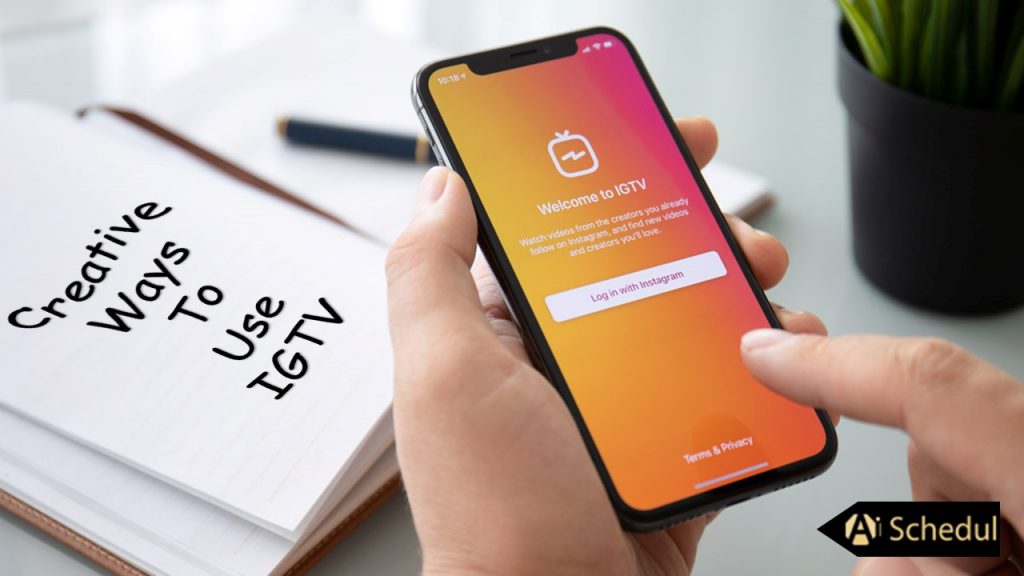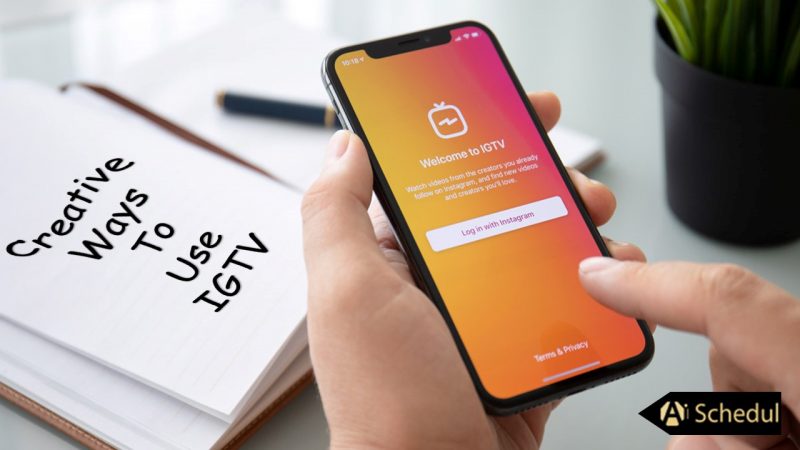 Creative ways to use an IGTV video

  
IGTV plays a significant role in your marketing strategy if you can find the right way to use it. Here are some creative ways to use your IGTV video. 
1. Repost your YouTube videos
Reach a new audience with content you have already published on YouTube.Also Regenerating your previous videos can attract new people's attention to your Instagram. The good thing about it is that you don't have to put too much effort and time into creating content. 
Moreover, you know that they have worked once on another platform, so you are sure that this video also works well on Instagram. 
2. Create exclusive IGTV videos  
Make your audience feel like VIPs. Additionally, you allow people to see the human side of your business. For example, give them a sneak peek of behind-the-scenes videos and show them what efforts are put into this business of yours. 
3. Make how-to videos 

 
Tutorial videos with a wide range of topics are effective for any type of business. From a workout IGTV video to how-to-use a product tutorial, you can create effective content and put an IGTV series into good use.
4. Stream an event
During the covid-19 pandemic, our lifestyles saw a sweeping change. Recently, people got used to attending events virtually more and more, and IGTV is a great feature for streaming such events and gaining more viewers. 
5. Host a Q and A session    
As mentioned earlier, an IGTV video is a great way to build up a closer relationship, but how? Holding a question and answer session not only does that but also presents some solid thought leadership on your industry.  
6. Develop a sequential program
A weekly or monthly episode for your IGTV series is a great way to increase your engagement rate. Your followers can get hooked on your series the same way as people become loyal viewers of a TV program. 
7. Make a talk show
Talk shows have always been popular show on TV. However, they are not supposed to stay on TV. As an IGTV video is a great feature for making a talk show, you can use this opportunity to gain new viewers. 
Moreover, Guests always have new followers with them who are considered as their fans, and after watching your show, they can turn to your fans as well.
8. Use UGC in your IGTV video
Real people, real customers, real users sharing their real experience make a greater impact on both a local target audience and a wider range of people compared to celebrities and, in some cases, even some influencers.
Getting people to send you user-generated content has different benefits. In particular, they feel how much you care about them. In addition to this, it increases your interaction.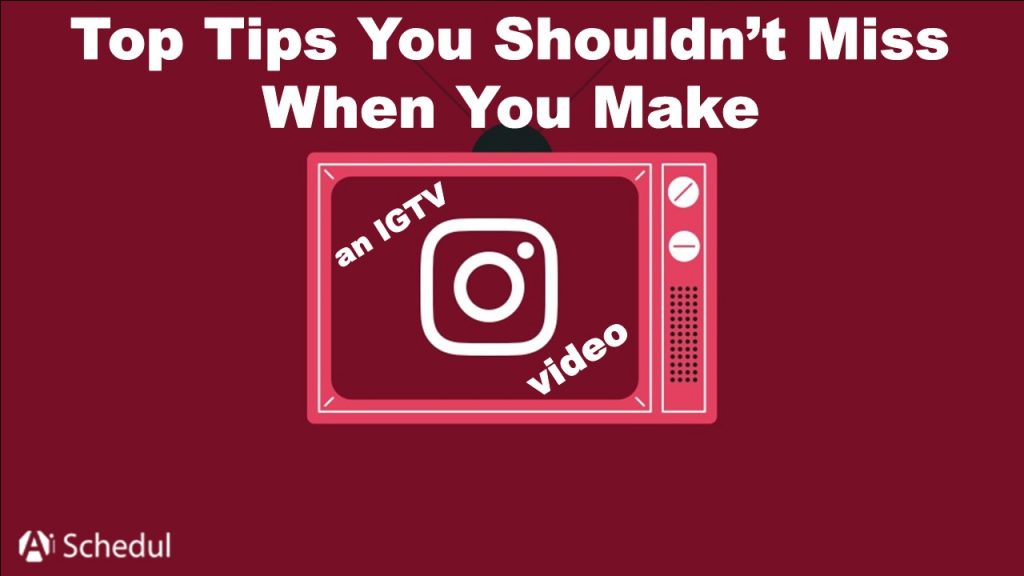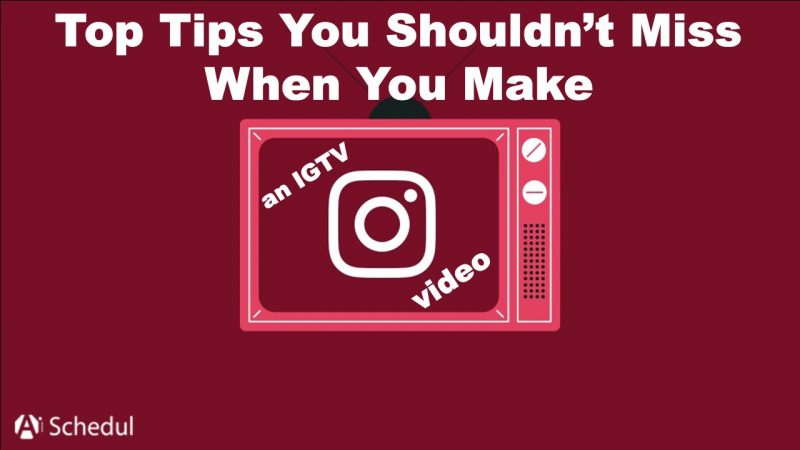 Top tips you shouldn't miss when you make an IGTV video

 
Of course, IGTV is a timeless feature to boost your performance on Instagram; however, you are required to watch your moves and get feedback. Here are 6 tips you need to consider when you make an IGTV video. 
Tip #1 – decide whether you should film vertically or horizontally
IGTV used to support only vertical videos just until 2019. However, it captured a lot of attention when Instagram announced that they would also support horizontal video content.
Here are the best things about vertical videos.
Your viewers won't have to flip their phones to the side. This makes it easier for them to watch your videos if they only have one hand free.

Viewers find vertical videos more intimate as it seems you are speaking to them face to face. 
Here are the best things about horizontal videos.
Fit more on your screen without lots of movements back and forth, particularly when you demonstrate something that takes up a wider area.

Videos that place the focus on more than just one person are commonly horizontal.

Suppose you want to use videos that you have already published on other platforms like YouTube, which uses horizontal videos mainly. In that case, you will not face any problems converting it to a vertical video or simply lose your consistency.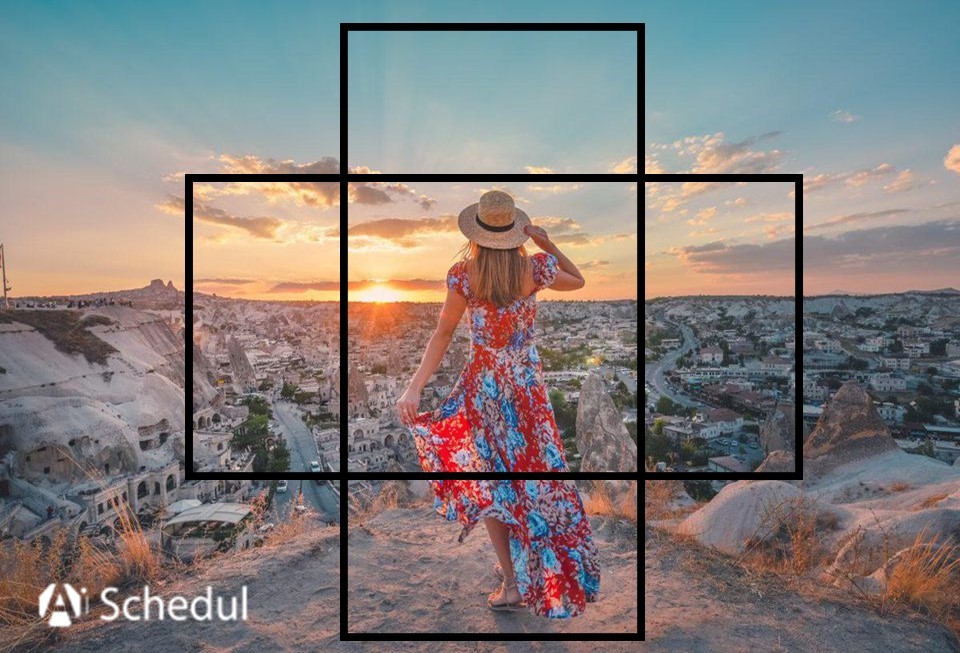 Tip #2 – Promote your IGTV video in your stories
Stories are very popular with everyday Instagram users. This will help your IGTV video to reach more people. Additionally, you can share a link to your story that directs people to your IGTV channel without requiring you to be a verified user or have more than 10K followers. 
And what makes it even better is that you can share a link on your IGTV channel that directs people to your website. 
Tip #3 – Make the most of the first minute in your IGTV video
The first minute of your videos serves as an informative introduction. Let your audience know what the video is about, why they should keep watching it, and whether or not there is a CTA (Call-To-Action) button like a link to click on. 
Tip #4 – Make the most of the last minute in your IGTV video
The last minute of an IGTV video is usually dedicated to reviewing why your viewers watched the video. So reviewing your CTA (Call To Action) will encourage them to do as you wished if they had found the subject useful.
Tip #5 – Use subtitles 
Of course, it depends on your taste, your target audience, and the kind of IGTV video you share, but subtitles are useful. The thing is, your viewers sometimes prefer to watch a video with the sounds off, or tend to lose their attention while they are watching your video. 
So whether you use subtitles for the whole IGTV video or just some important parts that you wish to stand out, your viewers will definitely follow your videos much better. 
Tip #6 – Be consistent
Being consistent refers to two important things. Firstly, you need to be visually consistent. Having the same theme, such as a particular design for your cover photo, fonts, and even your filming techniques to shoot your videos vertically or horizontally, makes your IGTV videos more recognizable. 
Secondly, you need to be able to schedule your content carefully and never miss a date on which your viewers were waiting for a new episode. 
How to maintain consistency in scheduling your IGTV videos?
One great way to maintain your consistency is using a management tool. We recommend AiSchedul as one of the most reliable tools in scheduling and having your content shared automatically. 
If you want to use AiSchedul to plan your IGTV videos and make sure you always meet a deadline, follow this step-by-step guide.
Sign up on AiSchedul for free

and add your Instagram account to your dashboard. Keep in mind that you can also manage multiple accounts on AiSchedul. 

Select the scheduler on your dashboard. Next, click on schedule. You will see a menu that allows you to plan your Instagram posts on your feed, story, and IGTV.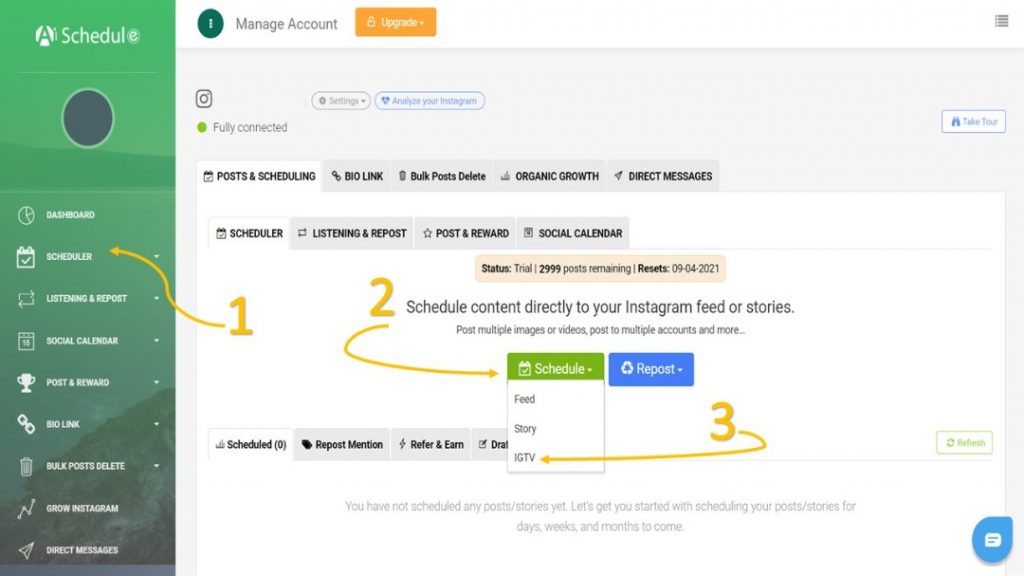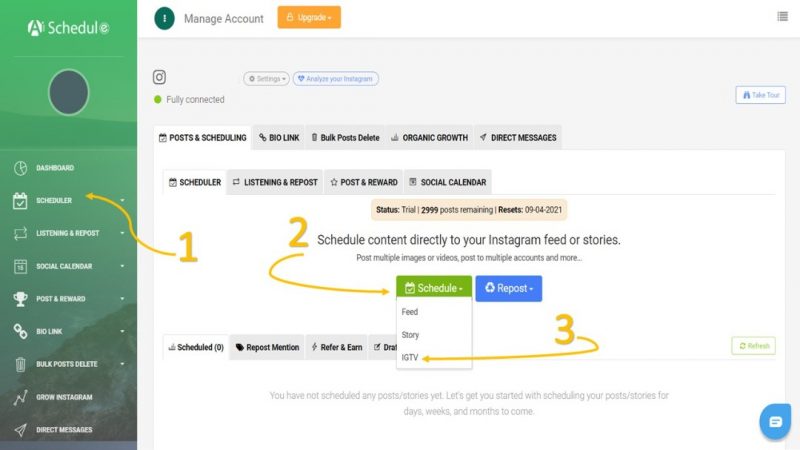 3. Now, you can either upload a video longer than 1 minute or add a link to a YouTube video. AiSchedul allows you to directly repost your videos from YouTube to your Instagram.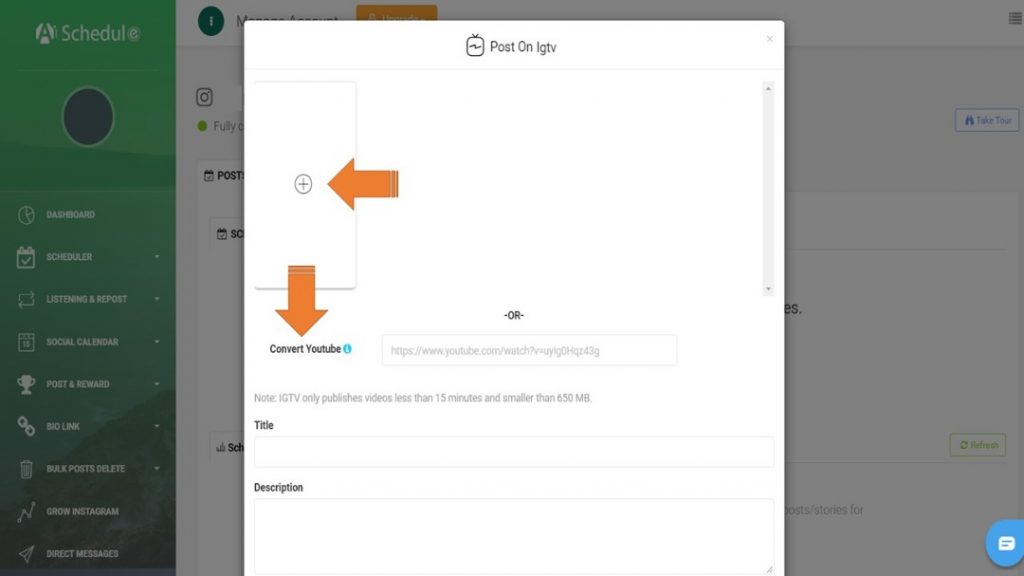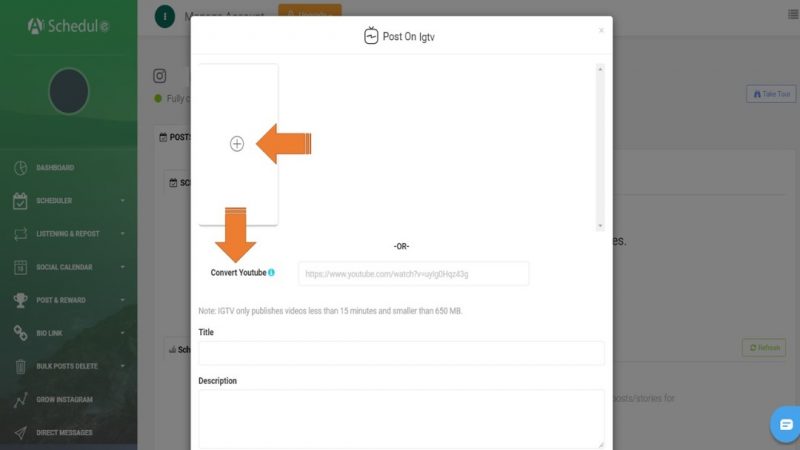 4. Write a title and description of your video. Then you can use the hashtag generator to find the right hashtags for your IGTV video. In the end, choose "Post in Future" to gain access to your calendar.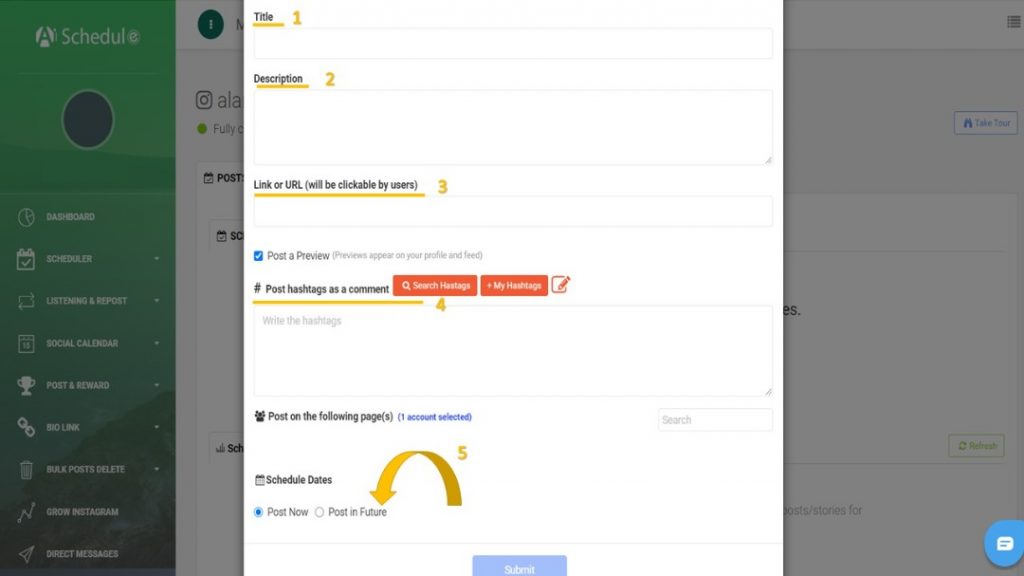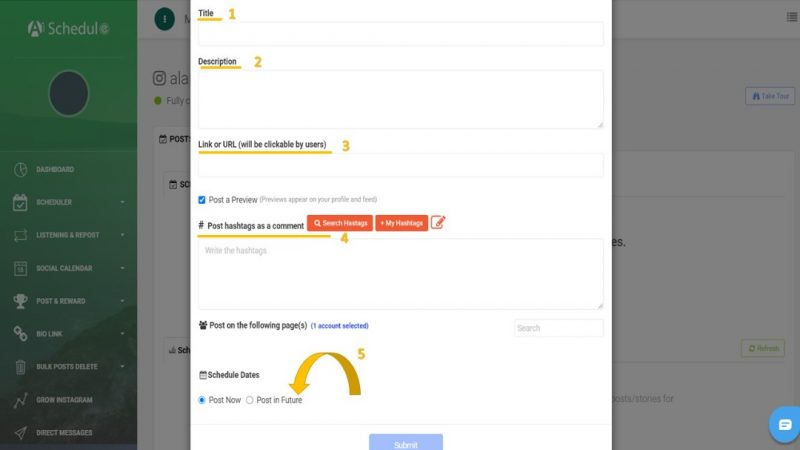 5. Choose a date and save it. AiSchedul will post your IGTV video automatically to your Instagram. 
Conclusion 
IGTV allows you to create long-form content with high quality, and it also allows your followers to browse videos based on their interests. 
So it is basically sharing what you love with who loves your IGTV video, which builds up a close relationship with your target audience and optimizes your engagement rate.
Every Instagram marketer needs to use IGTV and create their own channel, but to get the best results, you need to be creative and consider all the tips and tricks you learned in this article.