Have you ever tried running an Instagram loop giveaway to promote your products? Well, loop giveaways on Instagram are made to introduce your products to people through partner marketing, get more attractions on Instagram, and increase the number of your customers.  
However, it is also possible that your efforts are not rewarded with a good outcome as you expected.  Brands and Instagram influencers may have questions when it comes to doing loop giveaways, such as:
What is a loop giveaway on Instagram?

How does an Instagram loop giveaway work?

Do Instagram giveaways really work to grow your account?

Is an Instagram loop giveaway illegal?
Let's start with the different types of Instagram giveaways, and then we'll dive deeper into those specific questions regarding Instagram loop giveaways.
Do you want to boost your Instagram reach? Click here.
Types of Instagram Giveaways
Instagram has two main types of giveaways: Instagram giveaways and  Instagram follow loops. These are different in many ways, including their cost, the process required to enter them, and the effectiveness of each.
What Is a Giveaway On Instagram?
Instagram giveaways are promotions in which brands give away a product or service to one or more winners according to very simple criteria, such as tag, like, follow or comment on a post on their page.
What Is An Instagram Loop Giveaway?
What is a follow loop on Instagram and what is its purpose? An Instagram loop giveaway can be defined as a partner marketing strategy. It is a giveaway that involves more than one Instagram account. In addition, it is usually a partnership between an influencer/celebrity and some brands. 
The aim behind these giveaways is to increase the number of followers and Instagram interactions, resulting in a higher Instagram engagement rate. Brands and influencers who participate in these partnerships will benefit from these giveaways, so it is a win-win deal! 
To enter the Instagram loop giveaways, users must follow all the accounts involved, comment, and like the giveaway post.
The number of accounts participating in a follow loop on Instagram can vary. However, there must be at least two accounts to get the best possible result.  The more participants, the stronger the giveaway will be. Loop giveaways typically involve 40 or more accounts.
What Are The Loop Giveaway Prizes?
Prizes can range from small to large depending on the number of sponsors involved. Gift cards can be used for large sums of cash ($20,000 or more), iPhones, laptops and other electronics, home appliances, handbags, brand-new cars, and designer clothing.
Giveaway loop sponsors pool their resources, paying influencers to hold the contest and offering prizes to participants. The more accounts participate, the bigger the prize that can be offered.
How Does an Instagram Loop Giveaway Work?
Several businesses (typically 40-70 accounts!) take part in a "loop giveaway," posting the same photo on each of their feeds. Business 1 invites those who enter the loop to follow Business 2 to win a prize.
Business 2 asks those who joined the loop giveaway to follow Business 3. This continues until everyone who entered the giveaway has followed all the businesses that sponsored it.
After the giveaway period is over, the giveaway sponsors select a winner. The sponsors also untag other businesses from their posts during the giveaway so that followers who do not win are less likely to unfollow other businesses!
Types of An Instagram Loop Giveaway
Instagram loop giveaways usually fall into two categories:
Celebrity Giveaways on Instagram
Celebrities with large followings can often host giveaways with major brands offering large prizes. These giveaways can quickly spark growth in a brand's follower base.
Kylie Jenner, an American media personality, declared a giveaway in May 2019. She announced that one of her followers would have the chance to win nine luxury bags plus $20,000 in one of her Instagram posts (deleted afterward). This made celebrity loop giveaway activities on Instagram enter a new level. 
To take the chance to win the prizes, one should follow every account that Scott Disick was following on Instagram, which was a total of 70 brand accounts at that time. 
This post was sponsored by Curated business giveaway company (which provides its clients with a giveaway and Instagram loop giveaway services).
They declared the brands which took part in the giveaway post received over 200,000 new followers, ascending in web traffic, and a sharp increase in online sales. 
Moreover, Curated Businesses have sponsored many other celebrity-fronted posts, including Kourtney Kardashian, Kris Jenner, Khloe Kardashian, Nadia Bartlet & Rebecca Judd, and Emily Skye.
The interesting fact about all celebrities and influencers using loop giveaway on Instagram is that they have either deleted their posts or edited their post captions!
A standard Giveaway Loop on Instagram
Participating brands tag themselves and post the giveaway photo on their Instagram accounts, encouraging users to join the contest. 
Want to grow your Instagram followers faster? Click here
How much Does an Instagram Loop Giveaway Cost?
 There is no set, established price for Instagram loop giveaways. Costs will vary based on a variety of factors. In the following, we look at some of the most important factors and explain how they affect the loop giveaway prices. 
1. The Influencer/Brand You Are Working With
Undoubtedly, who you want to work with to run an Instagram loop giveaway is one of the most important factors. If you are on the brand side who is actually running the Instagram contest and sponsoring the Instagram loop giveaway, you have to pay a specific price to your partner which can be another brand or an influencer. The prices on this part also vary. Depending on the number of followers they have, and they can impact! 
2. The Amount/Type of Prizes
Another factor that may affect your costs is the amount and the type of prizes you are offering to people. As you may know, you can offer sales coupons or some sample products. If you are offering coupons, you can save more money, but it also depends on the number of coupons you give to the winners. Moreover, if you want to send people products for free, you have to care about the prices of the products and the number of them. 
3. The Approximate Number of Followers You Want to Reach
This one is the most important factor because it directly affects the other two factors. The number of people you want to attract determines your costs because if you want to get millions of followers in a single Instagram loop giveaway, you have to find a partner who has millions of followers itself, and you are sure that they can influence at least 1 million people to take part in the contest. Hence, before trying anything, calculate your demand and act intellectually. 
And now, let's see if an Instagram loop giveaway is a good way to attract people or not?
Do Instagram Loop Giveaways Help You Attract More People?
It depends! Honestly, there is no guarantee that an Instagram loop giveaway gives you the result you are waiting for. There is always the possibility that these giveaways will fail. 
Sometimes, some reasons may cause the fast loss of new followers right after the end of the contest. For instance, bad product quality, choosing an inappropriate co-worker, bad posts qualities, and other factors. Here, your business fails and all the prices you have paid will be just wasted. 
So, whenever you are about to start an Instagram loop giveaway, you have to make sure that all the factors participating in affecting your success are in the right hands and you will not waste your time and money. But what can you do to get the best possible results? Let's see!
Is an Instagram Loop Giveaway Harmful to Your Brand?
Instagram loop giveaways could be an effective marketing tool to attract genuine, engaged followers who are likely to become customers. 
However, if you lose those followers after the giveaway, they do not engage with your brand, or it ends up being more trouble than it is worth, an Instagram loop giveaway could backfire and hurt your business.  
Loop giveaways, while popular, are technically illegal and often violate certain terms and conditions. Influences rarely include the legal information and guidelines required.
These giveaway loops are problematic for several reasons. To begin with, the steps required to enter most of these giveaways can be extremely cumbersome and time-consuming. 
Furthermore, followers question whether influencers actually have a way of tracking every follower's actions and whether these actions are conducted fairly, and if anyone ever really wins (which may be perceived as somewhat unlikely).
If Not Loop Giveaways, Then What?
If carefully planned, Instagram giveaways can be a useful marketing technique, where legal rules are typically presented clearly in the post's caption, and it costs you much less than a loop giveaway with your products or services.
It's a win-win for your brand and the Instagram users, where you can gain some followers, brand awareness, and engagement in exchange for thousands of people having a chance to win a prize. 
Instagram giveaways are most effective when they request either fun and engaging content (UGC content) or require minimal effort from participants. These contests might simply ask that followers tag a friend in the comments or repost the contest in their stories.
A Tailwind study found that accounts that run regular giveaways get 70% more followers than those that don't. Further, 91% of posts with over 1K comments are giveaway posts!
Do you want to run a Giveaway in an easy and fast way? Click here
How Do You Succeed At An Instagram Giveaway?
Fortunately, there are some resources you can use to ensure that your Instagram giveaway is not going to fail. For example, one of the most and also the easiest things you can try is to use appropriate, related, and best giveaway hashtags. In this way, you can let more people see your posts and participate in the contest. So, don't forget to use them!
Another thing you can try is to use an amazing tool to create posts, schedule them, and automate the post and reward process. In the following, we introduce one of the best and most user-friendly tools to use to get better results from Instagram giveaways. So, keep reading to find a way to succeed!
Also read: Creative ideas for your next Instagram giveaway + tools
AiSchedul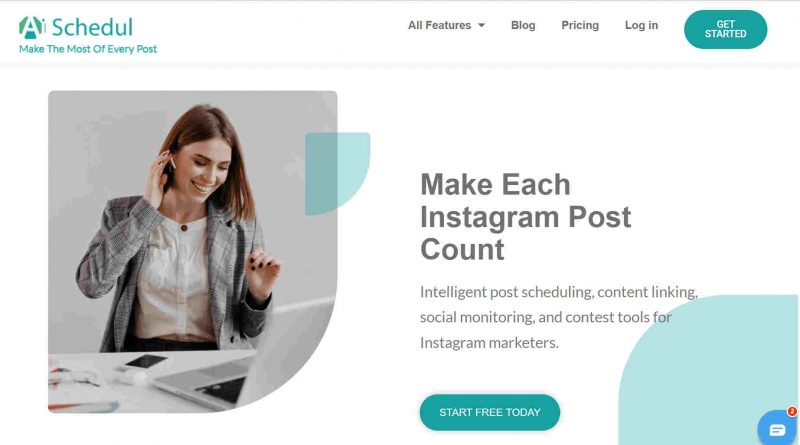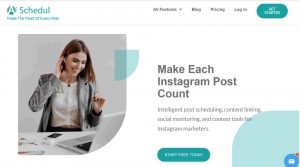 An amazing tool to create, post, and reward people on Instagram giveaways is AiSchedul. It is an Instagram-based platform that lets you schedule posts and stories, repost content, and create all-in-one links. But let's see how it helps you and how it works. 
How Does AiSchedul Help You With Doing A Giveaway?
AiSchedul is a tool that automates sending posts at the best time possible, finding the winners, and contacting them to give the prizes. Hence, you can optimize your time and focus on creating high-quality posts instead of checking the rules you have set for winning person by person. 
But how to work with this amazing tool? 
How to Post And Reward Using AiSchedul?
To post and reward on Instagram automatically using AiSchedul, follow these steps:
Step 1)  Sign up for AiSchedul and connect your account to the dashboard.
Step 2) Now, add your Instagram account(s) to AiSchedul, tap on the manage account button on the dashboard, and tap on "Post & Reward" from the menu bar on the left side of the page. Note that you can add as many accounts as you want!


Step 3) After that, click on the "Schedule a contest" button. 
Step 4) Now, upload the photo(s) you want to share as the announcement. In addition, by filling in the boxes below the photo, you can define the rules to join the contest. Moreover, edit the DM that will be sent automatically to the participants.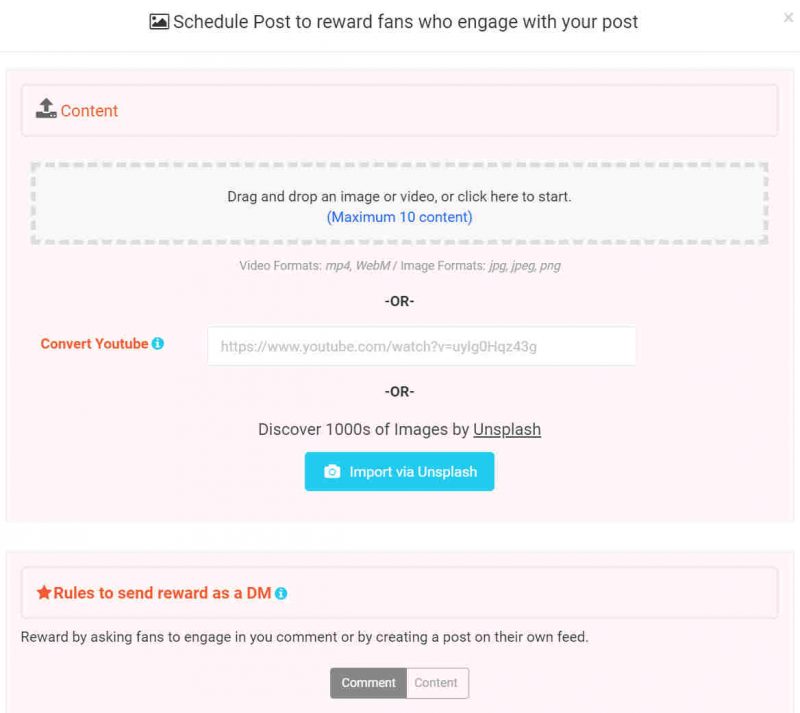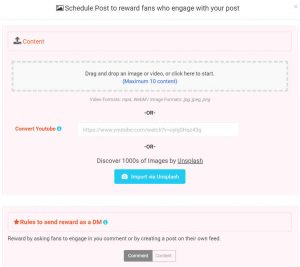 Step 5) Then, edit the giveaway caption, choose giveaway hashtags to be posted on the first comment, set the date and time, and choose the accounts you want to share the posts on. Now, just hit the "Schedule Post" button and sit and watch the process.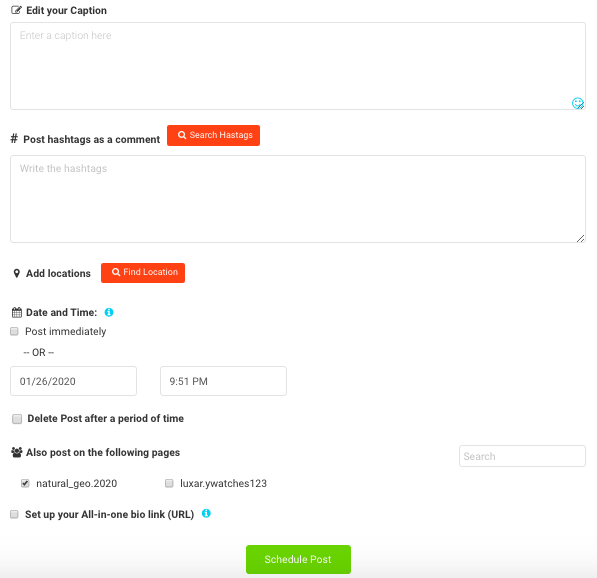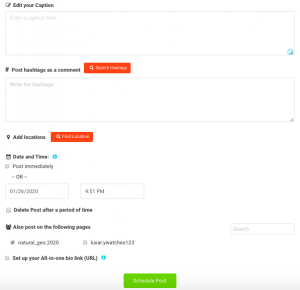 That's all! You have saved a great deal of time, and all the things will be done automatically!
Instagram Giveaway Picker of AiSchedul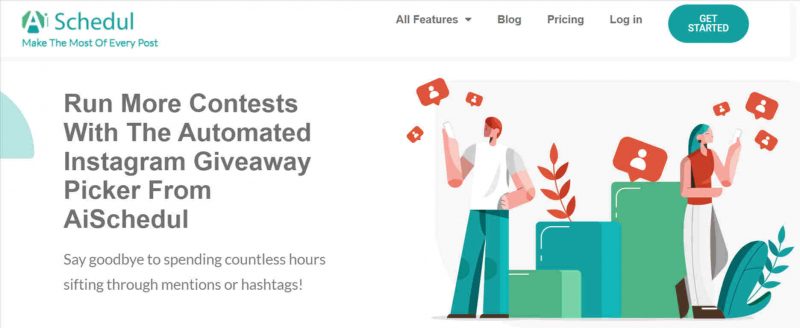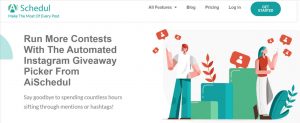 The process of picking a winner fairly from all those giveaway contest participants is not as easy as it may seem. You have to check all the entrants to make sure if they are qualified to win (qualified entrants are those who have followed all the contest rules, including leaving comments, liking the post, following your account, tagging friends, and whatever the rules are).
Picking the winner manually is kind of impossible and unfair. So you need an app to give you a hand in the process of picking the winner.
Wait! You don't need a separate app since AiSchedul provides you with a giveaway picker tool as well. Actually, through AiSchedul giveaway picker, you can access the post and reward feature as an advantage!
Try AiSchedul's giveaway picker now.
How to Use AiSchedul Instagram Giveaway Picker?
All you have to do is log into your dashboard, choose your Instagram account (tap on manage account), and select the "Giveaway Picker" tab from the top-left bar.


Enter the URL of the giveaway post (either a new or existing giveaway post) in the first box and the name of the contest in the second box.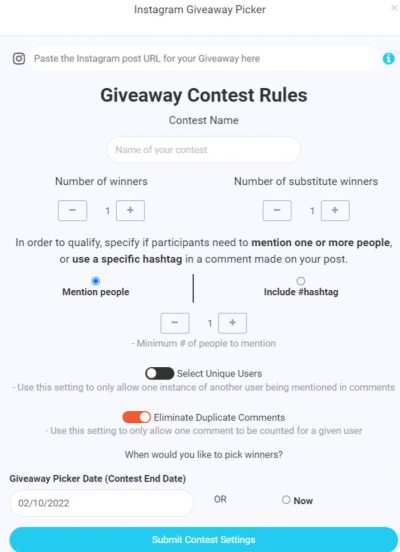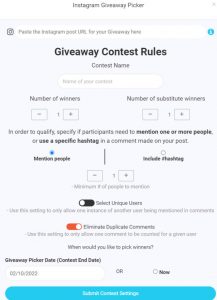 You can choose to filter all comments that mention a particular number of accounts or use a given hashtag. You can prevent multiple mentions of the same person in comments by selecting "Select Unique Users." Duplicate comments may be removed by choosing "Eliminate Duplicate Comments.". Now determine a date to pick the winners, and you are all done!
Experience massive growth with AiSchedule giveaway tools
AiSchedul Instagram Giveaway Picker Pricing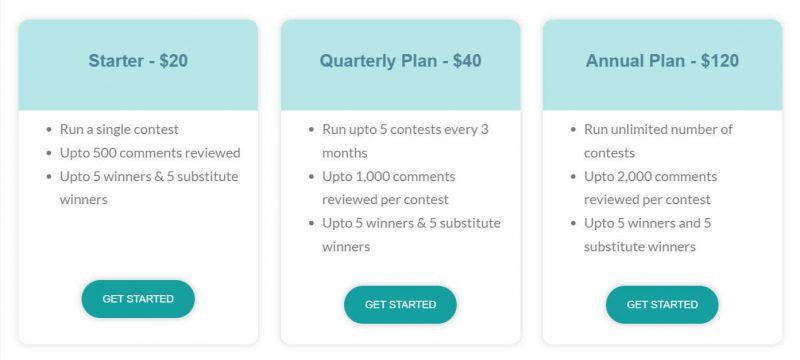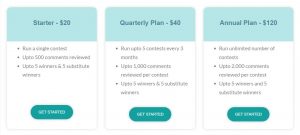 The price of this tool depends on the number of contests you can run and the comments that it is set to review.
Pick a package and sign up now!
Conclusion
Should you run an Instagram loop giveaway? Is it worth your investment? Honestly,  I'm not against loop giveaways, but I'd like to point out that the return on investment is not necessarily as high as you might expect. 
You see, no matter what your experience level is or how confident you might be that the partnership in a loop giveaway brings you many new followers, running this kind of giveaway always has a chance of failure. 
Even if it is structured perfectly and would seemingly make everyone happy, you're still not in control of the result. The payoff for many people might just not be worth it.
However, if you are looking for a cheaper and more efficient alternative than Loop giveaways, why not turn to a simple Instagram giveaway? We've given you some useful information and introduced you to one of the best tools to run a giveaway on Instagram- AiSchedul. you can give it a try and see the results yourself.