These days, you need to post regularly if you want to stay relevant on Instagram. But as you well know, this is not really an easy task. You should come up with Instagram post ideas regularly, and you should make sure those ideas generate engaging posts. This is why many people find their minds going blank when they try to come up with interesting Instagram post ideas. This frustrating state is called content block.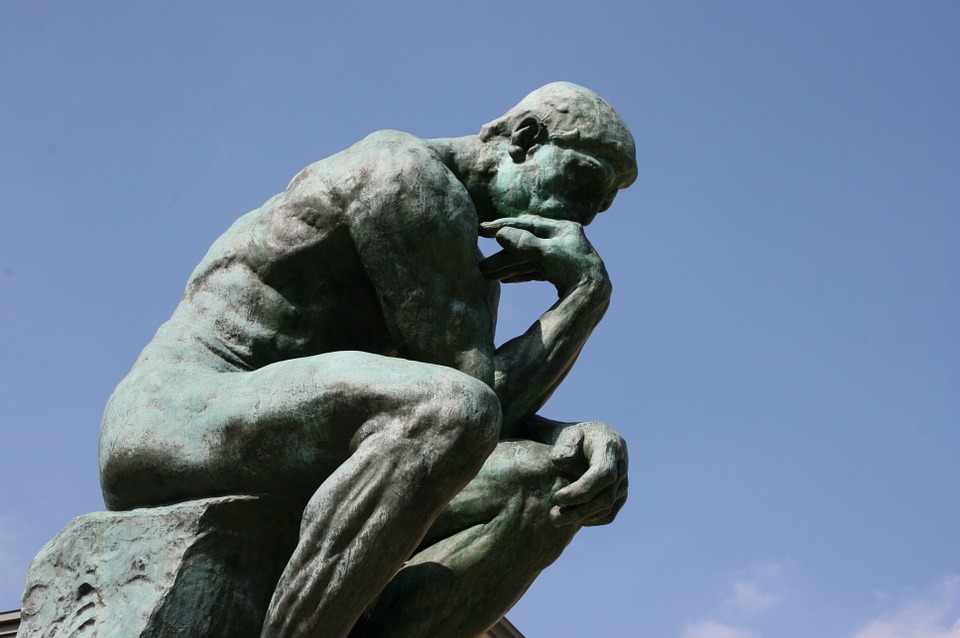 How can you overcome "content block"?
Despite what may seem, you should know that there are numerous ways for overcoming your content block. First, you need to discover the root of your problem. Afterwards, you can start looking for the appropriate solution.
In general, there are three main possible reasons that could be causing your content block.
Three possible roots for content block
You might be blank out of post/story ideas. This doesn't occur often, and when it does, you will need to examine the problem in depth. It's best to start by focusing on the basics.

More commonly, you might be facing a lack of interactive posts on your page. You may think all your posts/stories are interesting, but they just don't get enough attention. To tackle this problem, you will need to re-evaluate your audience base, and focus on posting more interactive content on your page (we will get to them later).

Finally, the last root of content block is a lack of variety on your page. This is the case when you find yourself tired of the monotony of your page. The best solution here is to explore other formats besides photos, namely GIFs, videos, and interactive stories like polls etc.
What are the solutions?
Based on the root of your content block, you have three possible solutions for your problem: finding relevant topics, posting interactive content, and adding variety to your page. Read on to find out more about each of these options.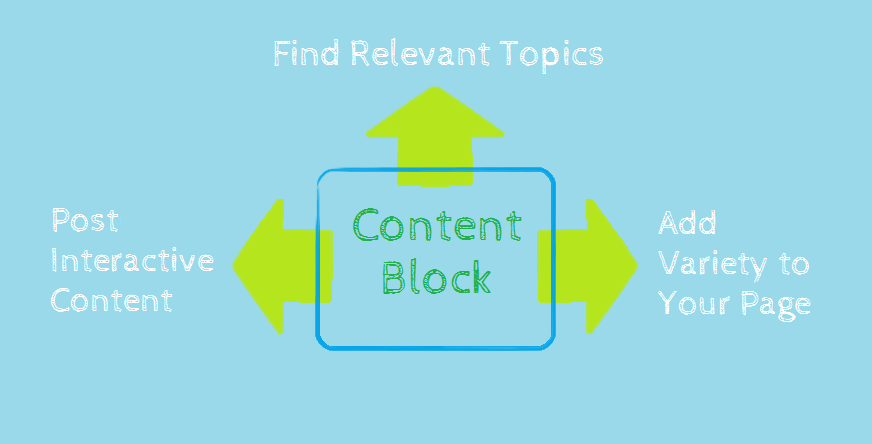 First, let's learn about the ground rules.
Some Basic Rules to Follow
Keep a tab on trendy hashtags
Hashtags are the bread and butter of successful Instagram marketing. Using appropriate hashtags will allow your content to reach more people on Instagram, which is why you should always keep a tab on trendy hashtags that relate to your business.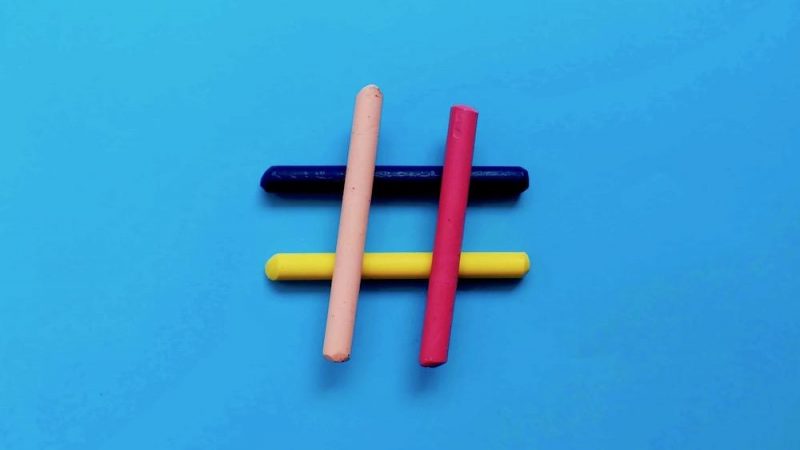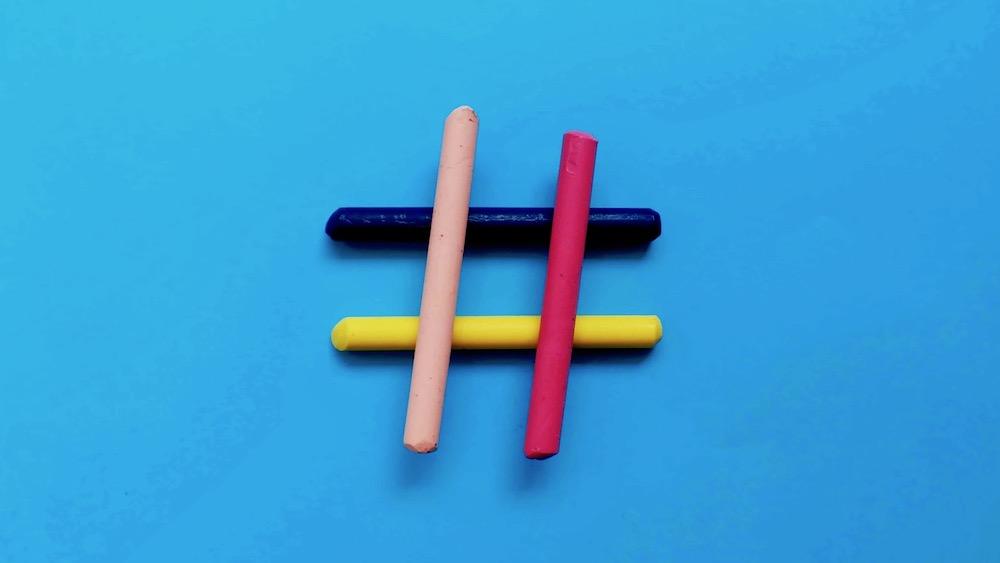 Focus on targeted hashtags
Targeted hashtags are where you will find the majority of your followers. In order to find your targeted hashtags, you need to observe three groups of Instagram users carefully.
Your existing followers: Make a list of what hashtags they engage with the most. Once you do, browse through those hashtags to get a sense of their content.
Your competitors: Head over to your competitors' pages and take note of the hashtags they use. By employing the same hashtags, you will reach your audience better AND steal some of their followers too.
Influencers in the same business as you: Just like your competitors, you can see what hashtags they use to attract people's attention to their page. Then, adopt those hashtags for your own page.
Take Advantage of Daily Events
Is it April 19th, and you've hit a cursed content block? With a little research you will realize that it's the Global Silence Day and the #LGBTQ hashtag (and related ones) are trending on Instagram. Why not hop on the trend and show your support for the cause while simultaneously gaining an army of new followers?
You can streamline this method by using a visual content calendar. The good news is that AiSchedul provides all its new users with a free 365-day content calendar upon sign up!
A good visual calendar can help you in several ways. First, it gives you information about the important events of the day. Then, it offers you with post ideas and a list of relevant hashtags for your post. To make things even easier for you, AiSchedul's visual content calendar also allows you to schedule posts for a later date. Click here to sign up and try our content calendar for free.
Repost Content
Reposting content from other accounts is a fantastic way to keep your page's engagement up. Sadly, Instagram doesn't have this feature enabled by default, so you will need to use a 3rd party solution. Our recommendation (naturally) is AiSchedul's Listening and Repost feature, but you can always try other options.
Using AiSchedul's Listening and Repost feature, you can handpick content on Instagram and repost them on your feed, all with just a few clicks. You can filter your search based on hashtags, accounts, and mentions. Moreover, you can  schedule your reposts for a later date. Learn more about Listening and Repost here.
Interactive Instagram Post Ideas
Interactive content is any type of post/story that encourages your audience to react to your content.
Hold Instagram Giveaways
Everybody knows that people love winning free stuff. Thousands of brands, big or small, are taking advantage of this fact by holding Instagram giveaways. How do these giveaways work? Very simple. First, you need to upload a relevant picture to your giveaway. Next, you should outline the rules for participating in your giveaway. Some examples of such rules include following your page, tagging two or more friends under your post, and using a hashtag in the comments section. Once the giveaway's timer is over, you will need select the winners and send a DM to them with their reward. Of course, you can do all of this automatically with an Instagram giveaway generator.
Giveaways are a proven way to generate a hype for your Instagram account. This will result in gaining hundreds of new followers in a short period of time. This is why more and more brands are holding Instagram giveaways every day. Visit #giveaway on Instagram to get some ideas for your own post.
While you can get away with holding manual giveaways with a low follower count, the whole process becomes a lot harder if a hundred people or more participate in your giveaway. You will need to go through the comments, select the winners, and DM them the reward manually. Why go through all that when you can have an automated giveaway manager take care of it for you? Sign up here to try our giveaway manager for free.
Make some time for Q&A sessions
Q&As are a great way to connect with your followers and learn about them in detail. Moreover, Q&As are very simple to organize and hold, making it easy to create engagement for your page. To get things started, post a frequently asked question and give your answer to it. This will encourage your followers to step forward.
Keep in mind, though, that your followers don't need to be the only ones who ask questions. You can post some questions on your feed, and let your audience give their answers in the comments. This might even result in a discussion under your post.
You can hold the Q&A in the form of a detailed Instagram Live, or you can hold it with a simple "Ask me a question" poll in your story. Both methods have their own merits, but the latter is way more popular due to its simplicity.
Share follower-submitted content
The last thing you can do when you're out of Instagram post ideas is to post follower-submitted content. This is a great way to show appreciation for their engagement with you and your business. By doing this, you will encourage more and more people. Some popular Instagram pages like 9GAG Instagram run entirely on such content (not to mention that they call it advertisement and make money off of it as well).
Curology's Instagram page takes an interesting approach on this method. From time to time, they share a comment from a happy customer on their page. This is indeed a great way to establish trust and encourage more happy customers to come forward and tweet or comment about them.
https://www.instagram.com/p/B-7s5x7njw4/
Add Some Variety
The last case of content block happens when you realize that your page has become repetitive and/or monotonous. So, you decide to add some kind of variety to your page. The best way to do this is to give other content formats a try. Sure, making a point of only posting photos on your Instagram page can be a good strategy for, say a photographer or a painter. However, in almost all other cases, it's a good idea to mix in some other formats. These formats include videos, texts, memes, and GIFs.
Read more: Wishpond vs. AiSchedul: Comparing Instagram Contest Managers
Videos
Videos are great eye-catchers. This is because they encourage people to click on them to see them play out. Therefore, if used correctly, videos can be a great way to grab the attention of the audience very effectively. Take into account, for example, Burger King's genius use of a video on their page.
https://www.instagram.com/p/BEJ1KHczP7O/?utm_source=ig_embed
What makes this Instagram post so effective is that it achieves several goals at the same time. First, it grabs the audience attention and encourages them to take some time (however short) to "play" the video. Second, it's a great example of an interactive post, as it calls to all the followers, particularly the ones who know ASL(American Sign Language), to co-operate with them. Finally, It's been posted on 199th anniversary of ASL and is very trendy for that reason.
Even though there is a 15-second limit on story-videos and a 60-second limit on feed-videos, you can nonetheless post longer videos and Instagram will cut them into different parts.
Texts
Another great way to add some variety to your page is to post text-based content to your feed. You may think that the only place you can use text on your feed is on the captions. But that's not the case. Actually, by putting text on your photos, you are demanding the followers to stop and read what your post is saying. You can share answers or questions, comments and tweets, or jokes and humorous anecdotes. The most popular type of text-based content is something you definitely have seen on your own Instagram: motivational quotes. One good example of this type of content is from girlboss' Instagram page. You can use this website to create a beautiful image from your favorite quote.
https://www.instagram.com/p/B_A0PEjJSl5/
Memes
Who doesn't love memes? They're funny, relatable, and extremely popular in our times. Memes have the highest potential for going viral, and people tend to repost memes more than any other type of content. Using memes on your feed is a surefire way to capture your audience's attention.
You can further take advantage of memes by tailoring them to your page's identity. Many brands have been using this as a technique, and it's been working wonders for them. Take, for example, Ugly Drinks, a brand that sells flavored sparkling water. They make great use of memes in their feed. Here is an example:
https://www.instagram.com/p/B_CqYgXHD0b/
Hillarious, right? Imagine how many people have shared that post on their stories to share the laugh with their friends. Why not do the same yourself?
You can find cool memes all over the internet, or you repost them from other Instagram accounts with AiSchedul's using Listen & Repost. If you're up for it, you can generate your own memes using Meme Generator.
GIFs
As you probably already know, A GIF (pronounced as gif or jif) is an animated image. Kind of like a short video, but without sound. Adding them to your Instagram page can be a good way to introduce variety to your feed.
One brand that is a particular expert on using GIFs on Instagram is Schweppes. They use GIFs quite often, and they do this with a strategy in mind. Adding the moving element to their images serve to show us the quality of their drinks. In the example below, this simple GIF works to make us feel the bubbles of the carbonated drink just by looking at the picture. Yum.