The concept of the Instagram contest rules isn't something new. People were doing it ages before Instagram turned into a global phenomenon. However, there are still many brands that haven't included the Instagram competition in their marketing strategy. 
In this article, We'll guide you through a step-by-step process for creating the Instagram contest terms and conditions that will govern your giveaways; as well as some contest rules examples, and introduce you to the best Instagram competition winner picker in the market to easily set your own rules and let the tool do the rest for you. 
These tips and resources will help you make everything run smoothly, avoid problems along the way and keep yourself in good relationships with your audience, so let's dive into it.
Do you want a steady flow of organic followers? Click here.
What Are the Rules of Instagram Contests?
Before running a contest on Instagram, make sure to review a contest on Instagram rules, as well as an Instagram contest disclaimer, to ensure compliance.
In addition to being aware of the IG giveaway rules, you should ensure that participants know how the contest or giveaway will be run. We recommend including the following rules:
This giveaway is not sponsored, endorsed by, or associated with Instagram in any way.

It is important to include the company's name hosting the Instagram giveaway or contest in your photo description.

Contest dates, time zone, and any other important details regarding the contest.

If there are any restrictions on the age or location of the participants, include them as well.

Create procedures to enter the contest to be followed by all participants.

Include details regarding selecting the winners and how and when they can claim their prizes.
First, let's see how to write contest rules, and then we'll give you some contest rules examples of the actual Instagram giveaway posts.
How to Run an Instagram Competition – Contest Entry Rules
you can set your giveaways' entrance rules and promote them on Instagram based on your goals.
Like and Save a Post
If you want to boost your Instagram engagement rate, using these giveaway rules on Instagram is the best choice for you. All you have to do is ask people to like your post or save it.
Write a Caption For a Post
You might also come across posts that ask you to caption a photo or video. You can make a contest rule out of it by asking users to caption a post.
Loop Giveaway
Instagram loop giveaways are a strategy for online contests that ask users to follow certain accounts. This tactic can be particularly effective when used with limited budgets.
UGC Post
User-generated content is a fantastic contest rule idea to include in your campaign. This Instagram giveaway idea allows you to use social proof to increase sales and find more followers.
Tag Friends 
Asking your followers to tag their friends is a typical Instagram contest rule. When you do so, you get more comments below your posts, and you can reach a broader audience.
Follow Your Page
Using this option can help you reach your goal of increasing your page's number of followers.
Note: AiSchedul post and reward tool has some features that allow you to set contest rules like UGC, tag friends, and follow your Instagram page on your contest post in advance and then schedule it to be published on a certain date.
Give AiSchedul Instagram giveaway tools a try now.
Contest Rules And Regulations Examples
Writing the post for the contest is one of the most important things to get people to enter. 
In this section, we'll go over some examples to inspire you to use all the rules for giveaways on Instagram; how to create a contest on Instagram from length requirements to information about how to enter the competition;  as well as examples of Instagram photo contest rules. Use them to create your own Instagram contest rules template.
AiSchedul & Contest Rules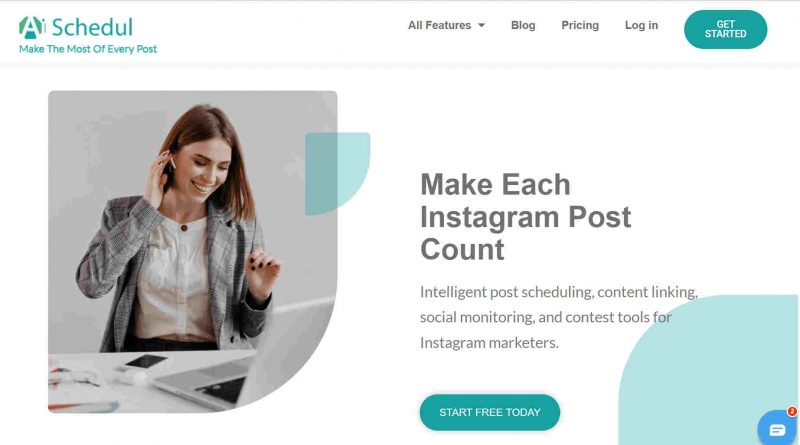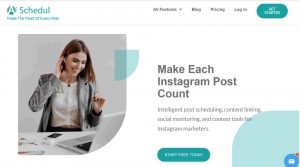 AiSchedul is a platform that allows you to create and upload a post to list the rules for your contests or giveaways. You should mention the prize and how participants can win it if they participate in your challenge. 
It gives you the opportunity to design a successful giveaway from scratch (AiSchedul post and reward tool) and pick winners based on your desired criteria among the participants fairly, easily, and quickly ( AiSchedul Instagram giveaway picker).
In the following let's see how you can use them to set your contest rules and make the most out of your Instagram contests:
How to Use the AiSchedul Instagram Giveaway Picker to Set the Contest Rules For Picking the Winners?

AiSchedul's giveaway picker tool is the best way to ensure winners are selected randomly among entrants for a giveaway on Instagram. The Instagram contest tool is fast and fair, making it ideal for picking winners based on your contest rules.
Using AiSchedul Instagram competition picker you'll access a post and reward tool that lets you design customized giveaways on Instagram, from bulk DMs to users to notify them of new contests to setting your contest rules in the tool and scheduling the giveaway post to publish at a specific time.
Let's see how the giveaway picker of AiSchedul works:
When you sign up on AiSchedul, you will be directed to your Dashboard. The Giveaway Picker can be found in the upper-left corner of the screen.


Enter the URL of your giveaway post and its name in the boxes below the go for filling in giveaway contest rules sections: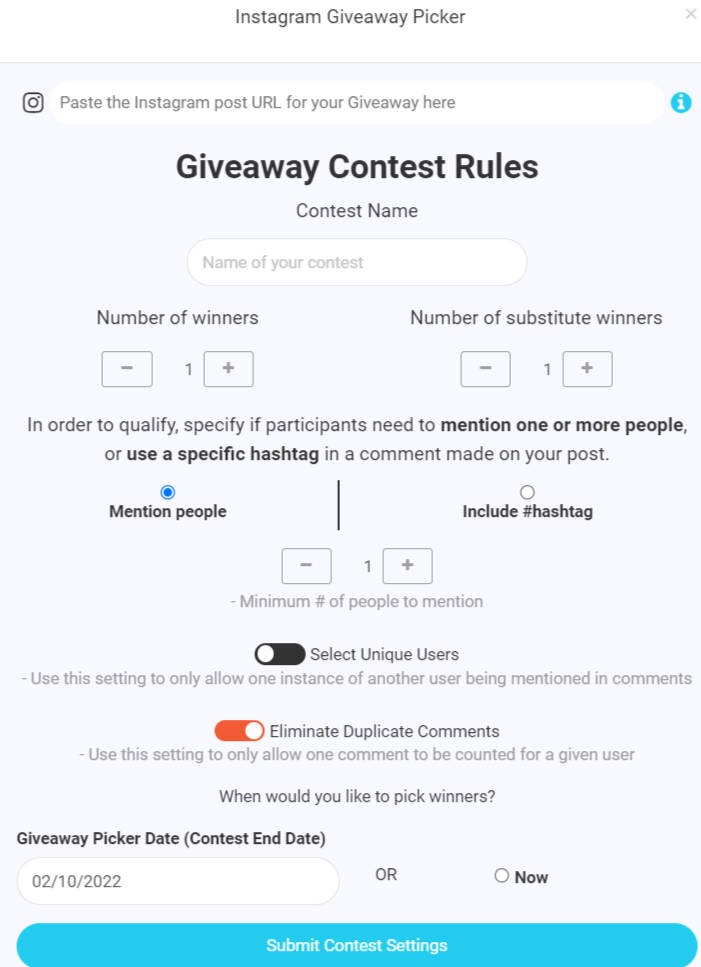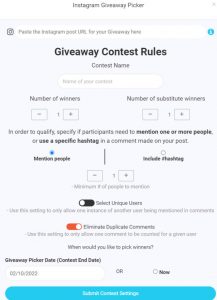 The first contest rules you need to fill in are these: selecting a winner using a specific giveaway hashtag or a minimum number of mentions in the comments.
Then you need to decide if you want the select unique users and eliminate duplicate comments options to be on or not. What are the uses of these optional contest rules for you?
In the "Select Unique Users" setting, participants cannot mention the same user twice or more in the comments. When you activate the "Eliminate Duplicate Comments" setting, a single instance of each comment is counted.
After you've set up your giveaway rules and entered the End Date, you are all done now. The AiSchedul giveaway picker will take care of the winner selection for you on your pre-set time and date or immediately.
Try AiSchedul giveaway picker now
AiSchedul Instagram Giveaway Picker Pricing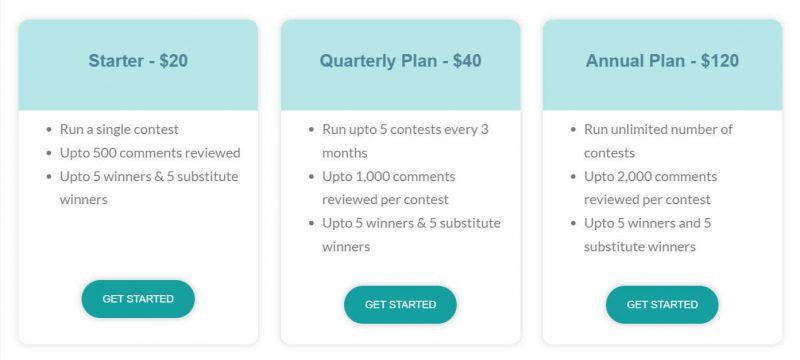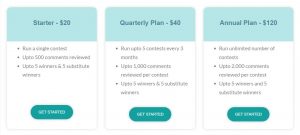 Pricing for the AiSchedul Instagram giveaway picker is based on the number of contests and comments reviewed for each package. For example, the annual plan users receive unlimited contests and up to 2000 comments reviewed per contest for an affordable price.
Pick a package and sign up now!
How to use the AiSchedul Post And Reward Tool to Create And set Your Contest Rules?
AiSchedul is an all-in-one tool to boost your Instagram marketing strategy, featuring some useful functions like an Instagram giveaway maker (post and reward tool) and an Instagram competition picker I mentioned above.
Now let's take a closer look at how AiSchedul makes it easy to hold and set your Instagram competition rules. Don't miss watching the video below:
To begin, simply sign up with AiSchedul by filling out a registration form. This step can be done without entering your credit card number.

Here you can add some Instagram accounts to your AiSchedul dashboard. Then, choose the account you wish to manage and click "Manage" to access all features of AiSchedul on your dashboard.


Clicking on "Post & Scheduling" you'll see the "Post & Reward" tab, choose "Schedule a Contest" and go for the next steps.

Select the photo or video you want and drag and drop it in the photo box to upload.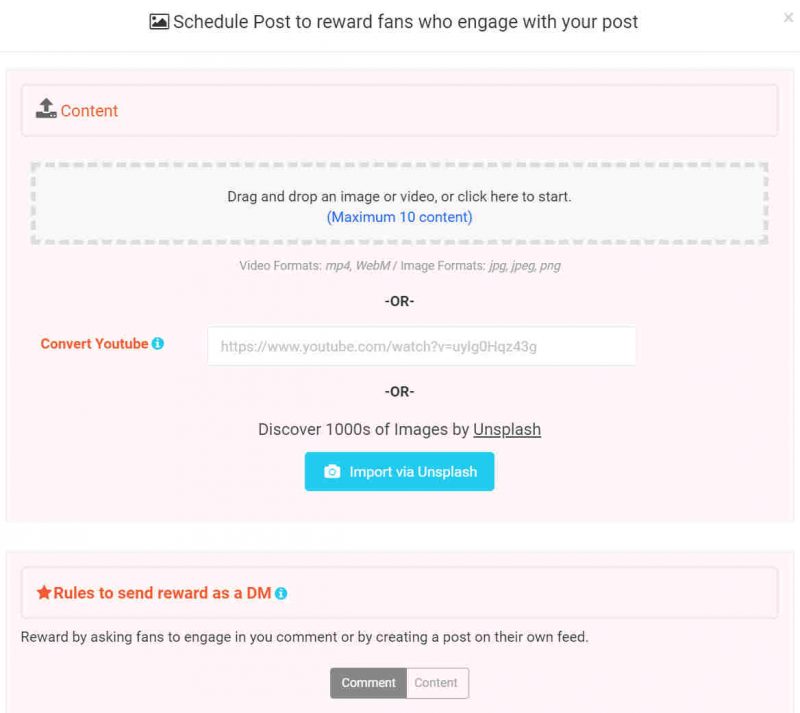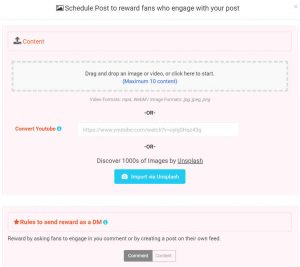 Dropping a YouTube URL and converting it to an Instagram post is another available option for you. However, you need to confirm you have the right to publish this video on Instagram. Another option you have to choose an image or video is importing pictures through

Unsplash

.

When setting up an Instagram contest, you should ask your followers to comment on your post or to create posts of their own with a tag for your account (comment and content).

In the next step to decide who wins, you'll need to set your giveaway rules on Instagram and decide how winners will be selected.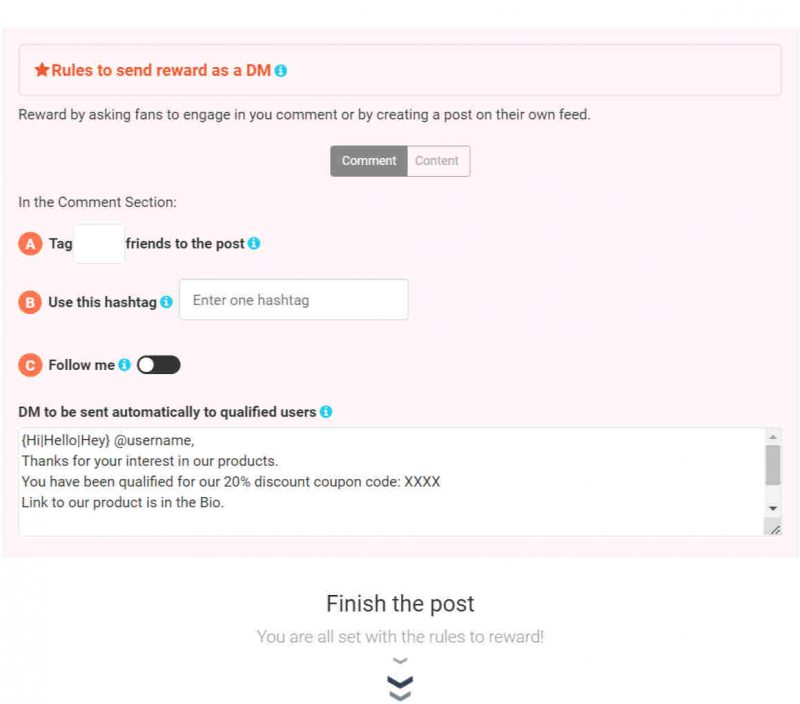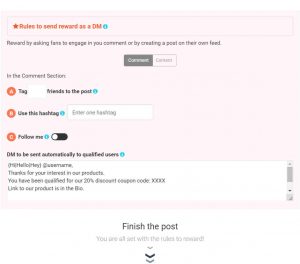 Choose "comment" to set up your IG contest rules in the comment section. We automatically send a DM when a user meets the criteria.
Tag Friends to The Post:
Proper use of tags is one of the most important ways to attract engagement, so we incorporated it into the Instagram giveaways rules in our Instagram contest platform.
People who want to participate in your contest should tag their friends in the comments section of your post. They should tag up to 10 people, but we recommend tagging no more than 5 people.
Use This Hashtag:
You can create a specific hashtag for your business and ask users to participate in the contest by using this hashtag. You will also easily track any comments on your post with this hashtag.
If you choose the content tab, you will have these two options to set the Instagram rules: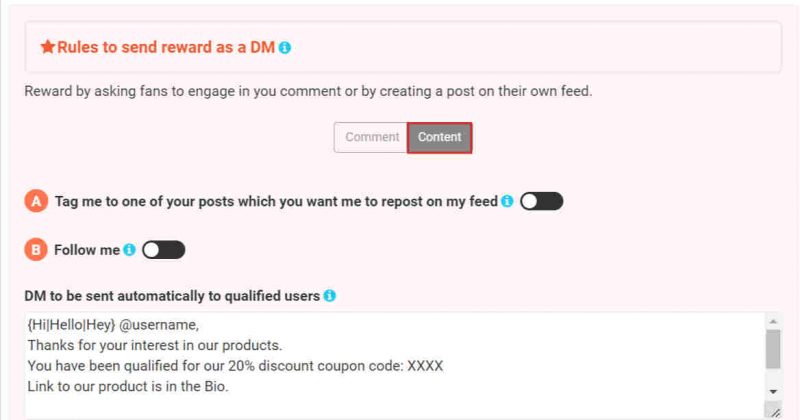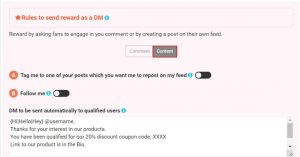 Tag Me to One of Your Posts That Want Me to Repost on My Feed:
You can share the posts that your users tag you in by activating this option. You can build a stronger relationship with your users by encouraging two-way engagement.
Follow Me:
This option can be used to serve one of your goals; increasing the number of followers on your page.
People who follow you will tag their friends in your posts and share your posts with their audience, bringing more people to your page and expanding the reach of your business; so, in addition to increasing the interaction on your page, you increase the number of your followers.
Automatically Reward Followers by Sending DM


When you have decided on the Instagram rules on giveaways, it is time to decide on the winners and the reward. In this section, write a text that is supposed to be sent to the qualified users of the campaign.
We check every 3 hours to find qualified users who followed your Instagram rules for giveaways and send them your DMs; this continues for up to 7 days.
Enter Instagram Contest Captions
For having an Instagram giveaway caption, you must either write a caption in the box or attach a pre-written sentence or passage to it.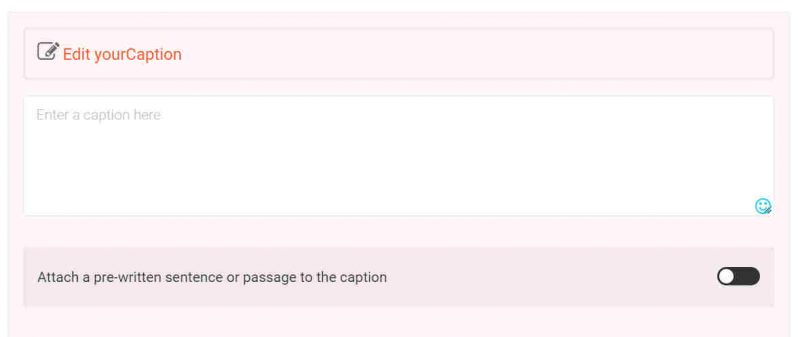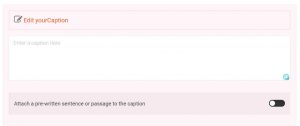 To ensure that you comply with Instagram contest guidelines, this is where you can include clear contest rules, terms of eligibility, and privacy policies.
You need to inform participants that your giveaway is not sponsored, endorsed or administered by, or associated with Instagram in any way. Here is an Instagram giveaway disclaimer example:
"Per Instagram guidelines, I must state this giveaway is by no means sponsored, administered, or associated with Instagram inc. By participating, entrants acknowledge that they are 18+ years of age, agree to Instagram terms of use, and release Instagram of all responsibility".
Search the Best Hashtags For Your Post
To increase the exposure of your Instagram competition post, you need to use proper hashtags; So that users who are looking for specific content can easily access your Instagram contest post through Instagram hashtags.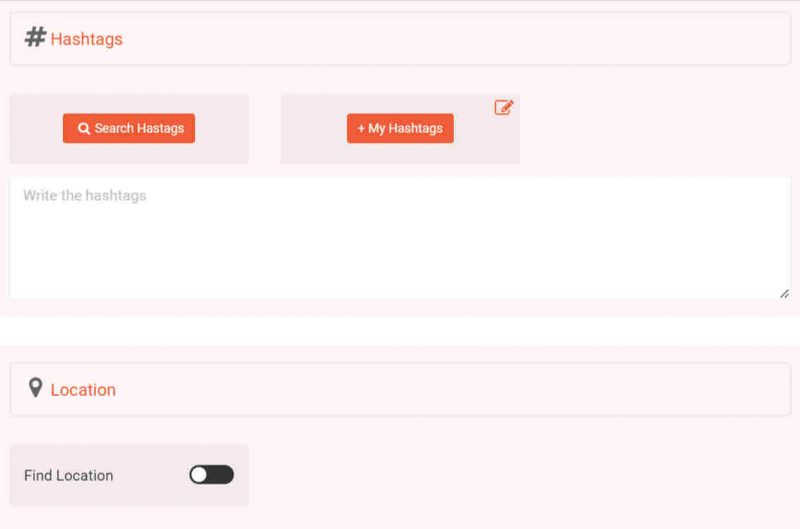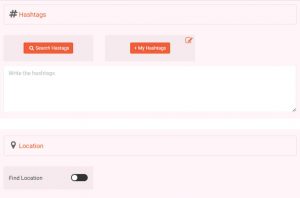 Using the AiSchedul post and reward tool, you can find the most suitable hashtags to increase the reach.
Add a Location to Your Posts
Adding a location to your post allows your posts to be displayed in the area you choose. As a result, you can attract followers in the location you desire (e.g., city or state).
Scaleup Post


If you post the same competition Instagram post on multiple Instagram accounts, the rules will apply to all of them.
 Schedule Dates

After you have decided on a publication date for your post, you can set an expiration date that automatically deletes the post at a later time. For example, you could specify that your contest post will be deleted after the contest has ended.
Link Instagram Contest Post


You can make your giveaway post linkable with the Link Post feature; then you can create an organized page in your Instagram bio containing the link alongside some other links.
Multiple users can be authorized to manage an Instagram account. However, by clicking on "Send to Owner," you'll send the post to the original owner of the page.
Sign up on AiSchedul to manage all of your giveaways in one place.
What Are the Benefits of the Post And Reward Tool?
Scheduling reward posts 

Sending reward as a DM automatically to qualified users

Create an Instagram contest automatically

Finding appropriate hashtags for your post

Automatically reward followers for sharing your posts

Instagram contest to get more followers and drive engagement, and sell more products
Sign up to get started with the AiSchedul post and reward tool.
Conclusion 
What is the best way to run a competition on Instagram, considering the rules? As we have discussed, there are many different aspects to consider when determining your Instagram contest rules. 
The specific nature of your business, the type of promotion and giveaway, and the brand image you wish to portray are all critical components for creating a set of rules for your customers and potential entrants. 
Taking the time to create a set of clear and fair rules will ensure that everyone knows what is expected from them. This is where the AiSchedul Instagram.contest picker came in. 
This tool makes giveaway entry tracking a breeze – you get to choose the rules and the timeline, specify participating accounts and hashtags, customize your message and choose other parameters, and finally pick winners easily, fairly, and quickly.