Those who enter the Instagram marketing world know very well that they have to use a planning tool to manage their business. But the question that comes to their minds is which planing tool they should use? On the other hand, the variety that exists in this section gives rise to more confusion. So, we did some research and found two tools that had the most search and usage among the users as well. You can use them to create multiple links-in-bio to drive website traffic. Here, we are going to compare Linkin.bio Vs MyUrls.bio. Of course, there are other options, but we chose the best in terms of features.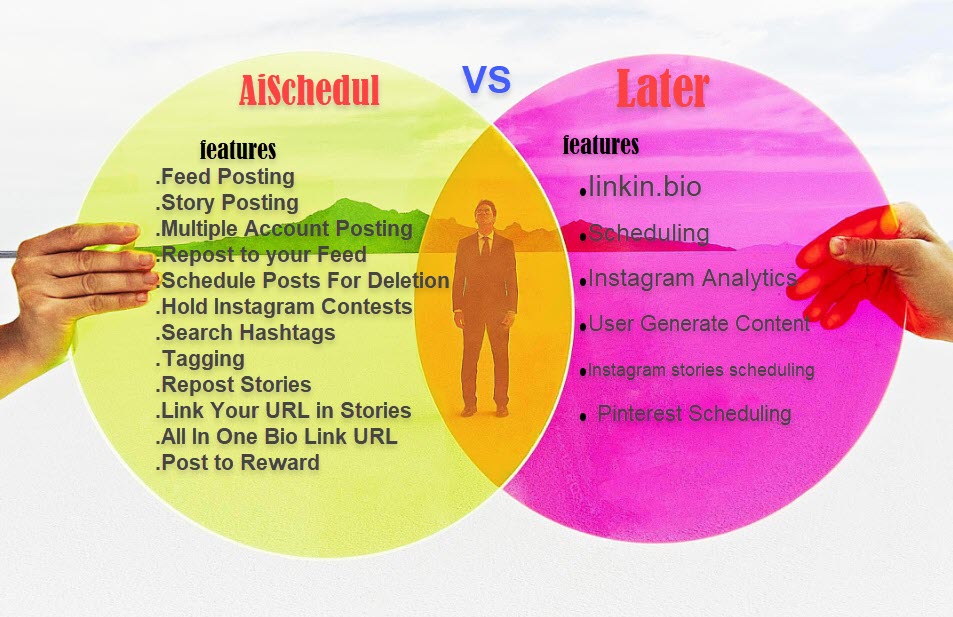 To choose each of these tools depends on the type of business you have, and we must say that each of these tools is among the best in terms of the type of service they provide. If we want to choose between these two tools, we first have to look at our needs and then look at their features and see which one meets our needs.
Now to make the deciding easier for you, we need to explain more about these tools and how to work with them.
We will introduce you to the pros and cons of these two tools.
Why does the Instagram Bio section need external tools?
The answer to this question is very simple because we need to put more than one link in this section, but Instagram does not allow this!
As you know, in the Instagram bio, you are only allowed to use one link, and if you want to redirect people to different networks or links to various posts on Instagram, you have to change this link regularly.
For example, if you have multiple Instagram accounts and need to redirect your users to posts on your other Instagram accounts, you will definitely be in trouble.
And if you are active on different social networks and need to provide multiple call-to-action links at the same time, then I must say you are one of those who need external tools!
How can the single link problem on Instagram be solved by using the link tool?
In fact, the link tool cleverly comes to your aid and provides you with a single link containing all your links.
You might be wondering if I can create a page on my website that has multiple links?
The answer to your question is yes. You can do what a tool does by designing a small website and putting all your links inside it.
But to do that, you have to have the technical know-how. And you also have to create all the features that a tool provides.
But we suggest you use tools specific to this, as the link tool will do all the things you could have done for your website with less complexity.
Now, to get a better understanding of this, we will introduce one of them with the features that these tools have.
You can create your own dream Instagram using the services provided by this tool!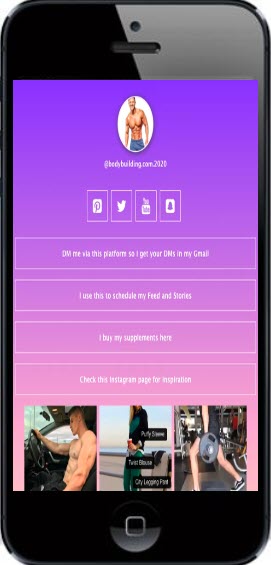 Now we are going to explain how to set MyUrls.bio up for your Instagram account. It is straightforward!
As you can see in the photo below, clicking on the MyUrls.bio link will bring us to a separate page, which consists of a bunch of buttons and social links as well as URLs attached to some of your posts that are on Instagram.
So basically, what you are doing is you are making your Instagram account clickable as well as shoppable and allows you to consolidate a bunch of URLs in under one URL.
You will have to worry about prioritizing which URL you want to put in your bio; you can have as many as you like.
As you can see in the photo, you can have your social accounts, and also you have some buttons to use, maybe for other products or whatever.
You can have some posts which have URLs attached to those, and they actually have some tags for products, and if you click on those, it will actually go to the separate links, which is what you had in mind.
So basically, just make your profile shoppable, clickable, and you know it is a great way to drive business and more interaction to your accounts or your website.
How to manage MyUrls.bio link tool
Let us just visit the AiSchedul dashboard.
You can easily access your bio links from the left-hand side if you are on the regular dashboard.
You can just hit bio link and then select the account that you would like to manage.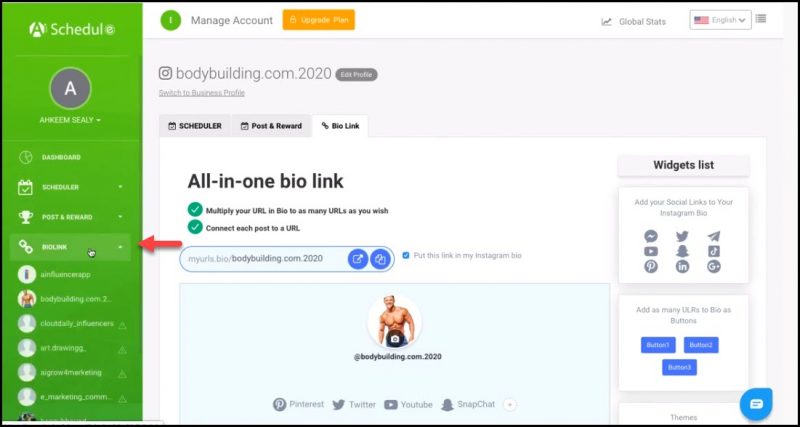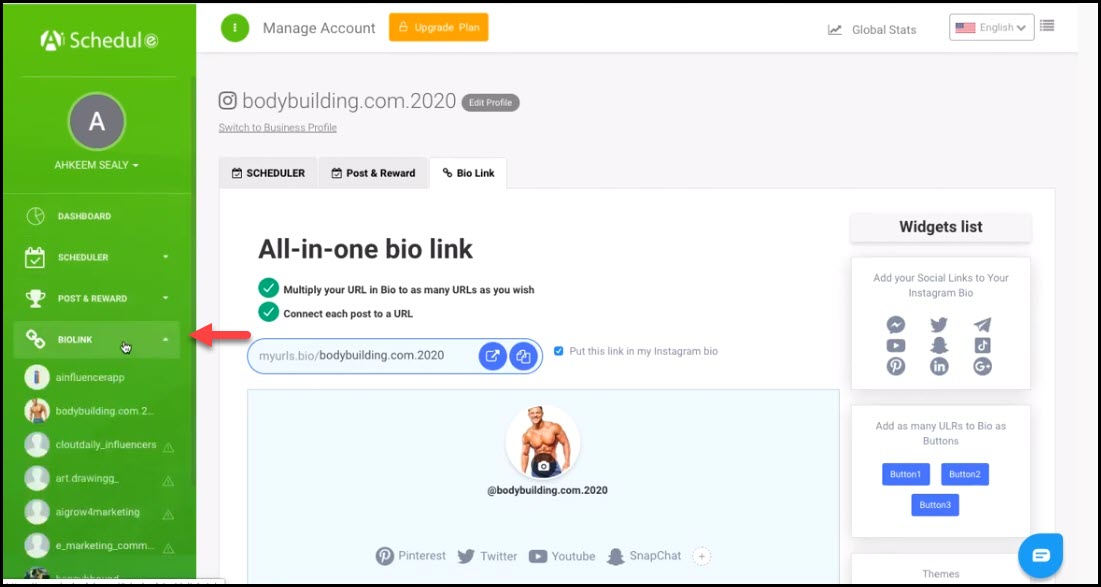 We will show you briefly how to implement widgets and buttons and tagging products or adding links to posts.
It is a straightforward process. If you hit the plus button, you can add any of the social media icons you want, by choosing them from the list.
Then you need to add your username and hit ok, and it will be added.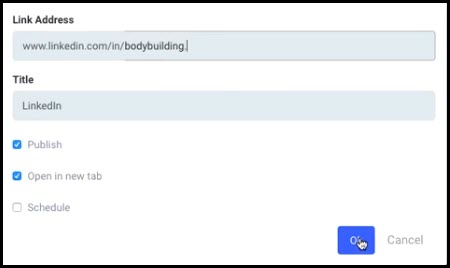 Also, you can add buttons and any type of links you want.
Plus, It has the ability to add URLs to each specific posts you would like, and you can actually just tag the product too.
If users click on one of the tags, it actually enables them to go to the external link you set are for that specific product. So that is a useful feature since you can tag anything you would like within that image.
How to add your Instagram account to AiSchedul
Once you've completed the registration process and logged into your dashboard page, click the Add Account option.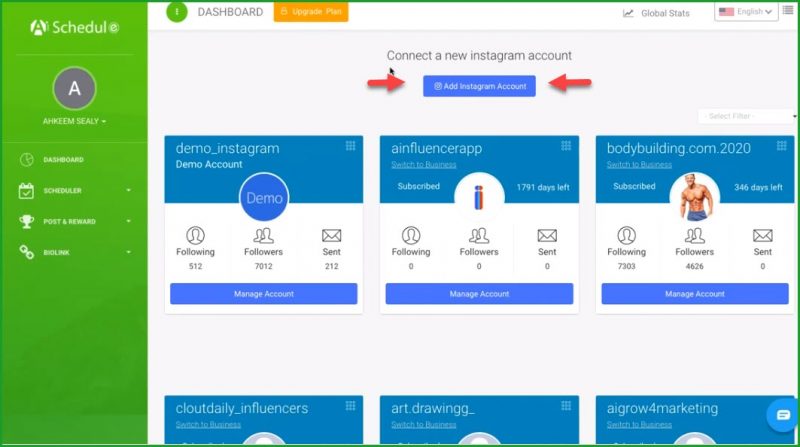 Then enter your Instagram username on the new page and choose the country and city where you live.
This way, your Instagram account will be added to the dashboard page, and you can manage it from there.
So, if you go to the bio link tab, as you can see in the photo, it shows your URL plus your username.
What you are going to do is that you copy it and paste it on your bio section so that it would be the landing page for your account.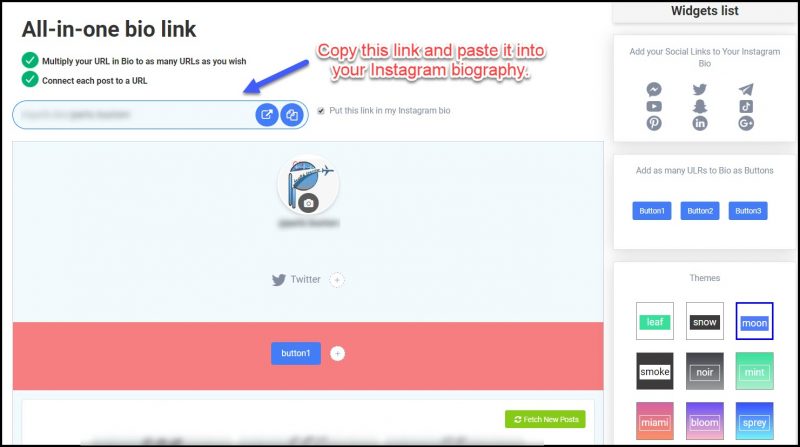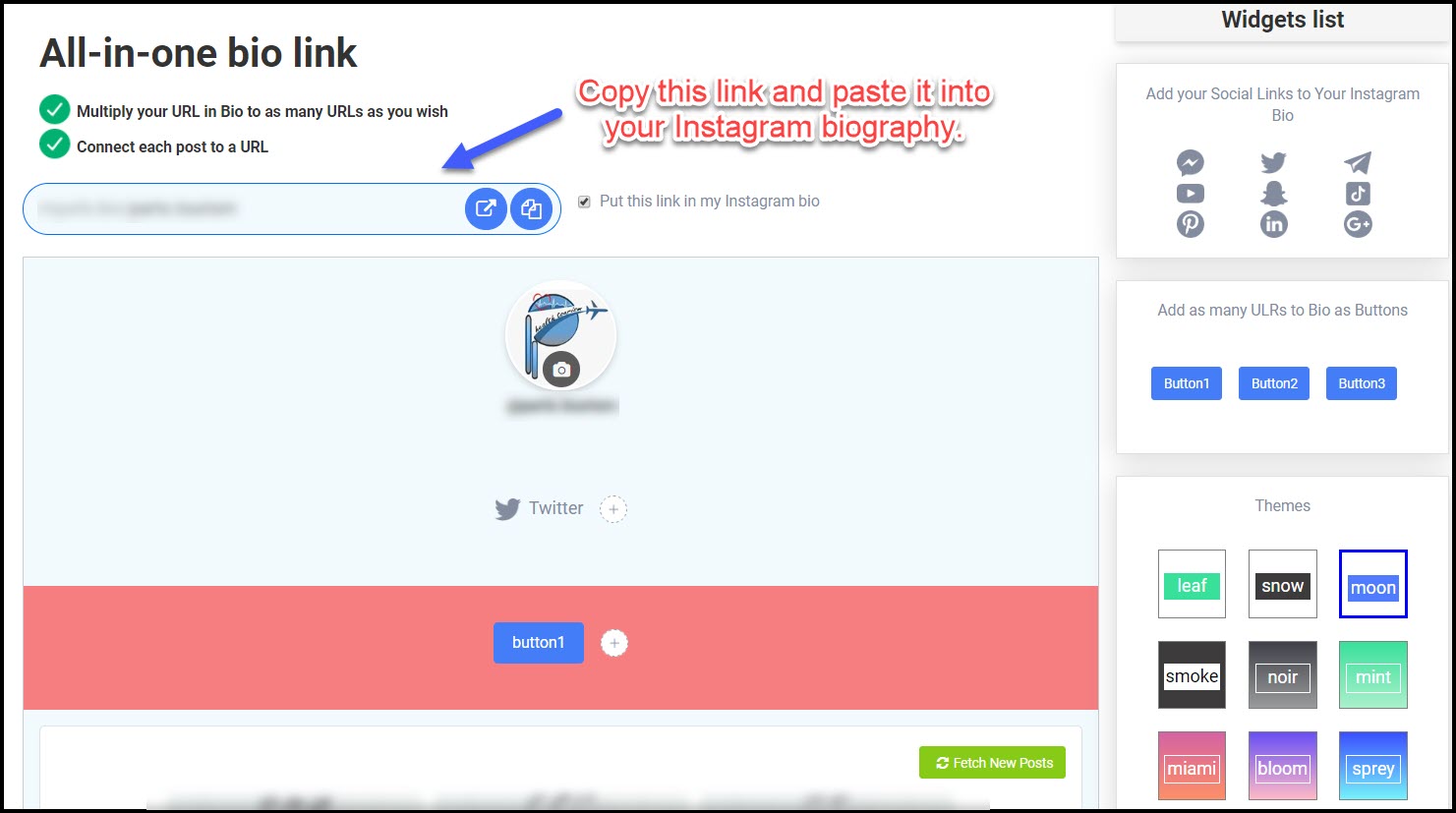 A simple process with an easy way to set up.
PRICING
The best option for this tool is the free experience it provides to its users. With this free experience, you can decide which plan best suits your purpose, as well as all the features in this tool you can find and try out in the free version.
The free AiSchedul account is great too, but with such a small cost for a powerful tool, the paid version could be worth it if Instagram is a true powerhouse of a marketing channel for you.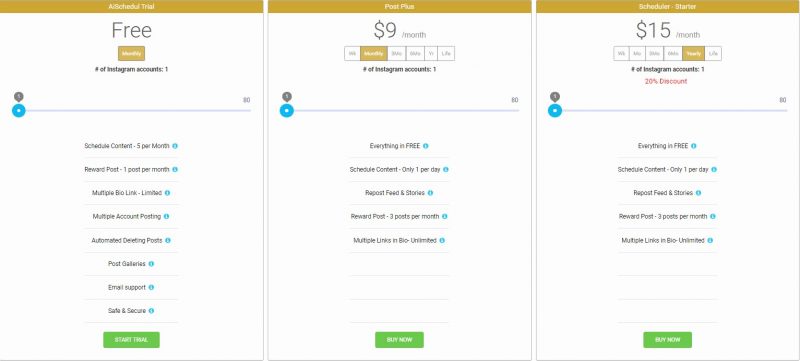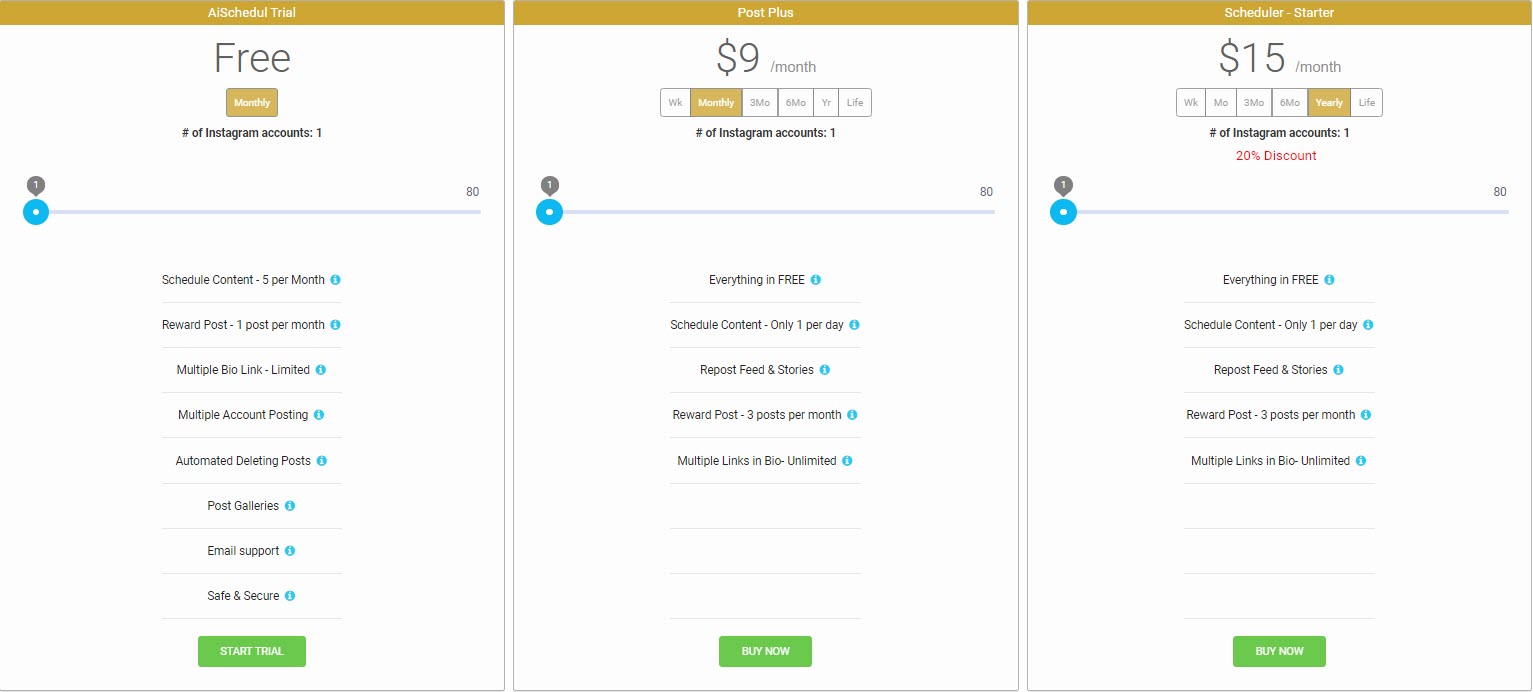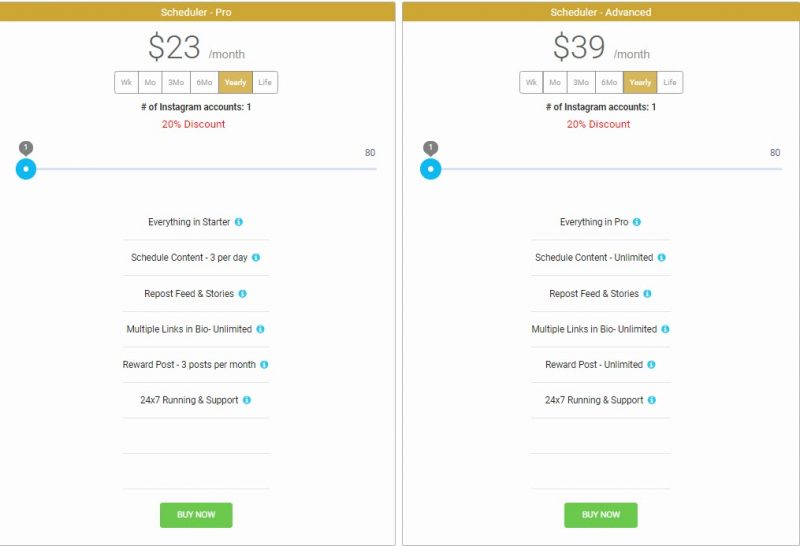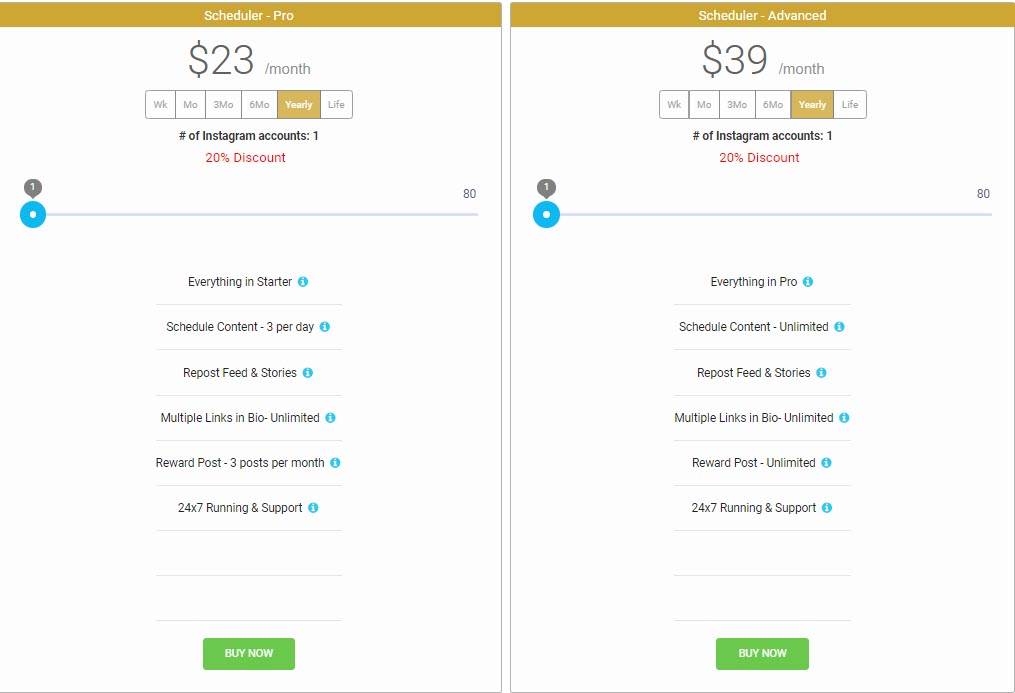 PROS
Manage multiple Instagram accounts at once
It can hold and organize contests on Instagram.
You can take advantage of the many features that are not just limited to bio links by paying a small fee over other tools.
It is a branded link (MyUrls.bio/your username)
You can schedule your post in advance.
The price is very reasonable compared to the services it offers.
 You can add unlimited links
It makes a personalized link
All the features it offers in the paid version can be found in the free version too.
CONS
You can only use this app to manage your Instagram accounts.
There is no option for adding additional branding.
Note:
 Because AiSchedul is an Instagram Partner and uses the Instagram Graph API for sharing to Instagram, auto-publishing with AiSchedul is 100% safe!
Linkin.bio by Later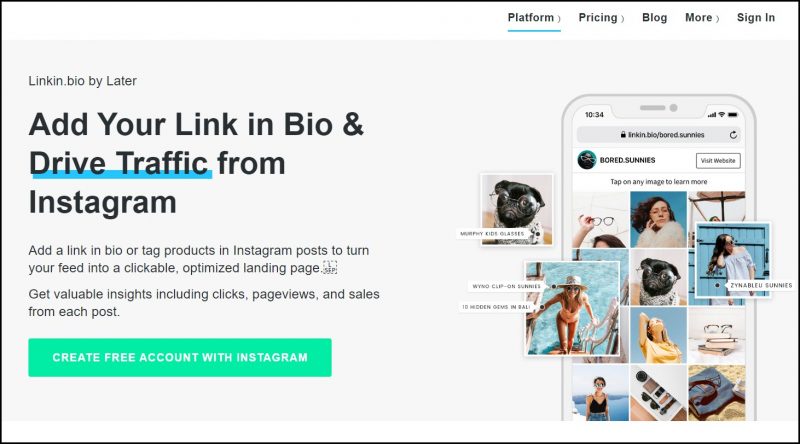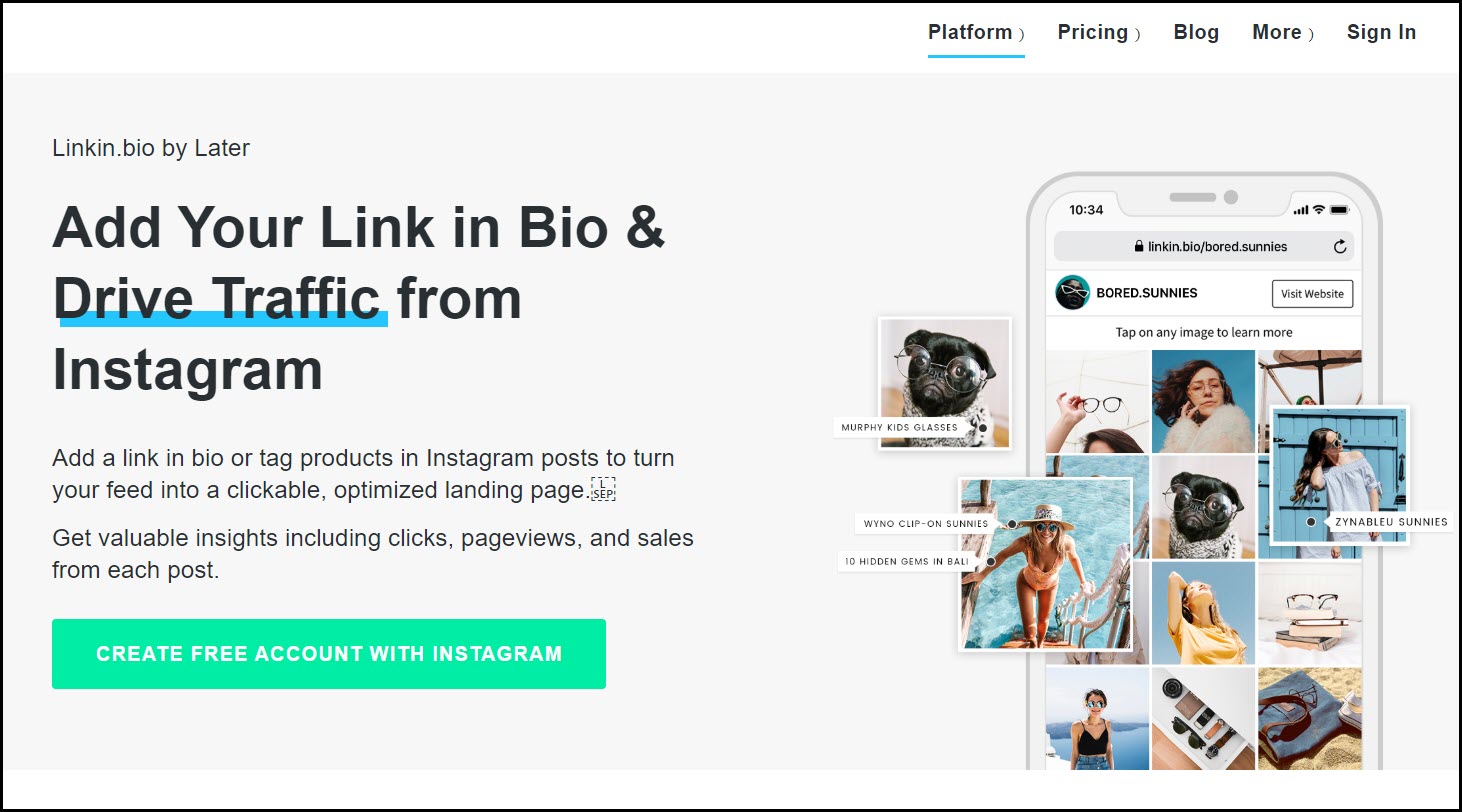 Now it's time to review the Linkin.bio provided by Later. By using Linkin.bio you drive traffic, make more sales and track your revenue from Instagram.
You can link or tag products on Instagram to turn your feed to a clickable optimize landing page and convert your followers into customers, by turning your feed into one that people can shop.
A clickable landing page makes it easier for your followers to find the right products or services.
Also, you can use Linkin.bio to drive traffic from Instagram and help your followers find the right content.
How you can set Linkin.bio up
After you have completed your registration with Later and added your Instagram account, select the Linkin.bio option on the left side of the page.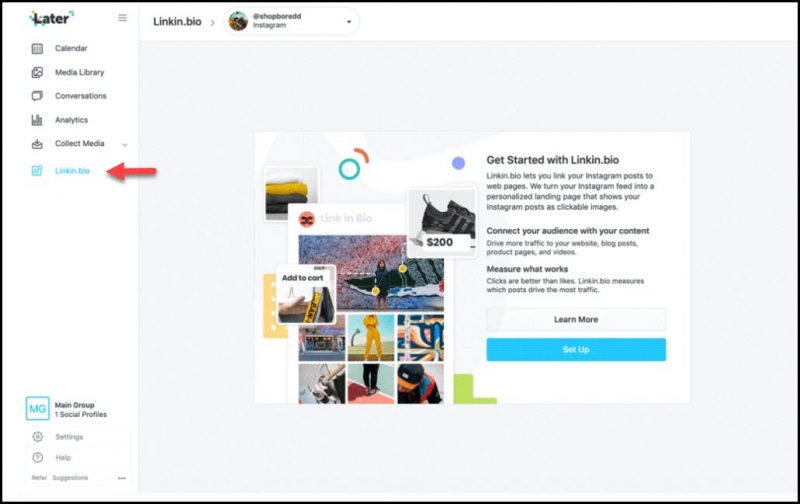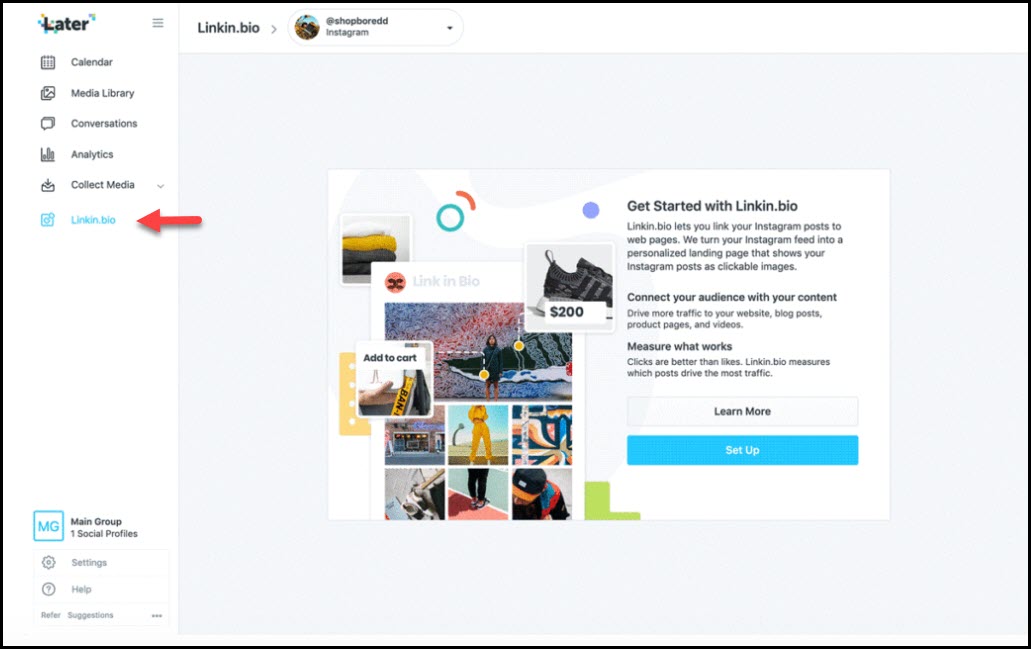 Then, you can select the post that you want to put a link in, and we could whatever link we want.
So you may want to drive your traffic on a particular webpage or maybe on different days, you want to drive your traffic to different places. But Instagram doesn't let you do that because Instagram will only allow you one link as we told.
By creating a link and pasting it into the biography, you can make users redirect to a completely different page where all your links are located.
What makes Linkin.bio looks different is the environment it offers to users. In fact, this environment is similar to Instagram.
PRICING
Linkin.bio has provided a free plan to its users that include the following services.
30 posts per month per profile/1 Social Profile per platform, including Instagram, Twitter, Facebook, and Pinterest/and 1 User.


PROS
Ability to manage multiple profiles across multiple social networks, including Instagram, Facebook, Twitter, and Pinterest.
Easy to setup
UTM tracking in Google Analytics
It can analyze all your accounts that you added.
CONS
The free version of this tool does not provide customers with all the features.
There is no support in the free version.
Can't change the order of the posts.
OUTCOME
Linkin.bio Vs MyUrls.bio-which tool is the best for your business?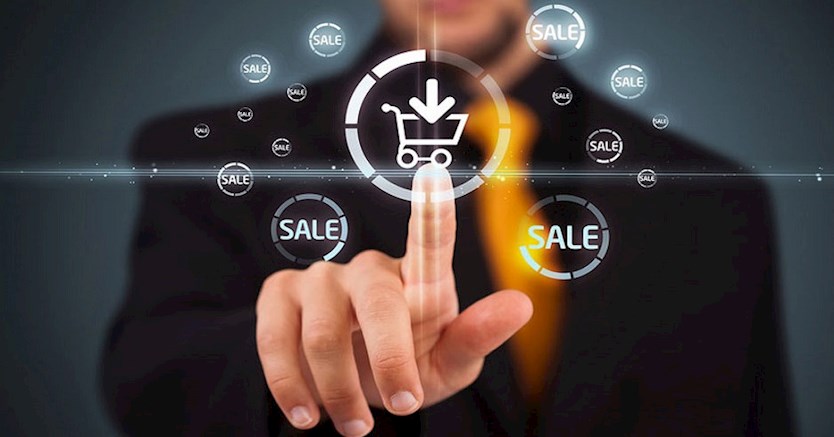 As you can see, these two tools almost do the same thing. They can provide a robust Instagram link to your biography that includes all of your links.
Either way, the user will be redirected to the landing page by clicking on your biography link, where they can access all of your links.
If you want to choose between these two tools to boost your business, you need to look at their features.
Linkin.bio
If you are one of the people on different social networks and would like to manage and analyze their data at the same time, I suggest you use Linkin.bio,
because it can manage your profiles on Instagram, Facebook, Twitter, and Pinterest.
Of course, the best way to decide is to try them both, but since Linkin.bio doesn't offer all the features for free to customers, you have to pay a bit before you can try it.
Those who find Later more suitable for their needs Click here to start registration.
MyUrls.bio
Fortunately, at MyUrls.bio, you can enjoy all of its features for free. This feature makes it easier for you to make decisions.
AiSchedul is perfect for those who own big businesses on Instagram and want to save time.
You can use MyUrls.bio tool on this platform to redirect traffic to your site or other profiles across social networks.
You can also use this platform to hold contests on Instagram and analyze data.
AiSchedul is mainly suited to people who push out written content and also tend to batch content, so the scheduling and expiration of links make it really easy to save more time.
For those who want to grow and manage their business on Instagram, this platform is an excellent option. Click here to get started.
Other tools you can use to create bio links
 I hope the features detailed above gave you a good idea of which platform's features would be the best fit for you!