Nowadays, many brands, businesses, and influencers use Instagram for advertising, gaining customers, and increasing brand awareness. If you are a makeup artist and want to show your art to gain customers and earn money, Instagram is the best platform to start. 
This article will show you how to start and grow your Makeup Artist Instagram page. Also, we'll take a look at the top makeup artist Instagram accounts and the best black makeup artists on Instagram. 
Looking for a professional Instagram management tool to manage your accounts? AiSchedul is what you need.
How to Grow Your Instagram Page As a Makeup Artist?
Are you a makeup artist and are looking for a way to increase your audience and engagement rate? Or you are a YouTube beauty blogger and want to start your makeup artist Instagram page from the beginning? We'll show you how to grow your page organically and increase your followers in the following. 
Share posts consistently
Our first tip for growing your makeup artist Instagram account is consistently sharing posts and stories. The more post you share, your content will be visible to more users based on the latest Instagram algorithm. We recommend you share at least one post and Story every day if you are starting your page. To get the highest reach and impression, you can find the best time to post art on Instagram and schedule your posts. 
Schedule Your Content in Advance With AiSchedul. 
Keep an Eye on Instagram Insights and Analytics
If you want to use Instagram like a pro, you need to monitor your growth to find out what content your audience likes the most, find the best time to post art on Instagram, and what type of content(video, photo, story, reel) they engage with, etc. You can do this through Instagram insight and analytics that Instagram provides for business accounts. This is how to access these details to find the best time to post art on Instagram:
Log into your Instagram professional account and go to your profile.

Tap on the

"Insights"

button. 

In the

"Insights Overview"

box, tap the

"Total followers"

option.

Scroll down to the "Most Active Times" box in the opened tab.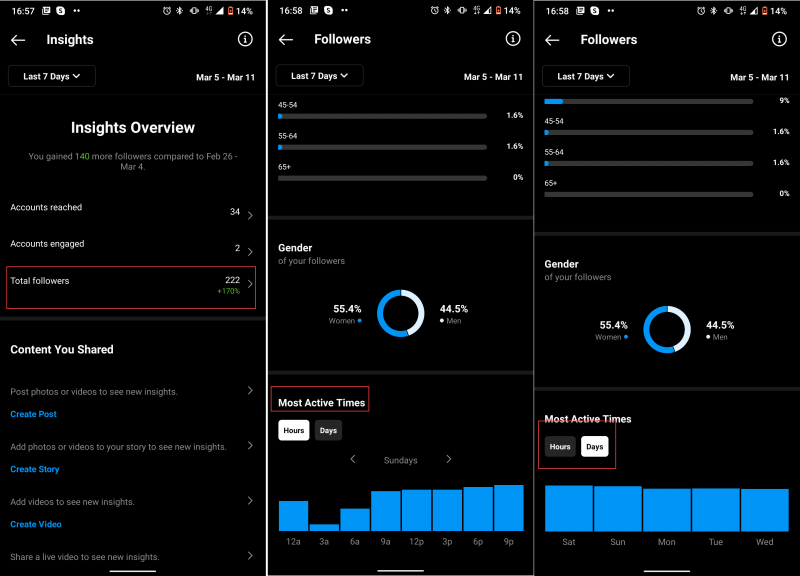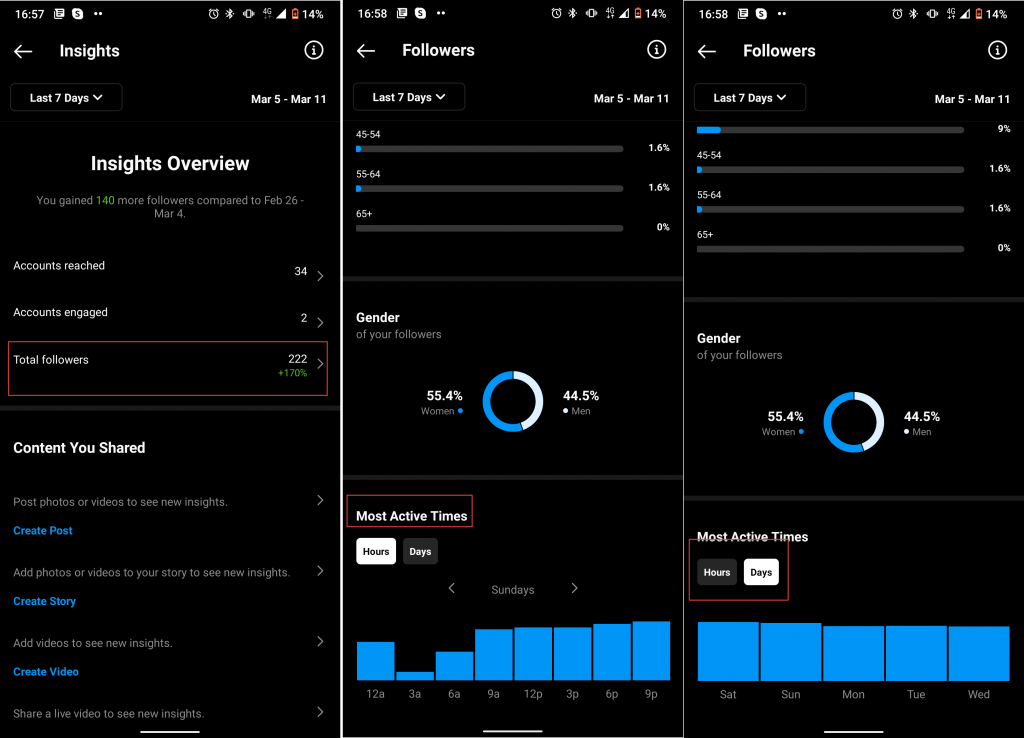 Share Video Content
If you don't share video content on Instagram too much, you are missing a lot. Let me tell you how the Instagram algorithm works; The more time users spend viewing your content, your posts will appear on more users' feed pages. This means you can get higher engagement on video content posts such as IGTV videos, feed videos, and Instagram Reels. 
Use Instagram Reels
Reels is one of the latest features added to Instagram that allows users to record and share short videos, up to one minute, set to soundtracks. This feature is similar to TikTok videos that went viral quickly, and the same thing is happening for reels. 
This popular video feature is now available in the US and 50 other countries and is a perfect way for brands and businesses to enhance their visual content. Looking at black makeup artists in Atlanta Instagram accounts, we can see this feature is trendy among them too, and this type of content gets higher reach and engagement. 
Write Good Captions
We all know visuals are essential on Instagram, but that's not enough; captions are imperative too. By writing a good and engaging caption, you can stop scrollers from paying attention to your content, follow your page, and reach higher. A perfect makeup artist caption for Instagram includes top art hashtags, CTAs, a short, engaging sentence, the name of the used products, etc.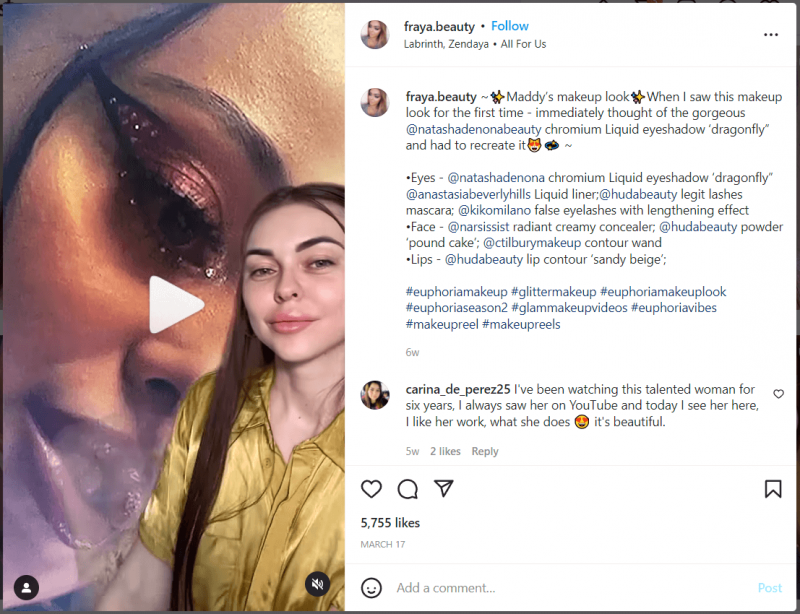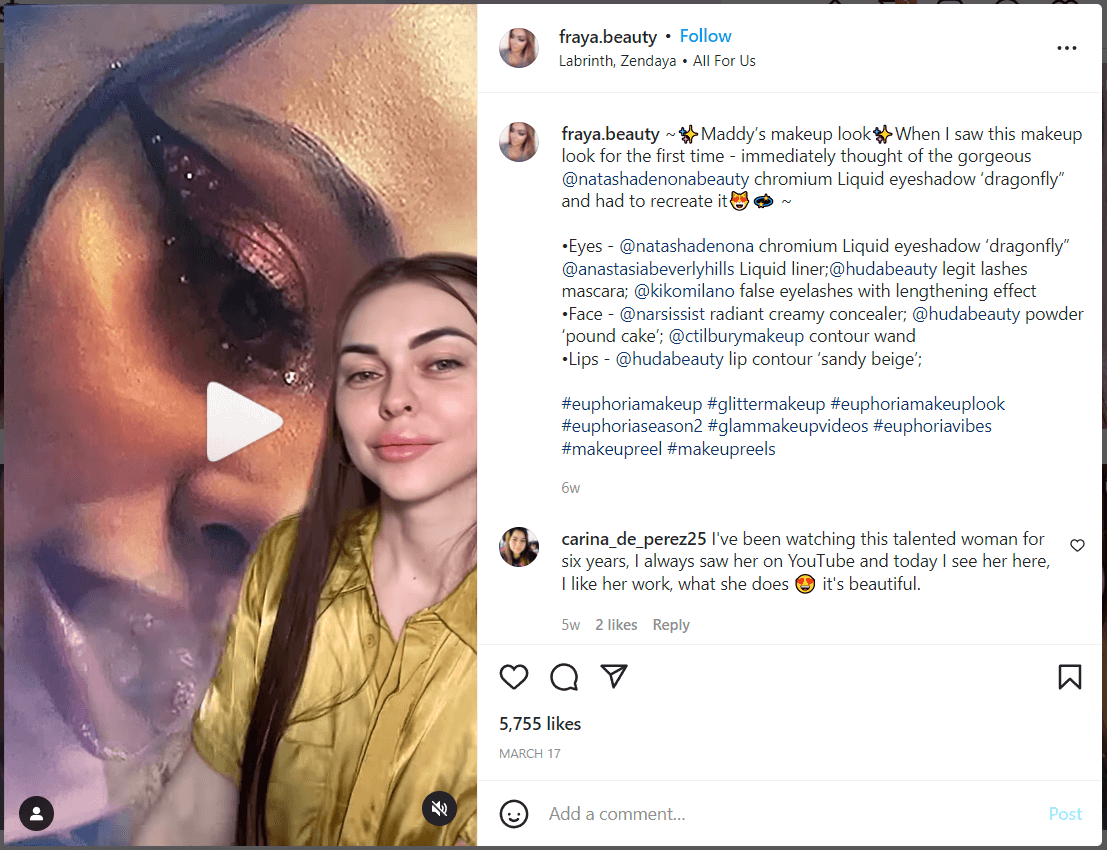 Makeup Artist Caption For Instagram
Now let's take a look at the top makeup artist caption for Instagram based on the StarterStory website in 2022:
"A smile is the best makeup any girl can wear.

" ― Marilyn Monroe

Beneath the makeup and behind the smile, I am just a girl who wishes for the world

. — Marilyn Monroe

Your eye makeup says so much about you and your style

. – Laura Mercier

"I don't want to cry over you. You aren't worth spoiling my mascara for."

"May your day be as good as a perfectly blended foundation and an even eyeliner."

"My life might not be perfect, but my makeup is."

Success is the only option because I like expensive makeup.

"Beneath the makeup and the perfect smile, you can find a girl ready to conquer the world."

All things are possible with a bit of coffee and mascara.

"If you're sad, add more lipstick and attack."

The only moment when a woman is powerless – is while she's waiting for her nail art to dry.
Schedule your posts and write your captions in advance. 
Use Professional Tools
Have you ever wondered how famous beauty bloggers and makeup artists manage their social media platforms? Do they have admins or use third-party apps? Let me introduce you to a powerful Instagram management tool that many Instagrammers, bloggers, and vloggers use to manage and grow their Instagram page, AiSchedul. 
This platform provides all the essential features a pro-Instagrammer needs to manage their account. Here are some of the main AiSchedul features:
Post, Story, and IGTV scheduler

Instagram hashtag generator

Hashtag and account monitoring

Multiple link-in-bio tools

Mass delete Instagram posts

Share videos directly from YouTube to Instagram

Reposting feature
The best part is that AiSchedul provides well-priced plans so that everyone can use them; that's what makes it popular!
Download the AiSchedul App to Manage Your Instagram Account Now.
Top Makeup artist Instagram accounts
Now that you know everything about growing and managing your makeup artist's Instagram account, let's look at top beauty bloggers and makeup influencers accounts on Instagram.  
1. Huda Kattan @hudabeauty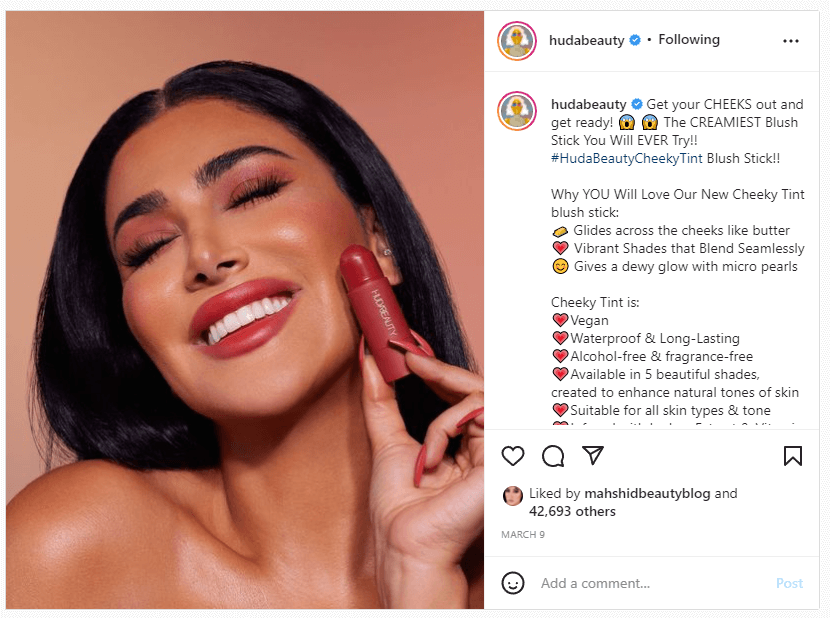 Huda Kattan, famous for Huda beauty, is a makeup artist, beauty blogger, and vlogger. She also has a popular YouTube channel, sharing videos of her product line. While Huda is the best-known and number one beauty blogger in the middle east, she is in the top 10 bloggers worldwide. Nowadays, she has her own cosmetics line, Huda Beauty, which has become popular in a short time.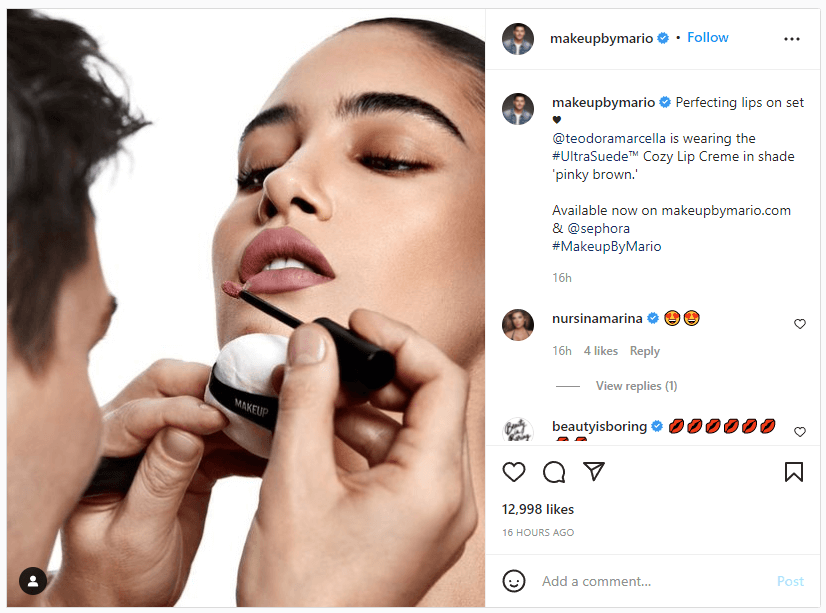 Mario, mainly known as Kim Kardashian's makeup artist, is one of this decade's most popular Instagram beauty bloggers. He is famous because creating a flawless version of each individual's natural beauty. Also, he was the inventor of many beauty and makeup trends, such as contouring. On his makeup artist's Instagram page, he shares tips and tricks for his work. 
3. Nikkie de Jager @nikkietutorials
Nikkie de Jager is a Dutch makeup artist and beauty blogger best known for her famous YouTube channel, "Nikkie Tutorial." She became famous in 2015 after uploading a YouTube video titled "The Power of Makeup," and today, her channel is the most subscribed and most-watched beauty channel in the Netherlands.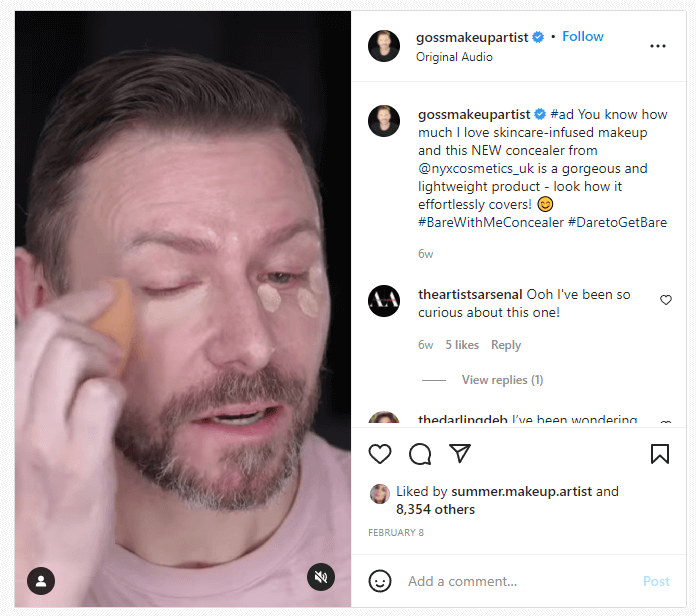 With 3 million YouTube subscribers, Wayne Goss is the most-known makeup artist in England. The most amazing part is that he is a self-taught makeup artist that started his YouTube channel in 2008. In 2013, he launched his brush line, which is still recognized as the symbol of quality. He shares short tutorials and techniques on his Instagram art page for his audience.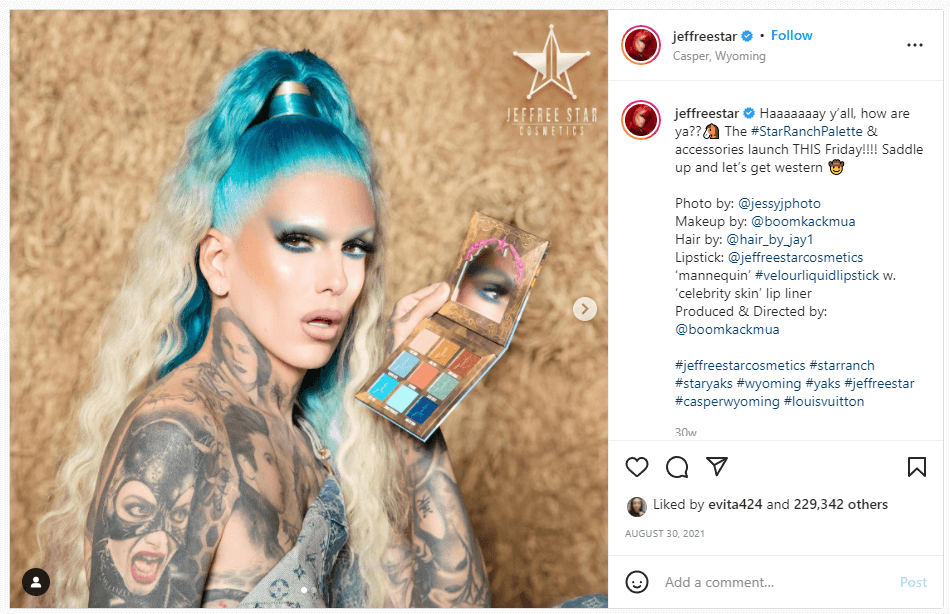 If you have ever watched a makeup tutorial on YouTube, you probably know who Jeffree Star is. This famous makeup artist joined YouTube in 2006 and now has over 17 million subscribers. His YouTube channel and Instagram page are full of makeup tutorials, product reviews, and passionate takes.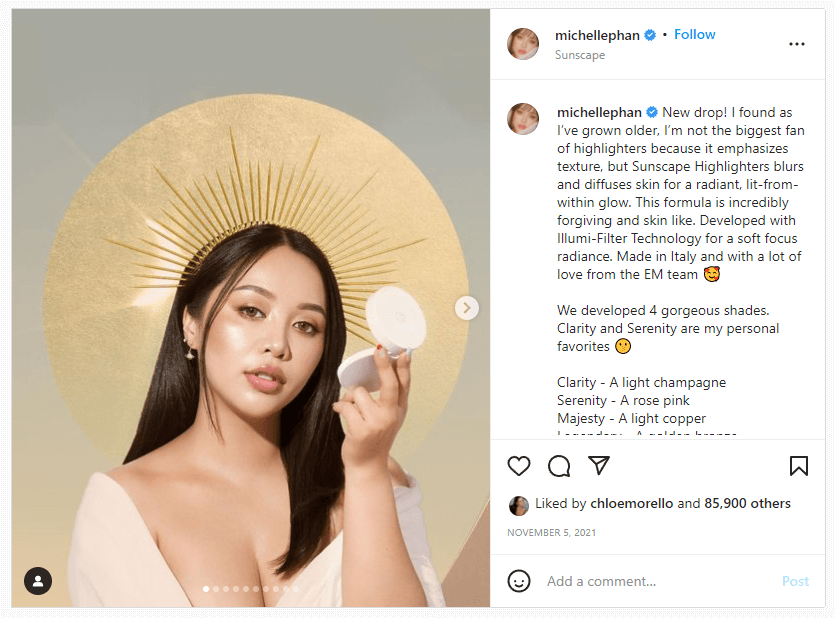 Michelle Phan is a Vietnamese-American beauty blogger and Makeup artist who began her YouTube channel in 2006. Her company, IPSY, mails beauty products to subscribers monthly and has been valued at 500 million USD by Forbes. Also, she has recently launched her makeup product line, EM, which bombed with its first launch.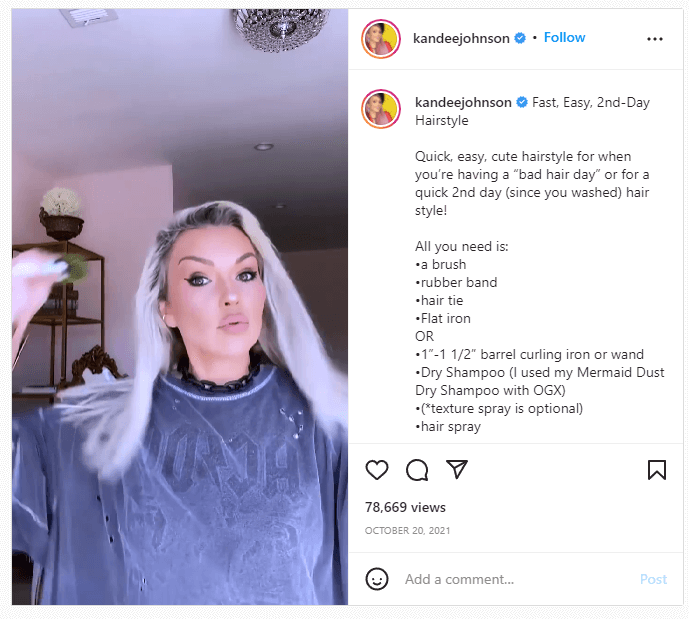 Kandee Johnson is an American beauty blogger and vlogger viral on YouTube. Her YouTube channel—Kandee Johnson—had 3.8 million subscribers and over 423 million views in June 2017. She uploads videos about makeup, fashion, style, and home decoration on her Instagram and channel.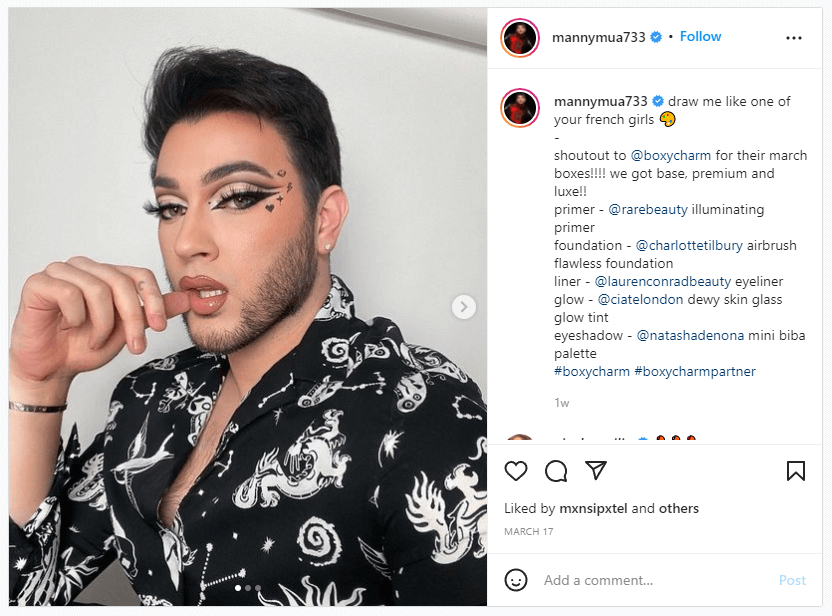 Manny Gutierrez, also known as Manny Mua, is a 30 years old American YouTube and social media star born in California. He started by working at Sephora, and Mac then decided to start his makeup YouTube channel in 2014. Other than that, he is an Instagram and Twitter star with thousands of followers. 
Black Makeup Artists on Instagram
The makeup world is disappointing for black women since most brands don't have a wide range of product shades. However, many black makeup artists on Instagram are trying their best to be the sound of black women. In the following, we'll introduce you to the top black makeup artists on Instagram who are working with famous brands and companies.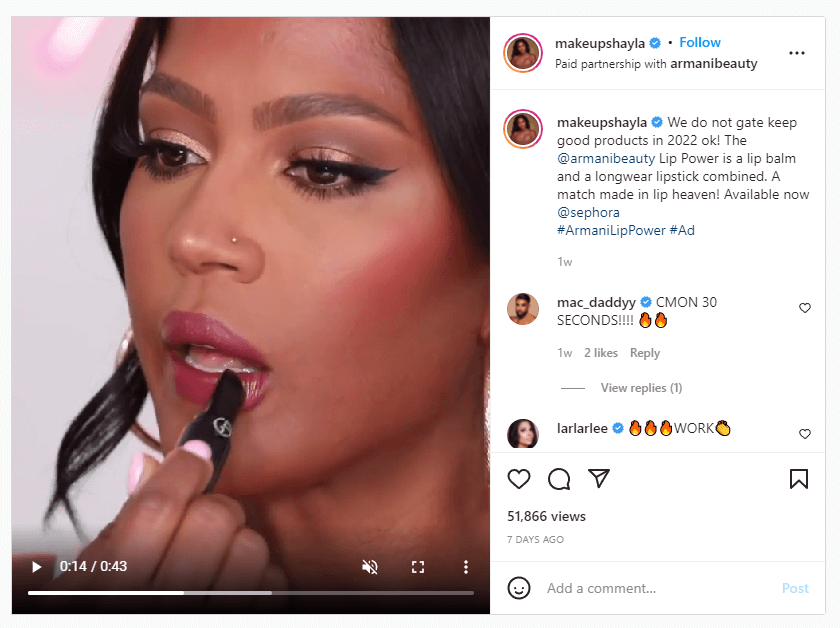 Shayla Mitchell, mostly known as Makeupshayla, is one of the most powerful beauty influencers on Instagram who has worked with big companies such as Kylie Cosmetics, Maybelline, MAC, etc. She has more than 2.5 million followers on Instagram and half a million YouTube subscribers, making her the first one on the list of black makeup artists in Atlanta Instagram.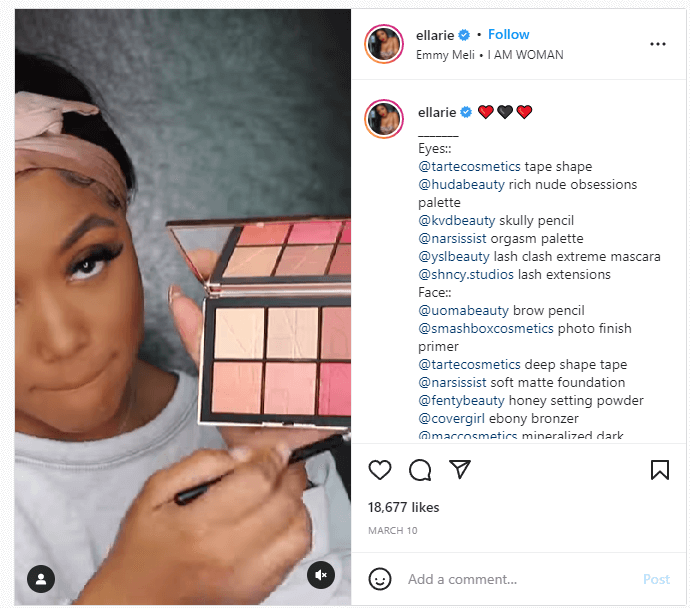 Ellarie Noel started her work in the cosmetic industry by becoming a makeup artist for MAC. But after a while, she figured out that she had more fun doing her makeup, So she decided to work from home and become an Instagram makeup artist. Nowadays, with 1.1 million followers, she is one of the best black makeup artists on Instagram.
Conclusion
You've come to the right place if you are a makeup artist and want to know how to start, grow, and manage your Makeup Artist Instagram page. This article showed you every tip and trick you need to know for growing your account. Also, we introduced you to top Instagram makeup artists to get ideas for managing your account.