Instagram marketing has become an important goal for businesses in recent years. As the number of Instagram users increases, businesses see more potential for marketing in this application. Meanwhile, Instagram tries to attract more users by releasing new features so that users spend more time in this application. All this leads to competition between different brands and businesses to be on top, and that's where Instagram marketing platforms show off. Many platforms are created with various features to help small and large businesses grow their account in this social network. Meltwater is one of these platforms that can be helpful for Instagram marketing.
In this article, we are going to talk about the Meltwater platform's features, read some users' reviews and also introduce some alternatives. So, if you are looking for an Instagram marketing platform, keep reading!
If you are seeking a quick solution, hit the following button to try the AiSchedul Instagram managing platform for free!
Meltwater Social Listening Platform
Meltwater is a media monitoring tool, and it offers various services to track your business on news and social media. In fact, it's a media intelligence that lets you know where there is a talk about your business. Using the provided data by Meltwater, you can assess your performance and find the most effective strategy for your brand. The statistics describing every aspect of your work makes it easier to plan for the future.
Meltwater Features
The goal of Meltwater is to give you all the data and tools you need for your business marketing. Form scheduling posts to monitoring the news, Meltwater offers services to make it simpler and more effective for you. These are some of its features:
Media analysis
The biggest strength of this platform is the comprehensive analysis it provides to assess your performance. You can design dashboards to get the analytic reports you want. It gives you a lot of data to evaluate different aspects of your performance. Besides that, you can also monitor your competitors' performance and compare your business with them from different points. It has one of the most powerful packs of analytics among all the platforms.
Media management
It provides multiple tools to assist you in managing your social media accounts. Using the scheduling and automatic publishing tools, you can plan your posts from days or even months before. Also, you can schedule them for the optimal time to be posted to raise your page's engagement. Moreover, you can see all of your social accounts' comments in one place and answer them, which makes the process lot more straightforward.
Track the mentions
This platform can track your mentions everywhere! No matter it's on the web, social media or news, it will show you where there is a talk about your business. Additionally, it has a vast database of writers and reporters to help you find the ones who are interested in writing about your business. It connects you to the news to grow your reputation.
Meltwater Reviews
Maybe this is a question for you, too. Why doesn't this handy platform rank high on many user-ranking websites? Well, here we are going to talk about the users' reviews and the reason why many of them are not satisfied with this platform.
Deceptive selling strategies
The most common complaint that many users had was about their selling strategies. This platform doesn't offer a trial plan, and also it has an auto-renewal feature that automatically extends your plan and charges you unless you cancel it. But how can you cancel it? The users claim that they are not clear about the terms. On one of their webpages, which is not easily accessible, it is written that you have to apply for the cancellation before 60 days to the end. Many users didn't see this term, and so, they missed the deadline and got charged! It happened to many of their clients, and with a simple search on Google, you can find lots of people complaining about this issue.
Large learning curve
As we mentioned before, this platform offers a comprehensive pack of services, so it's reasonable that it takes some time to learn how to work with it. It bothered many of the users that didn't have enough time to spend on this matter. Also, many ones claimed that calling the support team wasn't that helpful, and they couldn't find the answer to their problems. Moreover, the interface gets a bit confusing for some services, and it would be better if Meltwater changes them a little.
High prices
Another problem that many of the users had was the prices. The prices start from $4000 per year, which is not affordable for many ones. The prices are higher than many of the competitors, so, some of the clients switched to other platforms with more reasonable prices.
Ordinary performance
Although Meltwater has provided a complete pack of features, some of the users claimed that some services don't work flawlessly. For example, some of their clients claimed that Google Alert works better in tracking their mentions, so, considering the price, users expect a better performance. It worth mentioning that most of the users use just some of the features, and track saying is one of the most popular ones.
Meltwater Alternatives
As we mentioned before, many of Meltwater's features are not practical for most of the users. So, here we are going to introduce you to some other platforms that offer many useful tools and also, they are more affordable for SMBs.
AiSchedul is a managing platform designed especially for Instagram. It offers various services based on Instagram features to assist you in growing your page. These tools can help you raise your page in different aspects. You can manage multiple Instagram accounts on one page and share content between them. We are going to mention some of its features, but you can know them better by using their trial plan.
Scheduling posts and stories
Publish the content automatically to Instagram
Tracking mentions in Instagram
Organizing giveaways
Designing the perfect bio link landing page (read more bout bio link here)
Moreover, the prices are affordable to everyone, starting at only $9 per month!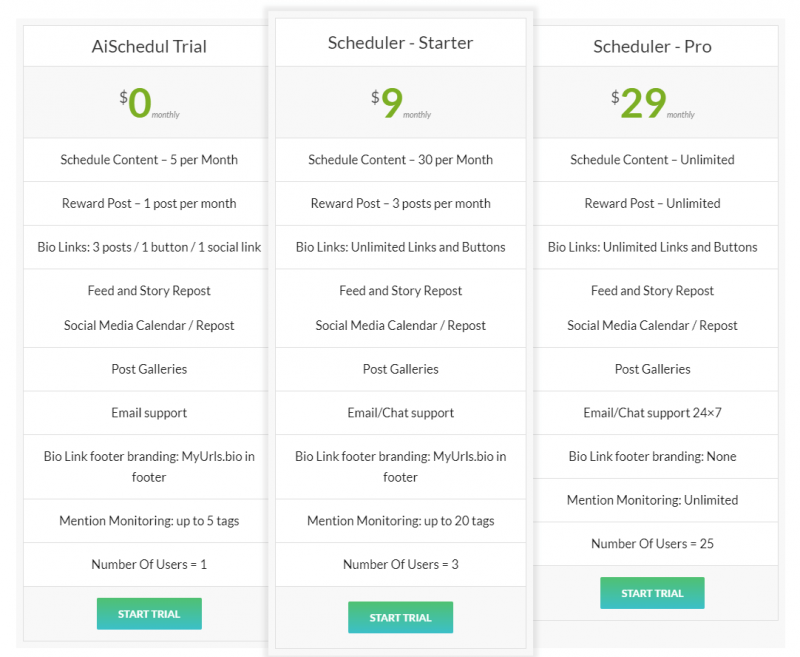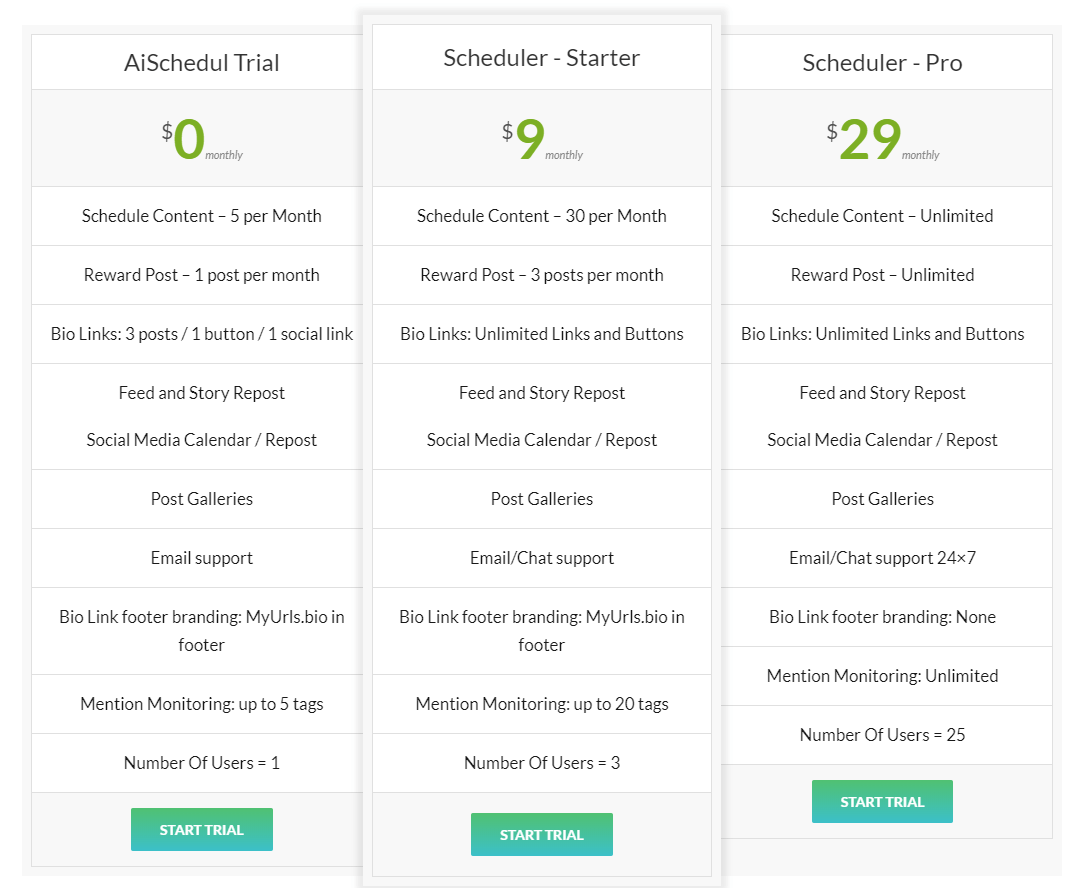 You can try AiSchedul for free, hitting the following button.
SocialBee
SocialBee is a managing platform that supports multiple social networks. It offers excellent services to help you in developing your business in different social networks. Here are some of its features:
Sharing posts between different social accounts
Assessing the growth by the detailed analytic reports
Categorizing the content to make them more accessible
Additionally, the prices are more reasonable than Meltwater too. You can read more about SocialBee here.
Loomly is another multi-network platform that supports Instagram, Twitter and Facebook. It provides many practical features for marketing. One of the biggest strengths of this platform is the well-equipped interface that makes working within a group much simpler. Some of its features are as follows.
Scheduling posts
Publishing automatically
Suggesting tips to improve the content
Offering detailed analytics of your post to find the most welcome posts by your followers
You can read a comparison between AiSchedul and Loomly here.
All In All …
We talked about the Meltwater platform and discussed both its strengths and weaknesses. Then, we introduced some other platforms that are more affordable choices for SMBs and offer practical marketing tools to help you in developing your business. Finding the most suitable marketing platform depends on our needs, and we hope you find this article helpful. Share your ideas with us in the comment section.