Posting content on your Instagram account has never been easier; gone are the days of relentless search for the appropriate photo for a post you had in mind. AiSchedul's brand new feature Listening & Repost is now here to make this process easy for you.
Use this new feature to browse Instagram based on hashtags, accounts, and mentions. Afterwards, you can either save the photo, or re-post it to your account immediately. Read along to learn more about this feature.
Finding Content
Hashtag Monitoring
Here's a step-by-step guide for using Listening & Repost on AiSchedul. The first step is to log in to your AiSchedul account, or sign up if you don't have an account yet. Then, on your dashboard, choose Listening & Repost. Here, you can browse for posts on Instagram. Afterwards, it's time for you to decide what's your preferred way of finding content. The first way of browsing is through hashtags. Under Hashtag Monitoring, you can add the hashtags that you have in mind. Then, you can go through a large number of posts that have been trending under the hashtag(s) you have entered. When you find the perfect photo, you can choose to either save it for later, or re-post it to your account immediately.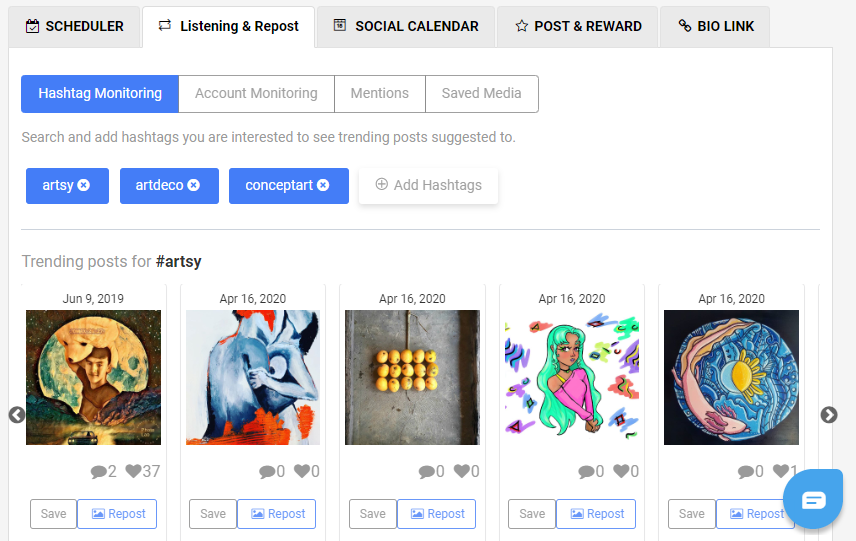 Account Monitoring
In addition to hashtags, you can also filter Instagram posts based on profiles. Under Account Monitoring, add the accounts that you think might have some content you would want to re-post. Here again, you can choose to either save or re-post the desired image.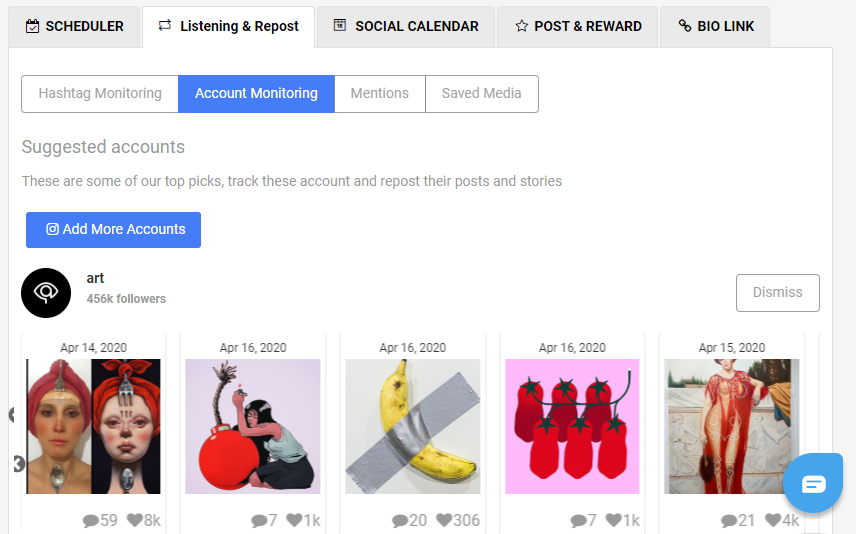 Mentions
Unlike Hashtag Monitoring and Account Monitoring, where you enter the information related to your post (hashtags or accounts), with Mentions you don't have to enter any keyword in order to filter the results. Here, you will find posts or stories in which you have been previously mentioned. Afterwards, you can either save the photo for later or repost it to your account immediately.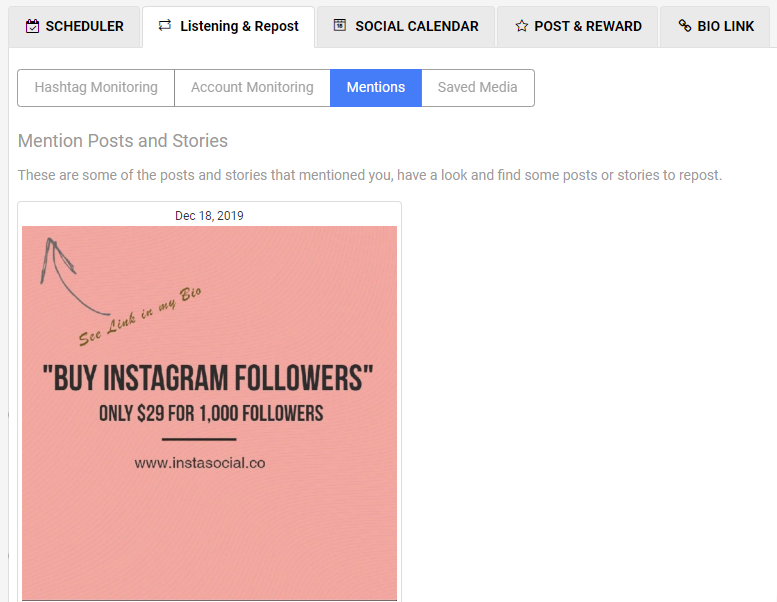 Saving Content
After you find an image you like, you have the choice to save the image. Images on Listening & Repost, are saved in "Buckets."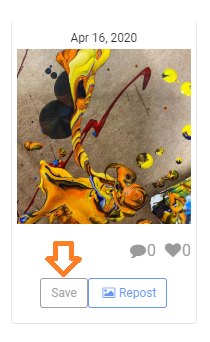 If it's your first time saving an image, by clicking on "Save" under a photo,  you will first have to add information about the first bucket that you're creating. From then on , you will face a window that lets you choose a bucket or create a new one. (think of buckets as folders for your pictures)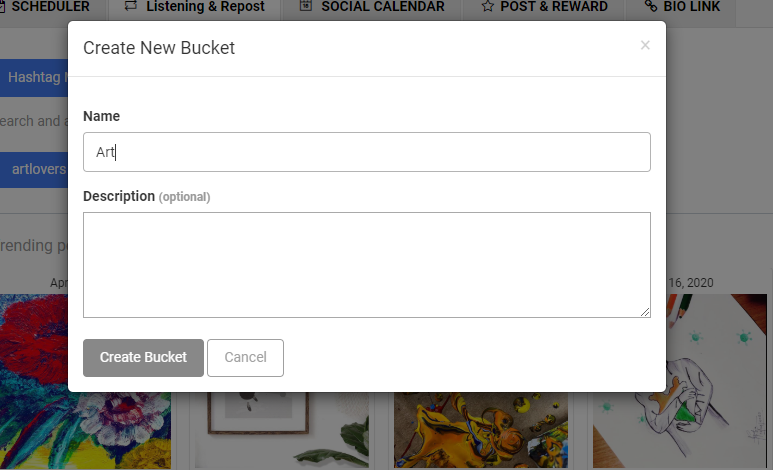 The content you save are stored in their buckets under "Saved Media."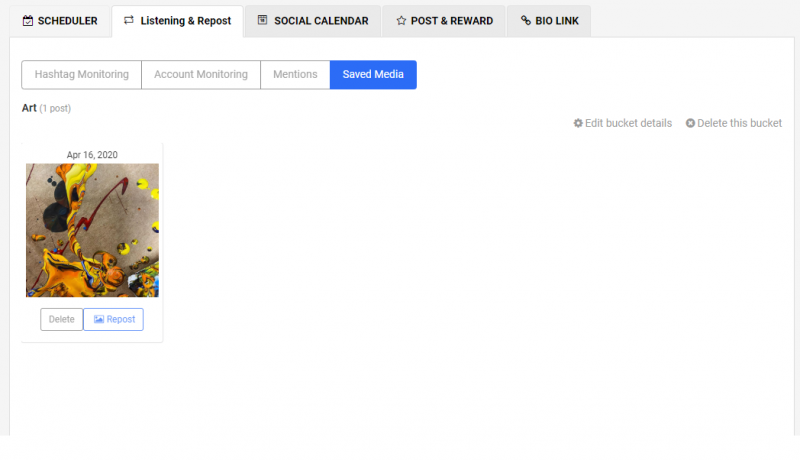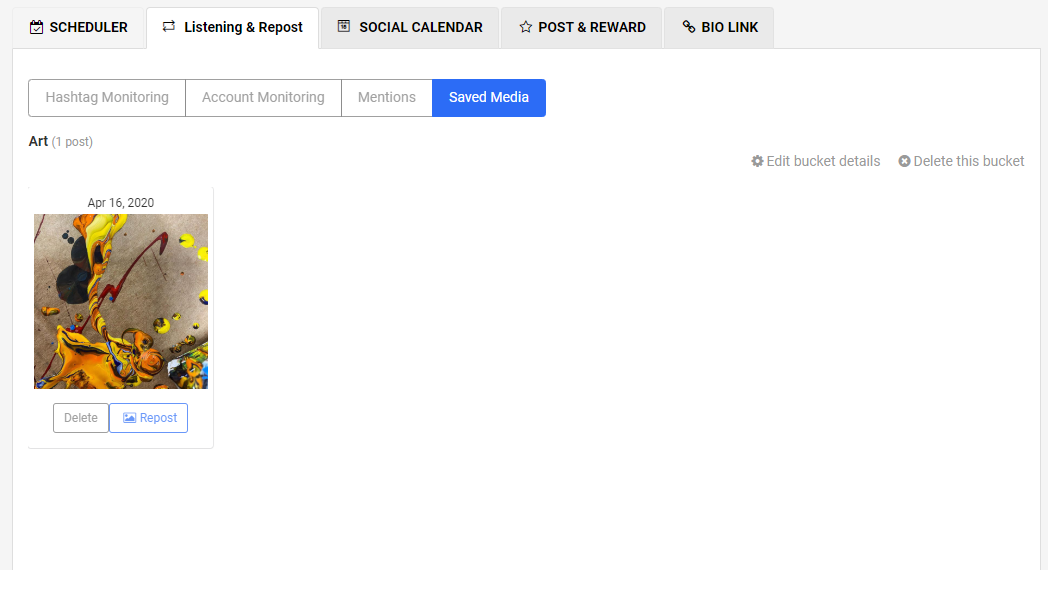 Reposting
If you want to repost the image that you have found, you don't need to save it anymore. Instead, you can click on the "Repost" button under the image.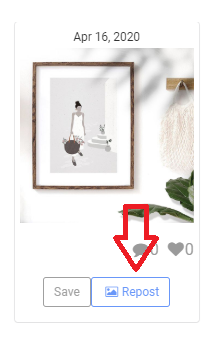 When you do this, you will be taken to a new page. You should first decide if you want the content to be posted on your feed or on story.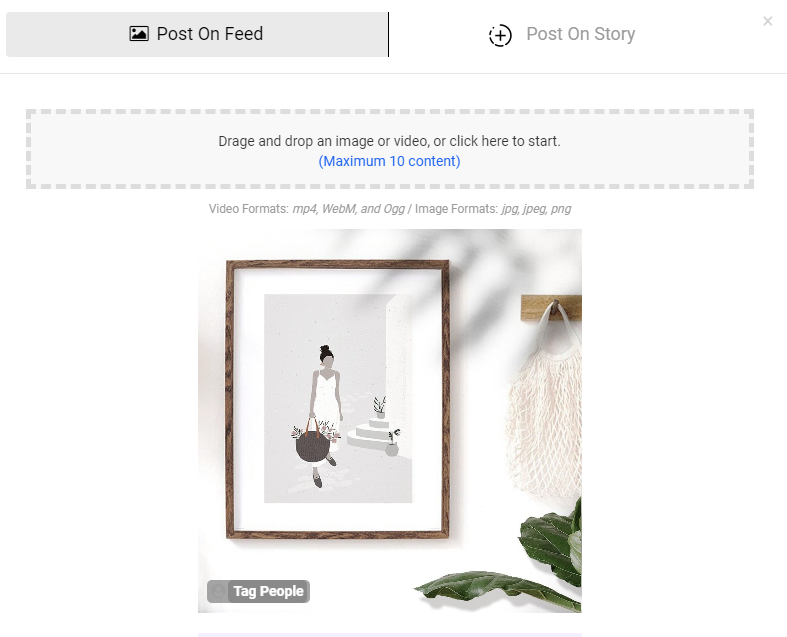 Then you can add captions, hashtags, and location.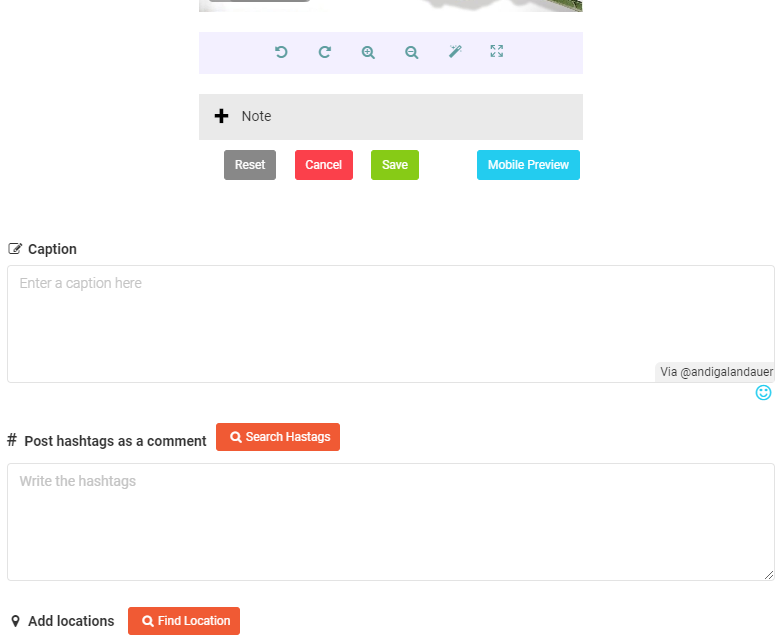 The next step is timing; you can repost it immediately, or you can schedule it for a specified time later. If you want to do the latter, you have to choose a date and a time, and your post will automatically be uploaded to your Instagram at that time. Two other features that you can use are posting the content on both your feed and your stories, and automatically deleting the post/story after a certain time. After tailoring your post to your taste, click on "Schedule Post", and voila! You have successfully used AiSchedul's Listening and Repost feature.