Instagram is one of the best applications in the social media world, which provides you with different features to increase your engagement and growth. Day by day, Instagram gets more competitive to grow your account. So you need some help to stand out and get more Instagram followers.
COVID-19 situation caused a significant increase in the usage of social media, especially Instagram. As a result, you had better be aware of all ways to attract Instagram followers. In this article, we are going to bring you new ways to get more Instagram followers in 2021.
If you are not interested in reading this article, or you are busy. Sign up for an Instagram growth service like AiSchedul. It automatically manages your Instagram account and boosts your engagement.
To get started with AiSchedul just tap on the link below.
With over 1 billion monthly users, getting Instagram followers could not be as easy as before. Here we provide you with new ways to get more Instagram followers. Keep reading.
New ways to get more Instagram followers in 2021
We try to bring here is the new strategies to use in order to get more followers on Instagram. Use them in 2021, and see how your Instagram followers increase. It may take time, but it will definitely work.
1.Optimize your Instagram account
Optimizing your Instagram account is a general concept. We are going to explain it in more detail. Do the following,
Your Instagram username establishes your brand identity. Choose your username wisely. For example, if you run a company, its name could be the best option as an Instagram username. Do not use a long name. Indeed, the longer your Instagram username is, the harder it is for your Followers to remember.
Choose a correct profile picture
Choose the correct picture with a high resolution to enable people to recognize your brand immediately. As a result, they can remember you more quickly to introduce you to others. Try to use an eye-catching profile picture, which entices people to enter your Instagram page.
Your Instagram Bio is the first place your audience reaches. You have 150 characters to convince your viewers to follow you. Use it wisely and write an appealing Bio. In this way, I recommend you to use emojis. Emojis let you transfer your emotions simply. So don't forget to use them☺
A compelling Instagram Bio let your audiences know what kind of content they would follow and encourage them to follow you.
Your viewers are searching for a reason to follow you. Your bio could be the best place to bring the best reason.
On the other hand, your Instagram bio is the only place where you can add a clickable link. Actually, this part lets you add your Website link and drive traffic from your Instagram to your Website.  
Use harmony for your Instagram feed 
You had better tell the story by your posts on your Instagram feed. In this way, your posts are better to have harmony. Cocacola company with 2.7 million followers, has followed a unique harmony that fits with its brand image in red.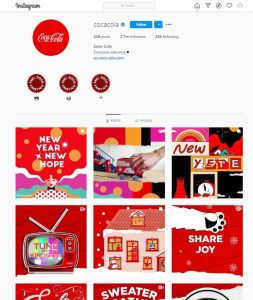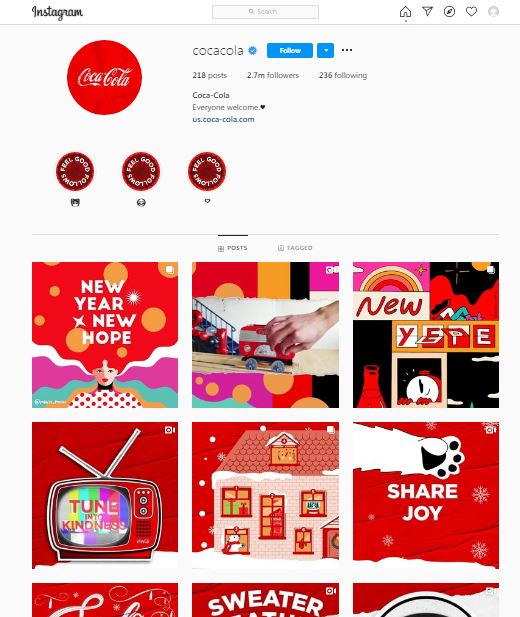 The color of your feed is not everything, the structure, and content are as important as color. Try to provide your viewers with high-quality content. Actually, your content could encourage your viewers to follow you. When your viewers find what they have been searching for, they would like it, comment on it, and share it, making your account show up higher in the Instagram algorithm.
 Pro tip: Use Instagram analytics tools to find out what kind of content your followers like. These tools will determine the most useful posts for you.
2. Use the hashtag
Do not underestimate the power of hashtags. Using hashtags makes your posts searchable. Results show that the post with hashtags gives a larger reach. But how?
People on Instagram can find what they are desired by searching the keywords. Depending on the type of your product and your target audience, put your keywords in a different bucket, and use them. When people search the keywords, your posts, which use the keyword with the hashtag, will be displayed.
To be more specific, find hashtags that are related to your work area, and use them. You can add 30 hashtags for each post on Instagram. So, select them wisely. Choose the correct hashtag enables you to enhance your exposure to new viewers, which means you can get more Instagram followers.
We strictly recommend you not to pick the hashtags that are already used a lot and populated because decreasing your chance to achieve what you are desired, and you won't get seen.  
For example, if you run a chemical company, do not use #chemical because it is significantly populated, and your company account would be lost. Try more specific hashtags like #PVCadditives.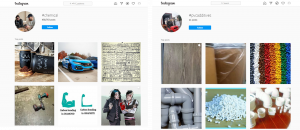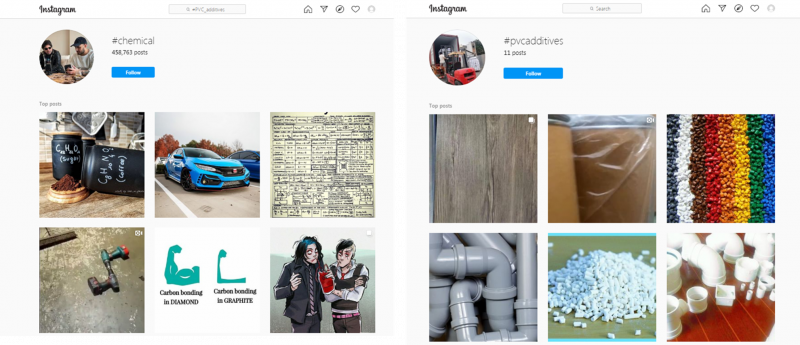 3.

Use Instagram Reels
Instagram Reels is one of the best Instagram offers. If you have not used Instagram before, 2021 is the best time to start. Instagram Reels became an excellent way to improve Instagram account engagement and increase the follower. 
Instagram Reels is a video with 3 to 30 seconds of duration. Reels can be found in their own separate tab on individual Instagram profiles (and also on the Instagram Explore page!). As a result, you have more opportunity to get followers. 
 Instagram introduced its new video feature, Instagram Reels, on August 5, 2020.
But we think it will find its true place in 2021.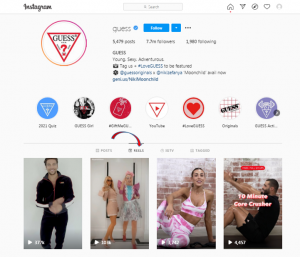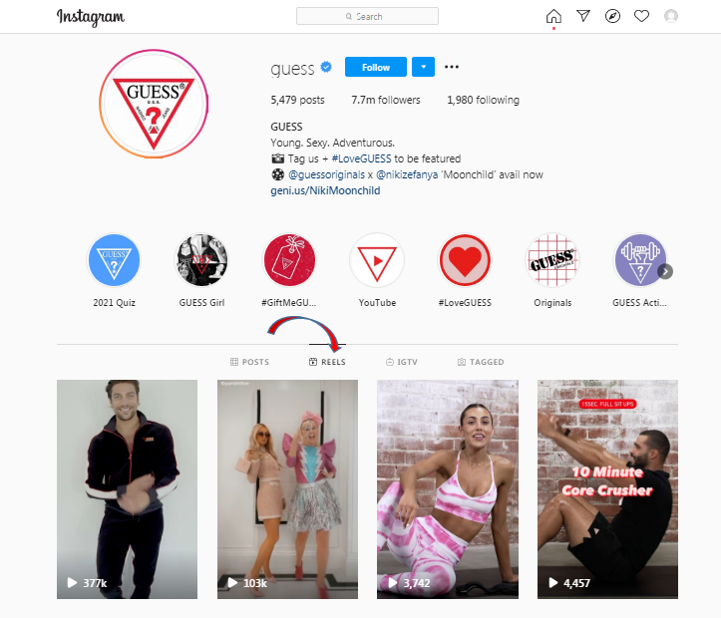 4.Run Instagram Giveaways
Instagram giveaway is a powerful tool you can use to increase your engagement and get more followers. Indeed, Instagram giveaways as a new Instagram feature can help you to increase your likes, comment, share, depending on the type of your Instagram giveaway. People always like to win a contest. In this way, you give them a gift in return to do something, which helps you get more followers.  
Instagram giveaway provides you with a great opportunity to ask your followers to share content in order to win. As a result, more people will get to know you.
5. Work with influencers
How many times have you been inspired to buy something just because you watch it on your favorite influencer? Or How many times have you gone to the gym because one of your Instagram influencers shares her/ his good feeling in a gym? If you have done one of these activities more than one time, there you are; this is an influencers' power.
When you are working with influencers, you can reach their audiences easily. 
Final thought 
Getting more Instagram followers could be challenging, but if you use the above ways, you will get more Instagram followers in 2021. 
Using Instagram features like Instagram Reels, Instagram giveaways are some great ways you can take advantage along with optimizing your Instagram account. Try these ways, and be sure you will succeed.
AiSchedul is here to manage your Instagram account and boost your engagement. As a result, just trust it, and be calm. Everything will be ok.