Finding the best Instagram management tool might be challenging these days since there are many tools out there. That's why reading a service's review will help you make up your mind whether to use it or not.
If you want to skip the article and look for the best Instagram management tool, you should use AiSchedul, which gives you all the services you need on Instagram.
What is Postfity?
Postfity is one of the social media management tools that lets users schedule their Instagram, LinkedIn, Facebook, Twitter, and VK posts.
However, we should note that Postfity doesn't schedule Instagram posts in advance. In other words, it sends reminders to users to open their Instagram app and publish their posts themselves.
Meaning that users should be online at the time they want to share the post.
So, what if users manage several Instagram accounts or want to share posts at different time zones?
Since Instagram is one of the most popular platforms, users may spend more time on it and share more posts than other social media platforms.
So, sending a reminder to users for posting on Instagram doesn't sound to be the best option.
Obviously, some people manage several Instagram accounts, and sometimes people prefer sharing posts at the same time on different Instagram accounts or different platforms. Therefore, it would be best to use an Instagram management tool that schedules Instagram posts and stories in advance without being online or needing to open the app.
Postfity pricing
As you see below, Postfity offers three different pricing plans, including Mini for 9.99$, Professional for 24.99$, and Agency for 79.99$. You can also see all of the services for each pricing plan.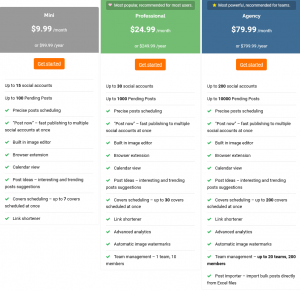 Postfity reviews
We have always said that one of the best ways of deciding whether to use a service or not is reading its reviews. We have searched and gathered some Postfity reviews from different websites to let you know more about it.
Postfity reviews on Trustpilot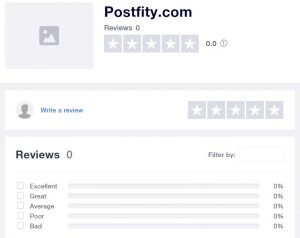 As you see, there is no review for Postfity on Trustpilot, meaning that it doesn't have many users, or it is not trusted by people.
Trustpilot is one of the most famous review sites; you would find most of the products and services on it. So, it would be strange that there is no Postfity review on Trustpilot.
Postfity Alternatives
As we mentioned earlier, Postfity doesn't schedule Instagram posts in advance, and all it does about Instagram is sending a reminder. So, you may be looking for the best Instagram post and story scheduler that allows you to schedule posts and stories in the dashboard and make you free from being online and opening the app.
AiSchedul
It is one of the best apps to schedule Instagram posts, schedule Instagram stories, monitor, add several links in one link, and more. By AiSchedul, you are free from opening your Instagram app and sharing posts and stories directly from the app.
To publish Instagram posts and stories by AiSchedul, you should sign up and log in to its dashboard and do all you need to do there.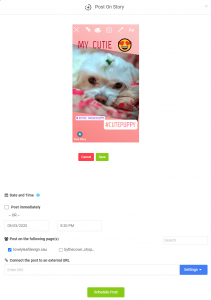 AiSchedul features
Instagram post scheduler

Instagram story scheduler

Hashtag suggestion

Story and feed repost tool

Reward campaigns management tool

Managing multiple accounts

Post and reward feature

Auto-respond comments

Designing Bio-link landing page

Tracking mentions
How to Schedule Instagram posts by AiSchedul?
It is easy as A, B, C. Just follow the steps to schedule your Instagram posts.
1.First of all, sign up on AiSchedul and add your Instagram account. You can add as many accounts as you want without any limitations.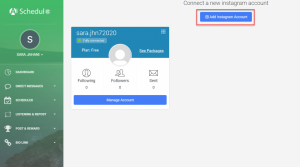 2. Now, click on the "Manage Account" button. Then, you would see the "Schedule" option. After clicking on it, you can choose the Story or Feed option.
Choose the "Feed" option to schedule a post. Then you can drag and drop photos and videos; you can also schedule carousel photos and videos with AiSchedul.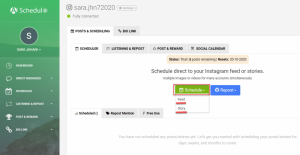 3. Then you can add your post's detail, such as adding the caption, location, etc. and choose the scheduling date and time.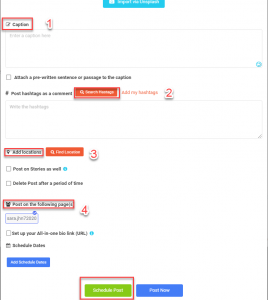 4. At last, click on "Schedule Post" to schedule your post.
Moreover, if you are curious about the way you can schedule your Instagram stories, you can read the "Best Instagram Story Schedulers in 2020" blog.
AiSchedul pricing
Happily, you can have all the mentioned services at a very affordable price, which is 9$ for starters and 29$ for pro users. If you are a small or medium-sized business, the "Starter" plan may fit you.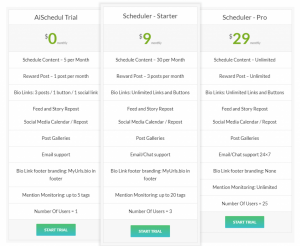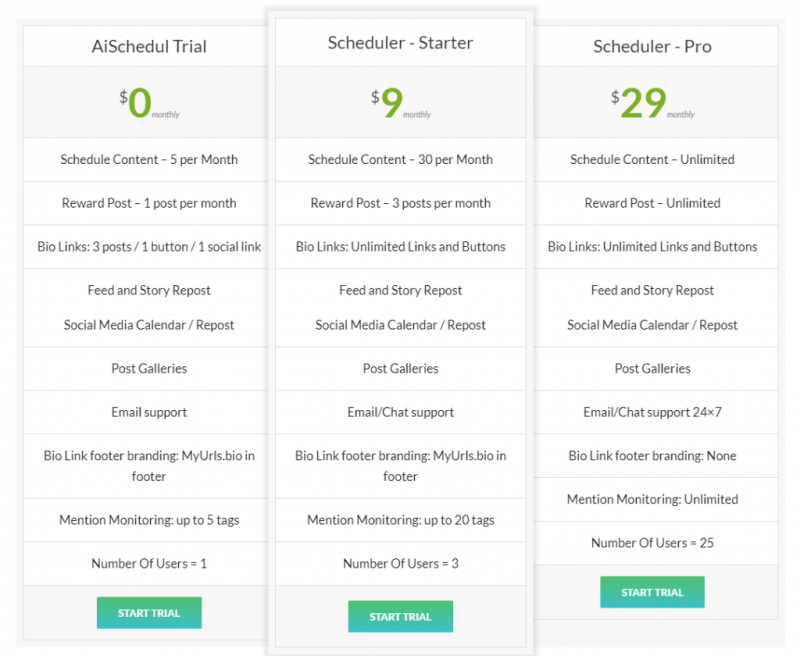 2. Planoly
That's another managing platform for Instagram and Pinterest users that lets users schedule their posts. Same as other Instagram scheduler tools, you can set the date and time in advance to publish your posts.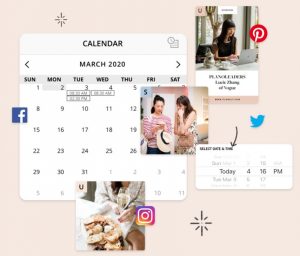 Planoly features
Draft, plan, schedule, and publish content

Analyze your business profile data

Web and mobile apps
Planoly pricing
As you see below, it offers several plans with different features. You can choose the one that fits your business or your plans.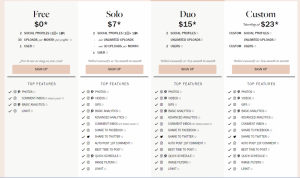 3. Onlypult
With Onlypult is another post scheduling tool that lets users manage up to 40 accounts. Onlypult allows your SMM to manage up to 12 different social platforms without giving him/her direct access to your account.
Onlypult pricing
It offers a reasonable price as well. However, it is not as cheap as AiSchedul.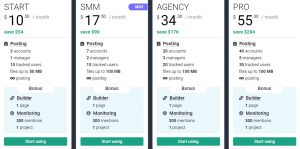 Final thought
Choosing the best Instagram management tool is a big help in promoting your business and saving your time. So, it would help if you don't neglect reading a service's review and being aware of its pros and cons.
If you are looking for a Facebook, Twitter, and LinkedIn post scheduler, you may find Postfity helpful. However, it might not be the best option to schedule Instagram posts and stories since it only sends reminders and doesn't schedule posts in advance.
If you are more active on Instagram than other social media platforms, then AiSchedul would be the best option since it offers all the services users need on Instagram and offers service at an affordable price.
Besides, if you are not sure about using a social media management tool, you should try its free trial to make up your mind about it.