Instagram is one of the most popular social media platforms and with more than 500 million active users in a month, plays an important role in digital marketing. As Instagram users are increasing every day, Instagram is adding more features to the platform. But one of the features that is missing from Instagram is the Reposting feature. In this article, we will show ways to repost Instagram posts with your pc easily and fast.
If you are looking for the best way to repost Instagram posts, don't miss AiSchedul.
Why Reposting on Instagram is important?
Instagram doesn't allow users to repost photos from other users' feeds directly to their feeds. The only place that you can share someone else's content is through stories. But this feature will help in saving tons of time and growing your Instagram page.
Share user-generated content
Sharing user-generated content is one of the best ways to engage your customers and build a trusted relationship with them. You share photos of someone using your service and product or, you can share their review on your home feed.
Share similar accounts content
For the times that you are too busy to create your own content, you can easily share related posts from similar accounts with the owner's permission. This way, not only do you have a new post to share, but also it is a good way to attract more followers.
Ways to repost on Instagram
According to the Instagram Terms of Use, if you want to share someone else's content, you need their permission. Otherwise, your account will be disabled. Also, you need to give credit to the owner. Actually, you can do it by tagging them on the post or the caption. There are many ways to repost on Instagram, the most common ones are:
Sharing a post on the story

Taking a screenshot

Using third-party apps
Sharing a post on stories
You can easily repost a photo or video of your story. All you need to do is to find your intended post, tap on the Share button next to the comments, and add it to your story.
Add post to your story
The post will be shared on your stories and when your followers tap on the post, they'll be redirected to the owner's page. Keep in mind that you can only use this method for public accounts. If you want to share an album, you need to share each photo or video on a different story.
Taking a screenshot
The next way that works on private accounts is to take a screenshot from the post and share it like a regular post. Just don't forget to ask the owner for permission. To take a screenshot on your pc:
Windows:
Press PrtSc. Then you can paste the screenshot into programs like paint, word, or any program that displays images.

Use the Snipping tool. With this program, you can take a screenshot and save it as an image directly.
Mac:
Press Command+Shif+5

Navigate to Launchpad> Other> Screenshot
Using third-party apps
The best and the easiest way to repost on Instagram is by using third-party apps. By a simple search, you can find out there are many apps for doing this but do they follow Instagram's terms of use?
The best platform that is accepted by Instagram is AiSchedul.
AiSchedul
AiSchedul is an Instagram management platform with many features designed to help you grow your account in no time. Here are some of its main features:
Post and story scheduler

Designing a bio-link landing page

Hashtag monitoring

Repost photos and videos

Manage multiple accounts

Post and reward feature
And many other features that you can check on the website. One of the greatest things about AiSchedul is providing all the essential features for free!
AiSchedul is always there for you for all you need to do on Instagram, and Instagram repost using pc is one of them.
Give this unique reposting tool a try now.
Repost photos and videos
As we said, the easiest way to repost content on Instagram is through AiSchedul. The first thing you need to do is signing up on the website with your email address. This takes less than 2 minutes and it's completely free.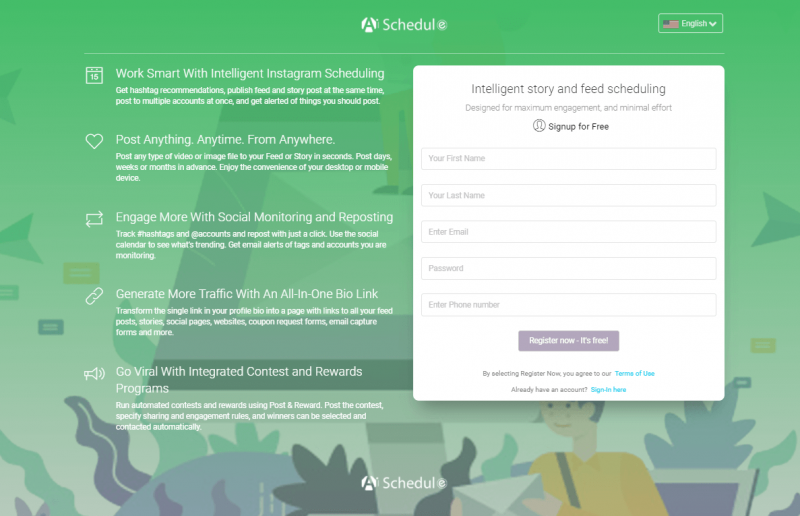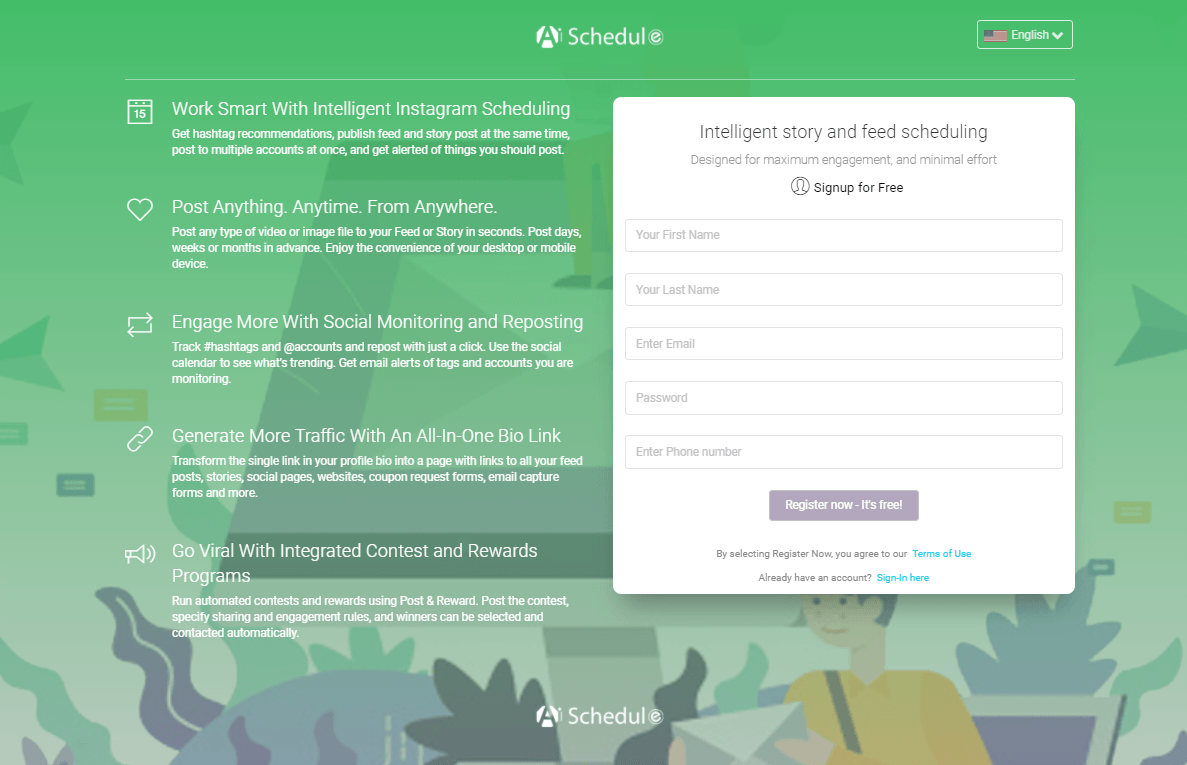 Now It's time to add your Instagram account(s) via your Instagram password and start managing. You can add more than 80 accounts and manage them at the same time.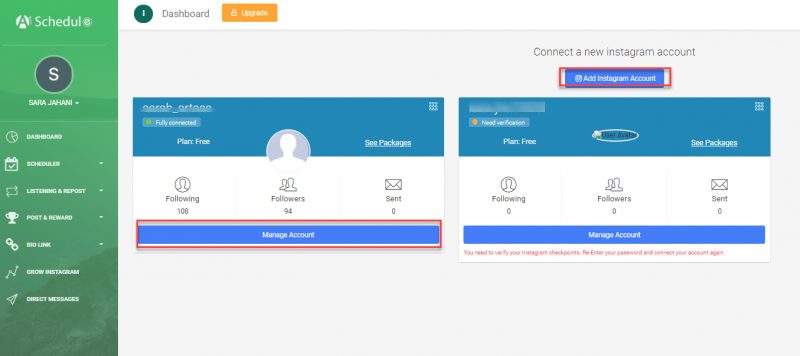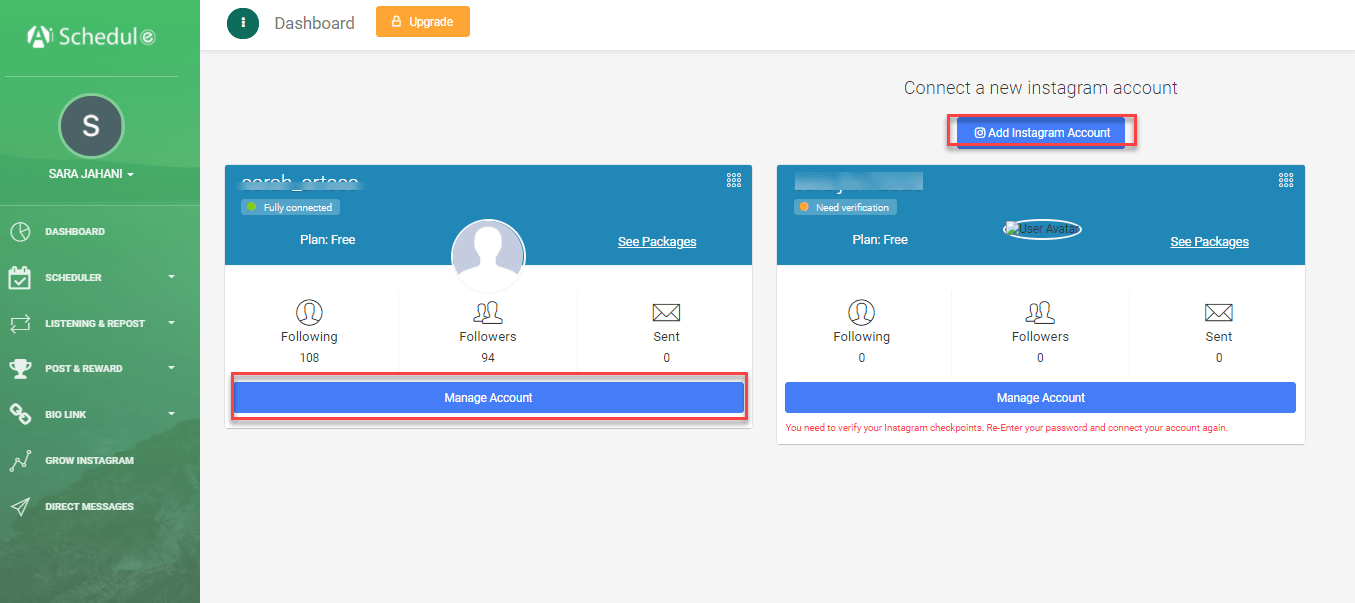 Next, from the Dashboard click on the Repost button. Choose between Feed or story.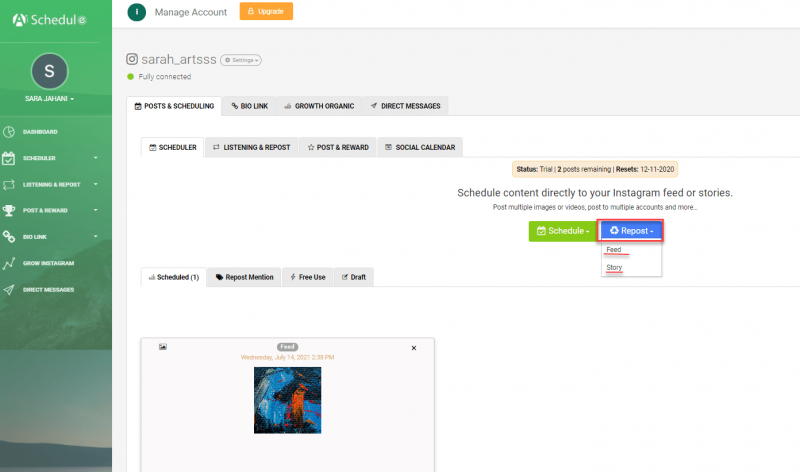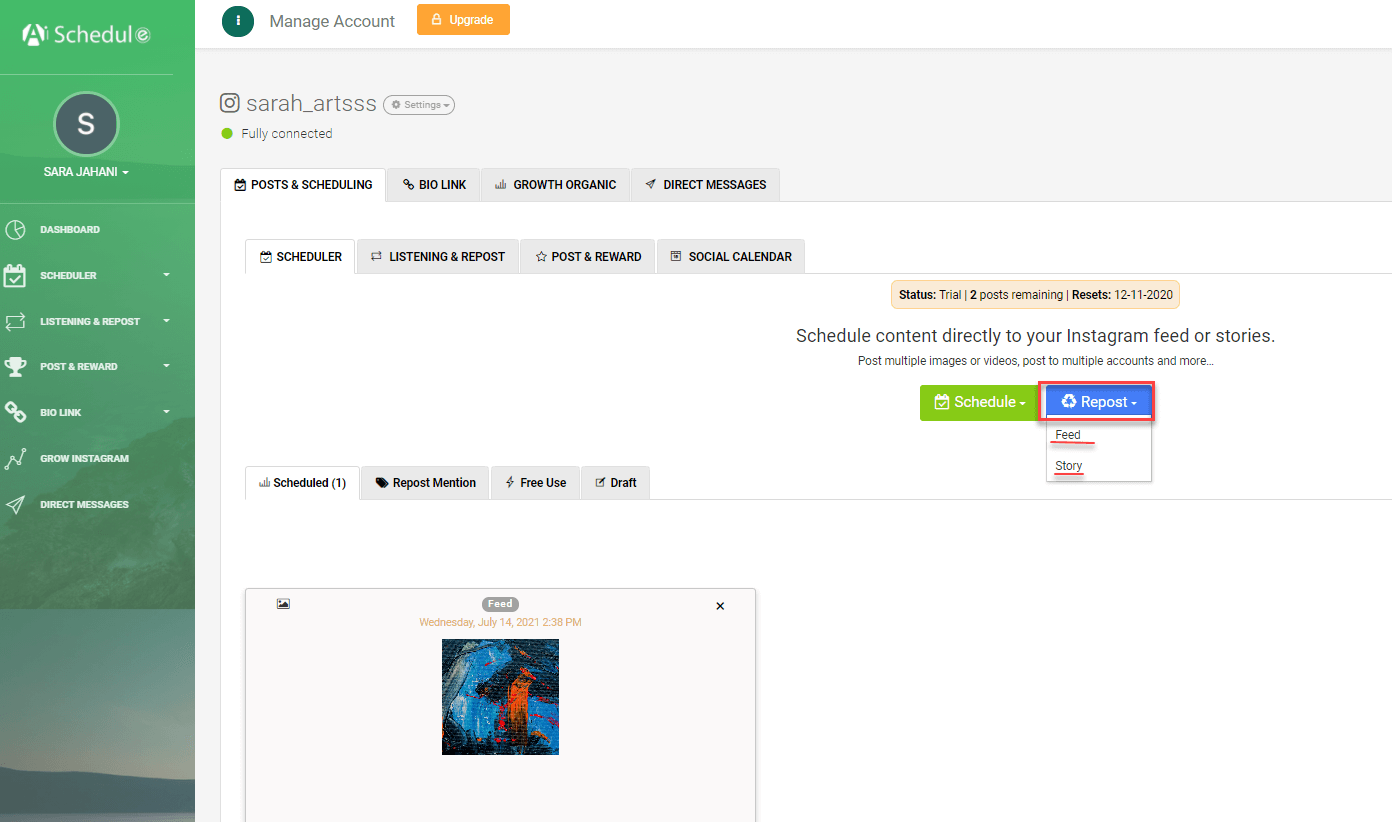 After choosing Feed, you can find your intended post by searching Hashtags, URLs, Locations, or usernames. Then tap the search button and choose the post you want to share.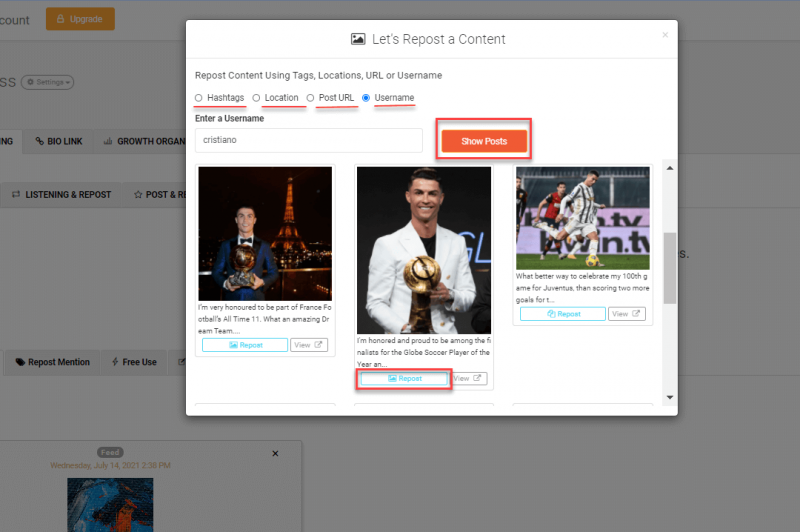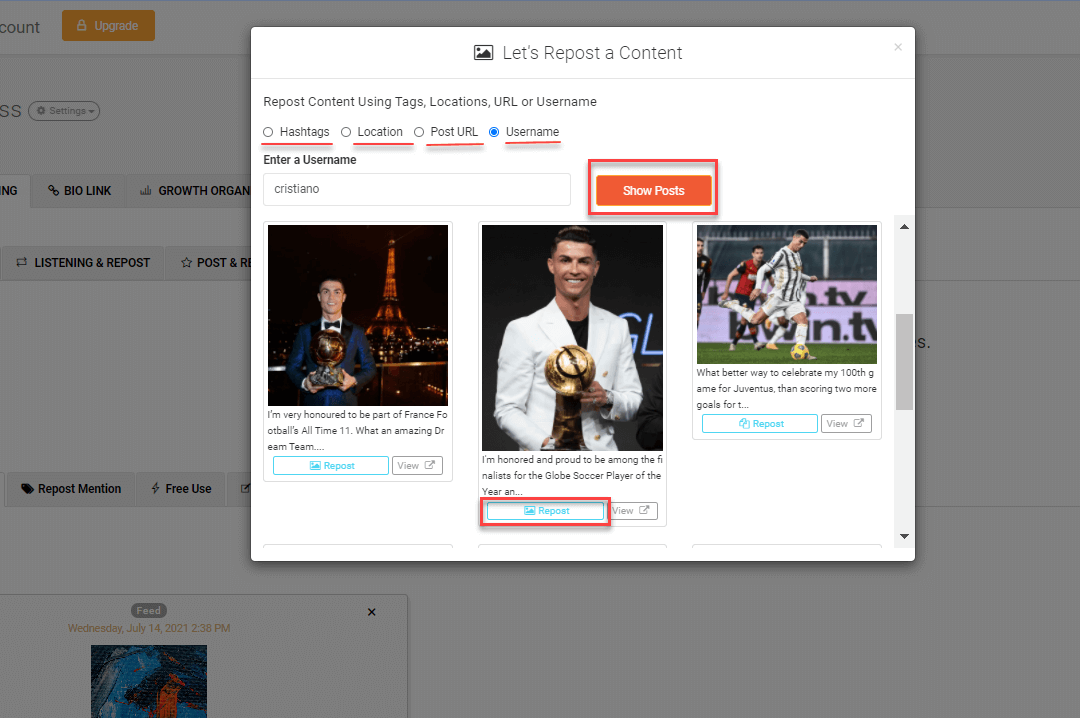 Here you do some editing to your post, like adding a caption, tagging people, adding hashtags, etc. After that, you can schedule the post and choose the publishing time or post it immediately.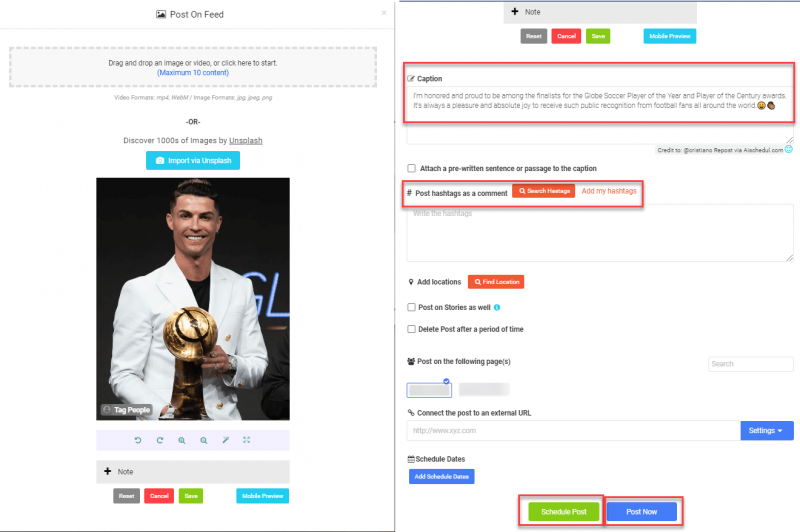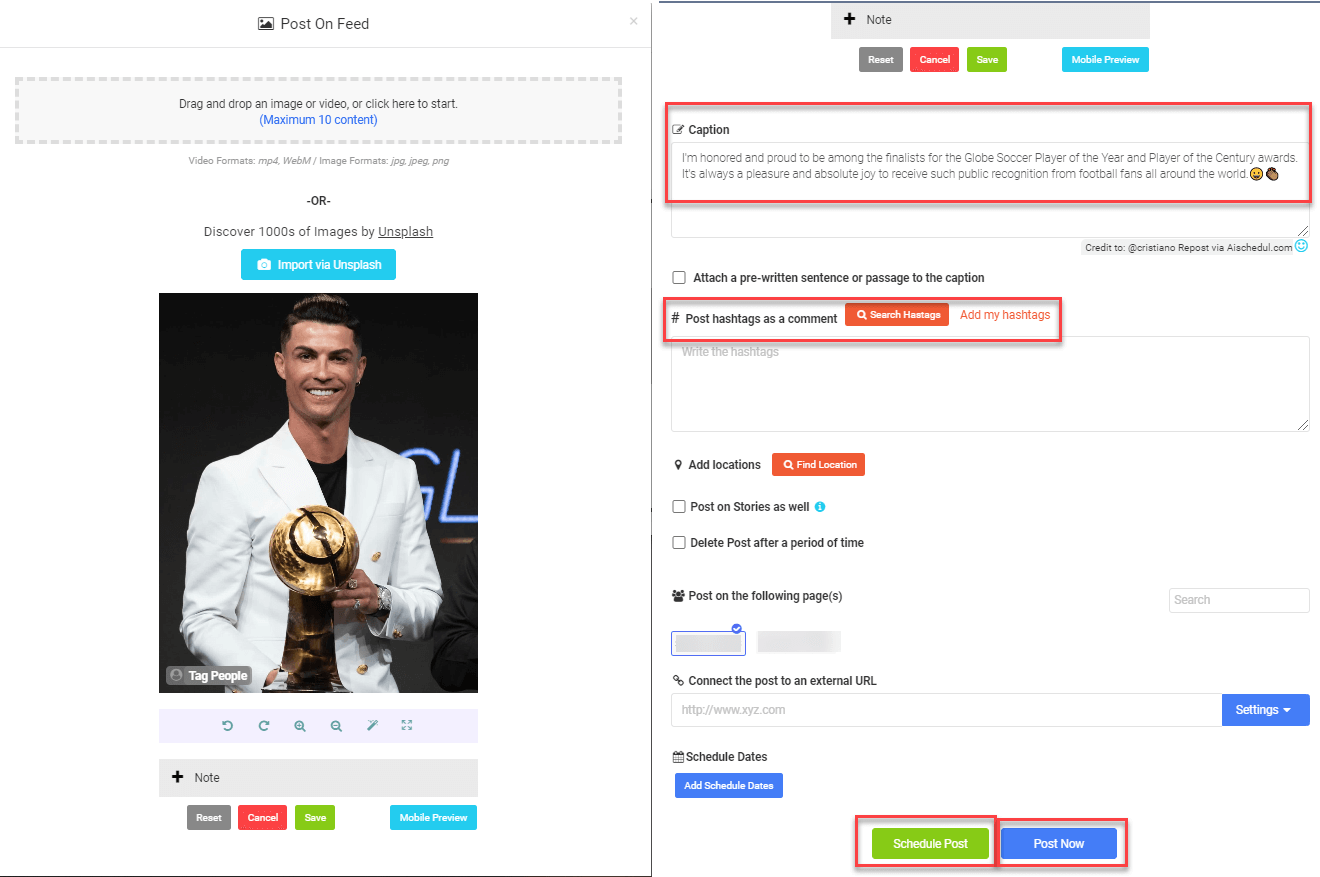 Note: AiSchedul will add the caption that was on the original post to give credit to the owner, but before that, you need to ask them for permission.
Read more: How to Repost stories on Instagram?
Conclusion
Reposting is one of the best ways to find content for your Instagram page by Instagram repost using pc. Since Instagram doesn't offer such an option to its users, you can try third-party apps to repost on Instagram using a computer, laptop, MacBook, etc. In this article, we introduced AiSchedul that not only helps you repost any content on Instagram easily, but also has many other features to grow your account.
If you have more ideas about reposting on Instagram, let us know in the comment section.
Sign up now and get instant access to AiSchedul repost tool.