Does learning how to repost videos on Instagram do any good, or do you have to be fully original on Instagram? 
While the latter might sound ideal, it is probably far from the truth, at least, for businesses that are not considered super huge yet. After all, it is not a bad thing to repost on Instagram at all. On the contrary, knowing how to repost other people's videos on Instagram is a privilege, and here is why. 
Instagram's focus is placed on visual posts, and videos might play the most significant role in making your profile visually attractive thanks to their various formats and types. On top of that, there are many videos worth being seen again and again by a wider range of audiences. 
Hence, the aim of this article is to help you understand reposting on Instagram rules and teach you how to repost on Instagram in different ways. 
Watch this YouTube video about Instagram Repost to feed, Stories, IGTV.

What is an Instagram repost video?
Unlike a photo, It's not as easy as the act of copying and pasting to repost video on Instagram. Nonetheless, there are different ways to do this whether you have decided to repost a video temporarily or have that video laid on your feed for good.
You may also need to learn how to repost videos on Instagram without an app or what repost video app you can use. 
Why repost a video on Instagram?
Before you know how to repost videos on Instagram, you probably need to know why. The answer is simple: engagement and ROI (Return On Investment.) The more you can use (and re-use) the same assets without overloading your audience, the greater your return on investment will be. 
You can also repost other people's videos on Instagram, which enhances your ROI and brings in the social components of the platform – you don't have to create that material to generate good engagement.
Imagine that you are the content specialist of a company and your duty is to share posts related to your products. Actually, it may be hard to take professional videos, edit them, make them suitable to share on Instagram, and share them at a specific time. By the way, surfing Instagram you see some videos that are related to your work and they are well-edited! Or imagine that you use Instagram for personal purposes and exploring Instagram you see a video that you love and like to share with others. How can you share them by following Instagram rules? The answer is that you can repost them. 
What are the rules for reposting on Instagram?
As you know, Instagram repost is not fully-fledged within the app. Hence, it would be advisable to be careful using it and one of the key rules could be getting permission to repost on Instagram, and here is how. 
1. DM the original publisher or creator of the post you wish to repost
If you would like to repost Instagram videos, it's important to contact the original artist before sharing them. Sending a direct message to the artist is usually the most convenient way to accomplish this. If this method does not work, some Instagram accounts may include an email address in their bio, which may be more effective.
Furthermore, we've observed that including a thoughtful comment in your outreach describing why you'd like to go for a video repost is perfect. 
2 . Give the original publisher or creator the credit they deserve
If you choose to repost video from Instagram, make sure to properly acknowledge who originally shared or published it in your post. The most typical method of giving credit to someone is to mention their username in your caption.
Instagram captions are automatically reduced with an ellipsis after three lines of text, so try to include the credit within the first three lines if at all possible.
3. Avoid editing an Instagram video repost as much as possible
If you have chosen to repost Instagram video, the best practice is to publish it unaltered and unedited. The vast majority of the time, you will be allowed to proceed with uploading without making any changes; but, if a minor adjustment is required, be sure to contact the original author and ask before publishing the updated photo on your site.
how to repost a video on Instagram without app
Actually, learning how to repost a video on Instagram Story is probably the only way that doesn't require an app to repost videos on Instagram. This wouldn't be permanent, but a great way to use high-quality content where there is full potential to boost your engagement. Follow the guide below to repost different types of videos on your Story. 
1. how to repost a video on Instagram Story and have it play automatically
You can use this method for videos on other users' feeds or IGTV videos, but before anything else, you need to check whether or not your Instagram app is the most up-to-date version so you can have it play automatically.
Then follow the instructions below. 
Open Instagram and locate the video you wish to repost – others' feeds or the explorer page. 

Next, tap on the paper plane icon. 

After that, select "Add post to your Story". Also, you can select a particular post to send the video as a DM.

Then, tap on "your Story".

Finally, draft your Story and tap "Done".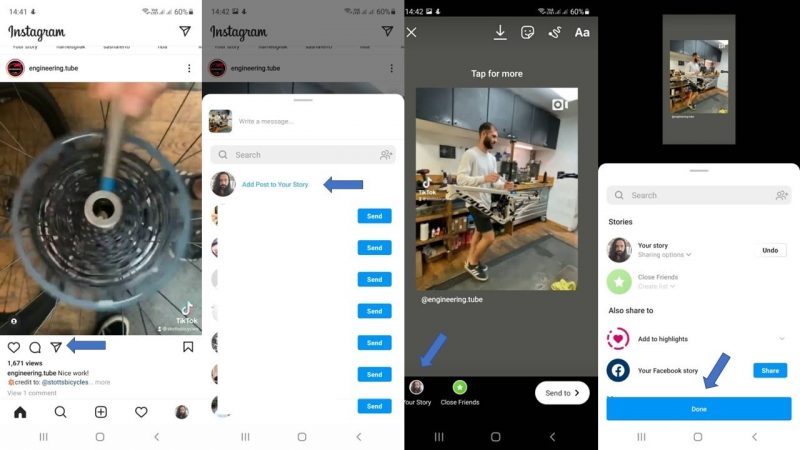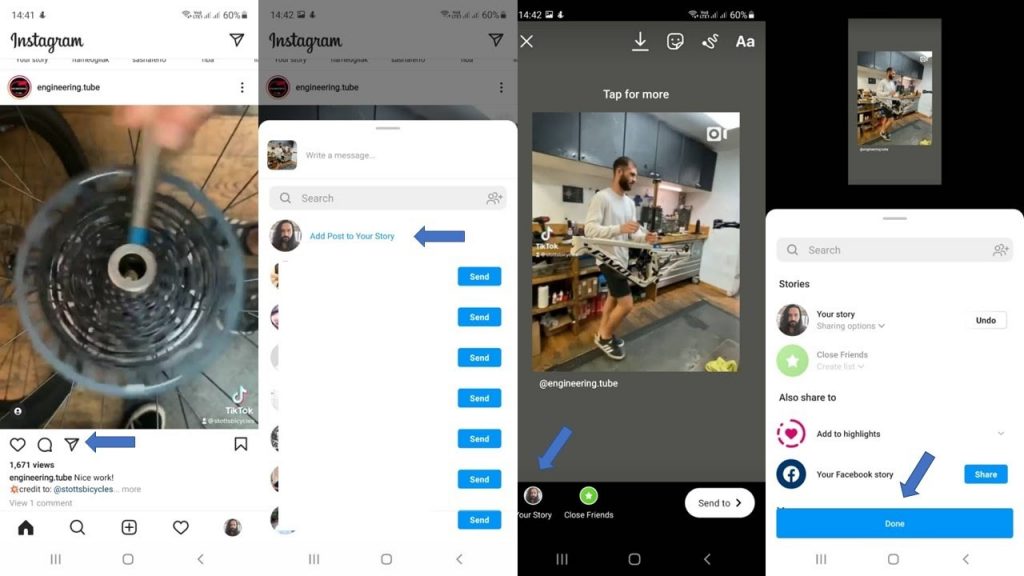 Note that you may need to play a little bit of the video before you repost it so it will be automatically played. If this isn't working for you while your app is also updated, this feature may not be available in your country. 
2. How to repost a video on Instagram Story you are tagged in
The only way to repost another user's Story to your own Story without an Instagram repost video app is when you are tagged in that user's Story. In that case, you will have a CTA button at the bottom of the screen that says, "Add this to your Story", and tapping on that button will simply allow you to repost the video to your own Story. Otherwise, you will need to use a third-party app and in the following, we will introduce you to the best Instagram repost app.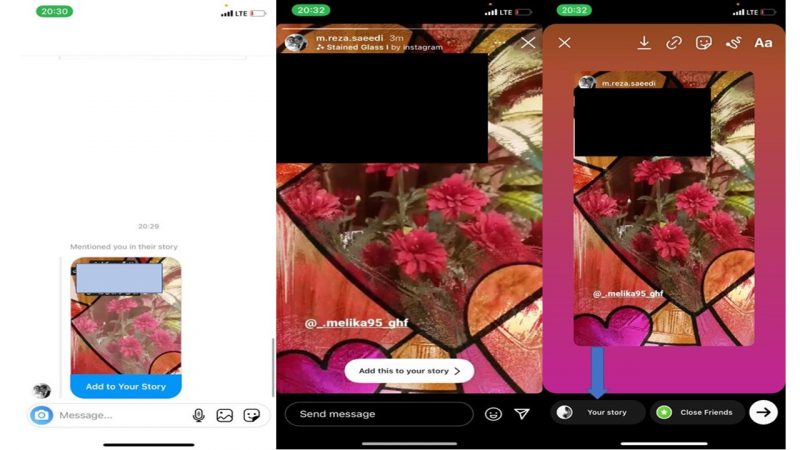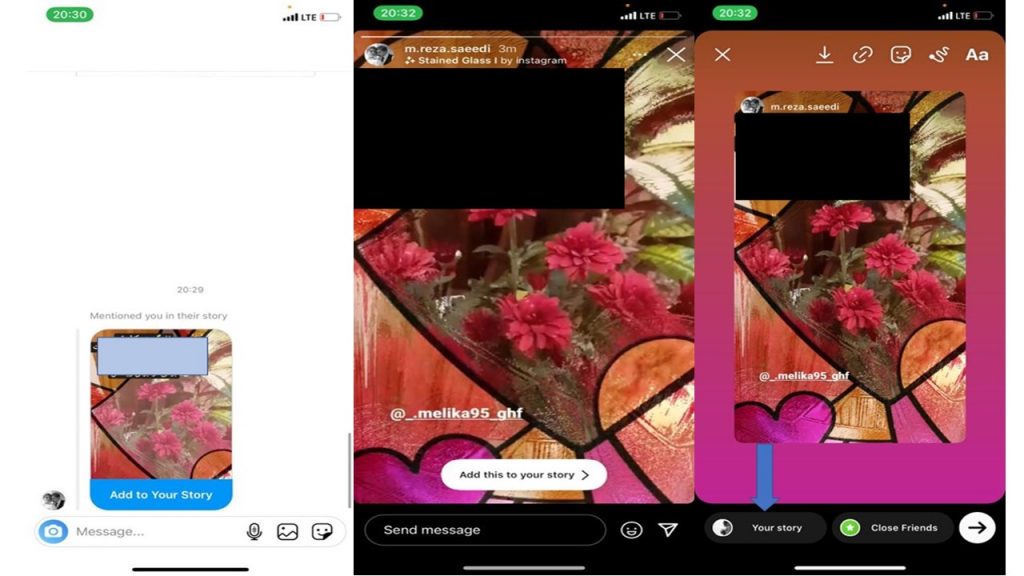 How to repost videos on Instagram?
Well, when you wish to know how to repost videos on Instagram, there are not only the various types of videos that matter but also the various approaches to doing so. 
While you have already learned about Instagram repost videos within the app, we will show you how to do it using an Instagram repost app so you can get more opportunities and add more creativity to repost on Instagram. 
What app can I use to repost videos on Instagram?
There are a vast number of third-party apps that let you repost videos on Instagram.
However, all you need is an all-in-one app that boasts every feature you need regarding repost for Instagram video. The best Instagram repost app we would recommend is AiSchedul. I will tell you why and how to repost videos using it. 
The thing is, it's a reliable and trustworthy third-party app that you can give access to your Instagram. 
Another reason for selecting AiSchedul over other Instagram repost apps is that it not only offers a package with all you need but also things you can do beyond your expectations such as scheduling your repost video. 
Finally, AiSchedul's repost feature is on its forever-free list so you won't have to really pay anything until you try and test it. 
However, before moving forward, the very first step is to sign up on AiSchedul for free, as shown in the following steps. 
Log in to your dashboard and click the account to connect your Instagram profile to it.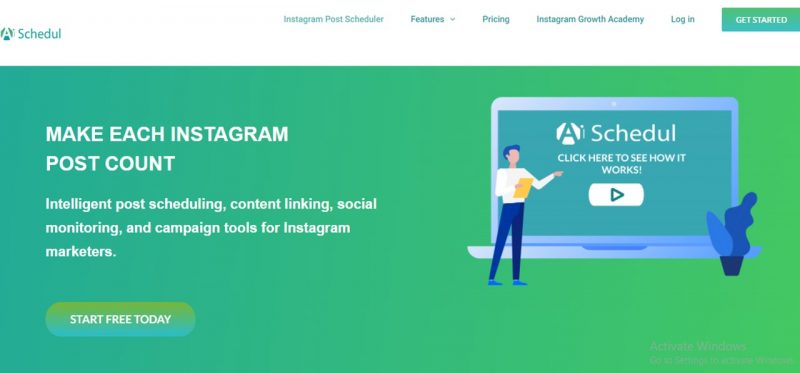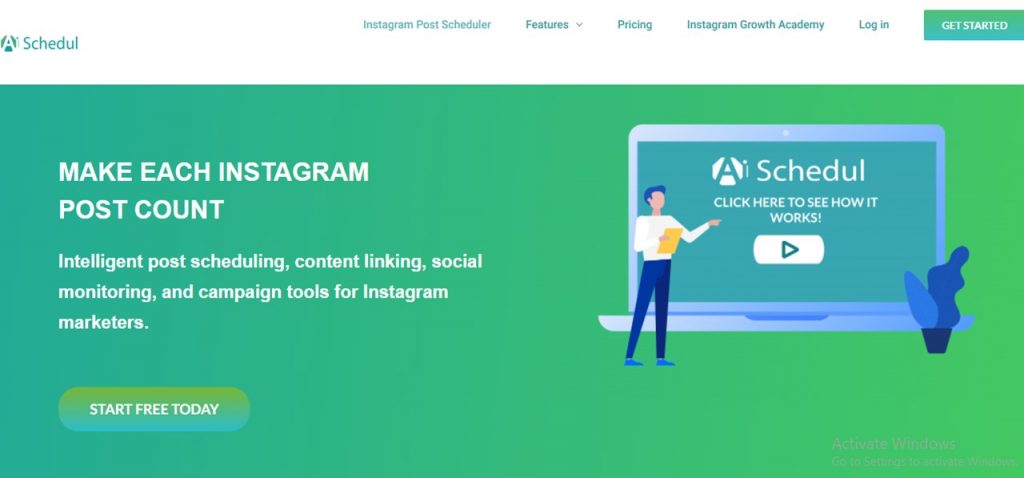 3. Then click on "manage account". Here you go, you are already set up!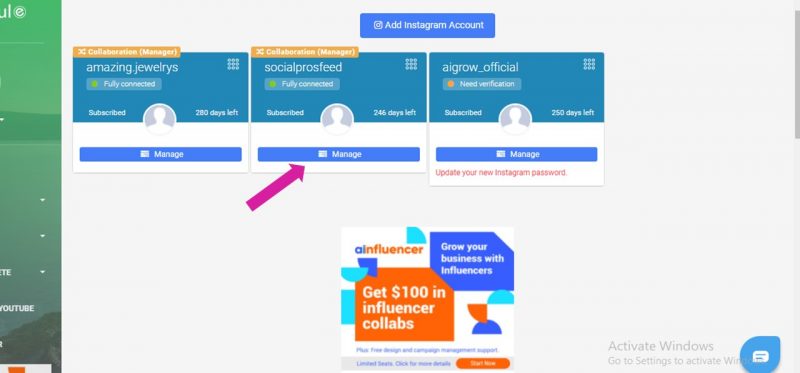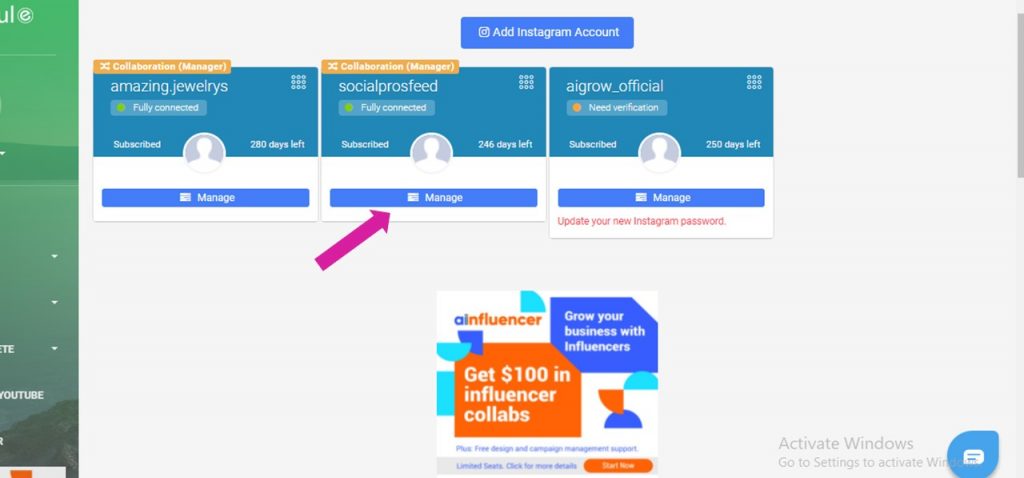 How do you repost videos on Instagram using AiSchedul
Having signed up on AiSchedul and added your Instagram profile to its dashboard, you will be able to save and "repost for Instagram" any type of video. What makes it even better is AiSchedul's user-friendly dashboard. In the following, you will learn how to repost videos on Instagram with pretty easy steps on AiSchedul.
1. How to repost a video on Instagram Story you are NOT tagged in
As you already know, it is not possible to repost a Story if you are not tagged in it. However, using the guide below to reposting a Story with AiSchedul will simply resolve the issue.  
First, you need to open the tap "posts and scheduling".

Then go to "scheduler".

Now you can see two buttons side by side, one is called "schedule" and the other "repost", click on the "repost".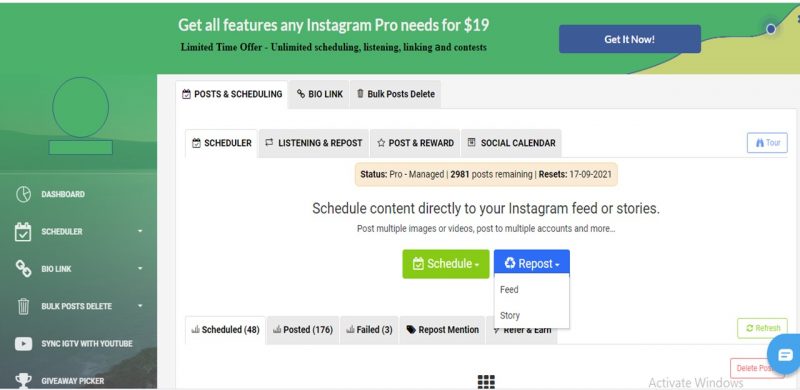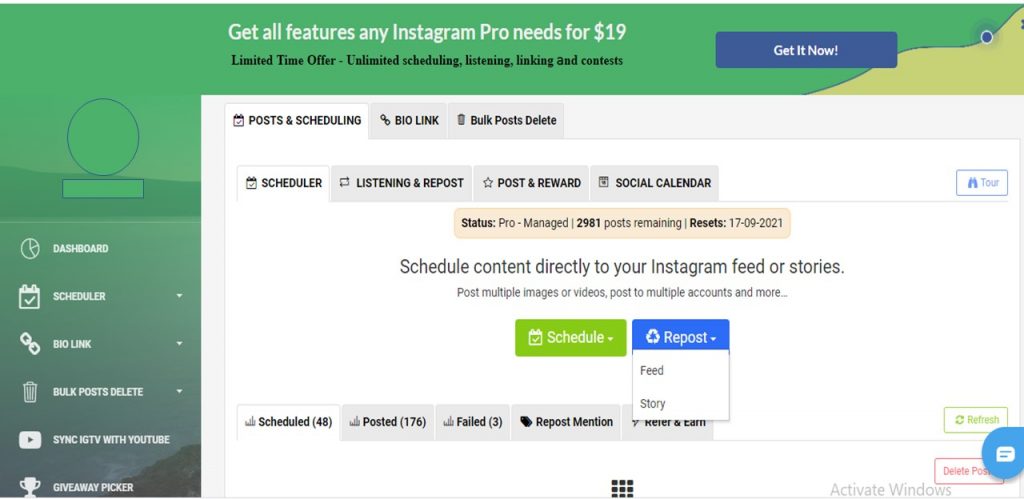 After that select Story and enter a user name. 

Consequently, you will have access to a list of all Stories that your target user has published that day, in addition to all highlights that previous Stories are saved there. 

Finally, by selecting any category, you can view each video you wish or click "repost" to simply add that video to your Story.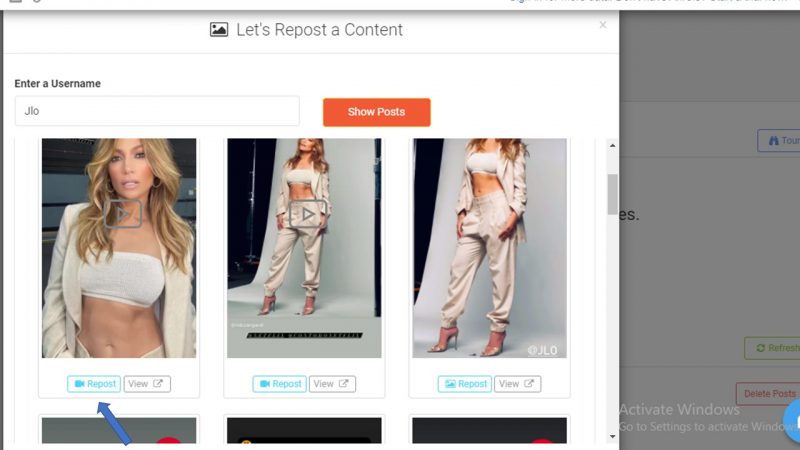 Sign up for free on AiSchedul!
2. How to repost Instagram videos on your feed? 
This one is quite similar to the previous title. Here is how to do it easily with a slightly different approach. 
Opening the tap "scheduler" and clicking on "repost", you need to select "feed".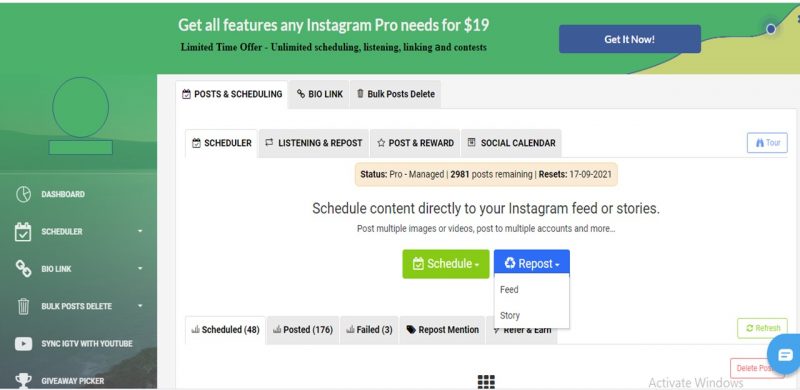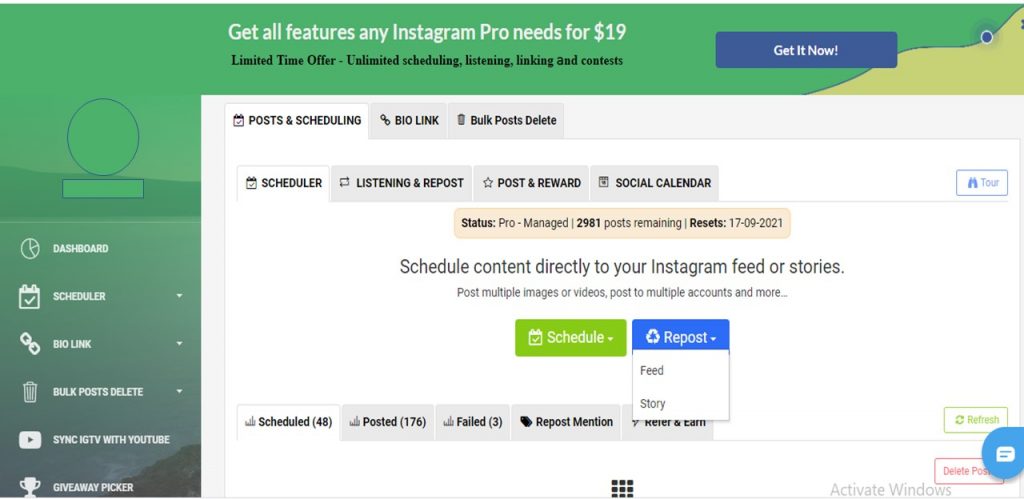 After that, you will be provided with a searching tool to help you find a video that is worth reposting by generating more engagement. This feature uses 4 tools to give you the best possible opportunity to find the right video. You can monitor hashtags, location, URLs, and a username. 

Once you find the video, the rest is again pretty much the same, you can either view or repost the video.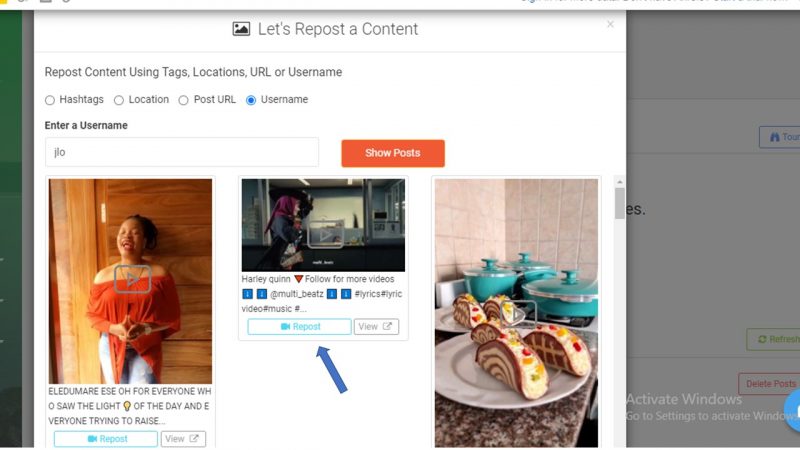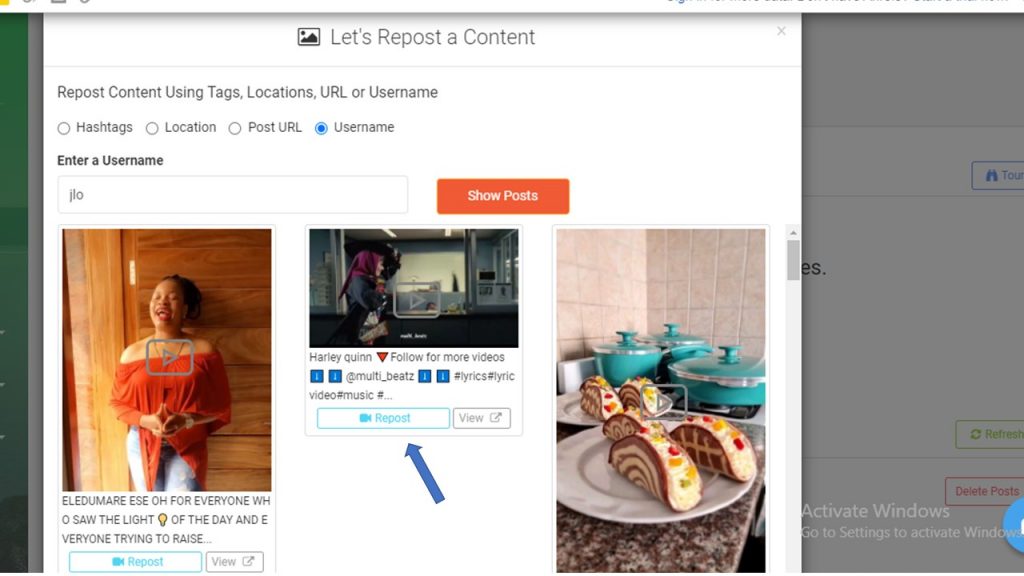 3. How to repost a youtube video on Instagram
This one is probably a unique feature in the world of Instagram management tools. Here is how to use it. 
To begin with, go to "scheduler", and click on "schedule".

You can decide to repost a youtube video on Instagram as a carousel or IGTV video by selecting "feed" or "IGTV" respectively. 

Next, place the link to the youtube video you wish to repost in the convert youtube box.

Finally, draft the post by writing a caption, adding hashtags, locations, and choose to repost it instantly or schedule your video to repost it automatically in the future. 
4. How to repost a video on Instagram android
Keep in mind that another feature that distinguishes AiSchedul from other repost video apps is that you can download AiSchedul from the Play Store or use it on your desktop.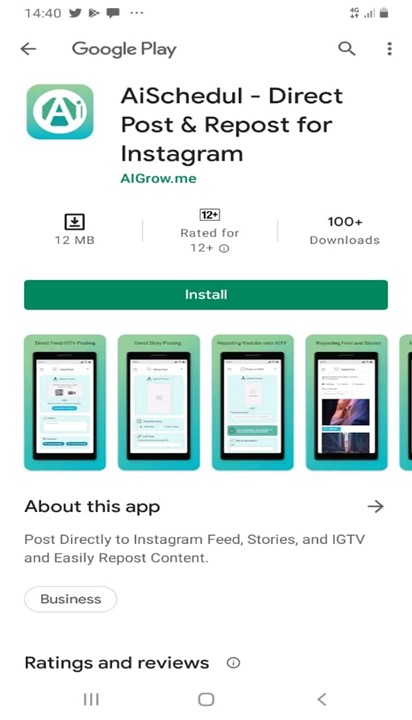 One of the best and safest ways to repost for Instagram is to use AiSchedul. This is a third-party app that helps you a lot with managing your Instagram account. This app has so many amazing features like:
You can use it from any device – Mac, Windows, Linux, Android, iPhone, etc. 

AiSchedul is basically an

Instagram scheduler

.

You can use the "Listen and repost" feature to either download or directly repost any photos or videos from others' accounts, including their feed, IGTV, or story. 

You can schedule social media posts and then ignore them. AiSchedul will automatically post them to your Instagram profile, with no need for reconfirmation.

You can also choose to

mass delete Instagram posts

.

Generate the right hashtags for your content with its

Instagram hashtag analytic

tool.

Send automated

direct messages

.

Share multiple links

to your Instagram bio.

Create a contest

and pick the winners automatically to be rewarded.
AiSchedul's pricing
AiSchedul provides three cost-effective packages. The first bundle, which includes practically all of the features listed above, is completely free. However, you will be limited to a certain number of uses for some of the features. The second package has fewer limitations and costs $7 per month, while the pro group has no restrictions and costs $15 per month, which also includes additional assistance.
Conclusion
If you have ever wondered why or how to repost videos on Instagram, we hope this article has helped you get a better insight into these questions. 
It is vital to repost Instagram videos. Instagram, on the other hand, is not a platform that makes it simple to share the material that appears on your feed. You are instead limited to reposting the information you find interesting in your Stories that will be available only for 24 hours. However, Using a third-party app, in particular, AiSchedul will resolve this issue completely as it allows you to repost any type of videos to your Instagram. 
You can sign up for free on AiSchedul today.