How to post to IGTV? Can you schedule IGTV?
Instagram launched IGTV on June 20, 2018, to provide users, especially creators to create more videos. If you are also a creator and you intend to make money on Instagram, or if you mean to use this feature to promote your occupation, you should learn how to upload to IGTV and, better yet, how to schedule IGTV posts. Make sure you stick around till the end since we are going to show you how to use IGTV and the best examples!
You may also like to read;
What Is IGTV Video?
IGTV (which is referred to as Instagram IGTV or IGTV Instagram mistakenly and Instagram TV correctly) is a feature that enables Instagram users to upload long high-quality videos on Instagram so that their followers wouldn't have to swipe left and watch the video with no pause.
The length of the video depends on the number of followers the creator has. Everyone can upload ten-minute videos to IGTV. But those whose number of followers exceeds 10K, can upload up to 60 minutes videos.
How Does IGTV Work?
Although Instagram TV is a different app than Instagram, it is installed on your Instagram account so you do not have to follow and people and brands all over again.
When you come across an IGTV video, suffice it tap on the video. It will be played automatically. This is the symbol of the IGTV which appears on the corner of the video.
IGTV has been activated for every Instagram user. If you have an Instagram account, you can use it.
Now Let's see how to post to IGTV, shall we?
How To Upload To IGTV From Desktop?
IGTV videos are normally the long videos that have been edited on a computer earlier, and Instagram noticed already that it is quite inconvenient to edit a video on a PC, transfer it to a cellphone, and upload it to IGTV from a computer. So they optimize the Instagram web for this purpose.
To upload to IGTV from desktop;
Go to

the Instagram web

Sign in with your login information

Head to your profile and under your highlight Stories, find IGTV, and then click on "Upload"
4. Upload IGTV video, add title and description, and post
Can You Schedule IGTV Videos?
Yes, you can. Not only there is a free IGTV scheduler, but also you can schedule IGTV from Creator Studio. But before we discuss how, let's review why you should schedule IGTV posts.
Based on the latest survey, %72 of consumers claim that they like to learn about a product and a service through videos, and %54 percent of them ask to see more videos.
This alone highlights the importance of videos. So now we know you should invest in creating more videos. On the other hand, creating a video is something; presenting it to the right people at the right time is another. 
It's been said and heard enough that high-quality content and consistency are two wings of one bird. One can not fly without the other. That is the whole point of Instagram schedulers. They keep you organized and consistent. This is why you should schedule IGTV videos.
How To Schedule IGTV Posts?
There are different ways to schedule IGTV videos both on your phone and the desktop. We will give you a step-by-step guide to both approaches. 
1.
How To Post On IGTV From Phone?
Should you wish to schedule IGTV videos from your mobile phone, you need to use the Instagram creator studio app. 
First, tap the + icon on the top right corner of your screen and select "Schedule IGTV" Video Streams. This will take you to a page to select a date and time to start publishing your videos.

Then Tap the + button again to submit your account. Now, if you're in the editing room, you'll notice a large button on the upper-left corner of your screen with two options: publish and save.

The publish button allows you to post your content library to your Instagram account. If you want to schedule

IGTV

posts, you simply tap the publish button and select

the

channel you'd like to publish the content.

Now in the editing room, you have the option of changing your profile picture or captioning your videos. There's a small bar at the top of the screen with three horizontal lines. This represents the current position of your video in your Instagram feed; tapping any of the three lines will scroll you up in the feed, and moving down will scroll you down.
This means that when you move your cursor over one of the lines, it'll move the camera up or down one line to indicate the current position of your video, and which character of text will appear in the caption.
2. How to schedule IGTV On desktop? 
To schedule IGTV videos on desktop, you can use the Instagram creator app or a professional generator tool such as AiSchedul. 
If you have decided to use the Instagram creator app, follow the steps below.
First, go to the main page of Instagram. Click on the gear icon at the top of the screen and select "Movie."

Once you've done that, there are two ways to view your recommendations. The first is having a public feed which you can access from anywhere on the site, and the private profile feed which is only accessible from within the app.

You'll notice that in the public profile feed, you have the option to go live or put the captioning block (turning off the feature so you can keep from automatically tagging people you don't already know) on your account. To access the private profile feed, scroll down to the bottom of the page where it says "videos."

Then have two options. You can either go into your account and click on the cog icon just above the channel tile that says "watch live," or you can go into the main page where you can click the cog again and choose "watch now."

There is now a gear icon Instead of a square where you would normally add your URL. So when you go to feed you can simply select the link and go live. To schedule an IGTV video, simply click the little plus sign icon in the top right corner of the live video section at the top of the page. When you do this, you'll see that it will schedule an IGTV video for your site, as well as provide a preview of what will happen if you choose to watch it.
You can also schedule IGTV posts on AiSchedul, which is an IGTV Scheduler that allows you to schedule every type of content. 
Stay tuned!
If you have decided to use AiSchedul, which we recommend you do so, follow the steps below.
How To Schedule IGTV Posts On AiSchedul?
If you have decided to use AiSchedul, which we recommend you do so, follow the steps below. 
Sign up for free

on the AiSchedul

Then open your dashboard, and click the tab called "Schedule Posts"

.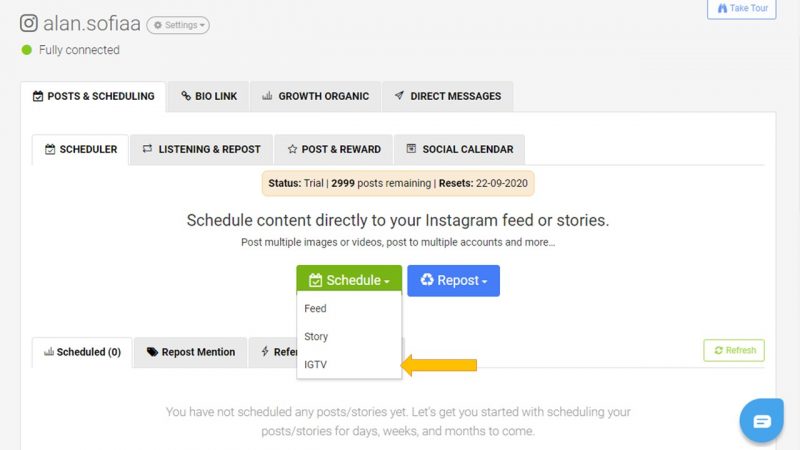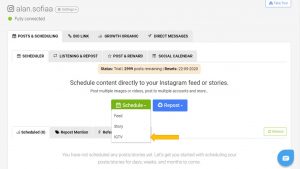 Schedule your content and post them automatically right away, or plan them

for

days, weeks, or months ahead of time. Upload your IGTV video, and follow the instructions so that you can schedule them most professionally.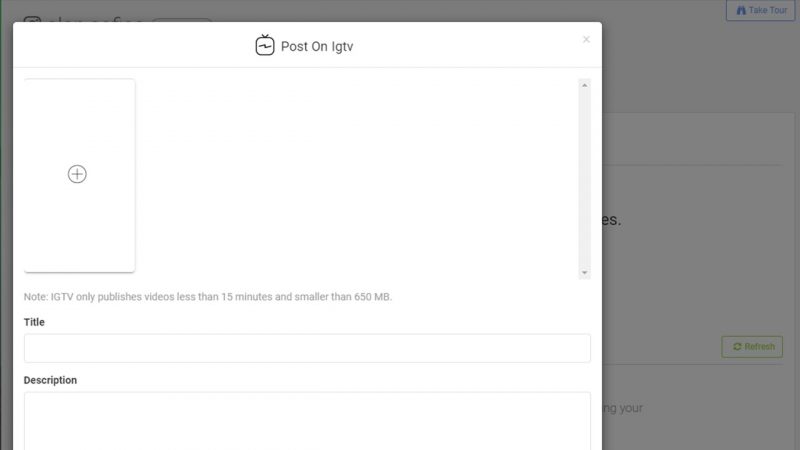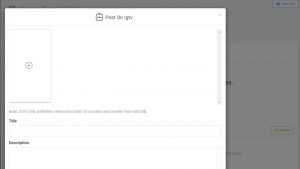 It is worth mentioning that with this Instagram IGTV scheduler, you can share YouTube videos on Instagram without downloading.
On the IGTV section, paste the link on the convert YouTube and watch it gets converted.
Then enter the information or leave it by default.
How To Post On IGTV From Phone Using AiSchedul?
AiSchedul app is provided for the users who prefer working on their IG via cellphone.
Then install the app, and link your IG to it. Later, on your dashboard, tap on "Manage Account" Remember you can add and

manage multiple Instagram accounts

on this IGTV scheduler.
On the scheduling tab, tap "Schedule" and select "IGTV"
Now upload your video to IGTV. You can also paste the link of the Youtube video if you want to share it on Instagram.
Now type the title and description of the video. Then switch the cursor button to post the preview. Later, use the embedded

Instagram hashtag generator tool

of AiSchedul to find adequate hashtags.
At last, do the IGTV schedule post by setting the date and time
Why Aischedul is an effective tool?
Overall, any Instagram management tool has its features and benefits. So, to choose one over another, you should clarify your goals first. Undoubtedly, Creator Studio is a popular service introduced by Facebook. However, it is not an all-in-one tool. For instance, it doesn't let you schedule your stories, find trending hashtags, monitor other Instagram accounts, and more.
But, if you need more while scheduling your posts and IGTV videos, using AiSchedul seems to be a more advisable choice. Some popular features with users on AiSchedul are extra social monitoring, an all-in-one bio link, post and reward, and post scheduler. 
Plus when we read the review of AiSchedul on Trustpilot.com we come to believe that this platform managed to keep its customers happy.
Pricing Of AiSchedul
Other than the free plan, AiSchedul has two paid plans at $7 and $15.
How To Use IGTV Video?
Now, what is IGTV video good for? 
Since IGTV is longer videos on Instagram, you have more opportunities to create content. Here we brought you some good examples to give you a clue. 
Broadcast Series
Now that the IGTV desktop is launched, you can create a series on your IGTV Instagram and broadcast an episode on a regular basis. Don't forget that people used to watch series on TV. So if you are an Instagram creator and want to nail it, you should be consistent and precise even in terms of the hour. So again, we highly insist you use an IGTV scheduler for IGTV upload from desktop.
https://www.instagram.com/tv/CSCn9oyFcJB/?utm_source=ig_web_copy_link
Showcase Your Product
If you are on Instagram to make a sale, you should be using Instagram to its fullest potential, including IGTV upload from desktop. Now you can dedicate more time to the products you are selling and introduce its every feature. 
https://www.instagram.com/tv/CSFGQNThfcu/?utm_source=ig_web_copy_link
Interview
Interviews are one of the most popular types of content Instagram creators can provide their followers with. 
https://www.instagram.com/tv/CSWu3MmL6K8/?utm_source=ig_web_copy_link
Tutorials
Even if you are Instagram to sell your product or service, followers always appreciate content with no agenda of selling. That is what tutorials are about.
If there is something in your niche you can teach your Instagram follower, go ahead and ask your followers to grab a pen and paper and watch the IGTV on desktop.
https://www.instagram.com/tv/CSRlHAmrvUv/?utm_source=ig_web_copy_link 
All in all
IGTV allows you to create long-form content with high quality, and it also allows your followers to browse videos based on their interests.To perform well and get the result you are looking for, you need to schedule your content in advance. 
Here we covered how does IGTV work and upload to IGTV from a computer.
You can do this by taking two different approaches, "Schedule IGTV creator studio" is one way, and the other one is AiSchedul, a generator tool that allows you to schedule and upload IGTV on a computer. So what are you waiting for? Sign up for free on AiSchedul for free IGTV desktop upload.