Quality content and consistency are two wings of your profile's growth. That's why a whole host of marketers and creators have turned to social media scheduling tools, and their aim to schedule social media posts is basically to remain consistent. 
Every single post needs your attention in detail, whether it is the content of your post or its visual aesthetics. The thing is, this sometimes needs a huge amount of your time which may well prevent you from publishing your posts at the most suitable time or allowing your posts to be published without meeting the required criteria.
That's where the role of social media publishing tools becomes significant. Offering a great opportunity to schedule social media posts prior to publishing them, a reliable and effective social media post scheduler enhances your strategy from respective perspectives.
In this article, we will discuss 8 top social media publish tools to schedule your social media posts like a pro.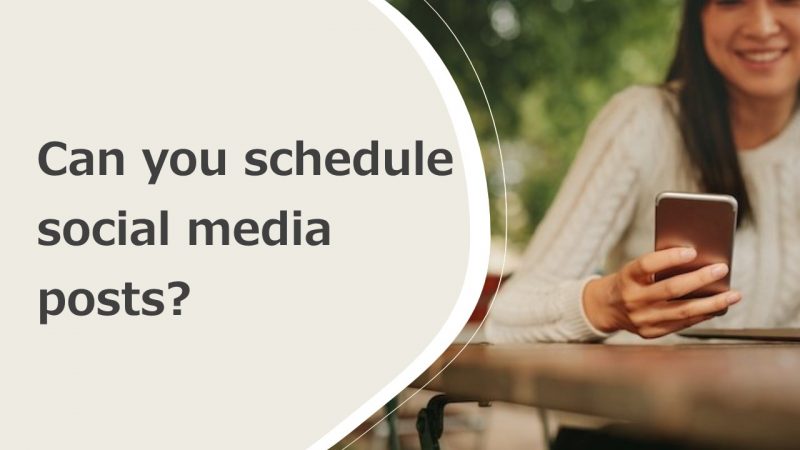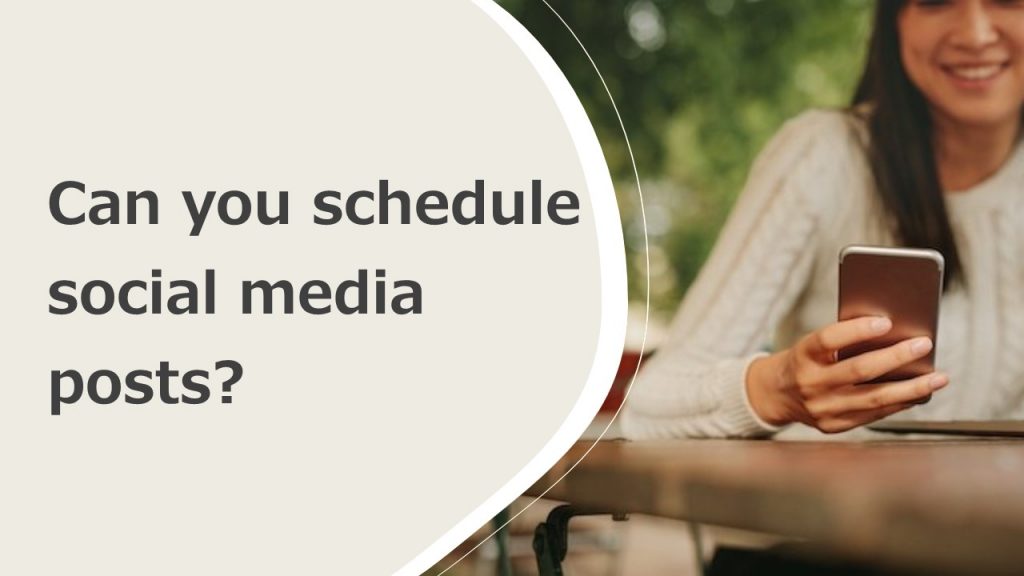 Can you schedule social media posts? 
Scheduling social media posts is not only possible but also inseparable from many busy content creators' strategies. You can opt for scheduling your posts individually or in bulk ahead of time.
No sooner has social media post scheduling become a part of your strategy development than you will begin to grow an astonishing uniformity which leads to reaching a new audience given your profile's consistent aesthetics and gaining loyal followers since you have already put more than enough thought into each and every post before publishing them. 
To build upon my point a little bit more, social media scheduling holds great appeal thanks to other reasons too. Say, never again will you burn out on account of tremendous pressure to prepare content with high quality every single day. Instead, you have set aside time on it in advance, and now you will have enough time to analyze your performance, evaluate honest feedbacks and think of your next step.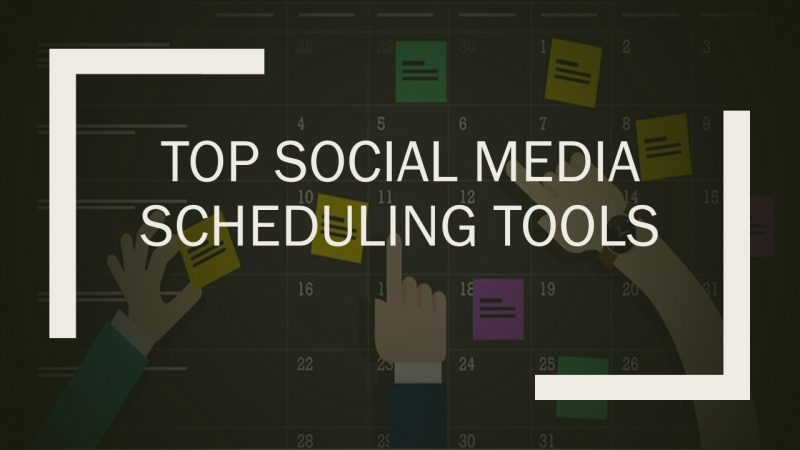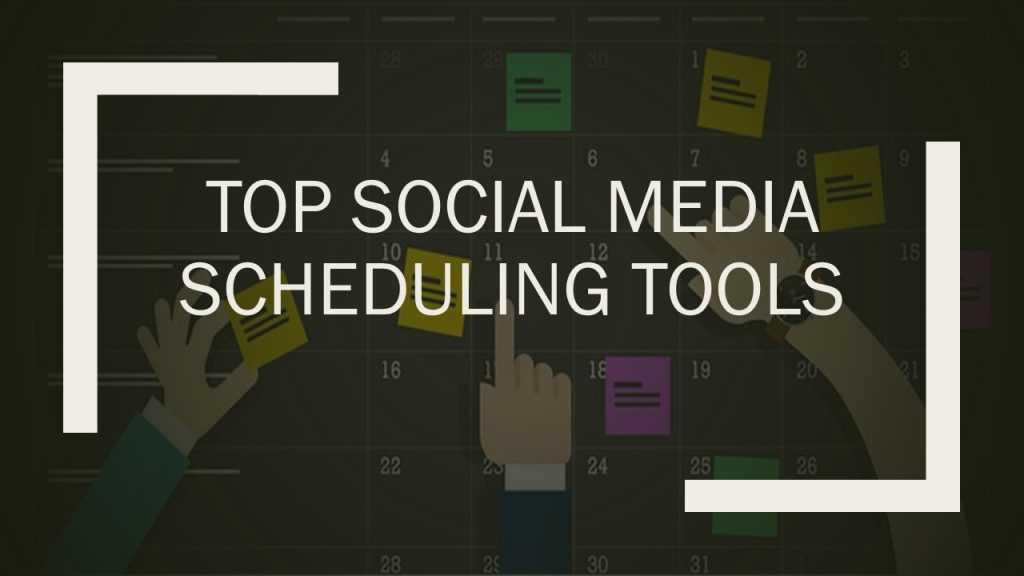 Top social media scheduling tools

 
Have you decided to schedule social media posts like a pro?
If you have reached this point, your answer is bound to be "YES". However, it is likely that you are still in two minds to choose a social media scheduler and work with. 
On the one hand, a reliable social media scheduler can outstandingly ease your way towards a resounding success on social media platforms. 
On the other hand, you won't be able to do lots of things if you pick the wrong social media scheduling tools. Eventually, you will remain confused and frustrated after wasting your money, effort, and above all else, your time!
Hence, we have specified top social media publishing tools – effective tools to schedule social media posts without having to deal with the hassle of false promises – in the following list. 
1. AiSchedul
Social media post scheduling is no easy feat without utilizing a professional management tool that has done lots of research in online marketing and gained a deep insight into its users' basic needs. 
AiSchedul is one of the greatest social media scheduling tools on top of our list, offering its users its prolific features with social media scheduling attributes at their peak to help you grow your audience organically. 
AiSchedul's features  
As for the concerning feature, AiSchedul enables you to schedule Instagram posts with various types and approaches. You can create and schedule:
An individual image

An individual video

A carousel posts by uploading up to 10 images or videos

A carousel post by inserting a YouTube video link and publishing it to your feed without having to download it at all. 

An Instagram Story

An IGTV 

A giveaway post
Other features provided by AiSchedul are including: 
Hashtag generator tool

Adding multiple links to your bio

Bulk posts delete

Monitoring saved posts, Stories, and mentions

Monitoring other accounts to repost their content on their feed or Stories

Creating a contest

Syncing IGTV with Youtube channels 
The pros and cons of AiSchedul 
There are different upsides and, naturally, downsides to every social media post scheduler, and AiSchedul is not an exception. Here are some vital points to consider before choosing AiSchedul as your assistant. 
To begin with, you can schedule social media posts and forget about them. AiSchedul will directly post them to your Instagram profile without any reconfirmation required. 

Secondly, AiSchedul makes scheduling social media posts possible on your PC. So, you don't have to move your content from your PC to your cellphone.

Next, there is a wide range of variety in the packages offered by AiSchedul, so you can choose one freely based on your budget without missing any of the features on your dashboard. 

Additionally, AiSchedul places its focus only on Instagram. 

Finally, you can manage multiple accounts on this social media post scheduler. 
AiSchedul's pricing 
As referred to previously, AiSchedul offers 3 budget-friendly packages. The first package, which provides you with almost all the features on the list above, is free. However, you won't be able to use its features more than a set number. 
The second package with fewer limitations is $7, and the pro group has no limitations with just $23 every month, including more support into the bargain.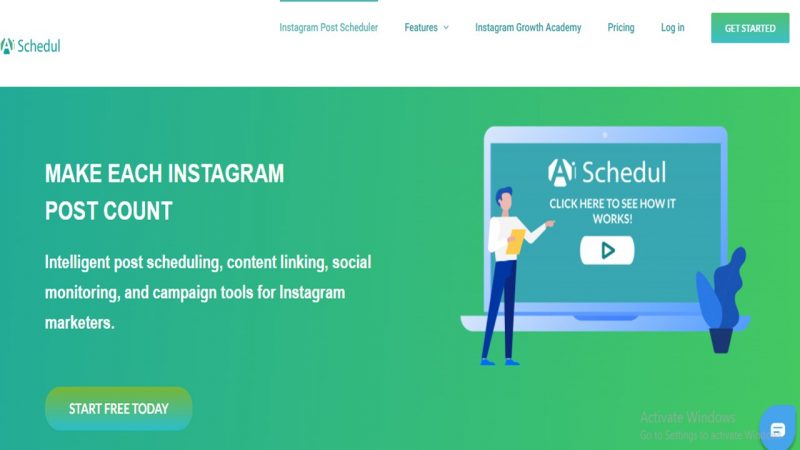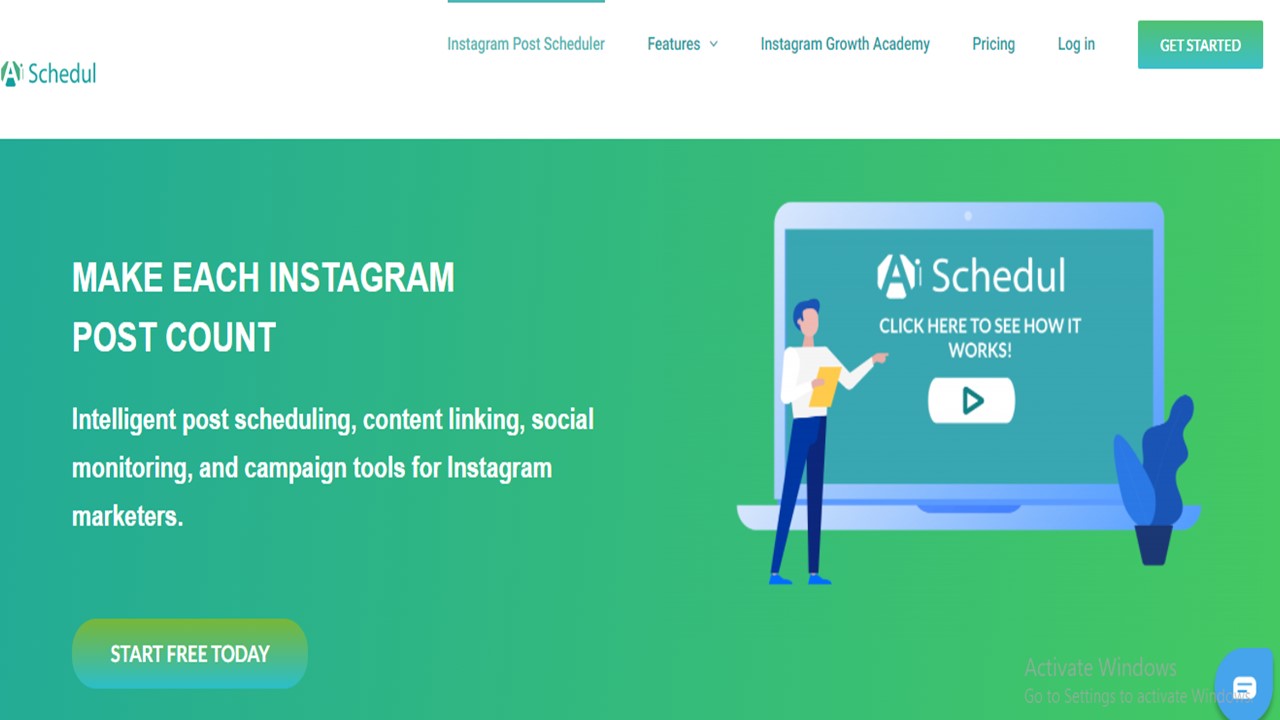 2. Hootsuite
There is no substitute for a reliable and effective social media post scheduler, and Hootsuite is one of them on top of our list. 
In fact, there are very few things you can't do on Hootsuite.
Hootsuite's features
Hootsuite, the same as AiSchedul, is a powerful social media scheduler that helps you reach more loyal and satisfied customers by giving better insights into your strategy and business plan.
It dispenses detailed analytic metrics across 20 social networks to better your brand tracking.

Scheduling social media posts, you can use its automated publishing feature. 

Also, Hootsuite enables you to manage multiple accounts.

You are able to access all your messages in one box. 

In the end, use "Hootsuite ads" to manage your budget and simplify your workflow.  
The pros and cons of Hootsuite
Although social media publishing tools are invaluable assets to all sorts of creators, they need to make the right decision for their niche according to the highlights and disadvantages of a social media post scheduler. 
Here are some of the major pros and cons of Hootsuite. 
Works properly on Twitter. 

Enables you to post and schedule to multiple platforms.

Doesn't have a variety of offers that suits different budgets. 
Hootsuite's pricing
The package which covers one user costs €39 per month, €109 for 3 users, and €599 for 5+ users.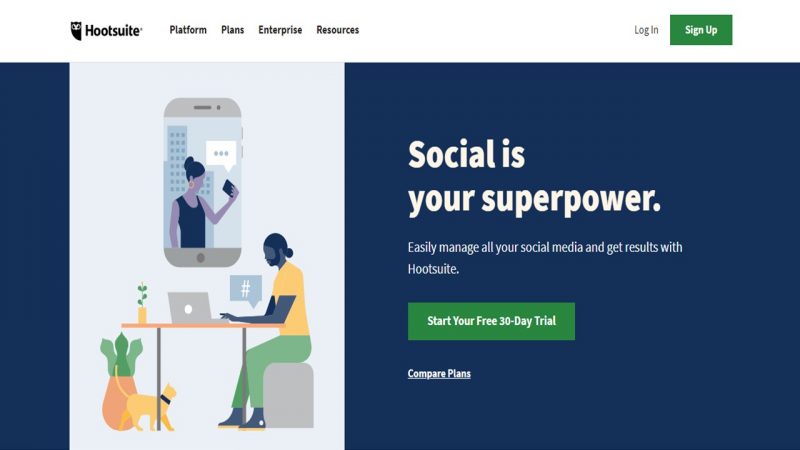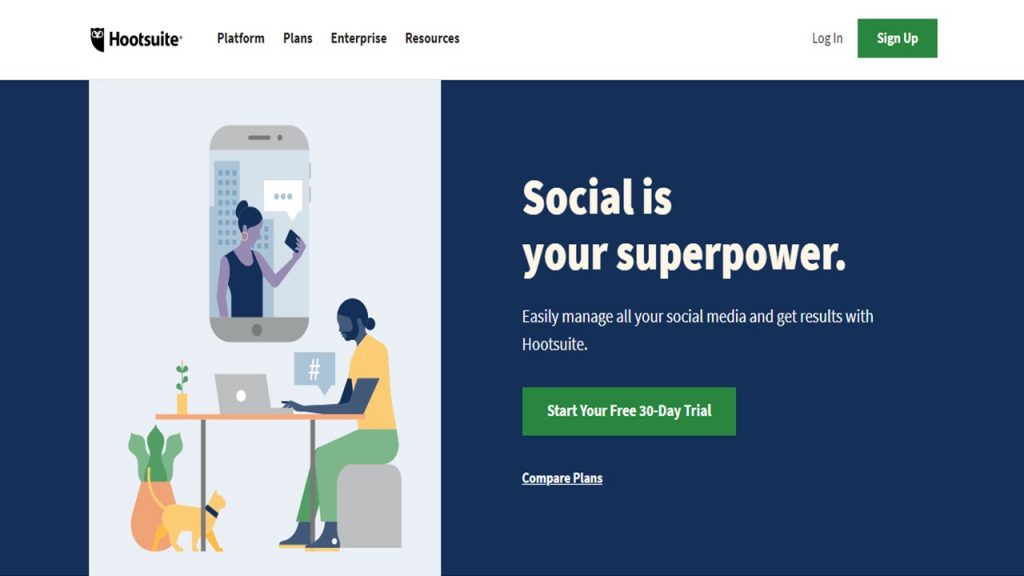 3. Loomly 
After its auspicious beginning, Loomly soon became a preferable social media post scheduler as an alternative to Later for its flexibility in its pricing plans. 
Loomly's features
Social media post scheduling on different platforms is one of Loomly's biggest winning cards. However, it's not all Loomly offers. The following is a list of Loomly's features.
Post ideas

Optimization tips

Post and ad mockups

Advanced analytics
The pros and cons of Loomly 
Social media scheduling requires a tool and that tool has some positives and negatives to consider before being selected. 
Here some positives and negatives regarding Loomly's performance and features. 
There are some training documentation and webinars on Loomly. 

Loomly offers a wide range of methods to contact with which highly improves its customer service. 

It doesn't work on your computers or laptops. 
Loomly's pricing
You can only use all features on Loomly if you purchase its advanced package at $119 dollars per month. Also, there are two cheaper packages with fewer features and more limitations at $57 and $25 per month, while there is a more expensive offer for 26 users at $249 monthly.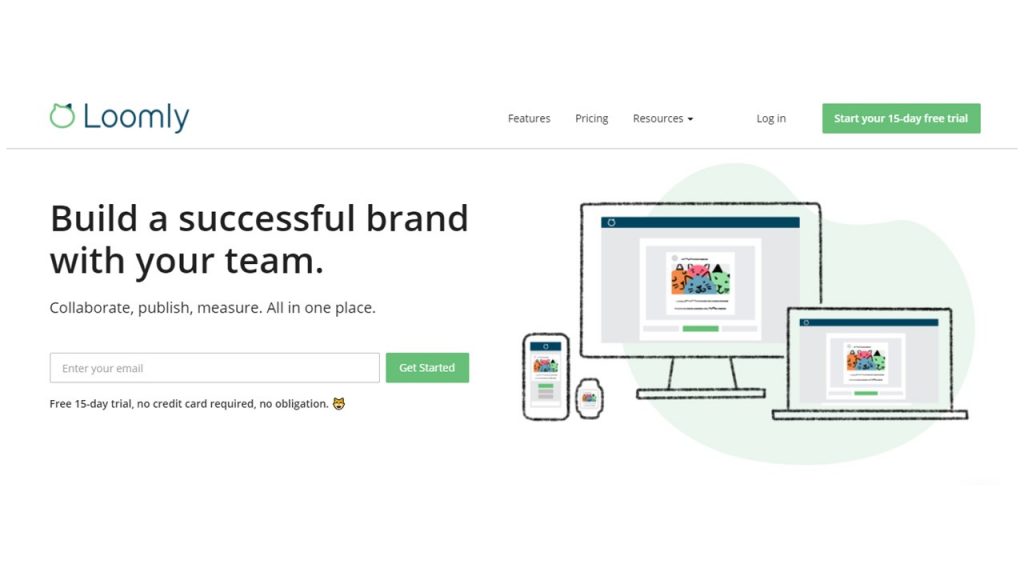 4. Buffer
Buffer is a social media scheduler that boasts great opportunities to grow organically. Trusted by brands, businesses, agencies, and creators, Buffer has helped its users publish, reply, and analyze in correlation with different social media platforms. 
Buffer's features 
There are plenty of things that Buffer enables you to do far easier when scheduling social media posts. Here is what you can do on Buffer. 
Plan, collaborate and publish content that drives more engagement and faster growth for your brand. 

Get in-depth insights with analytic tools to grow your brand on social media. 

See all of your comments and stay on top of your interactions. 
The pros and cons of Buffer
It is of great importance to look into the advantages and disadvantages of Buffer so that you see you can decide decisively whether or not Buffer suits you best. 
Buffer has both a free and paid plan to schedule social media posts. 

You can signify specific links to track how well Buffer works to get blog traffic from social media shares.

Some bloggers might want to consider that you cannot monitor your mentions with Buffer. 

Buffer recommends the most suitable timing for social media post scheduling while you can decide when to publish your content as well. 
Buffer's pricing
Aside from the free plan that Buffer offers to its users with a considerable number of limitations, you can choose the packages with monthly payments at $15, $65, and $99.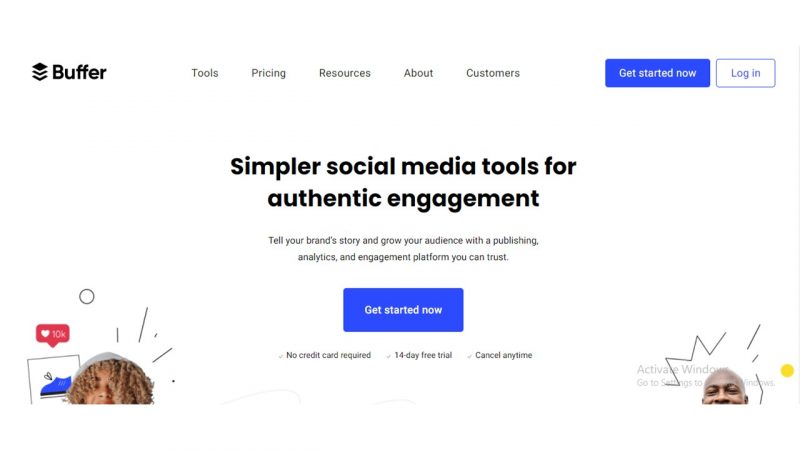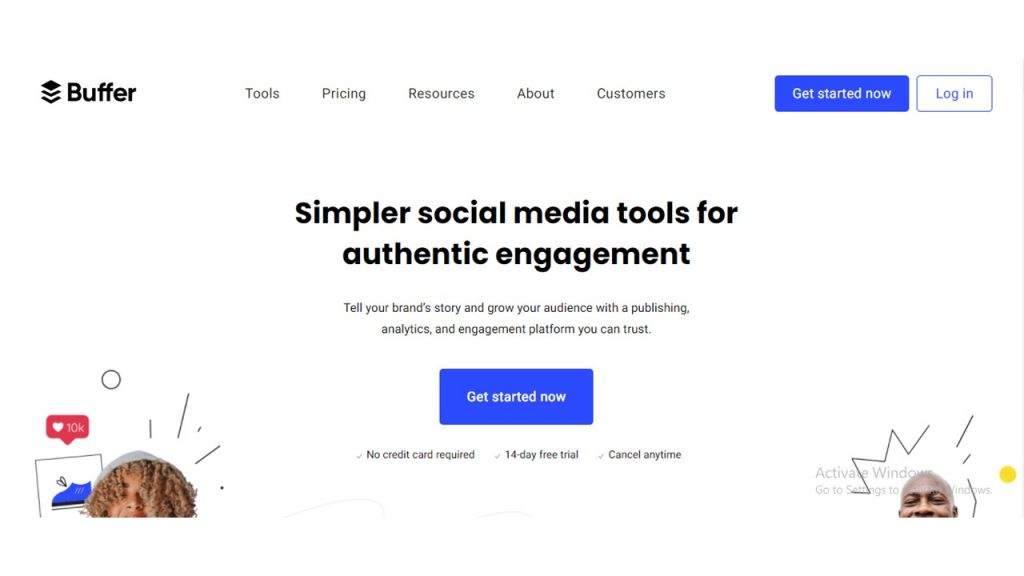 5. Sprout Social
Sprout Social is another popular social media post scheduler on our list. It offers most of the features you will need for promising social media scheduling. Namely, you can plan and publish your content automatically, use its analytics features to increase your reach and impressions, and know your audience better to gain a better engagement.
Sprout Social's features
Like many other effective social media scheduling tools, Sprout Social offers a wide range of features to illuminate business-critical insights into your business. Here is a list of features provided by this app. 
Monitor and engage with all messages you have on Facebook, Twitter, Instagram, and LinkedIn in one smart box. 

Monitor keyword, hashtag, and location searches on Twitter.

Check your business reviews across Facebook, Google My Business, and TripAdvisor in one unified stream.

Create social content and campaigns as a team.
The pros and cons of Sprout Social
We are very well aware of the fact that only when you consider every aspect of this social media scheduler, will you be able to make a fruitful comparison to choose the right app. Accordingly, here is a list of the pros and cons of Sprout Social. 
It offers a perfect statistical system where you can consult all kinds of movements that have occurred on your social networking sites. 

There is an extra fee for each employee who joins the team. 

Sprout Social has an intuitive and effective social media post scheduler. 

Its dashboard is modernized, but many users didn't find it simple to navigate the right feature they were looking for. 

Scheduling and analytics features have proved to be very useful. 
Sprout Social pricing
There are three packages you can choose to purchase from Sprout Social. However, bear in mind that each package is paid monthly per one user. 
Here are the packages: 
Standard: $89 – $99

Professional: $149 – $169

Advanced: $249 – $279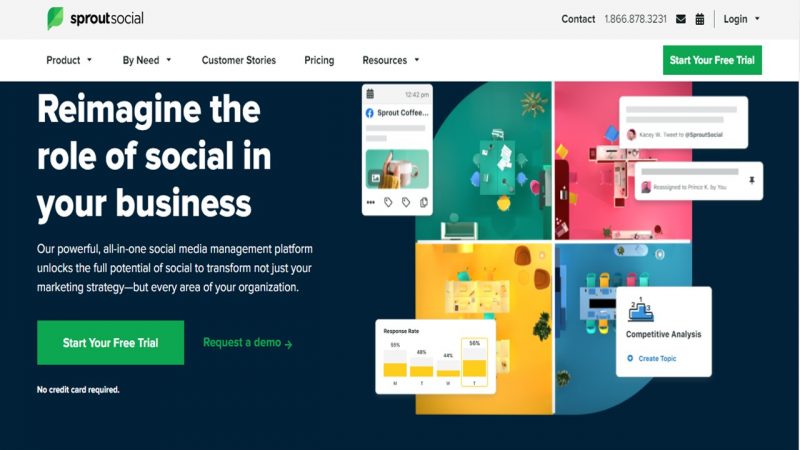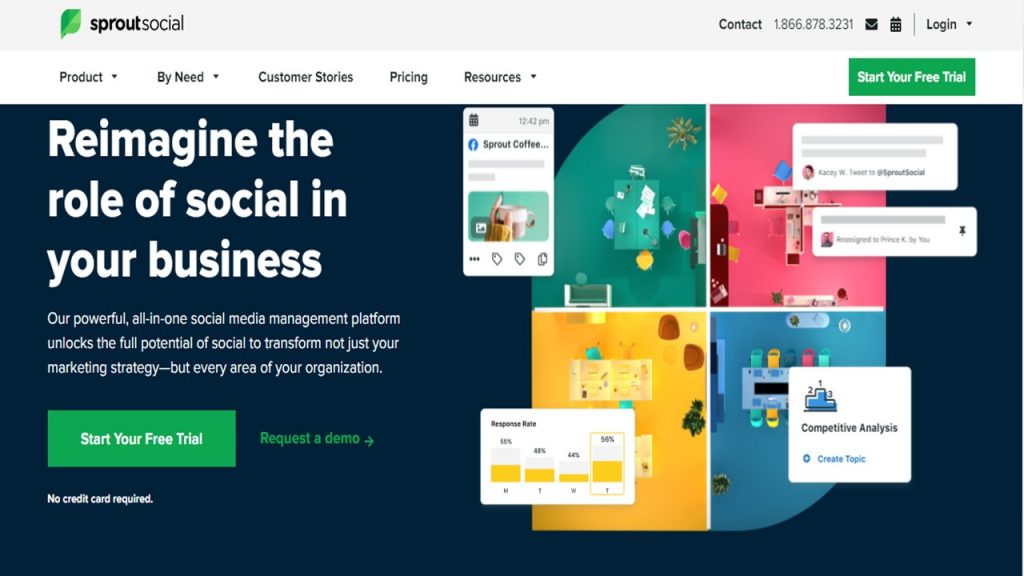 Overall, as one of the best social media scheduling tools, Falcon has a profound structure to listen, engage, measure, schedule, and publish posts with unique quality content. 
Falcon's features 
From small businesses and single users to multiple teams with big markets, Falcon has effective plans to schedule social media posts alongside other features that boost your performance. The following is a list of features offered by this app. 
Schedule, edit, preview, and publish all your social media posts and campaigns across unlimited channels. 

Run effective social ad campaigns.

Use a shared content library to save time and keep your content on-brand.
The pros and cons of Falcon
In the following, we have listed the highlights and drawbacks regarding Falcon's performance and its feedback.
Falcon supports Instagram Stories and Facebook carousel posts in addition to single images and videos.

You can design your own inbox including multiple feeds, labels, and filters

There are real-time social listening and high activity alerts. 

Falcon is not known as a social media scheduler that provides you with a wide range of features other than analyzing, scheduling, and a few more to repost. 
Falcon's pricing
Having tried Falcon for free, you are required to buy one of its two packages after 14 days. The essential package costs you $108 per month, while the "Full  Suit" package is negotiable and doesn't make a fixed offer.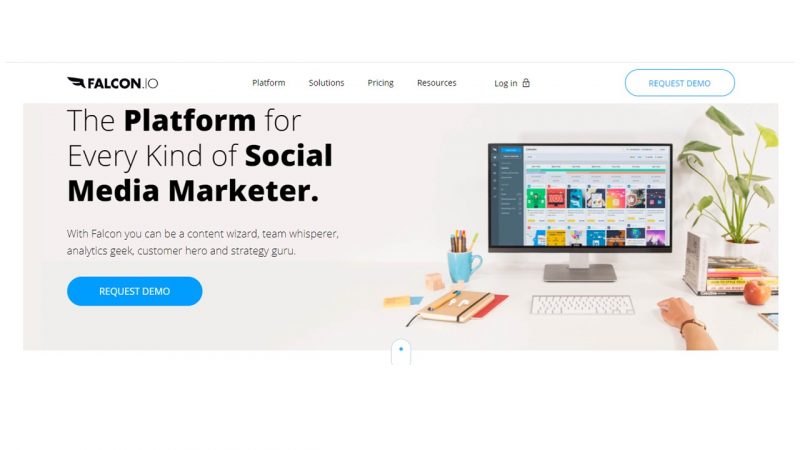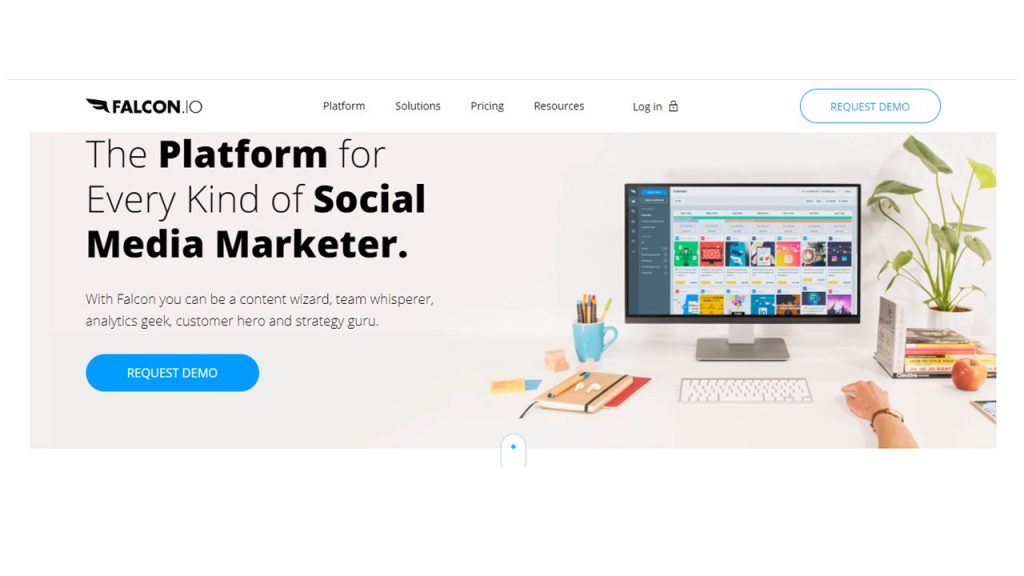 7. Sendible
Undoubtedly, one of the number-one tools to schedule social media posts is Sendible. With over 20,000 agencies, marketers, and brand managers using this app to schedule social media posts on all platforms, you can easily collaborate with your team and clients. 
Sendible's features
Social media scheduling tools like Sendible can be flexible with varied plans for small and large businesses. Here are features you can use on Sendible. 
Customize images with your desired pixel and preview posts before scheduling them to be published. 

Use reports to surface your most engaging or automatically send custom reports. 

Add locations and hashtags to your posts to enhance your discoverability. 
The pros and cons of Sendible
It is advisable to assess Sendible before you select this tool. 
You can use regular training webinars, live chats, and articles to make the most of your platform. 

There is a feature to schedule social media posts in bulk. However, users feel a lack of tagging features.

Always have real-time interactions with the audience. 

Sendible doesn't offer any free plans. Even its 30-day trial guarantees to pay you back once you decide not to continue using this social media scheduler. 

You are able to also manage multiple accounts on Sendible. 
Sendible's pricing
As mentioned earlier, Sendible has flexible packages for all types of creators. In the following, we have outlined the packages and the type of creators or marketers who might find each offer helpful. 
Creator – €24 per month

Traction – €75 per month

Scale – €165 per month – The most popular package on Sendible

Expansion – €349 per month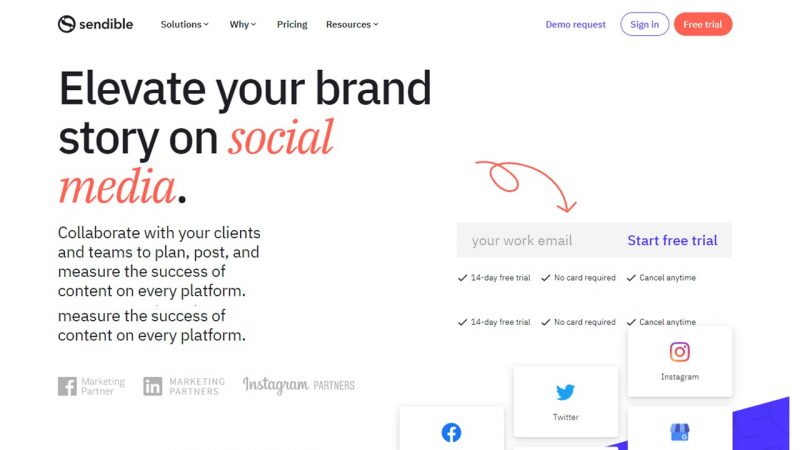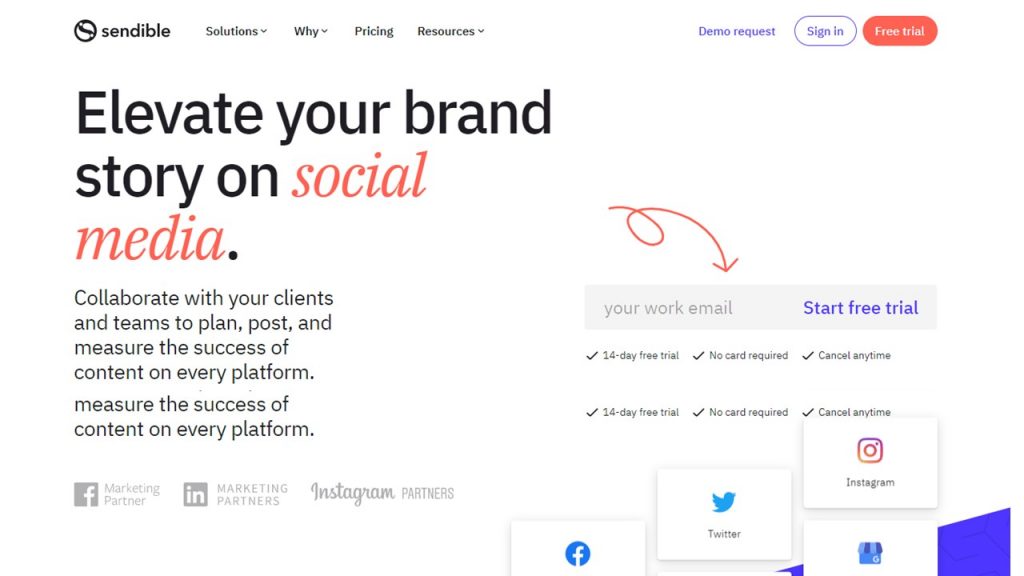 8. Later
It is astonishing to contemplate how effective and varied features could be on social media scheduling tools, and Later is no exception on our list. 
While Later also covers Facebook and Twitter, its primary focus is on Instagram. 
Later's features
Whether you are an Instagram pro or a beginner, features on Later will have you covered. Here are features you will find useful, scheduling social media posts. 
Find on-brand content, add your personal touch, and share to different social media platforms.

Drive more traffic and track sales with analytic reports. 
The pros and cons of Later
Utilizing this tool with a deep insight into the upsides and downsides of its performance will make your performance more considerate. 
Later is a user-friendly social media scheduler. 

You can store in one convenient place. 

It doesn't allow you to schedule or post Stories. 

Last but not least, you are provided with a free plan in addition to paid ones. 
Later's pricing
Customize your plans based on your budget and reap the advantages of using Later to schedule social media posts. The following are Later's offers. 
"Free forever" – including 1 user, 30 posts per social profile, and one social set. 

"Starter" – $12.50 per month

"Growth" – $28.83 per month

"Advanced" – $33.33 per month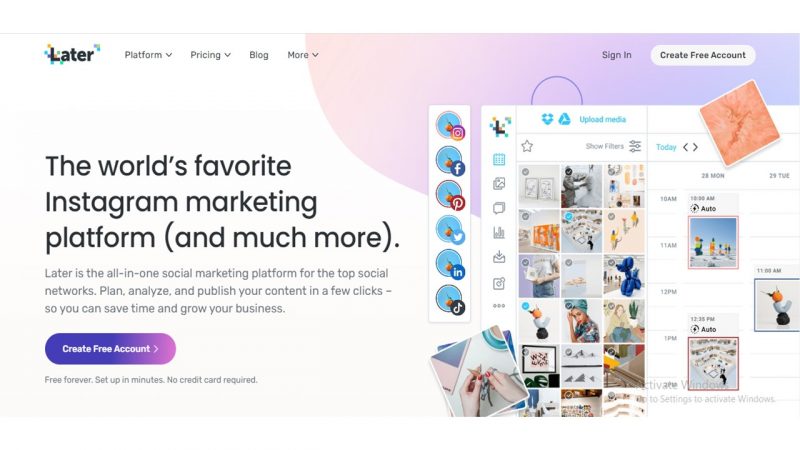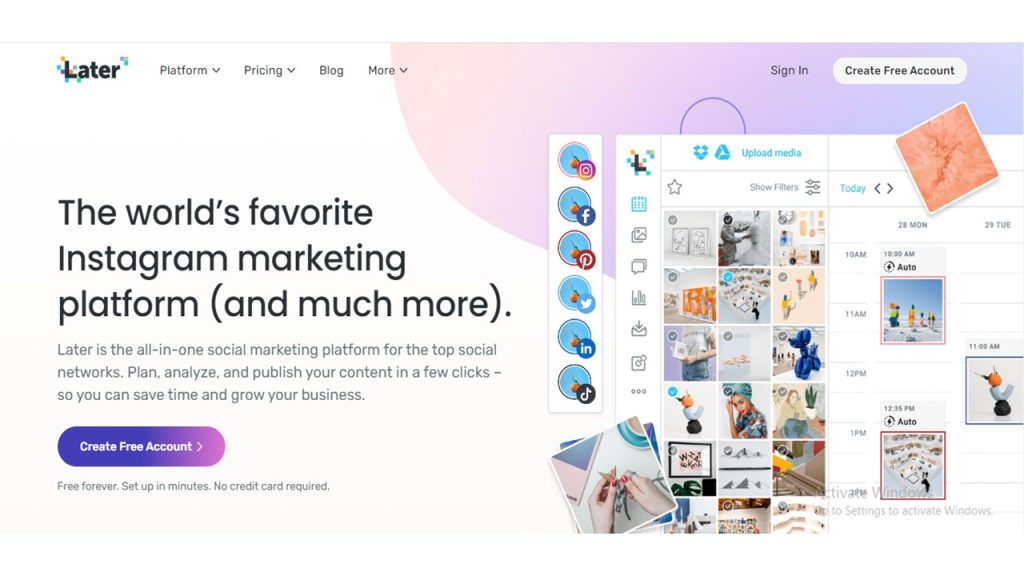 Conclusion
While it becomes more and more consequential every day to stand out on social media platforms, your approach to success is tied to quality content and consistency, However, it won't be an easy feat to remain consistent without a reliable tool to schedule social media posts like a pro. Social media scheduling tools such as Later, AiSchedul, Hootsuite, Sendible, Sprout Social, etc. are a big help to plan your social media posts. Whenever you lack creative ideas for your social media, make sure to listen to podcasts to get more and more ideas about your sphere.