Businesses and social media have gone hand in hand for a few years; if you plan to start a business, first thing first, before going public you need to find and choose the best social media management tools for your brand.
These tools will help you manage your business activities and keep you up to date with essential details. 
Creating posts, engaging with followers, checking messages, and much more to make your social network valuable is quite tiresome.
There must be a manageable and easier way to run your entire social media presence without switching between accounts and spending vast amounts of time on different apps.
What are the five must have social media management tools?
A social media management tool will make it much easier for you to keep track of all your conversations. To begin with, all of your data is in one place, this already makes your job easier. If you want to grow your business and brand you need the help of good social media management tools, choose wisely and enjoy the ride! 
In this article, we are going to talk about what kind of social media management tools to use and the top 5 social media management tools in 2021 that you must have!
Let's get started!
Social Media Management tool #1 AiSchedul 
AiSchedul is the best social media management tool that helps you grow your account and expand your business.
How does this social media management tool help you?
The first step into Instagram growth is the consistency of posting. Interact with your followers every day and increase your growth with this strategy. With Aischedul you get to schedule your feed and stories months or weeks in advance
The second most valuable thing to remember is using the right hashtags for your posts, which, thanks to this feature, you don't need to worry about anymore.


AiSchedul features
Hashtag monitoring

Feed and stories scheduling

Adding multiple links to your Instagram bio

Automate a contest or giveaway
AiSchedul pricing
You can get to try the feature for free, schedule Content – 5 times a month, but if you are running a business account, the pro plans are just 19$ a month. 
Social Media Management tool #2 Agora Pulse
Agora Pulse is a Social Media Management tool for Twitter, Facebook, and Instagram that allows you to manage content, reports, contests, social CRM, and more.
There are many things to like about AgoraPulse, it's easy to use and affordable.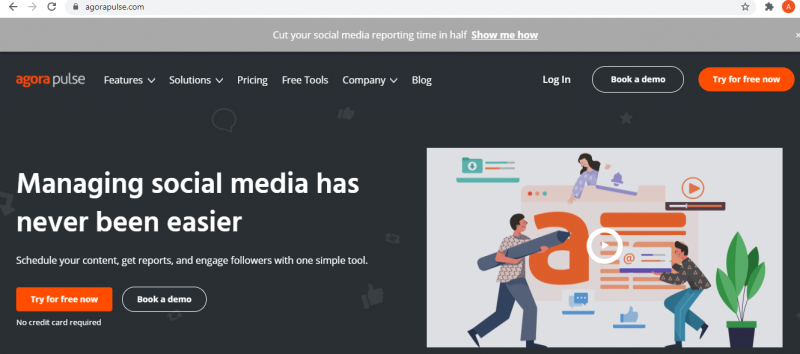 With this tool, you can make your life a little easier, automating, programming, and simply managing your social media accounts.
Agora Pulse allows you to do a free trial of its services to verify their efficiency.
Agora Pulse features 
Facebook analytics

Twitter management

Facebook content automatic moderation

Calendar view

Track mentions and comments For Facebook

keyword listing for Twitter)

Monitor hashtags AND brands username For Instagram

PowerPoint reposts
Agora Pulse Pricing 
Agora pricing starts from Medium packages for $79/month, best for small businesses, to Enterprise packages for $399/month best for large teams with many profiles.
Social Media Management tool #3 Buffer
Buffer has been a social media management tool around the web for a long time. It is one of the top tools that help you manage your social media in a more organized way. 
This tool allows its users to schedule and create posts, assign different assignments and permissions to team members, and so much more!
Where Buffer shines is its ability to track users' activities and suggesting the perfect time to post based on your follower's activity. 
Wonderful! that makes things so much better. 
In a basic free buffer account, you can manage up to 3 social media accounts. Schedule 10 posts at once and make one user work.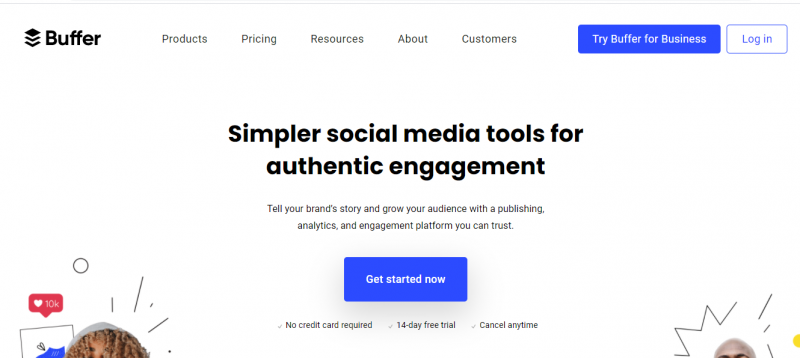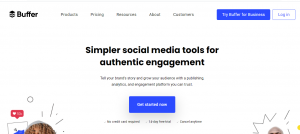 Buffer features 
Hashtag Planner, save & organize hashtags to use in your Instagram posts.

Stories & Post Analytics Measure the performance of stories, individual posts, and hashtags.

Automated publishing.

Multi-account management.
Buffer pricing
Buffer has a free version available with limited features and packages starting from the Publish Pro package for $15/month to the Publish Business package for the price of $99/month.
Social Media Management tool #4 Hootsuite
Hootsuite will manage all the social networks of your company. All in one convenient dashboard. 
It makes your social network efficient and much less time-consuming. You can also reply to messages, brand mentions, and comments on your social networks through a single dashboard.
Hootsuite supports Twitter profiles; Facebook profiles Linked, Instagram profiles, and YouTube channels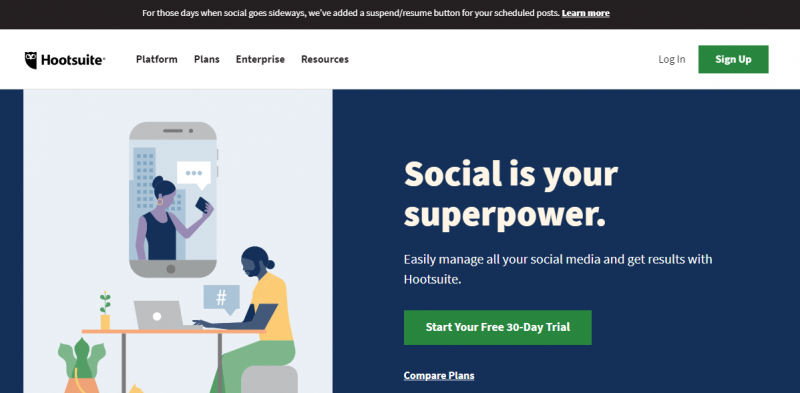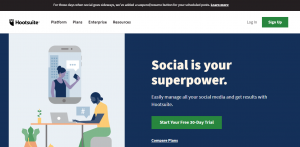 Hootsuite features
Manage three social profiles in one place.

Schedule up to 30 posts in advance.

Generate leads using social contests. 

Easily integrate with 150+ free and paid apps.
Hootsuite pricing
Hootsuite has various pricing packages from 19$ monthly that provides you with essential tools for effective social media marketing and a Business package that starts from 599$ a month. 
Social Media Management tool #5 Sendible
Sendible is another social media management tool that is web-based and can be accessed from anywhere via a computer or mobile app, an excellent tool for voicing your brand to increase brand awareness.
An excellent tool that allows you to collaborate with your clients and team to plan, post on multiple platforms.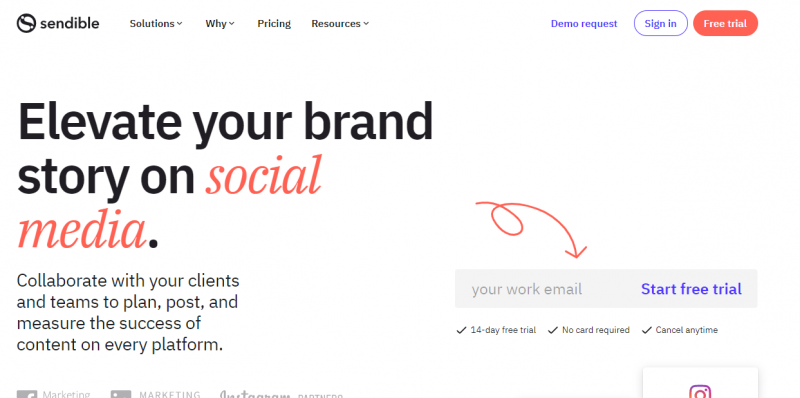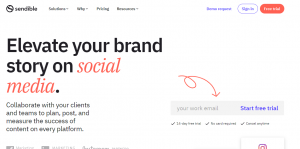 Sendible features
Bulk scheduling

Post preview before they go live

Auto-post RSS feed

Content library, store hashtags in one central location 

Automated publishing tools
Sendible prices
By purchasing the monthly package (29$ ), you will get to manage your profiles in one place with scheduling, monitoring, and reporting features.
Final Thought 
It takes a lot of effort and planning to handle social media marketing campaigns. Without the right tool, it can be hard to be successful and to know what needs to be changed to have more success.
Choosing the best social media management tool is the key factor to your brand success, in this article, we introduce the top five promising tools that help you grow your business through Instagram, Facebook, and Twitter.