Tagboard is a social media monitoring tool that lets you track hashtag-related content. In this article, we will take a look at Tagboard's features, and review its weaknesses and strengths. Finally, we will take a look at a free Tagboard alternative that could be more suitable for your needs.
What does Tagboard do?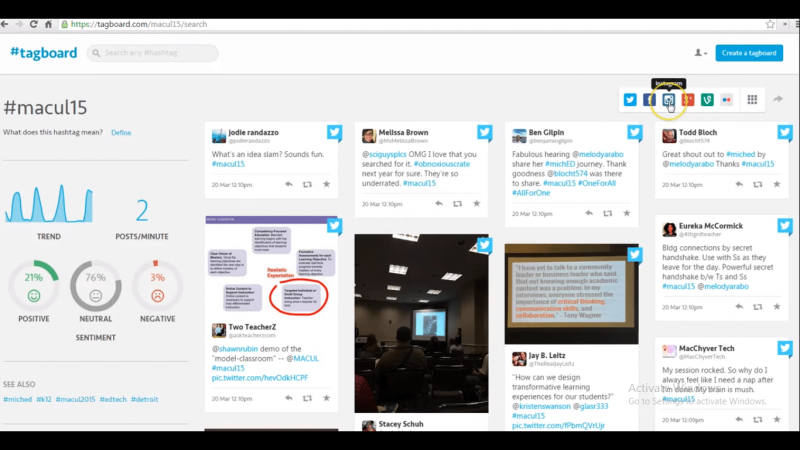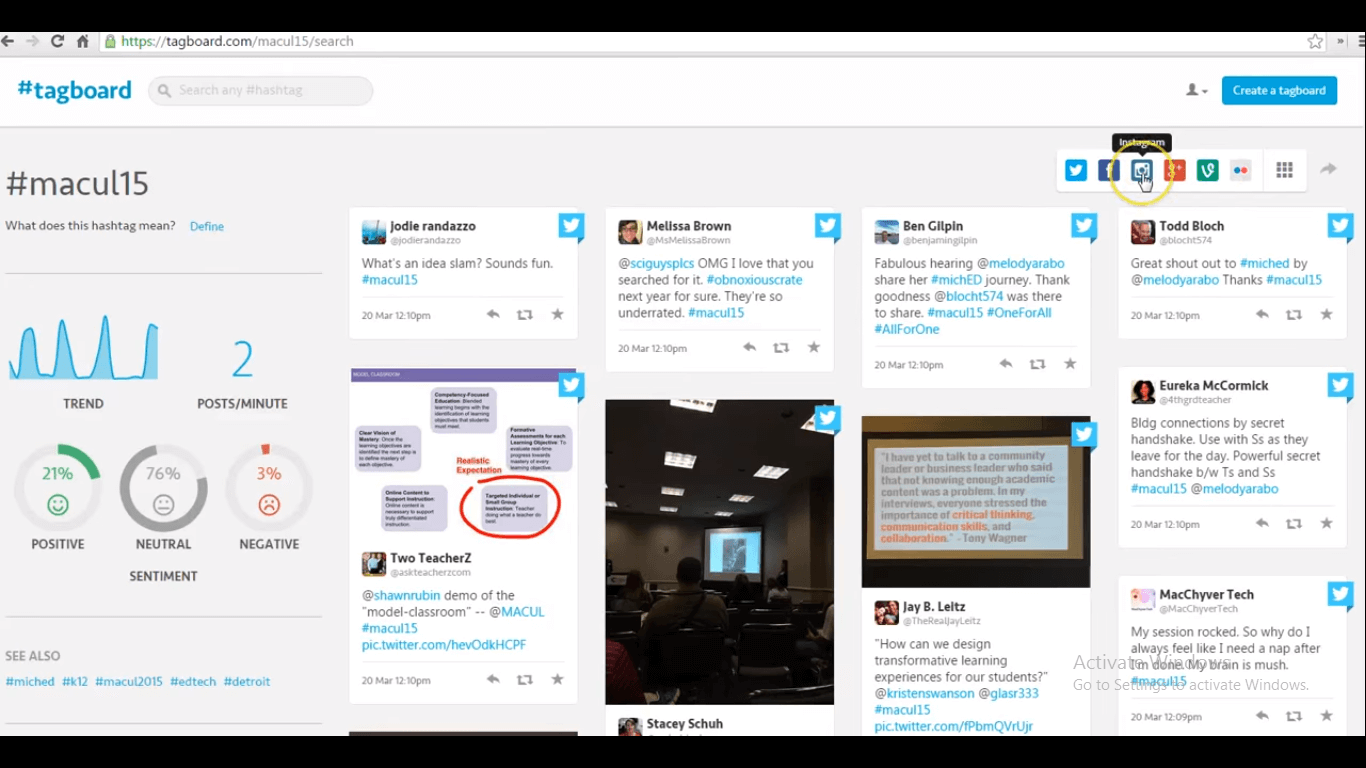 Tagboard works like a search engine for hashtags. After you enter a hashtag, Tagboard looks through multiple social media platforms and brings up the related results. Let's take a look at Tagboard's features in detail:
Hashtag Search: Type in your desired hashtag and Tagboard will bring up a list of the most recent content for that hashtag. Additionally, You can filter those results based on your desired social media platform.
Hashtag Suggestions: Based on your query, Tagboard will suggest a number of related hashtags that you might be interested in. For example, if you search for the #macul15 hashtag, it will suggest #detroit (where the conference was held) and #macul2015 (similar hashtag).
Live Hashtag Monitoring: This is an excellent option for TV and sporting events broadcasting. Tagboard shows content within seconds of being published.
Hashtag Display: You can display, embed, and curate the content on your website. However, Tagboard doesn't have the option for reposting those content to your social media.
Read more: How to make money on Instagram without a website
Tagboard Top Reviews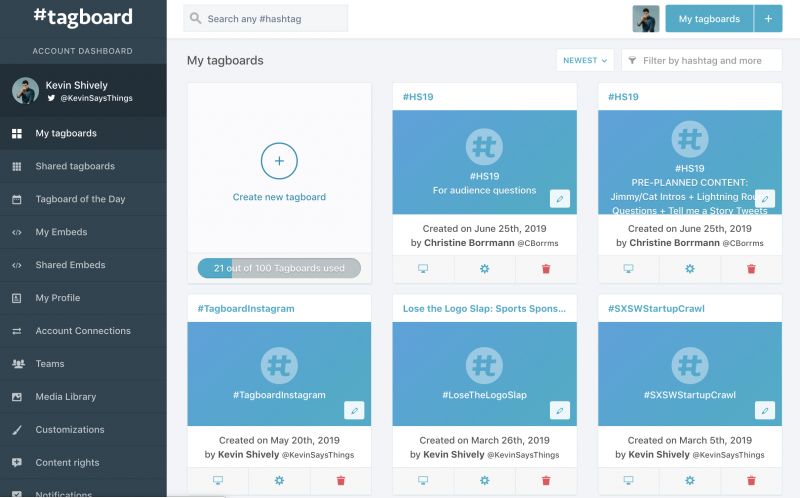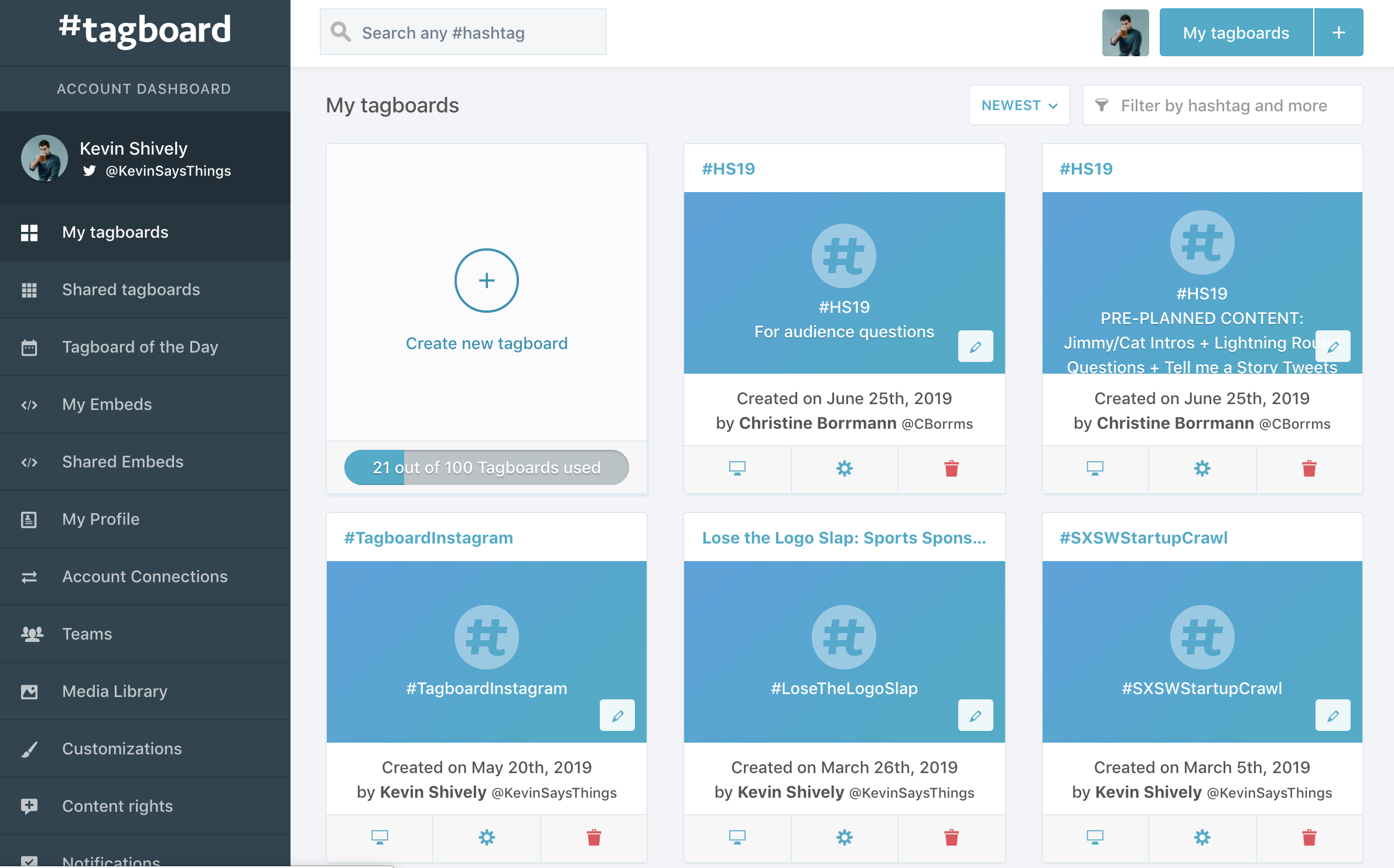 It's always wise to read reviews of a product before you purchase it. In this way, you can use the experience of others to to learn about the strengths and weaknesses of your desired product.
Strengths
Real Time Display: Tagboard is ideal for broadcasters and live-event organizers. You can encourage your audience to participate in discussions via a specific hashtag. Afterwards, you can monitor that hashtag and display content from your audience in your live event. This is a great way for encouraging audience participation.
Cross-Platform: Tagboard's primary strength is that it can aggregate content from multiple social media platforms in one place. Afterwards, you can display the results in your website or live event.
Weaknesses
Too Expensive: Tagboard isn't really geared towards smaller enterprises. Moreover, it doesn't offer any free trial.
No Repost: Tagboard lacks the option to repost the content you find to your own social media. Needless to say that this can be a great deal breaker for many.
Occasional Errors: Sometimes content won't show up from specific social media platforms (namely Instagram). Other times, the result page gets diluted with hashtag surfers, but those are quickly replaced with real users.
Not a Listening Tool: Tagboard doesn't provide the option to monitor mentions. Moreover, Tagboard's tracking potential is limited.
Due to its high price and limited functionality, Tagboard is only ideal for live broadcasters and event organizers. So, you should keep that in mind before making your purchase.
If your targeted social media is Instagram, however, we have an excellent Tagboard alternative for you that is ideal for small and medium-sized enterprises.
AiSchedul: Free Tagboard Alternative for Instagram

AiSchedul's Listening and Repost feature is a fantastic Tagboard alternative for Instagram hashtag monitoring. Continue reading to find out what Listening and Repost can do for you.
Listening and Repost Features
Aischedul's latest feature combines an easy-to-use interface with essential functions that will take care of your monitoring needs. Let's take a look at what Litsening and Repost can do for you in detail:
Monitoring: Make a list of up to 5 (free accounts) or more (premium accounts) monitoring groups. You can monitor hashtags (same as Tagboard), people, and mentions. Afterwards, you can keep each of them in your AiSchedul dashboard to track them over time. Read this post (~5 minutes) for details on how each function works.
Saving Content: You can save any of the content you find to your AiSchedul account.
Reposting Content: What's a better way to never run out of Instagram post ideas than reposting content from another account? If you find anything you like, you can simply click on the Repost button to upload it to your own Instagram feed. Don't worry, AiSchedul automatically credits the owner at the bottom of the post's caption.
How to Use Listening and Repost
To start, log in to your AiSchedul account (or create one for free in less than 2 minutes) to open your dashboard. From there, select the Instagram account you want to manage (or add one). Next, click on Listening and Repost.
Hashtags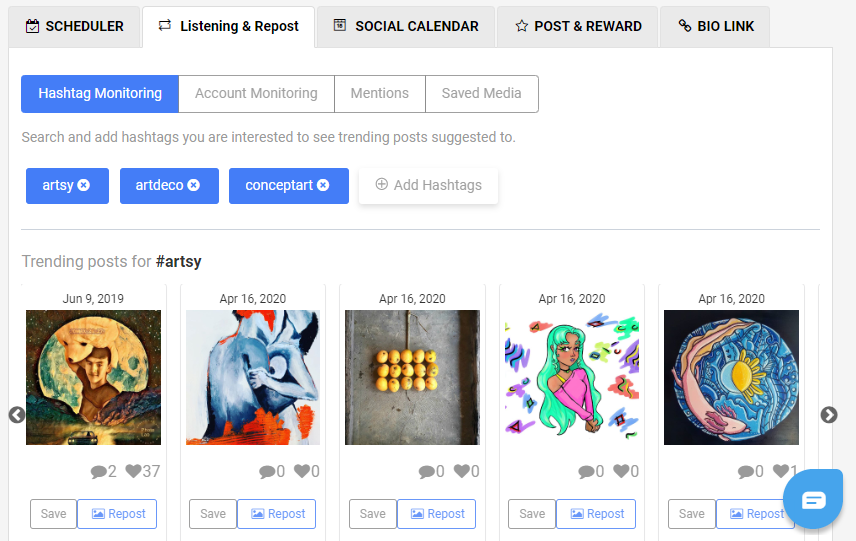 If you want to monitor hashtags, enter the hashtags you want to keep a tab on. You can see the date for each post, and the number of likes and comments it has received. From there, you can pick your favorite content and either save it or repost it directly to your account.
People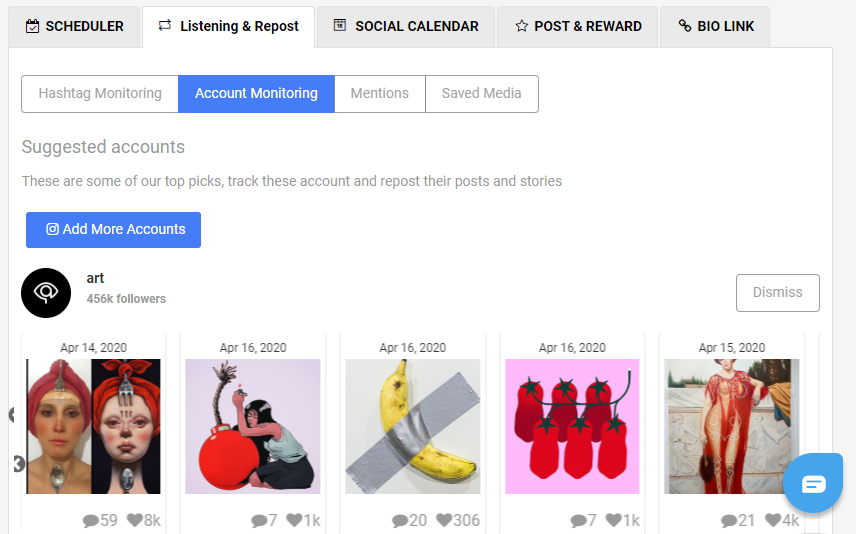 Similar to hashtags, you can monitor a number of people to keep track of their posts in your AiSchedul dashboard. Afterwards, you can pick your favorite posts to save or directly repost them to your account, all with a few clicks.
Mentions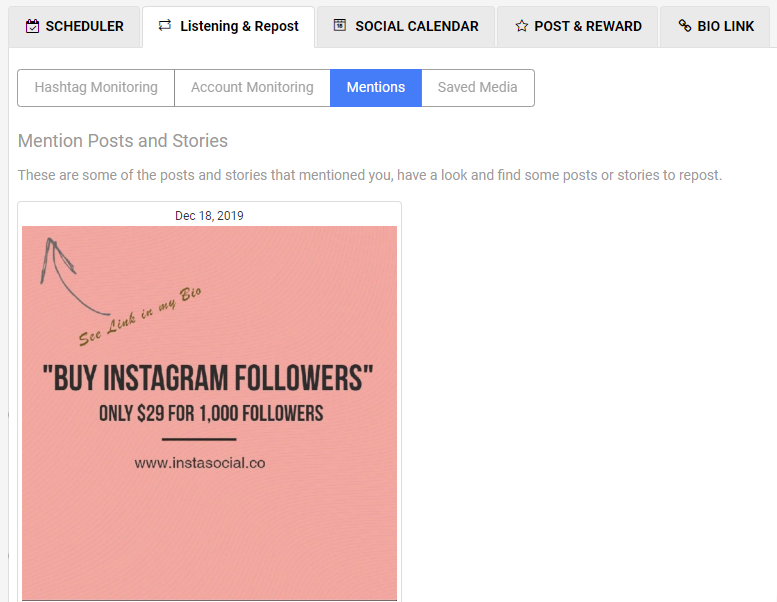 AiSchedul's listening tool is an amazing way for keeping tabs on how your brand is perceived in Instagram. You can keep track of who is mentioning you on Instagram, and choose to save or repost your favorite content.
By signing up a free account on AiSchedul, you will gain access to some other free features as well. Read about those features here: Top 3 Free Instagram Schedulers in the Market