Nowadays, Instagram is one of the most popular social media platforms among users and has more than 1 billion active users in a month. If you are an artist and want to earn money from your work, Instagram is a perfect place to start. But many artists are not familiar with Instagram tricks and algorithms or don't have enough time to experiment with everything; If you are one of those too, don't worry. This article will show you how to get your art noticed on Instagram by knowing The best time to post art on Instagram. 
If you are looking for a tool to schedule your posts for the best time to post art on Instagram, AiSchedul is what you need. 
Try AiSchedul now to manage your Instagram account!
The Best Times To Post Art On Instagram
Based on your followers' region and location, there are different hours that posts get the highest engagement rate. But as an overview of 1,130 Instagram users in 2022, the best days to share a post on Instagram are Saturday and Sunday. 
Since these two days are weekends in most countries, users have more time to spend on social media. After that, Thursday shows the highest number of online users; Friday and Wednesday come after that. Here are the best hours of each day to schedule your posts and become one of the best art Instagram accounts:
Saturdays: 6-7 AM

Sundays: 6-7 AM

Thursdays: 2-3PM & 5-6 AM

Fridays: 10-11 AM

Wednesdays:11-12 AM
Schedule your posts for your best hours.  
How to Use Instagram Insights?
Suppose you are using an Instagram creator/business account. In that case, you can access details about the best time to post art on Instagram through Instagram insights. Here is how to use Instagram insights to know more about how to sell art on Instagram:
First, log into your Instagram professional account and go to your profile.

Tap the

"Insights"

button. 

In the

"Insights Overview"

box, tap the

"Total followers"

button.

Scroll down to the

"Most Active Times"

box in the opened tab.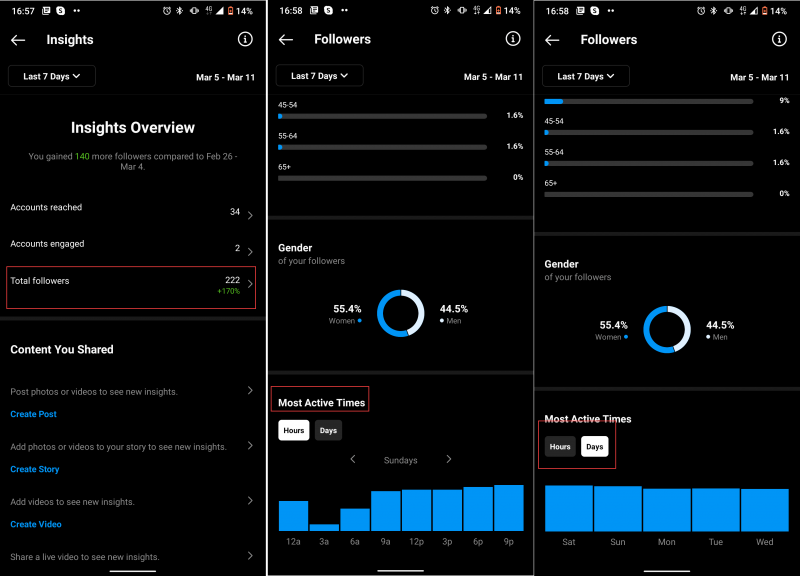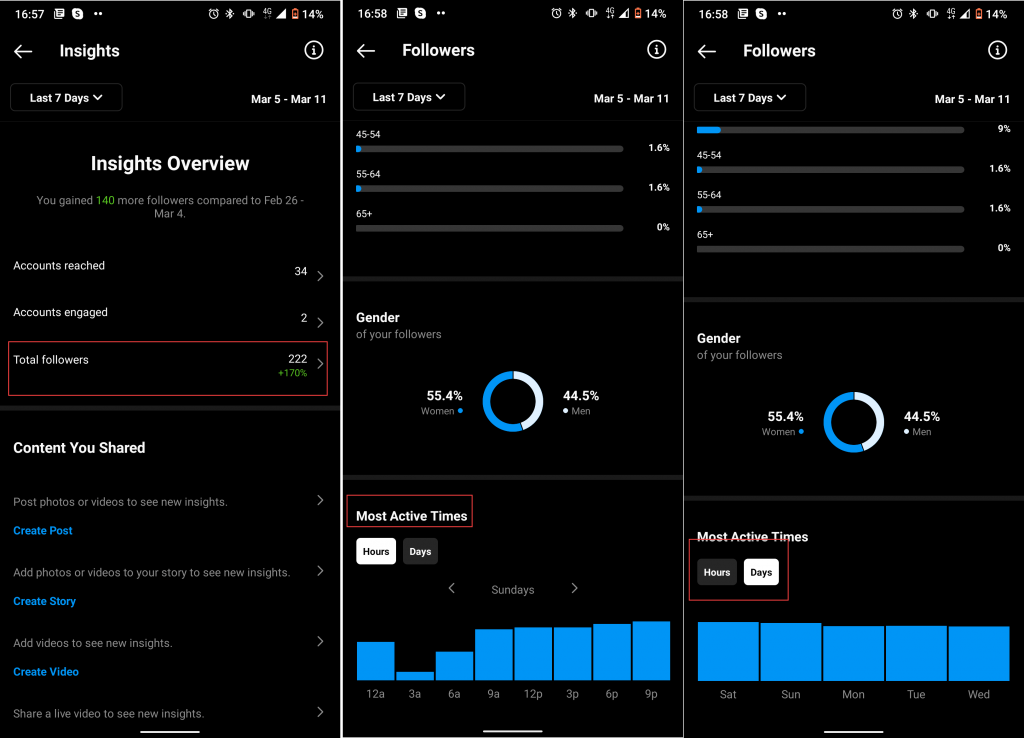 Here you can view what days most of your followers are active. Also, you can switch to "Hours" to know the best hours for sharing your art posts. 
Schedule Posts For The Best Time To Post Art On Instagram
After finding the best time to post art on Instagram, you need to make sure you publish your content at those times and not miss a day. For brands, businesses, and busy artists, it's not easy to remember to share posts at their proper time. 
That's why AiSchedul comes with a powerful Instagram content scheduler tool that allows you to set your timing, and your content will be published automatically. AiSchedul is an Instagram management tool that provides all the essential features for everyone who uses Instagram professionally. Some of its main features are:
Instagram post, Story, and IGTV scheduler

Repost tool

Multiple Link-in-bio tool

Sharing videos directly from YouTube to Instagram( without downloading)

Social calender

Hashtag generator tool( for finding top art Instagram hashtags)
Now let's see how to use AiSchedul's content scheduler to schedule Instagram posts:
First,

signup to the AiSchedul website for free

using your email address and log into your account.

Click "Add Instagram account" to connect your Instagram page to AiSchedul.

Select "Manage."

From your dashboard, open the "Posts&Scheduling" tab and click "Schedule."

Choose "Feed" to schedule an Instagram post.


6. In the opened window, you can add up to 10 photos and videos( to create an album post) or enter a YouTube video link to share it on your Instagram page.
7. Next, add your caption, hashtags, location, etc.
8. Scroll down to the "Scaleup post" box and click "Post in future."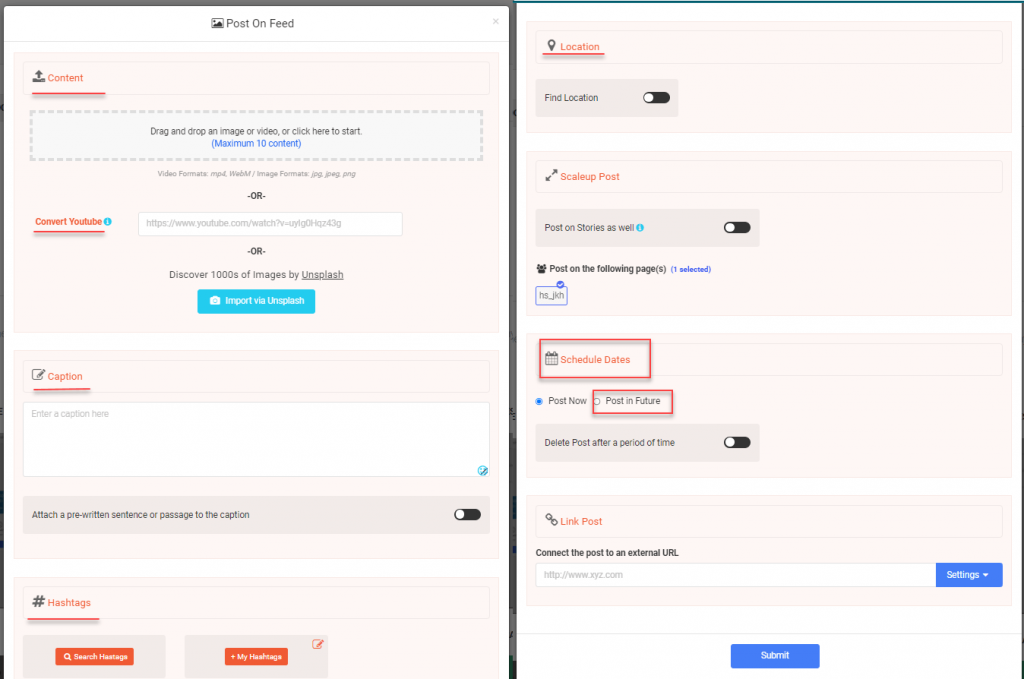 9. Choose your publishing time(s) and select "Schedule."
10. Click "Submit."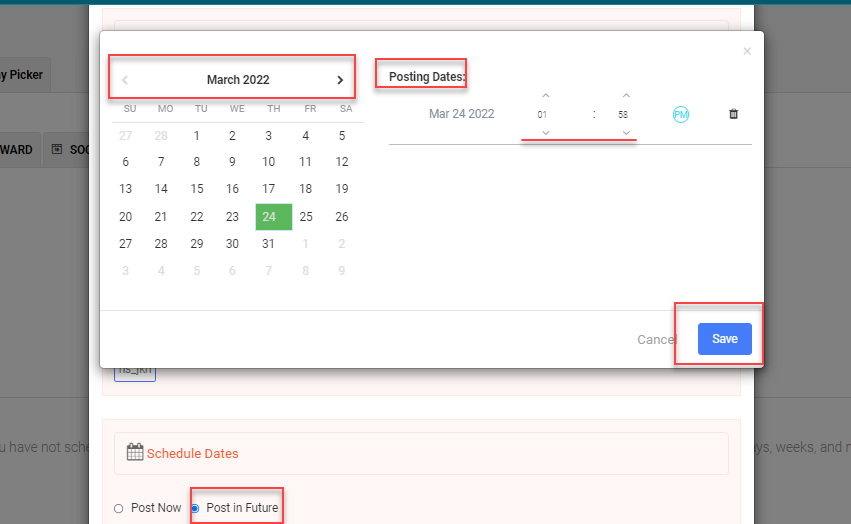 This way, you can schedule your posts in advance for months, and they'll be published automatically, even if you don't have internet access. You can view your scheduled posts and edit them whenever you want from your dashboard. 
Schedule your posts with AiSchedul
How Often to Post on Instagram?
Based on the latest Instagram algorithm, sharing more posts on Instagram per week can help you increase your overall reach and engagement. However, if you share too many posts, it looks kind of spammy and can damage your engagement. Based on the number of followers you have, the optimum number of posts you can share per week is different. Here is a summary of how many posts to share each week on Instagram to get the highest reach:
For accounts with less than 1k followers

, try to share two posts every day to get the highest reach. 

Accounts with 1-250k followers

: sharing from 14-20 posts per week helps you receive the highest 

For accounts with more than 250k followers

: POsting one or two content per week delivers the highest reach and engagement. 
How to Get More Followers on Instagram as an Artist
After finding the best time to post art on Instagram, you need to know how to grow your art on Instagram to grow your followers and get more customers. In the following, we'll show you some tips and tricks on how to post art on Instagram to get the highest reach and engagement. 
Write Good Captions
Writing good Instagram captions can help you stop scrollers on your content, attract them, and engage them to follow you. Based on Instagram's algorithm, the more time users spend viewing your content, the more reach you will get. So try to write engaging captions, add a call to action, links, hashtags, etc. Here is an example of a good Instagram caption from a Makeup artist Instagram account: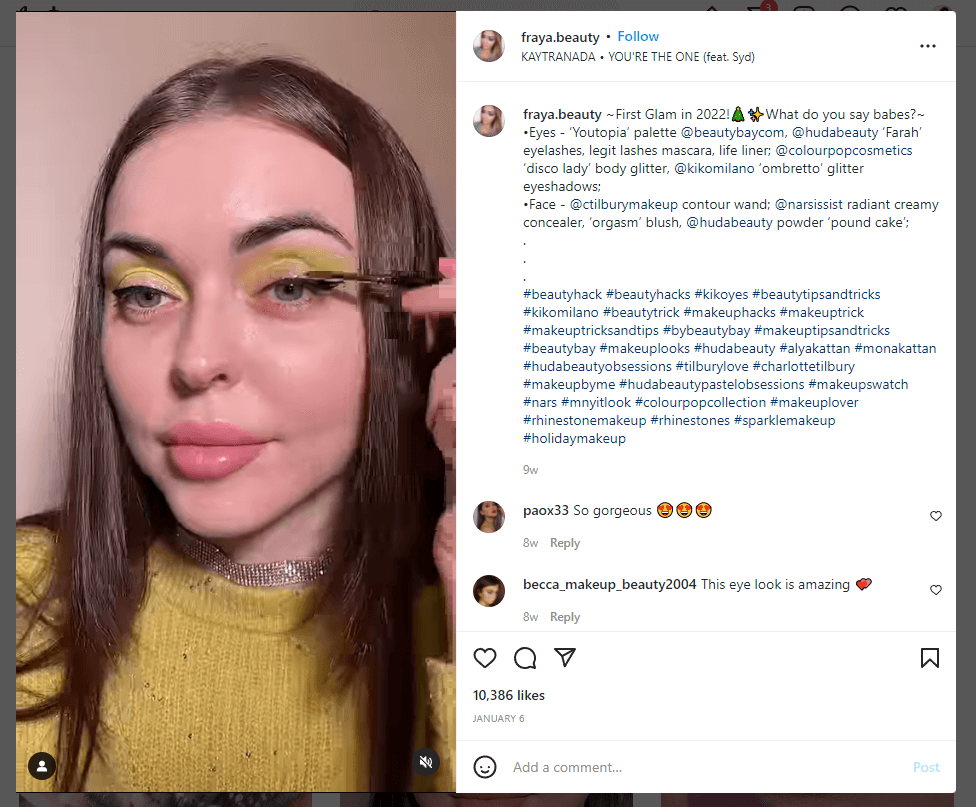 Take Advantage of Instagram Story Art
Every day more than 500 million users check their Instagram stories, share one, react to their followings', etc. Even those who don't check their feed page check their Stories every day. With the different tools and features, Instagram provides in Stories, you can use this opportunity to engage and attract new followers.
 So try to share at least one Story every day to keep your account alive( no matter 1k or 1M followers you have) and boost your engagement.
With AiSchedul's content scheduler tool, you can schedule your Stories for weeks and months in advance, and they'll be published at their scheduled times. Here is how to use this tool to schedule Instagram story art: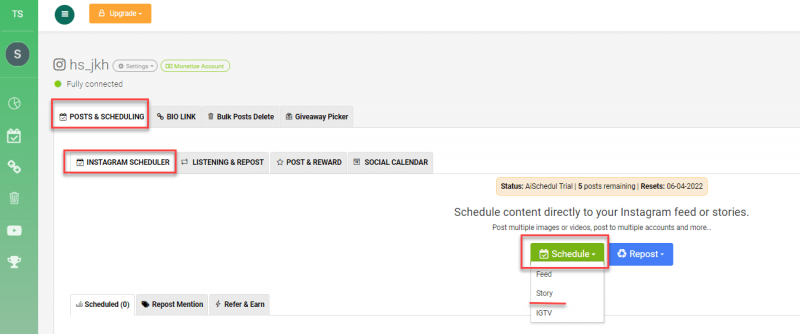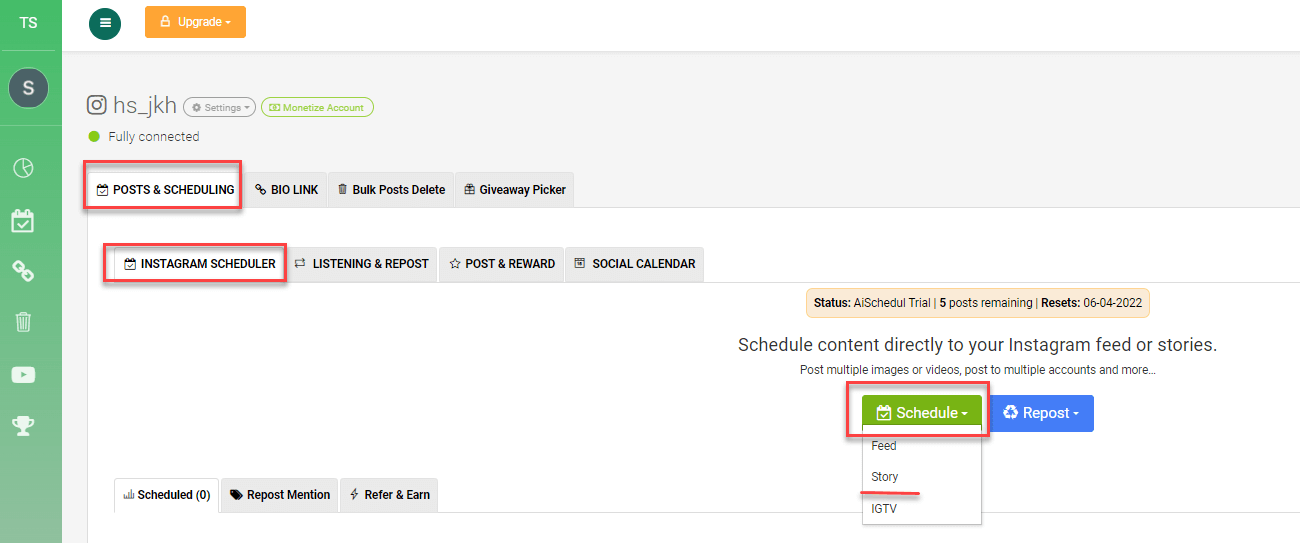 n the opened window, upload your photos and short videos, add stickers, tag users, etc. If you have more than 10k followers or a verified account, you can also add external links to your Story.

Scroll down to the "Schedule Dates" box and select your publishing date(s).

Click "Submit."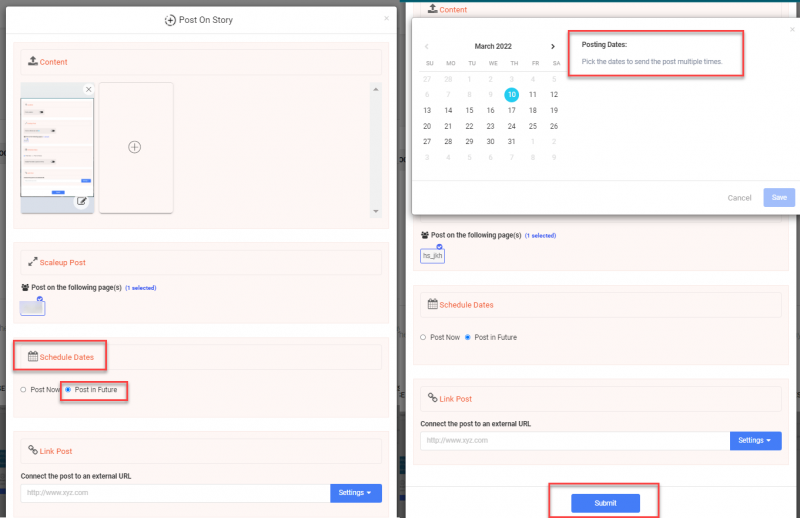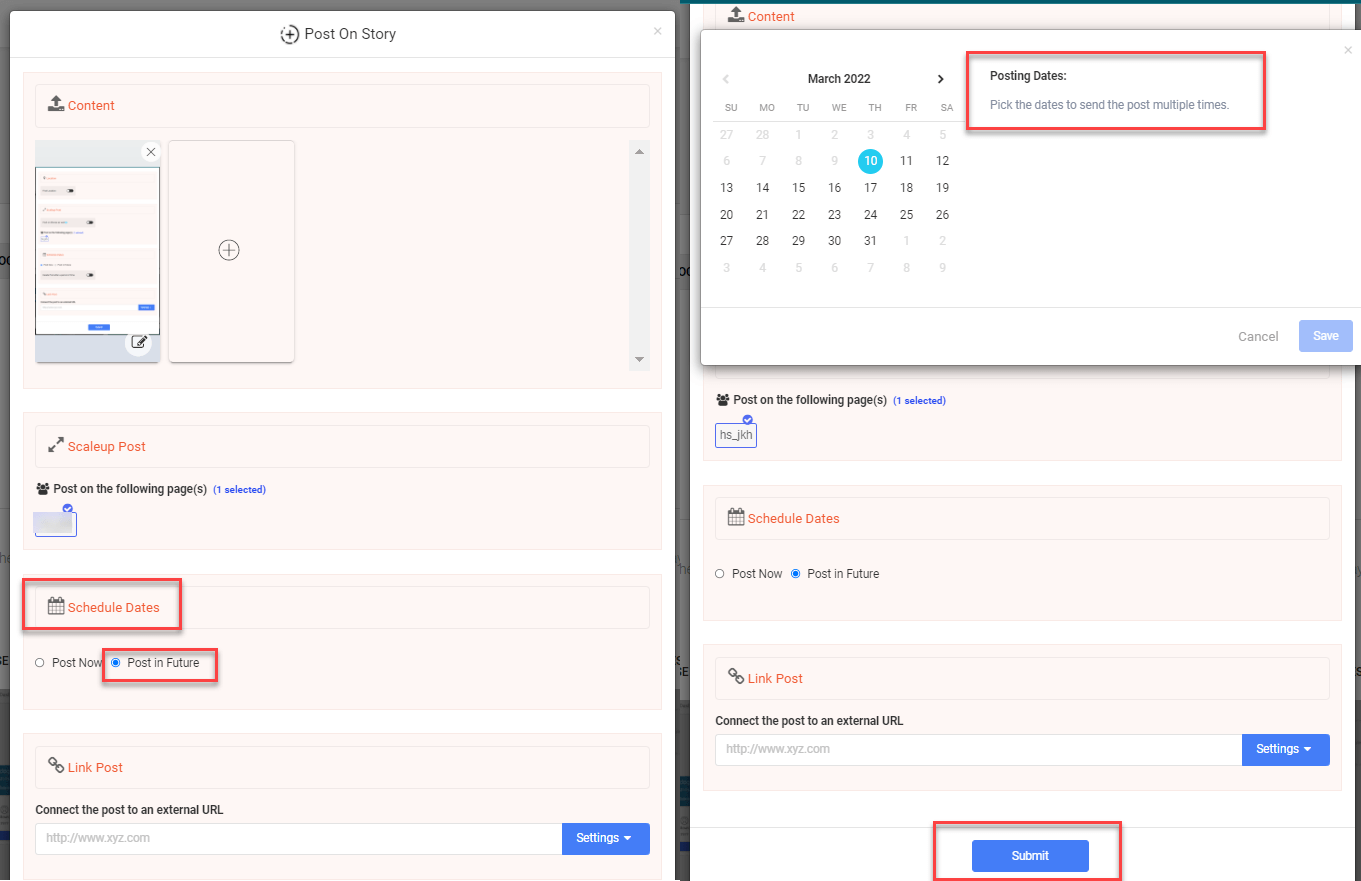 Use Instagram Reels
Reels is one of the latest Instagram features that allows you to create short videos ( in the last update, they can be up to 60 seconds long), set to soundtracks. This feature is similar to TikTok videos, which went viral quickly, and its popularity is increasing every day. 
Users can record and edit videos and photo clips using pro tools and share them on their feed page, Stories or Reels explore page. As these types of videos are more popular among users, try to use different tools and filters to create engaging and fun videos and attract users. 
Complete Your Bio
Your Instagram bio is the first place your page visitors check, and if they find what they want, they'll start following you. So by completing your Instagram bio and profile, you look more professional and can also increase your customers. Here is an Artist bio example Instagram by one of the best Instagram tattoo artists. In this example, she has briefly introduced herself and her work, added a clickable link to her website, and used a perfect picture for her profile.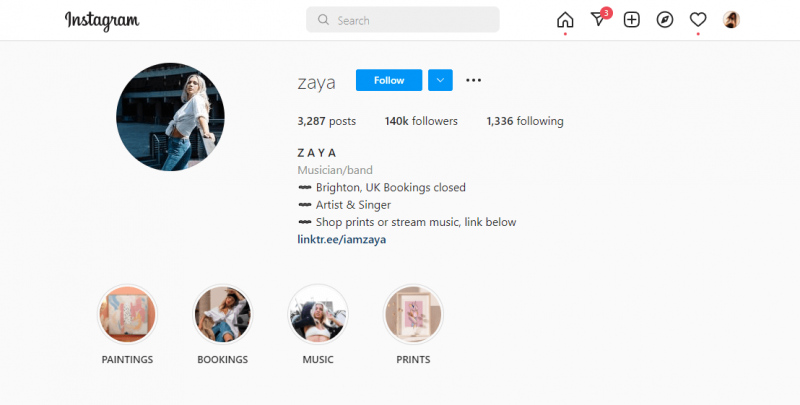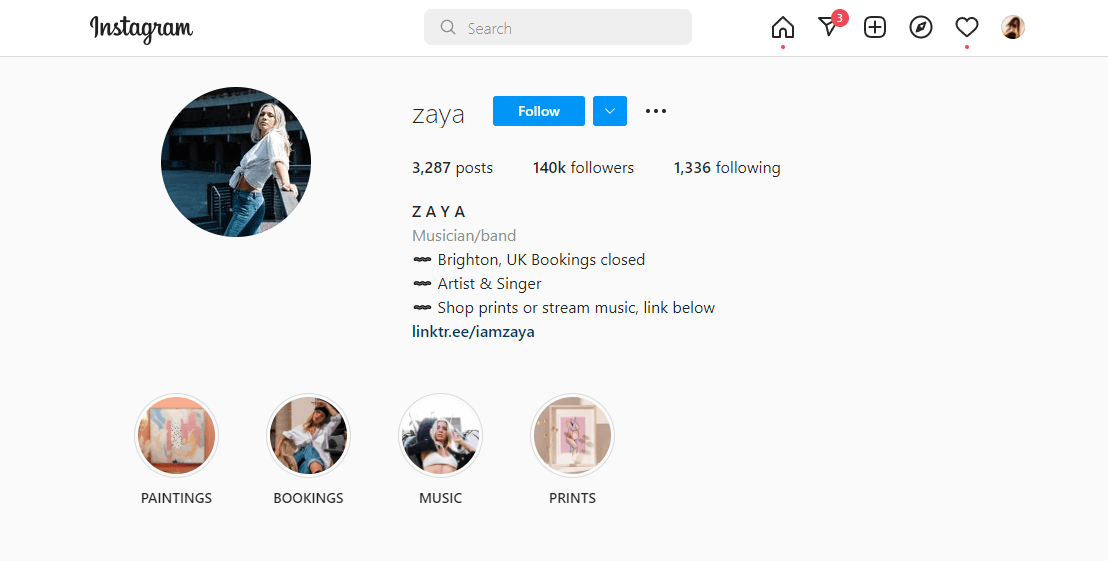 Run an Instagram Art Giveaway
One of the most effective solutions on how to grow your art on Instagram is by running an Instagram giveaway. You can also connect and partner with other Instagram artists looking for an answer on how to grow as an artist on Instagram to increase your giveaway entrance. The next step is choosing the prize and setting your giveaway conditions. 
You can set huge discount codes or free artwork for your followers for the prize; After that, specified giveaway entry conditions. It's one of the essential steps and can help you convert your visitors to customers. Here are some examples:
Like the post and tag three friends in the comments.

Share the post on Instagram Stories and tag your art page.

Use your branded hashtag on their posts. 
Now that you have cleared the steps for users to enter the giveaway, it's time to run it, check the qualified users, and pick a random winner. Since it takes so much time and effort, you can try AiSchedul's Giveaway Picker tool to do these steps on your behalf. Here is how to use this tool;
Log into your AiSchedul account and select "Manage." 

In the "Posts&Scheduling" tab, open the "Post&Reward" window. 

Click "Schedule a Contest."


In the opened window, upload your giveaway post, write captions, add top

Instagram art hashtags

, tag users, etc.

Next, apply your rules so the AI engine checks the qualified users. 

You can share the post immediately or schedule it for the best time to post art on Instagram in the "Scaleup post" box. 

Click "Submit."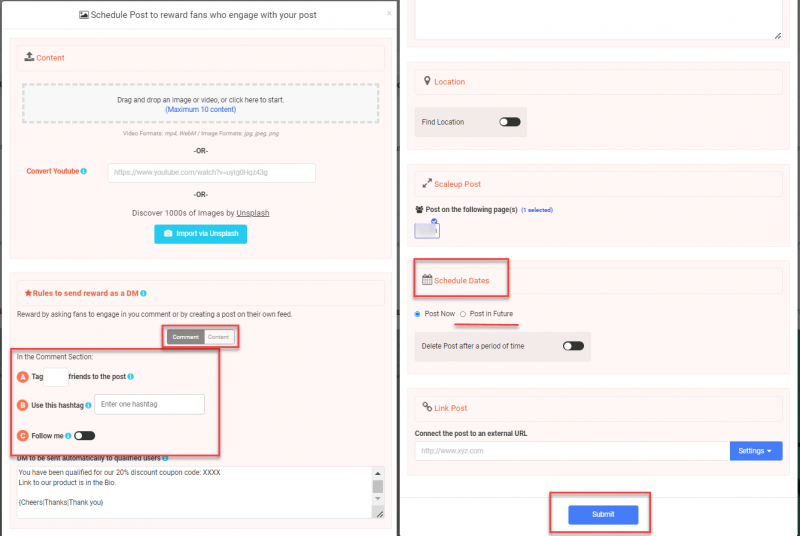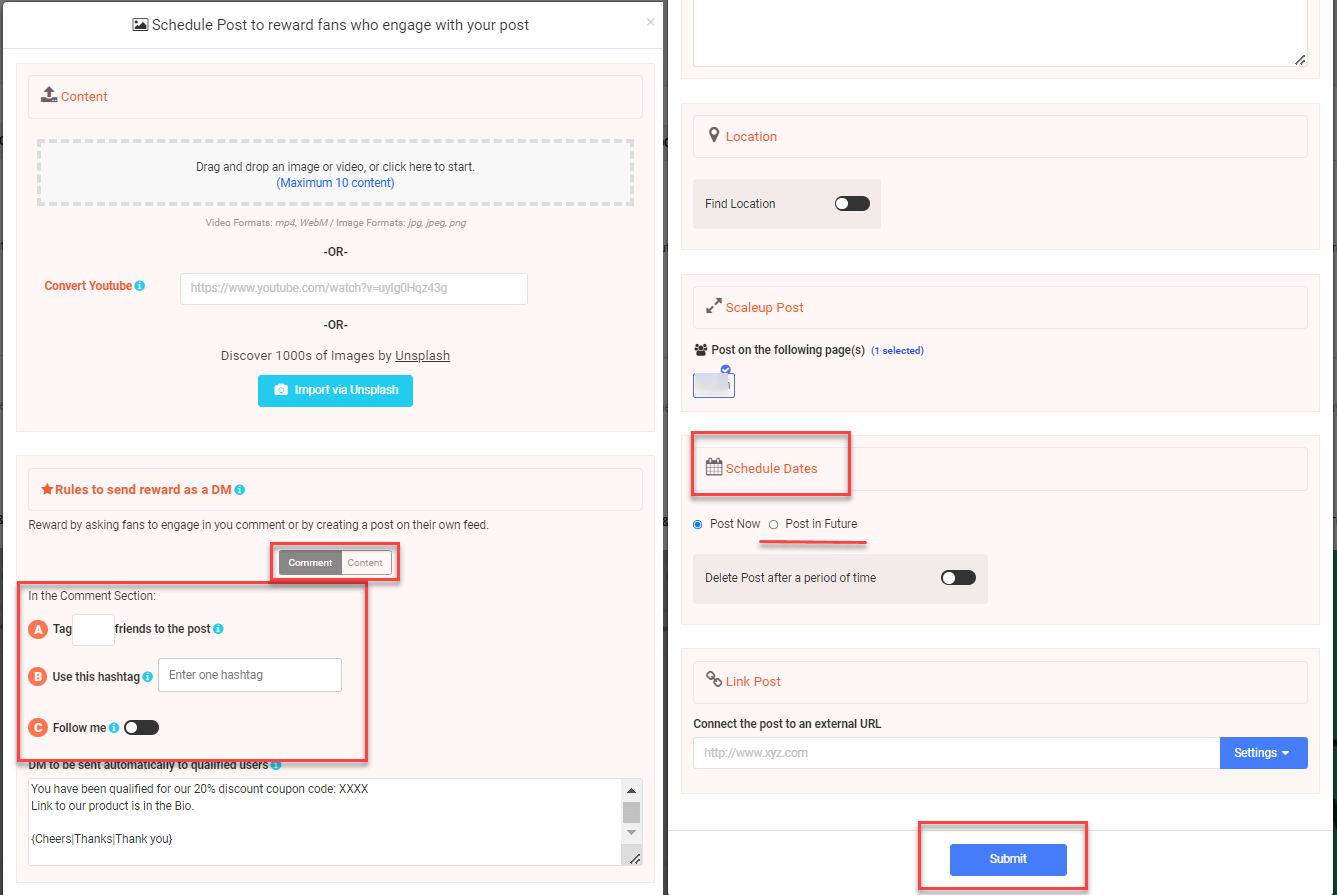 After running the giveaway, AiSchedul's smart AI engine checks all the qualified users and picks a random winner. It also sends them a DM announcing they have won the giveaway prize.
Run your giveaways easily with AiSchedul. 
Use Top Art Hashtags
Almost all professional Instagram users are familiar with the power of Instagram hashtags on growing an account. Hashtags allow you to organically expand your audience, reach the explore page, and be seen by users who don't follow you. You can add up to 30 Instagram art hashtags to each post to grow your visibility. However, we recommend adding 5-8 hashtags to the caption and typing the rest in your first comment. This way, you keep your caption clean while the ones in the comment work the same. 
Conclusion
Instagram is one of the best places to start for Instagram artists and those looking to earn money from their artwork. This article showed you how to find the best time to post art on Instagram to increase your followers. Also, we showed you other tips and tricks to help your art get noticed on Instagram and boost your reach. 
Schedule your posts on Instagram for your best hours with AiSchedul.