Instagram is one of the most popular social media websites among people from different parts of the world. This social network has so many amazing features. Actually, one of the best features of this app is its story features. Stories are some temporary posts that will be deleted automatically after 24 hours. When you open the Instagram application on your mobile phone, what you see at the top of the screen is the story bar. Sometimes you may want to spy on someone and see their stories anonymously. But the official Instagram app doesn't let you do so. Hence, in this article, we want to discuss how to view Instagram stories anonymously. 
Why view Instagram stories anonymously? 
There are so many reasons to spy on someone's Instagram stories. For example, think that you are managing a business on Instagram and you like to know what do your competitors do. In this case, you may prefer to spy on them because it may not be good if they know that you are checking them. Or Imagine that you have broken up with your girl/boyfriend and trying to keep up with the "No Contact Rule". Hence, you need to find a way to check their stories anonymously so that they do not get informed that you have seen them.
To be honest, it is not a good idea to check people without letting them know, but sometimes it may be necessary. So if you want to know how to view Instagram stories anonymously, keep on reading!
How to view Instagram stories anonymously?
There are so many ways to view Instagram stories anonymously. Here, we introduce four ways to do so and discuss their pros and cons. Actually, if you search for anonymous Instagram stories, you will find so many apps and platforms, but you have to know that some of these apps might be hackers and you have to take care of your personal information. In the following, we introduce four simple and safe ways to view Instagram stories without being on the list of viewers. 
Create a fake account
One of the easiest ways to spy on someone is to create a fake Instagram account. Actually, this is the worst way possible. Because when you create a fake Instagram account, your fake username will be shown on the list of story viewers and the owner of the page may recognize that it has been you and block your face page. Moreover, if you want to spy on someone with a private page, you have to send them a follow request and it will be obvious that someone is trying to spy on them. 
IG Stories for Instagram
IG stories for Instagram is a Google Chrome extension. Using this extension you can view Instagram stories of your followings and public Instagram accounts anonymously. To use this application, go to this page, and download and install the extension on your Chrome browser. Then log in to it using your Instagram account information. And finally, search the people who you want and view their stories anonymously. One of the biggest disadvantages of this platform is that it is only available for the Chrome desktop version and you cannot use it on your smartphones. 
Story and Highlight Downloader

Another way to view Instagram stories anonymously is to use Instagram story downloader. Obviously, Instagram story and highlight downloader is a tool that lets you save and download Instagram stories. Using this tool, you can search for usernames and view and download their stories. However, this tool has some limitations. First of all, it doesn't let you log in to your Instagram, so you cannot be able to see your followers' stories. Moreover, it just shows public accounts' stories. Hence, if you have followed someone with a private account since you cannot access your followers, you will not be able to view their content. 
You can see how to work with it in the following.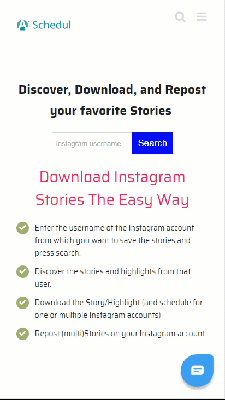 AiSchedul
The last but the best way to view Instagram stories anonymously is to use AiSchedul. AiSchedul is an Instagram management tool that has so many amazing features. 
Some of the features of this platform are as the following:
Repost posts and stories

Manage multiple accounts 

View IG stories anonymously
And so much more than this. 
To view Instagram stories anonymously using AiSchedule follow these steps:
Step 1) Open the AiSchedul website and create an account for free by clicking on the "Get Started" button. 
Step 2) Enter your personal information, your email, set a password, and click on "Register Now".
Step 3) After signing up, open the AiSchedul dashboard and click on "Add Instagram Account".
Step 4)Then, click on "Manage Account".
Step 5) Now, click on the "Story" tab, and then click on "Repost" and choose one of the options you see.
Step 6) Finally, search the thing you want and after that click on the "View" button below the content. 
Actually, by following these steps you have seen Instagram stories anonymously and you don't have to worry about anything. So, go to the AiSchedul website right now and sign up for free. 
Conclusion
In a nutshell, you may need to view someone's Instagram stories without letting them know that you have done it. Definitely, there are thousands of ways to do so. In this article, we discussed how to view Instagram stories anonymously and introduced some of the best ways to do so. However, the best way is to use AiSchedul which is an Instagram management platform and gives you the ability to become a professional Instagrammer. Using AiSchedul you can view Instagram stories anonymously, and you can also repost them on your own page.