Are you trying to increase your brand's visibility, and spread the word about your products and services with Viral Loops? A social media platform that helps create viral and referral sales campaigns, sweepstakes, giveaways, and related landing pages.
If you are interested in using the Viral Loops services, you should become familiar with its features and other factors before deciding.  
Below we have gathered information to help you make an informed decision, so let's get into it.
 Want to grow your Instagram followers faster? Click here
What Is Viral Loops?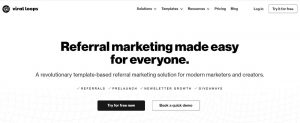 Viral Loops ltd is a referral marketing platform founded in 2016, based in London. Their team consists of 16 people enabling companies to harness the power of word of mouth and build their customer base using the company's existing customers, employee networks, and communities.
Their referral program templates are inspired by leading Viral Loops examples from companies like Dropbox, Airbnb, Robinhood, and Monzo.
Users can create viral promotions using Viral Loops code snippets and e-commerce plugins, integrated into any website or mobile application.
Note: In case you want to know about Viral Loops integrations; It integrates with most digital marketing tools and platforms to run your business, including Zapeir, Slack, MailChimp, HubSpot, KALAVIYO, Active campaign, CovertKit, mailJet, Google Analytics, Facebook pixel, mixpanel, Segment, Webhook, and Custom JS.
Who Can Use Viral Loops?
Viral Loops is for businesses that want to achieve sales growth by offering existing customers incentives for referring new customers, such as e-commerce stores, agencies, B2B and B2C businesses.
Before going any further, let's get familiar with the referral marketing strategy.
What Is Referral Marketing Strategy?
Referral marketing is a customer retention strategy that uses recommendations and word of mouth to grow your business's customer base through the networks of its existing customers.
A successful referral marketing campaign can increase customer satisfaction with your product or service and bring in new customers.
Viral Loops Features
Here are the features and tools Viral Loops provides its users: 
Startup Pre Launch
You can generate buzz and build anticipation for a product's launch by inviting early adopters to sign up for the waitlist, offering them early access, and providing pre-launch exclusives.
Newsletter Referral
You can inspire readers to become your ambassadors, encourage them to sign up for your email list, and give them an incentive to tell others about your work by offering bonuses.
E-commerce
You can generate sales for your Shopify store by using the power of word-of-mouth and referrals.
Giveaways 
If you want more emails, you can launch a sweepstake giveaway. The only way to win is to increase their chances of winning by referring friends; every friend is one entry.  
Note: with Viral Loops, you can only run a Giveaway in a web environment like Facebook or Webpage, not Instagram. So in this article, we will introduce you to a Viral Loops alternative that offers this feature which can be a great help for your business.
Do you want to run an effective Instagram giveaway? Click here
Viral Loops Templates
Viral Loops offers several templates to build referral marketing campaigns, including: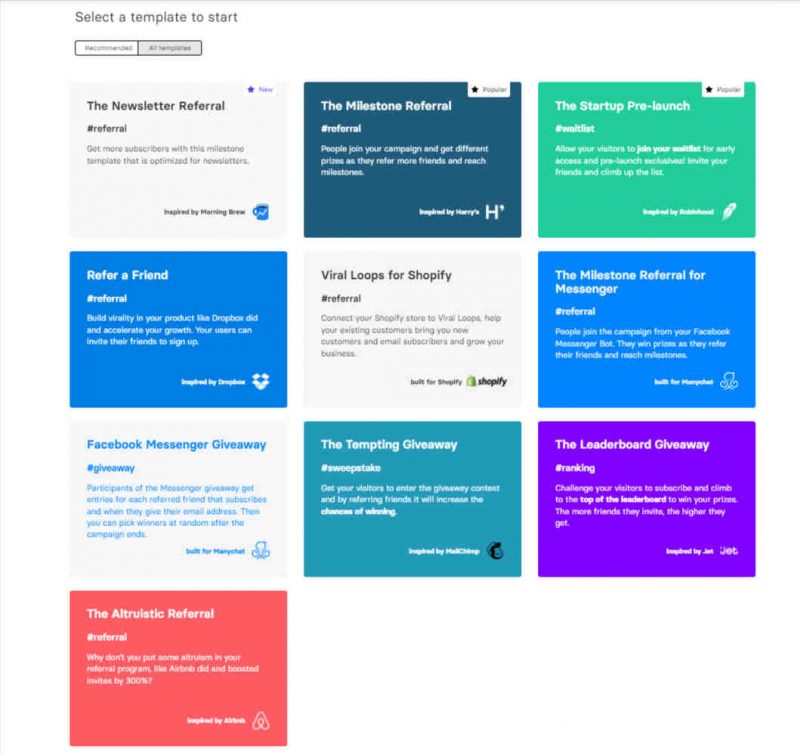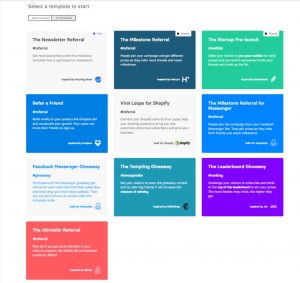 Newsletter referral

Milestone referral

Startup prelaunch

Tempting giveaway

Viral Loops Shopify template

Refer a friend 

Leaderboard giveaway

Altruistic referral

Messenger bot giveaway

Mileston referral for messenger
How Does Viral Loops Work?
After signing up on the platform and going on the Viral Loops login page, you can choose the template you want to build your campaign (it offers a 14-day free trial). Here are the common steps to run such campaigns on the platform: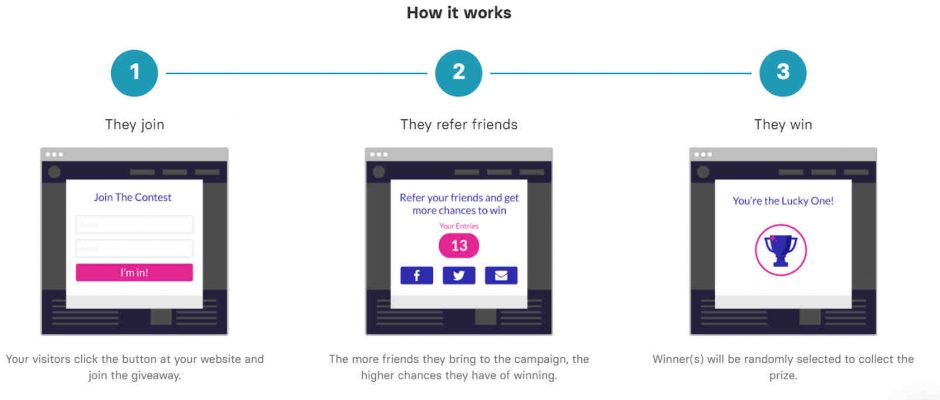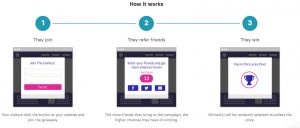 You gain a new customer in the loop; this is the "install" or "purchase" stage.

You invite customers to refer your product to their friends, offering a valuable incentive in return.  

The customer is pleased with the incentive, and they refer you to their friends.

The friends see and trust the message from your customer and become your new customer. 

Recruiters also use the referral program, and it is their turn to enter the loop.
Viral Loops Review 
Here are some reviews of Viral Loops, from websites like Capterra and G2. The reviews on Trustpilot were outdated so I did not include them here.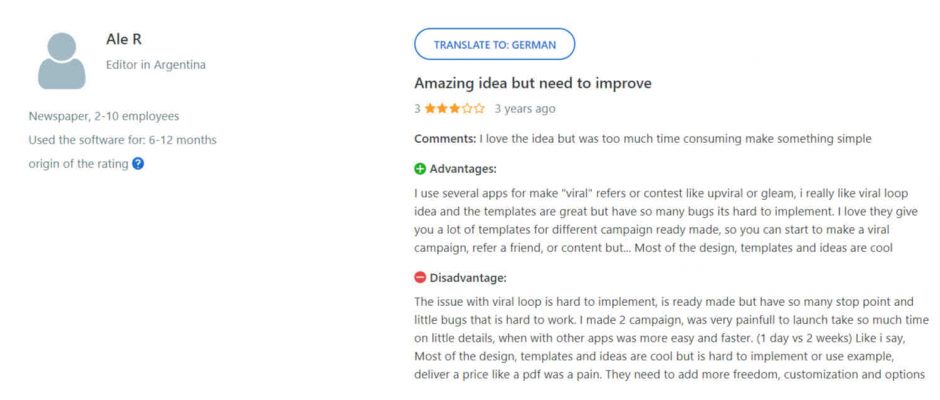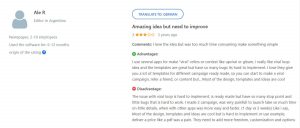 "Amazing idea but need to improve"


"Perfect for brick and mortar businesses as well as E-commerce"
Capterra review of viral loops
"Infect your customers with this virus"


"Great service for viral marketing"


"Zapier integration does not work"
Pros of Viral Loops
There are prebuilt templates for different types of campaigns

Creating referral campaigns for offline and online businesses

Analytical feature for campaigns

Detection of fraud 
Cons of Viral Loops
Implementation is difficult and there are some bugs

There is the Viral Loops brand at the bottom of widgets in some plans

The process of setting up can be a bit time-consuming

It is not possible to create your templates

There is no integration with some apps like Instagram and Telegram
Do you want to boost your Instagram reach? Click here.
Viral Loops Pricing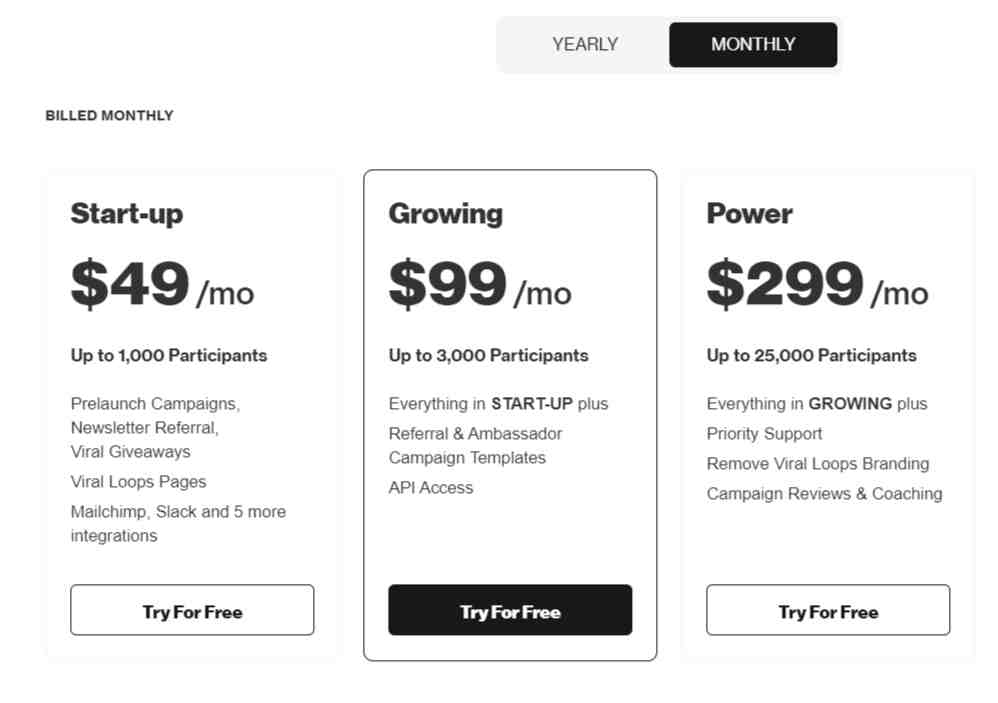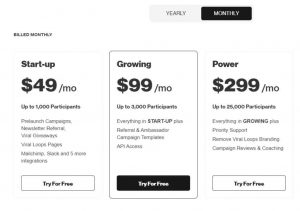 Here are the pricing plans for Viral Loops features that some reviewers complained about.
Do you want to run a Giveaway in an easy and fast way? Click here
Is Viral Loops Legit? 
 Viral Loops is a real company offering legitimate services. However, like any other service, it also has its downsides which can be compensated for by other available services. Ultimately it's up to you to decide whether it's the right solution for your business.
Viral Loops Alternative
As I previously mentioned, as of this writing, you cannot run an Instagram giveaway using Viral Loops which would be really helpful for your business.
So we are going to show you how to conduct a promotional giveaway using one of the best giveaway tools.
Aischedul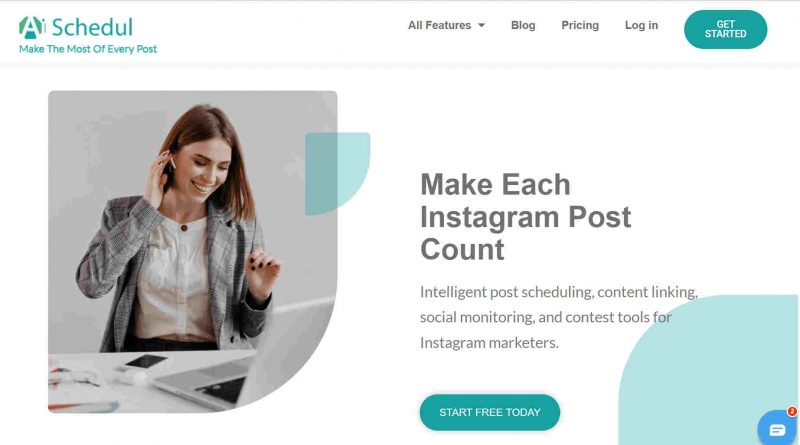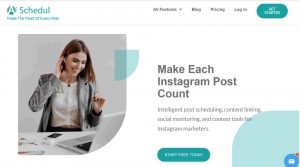 AiSchedul is a full-featured Instagram management platform that can help you create unique content, schedule posts, and monitor comments, likes, and more. 
It's created by experts who have a deep understanding of AI and machine learning. AiSchedul is the perfect toolbox for Instagram marketers looking to take their skills to the next level.
For running a successful Instagram giveaway it offers an Instagram giveaway app called post and reward, to create a customized campaign that allows you to set your rules for the contest, write a caption, identify the qualified users and send DMs in bulk to them, and finally schedule the post to be published at the best time.
It also offers a unique Instagram giveaway picker to select up to 5 winners and five substitute winners fairly and randomly. You just need to pay for the Instagram picker, and through that, you can also use the post and reward feature for running your giveaway campaigns.
Plan and schedule your Instagram giveaway in advance with AiSchedul
Popular reviews on Instagram giveaway apps you might want to read:  
AiSchedul Instagram Giveaway Picker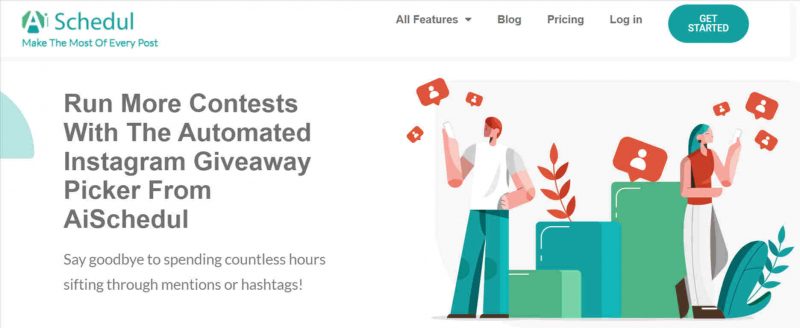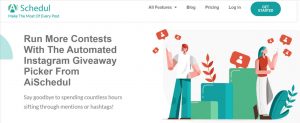 AiSchedul Instagram giveaway picker allows users to quickly and easily select a random winner from their Instagram giveaways. Just paste in the URL of your giveaway, then specify who can enter and what they must do to win.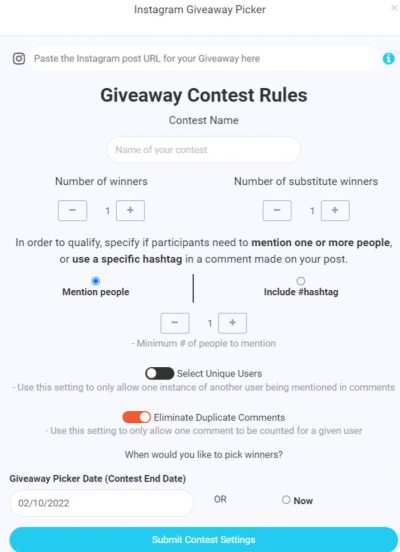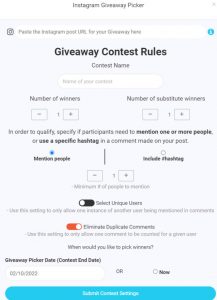 The tool has a post and reward feature that makes it easy to run giveaways on Instagram.
Give it a try now to see how it works.
AiSchedul Post & Reward Feature
watch the video below to see how you can automate your giveaway or contest using the post and reward feature:
To set up the automated Instagram bot, you must sign up at AiSchedul, connect it to your Instagram account, and tap on "manage account." then click on the "post and scheduling" tab and select "post and reward."


To set up your giveaway, click on "Schedule a contest" and drag and drop up to 10 images and videos onto your post.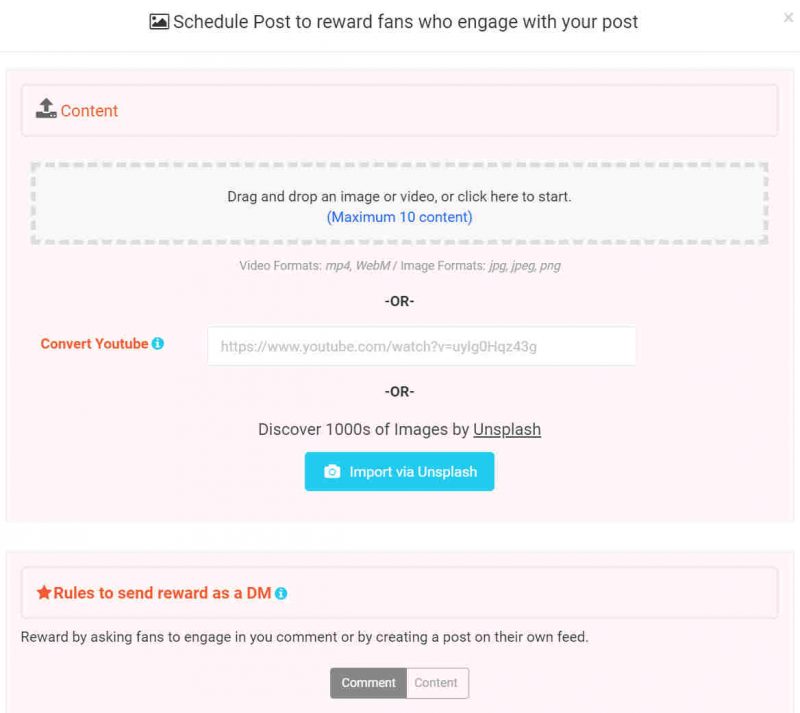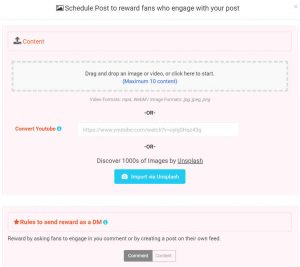 Now it's time to establish the rules for your contest. You can set the number of tags and the hashtag you want to use.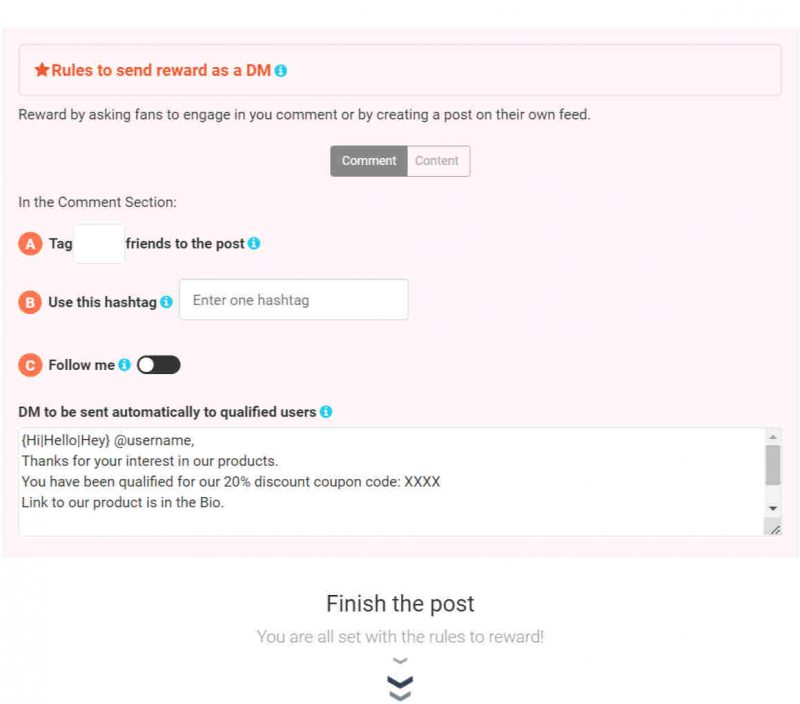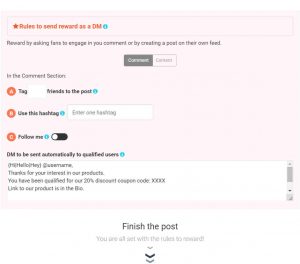 '
AiSchedul can run an auto direct message (DM) to notify your followers and promote your content. It monitors and sends DMs to potential users based on your criteria, checking every 3 hours for up to 7 days.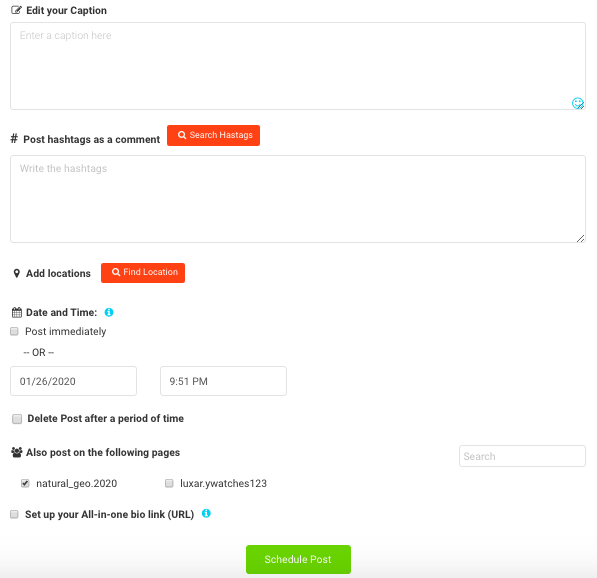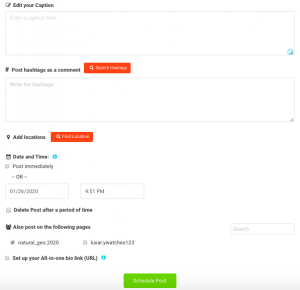 Finally, you can finish up by writing the caption, adding location and hashtags, and choosing whether to post it now or schedule it to be posted at another time.
Give the AiSchedul giveaway tool a try and see the results
Also read:
Conclusion
So what is the verdict on Viral Loops? Overall, it is a great platform to promote your brand, improve your sales and raise awareness about any campaign you are running. 
The referral programs allow you to get more clients using their software. The downside depends on the service you need; as mentioned above, it doesn't provide you with running Instagram giveaways, which might be the best choice to promote your business.
We hope you found the information above useful and that it helps you make a more informed decision. We tried to give balanced, well-researched reviews of Viral Loops so that you can educate yourself about your options.
If you want to run an Instagram giveaway but don't want to do all the work of setting it up, AiSchedul will do it all for you; just click here to find out how.