DrumUp, Is It Safe To Use?
DrumUp is a mobile and web application to manage your business account and dig out the most relevant and fresh content for your Facebook, Twitter, and Linkedin followers. In other words, it's a mobile and web application that helps users monitor the customizable content streams for each account. Let's take a look at it and why it's a great choice for managing your social media account to drive engagement with your followers.
Social Media Managers, Tools To Save Time
Social media marketing starts with an engagement drive through impactful content. The analysis of thousands of articles and popular content is not easy to do every day. The versatile social media tool works for every special requirement. Meanwhile, with such tools, you can leverage the power of content curation to take your social media presence to a higher level.
Why DrumUP?
A simple, streamline social media management interface set perfectly for straight-up sharing. Therefore, you can customize and schedule posts easily and review posts on the web, mobile, or email and tweak content discovery setting any time. Also, DrumUp gives you a powerful engine that enables you to find content for your audience that is relevant.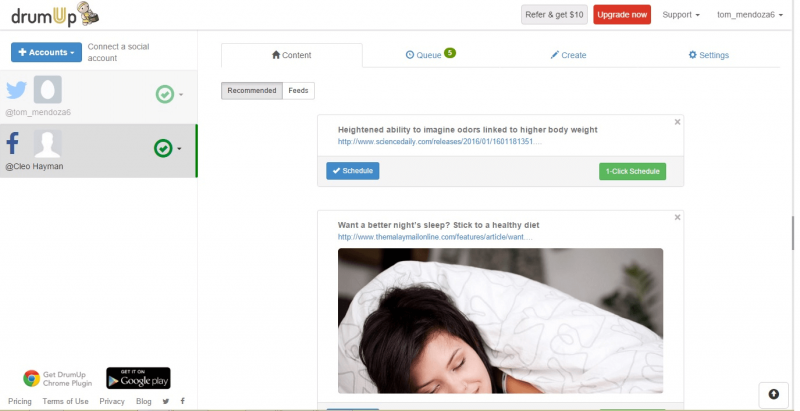 DrumUp Distinguish Parts
How does DrumUP distinguish itself from the crowded world of the manager apps? Indeed, there are two remarkable parts to answer the question. First, it's enables scheduling and management multiple accounts from a single location. Second, the software can find the content companies want to share with their followers. Also, DrumUp is an all-in-one platform for sharing and discover relevant content. Consequently, it's a tremendous time-consuming application.
Key Features
Social media scheduling (automatic & manual/custom to multiple Facebook, LinkedIn, and Twitter accounts connected to DrumUp)
Content libraries (organized in-app folders to save important posts from recycling in the future)
Auto-posting (from content libraries to ensure that a company's social accounts are never inactive)
Easily image editing (to edit/create images for social media scheduling)
Click tracking and engagement analytics (in-app URL shortener & like, share, click-tracking)
Keyword-based content curation (streams of industry suggestions with hashtag and @mention suggestions)
Employee advocacy and organic promotion (to other relevant users curating content)
The Best Things About DrumUp
Efficient management for creative content. Social posts are pressure in different situations; most companies create great posts and articles and discard them after one use! DrumUp allows the audience to save posts and reuse them at a later time by an automatic scheduling cycle in the application.
There is no need to pay time and money to manage content creation. DrumUp provided keywords based content suggestions with hashtags and @mention recommendations. So, every business, whatever small or huge, can build engagement and relevant social media following to market their product to.
DrumUp analytics helps you to identify which posts are working and which not. As a result, you can replicate successful posts. Moreover, in DrumUp, there are features like images editing and Gifs, all add to increase the level of your social media account.
Pros And Cons
Like many companies out there or any application, DrumUp comes with its advantages and disadvantages. Let's take a look at this company:
| | |
| --- | --- |
| Pros | Cons |
| Find and presents quality content properly. | Pricing packages are relatively expensive, while necessary features are limited. |
| It allows everyone to share content with their colleagues and networks under the same account. | Setting up social accounts to connect with DrumUp is not very streamlined. |
|  Overall, it has impacted time management positively! | |
Alternatieves To DrumUp
A good system like DrumUp provided amazing features, but it may not only match your business expectation. To be clear, there are other software alternatives listed below. So, it's great if you compare them with each other to get the best deal.
AiSchedul
Onlypult
Upleap
Agorapulse
Tailwind
Monday
Award-winning manager AiSchedul is known for its post scheduling and the streamline user interface. AiSchedul's Instagram manager lets you design stories and posts by using a full-features and desktop-enabled editor. Moreover, AiSchedul's Instagram scheduler and all of its features are entirely free to use.
It offers a 5-day free trial of their Instagram scheduler with no limits. After that, if you want to use all AiSchedul's features limitless, you need to upgrade to a paid plan as low as monthly.
So, if you're looking for a comprehensive solution to the management of your business in social media, all with an AiSchedul software are worth considering.
Onlypult offers software that includes posting to social media, blogs, and messengers. Firstly, you can manage multiple accounts with a flexible framework. Secondly, Onlyplut can track the volume and growth of your followers. However, you can always be aware of the best time for your publications and the most popular hashtags. Although, Onlypult offers a limited 7-day free trial with a limit to the number of Instagram accounts. For more information and comparing Onlyplut vs. AiSchedul, you can see here.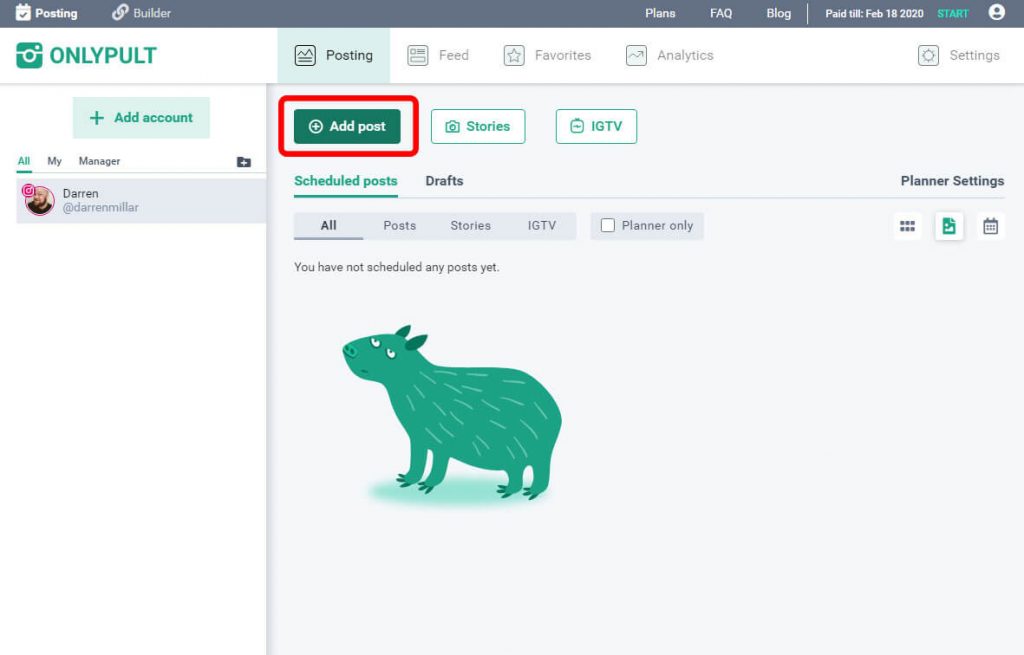 Uplead is a dedicated account manager by focusing on getting more Instagram followers. Uplead's easy setup allows you to sign up and follow a few simple instructions to get started in minutes. However, Uplead builds your audience from the identifies hashtags, similar users, or the right locations. Although, some parts, such as its search tool is not user-friendly. Consequently, the Uplead app can increases your active followers quickly and safely.

Agorapulse provides a flexible scheduling option to fill your content calendar. In Agorapulse, you can easily find, filter, and manage your comments and other important messages. Plus, it provides an automated inbox assistant. Most importantly, I recommend that Agorapulse can't save posts as a draft, and there is no grid preview for Instagram. So, these cons aren't pleasant for users in comparison with other software managers like AiSchedul.
In addition to managing your business on Pinterest and Instagram, Tailwind is the social media scheduling tool that makes promoting your product so easy and stress-free. The interface of the program is user-friendly with tutorial videos on Tailwind that are helpful. However, you must know that the average value of Tailwind app sales is much higher than any other social media scheduler. Plus, if Pinterest is one of your main social platforms, then Tailwind is worth it for you. But, for managing Instagram is not suitable because it's Instagram features are limited, and also, there is no way to combine Pinterest and Instagram plans. As a result, we can suggest other social media software based on Instagram managing like AiSchedul with a streamlined platform for easy use.

Monday app is the last one DrumUp alternative in this article. This software is a project management and collaboration software to help teams plan, manage, and track work. This software is made for multiple users with great tracking features. However, it's difficult to track time and expenses. Some users find it challenging to track time against each task. Therefore, if you want to search for other options, you can read and try AiSchedul and other social media schedulers in the above list to choose the best one for your business.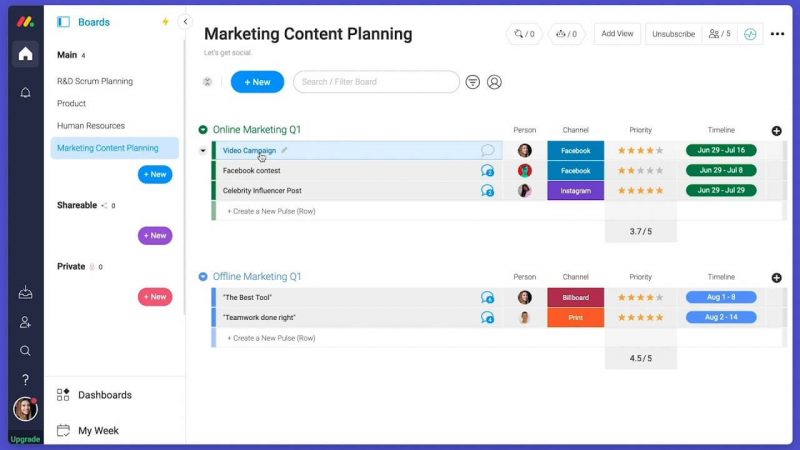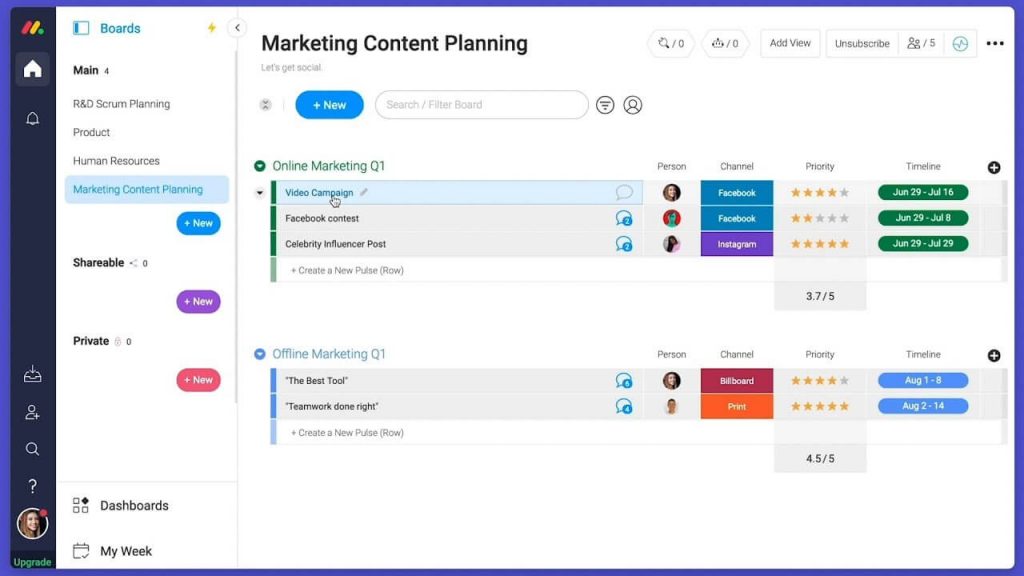 Common Concerns
Is DrumUp safe to use?
DrumUp utilizes natural language processing (NLP) and machine learning algorithms to schedule and recommend content for your social media. So, we think that it is safe to use.
Is my social media apps password going to be safe with them?
Yes, DrumUp makes sure that your login is safe and encrypted. But, if you have concerned about your password, you can change it as well.
Concern about steal personal detail!
The software seems to follow the rules, and there are no reasons for DrumUp to steal your details. This means that it is pointless for them because they want a lot of people to see what they have and use their system to become popular.
Conclusion
DrumUp is the kind of company you want to check out if you're looking for a streamlined way of improving your account on Facebook, Twitter, and Linkedin. However, if you are specializing in Instagram, AiSchedul offers a more satisfying experience. The main difference between AiSchedul and other social media schedulers is that AiSchedul is a cost-efficient manager. Moreover, AiSchedul provided access to features that are missing in other free-trial platforms. Consequently, if you want to try AiSchedul for yourself, click here to sign up and start scheduling Instagram posts for free.