This article will help you understand Instagram, how to use it, and specifically how to promote your businesses.
But so much has changed with Instagram in the last few years; we have gonna through several algorithm changes and so many features being added to Instagram.
If you are looking for an updated strategy for Instagram business ideas and using Instagram specifically to grow your brand or business online, keep reading this article.
What we are going to do is give you an incredibly valuable free  Instagram content planner.
So this Instagram content planner is going to help you to perform what you will learn today.
So click here and sign up for free in this Instagram planner tool; it will be so valuable for anyone interested in this topic of Instagram business ideas.
What you are going to learn in today's article:
1#The mechanics of Instagram
Getting your account set up and optimized for business use
2#Posting to Instagram 
Each of the posting options and what they are used for.
We will be going to talk about posting to Instagram to talk about all of the different posting options.
There are many new options at it, and we are going to talk about what they are each used for.
So that you are not confusing the purpose of each and making the best use of each of the options.
3#10Best Instagram business ideas for your business 
The strategy to follow for growing your following and selling on IG.
WHAT IS INSTAGRAM AND THE BEST Instagram business ideas?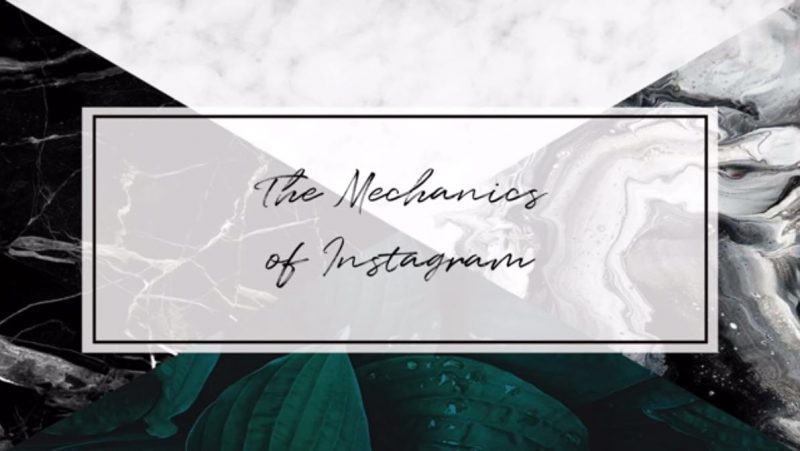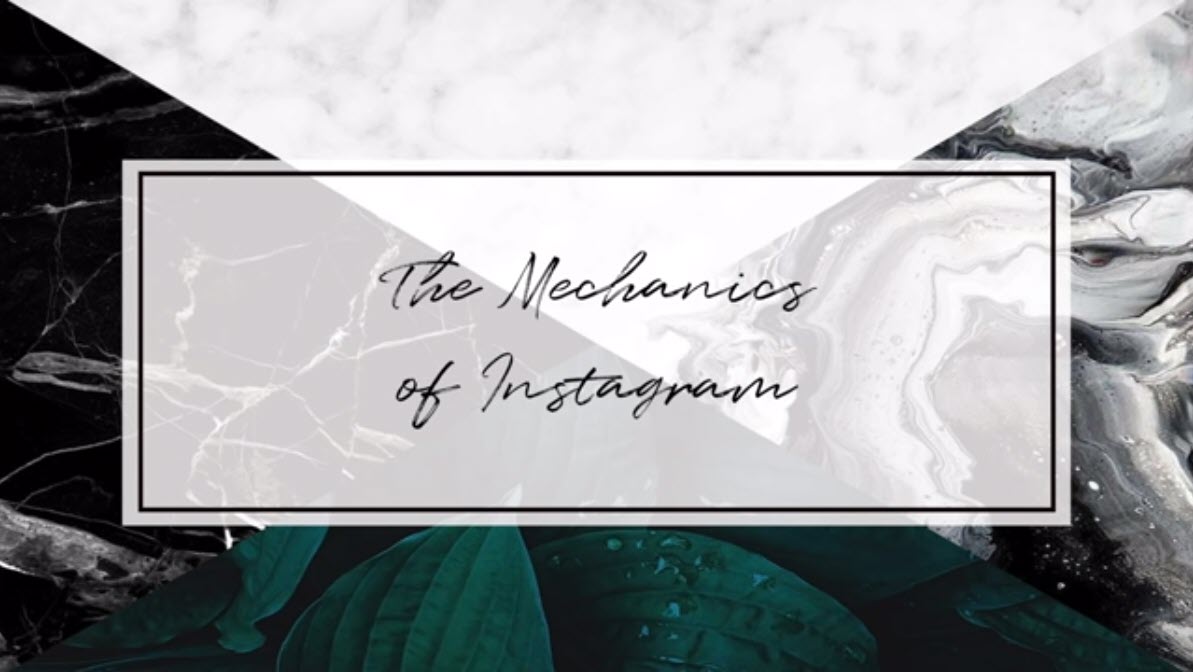 For any of you who are completely fresh and new to Instagram, it is a photo and video-sharing social media platform.
So it is just like all of the other social media platforms out there.
When you sign up for an account, and you can connect with other people.
Specifically, you will hopefully connect with people who will be your audience, your followers, and your customers in a business setting.
Now Instagram is kind of like the Swiss Army Knife of platforms right now.
There are many things that Instagram is trying to do, and it is doing it very well. Actually, so far instance Instagram has killed Snapchat, it is replaced Periscope, and it wants to be
Youtube and is even beginning to mimic Pinterest in some ways in preparation for today's video.
Instagram will be coming for Facetime and Skype as well, so kind of watch out for that.
But Instagram allows you to post photos and videos to your feed, live stream to your following post-24-hour, temporary posts to your Instagram story, and post-longer-form video content to your Instagram TV channel.
If you did not know, Instagram was purchased a few years ago by Facebook, and ever since, Facebook has gotten its hands into Instagram.
There have been many new changes and upgrades that really make a big change in Instagram's business ideas.
Due to the integration now with Facebook, Instagram can also help you to shop through Instagram.
You can run ads, do group chats through DMs and save inspiration to boards.
Facebook has really changed a lot about Instagram and business owners who have been using the platform for a while.
It can feel like some of these changes are actually making it more difficult for us to remain relevant.
But realistically, we have to remember that everything that Facebook is doing is ultimately to increase user engagement and profitability of the platform, which means they want to
make sure that they are doing a good job of keeping users happy with their content getting on the platform.
So all this work that we do for our businesses, building followings and creating content, is not just lost overnight because Instagram goes under or falls to a competitor.
HOW TO GET  SET UP ON INSTAGRAM?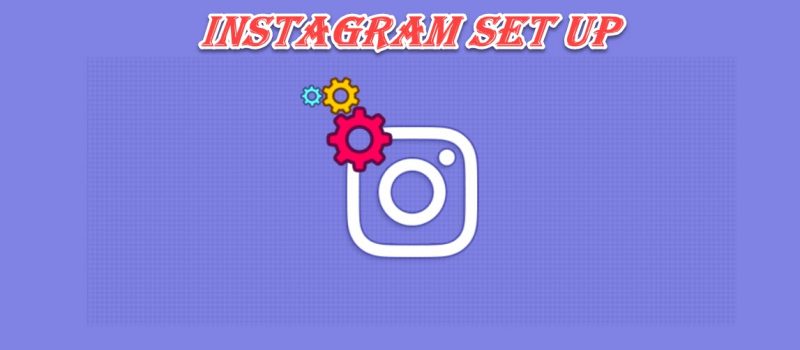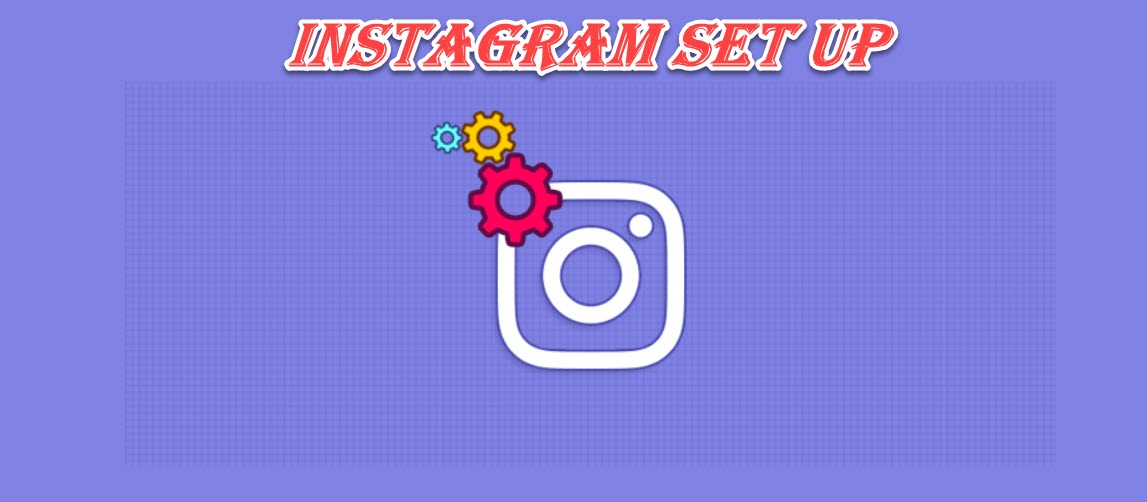 Obviously, if you want to create an Instagram account, you can go ahead and do that; it is absolutely free.
You sign up via Email or Facebook.
The first thing you will want to do is choose your username, the handle you will use on the platform.
This is very important because if you are a business owner, your username should be in line with your business, and this is one of the Instagram business ideas we recommend you to do.
Make sense, and right your picture should also be your business logo, or
if you are the face of your brand, it should be a headshot of you that is used in other social media as well, and this is to develop consistency for your audience.
When they see that consistent business name when they see that consistent business icon photo, either your logo or your headshot, they know that the person they are following is true.
You are truly a representative of your brand and business.
Now a prevalent question we get for those who actually do run a business and would like to share personal things on Instagram as well is:
should you have more than one Instagram account if you want to use one for business and your Instagram business ideas one for personal?
Our answer for that is yes if you are planning to use Instagram to grow your business, but you also want to share a lot of your personal life a lot of things that really aren't
relevant to your business; go ahead and just create a second account.
It makes it so much easier for you and really helps to keep your privacy if you are really going to be posting many personal things.
You can manage multiple Instagram accounts at the same time using tools like AiSchedul.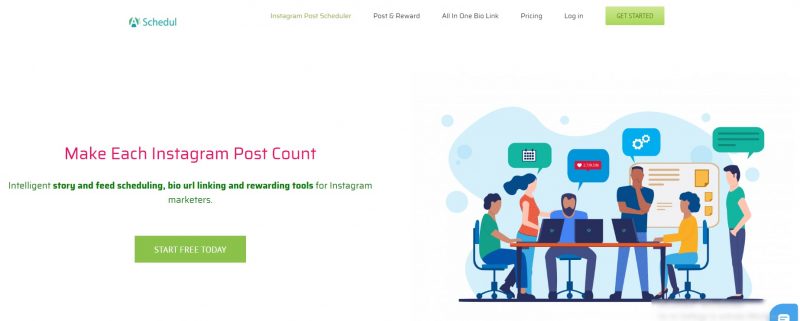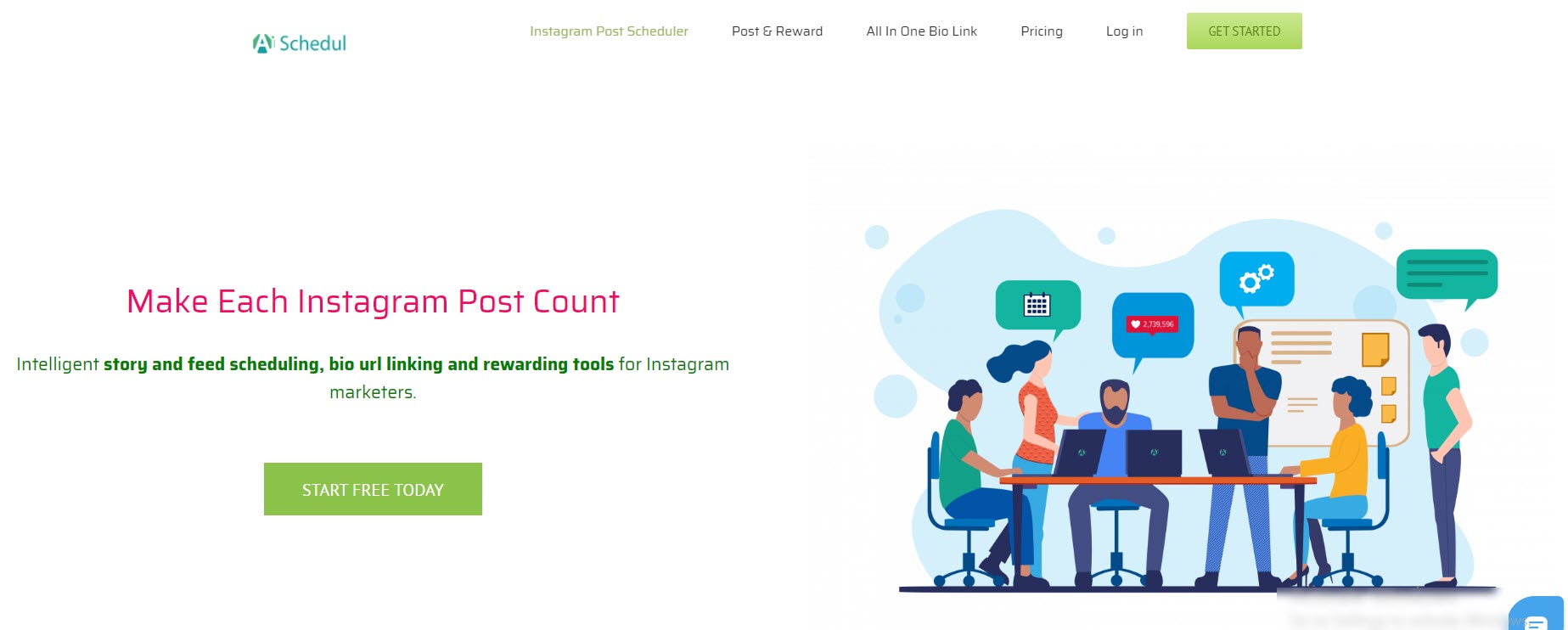 When it comes to business on social networks, time becomes more valuable than ever before, and business owners know well that having more time can help them grow more.
Using a platform that can handle multiple accounts at the same time can be a great opportunity.
In addition, you can enjoy many of the features and Instagram business ideas AiSchedul has for free.
The first step to using this platform is to sign up for free and add Instagram accounts.
After completing the registration process, you can see all the accounts you added on the dashboard page and manage them from there simultaneously.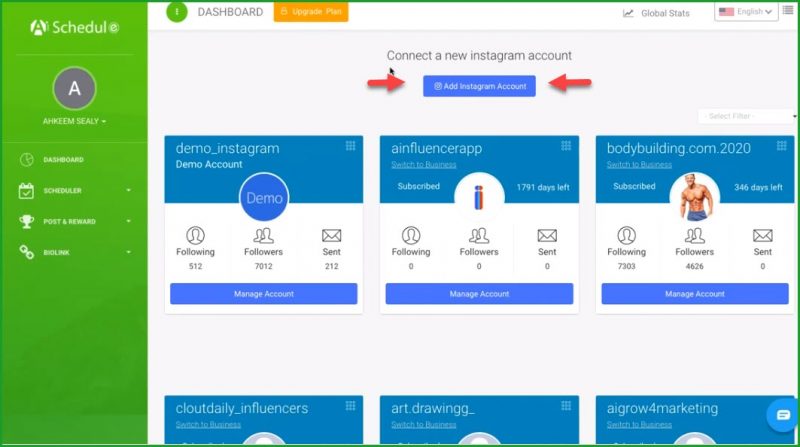 Features and Instagram business ideas that this platform has and help you grow on Instagram include:
Feed Posting
Story Posting
Multiple Account Posting
Repost to your Feed
Schedule Posts For Deletion
Hold Instagram Contests
Search Hashtags
Tagging
Repost Stories
Link Your URL in Stories
All In One Bio Link URL
Post to Reward
Continue reading this article to find out how to use more features of this platform and more Instagram business ideas.
The next step is to go ahead and create your bio.
Instagram allows you to put a bio in your profile to let people know who you are about things like that.
It is essential to keep in mind that this bio area is not about you and telling your life story if you are a business. But instead, it is kind of like a social version of your elevator pitch.
This is where you get to tell people why they want to follow you and set the stage for what they can expect from you in terms of content.
If they follow you, we highly recommend that you leave out personal details if they are not things that play to your brand. If there are things that definitely play to your brand, let us say that you are a blogger who focuses on motherhood.
Then absolutely you are ganna want to mention that you are a mother and that you have maybe a certain amount of children and their genders are maybe you can share their names if you feel comfortable with that because it is relevant.
But you probably wouldn't want to do that if you have, you know, a business that is not motherhood related right.
So you just want to make sure that you keep the details that you share on here light and fun and really geared towards your business and who your audience is instead of talking specifically about you.
The next step is choosing your bio link.
There is one link that you get for Instagram in quotations.
Because there are some ways around this.
Your bio link is the one link that you get to direct people elsewhere outside of Instagram.
So you are really want to get strategic about how you are going to use it.
Many people use that MyURLS.bio by AiSchedul account that gives them the ability to actually give their users a few different options for how they can follow them or where to go after Instagram.
With this MyURLS.bio, you can put multiple links in one link.
You can also connect feed posts to External pages, Connect social accounts to one link, Connect Stories to external pages, Tag multiple products to a post, Collect Emails using an Email Me button, Retarget Bio visitors on Facebook, and Google more.
Everything we mentioned was just part of the story.
Now, to find out how you can do this, log in to your AiSchedul dashboard and click on the manage account option of the account that you want to manage.
On the new page that you enter, you will see various options, which we will explain to you later about the benefits of using them.
Click on the BioLink option, and on the page that opens, you can set all the settings related to your BIO section.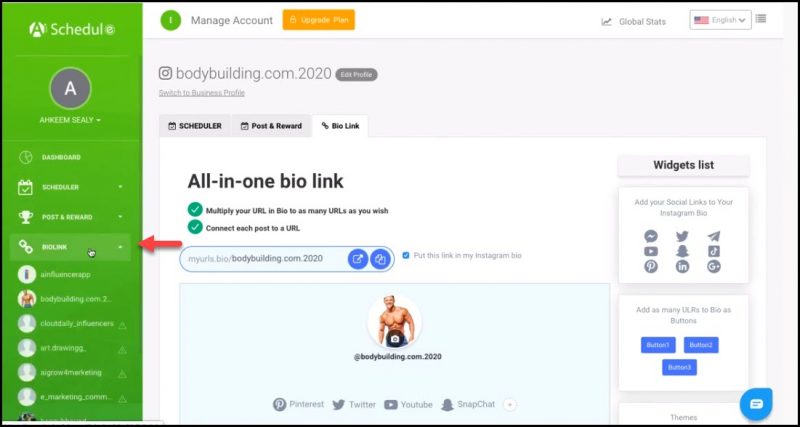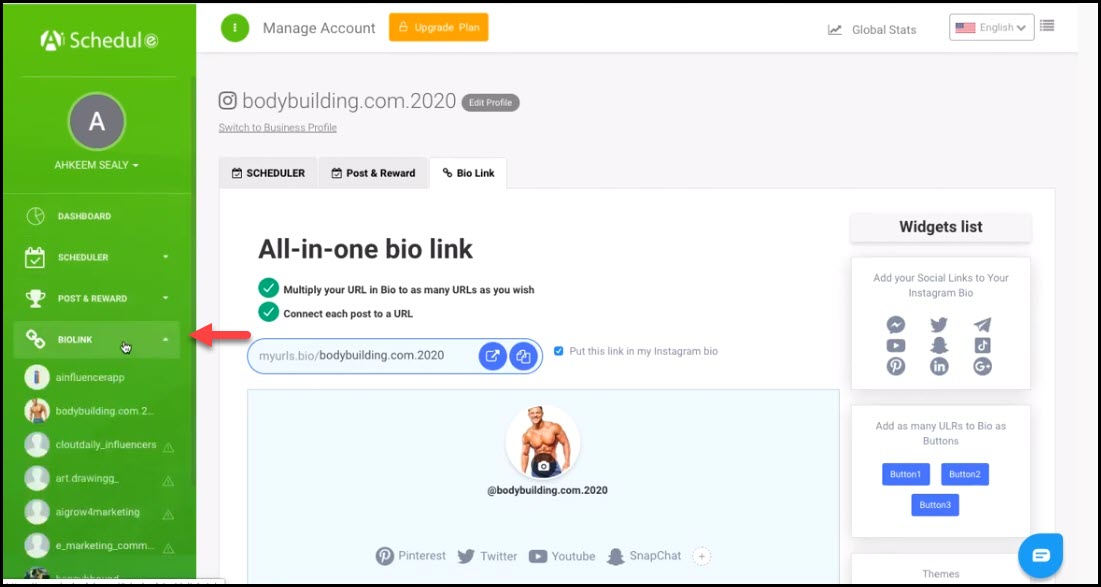 Once you've made the settings you need, just copy the link provided by MyURLS.bio by AiSchedul and paste it into your bio.
As you can see in the photo below, if someone clicks on your link in the biography section, they will be redirected to a page containing all your links.
This is actually called the landing page.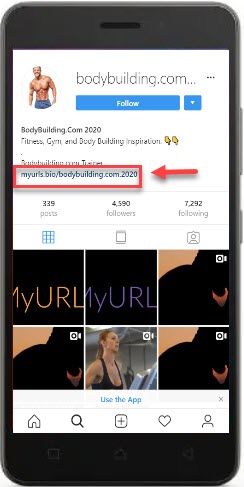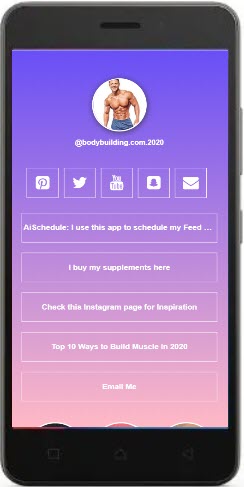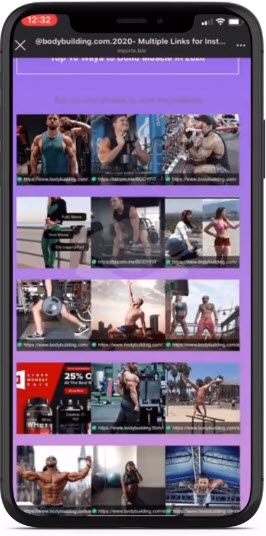 As we said before, you can connect feed posts to External pages or Tag multiple products to a post or Connect Stories to external pages, and there are lots of options you can use.
MyURLS.bio by AiSchedul has lots of options and features including.
Connect social accounts to one link
Connect Stories to external pages
Tag multiple products to a post
Connect feed posts to External pages
Collect Emails using an Email Me button
Retarget Bio visitors on Facebook and Google
Connect blogs/websites to your Bio
Collect Emails while giving away coupons
The final Step Is Add integrations
You can link your Instagram account to your Facebook business page and get a business account or a creator account.
These are free integrations that basically give you access to upgraded features.
The biggest feature that you get is the most valuable from doing this: the ability to use the swipe up feature to add a link into your Instagram stories if you have a following on Instagram that is over 10,000. However, there are other ways to get around that actually, so it is not 100% necessary.
But when you do have that integration with Facebook to your Instagram, you are given access to have increased analytics, run ads, and really do some of those like shoppable Instagram options that you may have seen on Instagram.
If you have been poking around, the final thing you will want to do is add any integrations that fit you and apply them to the type of business you are running.
THE IG POSTING OPTIONS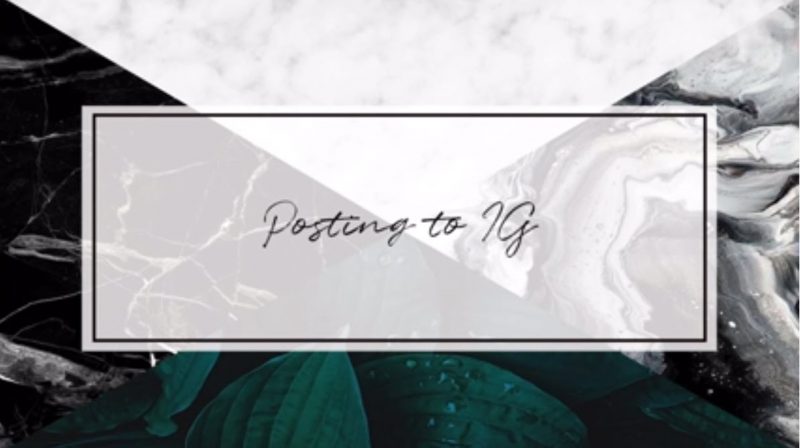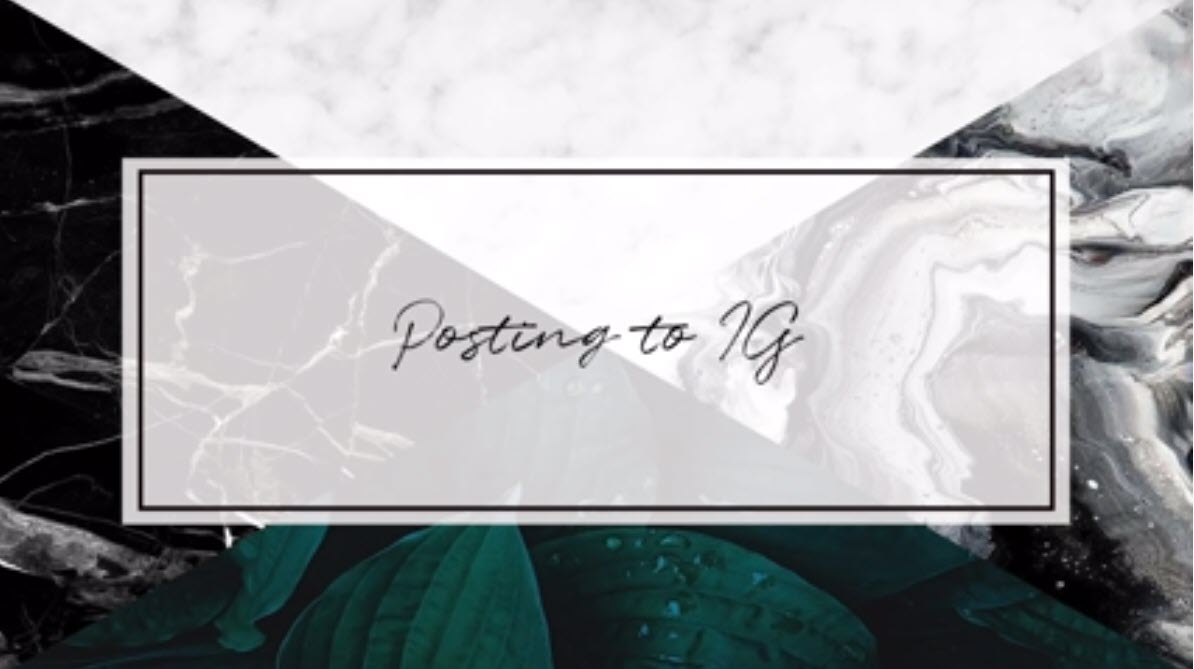 Let's go ahead and talk about posting on Instagram.
There are a couple of different options you have for posting to Instagram.
The first one, the classic, is the Instagram feed, and as you can see in the picture, we wanted to show you the area of your profile that is your Instagram feed.
1-IG FEED(1:1 SQUARE RATIO)
permanent, where you want to tell your brand's story and business and focus heavily on your messaging and aesthetic!
Image and description should be polished, and well-written quality matters here.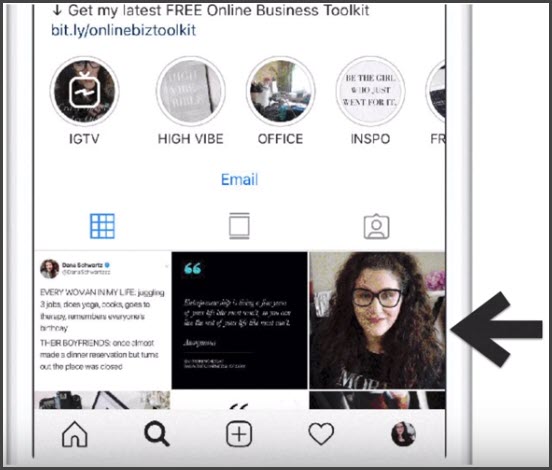 2-IG STORY (9:16 RATIO)
Temporary/24 hour, share previews, share content from other platforms (if you have the swipe up) doesn't have to be as polished, BUT it helps.
Your story is in the logo of your account, and you can see it go to a red ring around your logo which means that there is an Instagram story if people click on that.
That is where you can go and see people's Instagram stories and optimized for the 9 to16 ratio, which is basically just the screen size of most smartphone devices.
Now your Instagram story is a temporary posting option.
It only lasts 24 hours when you post something into an Instagram story, so here is a really great place to share previews of content products; you can share content from
other platforms if you have that swipe-up feature.
You can literally say, hey, I am posted a new video, or hey, I have a new item in my shop, swipe up to check it outright, so if you have
that swipe up feature, that is very helpful. Still, it doesn't have to be as polished because this is a more temporary place to post things that can be a little bit more off-the-cuff you could be using.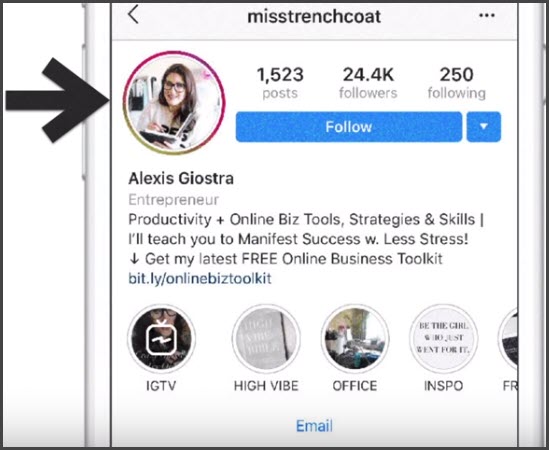 IG STORY HIGHLIGHTS (9:16 Ratio)
-Give you the ability to save stories into the permanent category! We recommend using these highlights to organize products link, content from other platforms.
-Think strategically about which highlight categories you want your audience to see and which IG story posts you save because it's easy for these highlights to get very long, so just save
a handful of posts in each category so that people don't get annoyed having to watch or click through lots of content.
-Choose your highlight cover image wisely; we know many people are doing those graphic icon covers, but honestly, this is an image-based platform, so if you can choose pretty pics, that is better.
When it comes to highlighting cover images, you aren't limited to images in the highlight. You can upload others.
We recommend doing that-use the nicest pic you have that illustrates the category for your cover.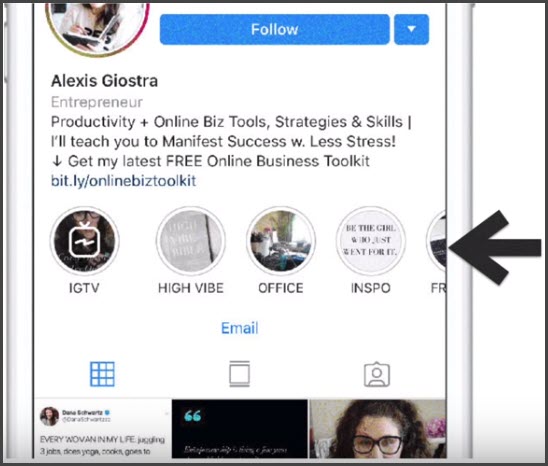 To access your lives, you will also see them in that same circle that your story is in.
Actually, if someone has a Life and a story, you click their icon, and you will get an option for which one you want to view.
Instagram Lives are an option that you will actually find when you take an image for your Instagram story or post to your Instagram story, and it is just one of the scroll wheel options at the bottom that says live.
-Live is a temporary option for you to talk directly to your audience.
It is good to create a live event feeling for a promotion, interact one on one, get feedback, and share more behind the scenes.
-For higher turnouts, schedule and announce these events, so people don't miss them!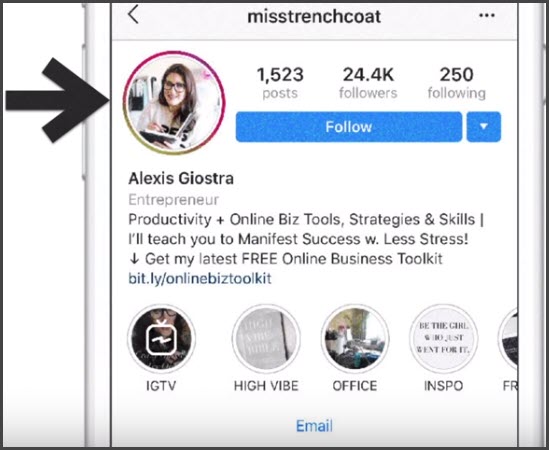 IG TV (9:16 OR 16:9 RATIO)
The final Instagram posting option is IG TV, and again this is optimized for the 9 by16 ratio of 16 by 9 ratio, which is the standard sort of high-def video dimension.
As you can see in the image, your Instagram TV feed is also down where your highlights are, and it actually is marked IG TV.
Unlike your Instagram story, these do not expire. You choose when you delete them, and so this is really an opportunity for you to create content that is a little bit more high quality.
Another benefit of using the Instagram TV feature is that you can add a link to the description no matter who you are.
This is a great option for sharing videos that might be content previews, you know, creating additional content for your Instagram promoting prop, promoting products, and doing many different things here.
Use AiSchedul to schedule your posts.
It is better to schedule something and let people know or create an ongoing schedule like; hey guys, I always go live for a FAQ section about my products on Tuesday at 1 PM.
When you are going to do it, it gives you a better chance to show up lives. When they show up live, they have the ability to interact with you, and again that is just more authentic interaction and bonding between you and your brand and your audience.
To plan your posts regularly and get to your daily tasks without worrying about wasting your time, we suggest that you use the scheduler feature in AiSchedul.
In this free tool, you can schedule your Instagram posts for multiple accounts.
Using this tool is one of the best Instagram business ideas.
With this tool, your Instagram posts will share automatically whenever you want.
You also have the ability to manage to send and planning for stories.
To get started, log in to your Dashboard page in AiSchedul.
Then select the account you want and click on the manage account option.
On the new page, select the scheduler option.
Then you can see two options, number one is the Schedule, and number two is Repost.
If you tap on the Schedule option, you will prepare your post or story to be shared ahead of.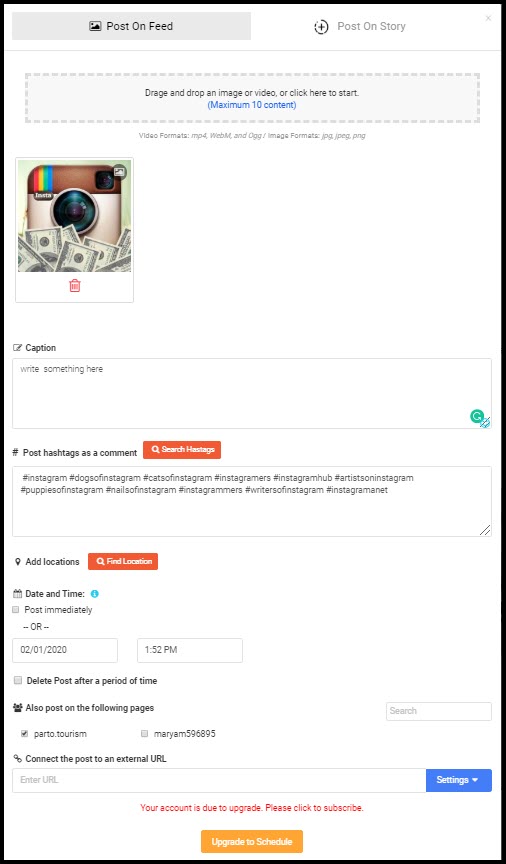 Repost:
It may have happened to you that a post from a friend or favorite page of yours has caught your eye, and you would like to share it with other friends.
But you can't do it because Instagram limits you.
The good news for you is that you can use the Repost feature on AiSchedul and do it easily.
All you have to do is enter the URL of the post or hashtag to find the post you are looking for and Repost it.
10 Instagram business ideas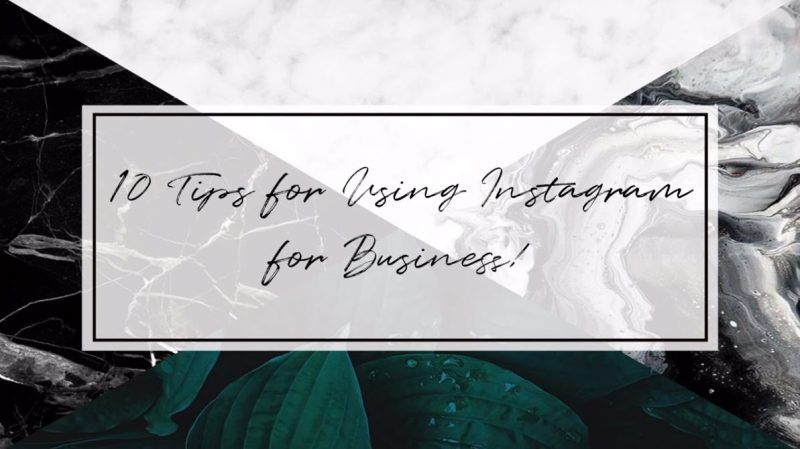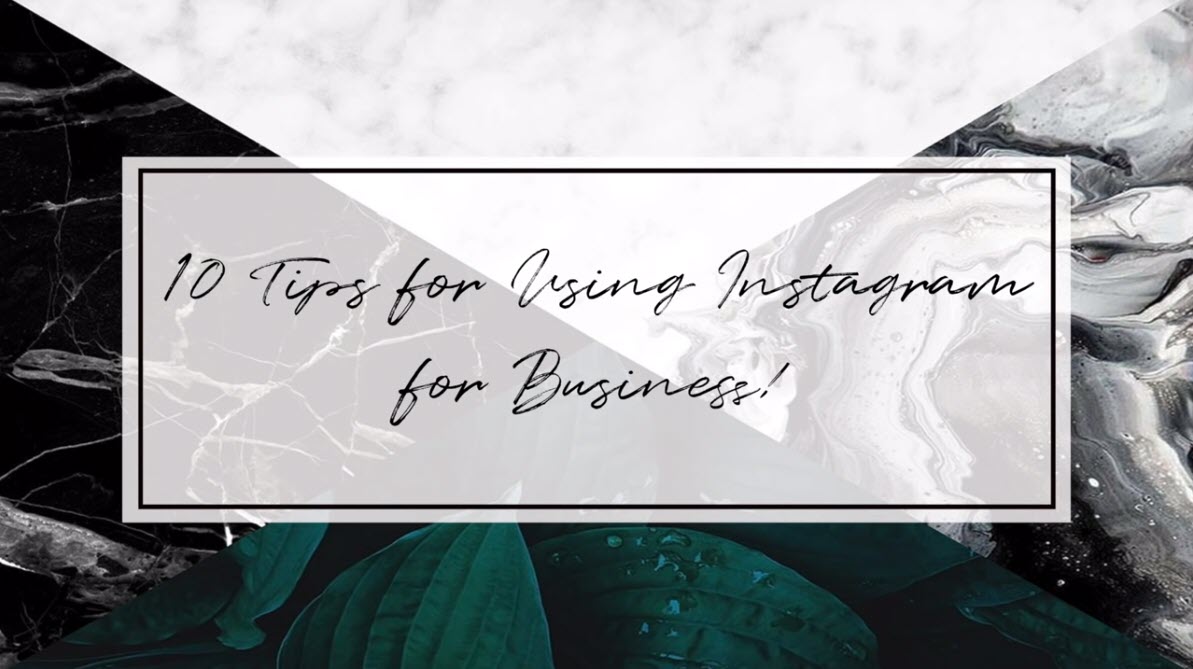 TIP #1 TAKE A PHOTO/VIDEO WITH THE BEST CAMERA YOU HAVE
-Use a DSLR camera if you can because the quality does matter. It goes a long way for speaking to your brand and brand's quality as well.
– Edit your photos before you post them; even if you are taking photos on a smartphone device, there are lots of different editing apps that you could be using on your smartphone on your computer, etc. to make the photo look a little bit better a little bit more high quality even if it wasn't taken with a DSLR.
-Some examples of these apps are Afterlight, Facetune, Picframe, Union, Rhonna Designs.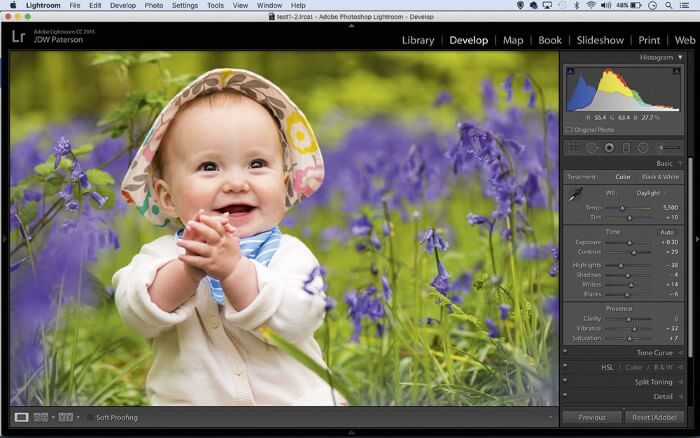 If you are new to photography and do not know natural lighting is the best possible lighting, you can use it. You'll also learn simple photography tips that you can implement while taking photographs.
Or maybe you are in a station where you do not have a lot of great natural light. It is fine to use studio lighting or use studio lamps, or things that you can set up to take your pictures any way you can add light to a photo is great.
Another option you have is to use bright daylight bulbs in lamps.
And finally, use things like reflectors to enhance the light. You can use things like whiteboards or any other sort of balance board.
There is plenty of different photography options that you can use.
TIP#3 STICK TO YOUR BRAND COLOR SCHEME
So what we mean here, to use the colors and patterns and even sorts of filters that are all the same that speak to your specific branding.
This will help to visually distinguish your brand from others, even those in your niche.
As you can see in the picture, we are showing you just like a little snippet of some pictures on Misstrenchcoat Instagram feed, and what you are going to see here is a lot of blacks and whites, a lot of high contrast, and turquoise.
You want to make sure that your images kind of all look the same that people know that all of these photos belong to your brand, and you can do that by sticking within your brand
color scheme and sticking to sort of treatment of images in post-production in your editing process are all the same.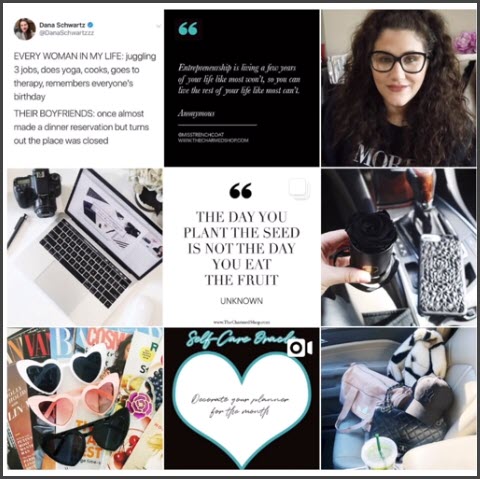 TIP#4 USE CONSISTENT BACKGROUNDS
Use consistent backgrounds for any photos that might be like styled desk shots or things like that. You can use a whiteboard or a photography backdrop for something like this.
It is widespread for people to use those foam boards as an excellent way to get that whiteboard effect.
You can also use different sorts of cardboards, wrapping papers, you know, sheets, blankets, marble, as you can see in the image below.
Obviously, if you are someone whose brand is a little bit more like a country or rustic, you might want to use wood or wood paneling as a background for your images.
Because it might speak more to that sort of farmhouse country rustic feel.
So just do what feels right for your brand. Just make sure you keep things consistent and use these Instagram business ideas to develop your business.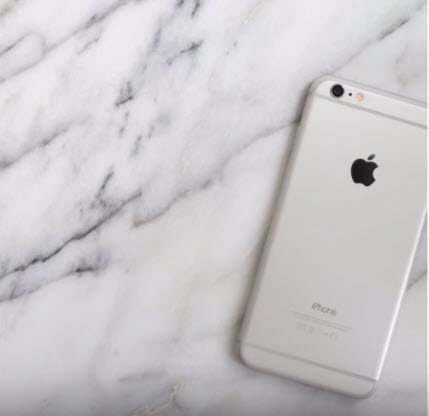 TIP#5 DEFINE YOUR SUBJECT MATTER
So ask yourself what subject speak to your brand and business for things that you could be taking pictures of and sharing on your Instagram feed.
As you can see below, this collection and images, we put together show a lot of office and desk and coffee sort of inspiration here and some products, tech gadgets just things that sort of evoking the idea of working for yourself, working from home, being an entrepreneur, etc…

Another point we want to make on the consistent subject matter is also the use of a sort of consistent props.
So if you can see in some of these images, many things in these pictures are the same.
Like glasses planner, even some like desk accessories that you might see when you keep all of these sorts of things, consistent people are going to recognize your pictures in the feed without even having to see your name.
TIP#6: STICK TO THE BIG FIVE CONTENT KINGS (PHOTO DESCRIPTIONS)
When it comes to the content and the description you are writing for your feed.
Many people have questions about what they should be writing as the description of their pictures and even the subject matter as well for the photos that they should be sharing on their feed, and they all come down to these five content categories.
1-Educate: teach your audience something that has to do with your brand in business through your picture and description.
2-Entertain: show them something funny or relatable. Something that will help build a connection or trust between you and your audience.
3-Inspire: give them a message that will uplift them and really inspire them into action or really just help lift their energy, their mood because if you are someone who can affect their mood, you are absolutely someone that they are connecting with.
4-Inform: show them something like the behind-the-scenes of what goes into your brand and business.
Often we have these perfectly curated feeds, and people are dying to know what is behind those.
So feel free to inform your audience of what goes into your brand, your business, and again that just develops more trust with your audience and you.
5-Interact: be sure to interact with your audience, ask them questions, do community building or even sell to them through your pictures and descriptions.
Remember, your Instagram account is not just about you.
Talking to them, but really trying to build a conversation with your community, posts that help your audience interact with your business are very important.
 You can interact with them by sending them DMs.
These messages can include introducing yourself to users or even the products you sell to them.
If you want to do this manually, you definitely have to spend a lot of time doing it!
We suggest you use  AiSchedul features to do this.
SEND AUTOMATED DMs USING AiSchedul:
With this feature, you can specify that a message sends to users who have recently followed you, including introducing your brand or products or anything else you need to tell your users.
This message will be sent automatically to users.
All you have to do is click on the Direct Message option on the left side of the dashboard and then select Send Automated Message from the available options.
You will be taken to the DM PRO program.
Select the DM option to set the message you want to send to users.
As you know, on Instagram, users have to follow certain rules.
Restrictions on sending DM are also one of these rules.
If you subconsciously send more messages than usual, Instagram will block you.
This rule includes over-liking and even over-commenting.
But don't worry, because this platform is designed to know all the rules and algorithms related to Instagram, and the security of your account will be even more secure than before.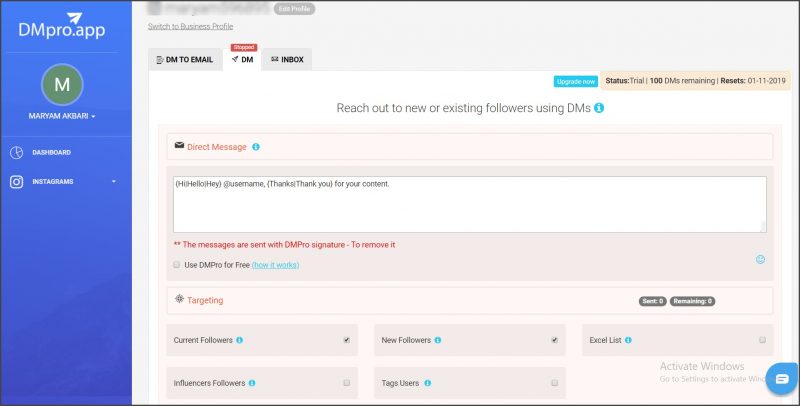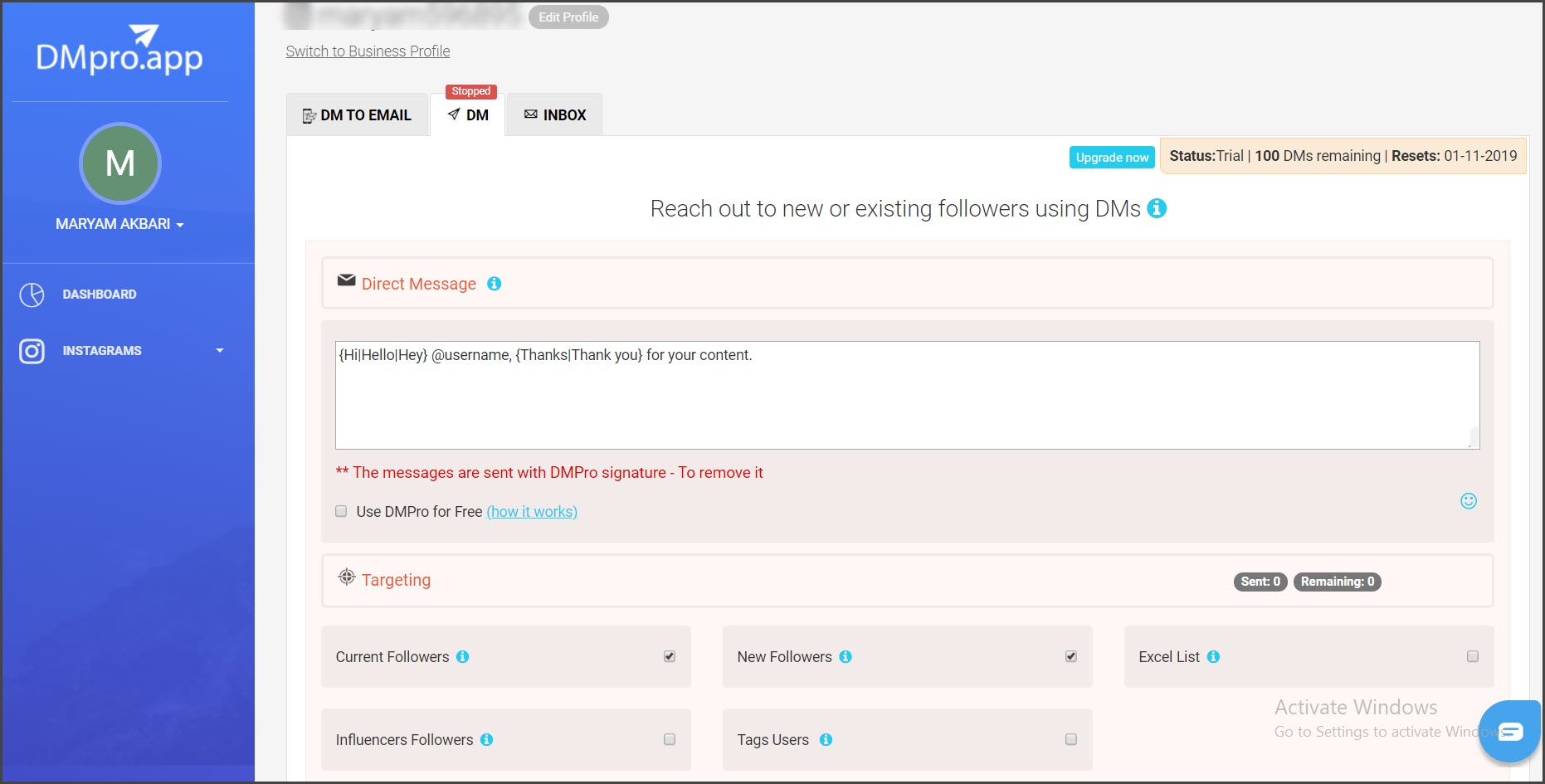 Remember, this is one of the most important Instagram business ideas.
TIP#7 USE RELEVANT HASHTAGS
If you didn't know, hashtags are like the search engine of Instagram.
What you are going to do here is make sure you have a collection of relevant hashtags at the bottom of the description for your post.
The way you can do this is actually go ahead to your discover tab of your Instagram and search for tags and what might be relevant keywords that you might use to describe a picture.
It is important here that you choose relevant tags that really speak to what people are seeing or getting from the content you are sharing.
Keep in mind there are millions of different hashtags out there, so you must stick to ones that are as irrelevant as possible and avoid many big spammy tags.
I personality find that using just a handful of very relevant targeted tags و
is a better way to get new followers and new likes than it is to really load your description box up with like every popular tag there is. This is because many of the more popular tags end up getting marked as spam by Instagram and their algorithm. If you happen to have a spam tag on your photo, it is actually going to end up blocking that photo from showing up in any search for any hashtag.
Keep that in mind it is better to check out the hashtag make, make sure it is legit, make sure it is not spam, and use them strategically because if you don't, you could run the risk of actually getting your photos seen by no one because you are accidentally using something spammy.
We suggest you use the tool that AiSchedul gives you to find the most popular hashtags.
To select the most widely used hashtags for your post, just type the desired keyword in the relevant field, and this tool will provide you with the most used hashtags.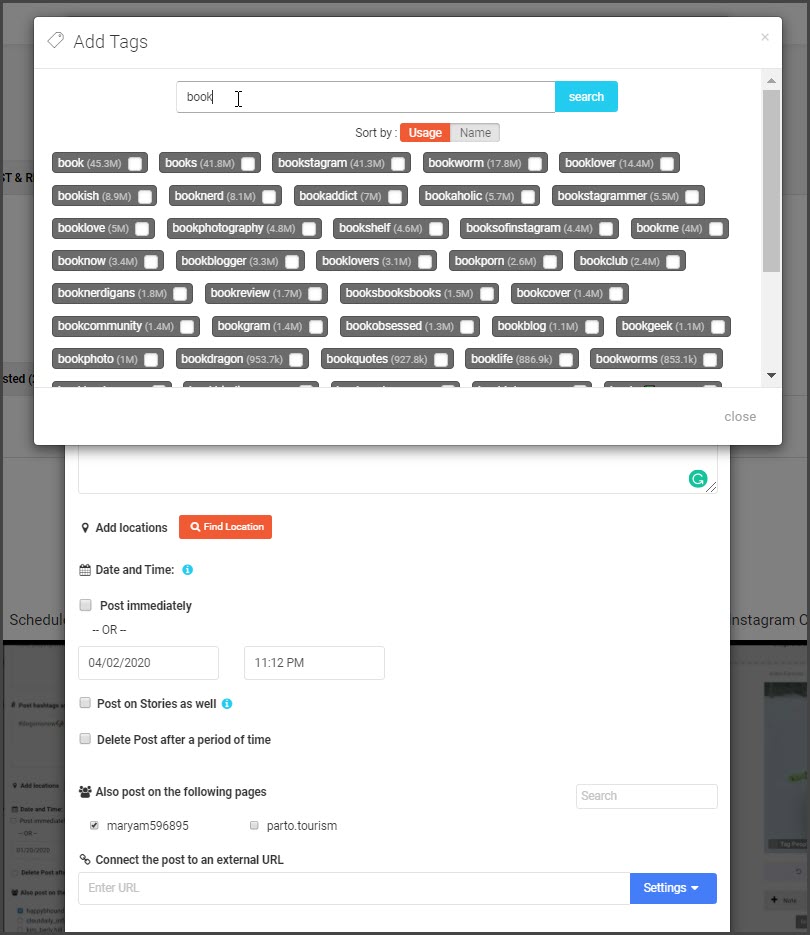 TIP#8 NETWORK AND INTERACT
Remember, Instagram is a social platform, so don't just post photos and wait for likes.
You need to go out and find followers and interact with them as well and don't just follow people to have them follow you back and then drop them as soon as they follow you back be genuine about who you are following, who you are networking with, who you are interacting with.
Using this way, you can grow trust and authenticity for your brand and business with your followers and convert followers into potential customers.
You need a plan for your social media feed so that you remain consistent growing and interacting with the community you are building, and this is exactly why we have given you that free Instagram content planner AiSchedul so that you can sit down and think about all those information that has been shared in today's article and really put these strategies into action by mapping out the content that you are going to post every month.
When it comes to mapping out and planning your content, there are some additional things you can do to help develop routine and consistency with your audience. for example, there are some shops that will share their new releases on specific days of the week, so that helps to develop consistency with their audience because their audience always knows that for example may be on Wednesday the new releases are out, so they being to anticipate and get excited for Wednesday.
Also, think about running promotions in line with your Instagram even if you are running promotions outside of Instagram on your shop through email on another platform.
Think about integrating Instagram into these promotion plans.
If you have a coupon code, share it on Instagram as well, perhaps in your Instagram story as opposed to your feed, because it might be a temporary promotion but just make sure you are putting thought into using Instagram in line with the rest of your business efforts so that you have that following that you have built on Instagram being included in whatever offers and promotions and things that you might be doing elsewhere.
You can start creating more interactions and ads by holding contests on your page.
You can also use AiSchedul to hold and manage contests on your page
When you run a contest on Instagram, you will set rules for users who enter the lottery stage by doing them.
But choosing the winner of the contest manually is very difficult and lowers the accuracy of your work, and the probability of error will be very high.
To hold a contest automatically with the help of AiSchedul, just log in to your dashboard and click on Manage Account.
Then select the Post & Reward option, and on the new page that opens, specify the contest's rules so that the winner of the contest will be selected automatically based on them.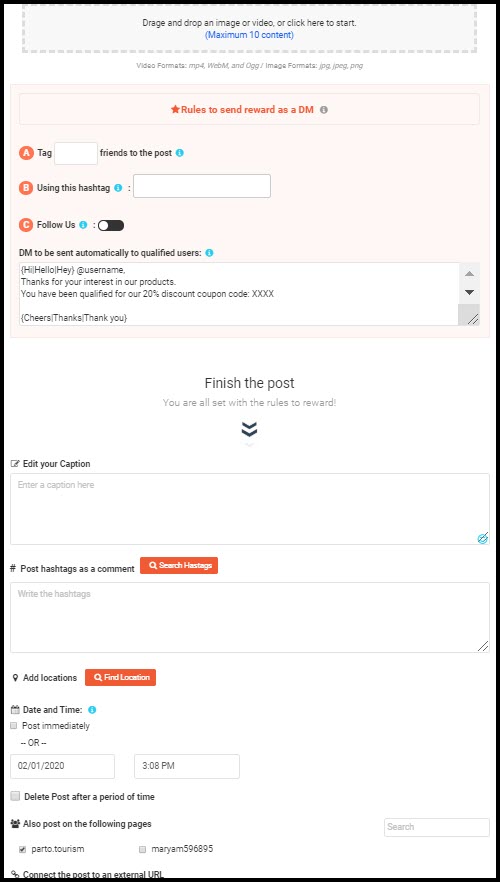 AiSchedul will send a message to the winner automatically. This message can contain a discount coupon or bonus code, or anything else you specify.
TIP#10 FOLLOW THE 80/20 RULE FOR SELLING
This means that 80% of your posts should be sharing relevant content, and 20% of your posts can be promoting your products, so if you think about this, out of 5 posts, 4 can be content, and then 1 has sales call to action.
For example, now we follow the 80/20 rules because you do not want to be constantly bombarding your audience with calls to action or sales or promotions or showing them o buy this buy that.
Do this do that you want to give them the incentive for sticking around and being part of your community. Those things need to be really high-quality, valuable content that again speaks to the subject matter you are posting in your account and those big five content kings we talked about earlier.
Now we have a few other tips that we don't want you to forget about when it comes to Instagram.

Do not forget to use these Instagram business ideas
#1NEVER BEEN ABOUT NUMBERS. IT HAS BEEN ABOUT COMMUNITY
As with most platforms, your Instagram followers account is really only a vanity thing.
As a business owner, if you don't make money because you have a larger following and thanks to the algorithm change, your whole following is likely not seeing your posts anyway.
Only the people who are consistently engaging with you are the ones who are really going to see everything you post.
Now it is more important than ever to treat Instagram as a place where you share more intimately and authentically with your core community to give them the incentive to be checking up on you regularly so that they are the ones who see your posts.
#2THE POINT IS STILL TO SOCIALIZE
At its core, Instagram is a social media platform you can use to grow your brand or business online, and even though you might use it for business, the point is actually to socialize with your followers.
This means actively engaging with them in our content and actively responding to their questions and comments.
We should also be actively engaging with the content of those that we follow as well. The platform is not just about you, and you definitely have people you are connected to that you are following, and you should absolutely pay them the favor of making sure you engage and interact with their content.
#3 PAYING FOR FOLLOWERS & LIKES AGAINST THE TERMS OF SERVICE
This is a big one, you guys, and that is the paying for followers and likes is still against the terms of service and if you are thinking.
Wait, you can pay for followers and likes on Instagram.
You can, but it is against the rules, so it is clear that for some misguided people, Instagram followers and the lake numbers reflect the value of their brand.
So they purchase followers and likes to make themselves look better, but this behavior is against the term of service for Instagram and can get you banned.
It is also fraudulent for brands and influencers to gain more opportunities or even free PR packages because you are defrauding the other company.
Now you might think, there is no way that someone can tell that you are doing this, but alas, there is!
smart business knows that a quick scroll through a user's follower feed can quickly show a prevalence of unusual accounts and spammy accounts.
Usually, they will have many foreign accounts that don't make sense for the brand and just look like they are spamming.
Right, like free followers follow things like that but just look wrong.
One of the most  Instagram business ideas
Sites like Social Blad actually track and publicly make available stats for Instagram users and publish that data on their site.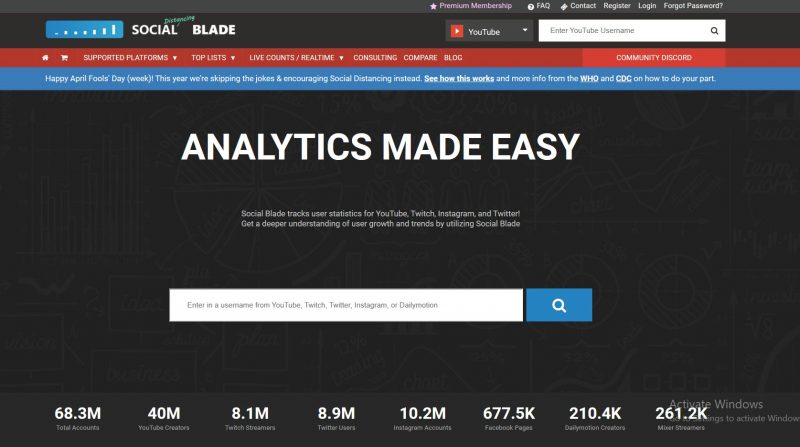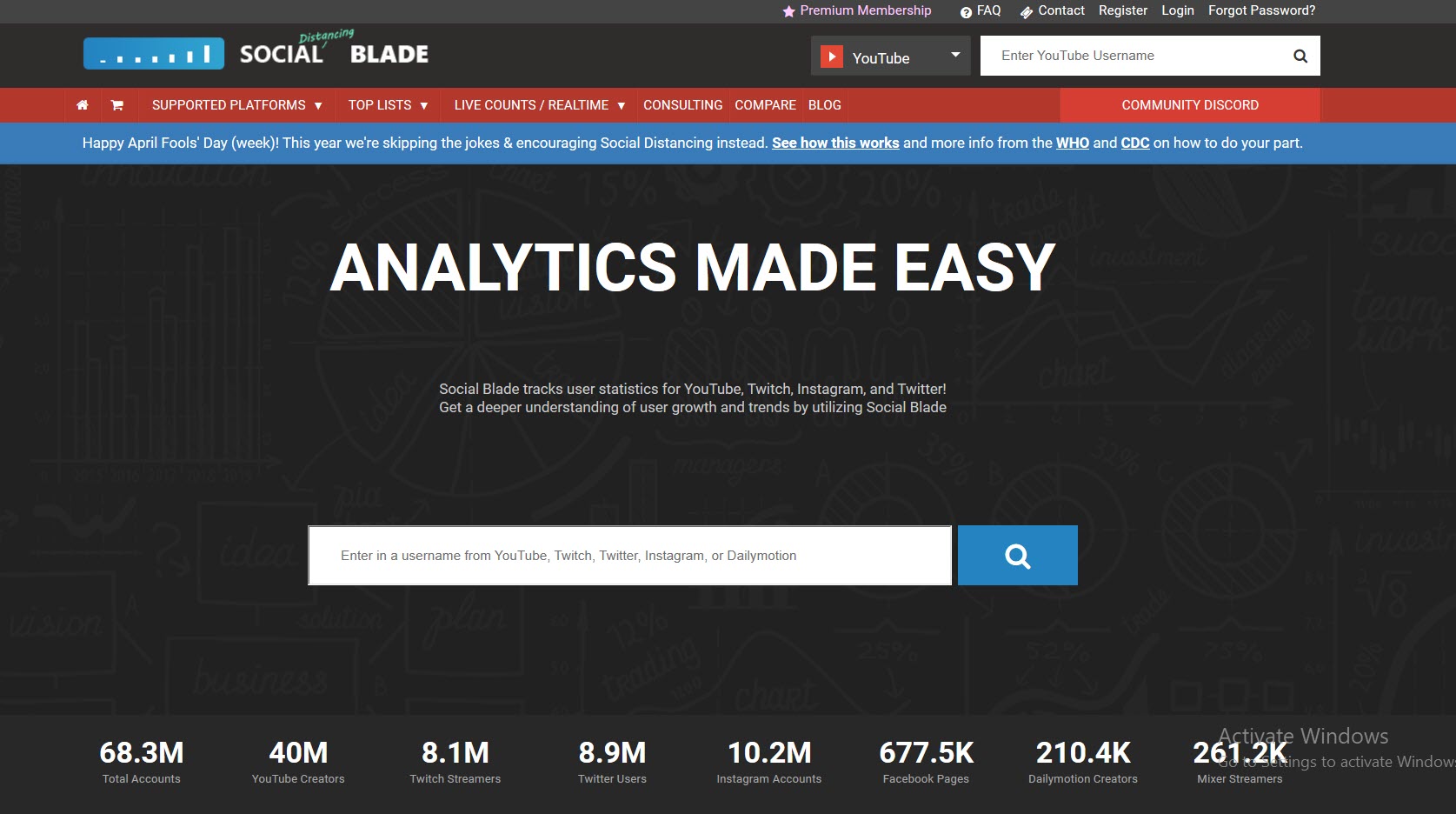 So we can easily go back through your data and see if you have had large spikes of followers in a short period of time and then a significant loss of followers as well.
This is always a dead giveaway that an account has purchased followers because Instagram is constantly purging spam accounts, so you buy some, you lose some when they aren't true followers.
If you are a business owner who wants to work with other influencers online, remember this because you should check Social Blade historical data for anyone you are sending free samples to or partnering with for promotions.
Because more people than you think actually do this, and they can pay for likes too.
It is not uncommon for a fraudulent brand to pay for likes on a sponsored post to make it look like they held up their end of the deal -but you won't be seeing your return on investment!
#4 IG IS STILL A DISPOSABLE CONTENT DRIVE
Because it is a social media platform, the lifespan of a post is at max one day, meaning you can expect activity to decrease after this time sharply.
The IG algorithm favors more frequent posting – many brand accounts are posting 2 times a day, which is a lot of content when you think about it!
Post as often as you can consistently and for at least once a day, but if you can only do one a week that is better that you do it consistently than to be inconsistent with your
posting because all of this data goes into the algorithm and really goes a long way for deciding how your audience is going to see your content.
#5 IG SHOULD NOT BE YOUR ONLY PLATFORM
Although you can do many things on Instagram, it should not be the only place that you focus on growing a following. You need to have your own platform like AiSchedul.
This platform is one of the best for increasing Instagram followers, with which you will be able to attract targeted followers.
These days, everyone knows that increasing Instagram followers means increasing sales, increasing your revenue and credit, and your business.
With advanced tools, AiSchedul can help you achieve your goals, and it simply paves the way for you.
Click here for more information about AiSchedul and more Instagram business ideas.