If you are a creator or a marketer of any size, you should probably consider using an Instagram scheduling app, and here's why. 
The value of designing your Instagram content lies within how you present yourself, capture your audience, and create high-quality content. This is significant since the visual aesthetics, and design schemes can aid in developing your audience and brand awareness.   
Moreover, scheduling your Instagram posts helps with consistency because it allows you to plan your feed ahead of time in case you forget or are too busy to publish posts on a regular basis.
The aim of this article is to evaluate the 8 best Instagram scheduling apps so that you gain a deeper insight into the requirements of your online business. 
If you want to skip the article and you are looking for the best Instagram scheduling tool, AiSchedul is all you need.
If you want to skip the article and you are looking for the best Instagram scheduling tool, AiSchedul is all you need.
Key Benefits of Scheduling Instagram Posts
Using the best Instagram schedulers is beneficial for respective reasons. The following is a list of different aspects that Instagram scheduling tools help you with. 
1. Save your time
If you want to improve your social media this year as part of your 2021 digital marketing strategy, you should look to the world of apps. Cut the time you spend preparing and manually uploading Instagram content by utilizing an Instagram planning app on your laptop or mobile phone and auto-schedule Instagram posts days, weeks, or months in advance.
A schedule Instagram posts app helps you save time as most of us find it quite challenging to do all we want in a day – editing, cropping, finding hashtags, and many other things. That's why the top Instagram accounts schedule Instagram posts ahead of time.
2. Improve your Instagram posts
A reliable Instagram scheduling app allows you to see your best posting intervals. It is critical that you utilize these tools and information to develop your practices and marketing strategy. Before putting your content into the schedulers, you may construct content or social media calendars to have a better idea of the aesthetic and impression you wish to generate.
Make use of analytics on your following and demographics to guarantee you're intriguing to a whole host of Instagram users by employing that information and deciding when or what to post.
3. Maintain consistency
Designing your Instagram post, editing it, writing a caption for it, finding relevant hashtags in the first comment, tagging people, adding locations, and any other tasks that have to be accomplished before publishing will definitely enable you to produce more high-quality content. 
The Instagram algorithm is constantly changing; it can see that you are a very active user, that you should be creating material being seen and interacted with, and that you want to display your work on the site. This may also help you stay ahead of trends. 
4. Design a unique aesthetic 
Creating a consistent Instagram style for your feeds is the most coveted advantage of many large Instagram accounts. When you do this on your own, you can really level up your existing approach, improve your engagement, and acquire more followers and views on what you're doing!
Begin by considering your photos and information from various angles, imagining how they might appear next to, below, above, and around one another. Consider how they will appear in the feed as a whole, both on mobile and desktop, and how vital it is to be able to see your photos flow!
Scheduling six to nine posts and looking at a grid preview of what it would look like in the future, will help you have a deeper insight into the visual aesthetics of your profile's feed.
Top Free Instagram Schedulers
As for some new creators and small marketers, dedicating some budget to scheduling Instagram posts might sound risky; many would prefer to find free Instagram scheduling apps.
Although there are not many free Instagram schedulers in the market, you can still use an  Instagram planning tool that offers a free package forever along with other packages to purchase, which will probably have some limitations, or choose an Instagram post scheduler that offers a free trial for a limited period of time before having to decide which package to work with. 
AiSchedul, Later, Buffer, Tailwind, Combin, and Planoly are highly effective apps that also allow you to free schedule Instagram posts as a part of their pricing plans. 
Moreover, Sendible, Sprout Social, Hootsuite, ViralTag, Coschedule, and many other apps to help schedule Instagram posts offer a free trial before you have to buy one of their packages. 
When is the best time to post on Instagram?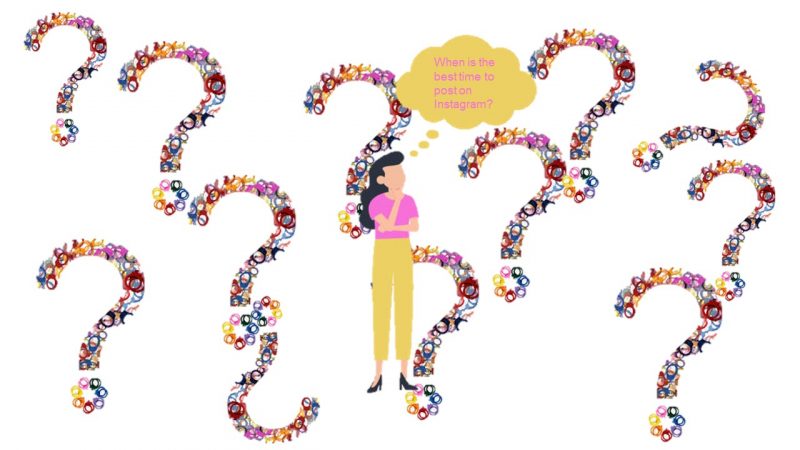 Throughout 2020 and 2021, social media grew more essential than ever as a method for individuals to retain an immediate connection, discover new trends and interests, and stay updated on new events.
To flourish in an unexpectedly sweeping digital change, brands had to adapt as the number of social interactions and message demands rose.
Hence, many wish to figure out the best time to post on Instagram to get the highest reach, impressions, and engagement rate. However, in order to stand out in this competition, you need to take the following elements into account first. 
Think about when your rivals are publishing.

Post in the time zone of your target audience.

Monitor and adjust
Practicing the steps above is highly likely to help you find the best time for you to publish your posts; however, here is some general information gathered by analytic tools that you might find helpful as well. 
During the weekdays the engagement rate begins to go high at 7 a.m. while this would be an hour later at 8 a.m. on the weekends, and it reaches its peak between 11 a.m. to 3 p.m. before it gradually decreases and witnesses a dramatic drop after 9 or 10 p.m. 
8 Best Instagram Scheduling apps 
Best Instagram scheduling tools allow you to plan your content in detail and have them published automatically on your profile. In addition to this, they help you create your content easier, assess your performance, and offer features to optimize your Instagram account based on your requirements. 
In the following, we have tried to gather a list of the best scheduling apps for Instagram, introducing their features and pricing plans. 
AiSchedul is an Instagram scheduling app with a free subscription, as well as two more options, Essentials and Pro, which cost $7 and $15 per month, respectively. We believe this deserves to be our first recommendation considered as the best app for scheduling Instagram posts thanks to its low cost and high efficacy.
Furthermore, AiSchedul's dashboard is highly user-friendly, making it an excellent place to start for novices. 
You can simply schedule posts, stories, and IGTVs by signing up for free on the AiSchedul dashboard.
Let's have a look at what this tool can accomplish.
Schedule Instagram posts automatically to your feed, IGTV, or stories. You can make

carousel posts

with up to ten pictures or videos and

schedule YouTube video

reposts without having to download them.

Furthermore, after publishing your posts, you may schedule them to be deleted for a period of time of your choosing. "

Bulk posts delete

" is another useful option for mass deleting posts based on your selection or all posts on your account.

Plan giveaway posts. The "Post and Reward" tool allows you to establish basic rules, advertise your contest with the appropriate hashtags, and select winners equitably without needing you to put in a lot of time and effort.

Receive advanced hashtag recommendations for your article.

Download posts that others have previously published on their feed, IGTV, story, and highlights, or repost your favorite content directly to your account. Remember that you could always schedule reposts. Monitoring accounts and reposting their material are among the tools that are available for free in perpetuity.

In addition to the aforementioned "Listening and Reposting" functions, you can also track hashtags, saved posts, and mentions to evaluate your performance.

Finally, place a link to your bio that redirects your audience to a landing page where you have shared multiple links to your other social media platforms.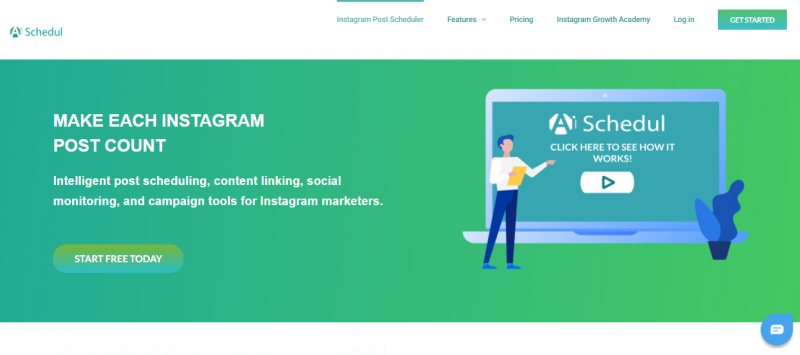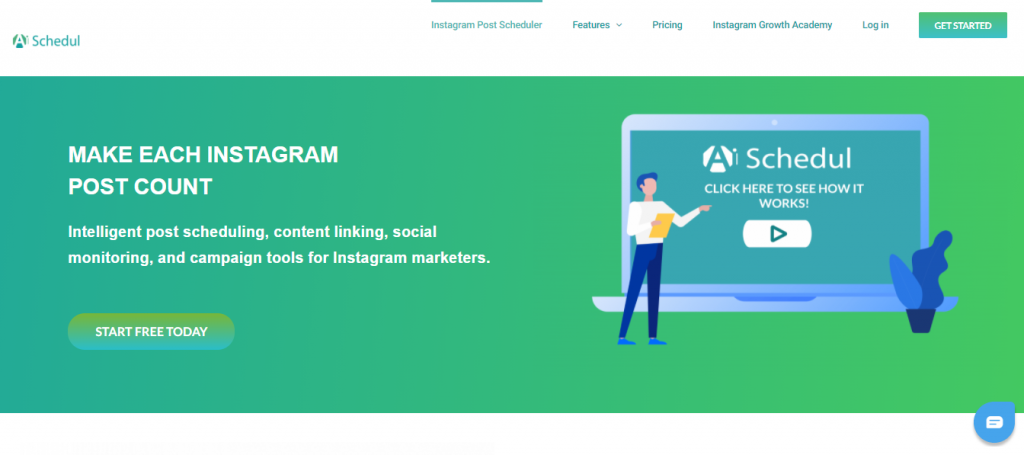 Moreover, AiSchedul is available on GooglePlay.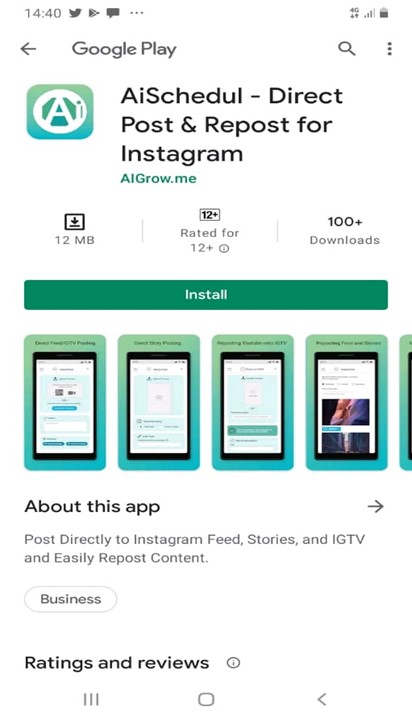 2. Sprout Social
Sprout Social is a professional app for scheduling Instagram posts; however, it does not provide a free or low-cost plan. It is clearly aimed at larger businesses with more demanding requirements.
It has a Smart Inbox that gathers all of your social communications. You have the option of combining all of your inboxes into one or keeping them separate. You can also choose which sorts of messages to display here and utilize the Feeds tab to track your selected Instagram hashtags, among other things.
On top of that, simply generate content for all of your social profiles, including images, links, and other information as needed. The calendar displays all of the social posts that you've created and planned.
You can automate the entire authorization, making project management a breeze.
Sprout Social features a social listening module that allows you to identify trends, evaluate sentiment, and extract actionable information from social discussions to improve your marketing approach.
Sprout Social offers a wide range of statistics, from cross-network paid performance to compare your Twitter accounts to your competitors to see how you stack up, to Instagram performance research.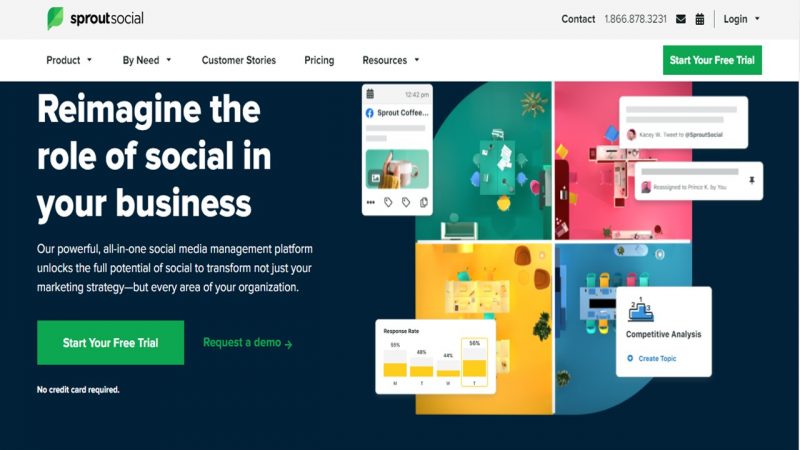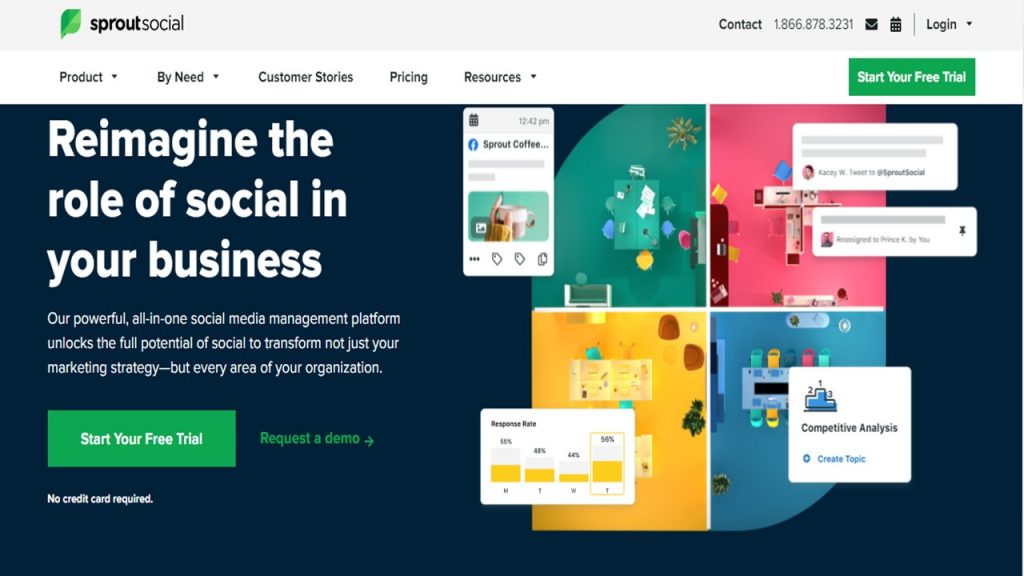 2. Hootsuite
Hootsuite, like Sprout Social, is a post-scheduling app for Instagram along with all of the other major social platforms.
When it comes to Hootsuite's Instagram capabilities, you can use the desktop and mobile apps to plan, schedule, evaluate, and publish content straight to your Instagram Business Profile. You may also measure post-performance, monitor social interactions, and bulk plan posts.
Hootsuite is a free subscription that allows for one user, three social media profiles, and up to 30 scheduled posts per month. However, to access the whole benefit of this tool, you must upgrade to the Professional tier, which costs $29 per month (billed annually)
Here are top Hootsuite Benefits:
App for mobile devices

Collaboration in real-time

No-hassle video publishing
Hootsuite works best for entrepreneurs, small teams, businesses, government, higher education, and government agencies.
It charges you $29 per month for Professional, $129 for Team, $599 for Business, and Enterprise pricing available upon request.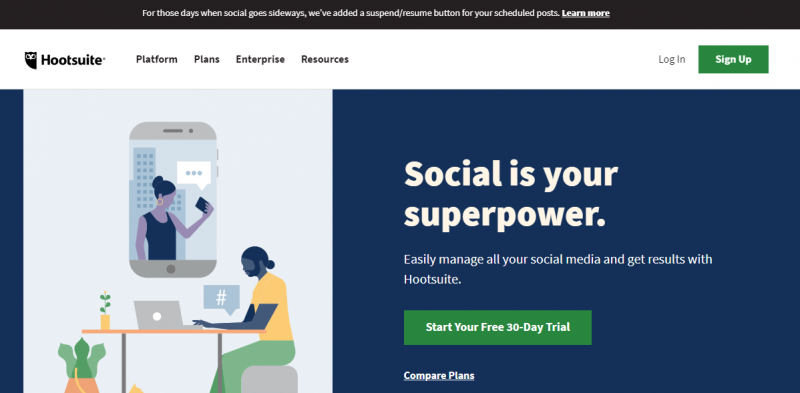 3. Sendible
The Sendible platform is probably the best Instagram scheduler to integrate all of your social networks into a single hub, making it the simplest method to execute a winning social media strategy for numerous businesses at scale. As an agency productivity tool, you can be confident that your team will save hours of time!
Schedule individual or bulk social media postings, pictures, and videos as far in advance as you need.
You can adapt your client's postings to each network with Sendible, which means you can alter the hashtags and emoticons, as well as the attachments. All to increase organic engagement!
With Sendible, you can collaborate to create amazing content, delegate discussions to different teams, and review social media postings before they go live.
You can consider 4 offers based on your budget and the number of users. Packages are $29, $89, $199, and $399 per month.
3-Later
Later is a managing platform for Instagram, but It supports Facebook and Twitter too. It has an auto-publishing tool that works only on business accounts, but it has other features like giving Instagram analytics, create multiple links in bio, etc.
Similar to AiSchedul, Later offers a free package. Moreover, there is a $15, $25, and $40 package to purchase.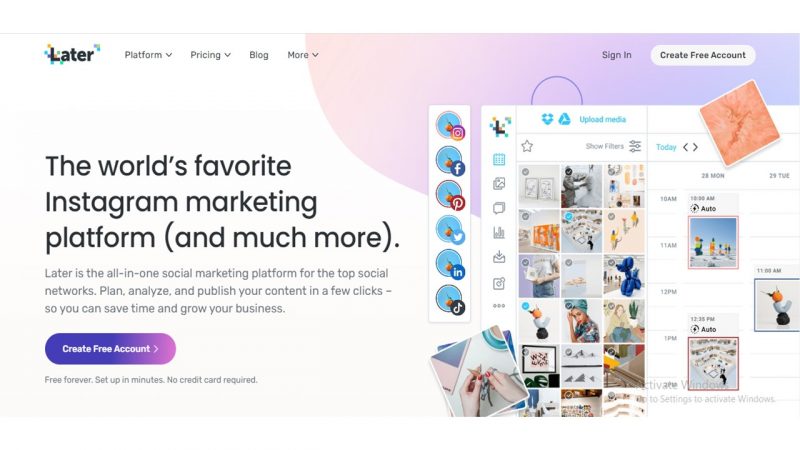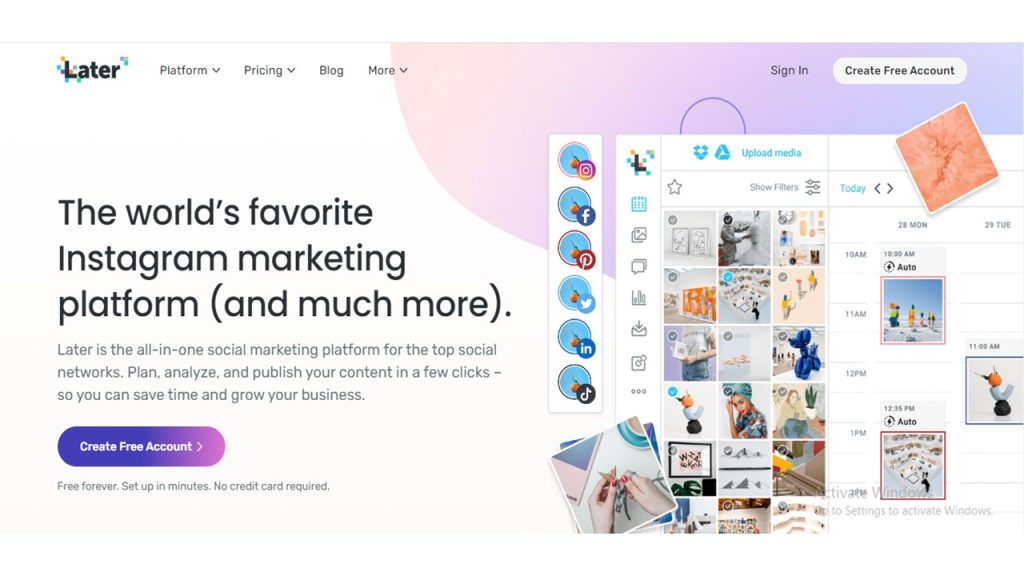 4. Planoly
Planoly is a managing platform for Instagram and Pinterest users with a beautiful and easy-to-use home screen design. It has a scheduler with an auto-publishing tool to help you upload posts and stories on time. It also has a drag and drop tool for your posts on the Instagram grid. 
Planoly offers a free package plus three other packages at $7, $15, and $23.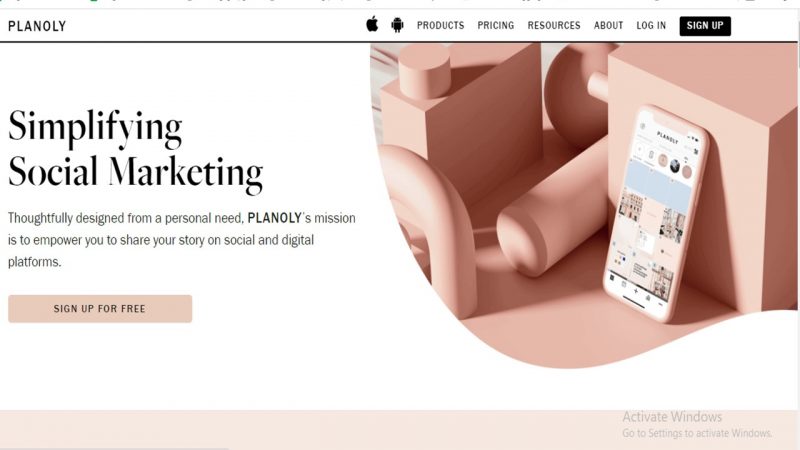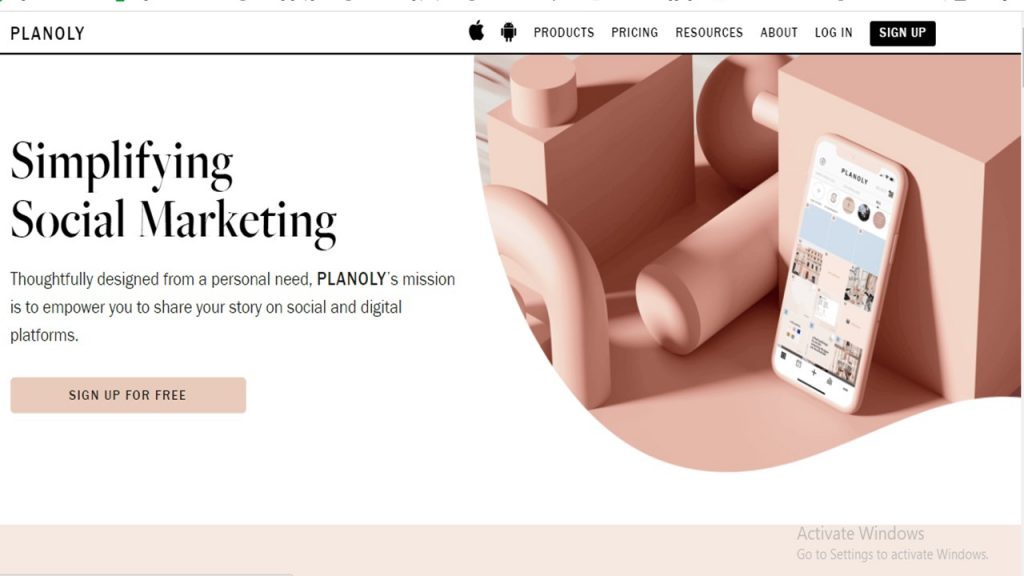 5. Buffer 
Buffer has 3 main tools – "publishing", "analytics", and "engagement". You can use them, and in only a few clicks, you can assess your social media performance, collaborate and plan your campaigns, and build up a closer relationship with your audience. You can use Buffer for free or purchase the "Essentials" package at $5 per month. You may also use a two-week trial if you pay annually rather than monthly.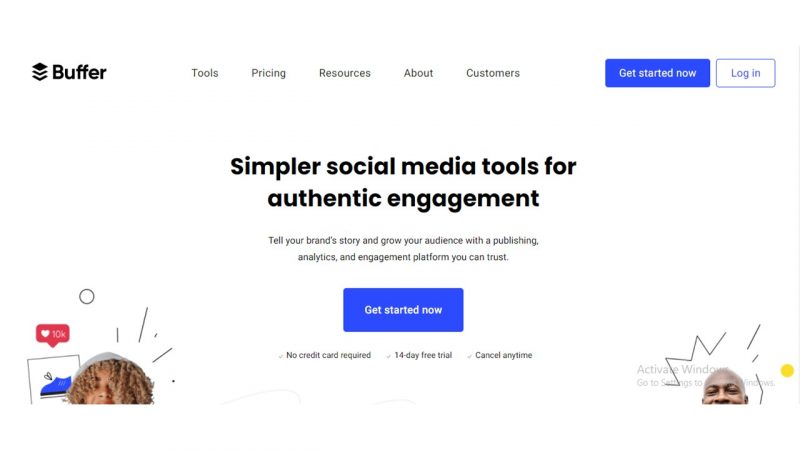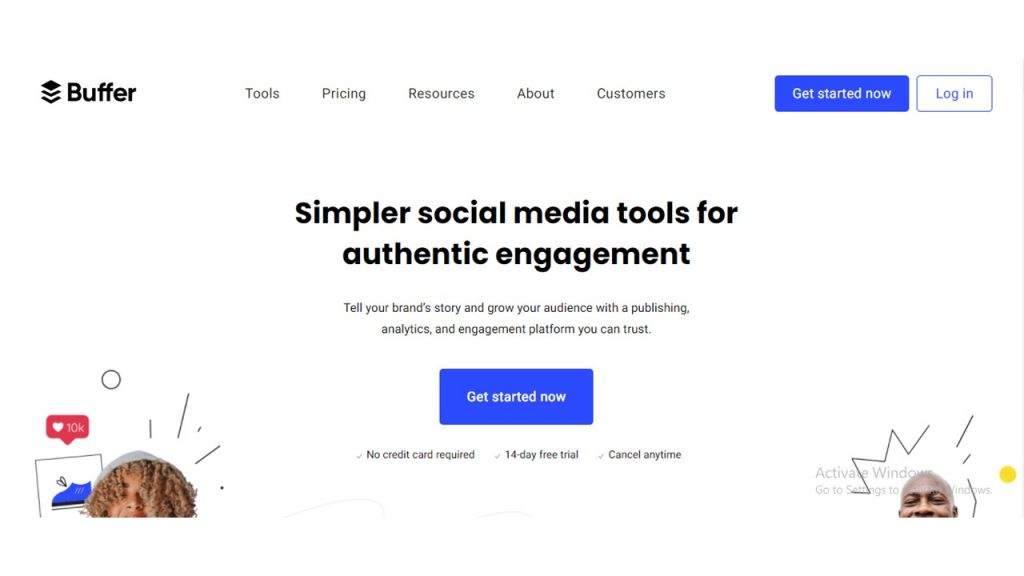 6. Tailwind
Tailwind organizes your Instagram feed with 9 grid previews and allows you to schedule your Instagram posts for the next few weeks. Tailwind may also be used to produce and schedule Pinterest posts.
Its free-for-life bundle includes the following features.
Add one Pinterest account and one Instagram account to the dashboard.

Create and schedule 20 monthly postings.

Make use of the Instagram link in the bio tool.
Tailwind provides actionable insights to help you learn faster, go deeper, and spot patterns. It has a drag-and-drop smart calendar that can schedule Instagram posts, stories, and videos automatically. You have the option of choosing exact posting dates and times. 
The other package basically places its focus on teamwork with fewer limitations.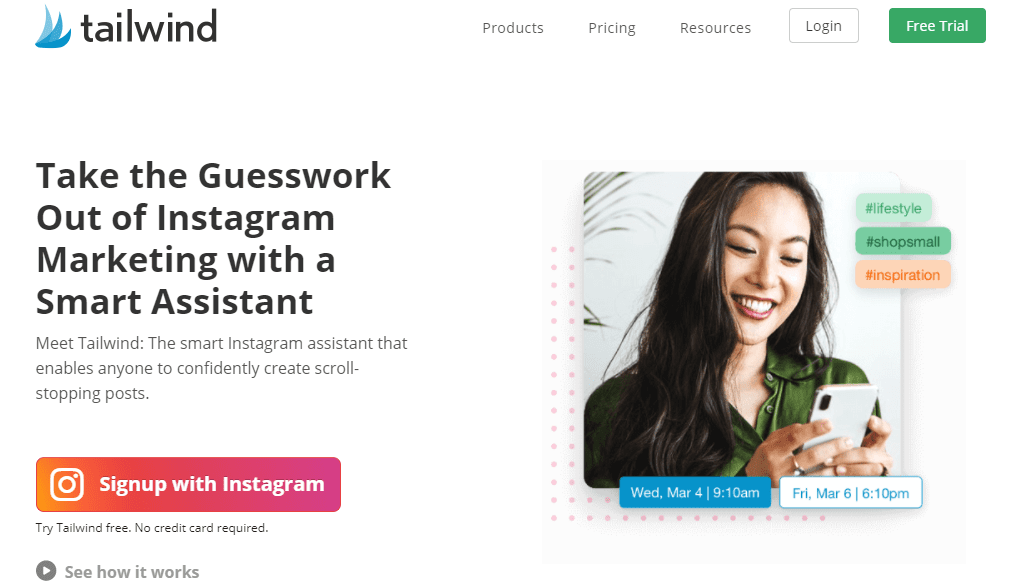 The Best Instagram scheduling app in nutshell
After talking about the best apps to schedule Instagram posts, you can easily choose one of the Instagram scheduling apps based on your requirements and marketing strategy.
We recommend using AiSchedul, which is the best platform for scheduling your Instagram posts. It not only has an auto-publishing tool but also has many other features to manage multiple Instagram accounts.