When it comes to Instagram success, consistency and posting at optimal times are deciding factors! Yet, you can't always be online at the golden hour, especially if you have a business to run. In such cases, it's important to learn How to schedule Instagram posts and stories. But we need to check the extent of our capabilities: Can you schedule posts on Instagram?! Is that even possible?! 
Sharing posts and stories on Instagram might be time-consuming since you have to log in to your account every day, write a caption, add stickers, etc, especially if the time you want to go live on Instagram is not quite convenient. 
A survey shows the best time to publish your content on IG is Thursday between 5 a.m. and 11 a.m. Most likely, this is not the time you like to get down to business. Yet, despite how challenging the process of sharing IG content is, Instagram or Facebook haven't yet made it possible for all users to schedule Instagram posts. So what can you do? How can you schedule posts on Instagram?
Today, we are going to talk about the best way to schedule Instagram posts and stories. We'll also cover how the Meta business suite enables you to plan your IG posts in advance, and where it falls short! So, stay tuned!
Note: If you have no time for this article and would like to start with a full-featured Instagram scheduler, skip the article and start for free right now!
Can You Schedule Posts On Instagram?
Yes and no! I never thought my answer to the simple question: 'Can you schedule Instagram posts?' could become so complicated! Well, let's see what I mean when I say you can schedule Instagram posts but you can't do it using the official app. 
For a very long time, Instagram post planning and scheduling was out of the question. We couldn't schedule IG posts and stories even through Facebook. But recently, the Meta Business Suite has changed this situation a bit! Let's see what this tool can offer!
Through the desktop and mobile versions of Meta Business Suite, you can now schedule Instagram stories and posts. But there's a catch! You can only schedule your Instagram content if and only if you have an Instagram business account that is connected to your Facebook business profile. Otherwise, you can't have scheduled posts for Instagram! 
First, let's see how to schedule Instagram posts and stories with Meta Business Suite. Then, we'll see how you can plan any content even if you don't have IG and Facebook business accounts. 
How to Schedule Posts on Instagram with Meta Business Suite
A key point to remember before you start learning how to schedule Instagram posts with Meta is that you can only do so if you have a business account on both Instagram and Facebook. If you do and the two profiles are connected, get to the complete guide below! If you don't, skip these parts and reach the tried and tested solution we have for you!
To schedule Instagram posts for free using Meta, follow the steps below:
First, get the Meta Business Suite desktop or mobile app.

Then, choose the post creation tool and select 'post.'

With the drop-down menu, confirm where you want to publish this content. You can choose for this post to go live on Instagram, Facebook, or both. 

Now, create you post and click on 'Next.'

Finally, select 'Schedule for later' and set the date and time for the post to be auto-published. Then, choose 'Schedule.'

If you'd like to review and edit your post later, just click on 'Save as draft.' 
That's it! Now, you can schedule Instagram posts from Facebook if you have a business account. It wasn't that complicated, was it?!
Just bear in mind that Meta as an Instagram scheduler might perform well, but it doesn't offer any other feature on the side. For instance, you won't be able to repost content or access a social media calendar. 
How to Schedule Instagram Stories with Meta Business Suite
As explained already, Meta Business Suite has recently turned into an app for scheduling Instagram stories and posts for those who have a business account on both FB and IG. 
To learn how to schedule Instagram stories, just take the following steps:
Download the Meta Business Suite Desktop or Mobile application.

Then, select the post creation tool to create a new story.

Now, add your pictures, stickers, and Gifs. you can make any changes you'd like!

Next, choose 'Share on' to specify whether you want this story to appear on Facebook, Instagram, or both.

If you tap 'Share,' your story will be instantly published.

If you go for 'Schedule for later,' you get to set date and time then click on 'Done.' 

To finish, tap on 'Schedule.'
And that's how you auto-publish Instagram stories with Meta Business Suite! 
Anyone who has connected a Facebook business account to IG can enjoy this feature. Now, let's see how this Instagram story/post scheduler falls short in its performance! 
How The Meta Business Suite Fails in Scheduling Instagram Posts & Stories
We're all happy that Instagram have finally come up with its own scheduler to help us plan our content in advance. But is Meta a decent choice or are there better alternatives out there?!
Well, using the Meta Business Suite as an Instagram post scheduler might not be the best idea! 'Why?' you ask. Well, read on to find out!
Only Available Through Download
Yes, this tool is not web-based or an in-app solution! In fact, you have to download the application to see how to schedule Instagram stories and content. So, if you don't want the trouble, you need to forgo this Instagram scheduler and start with a reliable tool that doesn't require downloading. 
In this case, AiSchedul comes to your rescue. This is a highly efficient app to help schedule Instagram posts and content. But it doesn't only come as an application! You can conveniently sign up on the website and start using it without having to add to the pile of applications on your PC or phone!
Only Available for Business Accounts
The Meta Business Suite is only available to those who have a business account on Instagram linked to a Facebook business account. If you don't have the requirements, don't consider Meta for scheduling your Instagram posts and stories. 
Instead, you can rely on AiSchedul, an amazing, full-featured scheduler which allows any user with any account and any number of followers to auto post Instagram stories and content.
No Repost Option 
Have you ever seen an Instagram post that engaged your target audience and wished you could just repost it with your crowd to gain the same popularity but just couldn't find the option on IG? Or, have you ever seen your customers post about you on the platform and just wished you could reshare it and use that social proof to your advantage but just couldn't do it on the Instagram application?!
Well, even on the Meta Business Suite where you can schedule your Instagram posts and stories, you still can't repost content! So, if you'd like that option, we regret to inform you that Meta won't be able to fulfill your expectations!
We have good news, though! AiSchedul can indeed help you repost and reshare any content you come across. The whole process takes a few seconds and may also be rescheduled for a later date! So, don't miss out on AiSchedul!
No Content Calendar
You can automate Instagram posts and stories with Meta, but there's no way you can create an in-app content calendar for your convenience!
If you'd like such an option, AiSchedul offers well-designed, user-friendly social media content calendars. 
No Automated Giveaway Posts
What if the post you're trying to plan in advance is a contest or giveaway?! In this case, not only would you like to schedule the post itself but have the winners automatically selected and notified. 
Unfortunately, Meta doesn't let you do that. The best you can do is plan the giveaway post in advance! On the other hand, AiSchedul enables you to schedule the giveaway post and specify the rules and the number of winners. Then, it will also automatically select and DM the winners. 
So, if you're looking for a convenient giveaway automation tool, AiSchedul has you covered! So, try AiSchedul for free right now!
The Best Instagram Scheduler
If you schedule Instagram posts and Stories, you will save tons of time and publish your posts and Stories on time. Plus, the huge advantage of scheduling for Instagram is that it lets you manage several Instagram accounts simultaneously without spending too much time on them! 
But with the Meta Business Suite failing to meet your standards, what schedulers for Instagram can you trust?! Let's find out!
AiSchedul is among the best apps to schedule Instagram posts and stories. It provides a wide range of practical features to all Instagram users. 
Comparing AiSchedul with its rivals in terms of features, pricing plans, and reviews led us to believe that it is one of the best options to automate sharing posts and Stories on Instagram. It even got a near-to-perfect review on Trustpilot.com.
Source: Trustpilot.com
How To Schedule Posts On Instagram
Wondering how to schedule Instagram posts? That's a piece of cake! Follow the steps below to schedule your photos, videos, and IGTV on Instagram. 
Not in the mood for reading? Watch this video!
First of all, you should sign up on AiSchedul  

and connect your Instagram account to the dashboard.
2.Next, tap on the scheduler tab, and choose 'Feed' on the 'Schedule' option.
3.Now you can upload multiple photos to Instagram in case you want to create a carousel on Instagram. It goes without saying that you can also upload 10 one-minute videos or even schedule IGTV videos.
Then type your caption.
Use the free built-in

Instagram hashtag generator tool

of AiSchedul to find the most searched hashtags on Instagram.
Because there is a great chance your followers don't come up with your post on the home feed, AiSchedul makes it convenient for you to add the location to your post and add your post to the Story in order to use

Instagram algorithm change

in your favor.
Lastly, schedule Instagram post.
That's how scheduling Instagram posts is done. Now, what about Stories? Well, we are so glad you asked 😉
How To Schedule Instagram Stories
The good news is that AiSchedul has a built-in Instagram Story scheduler, and it is designable. You can add emojis, texts, location, hashtags, etc., to your Story and share it with your followers. 
According to surveys, %44 of businesses use Instagram Stories to promote their product, and one-third of the most-viewed Instagram Stories belong to the business accounts! (Source) So it makes quite a sense to invest more into Instagram Stories.
Here is how you can share or schedule Instagram Stories on your desktop. Wanna know how? Follow the given steps.
1.Tap on the 'Story' item on the 'Schedule' tab, as you see below:
2. Now, add a photo or video, change the background color, add texts and emojis, etc. and tap on the 'Save' button.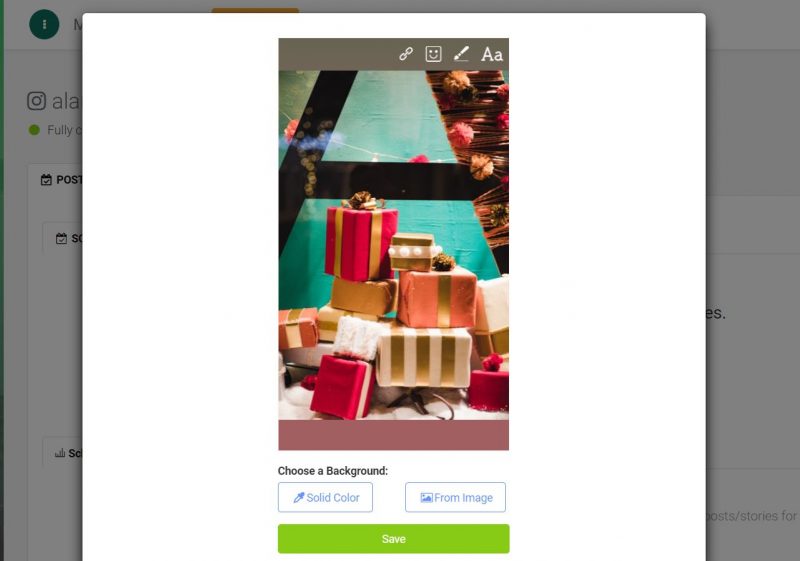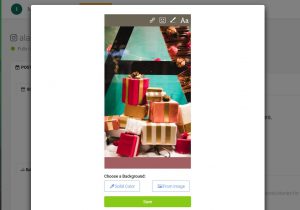 3. Note that this Instagram Story scheduler enables you to take advantage of emojis and stickers.
4. Then, click on 'Schedule Story' to schedule it or 'Post Now' to share it at the moment.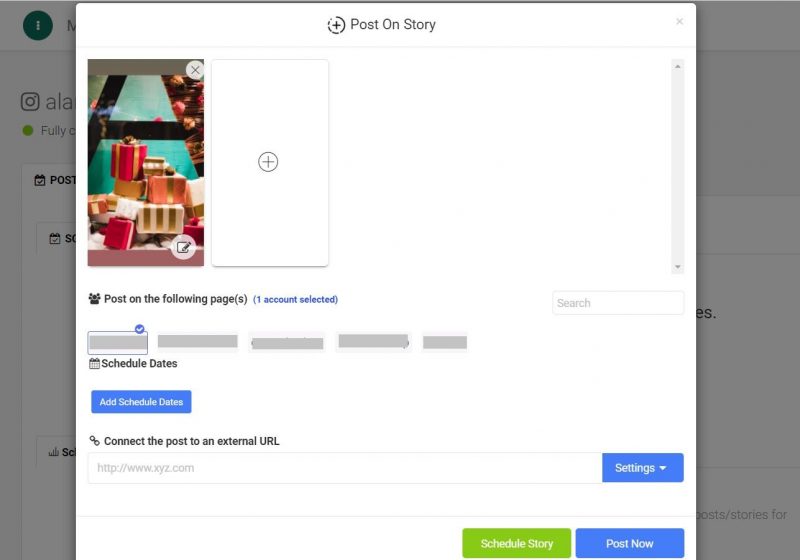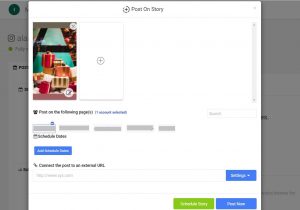 You are all done!
AiSchedul pricing & Plans
It offers all of its services at an affordable price by Free, Essentials, and Pro packages, as you see below.
How To Schedule Posts on Instagram Via Cellphone
If you are an android user and you feel more comfortable scheduling Instagram posts with an app, you can download AiSchedul from Play Store. In the rest, we cover how to schedule an Instagram post.
After you sign up and connect your IG to it, tap on 'Manage Account.'
Afterward, tap on the 'Schedule' button and select 'Feed.'
Then upload your photos/videos. Note that you can upload up to 10 feeds on the platform, just like the Instagram app.
Now is the time to type your caption and add hashtags. As you'd know, Instagram hashtags increase the reach and engagement of your posts. That is why you can find the most searched hashtags on the platform and even save them for the coming time you want to schedule Instagram posts.
Other ways to increase reach for your feed are when you add the location to your post or add the post to the Story. It is worth it to mention that posts with tagged locations end up getting %79 more engagement. That's why AiSchedul makes it possible for you. 
And last not least is to schedule your content. You can even schedule the deletion of your posts. This feature comes in handy for posts like announcements of events, temporary discounts, etc.
How To Schedule Instagram Stories Via Cellphone
The merits of AiSchedul is that you can schedule Stories on the platform as well. Not all schedulers out there embed an Instagram Story scheduler.
After you tapped on the 'Schedule' button, select 'Story' instead of 'Feed' this time.
Then upload your video or photo here. Note that you can use Instagram stickers and emojis here as well.
At last, schedule the Story.
Best Way To Schedule Instagram Posts (The last word)
Can you schedule Instagram posts? Yes, you can.
Scheduling for Instagram comes with many benefits. It saves up your time, eases your job, and provides you with extra benefits such as hashtag generator tools, monitoring tools, etc. Plus, it helps you with consistency which is the main factor of growth on Instagram after creating high-quality content.
But which scheduler for Instagram is trustworthy, and how to schedule a post on Instagram?
Comparing features of schedulers and studying reviews of them, we would recommend AiSchedul. It is accurate, easy to work with, and you get to schedule Instagram posts for free. Here we covered how to schedule an Instagram post using AiSchedul on PC and cellphone. Then  sign up to AiSchedul for free and try it for yourself.