Do you know the Instagram best time to post?
The number of Instagram users is increasing every day; that's why reaching people might seem more complicated than it used to be! But the good news is that by knowing the best time to post on Instagram, you can reach a lot of people and convert your followers to customers.
You might have heard that sharing a post on Instagram is effective, but have you ever considered when is the best time to post on Instagram? Publishing Instagram posts at the best time have many benefits, such as increasing the engagement rate, getting more views, likes, comments, and more.
Surprisingly, the number of businesses that use Instagram is increasing as well as ordinary Instagram users. If you are a business, you should do your best to be a step ahead of your competitors. 
If you want to skip the article, and you are looking for the best Instagram management and scheduling tool, you shouldn't miss AiSchedul. Give it a try and schedule your posts in a flash!
The aim of this article is to help you stand out in this competition by guiding you to the best time to post on Instagram 2021.
Instagram's algorithm about the best time to post on Instagram
In recent years, Instagram's algorithm has altered, making it far more challenging to share visible Instagram posts. It prioritizes postings written by users' friends and family, with fewer chances of company posts being added to people's queues. It gives even less weight to business posts that include links that are likely to redirect users away from the Instagram app. Businesses must play the game well on Instagram to prosper. That involves determining the best time to post on Instagram 2021, aiming for a period when people check at their Instagram accounts but does not overlap with the time when most people upload Instagram material.
The Instagram algorithm determines which material is viewed. Every time a user launches the app, the algorithm searches through all available material.
Essentially, the Instagram algorithm is a set of principles that governs the organic reach of your content. However, Instagram claims that prior to the algorithm's use in 2016, people missed 70% of posts and 50% of their friends' posts.
All in all, the Instagram algorithm analyzes the user's acts in the past years. Collects all accessible posts or pieces of content and then analyses each one to anticipate how interesting it is to that person. The most intriguing information rises to the top.
Sounds great, right?
The best way to take advantage of the mentioned Instagram algorithm is to be active on Instagram when most of your Instagram followers are active and online on the platform. Then, you'll get the chance to show off your brand, service, or product!
Besides, it would help if you keep in mind that only posting at the best time won't guarantee being seen by many users. In other words, you should be aware of all the important elements that help your post to be on top of your followers' Instagram feed.
Ready to reveal the secret?
Here you go!
The time when most of your followers are active

Considering your followers' location spread

The time zone difference

The importance of the niche you are working on

Your followers' interest

Days of the week

Your audience's work time breaks

The quality of photos or videos you share
How to find the best time to post on Instagram?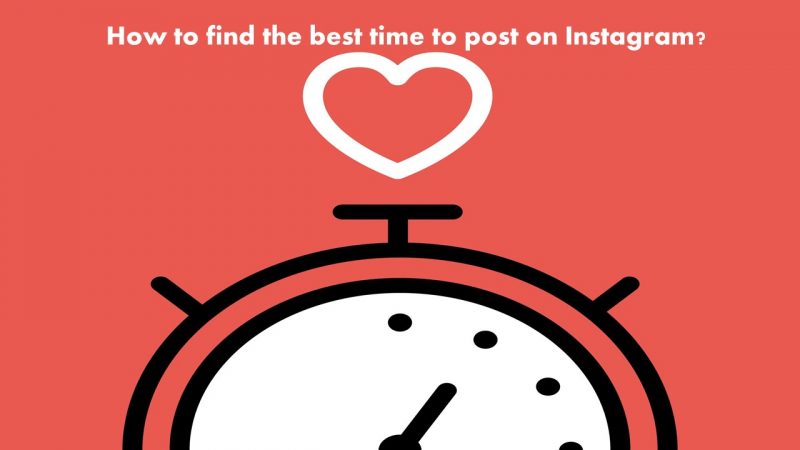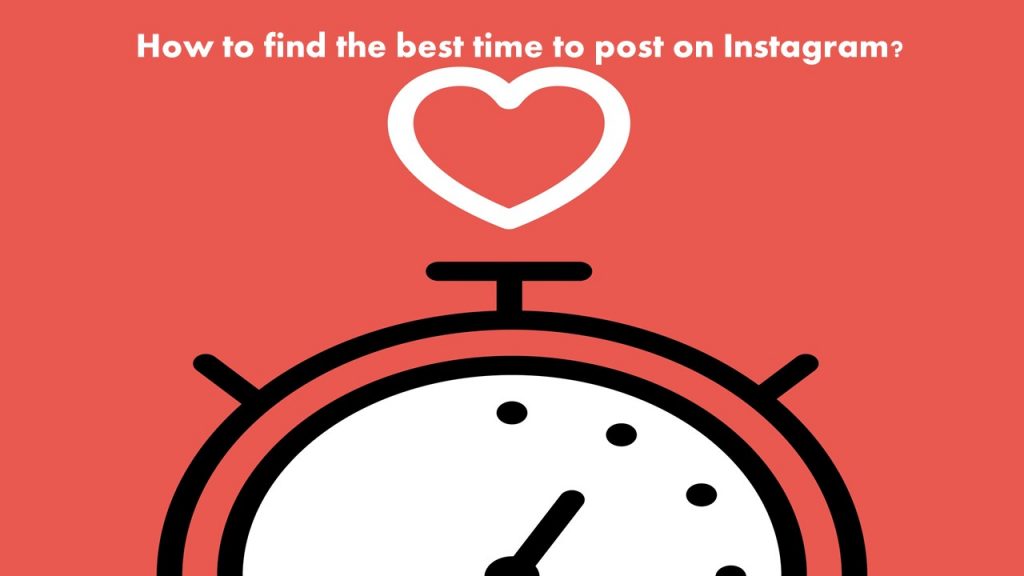 Since using Instagram is not limited to a specific country, users use Instagram in different time zones, meaning that the best time to post to Instagram varies from a country to another. 
Moreover, the country you live in might have a different time zone from your audience. you should find out a way to know when is "Instagram best time to post" based on your audience's location.
Key Considerations When looking for the Best Times to Post on Instagram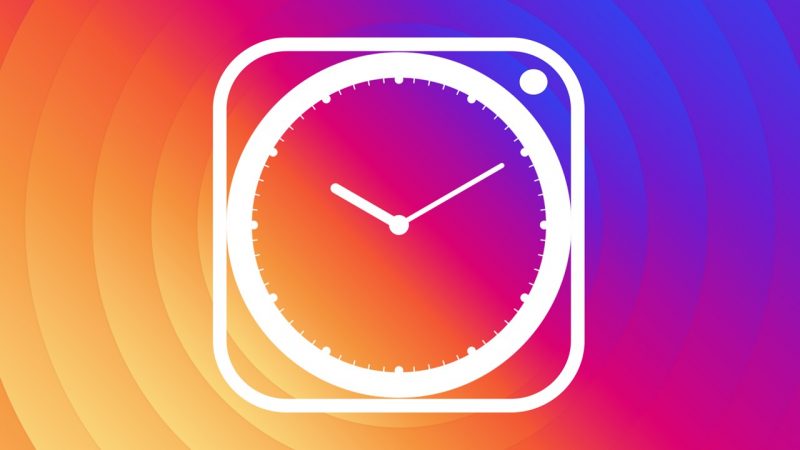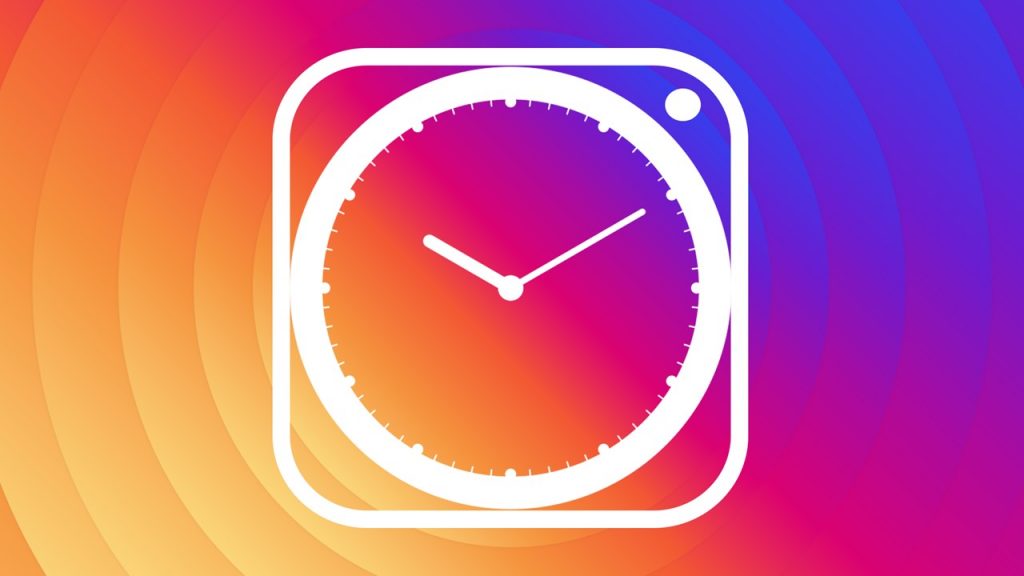 If you want to know when is the "best time to post Instagram", you should know these key considerations and observe them.
Even at the same time of day on different days of the week, there might be considerable fluctuation in Instagram interaction. The reason is during the working week, people check their phones for messages as soon as they wake up. This shows that people want to check their Instagram app early in the morning. 
However, Monday mornings can have lesser engagement because individuals hurry to start the week and have less time to glance at Instagram before work.
The following is how each day works best. 
Best time to post on Instagram on Monday: 11 AM- 2 PM

Best time to post on a Tuesday Instagram: 6 AM, 10 AM – 3 PM

Best time to post on Instagram on Wednesday: 6 AM – 4 PM

Best time to post on Instagram on Thursday: 5 AM, 10 AM – 2 PM

Best time to post on Instagram on Friday: 9 AM – 2 PM, 6, 7 PM

Best time to post on Instagram on Saturday: 6 AM – 11 AM

Best time to post on Instagram on Sunday: 6 AM – 2 PM (Generally, the engagement rate on Sundays is considerably less than the other days of the week)
You should know that in the working weeks, people mostly check their Instagram at lunchtime or on their working breaks. Similarly, people's enthusiasm for their work wanes in the late afternoon, and many resort to Instagram instead.
Frequency of Posting on Instagram
Regularly you should post on Instagram to keep your accounts refresher. You may have to post even more than 3 posts per day. You should post different content that seems interesting to your audiences. 
Use Time Zones to Your Advantage
Instagram's time zone is different in any country so you should know about your audience. Otherwise, if all of your audiences are from the same location you should know the exact and correct time zone of that area. 
Postings in Different Sectors Prefer Different Times
Due to your content, the best day and time to post on Instagram might be different for you. Related to your business you should find the best time for posting for your account. 
The Worst Time to Post on Instagram Each Day
There are various aspects to consider before you realize when not to post to your Instagram profile at all. However, one thing that plays the most significant role in learning the worst time to post on Instagram each day is to take a look at the analytics and see when the engagement rate plunges to its lowest point. 
Accordingly, the worst time to post on Instagram would be from 9 p.m. to 6 a.m.
On top of that, the worst day for most companies, organizations, and businesses would be on Sundays to post on Instagram. However, every brand's audience is unique in their age, area of work, location, etc. To put it in a nutshell, the worst time to post on Instagram is the time your unique audience is the least active.   
best times to post videos on Instagram
Instagram's popularity for mobile video is undeniable nowadays, which is why knowing when is the optimal time to upload videos on Instagram is critical.
Furthermore, video is an underutilized tool for small firms to compete with larger corporations. In addition to mastering the technical elements, such as the right video format for Instagram, it is also critical to know when is the optimum time to publish your videos, as this ensures that you can receive the most visibility and engage customers more effectively.
Despite the fact that daytime postings receive more engagement, the best time to post Instagram videos is at night, between 9 p.m. and 8 a.m., when individuals are at home and have more free time. When people are taking a break from work, they are more likely to watch a video. The hours between 11 a.m. and 1 p.m., when most people are at lunch, between 7 p.m. and 9 p.m., shortly after people have left work, are ideal for uploading new videos.
The best time to post stories on Instagram
Businesses and creators publish posts on Instagram at least once every day and no more than three times per day on any particular site. There are, however, exceptions, and Instagram Stories is one of them.
Posting several times per day is considered annoying on most social media feeds since your followers will have to read through everything you publish to get to the other items they might want to view. Posting too frequently is a certain way to lose followers. But your Stories are all contained in one particular section of the feed that is easy to skim over if your followers aren't interested in viewing all you've got there.
The greatest test for how frequently to post Stories is to observe what occurs in real-time — that is, to monitor your Story statistics in Instagram Insights.
Your statistics will show you how well your Stories are working and how well they are retaining the attention of your followers. If you observe that your followers frequently drop off after 5-6 slides, for example, this might indicate that you've reached the upper limit of their attention span.
Regardless of how many times you should publish a story on Instagram, the optimum time to do so is between 9 and 10 a.m. and 3 or 4 p.m. Unlike videos, because the stories are brief in duration, you don't have to hunt for break periods or when people have time to spare after work.
The Best Time to Post on Instagram by Location
The more your audience's geographical spread, the less important set publishing times become. However, if your target audience is in a specific time zone, make sure you use that time zone as the foundation for scheduling your Instagram posts, even if it is not your own.
If you want to make an Instagram post at wake-up time, choose a time when the majority of your audience is just waking up and getting ready for the day.
However, sometimes this can make you work irregular hours unless you schedule your posts with a reliable tool to have them published automatically. 
Use an Instagram scheduler to post at the best time on Instagram:
Certainly, all the businesses on Instagram want to become popular and be seen by many users, which needs a smart strategy, such as using an Instagram management tool. AiSchedul would be the one that can help you promote your account by providing the scheduling tool, monitoring tool, and more. 
Here is how you can use AiSchedul to plan your content and publish them automatically. 
Sign up for free on AiSchedul

and add your Instagram account to its dashboard. Then select your account and click on "Manage". Note that you can manage multiple Instagram accounts on this free Instagram scheduler.

Then, on your dashboard, click "Schedule" from the "Scheduler" tab. After that, select feed, story, or IGTV – wherever you wish to publish your post.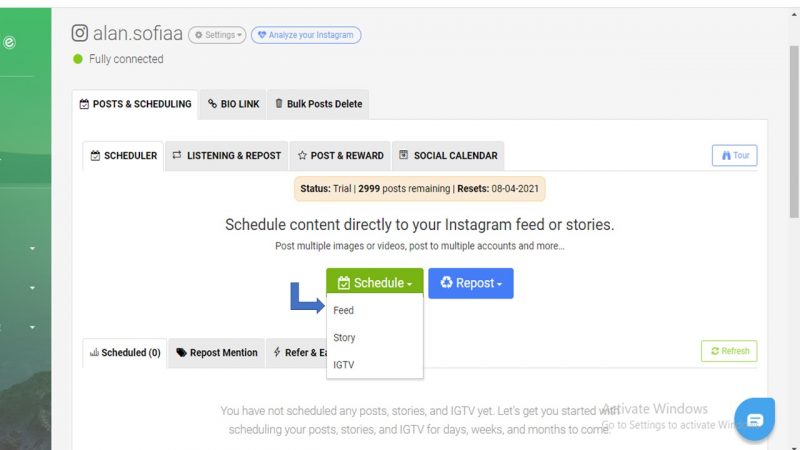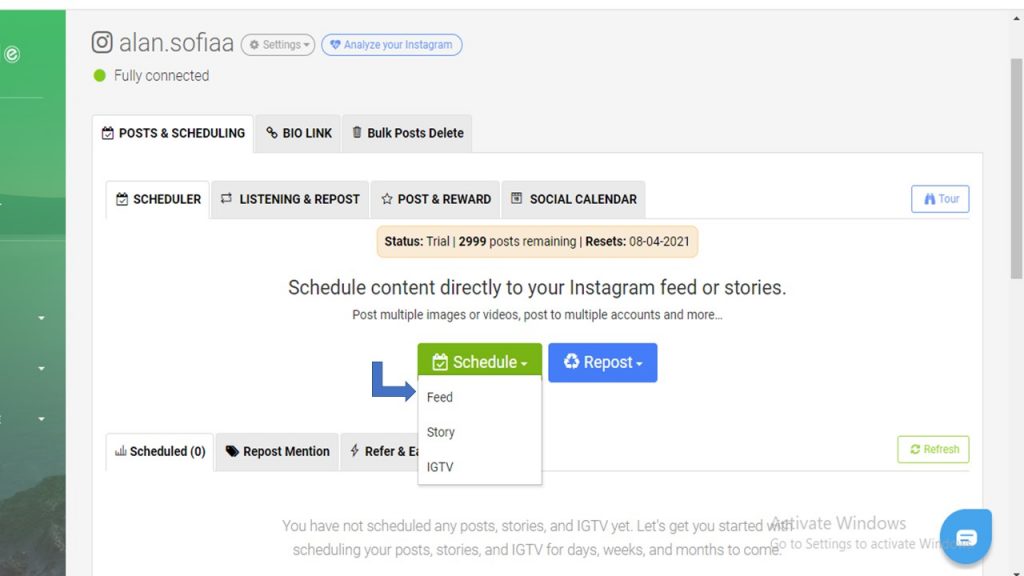 3. After that, it's time to upload your content. You can drag and drop up to 10 videos or images to make a carousel post, place the link to a YouTube video so as to publish it without any download requirements or monitor other accounts to repost the images and videos they have already published – you can either choose to download them first or repost them directly to your profile.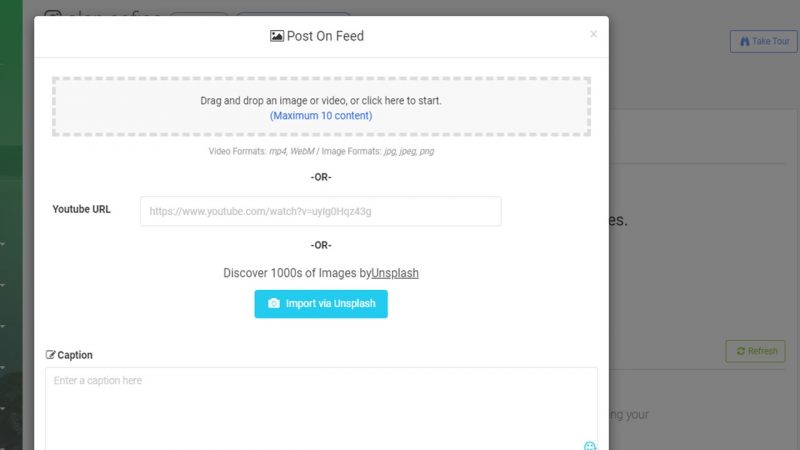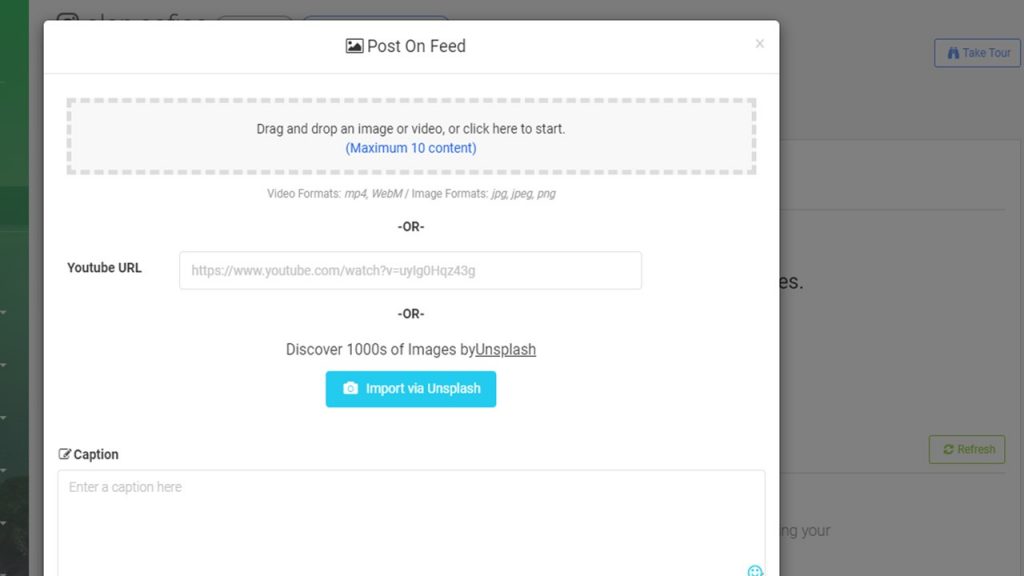 4. Write a comment, generate hashtags, tag people, and add a location.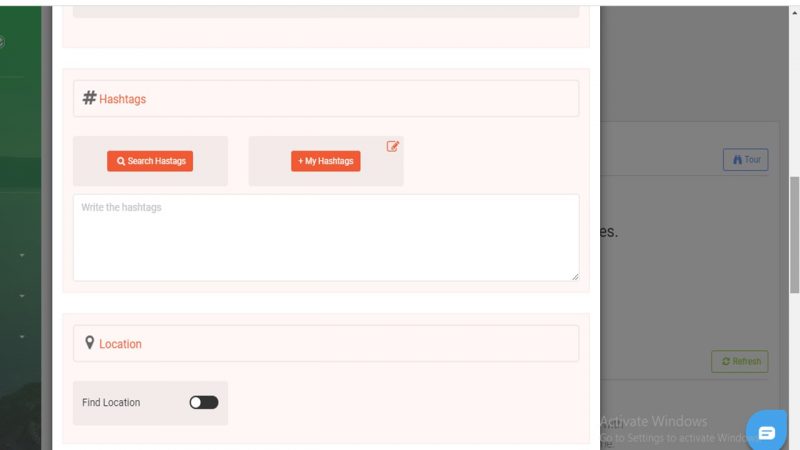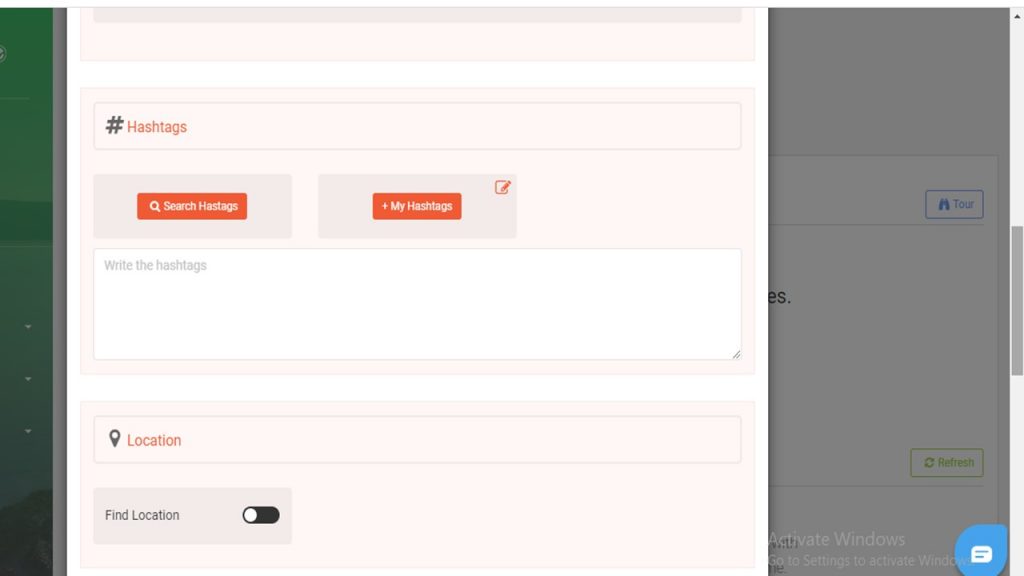 5. Choose the option to "post in the future" so that you can set your calendar and schedule posts days, weeks, or months before having them published.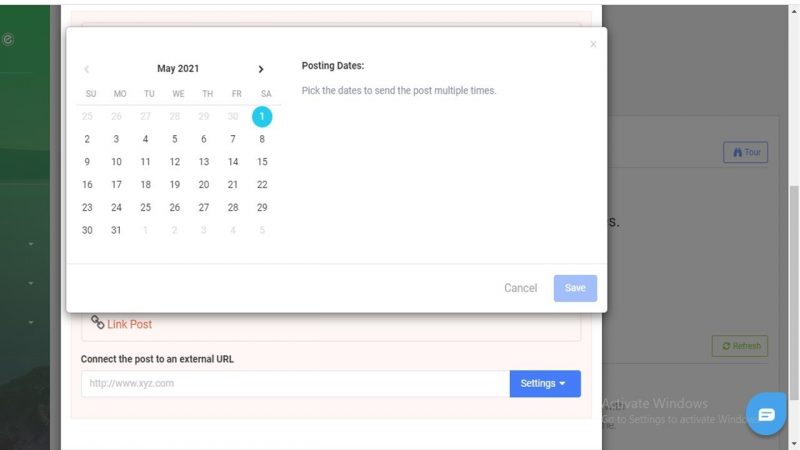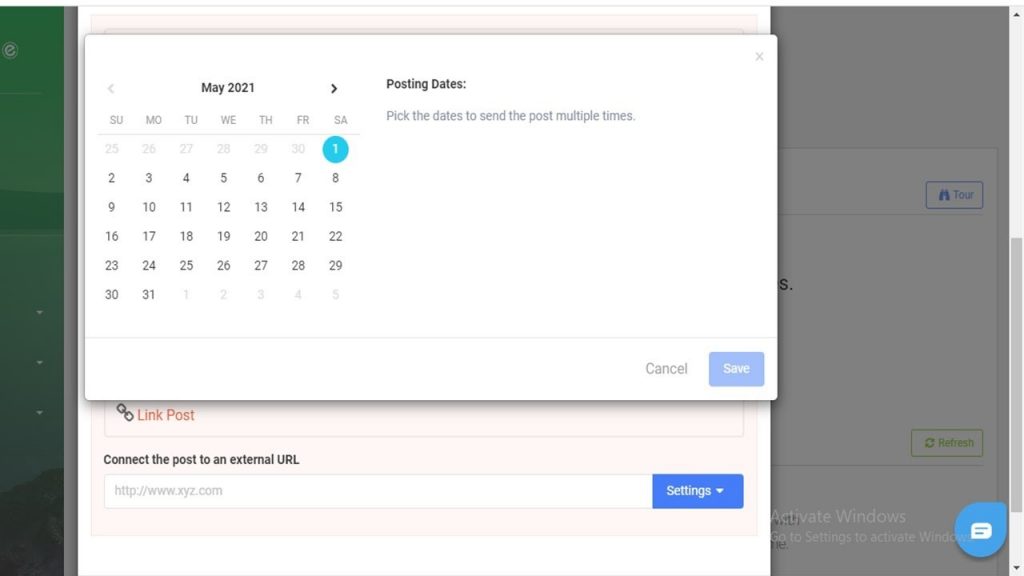 6. Note that you can schedule 3, 6, or 9 posts based on your profile's theme to use the preview option and keep your Instagram aesthetics consistent. 
Other features that are provided by AiSchedul are:
Schedule your posts to be removed automatically. "Bulk posts delete" is also a great feature to mass delete the posts by your selection or all posts on your account. 

The Post and Reward feature helps you create a giveaway post by setting simple rules, promoting your content with the right hashtags, and choosing the winners fairly without requiring you to put a lot of time and effort into it.

Get advanced hashtag suggestions for your post.

Aside from reposting, you can use the "listen and repost" feature to also monitor hashtags, saved media, and mentions.

Get your own bio link to a landing page where you can add multiple links to your other social media networking sites.
AiSchedul pricing and plans
AiSchedul offers three different plans at a very affordable price that lets users choose the one that fits them the best. By selecting the free-forever package you can use all the features above only for a limited number every month, another package, which is $7 per month, removes most of these limitations and the pro package has no limitations and more support at $15 per month. 
Conclusion
How to know when is the best time to post to Instagram 2021 depends on many and different things to consider. Your target audience, niche, geographical zone, days of the week, etc. What's more, after finding the right time for your Instagram profile to share posts, using a management tool to schedule your posts can maintain your consistency in both postings at the best time on Instagram and the visual layout of your profile.