Instagram schedulers are the inseparable part of every meaningful strategy, and Postify happens to one of them. In this article, we are going to talk about all the features, pros, and cons of Postify and see the best alternatives for it. If you are looking for an Instagram scheduler, read this article carefully and choose with open eyes.
Postify Reviews
Postify is a social media scheduler that lets you automate your content to Facebook, Twitter, VK, Xing, LinkedIn, and Instagram.  With Postify, you can analyze your performance and, by that, increase your engagement rate. Moreover, with Postify, you do not need a third-party tool to edit your photos. With the built-in editor of it, you can edit your post before you schedule them.
One great advantage of Postify is that it lets you watermark your content. There are some tools out there that allow users to repost the content of others. But with Postify, other users can not repost your feed without mentioning your account.
Moreover, you can schedule your content right from your PC in case you want to.
Postify also has some drawbacks. For instance, it does not free plans for small businesses who can't afford paid schedulers. It costs $9.99, $24.99, $79.99 per month.
Free plans aside, for Instagram, Postify can only schedule posts. In other words, you can not schedule Instagram stories or IGTV.
A good metric to distinguish a good service from a bad one is the reviews of its users. But Postify is not submitted to famous review websites such as Trustpilot or Capterra. Therefore we don't really if know if it has a good performance!
Alternatives For Postify
Postify is a great planner, but it also comes with some demerits which you just read about. In the following, you read about some of the top alternatives for Postify. Read them carefully and choose which one to choose at the end.
AiSchedul
AiSchedul is an all-in-one Instagram scheduler. With this tool, you can schedule your content via any device. You can schedule, find hashtags, see the preview of the scheduled images, etc. 
The most outstanding feature of AiSchedul is that you can schedule all types of content with it. In other words, you can schedule Instagram posts, stories, and IGTV. Sign up for free and watch the video to learn how to use AiSchedul.
If you are a fan of story stickers and emojis, you should know that on the AiSchedul dashboard, you would have access to all of it. 
AiSchedul is a web-based platform; however, you can download it from Play Store for free.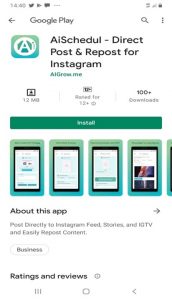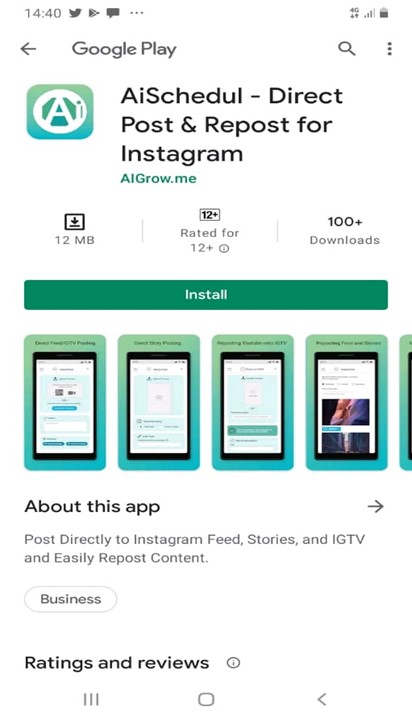 Before you download it, you should know that, unlike Postify, AiSchedul is an Instagram-only platform. If you want more out of an Instagram planner, you can subscribe to paid plans of AiSchedul at $19 and $49 per month.
Hootsuite
It is another well-known social media planner. Hootsuite has a perfect UI, and it is a perfect option if you want to create and schedule your posts. It has insight tools with which you can observe your performance and better your IG growth. However, with Hootsuite, you can not;
Schedule IGTV

Post multiple photos to one Instagram post
Hootsuite does not have free plans, and its paid plans are not affordable for small businesses.
Schedugram

Schedugram claims to be the ultimate Instagram management platform, and considering the features, it is not a far-fetched claim.
This very well-designed tool embeds a very professional editing tool that lets you crop, edit, add text and even resize the feed to get away with Instagram compression and upload high-quality photos on Instagram. Schedugram app is available for iPad, iPhone, and Android users, and if you want to manage your IG on desktop, you can connect via Schedugram web.
Do you have multiple accounts? You can easily bounce between different accounts on your dashboard and manage all IGs.
Some IG schedulers allow you to schedule the first comment, AiSchedul, for instance. It is used for users who want to add hashtags to the first comment. But unfortunately, Schedugram lacks this feature. Moreover, like Postify, you can not schedule IG stories and IGTV.
Schedugram does not have a free plan and has only one plan at $25 per month.
Postify Or Its Alternatives? Which One To Choose?
Postify is a good social media planner; however, some platforms are competing with it roughly. Here we let go of the common features such as posting IG posts or insight tools. Instead, we let you know in what they differ from one another so that you could choose with open eyes. There are free and paid plans, and regardless of your niche and how large your business is, one of the given schedulers fits your account. Pick one and start growing today.
| | | | | |
| --- | --- | --- | --- | --- |
| | Postify | AiSchedul | Hootsuite | Schedugram |
| Schedule IG carousel | ❌ | ✔️ | ❌ | ✔️ |
| Schedule IGTV | ❌ | ✔️ | ❌ | ❌ |
| Schedule story | ❌ | ✔️ | ❌ | ❌ |
| Schedule multiple photos to one post | ❌ | ✔️ | ❌ | ❌ |
| Free Plan | ❌ | ✔️ | ❌ | ❌ |
| Paid Plan | $9.99, $24.99, & $79.99 per month | $19 & $44 per month | €39. €99, & €520 per month | $25 per month |