There are multiple ways to sell your products on Instagram.  Some of them require you to have a website, while some of them don't. We are here to tell you how to sell on Instagram without a website and how to do it well.
Why set up business on Instagram?
The first question you should consider is why you want to sell on Instagram. What are some of the advantages of selling your products on Instagram, compared to other popular marketing sites such as eBay? Let's take a look.
Advantages
Rapport & Trust: Instagram is still a social platform in its heart. People log in daily to share their personal stories and be inspired by others' personal stories. What can this mean for your shop? Rapport and trust. If you ask any salesperson what their biggest asset is in pitching a product, they will tell you that it's building a connection with their customer. With Instagram, you will have it easy when it comes to this. Because it's a social platform, you can share posts & stories from your personal life to build a sense of connection with your followers.
Huge User-base: Instagram has over 1 billion active users every month. 90% of those users follow at least one business Instagram account. What does this mean for you? It means that you will have a huge audience for your products, both international and local (depending on how you want to shape your business). You can reach out to millions of people and pitch the perfect product or idea.
Accessibility: Setting up your Instagram shop can be as simple as posting a picture of your product and writing the caption "DM to buy." Running a successful shop will certainly take more than that, but you get the idea. Things can be even simpler when you don't want to go through the hassle of setting up a website. All you need is some knowledge on how to sell on Instagram without a website, and you're good to go.
What is the most common way to sell products on Instagram?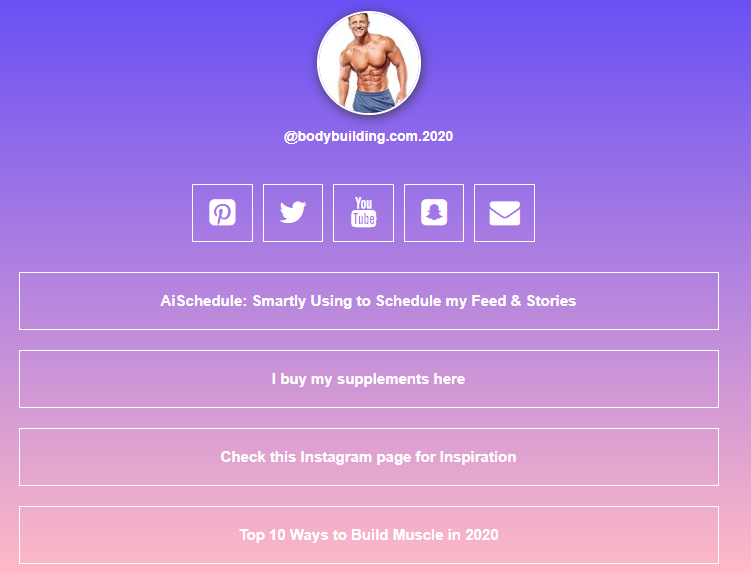 Instagram offers various ways for setting up shop and reaching out to customers. Some methods require you to have your own website. However, some others only require you to know about how to sell on Instagram without a website. The most popular sales approach on Instagram is using the bio link. This is because Instagram doesn't allow users to post links in captions and comments. Therefore, many businesses use their bio link or a link. bio service to post links to their products. If you want to use this method, you need a website outside Instagram, usually your own. But I assume this is not the method you are looking for since you are here, so keep reading.
Related:
How to sell on Instagram without a website
There are 2 primary methods for selling products on Instagram without a website. Let's take a look at them below:
Method #1: 
Instagram Shoppable Posts
This new Instagram feature allows business accounts to sell their products inside the Instagram app. In fact, the entire process of shopping doesn't take the user to an outside website, even during checkout. This alone makes this method very user-friendly, compared to, say, the bio link method.
Take the following steps to register for Instagram's shoppable posts:
1- Make sure you are located in a supported country.
2- Make sure you are primarily selling physical objects (read here for more information).
3- Create a Facebook Catalog with Facebook Business Manager.
4- Create your shop on Facebook through Shopify or BigCommerce.
5- Connect your Facebook catalog to your Instagram Business Account.
Once you meet these criteria, you can apply your account to be reviewed by Instagram. This process can take anywhere from 3 days to more than a week, so be patient. When your account gets approved, you are all set and ready to start selling.
Pros
very user-friendly
very trust-worthy
extra credibility for your page
Cons
hard to set up and be approved
only physical objects can be sold at this moment
not available in many countries
Method #2: Instagram Comments & DMs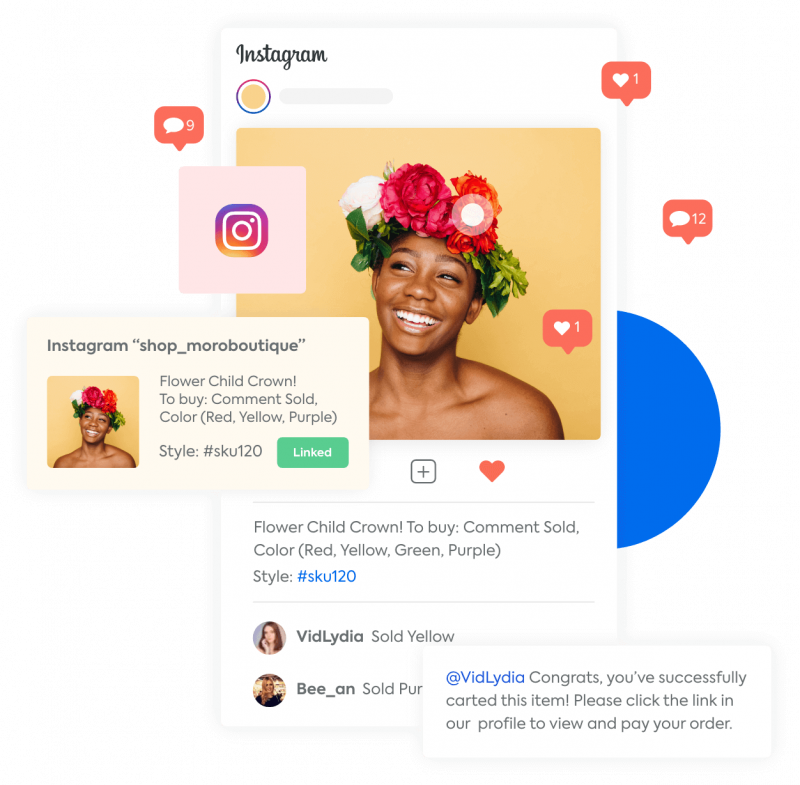 This is a straightforward method that doesn't require too much setting up. All you have to do is post pictures of your products and ask your followers to comment (or DM you) the product's name. Afterward, you can do a couple of things. You can either manually contact each person or ask for their information to complete the sales process.  This method can take a little bit of time, though it also allows you to get to know your customer.  If time is your concern, then there is another way. You can use a service like Soldsie or AiSchedul to respond to every client and complete the buying process automatically. Another option is to rely on an Instagram chatbot. You can also redirect the customers to your bio link (and then your website), but I assume you wouldn't be reading about how to sell on Instagram without a website if you had one. It's just good to know all the options.
Tips for selling on Instagram without a website
#1: Shipping and Payment: Consider how you want to receive payments and ship your products. Are you selling locally? Or are you reaching out to a broader audience overseas? If so, consider signing up for a business PayPal account. It will take care of payment as well as shipping.
#2: Run Reward Campaigns: Reward campaigns provide an excellent opportunity for your Instagram business. What is an Instagram reward campaign? You might probably have seen those posts that ask you to tag 2 of your friends and comment on a certain phrase to be eligible for a prize. Those are examples of Instagram reward campaigns that people use to boost their business and attract new followers. If you don't want to go through the hassle of running the campaign manually, you can also use an automated manager to run your campaigns for you – it takes less than 5 minutes and is completely free too!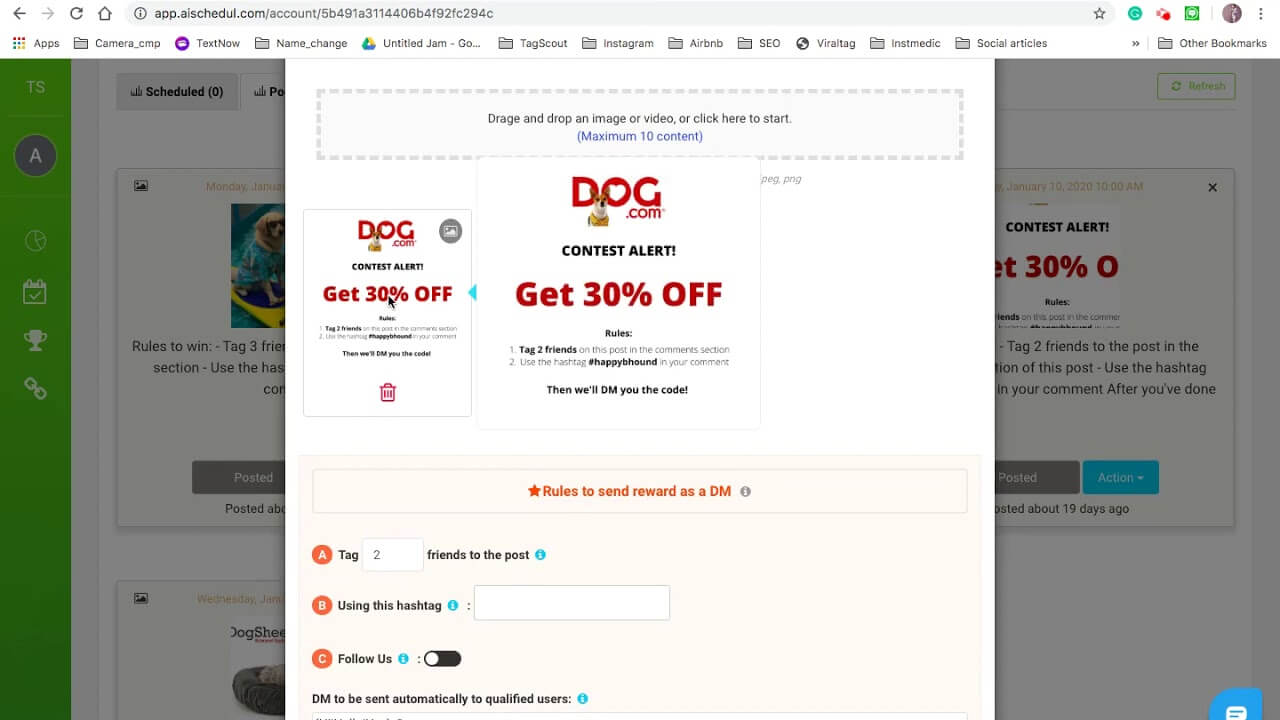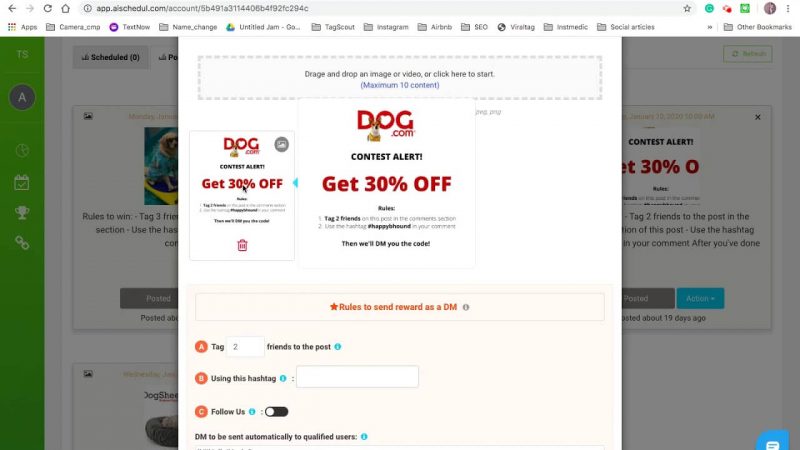 #3: Hashtags: Hashtags are a great place to start marketing your business. Instagram allows you to use up to 30 hashtags for each of your posts. Try to use them mindfully. Only target hashtags that are related to your product and can find you prospective customers. Moreover, don't forget to make your own personalized hashtag (e.g., #nameofyourbusiness) and use it under all of your posts. This way, your fans can find you more easily, and they might even start following your hashtag.
All in All
In this article, we introduced ways to sell your products or services on Instagram without a website. Moreover, we suggested some tips to help you to sell better on Instagram.
You can manage many of the tasks that we mentioned earlier using a management platform. This way, your page will grow faster, you will sell better, and also, it will take much less of your time. AiSchedul is an Instagram management platform that provides you with tools to manage Instagram features more effectively. Hit the button below to get to know this platform better.