If you want your brand to become a part of digital marketing royalty, it's important to know that Instagram is the king of all social media. 
While Facebook may still boast the biggest audience base, winning relationships between brands and customers are formed on Instagram. 
Feel unsure about that? Check out these stats.
In short, it's safe to say that Insta should be a focal point of your marketing strategy. And it's not hard to see why. 
After all, scrolling through photos decided by the Insta algorithm is far more enjoyable than reading aunt Jeanie's latest conspiracies on Facebook. Your consumers feel the same.
Understanding the appeal is one thing. 
Understanding how to thrive on the social media platform is another. Thankfully, you don't have to enter the battlefield without a weapon.
Nobody likes a complete copycat, but you can certainly pick up some valuable tips by checking out popular accounts. 
Here are five top tricks that will help level up your game, gained from some of the best in the business.
The No. 1 Tip For Growing Your Instagram Audience Is to "do your Focus"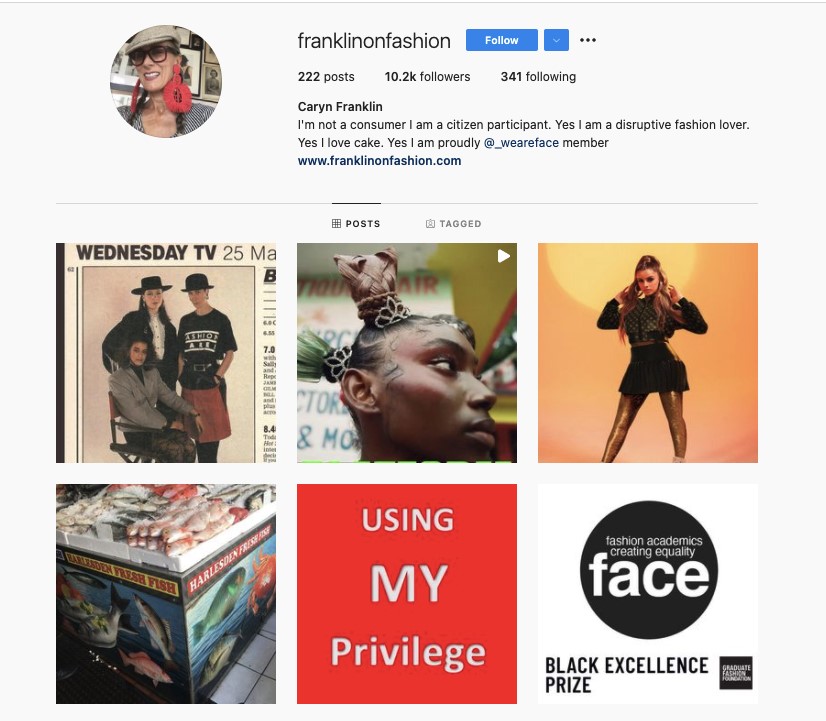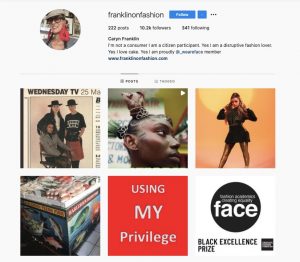 "Instagram should be about you, your values, what you're passionate about, and who you are as a brand." – Caryn Franklin 
Most business owners start their social media journeys with high hopes of reaching the biggest possible audience. 
Sadly, it is one of the biggest mistakes you could ever make. 
A large Instagram following may stroke your ego, but it won't pay the bills. Brands must learn to focus on building meaningful relationships that lead to conversions. 
Authenticity is the key to finding your niche.
Caryn Franklin's Insta page is a great example. Her focus on fashion and political matters is clear, authentic, and built to attract like-minded fans. Therefore, her army of 10,000+ followers isn't just a collection of social media fans. It is a community.
FranklyOnFashion has a clear brand message of inclusiveness and building a better world while also looking good.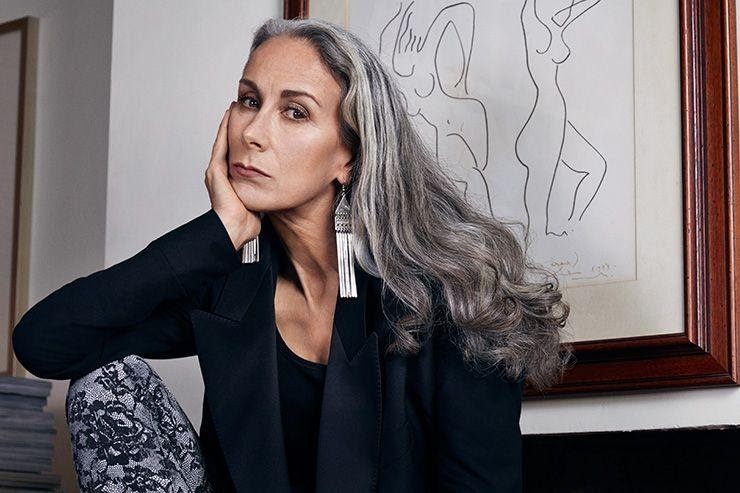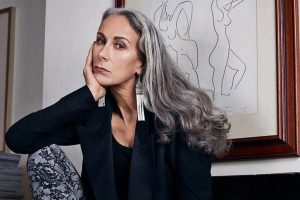 Your business needs to hone in on a topic that's authentic to your brand. When you have a defined message, it becomes far easier to build real relationships.
Studies show that 86% of consumers want to align themselves with authentic brands that they relate to. Social media is a place for storytelling. By focusing on a core brand message, those stories will be far more engaging.
Besides, your passion for the brand message will be contagious. In turn, it should grab your audience's attention in a far more powerful manner.
Will the targeted message stop some people from following you? Potentially. But they were unlikely to become customers anyway. Authenticity means that those who do follow your story are most likely to convert too.
Embrace it, just like FranklyOnFashion.
You don't need to take the perfect profile picture to be on the top of your Instagram game.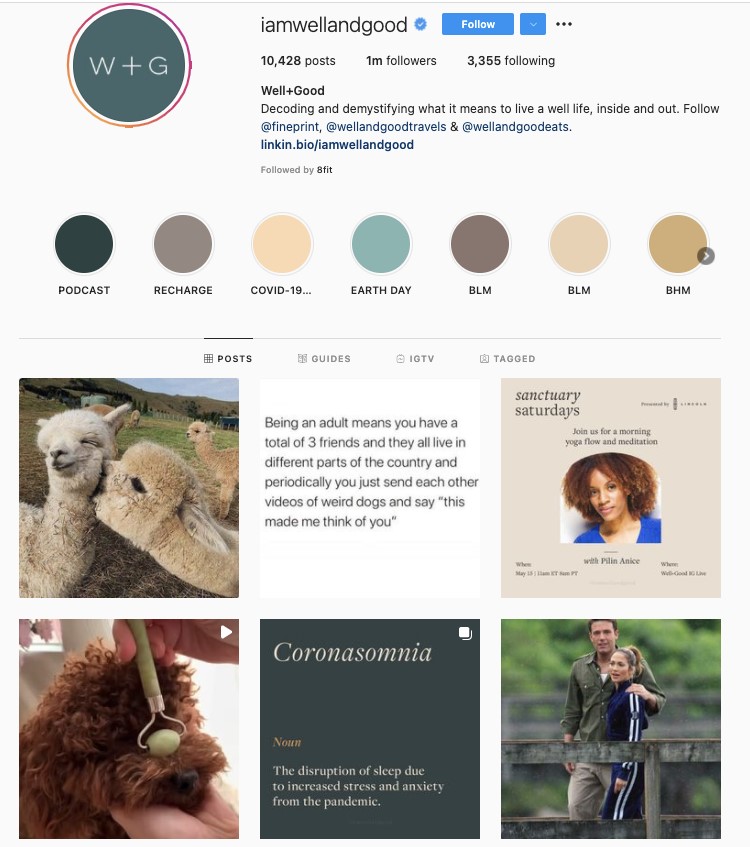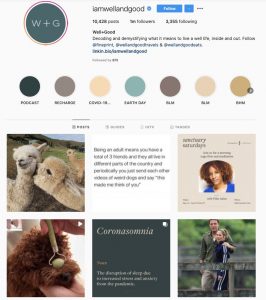 They say that a picture says a thousand words. When it comes to Instagram, though, the profile photo only needs to tell one thing: your brand name.
When you think about the biggest brands on the planet (Amazon, Google, Apple, McDonald's), users instantly recognize the logo. Once consumers are actively thinking about the company, leads and conversions are likely to soar.
Well + Good's simplistic profile photo is quite literally a white "W + G" on a backdrop. Sound boring? 
It was interesting enough to attract over 1 million followers…
The profile image is fresh, clear, and distinct to the brand. It also sets the tone for the header photos on its various story feeds.
Stats show that 90% of consumers expect to see consistency across all platforms. You can achieve this with far greater ease when you are not too invested in the single profile picture.
Whether using a simple logo or something specifically for Instagram doesn't matter. You must identify your target audience and find a picture that matches their interests and your brand story.
Interestingly, most users are likely to see a post before they see your profile picture. So, the picture should support the tone set by the general content. In this sense, Instagram marketing is fairly unique.
Well + Good uses pastels and neutral colors throughout its feed, which is supported by the profile shot. 
Moreover, it fits the brand message of living well and the general vibes that their followers expect.
The first impression you look to create will be determined by your brand background. Still, you can borrow the idea of focusing on the tone rather than an individual photo to set the platform for a far better Insta game.
Focus on your theme and filters and don't change them.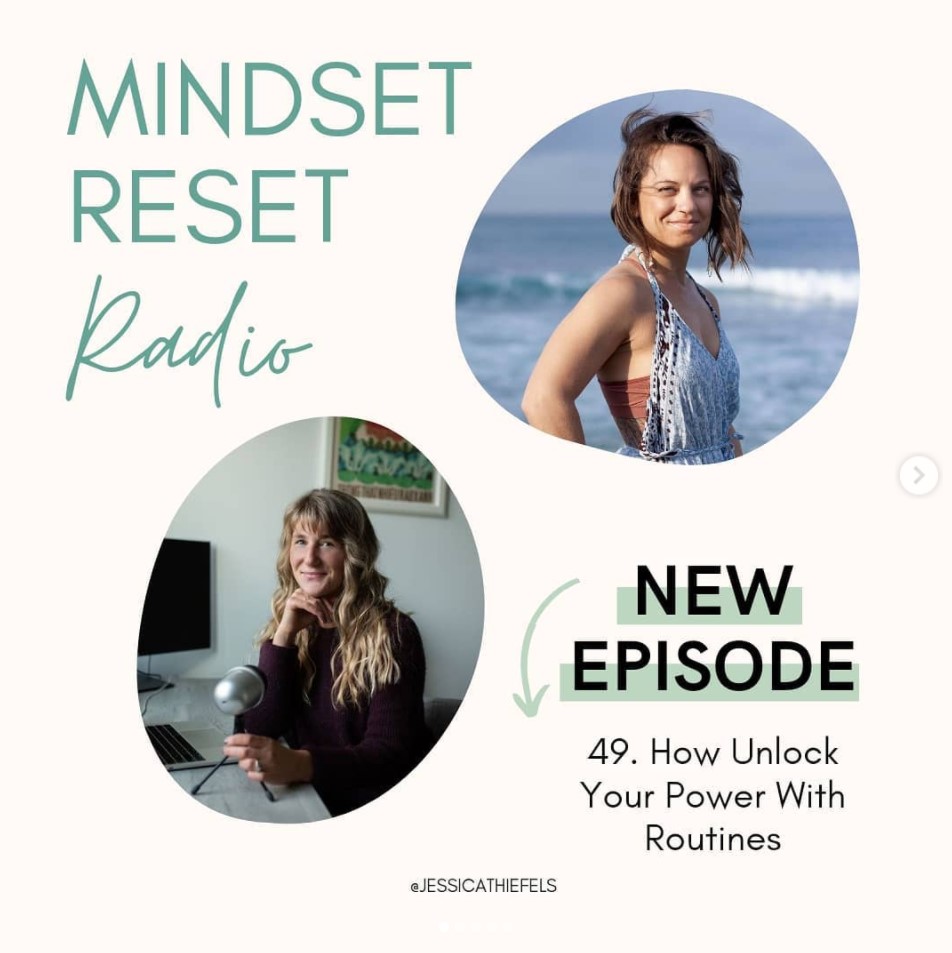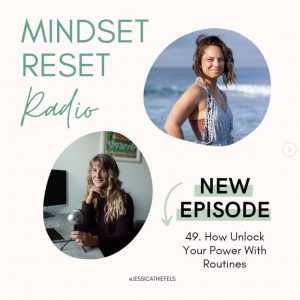 "To stand out, you have to be unique—and your theme sets you apart. If your theme isn't consistent or your photos don't look good, you'll have a harder time getting noticed by your target audience." – JessicaTheifels.com
The need for consistent branding on Instagram and across social media has already been mentioned. 
Without it, there is nothing for consumers to instantly associate with the company. Likewise, it threatens to send out mixed messages.
Jessica Thiefels uses consistent imagery across all Instagram posts. The combination of black and greens over a neutral background is present across many post types. Quotes, info about new content, and her "journal prompts" all share these features.
The choice of colors and fonts create a distinct look that will stand out on feeds and Instagram's 'explore' tab. Similarly, the tones are suited to the core value of mindset empowerment.
Up to 80% of consumers feel that color plays a central role in branding. It needs to be a key consideration for any brand looking to use Instagram marketing. After all, it is a visual platform.
Perhaps the most important factor is to strike a balance between building an instantly recognizable brand identity and keeping the content fresh. Consistency without repetition is the answer.
Your brand can achieve this by choosing one theme and sticking to it. This could mean using the same color scheme, story filter, or image dimensions. 
You won't only get a better response from audiences, but will also find it easier and quicker to find the best content for your feed over the months to come.
Once creating consistent but fresh Instagram posts becomes second nature, there is no going back.
The best time to post on Instagram varies from person to person, but there is a specific time for your audience. You need to find it.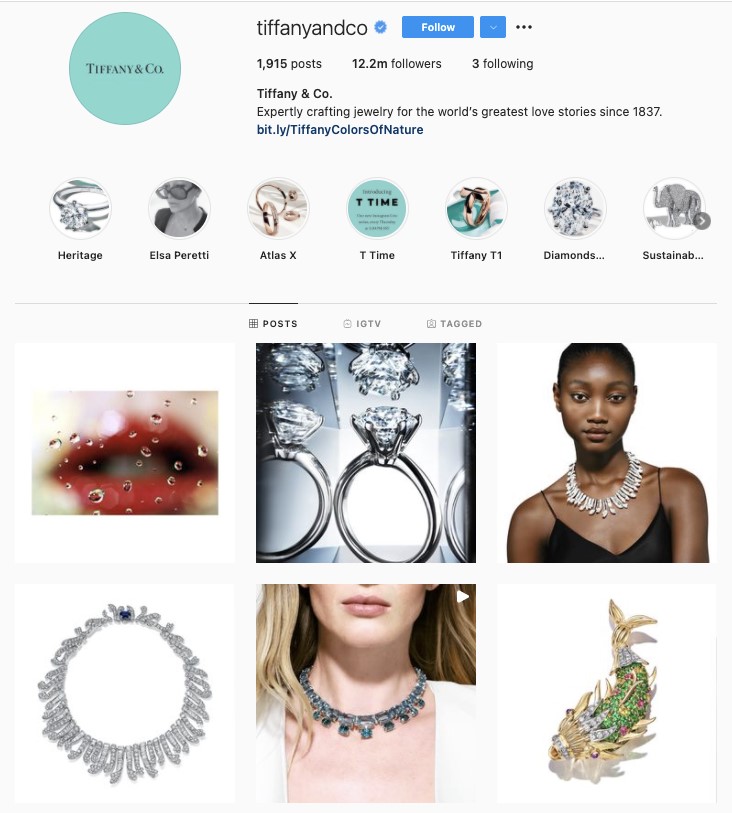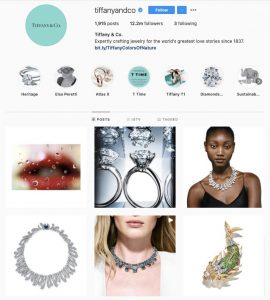 Timing counts for a lot in business. And your brand should be eager to strike at a time where optimal engagement is guaranteed from the audience. If a company as large as Tiffany & Co. places a huge emphasis on this aspect, yours should too.
Consumers want to feel valued, as is underlined by the fact that 73% say that a good experience influences their brand loyalty.
Posting your content at times when they are most likely to use Instagram is one of the best ways to show that your brand is aligned to their needs.
Tiffany & Co. often posts 2-3 posts per day. It is a useful strategy that enables consumers to stay up to date with the content and brand story. 
Likewise, the timings allow for maximum engagement while simultaneously reaching clients at times when they are most likely to convert.
Social media management tools like Hootsuite can enable you to automate posts on Instagram and other social media channels to gain maximum brand exposure. Analytics will additionally enable you to identify where the peak times are found.
For Tiffany & Co., it's not just about posting on their feed. Scheduling live features like their 'T Time' series has also required exceptional timing.
For effective social media management, it's important to understand your place in the market.
For example, research shows that B2B posts work best on Wednesday at 4 PM, while home goods thrive on Saturday around 9 PM.
Similarly, education works well on a Monday lunchtime, when people who are unhappy in their jobs are looking for an escape. Your brand needs to put itself in the client's shoes and think about when they are most likely to want content from your company.
Of course, generic peak times like Sunday evenings are a good addition too.
The most engaging type of post is a snapshot image or video, taken at eye-level, of regular, everyday (eye-catching) things.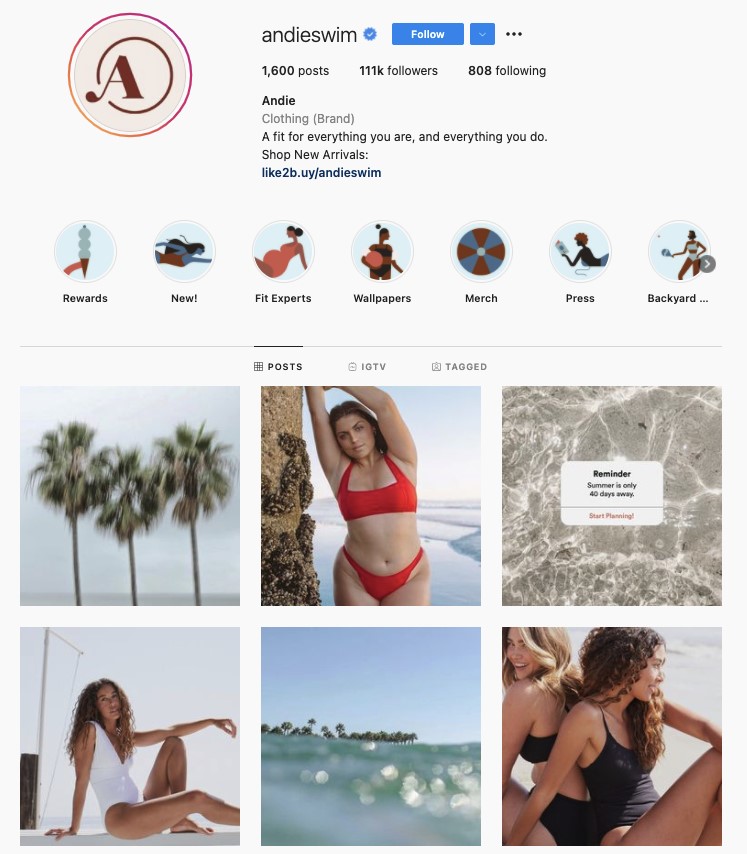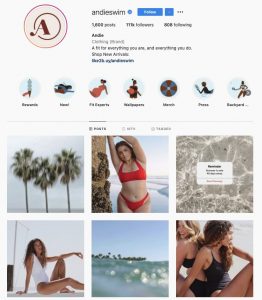 "The brand learned that selling swimwear didn't need to focus on over-sexualizing women, in the style of Victoria's Secret." – Glossy (talking about Andie Swim)
Consumers actively want to feel connected to the brands they interact with. Snapshots make great use of social media by giving an insight into the brand and its ethos. Andie Swim does it very well by showing real people with real images.
People know how marketing works. Sure, their attention can be grabbed with fancy gimmicks. But when it comes to buying, authenticity and trust are vital. 
A snapshot image is an honest photo that lets prospective leads imagine themselves with the products. 
In the case of Andie Swim, seeing real women with real bodies wear bikinis is far better than a flawless model. The latter simply creates anxiety and an inferiority complex.
Roughly 70% of teens trust influencers more than traditional celebrities. The fact they offer a snapshot rather than an augmented version of reality is one of the chief reasons for this. In addition to images, this idea translates to videos very well.
Video content on Instagram allows you to do things you couldn't do in more traditional marketing methods. 
Collaborations, Q&As, behind-the-scenes and viral videos, takeovers, and snappy product reviews are just some examples.
Plenty of tools can be used to perfect your short, snappy videos. Write-on Video, FilmoraGo, or Adobe Premiere Rush are great video editing apps, while Instagram Reels can be pretty useful too. 
Consumers expect brands to create engaging short-form content. 
Don't ignore it.
Marketing, in-app shopping, and live content with two-way interactions are all key trends. They provide a snapshot of the people behind the brand while promoting sales in a non-aggressive way. 
The number one reason that people are going on Instagram is for "Inspiration", and Number 2 is Life Hacks.
All social media platforms are unique, and Instagram is no different. Your potential clients visit for two main reasons: inspiration and life hacks. Provide them, and you will thrive.
All of the above examples do this in some shape or form. Whether it's Jessica Thiefels teaching how to gain a better mindset or Andie Swim's inspiring models who are real women doesn't matter. The key is to add value.
Every day business owners should apply these principles when creating content for their Instagram feeds. The reality is that growing the audience will vary depending on your niche audience size and a host of other factors. 
But content is always king.
When you create authentic stories and posts that speak to the target audience, it will capture their imagination. This should lead to more followers. Crucially, it should yield loyalty too.
For more information on Instagram marketing, why not visit Influencer Marketing Hub to learn about engaging post types or Later.com to learn more about timings. When combined with continued research into your audience and their behaviors, success is assured.