If you want to monitor your Instagram account, you should keep an eye on your analytics. Unlike the variety of websites tools, such as Watch Them Live, that allows people to monitor their web visitors, Instagram doesn't make it easy for you to monitor your visitors, especially when your profile is personal. They obviously don't think you're serious! However, once you switch to a business profile, you can begin to access much more useful information.
Do you know which tools are the most suited to measure the effectiveness of your Instagram marketing strategy?
Measuring the performance of your marketing strategies on Instagram is essential to know what the investment of our resources has led us to.
There are many Instagram monitoring tools, both free and paid, that can measure the results of your actions and tell you what you are doing wrong. As in all the marketing actions we do, measurement is essential to assess that the ROI we obtain is the most appropriate.
In this article, we are going to talk about the top 3 Instagram monitoring tools in 2021 that you have to try.
AiSchedul: #1 Instagram monitoring tool
AiSchedul is an amazing tool that you need to expand your business through Instagram, this tool helps you get maximum exposure and growth in the shortest amount of time.
To monitor Instagram, you have multiple sections that you can use, so after signing on AiSchedul, log in to your dashboard, you can have full access to all the magical features that will conserve a lot of your time.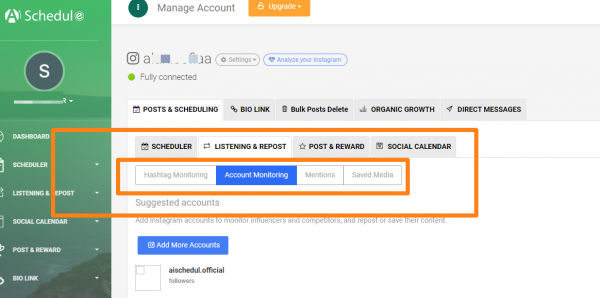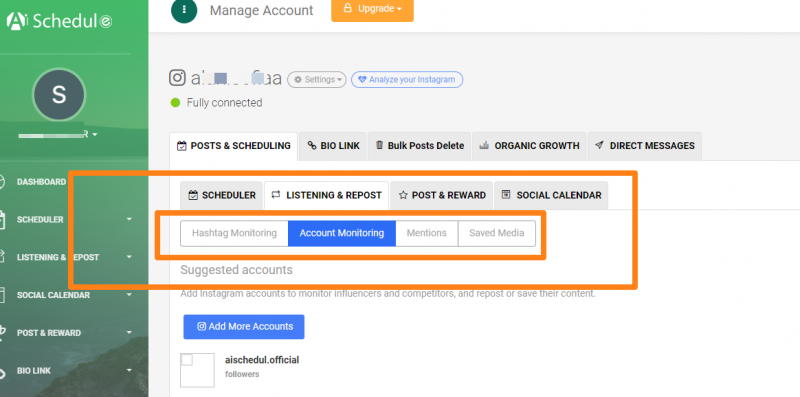 If you have been on Instagram for a while, you may have heard of the significance of hashtags; hashtags are the key to beat the Instagram algorithm if you do it right!
However, that doesn't mean to stuff your captions with a bunch of hashtags, so how to use Instagram hashtags to grow your audience?
You have to be very precise about them, so to find the most fitting hashtags that suit your niche, AiSchedul has made a hashtag monitor that you can utilize.
Aischedul Hashtag Monitor 
What does hashtag monitoring do? 
It searches among popular hashtags that are already used on the web and then displays them to you, now you have more variant hashtags to choose from.
Tip: if you have a small business, try to add hashtags that have been used less, so the chances of your account being discovered would elevate. 
AiSchedul Account Monitoring
On Instagram, you always have to watch out for your competitors and keep up with the game! Get new ideas from new trends and everything that they are using and following, or even repost their content and you might get featured.
So with AiSchedul you can analyze and monitor influencers accounts in your niche and competitors, all in your dashboard, no need to switch between apps and accounts.
AiSchedul Mention feature
Since Instagram stories launched in 2016, they became one the most popular updates of Instagram, and when you hear the word story, the first thing that comes to mind is @mentions, to be mentioned or tagged on Instagram stories means being notified, viewed, growing Instagram followers and driving traffic to your account.
It is really valuable to repost your mentions and spread some love, so don't miss a mention.
What is really cool about AiSchedul's Instagram monitor tool, is that it has the option to view posts and Stories that @mention you, and you can repost them with just a click.
Moreover, you can create and browse through "content buckets" of posts and stories that you save in the monitoring tabs.
These are some of the major factors of a great Instagram monitoring tool that you need.
Sproutsocial: #2 Instagram monitoring tool
Sproutsocial contains a very complete editorial calendar that allows you to schedule publications, not only on Instagram but also on other social networks.
It includes a social CRM that groups conversations and that will help you improve conversion, in addition to being very useful for large organizations because you can assign tasks within the internal team to streamline processes.
For example, when you finish a task, you can assign it to the next person in charge.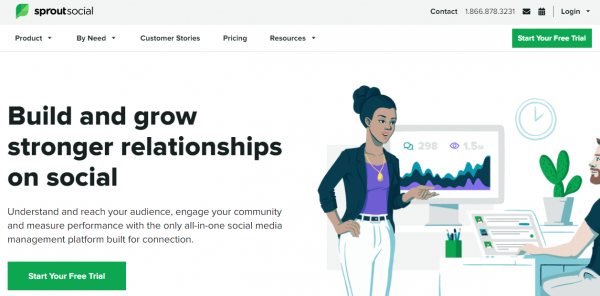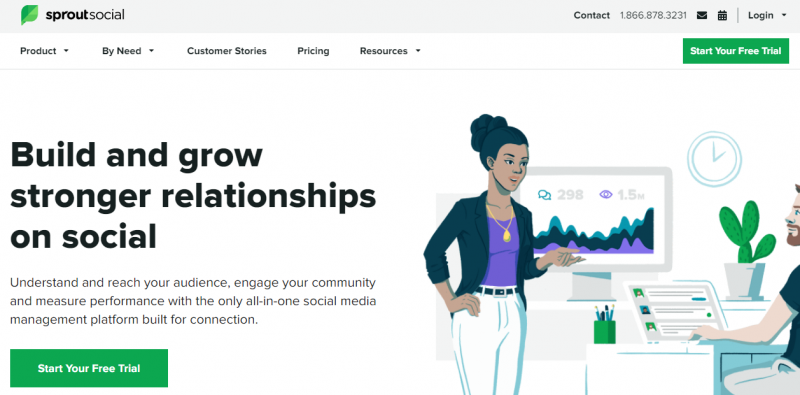 As for what it offers, it is quite similar to the rest of the tools. However, it does have a free Instagram account analytics tool that provides information on the metrics related to the hashtags used, your account information, and an analysis of the best time to post.
It also includes an analysis of the competition and the own accounts.
Squarelovin: #3  Instagram monitoring tool
It has a free section that already provides you with all the information you need to measure the accomplishment of your Instagram profile: it offers you information about the interests of your followers and recommends how to get more interaction. In addition, this tool explicitly tells you what is the best time of day (and what is the worst) to publish for your audience.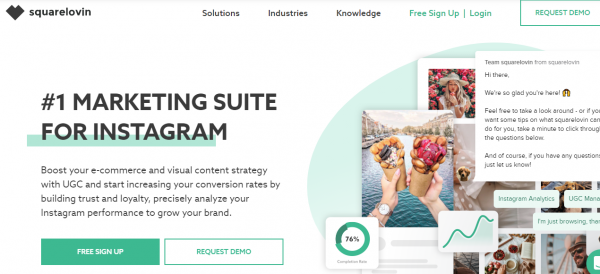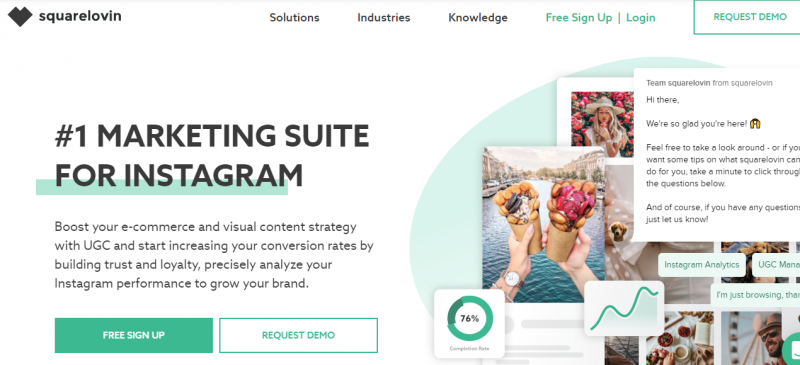 Therefore, Squarelovin shows how it measures the engagement of your users and the performance of your content, both in an aggregate and individual way.
At last, Sproutsocial presents a graph to identify the evolution of likes in the last 30 days and highlights the posts with the highest number of "likes" (or those that have received the most comments).
To Sum Up 
Instagram is all about analysis, numbers graphs, and engagements, so to expand your brand through this app, you need to acknowledge all these facts and comprehend Instagram strategies, so learn how to monitor Instagram and use a tool that we covered in this article to help you accomplish your aims in all social media aspects.