Instagram is the most popular application for sharing photos and videos these days. Also, most of the big companies and brands have an account on Instagram to attract more customers. The key for having a successful page on Instagram is to keep in touch with your customers and posting constantly. When you don't have enough time to create your own content, you can repost multiple photos from other Instagram accounts similar to your page's theme. In this article, we'll show you the ways to repost multiple photos on Instagram. Keep reading to find the best way.
If you don't have enough time to read further, hit the button below to sign up on AiSchedul and repost content as easy as pie!
Different Ways To Repost Multiple Photos On Instagram
Sometimes you don't have the time to create your content. Here is when you can repost multiple photos from other Instagram accounts similar to your page's content. Also if you have a store it would be good to share your customers' photos of your products. There are different ways to repost content on Instagram such as:
Sharing the post on your story

Taking screenshot

Using Third-party apps
Sharing the post on your story
Instagram gives access to users to repost intended posts in their stories if the owner's account is public and they've allowed resharing of their posts. To do that you just need to do three easy steps below:
Find the post you want to re-post on your story. Make sure the owner's page is public.

Click on the DM's button below the post.
Tap on Share post on your story and after editing you can repost it on your story.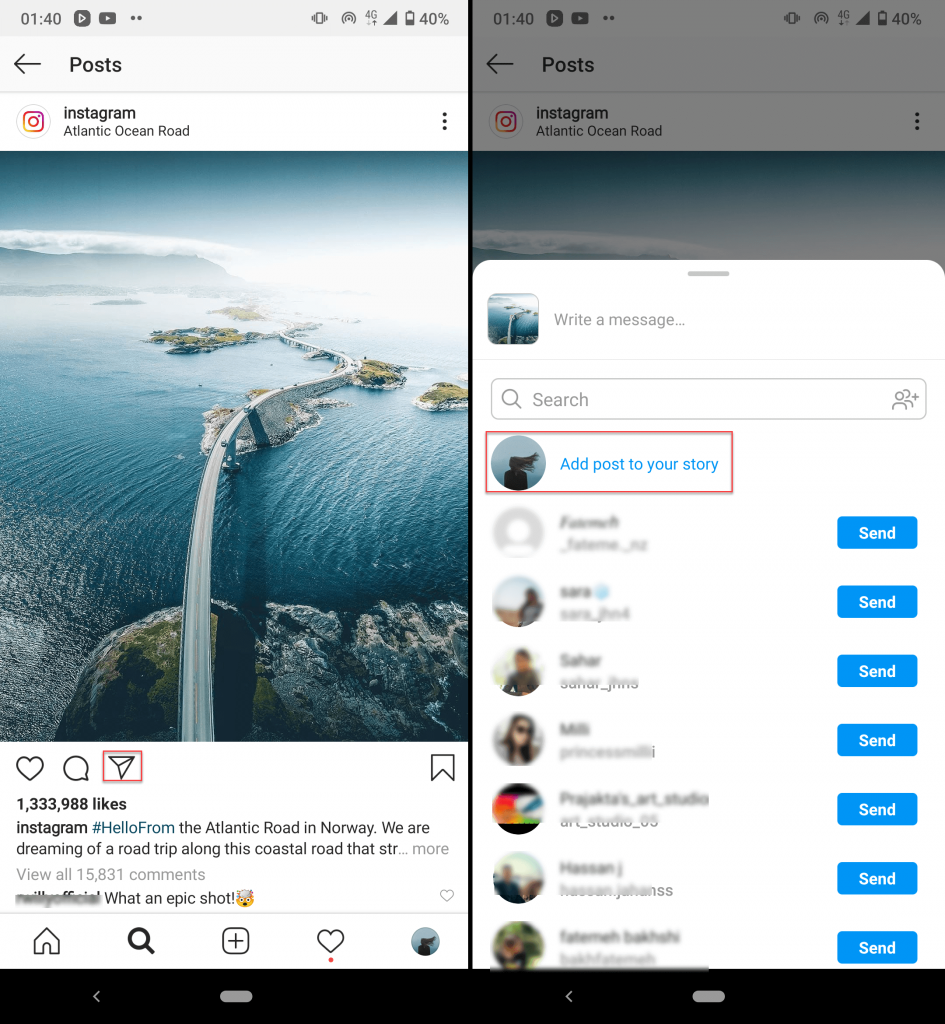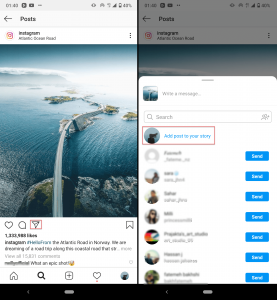 The problem with this way of sharing is that you can't repost multiple photos on your Instagram. If the intended post is an album you can just share one picture per story. So it's not efficient for sharing multiple photos.
Also in this way, your followers have to tap on the post you shared then they will be redirected to the original post on the owner's page, not yours.
Taking screenshot
Taking a screenshot is another way that you can even use on private accounts to share their content, but you have to take the owner's permission. Although it's easy, we don't recommend it because it takes time and the owner may not permit you to repost it. But if you get permission you can edit the photos and easily repost them like any other photo on your account.
Using Third-party apps to repost multiple photos on Instagram
Most Instagram issues can be solved by using Third-party apps. There are thousands of apps to help you repost content on your Instagram. Here we will introduce some of them.
AiSchedul
AiSchedul is an Instagram-based platform with many features. It's also the best app for reposting since it offers more options and features than others. By using it not only you can repost any content but also you can schedule posts and stories, respond to comments automatically, etc. This platform lets you search for Instagram posts by hashtags, locations, etc.
For reposting multiple photos on Instagram using AiSchedul, follow these steps:
Open the AiSchedul website on your browser and sign up for free.

After signing up, you need to log in to your Instagram account and start managing.
From the Dashboard, select the Add Instagram account. You can add more than 80 accounts at the same time and manage them together. After logging in to your Instagram page, select Manage Account.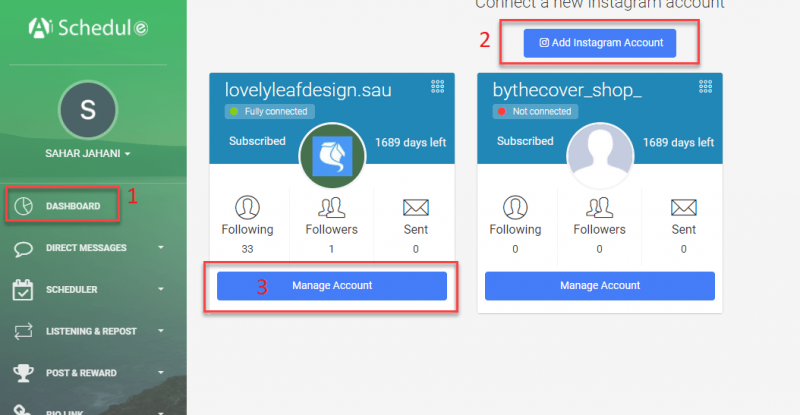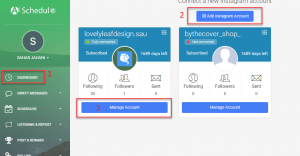 Click on Repost and choose where you want to repost it, Feed, or Story.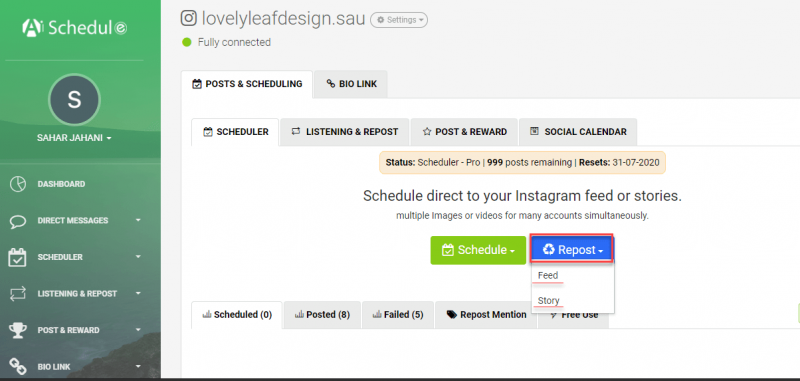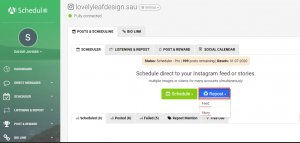 After clicking on Feed, you can choose the way you want to find the content. You can repost by hashtags, usernames, locations, or URLs.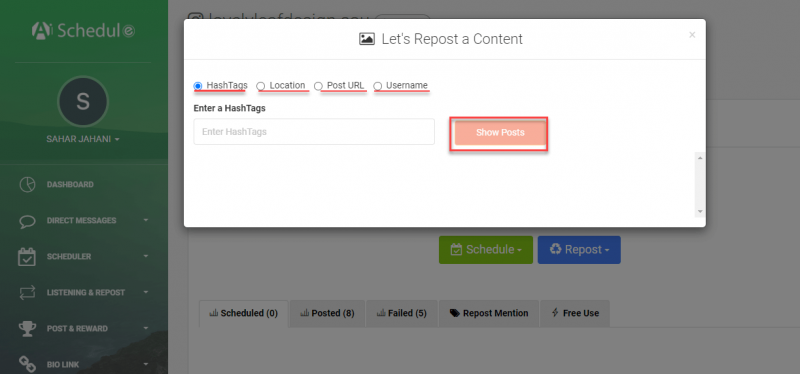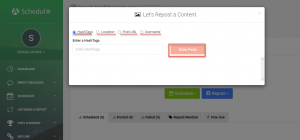 1.Hashtags
You can add the hashtags you have in mind. Then you'll see a large number of posts that have been trending on Instagram. Here you can find the favorite content similar to your page's theme.
     2.Location
Another way to find desired posts is through the location. You can easily type the location and choose between posts related to that area. You can select and repost up to 10 photos at the same time.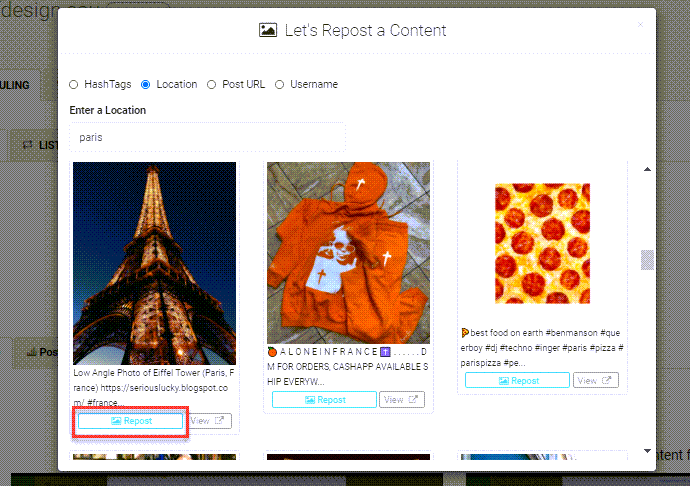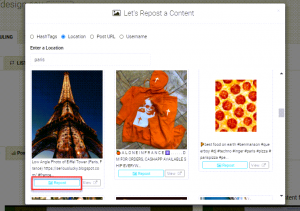 3.URL
You can copy your intended post's URL to your clipboard. After pasting it in the URL section, the photo will appear there for you. You can post it immediately or schedule it. Make sure the owner's page is public.
   4.Username
You can search by usernames to find your favorite content. Also, you can see the posts shared by the user and repost each one you want. Just don't forget to tag them so you give them credit.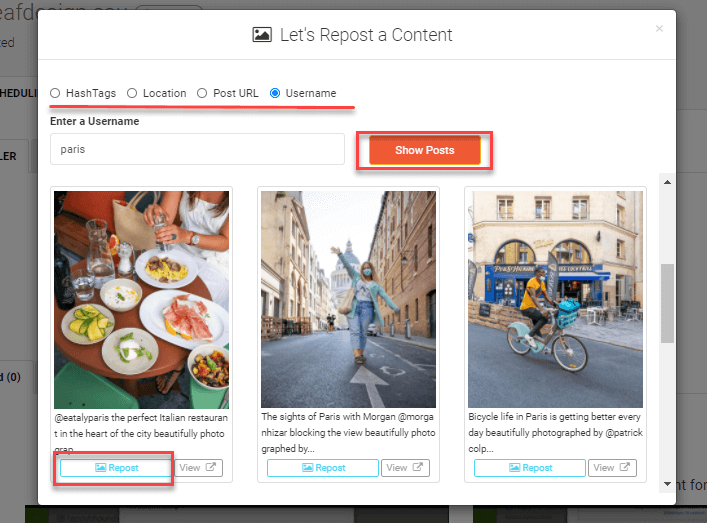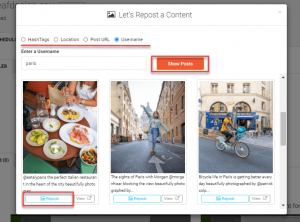 After selecting each of these options, similar photos will be shown.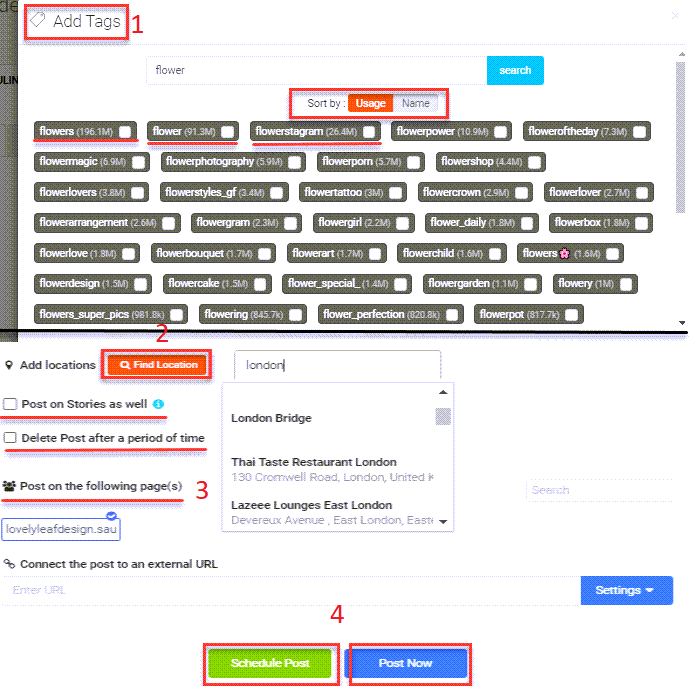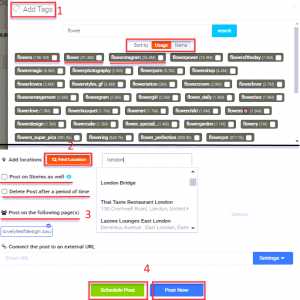 Now as you can see in the picture, you can select the photo you want and add a caption, locations, hashtags to help your post get reached more and choose to post it immediately or schedule it. Also this way you can repost in multiple accounts in the third part shown and you don't need to install any applications. You can do all the things above using a simple browser.
If you select the story option, you can only search by username. You can type a public page's username and after choosing the story you want to reshare, you can schedule it or post it immediately. You can also select multiple stories and share them.
By reposting content, AiSchedul is going to give you the caption that was already on the original photo. It also tags the owner so you are giving them the credit.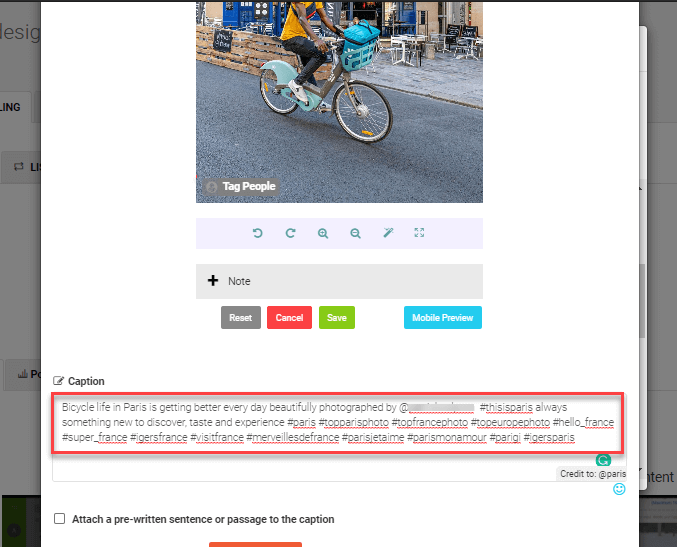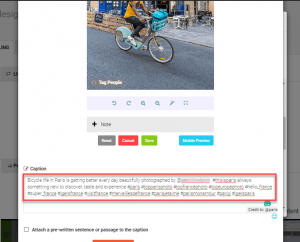 start reposting multiple photos on Instagram with AiSchedul easily.
Regrann


Regrann is a mobile application that lets you repost Instagram posts. It connects to your Instagram account from your phone, so you don't need to sign up for a new account. It just lets you repost pictures by copying URLs. You just need to copy the intended post's URL and it would appear on the app automatically. After that Regrann offers you the options to save, share, post later, or post the photo to your Instagram stories and feed. But if you want to repost multiple photos or albums, they will be downloaded in a folder, then you can save them one by one and repost them.
InstaRepost

This is one of the oldest apps to repost on Instagram and it is only available for android phones. You just have to copy the picture's URL and it would appear in the app automatically. It has an editing feature that you can edit the original post and add text, emojis, etc to it. The downside of this application is that you can't download the photo albums. In other words, you can just download the first picture.
Plann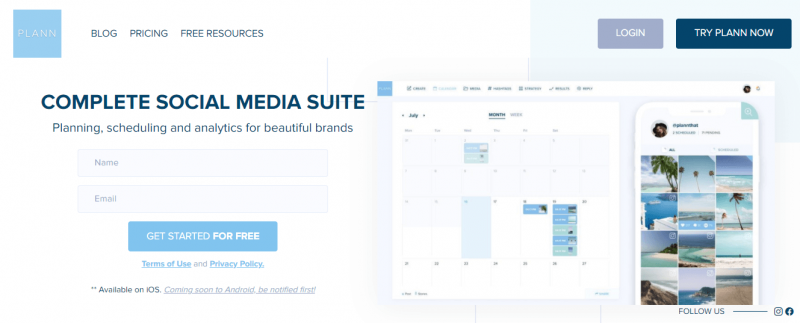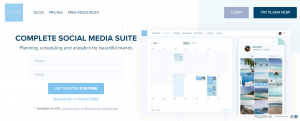 Plann is an Instagram managing platform with many features. You can repost and schedule posts and receive analytics. It also has a good editor which helps you edit your posts professionally. You can read more about the Plann, its features, and a comparison to AiSchedul on Plann App vs. AiSchedul article.
Sendible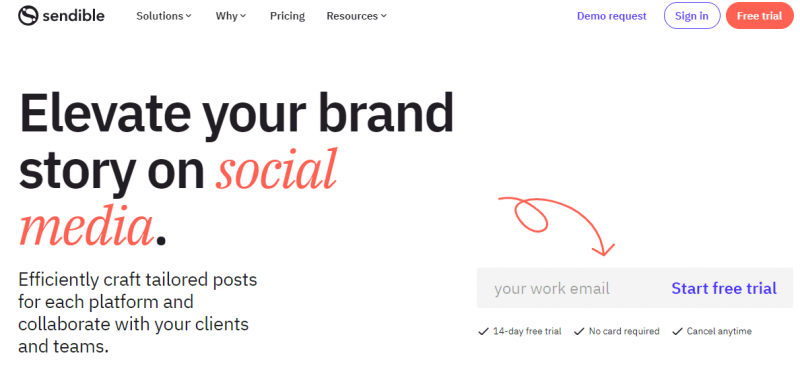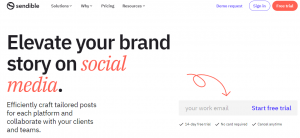 Sendible is an Instagram managing platform that helps you schedule posts and manages your Instagram professionally. By using Sendible you can repost photos using their URLs. This way, you have to copy the URL from Instagram and paste it on Sendible.
Conclusion
Reposting is a feature that Instagram doesn't offer to users directly. As we talked about, there are many ways you can repost content on Instagram. But when you want to repost multiple photos on Instagram, some of them may not work or take too much time.
So, we introduced you AiSchedul which can help to repost easily and save you so much time. Also, It's not only for reposting. It has other features like scheduling your posts and stories, bio link tool, hashtag monitoring, etc.