Instagram was first launched in October 2010, and now it has over one billion users with a considerable number of influencers and brands in any niche. That is why many believe that Instagram is already oversaturated. It is true to a certain extent, but if you want to shine in the platform, it is still doable if only you learn about some of the killer Instagram hacks that many users don't know about.
The phrase " Instagram hacks" is a general term. To be more specific, we are going to talk about Instagram hacks to create an appealing account and tricks that increase your chance of appearing on the explore page. Plus, you will read about one Instagram hack tool that lets you recover unsent DMS. 
Easy! You are not gonna read about some cliche (yet important) tips such as "engage with followers" or "be consistent." Instead, I will let you know of the secret tricks people barely know about. Ready? Stay tuned!
Instagram Hacks To Have An Appealing Instagram Account
One of the overly repeated facts about Instagram is that it is a visual platform and aesthetics play an important role in it.
When users visit your Instagram profile for the first time, they first pay attention to how it looks and whether or not it is worth it to follow you. So make sure you make a good first impression. Now, what are the hacks?
Add Line Break To Your Bio
To my surprise, Instagram removed the line break when writing an Instagram bio from the app. But fortunately, you can still add line breaks from the Instagram website. Here is what you need to do;
Sign in to the

Instagram web

via laptop

Go to your profile page

Click on "Edit Profile"

Edit your bio and click "Submit"
Now check in on your app. It got fixed, didn't it?
Don't Use Any Hashtag On Instagram Bio! Don't Tag Just Anybody!
As you, hashtags and mentions in bio are clickable. It means the moment a user touches it, he/she is off your page. This is not what you would want unless you tag another page related to your page or use a specified hashtag that relates to your brand.
Type the hashtag in the bio section. When you tap on submit, it automatically turns blue and clickable.
Change The Alignment To Make Your Bio Centered
Instagram does not have some center align bottom for bio. It has only left align! However, there is a trick!
Sign in to the Instagram web via PC and click the Edit Profile (It is doable via the app, it is only a matter of easiness)

Copy the space between the parentheses without including them (

⠀⠀⠀⠀⠀⠀⠀⠀⠀

) 

Paste it before your bio to have different looking profile bio
Add Special Character To Your Bio
Instagram does not have special characters for you to beautify your bio. Once again, open the Instagram web, find the desirable characters or emojis coolsymbol.com copy one of them, and paste in your bio. Not that it is not possible on a cellphone. On the desktop is just easier.
Use Different Font In Your Bio
You type your bio here, and this site will suggest it in different fonts, as you see in the gif.
Add Multiple Links In Bio
As you know, Instagram does not allow you to add links to posts. You can only add one link in the bio. But none of us update it as often as we are supposed to do. An Instagram link in bio can help.
AiSchedul is an Instagram management tool with a well-designed link in bio tool that allows you to design your landing page from choosing the theme color to creating a CTA bottom such as buy now.
The CTA button allows you to build your email list from Instagram profile visitors. Let's say you have an Instagram shop, and to increase the sales you want to provide followers with coupons. They click on the "send me a coupon button," and they must enter their email address to receive the coupon. And the coupon will be sent to them automatically.
Remember that you can design the CTA button as you desire. You can also add links to Instagram highlight stories even if you do not have 10K followers. Sign up for free.
Change Highlight Icon Without Having Publishing It
Highlight covers don't need to be in the highlight threads necessarily. You can pick them from camera roll without publishing them.
Hold the highlight story

Tap on "Edit Cover"

Tap on "camera roll" and pick the cover you want
Hide Hashtags
Every hashtag is an entry to your Instagram profile! Plus, Posts with hashtags get %12.6 more engagement. So you better take advantage of the full potential, which is 30 hashtags in the caption and 10 hashtags in the story.
But it looks a little spammy! This is while aesthetics matters a lot when it comes to Instagram. To avoid ugliness and yet keep each entry open, embed the hashtags in the comment instead of the caption.
In order to hide hashtags in the story, either type them in the background color to make them invisible or resize them and cover them with an emoji.
To read more about hashtags hacks, read; The Hashtag Hack: How to Bring your Posts to the Top of the Explore Page
Instagram Hack To Read Unsent DM
This Instagram hack does not help you grow or stand out from the folks, but we could not write an article without including this trick.
Instagram launched the unsent feature that allows users to take back what they've said. So you as the receiver never know a message was sent and from who! Are you curious at all?
The good news is that you can access deleted or unsent messages on Instagram with the help of an Instagram hack tool. What you need to do here is to Sign up to AiSchedul. AiSchedul is an Instagram management tool that allows you to manage your DMs. 
When a user sends you a DM, AiSchedul delivers it to your dashboard. Now if the user unsends it, it disappears from your Instagram DM section, but it still is in your dashboard. AiSchedul is free, then give it a try and feed your curiosity 🙂
Instagram Hacks To Appear On The Explore Page
Appearing on the explore page is not a cup of tea. The given tips do not necessarily bring you to the explore page. But they boost your chance.
Embed The Keyword In The Name And Bio
Did you know that every word in the bio is searchable? If you embed the keyword relating to your niche, you have a better chance to appear on the explore page.
Save Your Own Posts
It might sound a little desperate, but when it improves your engagement and increase your chance to appear on the explore page, why not helping yourself out?
Before you go, it is worth mentioning the pricing and packages of AiSchedul. This platform comes with three plans. The free plan provides you with all the features of AiSchedul with no limits regarding time (AKA it is free forever)
AiSchedul's pricing and plans
However, if you seek more, you can buy the paid plans that cost you only $19 and $49! So affordable!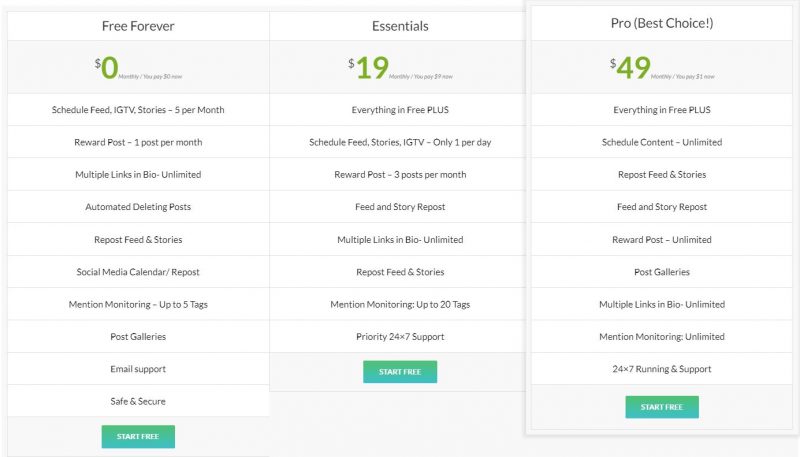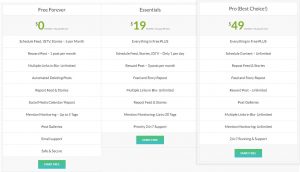 Final Thought
According to many, Instagram has become oversaturated, and it is hard to get noticed. This claim is not far-fledged; however, there is still a great chance to get noticed on Instagram.
This article provided you with some tips and tricks and one free Instagram hack tool which lets you stand out among the crowds.