Instagram has indeed turned into the ideal marketplace for brands, individuals, and influencers. Because of the highly competitive nature of this platform, however, it's incredibly hard to climb up the ladder of Instagram success single-handedly. Some tools including Instagram schedulers can help you reach organic growth. And if you're an influencer, you need to be careful about the tools you exploit! 
Influencer marketing has already proven its worth, and we no longer need to advocate it. More than 70% of the Gen Z population trusts influencer marketing more than other marketing channels.
With the growing popularity of influencer marketing, the influencer space is getting saturated very quickly. Creativity and consistency are no longer the only requirements to succeed in this space.
Keeping the ever-evolving influencer market in mind, we have compiled a list of 8 must-have social media tools for influencers. With the right tools and platforms, you can fast-track your way to the top of social media influencer marketing.
Top 10 Social Media Tools Every Influencer Should Have in 2022
The tools and apps we have selected often overlap in their features and offerings, but each of them brings something new to the table. While some focus on all social media platforms, others are platform specific.
These tools will not only help you be more consistent but also keep you ahead of the curve in terms of creativity, following trends, and measuring progress.
Let's find out more about the top 8 social media tools every influencer should have in 2022. 
1. Ainfluencer
Free marketplace for influencers and brands

Brands can browse from a huge pool of influencers to work with

Brands can post free advertisements with sample videos or image

Ainfluencer AI engine automatically finds influencers for brands as per requirements

The automated system monitors the campaign and holds funds until the post has been published according to the deal with the influencer

Analytics such as likes, comments, bio links, clicks, and more in real-time

Featuring brands and Instagram influencers from all over the world

It is available free of cost 
If Instagram influencer marketing is your objective, it's hard to beat Ainfluencers. It is the largest online influencer marketplace for Instagram influencers and brands from around the world. Apart from leading influencers, Ainfluencer also gives nano and micro influencers a chance to work with top brands.
2. Aischedul.com
Schedule Feed & Stories Automatically

Using Grid Visualization

Using a desktop-compatible editor, create Stories and feed posts

Any existing YouTube or IGTV content can be converted and posted to your Instagram feed

Discover useful and captivating information to use as a model for new posts or to repost each day

Create a beautiful jump page that includes links to all of your Instagram feed posts, Stories, and other content

Create quick and simple contests to increase awareness and revenues

Pricing plans are as follows: 

Scheduler
Free

Essentials: $9 /month

Pro: $29/month
Free

Pro: $4 /month

Advanced: $9/month 
Essentials: $15 (lifetime)

Pro: $29 (lifetime) 
Starter: $9 (lifetime)

Pro: $19 (lifetime)

Advanced $59 (lifetime)
Aischedul.com is the all-in-one tool for Instagram influencers. From design to follower management to interactions, Aischedul.com does it all. If you want to grow in Instagram, this is the single most important tool for you. 
3. Unum.la
Pricing plans: (Basic: Free/ Premium: $4 per month)

Creative tools for more attractive social media posts

Post scheduler and calendar

Cloud-based operations

Insights and analysis on performance in each social media platform

Hundreds of storyboards to take inspiration from
Unum.la is a must-have tool for all social media creators. It's truly a one-in-all platform that every influencer must have in their arsenal. If you are unsure which tool to start with, Unum.la is your best option.
Apart from having an easy-to-understand interface, Unum.la is also rich in resources. There are tons of templates and storyboards to take inspiration from and a range of editing options to make your posts look better. It also gives you a detailed analysis of how your posts are performing across social media platforms.
If you are just getting started with Instagram or setting up a TikTok business account, you need Unum.la in your toolkit. It's the single best application for social media influencers. 
4. Happyscribe 
Human-generated transcriptions and subtitles

AI-based subtitling

All projects take less than seven days to deliver

99% accuracy

Variable pricing on a per-project basis
Happyscribe is the best tool for audio transcription and subtitling. Unlike Unum.la, it does not offer social media scheduling services or analytics. It's a dedicated subtitling platform that does its work to perfection.
As social media influencers, you should aim to have an audience base that goes beyond your regional boundaries. Among other things, the biggest challenge in doing this is to overcome the language barrier. If you are an individual creator, covering more than one language is often impossible.
With Happyscribe, you can generate high-quality subtitles in a very short time for all your videos. It's a must-have tool if you are a video creator or YouTuber. Happyscribe supports more than 60 languages, which is more than enough for most creators. 
5. Onalytica
Onalytica is an excellent platform that brings together brands and influencers. It's Upwork or Fiverr in the world of influencer marketing. Onalytica offers managed services to brands where they get to work in close coordination with influencers.
Several platforms bring together brands and influencers, but few do it as smoothly as Onalytica. For brands, Onalytica is the ideal platform to find new influencers to work with.
For influencers, Onalytica opens a world of opportunities. You can work with your dream client or company through this platform and scale your social media brand. Sign up for Onalytica now to not miss out on some great opportunities. 
6. MeetEdgar
Find new content ideas

Repurpose old content

Post consistently with an automated content calendar

Analyze audience responses and A/B test variations

Drives new followers and sales

Pricing plans:

$299/year – 5 social accounts

$499/year – 25 social accounts
MeetEdgar is one of the smartest apps that social media influencers should familiarize themselves with. The biggest challenge in social media influencing and marketing is content. It's virtually impossible to come up with fresh and relevant topics every day. That's where MeetEdgar comes into play.
MeetEdgar takes your existing social media posts along with its huge library of content to come up with fresh content ideas. It also repurposes evergreen content to make it more relevant and topical. Along with that, the automated content calendar makes sure that you are always consistent with your social media presence.
If you are struggling with content ideas, MeetEdgar is the best solution for you. It brings a fresh approach to repurposing old content that works very well. 
7.
Tweepi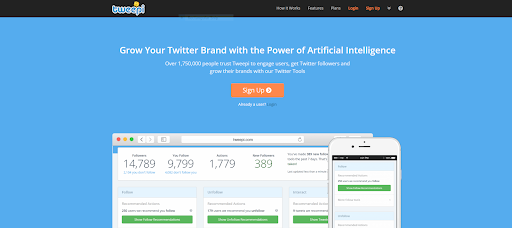 Exclusively focused on Twitter

Get the most engagement out of your tweets and users

AI-driven operations

Get rid of inactive followers and spam accounts

Pricing plans: 

Silver: $10.75 per month

Platinum: $20.75 per month
In the buzz of TikTok and Instagram, many influencers would often undermine the role of Twitter. However, it remains one of the most used social media platforms and is the unofficial platform for all major updates and news.
Getting success on Twitter depends on a host of factors. Tweepi helps you cut through the weeds and arrive at the most relevant topics and hashtags. As a result, every Tweet you make engages more people and attracts more followers.
Tweepi incorporates artificial intelligence to find the best niches and trending topics automatically. It also helps in getting rid of unwanted or inactive users.
If you are focused on growing your Twitter game, Tweepi is an indispensable tool. 
8. Crowdfire
One of the best-known tools among influencers

Content scheduler

Centralized interface to manage all social media accounts

Customize your social media posts automatically

Provide your clients with custom professional reports that highlight the data points they care about

Calculate ROI and modify strategies

Pricing plans: 

Free

Plus: $7.48 /mo

Premium: $37.48 /mo

VIP: $74.98 /mo 
Crowdfire is a known name in the world of social media influencers. It's widely used by brands and individual influencers alike. Among other things, Crowdfire's easy-to-use interface makes it a favorite among influencers.
Crowdfire allows you to manage all your social media accounts from the same place. On top of that, it has advanced analytical features that help you in the direction of your growth. It works for all social media and blogging platforms, including Vimeo, Etsy, WordPress, and Shopify.
If you are looking for a single unified interface to manage all your social media accounts, Crowdfire is one of the best options. 
9. Hootsuite
Unified platform to manage all social media accounts

Content scheduler to never miss major trends

Plan and create content calendars

Social media performance dashboards that are easy to share

Pricing plans:

Professional: $49 per month

Team: $129 per month

Business: $739 per month

Enterprise: On inquiry
Like Crowdfire, Hootsuite is one of the best-known social media management platforms. However, it has lost some clout in recent years due to the availability of more affordable options, especially for individual content creators and influencers.
Hootsuite has a simple interface that doesn't involve any learning curve. If you are familiar with how most social media management tools work, you would have no problem getting used to Hootsuite.
Apart from the regular features like content scheduler and calendar, Hootsuite also offers detailed analytics of your performance. It comes in handy when you are pitching to a new client.
Overall, Hootsuite is a decent social media management platform that has been in the trade for a long time. It's a good option if the alternatives don't work out for you. 
10. Canva
Most popular design tool

Highly customizable

Involves a learning curve

Effective for all social media platforms

Pricing plans available:

Free

Pro: $119.99 per year

Enterprise: $30.00 per month per user
Most people know about Canva as a design tool but fail to recognize how valuable it can be for social media influencers. The only downside with Canva is that it involves a steep learning curve. Once you get hold of the basics, you can do more with the free version of Canva compared to other paid tools.
Canva is a complete solution for design and customization. Your personal brand on each social media platform should have a distinct feel. You can do this with Canva once you learn the basics of the platform.
Canva lets you design anything under the sun: flyers, posters, CV, Instagram posts, TikTok videos – the list continues. If used correctly, Canva is a great platform for all social media influencers who want to stand out from the crowd. 
Conclusion
Being an influencer in 2022 is not easy. With steep competition and a saturated market, you need something extra to make a mark.
With these tools and platforms, any social media influencer can take their performance to the next level.