One of the best apps to help you manage your Instagram account more professionally is Loomly. Loomly is an app that helps you schedule posts and stories, get advanced analytics and manage your social media accounts at a place. In this article, we want to compare this app to AiSchedul, which is another good app to automate sharing photos and videos on Instagram. 
Our comparison consists of the following categories:
Setup
Connecting your Instagram account(s)
Features
Maintenance and Support
Price
Conclusion
 AiSchedul vs. Loomly- A comparison of two Instagram schedulers
Setup
AiSchedul
To start with, AiSchedul follows these steps:
1) Go to aischedul.com.
2) When on the homepage, click on  "Get Started."
3) Enter your name, email, and password. Then click on "Register now."
Now you're ready to use AiSchedul features.
Loomly 
To use Loomly, first, go to the Loomly website. Then, tap on the "Start your 15-day free trial" button. 
After that, you should enter a valid email and password to create your account. 
And that's it. Your Loomly account is ready to use. 
Connecting your Instagram account(s)
AiSchedul 
After completing the sign-up steps, log on to your AiSchedul account to see your dashboard like the below pictures. 
 In your dashboard, you can add one Instagram account or multiple Instagram accounts and manage them simultaneously. Add a new account to your dashboard, press "Add Instagram Account," or sign in to your Instagram account directly with AiSchedul's Google Chrome Extension!
After connecting your account, you can easily log in to your Instagram account as you do on your device. Although most users are set up here, few users may be asked to provide Instagram with a verification code sent to their phones or emails. AiSchedul encrypts the password and will not share it with anyone or use it for anything that is not relevant to your followers.
Congrats! You've just set up AiSchedul.
Loomly
After creating your Loomly account and entering it, you will face the following screen.
To connect to your Instagram account, you have to follow the steps below:
Step 1) On the dashboard, click/tap on your name on the calenders bar.
Step 2) On the following page, tap on the gear icon on the upper right hand of the page. 
Step 3) On this page, open the Social Accounts tab. 
Step 4) Then, choose Instagram and tap on the connect button on the right hand of the page. After that, a message box appears that notifies you that Loomly connects to the Instagram account you have entered in your browser. Tap on connect and go to the next step. 
Step 5) Here, you can change the Instagram account that has been connected to Loomly by tapping on the "not username." After entering the right Instagram account, tap on the "Authorize" button. 
That's it! You have successfully connected Loomly to your Instagram account. 
Features
AiSchedul 
AiSchedul has so many amazing features that help you with lots of Instagram problems. It let you:
Schedule

posts

.

Schedule

stories

. 

Auto response to comments. 

Repost

content. 

And tag locations and

people

. 
In the following, we describe what each of the features does and how to work with them.
https://www.youtube.com/watch?v=gdhjhUBKYGg
Schedule Post
To set a schedule for your posts on Feed, click on "Schedule Feed" on your dashboard. Easily drag and drop your content into the broken rectangle at the top of the page. After dragging your photo or video into the rectangle, click "Save" before you continue. Remember, you can also schedule multi-photo and even multi-video posts.
After uploading your photo(s) or video(s), you can:
Tag people

Crop your post (fit entire photo or crop to 1080px x 1080px)

Rotate your post
From here, scheduling your post can be accomplished in 5 steps:
Write your caption to make your post catchy

Add your hashtags (your hashtags will be posted as a comment to make your caption look cleaner and increase post engagement)

Choose the date and time you want to share your post (or check the box to "Post Immediately")

Choose which accounts you want your post to be posted on (you can schedule the same post for multiple Instagram accounts)

Finish schedule by clicking the "Schedule Post" button
After hitting "Schedule Post," your post is officially scheduled. Come the date and time of your scheduled post, and your post will automatically post to Instagram without any effort on your part.
You can see all of your upcoming scheduled posts from your dashboard, as well as all of your past scheduled posts too.
AiSchedul provides another interesting feature, and it is "Auto Responds to comments." Automated responses are active for all premium accounts.
Schedule Story
To set a schedule for your stories, click on "Post on Story" on your dashboard. To upload the planned story, click the + button and edit it with the tools at the top of the story box.
After uploading your photo(s) or video(s), you can:
Tag someone in your Story

Draw on your Instagram Story

Geotag your Instagram Story

Add emojis onto your Story

Change the background color

Add a link to your Story

Add questions and polls to your Story
Click on the "Save" button when you're finished.
Now,  choose a date and time that you want your Story to be published (or check the box to "Post Immediately") and what Instagram accounts you want to post to (you can post the same Story to multiple Instagram accounts).
Repost 
AiSchedul allows you to repost content (both Feed & story) on Instagram. When on your dashboard, click on Repost, and in the opened menu, choose your method of finding the contents you like to repost.
You can search and find posts by Hashtags, Location, URL, or Username. After finding a suitable post, you can repost it on your feed easily. 
Hashtags
You can search for hashtags and find the favorite content that you consider reposting on Instagram. Also, you can view the resulting contents before reposting them.
Location
Another option to find your desired posts is through a location search. Type the location and choose the posts related to the area.
URL
You can copy the URL of the post you find interesting on Instagram and repost it with AiSchedul. Also, you can schedule it on your own Instagram. Here is an example:
Username
You can search for your favorite content by searching for usernames. Basically, you can see the posts shared by the user and pick the one you want to repost on Instagram. Don't forget to keep them tagged, so you give them credit.
Once you have picked your favorite post by one of the options, you need to schedule it. It is just like scheduling a normal post which has been explained above.
Once you sign in to your AiSchedul account and buy a plan, you can use all of these features and enjoy the easiness of working with it.
Loomly
Loomly features are:
Schedule posts and stories. 

Manage different social media accounts (Instagram, Twitter, Facebook).

Recieve analytics. 

It gives you post ideas. 

Post content to all your social media channels simultaneously. 
 As you see, these features are really awesome and help you manage your social media accounts at once in one place!
Maintenance and Support
AiSchedul 
If you face any problem or something that makes an issue for your posting, search the AiSchedul FAQ to find the answer. Also, you can find useful guides in this section.
If you didn't find the answer on the FAQ page, contact the AiSchedul support team, they always are online and ready to guide and solve any issue you may deal with.
Loomly
You can find handy guides and tips to work better with Loomly in their FAQ section. You can also ask your questions and or discuss issues with their online support.
Price
AiSchedul 
AiSchedul provides a five-day free trial for new users with all features. There are no limits during your trial, and you can take advantage of all the features offered with the Premium package. But after this five-day trial, there are two plans to continue. One of them is free but with some limitations. Take a look at the below picture to know all about pricing.

Loomly
Loomly suggests 5 different plans for different purposes. The cheapest plan is 25$ per year, but seeing the features, you may find that it's not economical. Hence, you can choose other plans if you want to do all the things professionally and don't miss even one feature.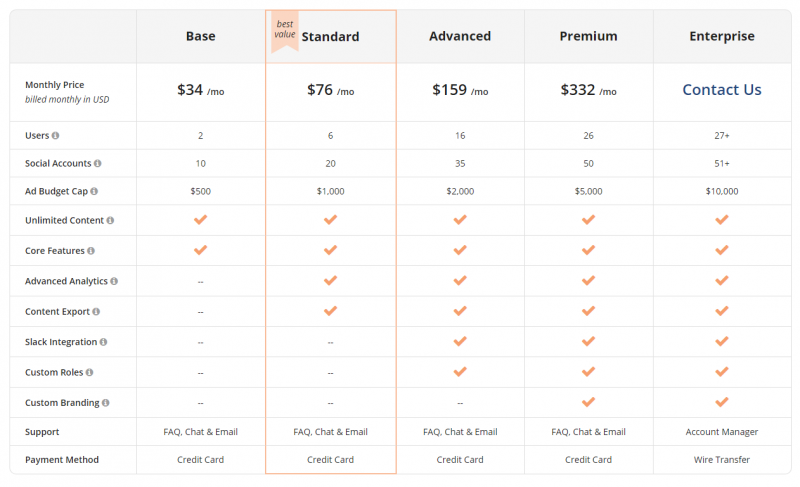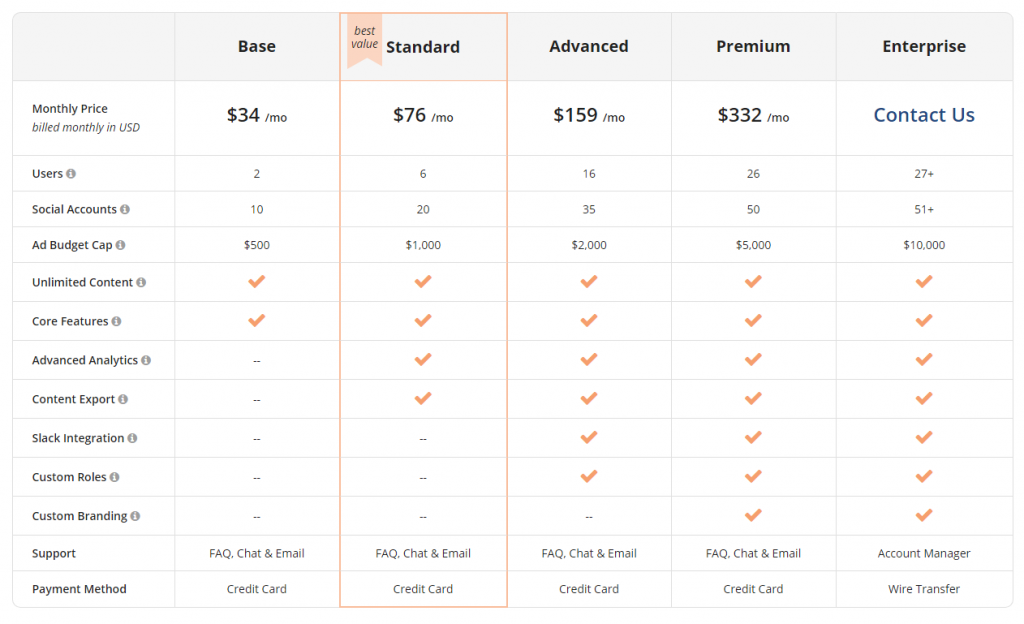 Conclusion
Loomly is one of the best tools for managing Instagram accounts with lots of features. It also has an advanced analytics tool that helps you to find out how many followers, likes, comments per hour, per day, per week you have. AiSchedul is another good platform to auto-post on Instagram. With AiSchedul, you can share multiple Images or videos for many accounts simultaneously. It has a very user-friendly interface, and working with it is so simple. It also has auto-respond to comments that help you increase your Instagram account engagement. 
Compare the features and pricing of these to auto-post tools and select the one that matches your requirements.
Want to sign up and try AiSchedul for free? Click here.