Have you ever thought of creative Instagram giveaway ideas?
There are so many ways to run an Instagram giveaway. You can do a giveaway for followers, do a giveaway for likes, a giveaway for comments, or giveaways for both. You could also do a sweepstake or have a raffle. There are so many options that you can choose from, and the possibilities are endless!
In this article, we will discuss everything about Instagram giveaway ideas.
Use AiSchedul Instagram giveaway picker.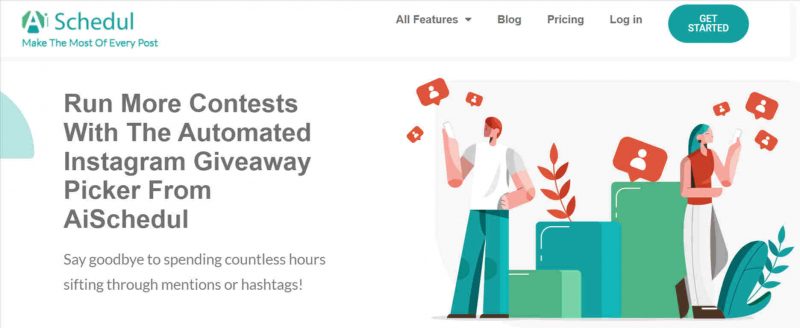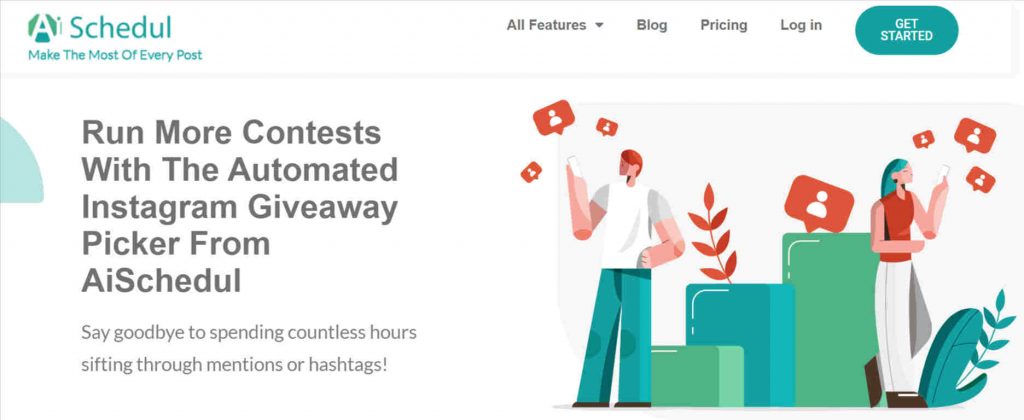 7 Ideas For Instagram Giveaways
Surely on some occasion, you have seen or participated in Instagram sweepstakes of the type: "Like the post, leave a comment, mention a friend and follow this profile, right? 
So if you want to know how it affects your brand you can also give it a try and see for yourself. 
There are endless possibilities for Instagram giveaways. You can give away anything, to anyone, anywhere. Here are Instagram giveaway ideas: 
Instagram Giveaway idea #1 Like Post to Win
Give 'Like' is the start action to increase the engagement of a profile and the one that makes the least effort for the users, even if they are not already one of your followers, they still can be a part of the competition.
 Asking them to give a like on the publication is a very simple step and it can give you a good number of 'Likes' to your Instagram giveaway and your account.
Giveaway Idea #2 Tag Friends 
Mentioning/Tagging friends in the comment section is the most popular amongst everyone on Instagram. 
Simply ask your followers to @mention their friends in the comments; you can ask them to tag 2 or 3 users or more.
The key is to be reasonable: that the effort that this action implies is justified by the prize they can get. The objective pursued with this action is none other than to attract participants who can become followers. Create a call effect that generates virality with your Instagram giveaway.
Giveaway Idea #3 Become a Follower
You can ask them to follow your account, a great way to increase Instagram followers. 
Furthermore, you can collaborate with another brand or Instagram user, so in this case, you can ask your followers who like to be in the contest to give both accounts a follow.
For those users who are already following you, you can ask them also to tag friends in the comment section. 
This is a way to get more Instagram followers or expand your market that can be useful.
Giveaway Idea # 4 Share Post Via Instagram Stories
Instagram stories are a great way to grow business on Instagram. Users tend to spend more time viewing Instagram stories; also, with the new algorithm rules, your publications might not pop up on everyone's feed.
So while managing a giveaway, ask your followers also to share your post through Instagram stories; this way, your brand will increase in visibility, more users will view your post, and it will lead to higher growth.
So don't forget to include the "sharing post feature" on your giveaways.
Giveaway Idea # 5 Photo Contest
This example is widely used by clothing, food, and accessory brands. The idea is quite simple: upload a photo using our product and use the # tag to enter for great prizes.
For Example:
Upload an image with our product and the #hashtag

Upload an image with our product and share it on your Instagram stories + Tag our brand
You can also share the photos that entered the contest on your Instagram stories and use the Pol Feature for people to vote, so whoever gets the highest vote gets to win the special award. 
Giveaway Idea # 6 Ask Questions
Another bright approach to get your followers engaging with your content is to simply come up with a controversial question and then ask them to comment on the correct answer.
Whoever guessed the right answer will participate in the contest. 
Giveaway Idea # 7 create your own hashtag
If the participation mechanism is going to consist of the user having to upload a photo or video to their profile, you must create your own hashtag to be able to monitor it.
In this type of giveaway on Instagram, you must first establish a new hashtag for that giveaway. Through this, you will be able to identify all those who participated and see if they complied with the rules you established.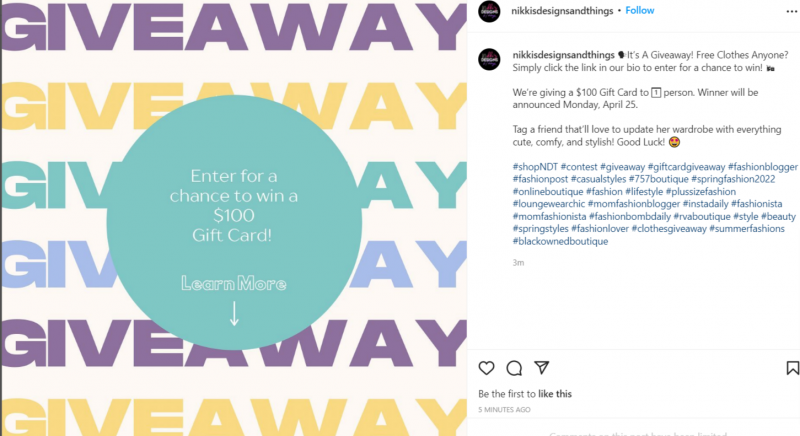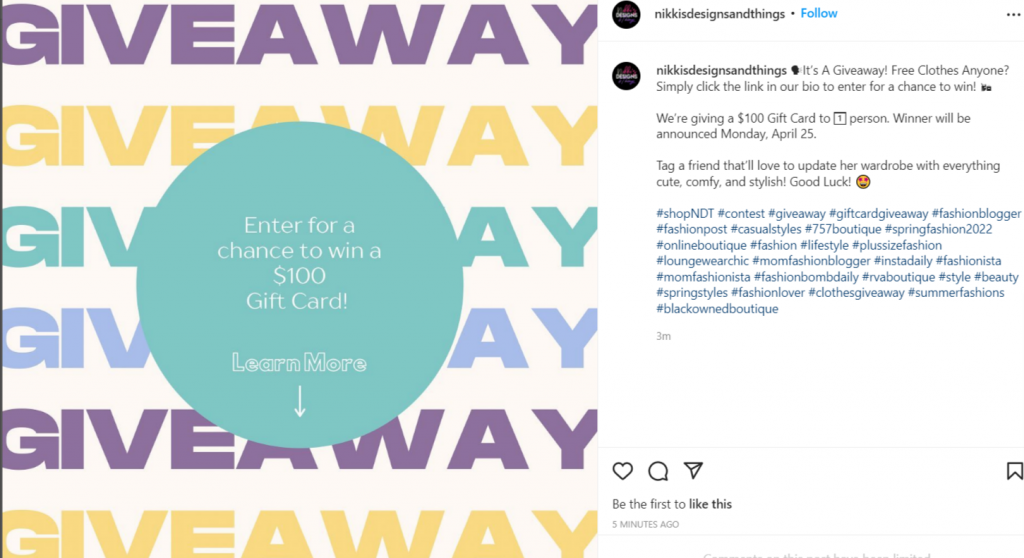 Instagram Giveaway Rules
When it comes to Instagram giveaways, there are a few rules you should always follow. First, make sure you're familiar with Instagram's regulations regarding giveaways. Then, come up with a creative idea that will engage your followers and entice them to enter.
The giveaway should be something your followers would actually want to win. It could be a gift card, product, or experience. You can also choose to give away multiple smaller prizes instead of one big prize.
Make sure you promote the giveaway on all of your social media channels and include a link in your bio on Instagram. You can also include the giveaway in your Stories. The more people who enter, the better!
Be sure to notify the winner and announce it on social media. And finally, always comply with Instagram's regulations when running a giveaway.
Use Instagram Giveaway tools
If you want to run a successful and reliable Instagram giveaway, you should use an Instagram giveaway picker! These apps can pick a winner fairly and run a special Instagram giveaway content for you!
AiSchedul Instagram Giveaway Picker
AiSchedul's Instagram giveaway tool is one of the best apps that you can use for your Instagram giveaway. With a recently developed tool, Instagram Giveaway Picker, users who publish an Instagram post can now realize their post and reward features without having to worry about disabling these options to safeguard their comments. You understand how critical it is to trust and give fair giveaways. Remember to keep this in mind. 
That's why it's so important for you to ensure that you award the prizes fairly. Selecting the winners manually is nearly impossible and flawed. Thus, for you to separate the comments of your Instagram giveaways, you need to create a contest and export the comments as Instagram comments for the contest.
Here is a step-by-step guide to using AiSchedul Instagram giveaway picker:
Sign up on AiSchedul

and connect its dashboard to your Instagram account.

Tap on manage account, then select the "Giveaway Picker" tab from the top-left bar.

In the first box, write the URL of the giveaway post, and in the second box, type the contest name you wish to establish.

You can opt to filter all comments that reference a certain number of accounts or that include a specific hashtag.
By selecting "Select Unique Users," you can prevent repeating the same person in many comments. By selecting "Eliminate Duplicate Comments," duplicate comments will be immediately erased.
The final stage is to arrange a date for the winners to be chosen.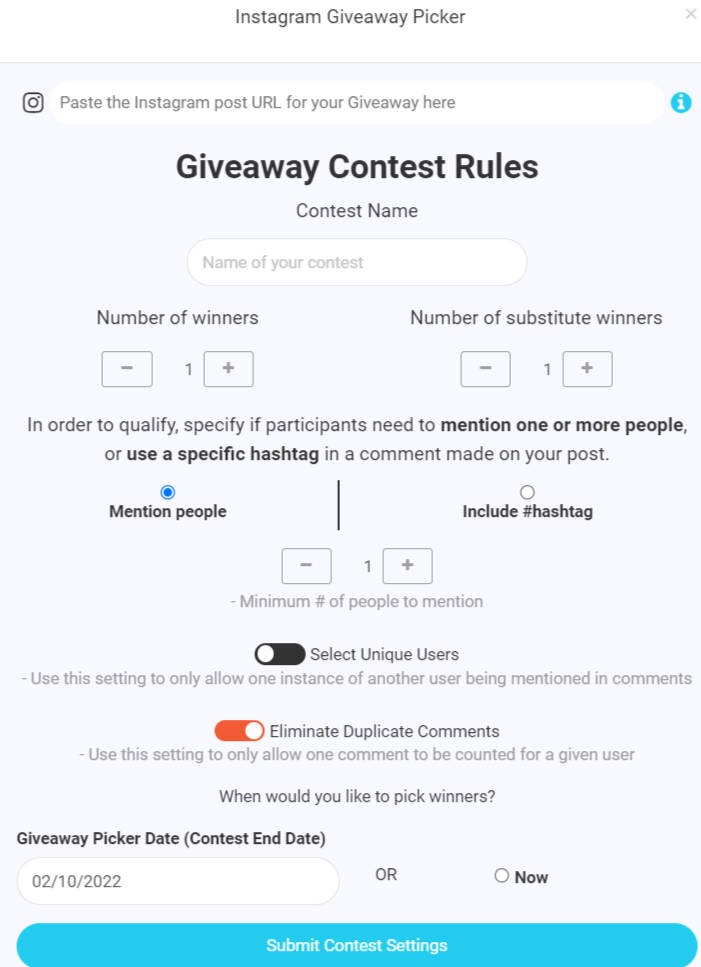 AiSchedul Post and Reward feature
One of the best strategies is to advertise your giveaway by utilizing giveaway hashtags.
The AiSchedul post and reward feature will provide you with a hashtag generator tool to generate the most popular hashtags, which will make your posts look more prestigious on the platform and increase the audience engagement rate on your page.
In the below sections, I will show you how you can design and hold your contests using this feature automatically.
The video below will give you an idea of how the post and reward feature works. Don't miss watching it.
Follow these step-by-step guide:
As we explained before, after connecting

AiSchedul

to your Instagram account. 

Now, tap on the "post and reward" heading.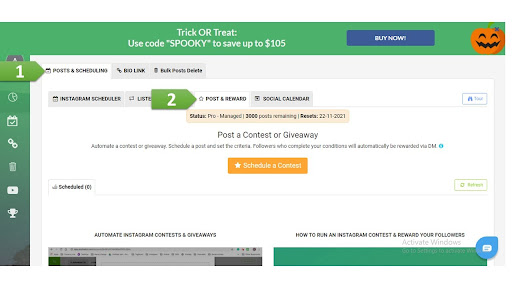 Click on the "schedule a content"  section

to set up your giveaway. To create your post, you can either drag and drop up to 10 images and videos to make an

Instagram carousel

, add a YouTube video link to share it to your feed without the need to download that video, or use

Unsplash

to get your hands on thousands of free images.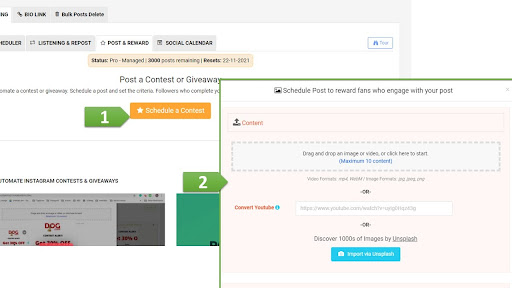 After that, it's time for the most exciting part: creating the rules that will entirely automate your giveaway. You can condition entries to tag several people, use a specific hashtag, and follow you if you choose the rules for the comment. Furthermore, when it comes to content, you can ask users to tag you in one of their posts that they want you to repost on your feed, as well as follow you.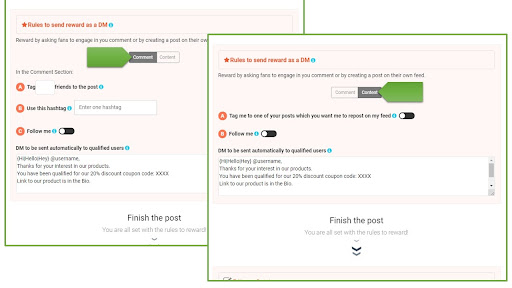 Last but not least, create an auto DM to invite your target audience to your contest before you finish the post. This box allows you to personalize each DM by including the username of the person who will receive it and utilizing alternate paraphrases in your text to avoid repetition.

Finally, write the caption, add hashtags, add location, and decide to post your content right away or schedule for the future.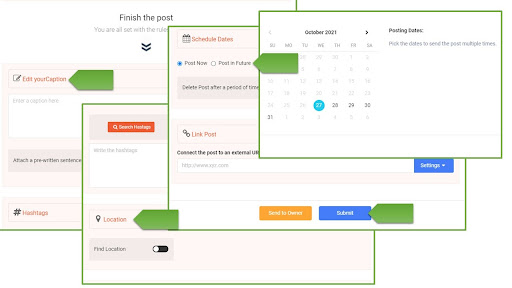 Use AiSchedul Post and Reward feature now!
Conclusion
In conclusion, there are many different types of Instagram giveaways that you can hold. By using one of the Instagram giveaway ideas from this article, you can increase awareness of your brand and grow your following. So what are you waiting for? Get started on your next giveaway!