How to share YouTube video on Instagram? Since the birth of IGTV, sharing a YouTube video on Instagram has been a tempting idea for users. One way may be to download YouTube videos and upload them to your IGTV channel, but who wouldn't welcome the idea to simply copy and paste the link to a Youtube video and schedule YouTube videos to be published on your IGTV? it would be more convenient. wouldn't you agree?
Clearly, statistics show that marketers tend to crosspost a lot – using the content of their other social media platforms on Instagram too. Mind you, it could be quite challenging to share a video from YouTube to Instagram. 
On the other hand, the ability to schedule YouTube posts like any other type of content that you publish has a major role in your consistency. This blog will show you how to post a YouTube video on Instagram without having to tackle the issues of downloading it first. What's more, you can learn to schedule YouTube videos so that they will be automatically published to your IG page on the date that you have set for it.
Note that, according to statistics, users watch over 5 million videos on YouTube and spend 40 minutes on average on the platform daily.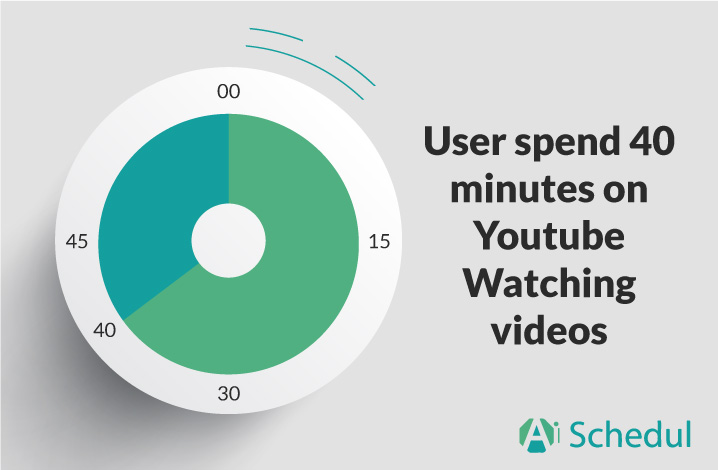 Well now, let's say AiSchedul is an app that allows you to schedule videos from YouTube to Instagram embedding the link in the platform, and then within a spare of seconds, the video is uploaded on Instagram. Curious to know how? Stay Tuned!
Why we can not share Videos on YouTube to Instagram?
Should you hear a Youtube schedule upload, what will pop into your mind? If you imagine that it is an impossible task, here is the right place to prove you wrong!
Although YouTube doesn't let you share videos directly on other platforms, nothing is absolutely impossible these days. So, what most people do is try downloading Youtube videos and then share them on other social media networks, in particular on Instagram. However, this is not without its problems and challenges as YouTube doesn't let users download its content directly from the platform.
In addition to this, we offer you a novel approach far easier than going through the hassle of downloading YouTube videos. 
In the following, you can read more about how to share YouTube video on Instagram and why you are bound to prioritize the latter method over downloading YouTube videos.  
How Can you Share a YouTube video on Instagram?
Along with learning more about the positives and negatives of how to download youtube videos for Instagram, you can learn more on how to share YouTube video on Instagram without download required.
Actually, you can't share YouTube on Instagram directly, but here are two possible ways that offer a solution to how to share YouTube video on Instagram:
The fastest and the easiest way to share videos from YouTube to Instagram is to use a reliable third-party app that provides you with such service.
If you have been using effective Instagram management tools, You are not unfamiliar with these types of features. 
The right third-party app will never waste your time downloading YouTube videos. On the contrary, it is the ability to repost your content without download needed that matters most. AiSchedul, in addition to a reputable IG management tool, is the best Instagram video converter that you can find in the market as it meets all the criteria mentioned above. 
How to repost YouTube videos on Instagram? AiSchedul reposts any YouTube videos that you want!
Posting YouTube videos on Instagram, having downloaded them first:
As mentioned earlier, you should download the YouTube video before you can repost it on Instagram. Yet, you already know that you can't directly download YouTube videos. For this reason, you should use third-party apps or websites, but not the ones that directly allow you to repost a Youtube video on Instagram without having to download it first. 
Then you should upload videos from YouTube to Instagram. However, there are some major downsides to it as follows:
It takes a long time even to download YouTube videos because YouTube doesn't have the download option.

On many occasions, you can't decide on the quality of the video you download. 

If you aren't the original creator of the video and edit it once it is downloaded, you might have infringed the copyright with unpredictable consequences. 
In terms of downloading YouTube videos, you can use some services like Tube2gram. Let's take a look at the quick comparison below between Tube2gram and features boasted on AiSchedul. 
| | | |
| --- | --- | --- |
| Features | Tube2gram | AiSchedul |
| download YouTube videos | ✅  | ❌  |
| Post the YouTube video directly to Instagram | ❌  | ✅  |
| Scheduler | ❌  | ✅  |
| Post to IGTV | ❌  | ✅  |
| Review of user | Not submitted to  | 4.8 out of 5 stars |
As you can see, AiSchedul has a lot more effective features than Tube2gram to offer. Generally speaking, if you want to use a service you should pay attention to all of its
features
!
For example, Tube2gram is just a downloader tool and doesn't place its focus on growing your audiences but AiSchedul can reach your target audience for you and expand your brand or creator account organically. 
How To Share YouTube Video On Instagram with an Instagram management tool?
To share a YouTube video on Instagram without the need to download it, you are going to need AiSchedul. Without beating around the bush, let's see how it works and get this job done right away. 
Nowadays, all marketers are looking for the best way of promoting their products to their audience by advertising them on different social media platforms, in particular on Instagram. 
Not surprisingly, ads and promotions on Instagram are being taken more seriously as the Instagram engagement rate is 10 times higher than Facebook, 54 times higher than Pinterest, 84 times higher than Twitter.
As many brands and creators are looking for a way to boost their engagement rate and get their hands on a wider range of audiences, they try finding different and creative ideas for their marketing strategy.  
Therefore, in order to save your time and help you do the work in the best possible way, we suggest you use an effective and reliable Instagram management tool like AiSchedul to grow your business while it can work as your personal assistant.
Follow this step-by-step guide to sharing YouTube to Instagram.
First of all,

Sign up on AiSchedul for free.

This platform offers you a bunch of handy features, and it is free forever.

Secondly, add your IG account to it. It is worth mentioning that you can add and

manage multiple Instagram accounts

on your AiSchedul's dashboard.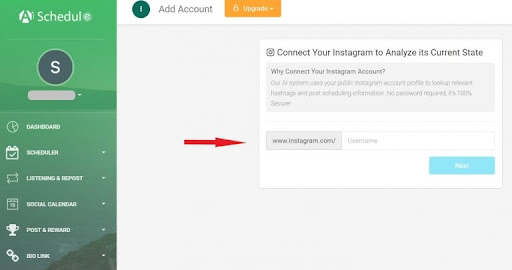 Then click "Manage Account."
4. Afterward, on the "Posts & Scheduling" tab,  click on the "Schedule" button and select IGTV.
5. Later copy the link of the YouTube video and paste it in the "Convert YouTube" blank. Wait for a second or two till it gets uploaded.
6. Now scroll down. The title and description are entered by default (according to the YouTube video.) You can edit or just leave them be.
7. It is time to find hashtags. AiSchedul has a built-in hashtag generator tool that offers the top hashtags of each niche, demonstrating the volume of the search.
8. At last, schedule the video or just publish instantly.
This was how to schedule YouTube videos by using an Instagram management tool without the download needed!
Sign up now to get started with AiSchedul!
Normally IGTV videos are edited and published on PC, so AiSchedul is designed to be manageable on PC. But if you find apps more convenient, you can also download AiSchedul from Play Store and manage your IG on your cell phone.
How to post YouTube videos on Instagram app Story?
To share YouTube video on Instagram, you should download the video from YouTube and then:
On the "Post and Scheduling" tab, click the "Schedule" button, but this time select "Story"
2. Now upload the downloaded video. It will be published in multiple stories.
3. You can add hashtags, location, or tag people on it.
4. Now schedule the story and done.
How to post YouTube videos on Instagram android?
Here is how to post YouTube video on Instagram from your Android devices. There are also different apps available for iPhone as well as Android devices. All you need to do is search for a YouTube video downloader and enter the YouTube Video's link on the app. Hopefully, you will access different formats and sizes of the video. If it didn't happen, just get over it. This is one of the drawbacks of downloading a YouTube video after all. 
For example, the TubeMate app is used to download YouTube videos on Android devices, and Documents by Readdle is used to download YouTube videos on iPhone devices.
Why we should be using a third-party app?
If you want to repost a YouTube video on Instagram, you can download it from Youtube and then upload it to your IGTV. But it is more convenient to just copy and paste the link of the video on Instagram posts, isn't it?
AiSchedul is a free Instagram scheduler tool that enables you to share Youtube videos to Instagram without downloading.
As we previously mentioned, you can share YouTube video on Instagram story, posts, and IGTVs in the simplest way without the need to deal with downloading them. Using a reliable management tool like AiSchedul is in fact the core of your creativity, convenience, and consistency in your marketing strategy. 
Why AiScheul?
Not only you can share a youtube video on Instagram without downloading needed but also it has lots of other features to enhance your IG account organically. As an additional bonus, you can also use AiSchedul as a free user!
Here are features offered on AiSchedul:
Schedule YouTube videos 

Repost  Instagram feed, story, IGTVs

Schedule Instagram posts, stories, IGTVs

Bulk delete the Instagram feed

Set a social media calendar

Run an Instagram giveaway, giveaway caption, giveaway hashtag

Use the hashtag generator tool 

Get help from its hashtag analytic tool
If you want to use AiSchedul you can use its free package without any time limitation but with fewer features, on the other hand, it provides you with 2 other cost-effective packages that you can buy. One package is $7 and the pro package just charges you $154 per month.
Sign up for free on AiSchedul!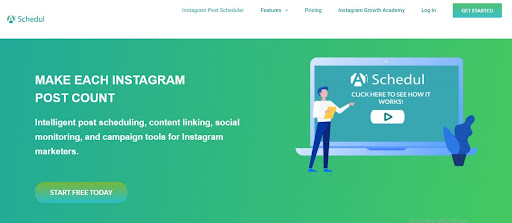 Also, AiSchedul is praised on Trustpilot for its reviews on how effectively the features work without facing any problems. The users were very satisfied with the service provided!
Aischedul has 4.8 stars out of 5 on Trustpilot! So it is worth trusting it and trying the AiSchedul service for free today!
Conclusion
All in all, you can't repost YouTube videos without downloading, and yet it is a long process to download the YouTube videos because you can't do it directly from the platform. Even once you have downloaded the video, it is not without its flaws although you will be able to repost it to your IG account. 
On the other hand, you can easily repost YouTube videos by using the AiSchedul management tool by simply placing the link to the video rather than downloading it!