In recent years, many brands and companies have found success by running an Instagram giveaway, a strategy that has become popular in the realm of Instagram marketing.
But can you promote giveaways on Instagram? Yes, Instagram giveaways are an effective promotional tool for businesses. They increase likes, shares, follows, and growth by providing followers with a unique opportunity that they would not have otherwise.
In today's post, we will be discussing the elements that make a highly successful giveaway on Instagram; from the best way to do a giveaway to an Instagram giveaway winner generator to make running your giveaways easier than ever. So let's deep dive into it.
Want to run a Giveaway in an easy and fast way? Click here 
What Is A Giveaway On Instagram?
IG giveaway posts have been used by companies to boost the popularity of their accounts and increase followers. It is a feature in which Instagram accounts promise to grant a prize to a chosen winner, according to the requirements that the contestant meets.
Instagram giveaways give you a chance to offer something of value to your Instagram followers. Regardless of the value of the giveaway prize, Instagram giveaways provide you with a great opportunity to attract new potential followers.
What Is An Instagram Loop Giveaway?
An Instagram loop giveaway is a contest that includes multiple accounts and is usually hosted by an influencer or celebrity among a vast number of users for a very well-paid prize, in hopes of gaining more followers.
The number of accounts users have to follow to enter the giveaway fluctuates between 40 to 70 accounts. Yup! That's a lot! Do these types of Instagram giveaways work? Read "Instagram loop giveaway" to find out more.
Why Do Instagram Competitions Matter?
You have to spend money to make money! It's been quite some time since Instagram was launched, and it has gotten saturated enough in every field that organic ways no longer make a drastic change in your growth on Instagram. 
Although organic growth is still known to be the best way to grow on Instagram, running Instagram giveaways and influencer marketing is the fastest way. Let's speak numbers, shall we?
According to a study conducted by Tailwind,  accounts that run giveaways regularly get 70% more followers than accounts they don't, and 91% of the posts with over 1K comments are giveaway posts! 
Boost your Instagram engagement with this Instagram giveaway tool
How to Do a Giveaway on Instagram to Gain Followers?
One way to attract followers is by doing giveaways on Instagram. In this section, we'll discuss how to start a giveaway on Instagram and manage it.
How to Set Up An Instagram Giveaway? 
To run giveaways on Instagram, you need a few basic tools and pieces of information. Without them, the process can be difficult. 
First of all, you need to come up with some prizes ideas, decide on the length of the promotion, Instagram giveaway time, official giveaway guidelines, how to write an IG giveaway post, how to select a winner for an Instagram giveaway, and choosing the best Instagram giveaway picker to pick the winners randomly.
Now If you're wondering what it takes to manage a giveaway, don't worry. we will provide you with all the necessary information and tools to run a successful giveaway for your account in this article.
Set a Goal For Your Giveaway
Before you even begin thinking about running a contest, set a goal for yourself. What are you aiming to reach? More followers or sales? Whatever it may be, having a goal in mind will make tracking the success of your campaign much easier.
Come Up With Some Instagram Giveaway Prize Ideas
What to giveaway on Instagram? Giveaways are great for getting users' attention, but the prizes must be enticing enough to motivate people to enter. Just make sure the prize is of value to the audience. It could be a product, service, or experience.
Tip: When you decide to run a giveaway, it's important to first test out your ideas. Ask a few of your followers if they think a prize would be appealing or not.
Here are some Instagram giveaway prizes ideas:
| | | | | |
| --- | --- | --- | --- | --- |
| General Giveaway Contest Prizes Ideas | Blogger Giveaway Prize Ideas | e-Commerce Business Giveaway Ideas | Men's Fashion Giveaway Prize Ideas | Infants and Kids Giveaway Prize Ideas |
| Popular Products in the market | Enrollment in a course | Customized products | Father's Day Outfit | Diapers for a Year |
| Gift cards | Digital products  | Limited Edition Products | Game Day | Baby Proofing Kit |
| money | Free coaching  | New Product Release | Guys Night Out | Back to School Package |
Moreover, you can get some ideas from your competitors by monitoring them and learning what they choose as giveaway prizes for Instagram.
Start growing more on Instagram with this giveaway tool.
How to set up Instagram giveaways using a tool that guarantees success?
An Instagram giveaway tool will help you to run an effective giveaway. You'll need an Instagram giveaway software that can help you set rules, promote your giveaway, pick an Instagram giveaway winner and announce the winners according to the criteria you have established. 
Pick An Instagram Giveaway Generator That Meets Your Needs
How to choose the best app for Instagram giveaway to pick the winners?
Before you sign up for an Instagram giveaway app, make sure you understand all about its features.
Our giveaway apps for Instagram suggestion is AiSchedul since it has all the features to condition your followers to do a set of actions to win your prize instantly.
However, if you want to dig more into Instagram giveaway bots, have a look at the table below.
| | | | | |
| --- | --- | --- | --- | --- |
| Giveaway Bots | UGC giveaways | Customized hashtags | Instagram giveaway template | Price |
| AiSchedul | ✅ | ✅ | ❌ | $20,$40,$120 |
| Gleam | ❌ | ❌ | ❌ | $10 & $97 |
| Agorapulse | ❌ | ❌ | ❌ | Free, $79, $159 |
| Wishpond | ❌ | ✅ | ❌ | $199, $500, & more |
| Woobox | ❌ | ❌ | ✅ | Free, $32, $37, $99, $249 |
| Wask | ❌ | ❌ | ❌ | Free |
| Woorise | ❌ | ❌ | ❌ | $23, $39, $79 |
| SweepWidget | ❌ | ❌ | ❌ | $29, $49, $99, and $199 |
Gleam 
The Gleam management tool helps users run contests on their Instagram accounts to display user-generated content. Gleam has four different apps, each of which is designed for a specific purpose. If you want to read more about it check out this review: Gleam full reviews: pros, cons, & pricing
Woobox 
Woobox is a social promotion application that allows users to create and manage marketing campaigns, including Instagram hashtag contests, comment giveaways, and polls. Know more about it here: Woobox Instagram comment picker; full Reviews, pros & cons
Wask 
Wask is a tool for creating and managing Instagram ads. With the software, you can create and manage ads for various platforms. Check out this review to know more: Wask full reviews: is it The best giveaway bot?
Woorise 
Woorise is a new platform that allows you to create contests and sweepstakes. It's ideal for bloggers and e-commerce sites who want to grow their audience. Here are more details on this tool: Woorise reviews 2022: details, pricing & features
Considering the facts mentioned in the table above, we are going to introduce you to one of the best tools to run a successful giveaway on Instagram.
through a step-by-step guide, using this tool, you will learn how to write an IG giveaway post, how to promote a giveaway on Instagram, how to keep track of giveaway entries on Instagram, and how to set the giveaway rules for Instagram. Let's get into it.
How to Manage An Instagram Giveaway Using AiSchedul Giveaway Tool?
AiSchedul is your personal Instagram giveaway scheduler. You can use AiSchedul to write Instagram giveaway captions, add popular Instagram giveaway hashtags, and choose the winner of your giveaway.
The AiSchedul Post & Reward tool automates the entire Instagram contest process. So you don't have to know how to count and track entries.
You simply set the start and end time, rules, caption, and tag it to qualified followers, and the project will run itself. In the following sections, we will discuss how to use this feature of Aischedul and a unique Instagram giveaway picker. 
Note: If you want to get quick access to the post and reward tool, sign up on AiSchedul and try it now.
Instagram Giveaway Picker of AiSchedul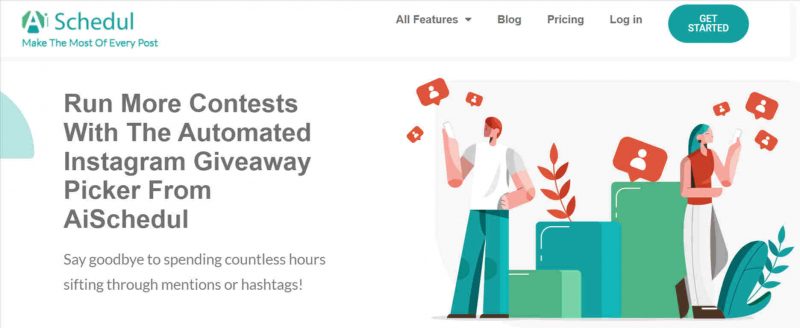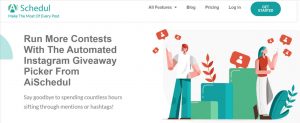 AiSchedul recently launched a new tool, Instagram Giveaway Picker, which gives users access to the post and reward feature through an Instagram account. This is an advantage for its users. If you wonder how to track entries after running a giveaway, this tool is the answer.
As you may know, fair and honest giveaways are important for building a strong community base. That's why you need to ensure that you pick the winners fairly.
Picking the winners manually is kind of impossible and unfair. So you need a comment picker to export Instagram comments for the giveaway and choose the winners among them randomly.
Try AiSchedul's Instagram giveaway picker now
How Can You Use The AiSchedul Instagram Giveaway Picker?
Open the Giveaway Picker tab on your AiSchedul dashboard to select an Instagram contest winner. Paste the URL of your giveaway post into the first box and select your criteria.


You can easily specify how many winners and substitute winners your campaign will have and set certain criteria like selecting only from people who mentioned one or more people or using a specific hashtag in a comment made on your post to pick the winners.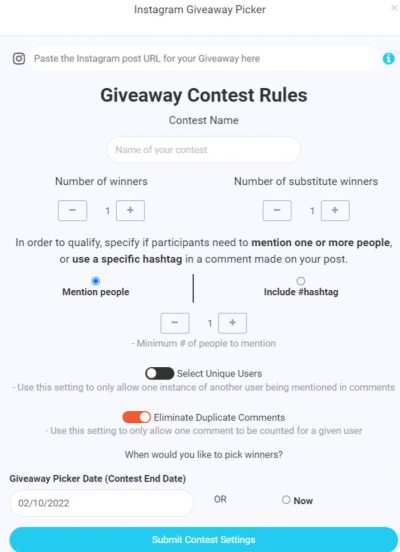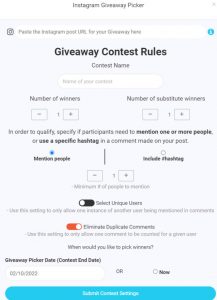 The "Select Unique Users" is an option to not Allow multiple mentions of a single user in comments. And "Eliminate Duplicate Comments" will only allow one comment per user.  
The last step for this unique Instagram give away picker is to select a date for the winner selection. You can either pick winners at the end of the giveaway or immediately.
Easily pick your Instagram giveaway winners with this tool.
Speaking of the date and time, do you know what is the best time to post a giveaway on Instagram? And how long should a giveaway last? If not, then keep reading!
How Long Should An Instagram Giveaway Last?
If you are wondering how long to run an Instagram giveaway, here are some facts; the duration of your giveaway should reflect your marketing goals. If you're hoping to increase Instagram engagement, a short contest may work best, whereas if you're hoping to generate leads over time, a lengthy contest may be better suited to this goal.
Most businesses choose one of the following four common giveaway run times; Up to 1 week, 2 weeks, 30 days, and several months.
A two-week giveaway is generally the most successful length of time for a giveaway. It gives you enough time to get a lot of entries, and it isn't so long that people will forget about you and move on to the next contest!
Best Time to Post a Giveaway on Instagram
There are two considerations when it comes to the best day to post a giveaway on Instagram: promoting when your audience is online and ready to participate and the duration of the giveaway.
However, it is important to consider certain factors when selecting the dates for your giveaway. More people browse the web during the beginning of the week than during the weekend, so consider running your giveaway during a Monday-Wednesday period.
Besides, planning promotions around major holidays is a successful strategy, but ending the promotion on the actual holiday means that you'll get little engagement on that day.
How to Do an Instagram Giveaway From scratch Using AiSchedul Post & Reward Feature?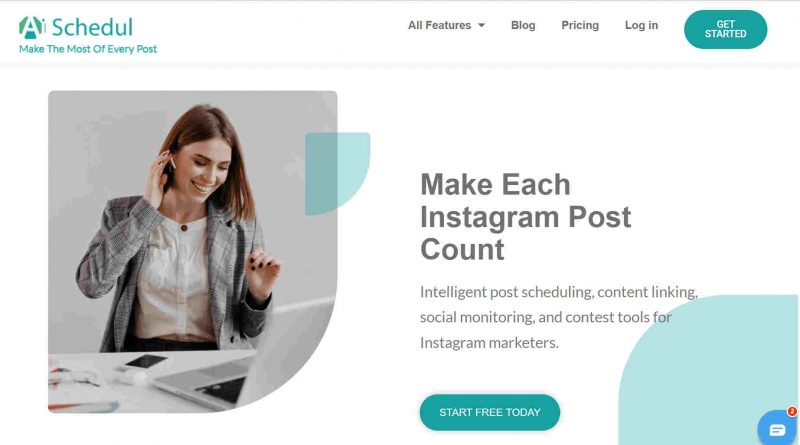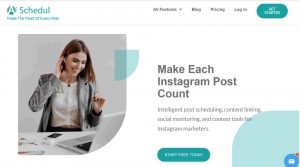 Do you know how to advertise a giveaway on Instagram and increase the visibility of your post so that you gain more entrants to your competition? Well, one of the best strategies is to use giveaway hashtags.
AiSchedul post & reward feature will provide you with a hashtag generator tool to generate the most widely used hashtags, which will make your posts more visible on the platform and increase the engagement rate on your page.
In the below sections, I will show you how you can design and hold your contests using this feature automatically.
The video below will give you an idea of how the post and reward feature works. Don't miss watching it.
And now the steps in detail:
Sign up

on AiSchedul

, add one or multiple accounts to its dashboard, and click on "manage account" to access the features on AiSchedul.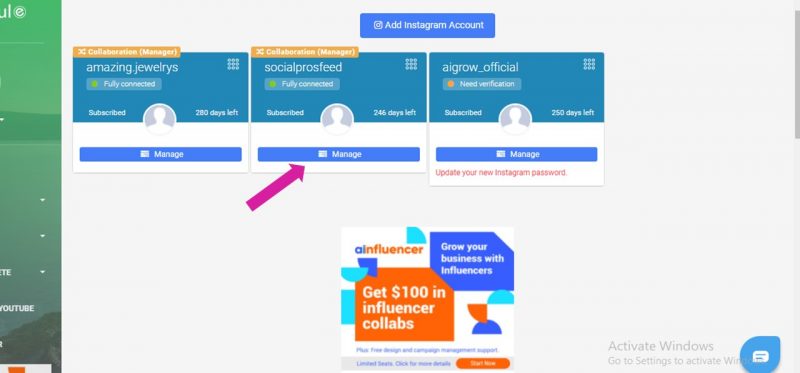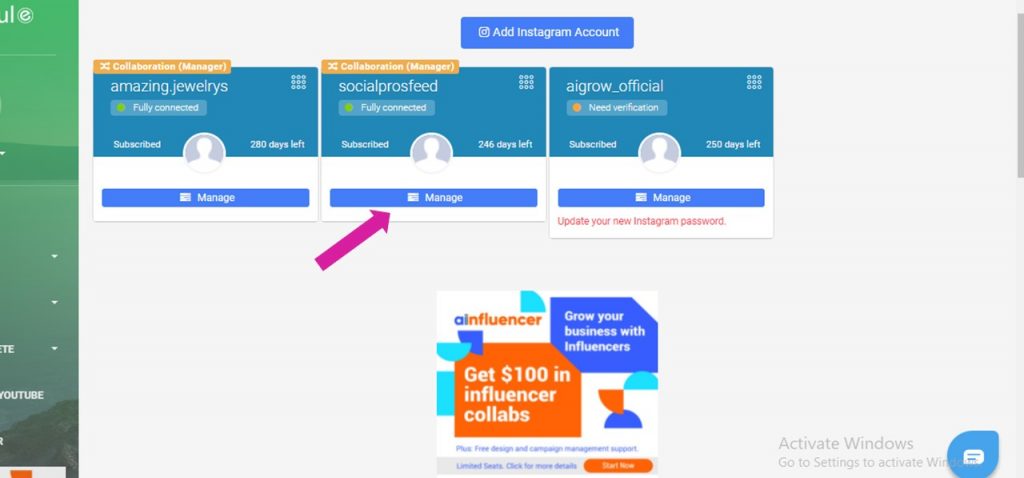 After that, go to "Posts and Schedulings" and select the "post and Reward" tab.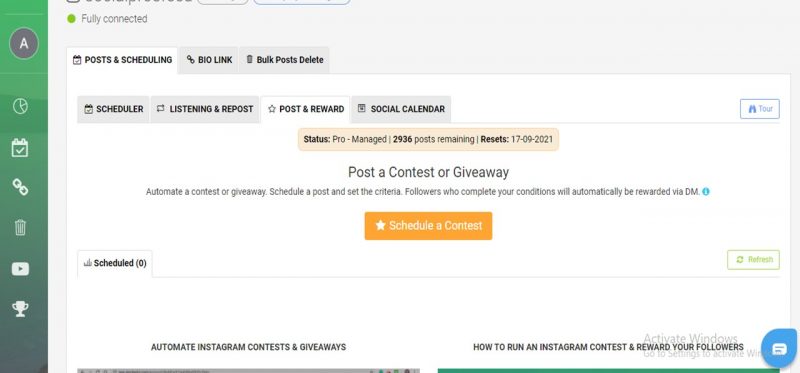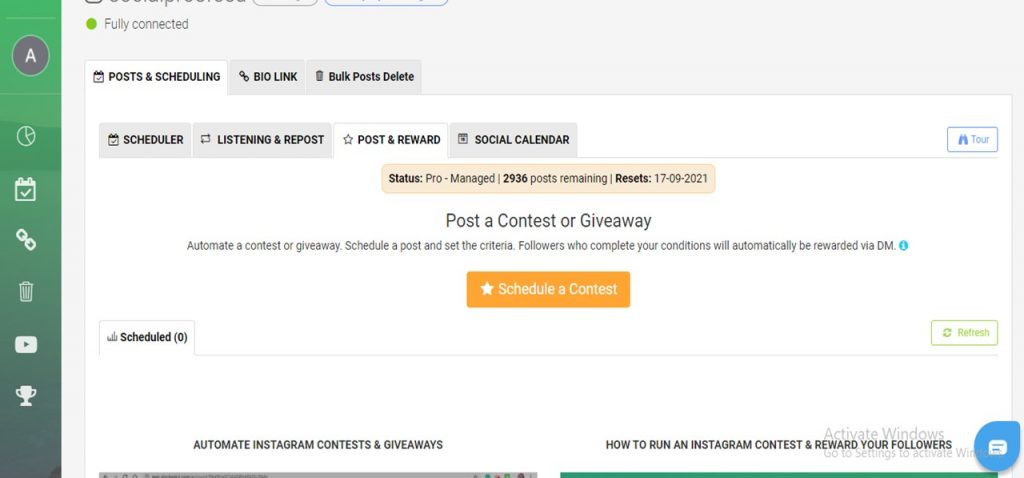 Then, click on the "Schedule a contest" button.
You can now approach your content uploads in a variety of ways. First, drag and drop photos or videos. This will also allow you to easily create a carousel post with up to 10 slides.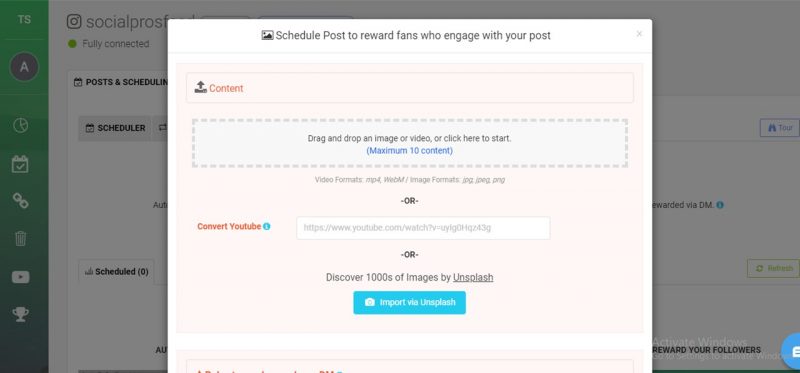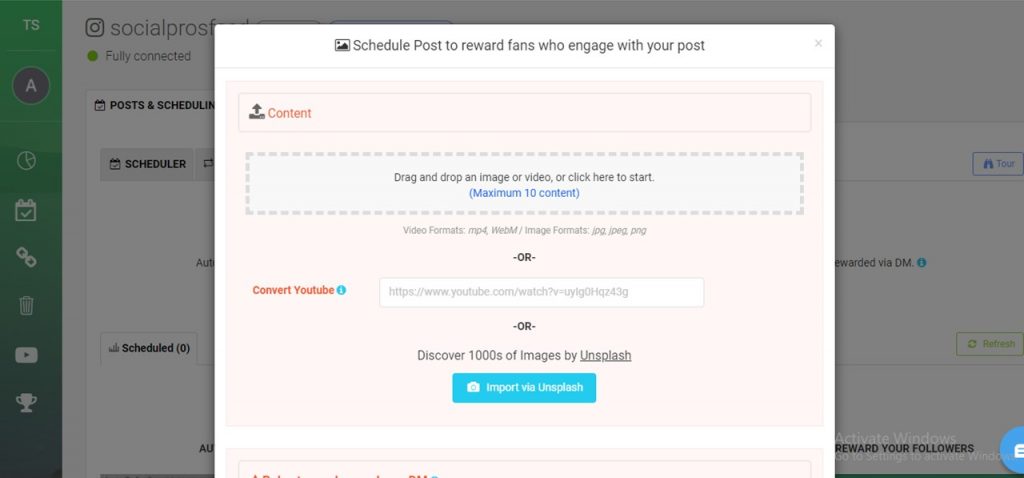 Here, you can set the

rules for your contest

. The good thing about AiSchedul is that it allows you to choose from a wide range of preset rules, as listed below. Remember that you can choose more than one rule from the list

.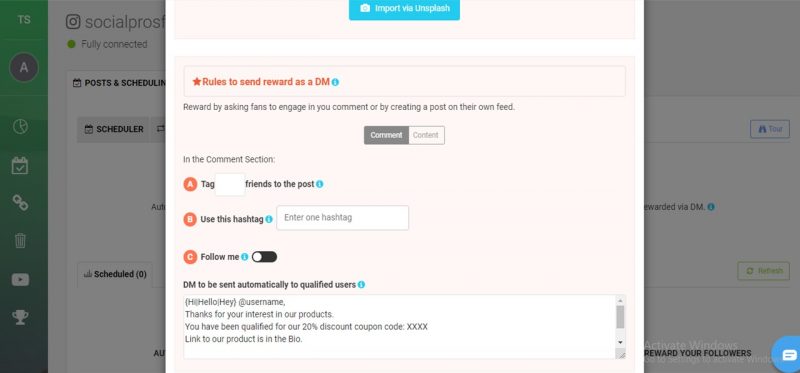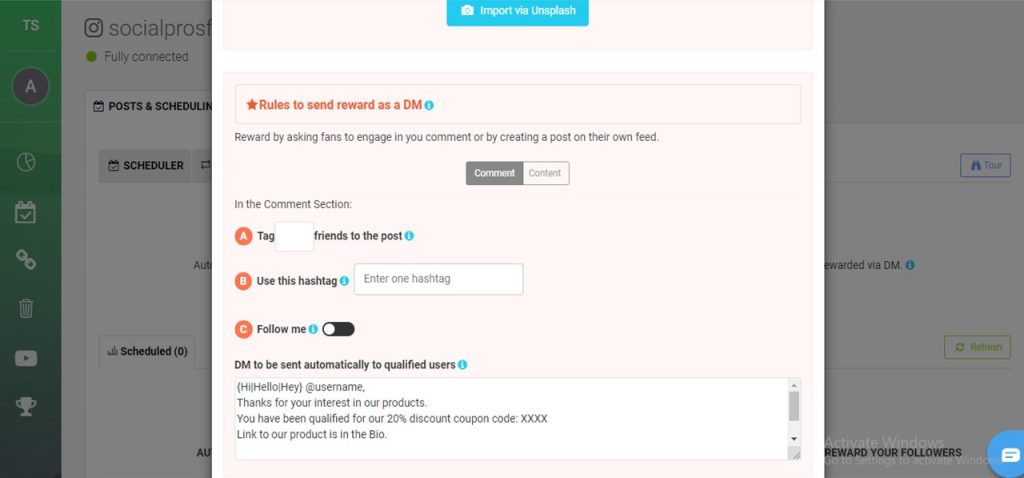 Follow me
This is one of the simplest giveaway conditions. You want people to follow you and participate in giveaway campaigns. 
Like a post 
 Another simple way to participate in giveaways. You ask people to follow you and like a post, then they would enter as a participant.
Tag some people in the comment
You ask people to leave a comment and tag their friends. You can also specify the number of tags. 
Write a specific hashtag in the comment
You can create your hashtag and ask users to use this hashtag to participate in the contest. 
Share a particular post and tag me in it
You can ask your followers to share a picture of your product on their Instagram feed, and tag you in the post. 
As you can see, all the rules above will dramatically increase your engagement rate alongside the contest. Remember that these simple rules appeal to most people and will result in having more entries. 
Moving on, AiSchedul has another great feature to help you with promoting your contest. This feature allows you to create a preset message and send DMs in bulk. However, you can personalize the messages using  "@username". 
And randomize the text with alternative paraphrases to avoid repetition. This will avoid being flagged by Instagram as a bot or spam.


AiSchedul checks every 3 hours to find qualified users who followed your rules and send them your DMs; this continues for up to 7 days.
Set Your Instagram Giveaway Caption
Turning to the caption,  you need to choose whether you will write a caption or attach a pre-written sentence or passage to the caption.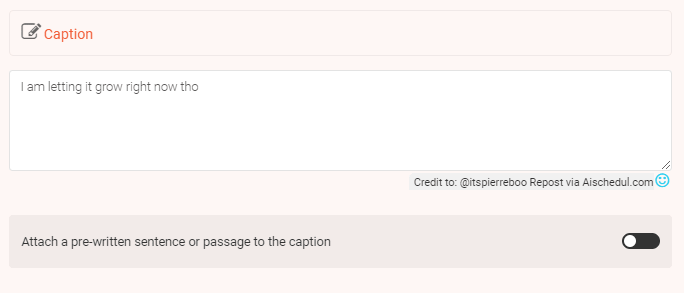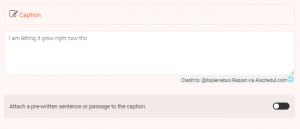 Now, if you are wondering how to create a giveaway post caption, you can have a description of the giveaway prize and the value they get out of it, the criteria to enter the contest, the information on the end date of the giveaway, and how the winners will be chosen and announced.
One more important thing you need to mention in your caption is a disclaimer for Instagram giveaway. Based on the Instagram giveaway policy, you need to mention that this giveaway is not affiliated with Instagram in any way. Like the example below: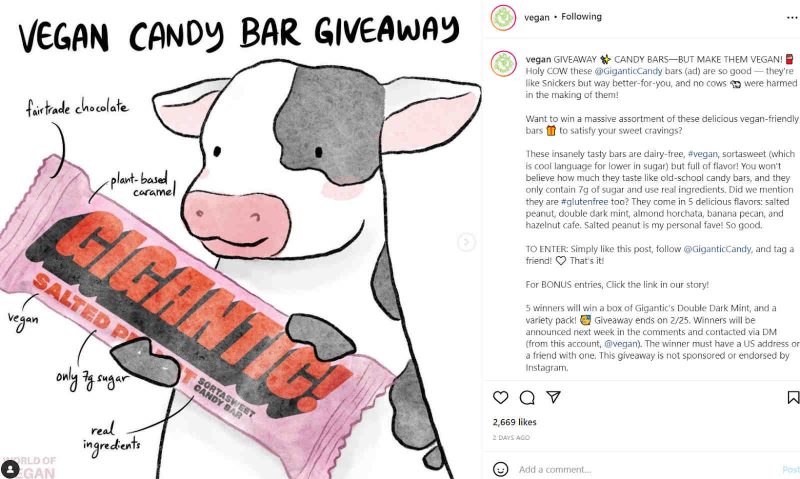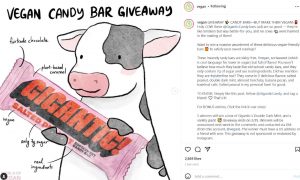 Note: you can find some Instagram giveaway post ideas alongside some tips at the end of this article.
Finally, add a location to your post that will allow it to be displayed in the area you want, decide on the time of publishing the post, (you can even set a date for your post to be deleted automatically after a while), and get a link for your Instagram contest post to share on your Instagram bio.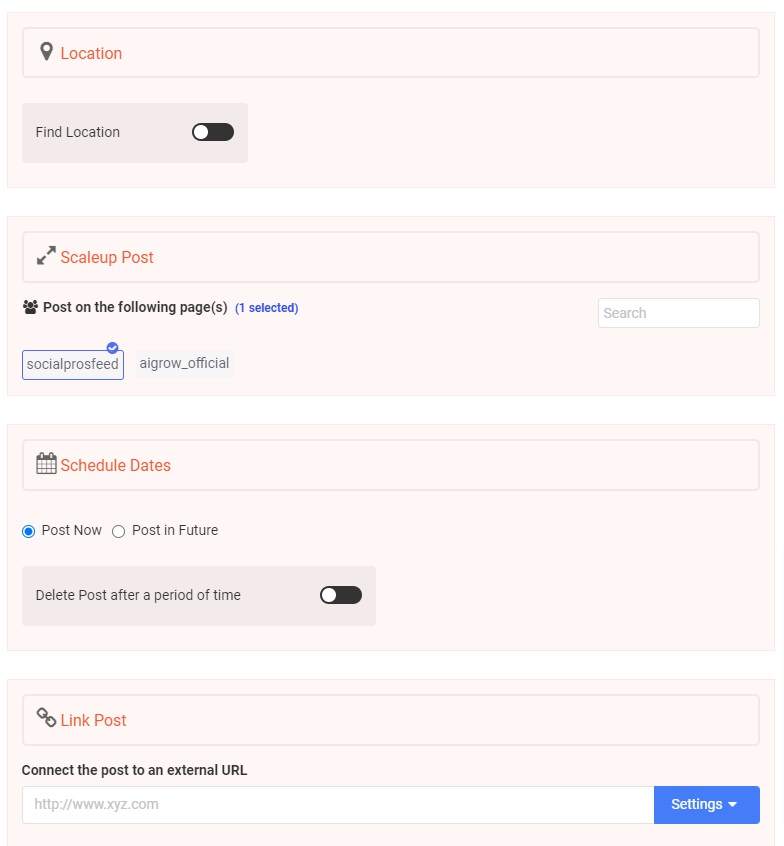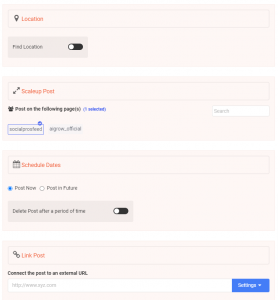 Note: if you are looking for an Instagram giveaway picker for multiple posts, AiSchedul can share your giveaway post on different accounts at the same time (using the scaleup post tab).
Delegate your Instagram giveaways to AiSchedul
AiSchedul Instagram Giveaway Tool Pricing Plans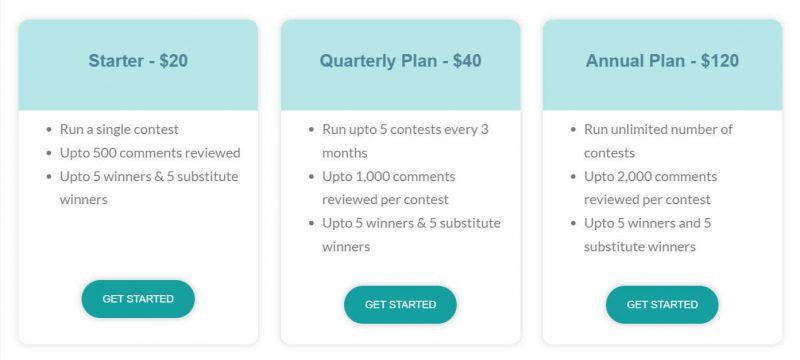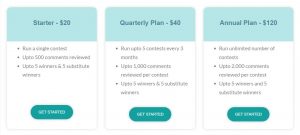 You may choose one of three pricing packages for this feature based on the number of contests you can run (with post & reward) and the number of comments that it reviews per contest.
Pick a package and sign up right now!
Instagram Giveaway Tips
Definitely, Instagram giveaways increase your followers and boost your Instagram brand engagement. Here are a couple of tips for Instagram giveaways that you should consider when you decide to use Instagram giveaways for your business growth on Instagram.
Choose The Criteria For Your Instagram Giveaways
Is the age of participants important for you? Or the location of them? So, mention them. We strongly suggest that you also include the time of the beginning and end of your giveaway contest.
Choose a Specific Theme For Your Instagram Giveaways
Do you want your audience to celebrate what is important to you? Choose a theme. For example, your brand anniversary could be a good choice.
Choose a Catchy Instagram Giveaway Caption
Using an eye-catching picture might be better than a thousand words but you should be careful about your Instagram giveaway caption too. 
Examples of Giveaways On Instagram
The following are some of the best giveaway ideas for Instagram that can inspire you to create your own.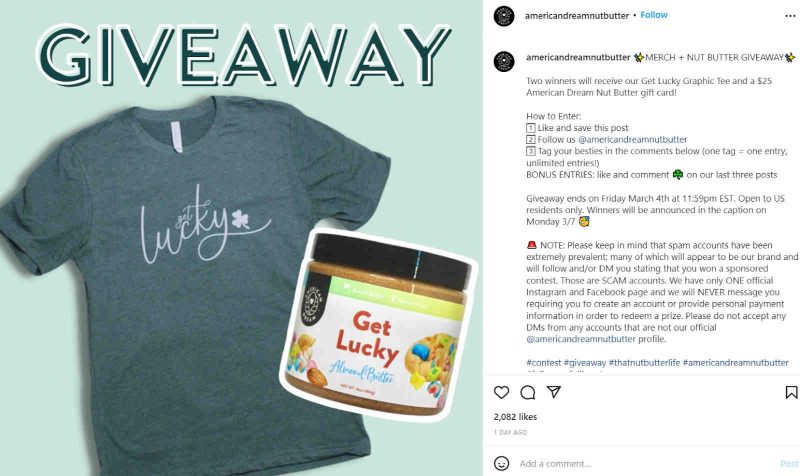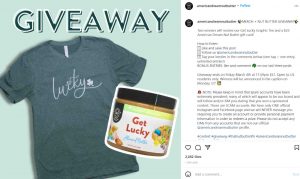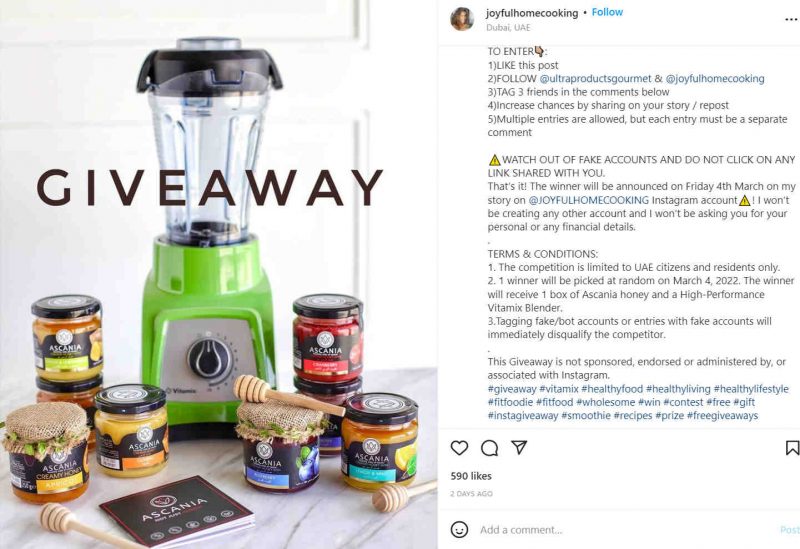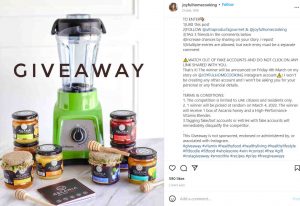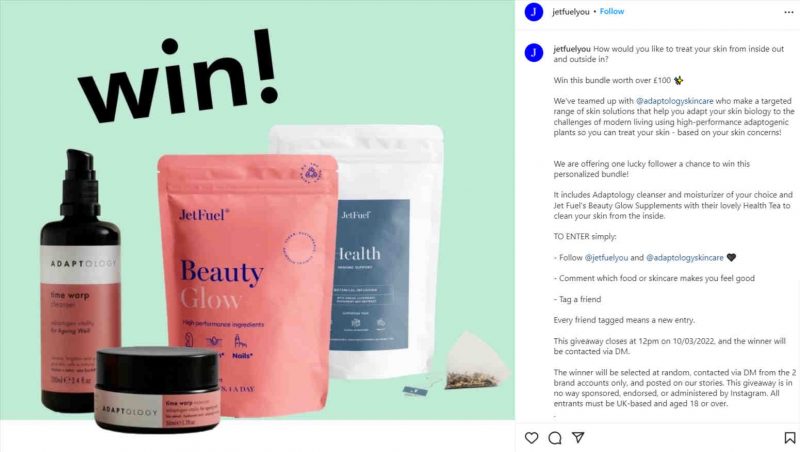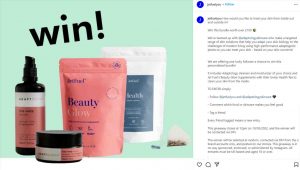 Top Instagram Contest Templates
Customizing a professional template that is professionally designed helps you reach your goal a lot easier. 
Here are the top Instagram contest templates:
1. Lunch Countdown
If you have aimed to create excitement before the launch of a new product, you can ask the entries to share your countdown to their stories, tag or mention a friend to win a discount or anything else that suits your niche best.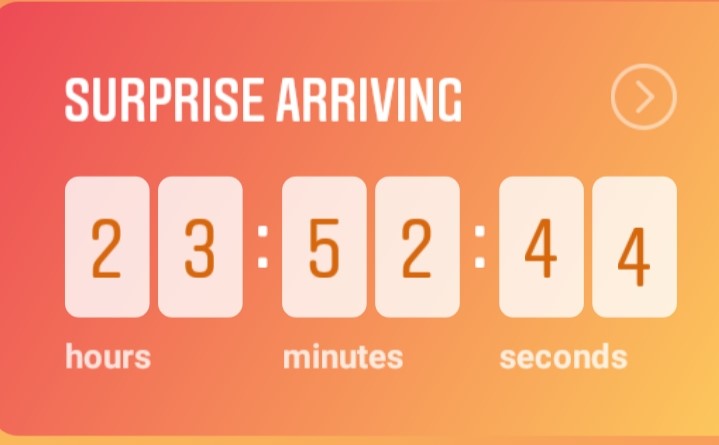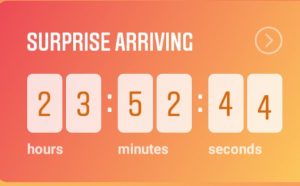 2. Social Galleries
Asking your audience to send you images or videos related to your products and services and making a social gallery with user-generated content can develop your marketing strategy. At the same time, you can let your audience choose the winner to increase the engagement rate.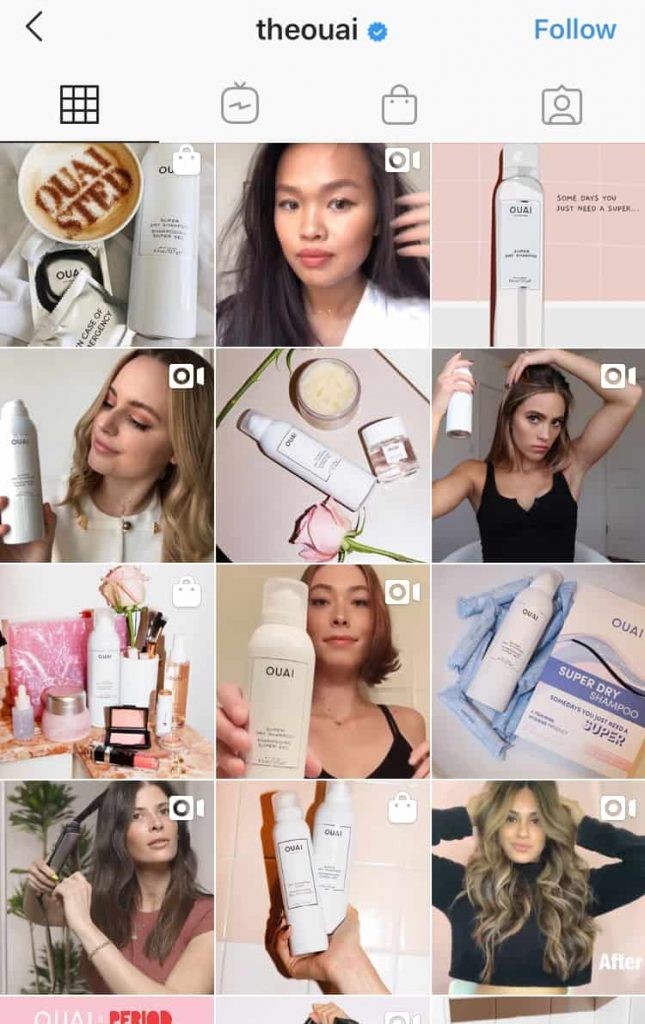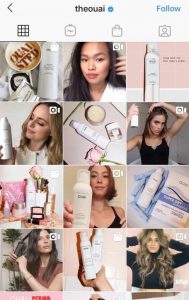 3. Sweepstakes
Take a photo of the prize and post it to create the biggest excitement and set your rules such as like-to-enter, tag/comment-to-enter, or share-to-enter.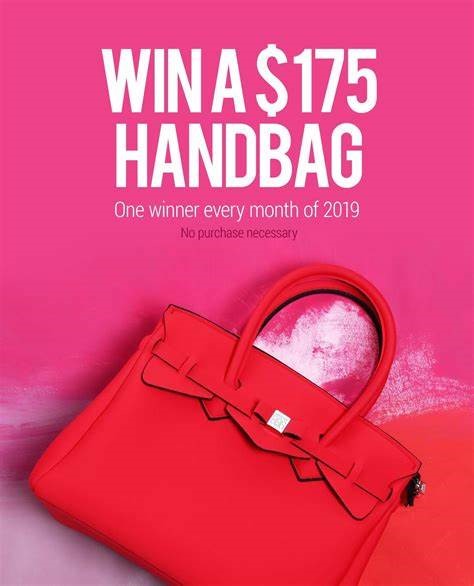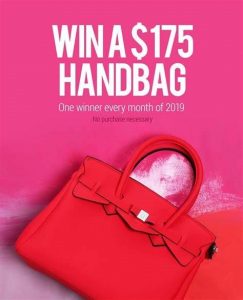 4. Vote Contest
This Instagram contest template uses a story to pull in entries that include a "vote" sticker. There are different ways to generate excitement by adopting a vote.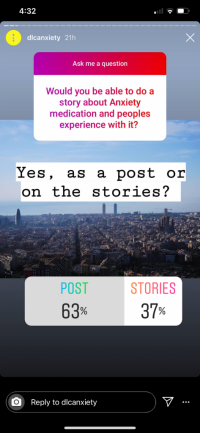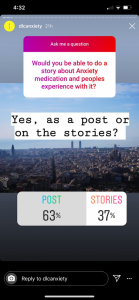 How to Do An Instagram Story Giveaway?
Here are some tips and ideas on how to share a giveaway on Instagram story and what factors contribute to a successful Instagram giveaway story.
Instagram Stories Giveaway Tips
Use a mix of the giveaway and topical hashtags

Add the giveaway prize in your story image

Add "Giveaway" in bold text

Post multiple stories explaining how to enter

Share a video clarifying the details

Post a story send people to your bio link

Use ads to reach more people
Instagram Story Giveaway Ideas
Celebrate Business Milestones
To celebrate a business milestone, many companies run giveaways and contests. In addition to rewarding loyal customers and attracting new ones, these events can boost your company's visibility among consumers.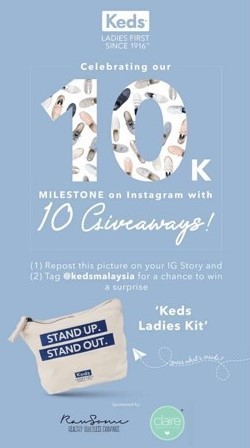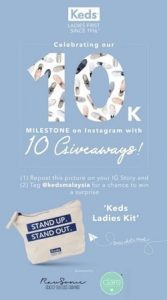 Promote New Products
Promoting a product launch on Instagram through a story giveaway will generate excitement about your upcoming product.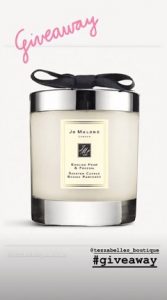 Promote Your Event With Free Tickets
To ensure a large attendance at an event, it's wise to run a free giveaway of tickets to the winners.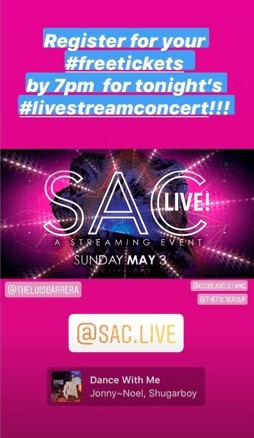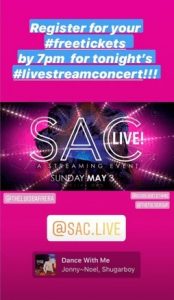 How to Announce A Giveaway Winner on Instagram?
When it comes to a winner announcement, it's nice to give users a reason to re-engage with your account.
I will show you several ways to announce Instagram giveaway winners, using examples to illustrate each method.
Announce The Contest Winner On An Instagram Post 
When crafting a giveaway winner announcement, consider the following elements:
Thank everyone who participated in your giveaway, create an eye-catching giveaway picture, tag the winners on the post and ask them to DM you for details about claiming the prize and Include relevant giveaway hashtags to increase your post's reach.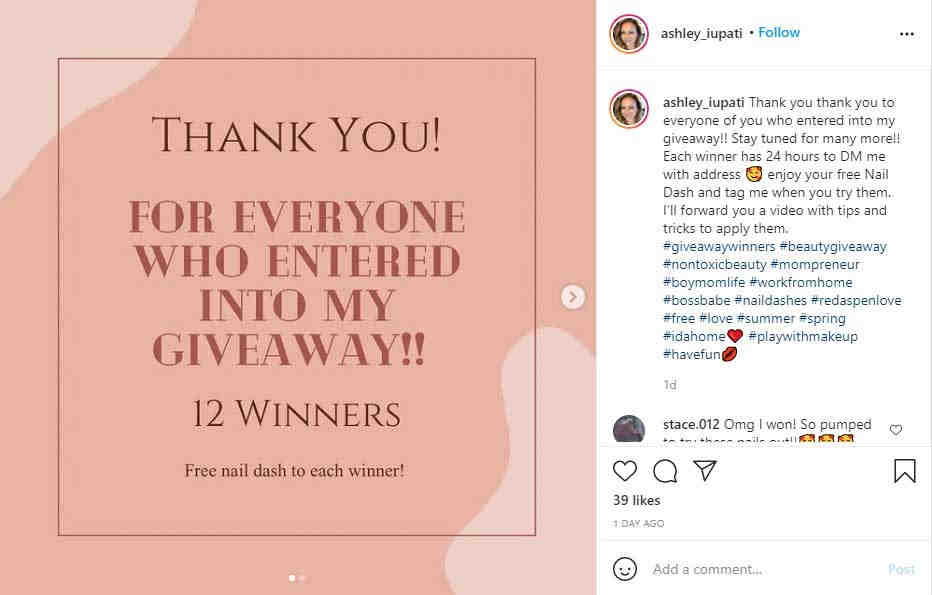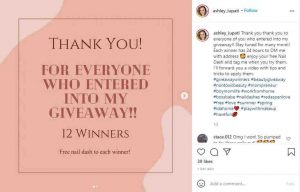 Giveaway Winner Instagram Story Announcement
You can also use Instagram stories to announce a giveaway winner. These stories are often quick and simple, allowing you to pair one with your main Instagram post.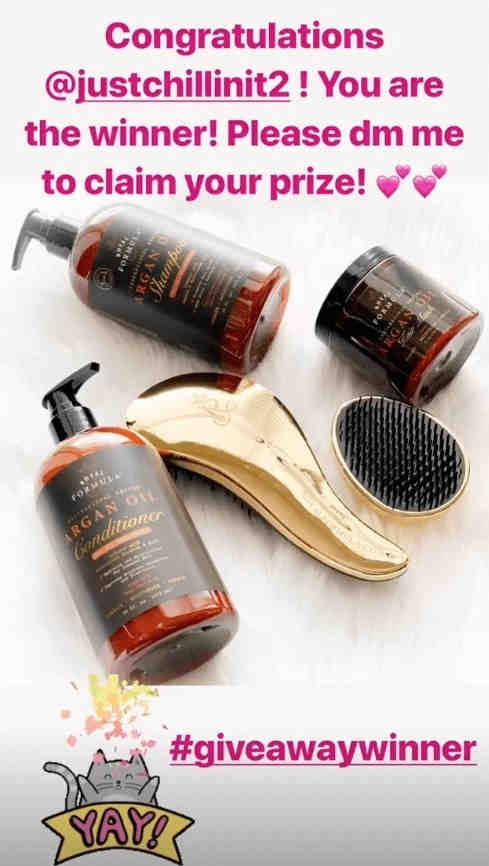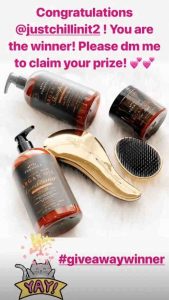 Using AiSchedul DM Tool For Winners Instagram Giveaway Announcement
Using the AiSchedul giveaway DM tool, you can write a text that is supposed to be sent to the winners of your giveaway campaign. And as I mentioned above, they check every 3 hours to find qualified users who followed your rules and send them your DMs; this continues for up to 7 days.


Sign up now to get started with this unique giveaway tool
Why Are Instagram Giveaways Good For Instagram Growth?
Day by day, Instagram becomes more competitive. So, you had better learn something new to help you stand out. We definitely recommend Instagram giveaways based on some reasons, which are given below;
It encourages your followers to share your specific content

Giveaways enable you to increase your followers. Instagram accounts that hold a contest or a giveaway grow 70% faster than those who don't.
It would be best if you consider that the more people get involved in the giveaway campaign, the more your post will be shared, and would bring many viewers to your Instagram account. As a result, you gain more followers and more shares; then the cycle continues.
Conclusion
What are the reasons you may choose an Instagram giveaway as your marketing plan? Well, there are many! But overall, setting up one is essential if you want your account to get more audience and ultimately gain more profits.
That is why we have decided to help you go through the whole process of setting up a giveaway with a step-by-step guide and give you some tips, ideas, and the best app for giveaways on Instagram – AiSchedul – to boost your Instagram giveaways performance.