One of the most effective marketing strategies is to sell products on Instagram. 
There are two key elements to prove this claim. One of them is the fact that Instagram cares a lot about its users. They analyze and study our needs and roll out new features that quickly become fundamental to Instagram marketing. 
Secondly, the statistics show great potential for both today's online marketing and the future of our businesses. With over 500 million daily active users and 90% of the users following at least one business account, Instagram is becoming more significant every day.  
However, your performance defines how well you are using the opportunities you have on Instagram. So if you are looking for the strategies to produce the best results, this article discusses top tips on how to sell on Instagram in 2021.
How to sell on Instagram for free? 
Of course, using ads on Instagram and setting a budget for your marketing strategy on Instagram has lots of benefits to reap, but not all brands prefer doing so in their early stages on Instagram. 
On the other hand, this doesn't mean that marketing on Instagram for free is impossible. Here are the top tips on how to sell on Instagram for free. And before you read these tips, look at trending products to see what products are in demand in your niche.
1. Switch to a Professional account
Aside from being taken more seriously, you will need a professional Instagram profile to have access to analytic tools, measure the results of your posts and your engagement rate level. 
Moreover, switching to a professional account is a no-brainer. Here is a step-by-step guide to doing it easily and fast. 
Step #1 – Go to your Instagram account and tap the hamburger button (3-line menu icon) on the top right of your screen.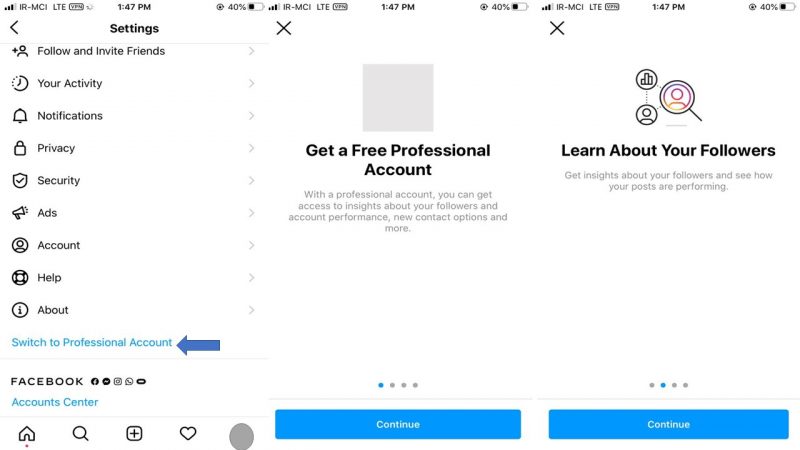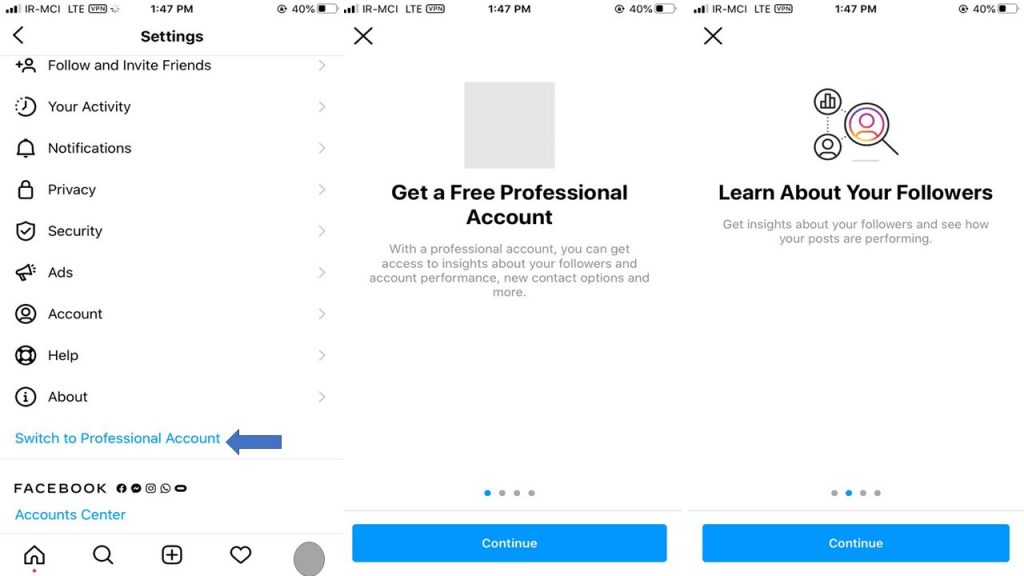 Step #2 – Then, tap the "settings" at the bottom of the menu and choose "account."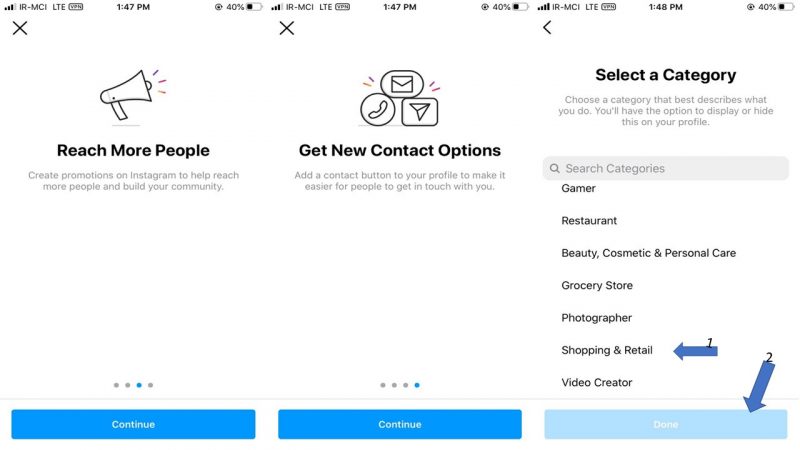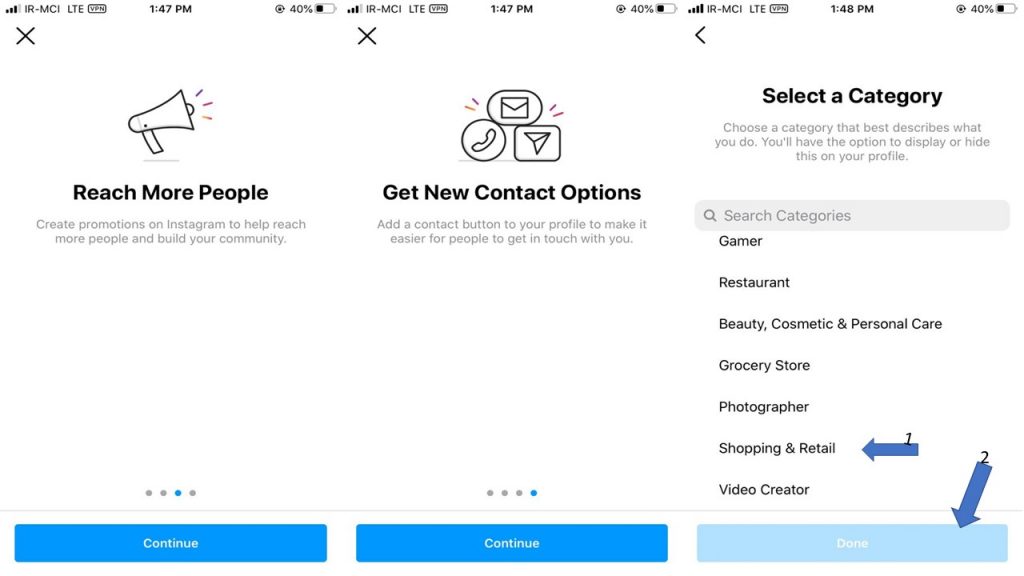 Step #3 – Finally, scroll down the menu and tap "Switch to Professional account." Tap continue and select your category. You can either search categories or choose from the suggested menu.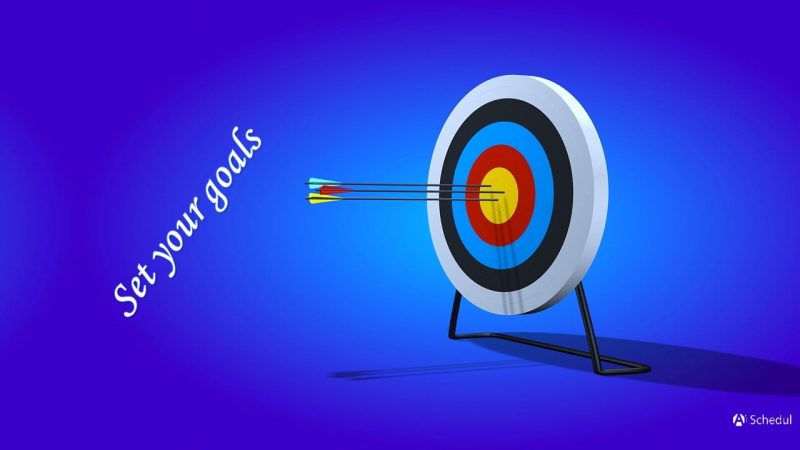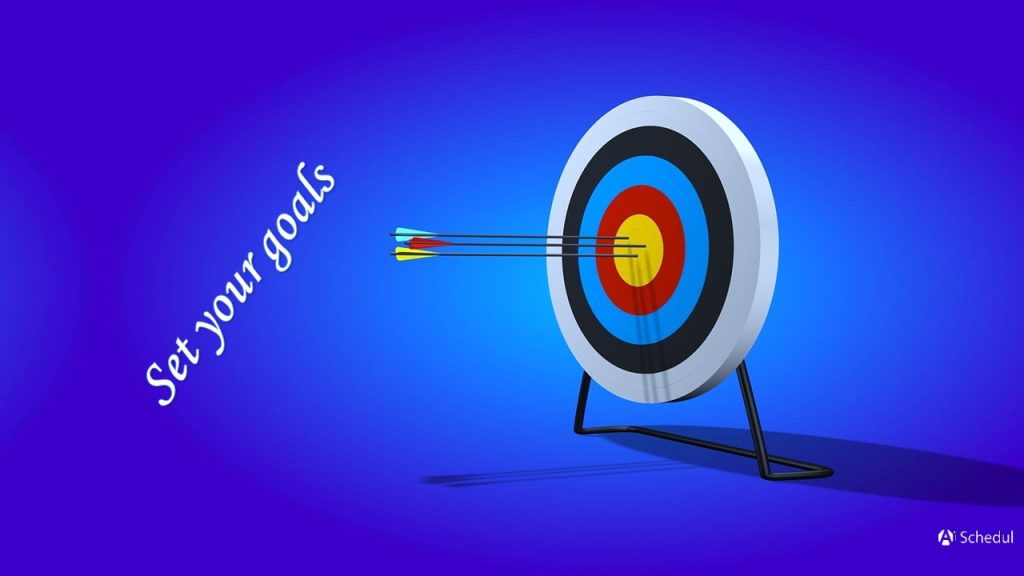 2. Set your goals
Instagram is a great tool, but like every other tool, it only works properly when you clearly define your purpose for using the device. So, prioritizing your needs makes it more likely to achieve what you want. 
For example, here is a shortlist of what you need for a perfect marketing strategy, but you should know which ones you need to gain first and what to do to serve your purpose. 
Create an online presence 

Reach a new audience 

Learn more about your follower and build up a closer relationship with them

Sell on Instagram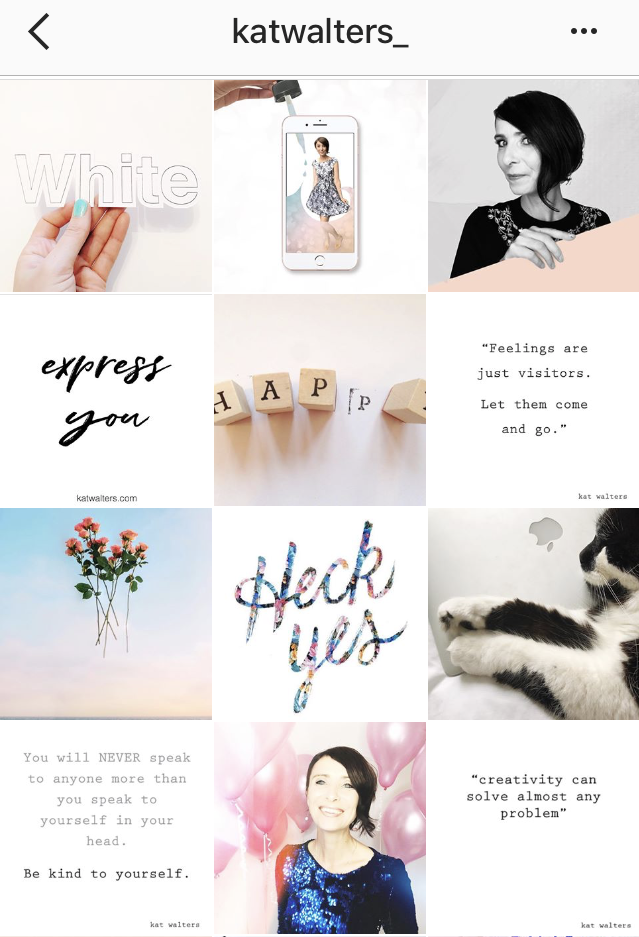 3. Have a consistent aesthetic appeal 
Obviously, you cannot have light and bright content between dark and moody images on a professional profile. Your Instagram aesthetics is the first impression you make on your potential customers. In particular, the colors, layout, tone, and overall feeling of your profile define your business and even the quality of it for someone who has just visited your Instagram page and wants to decide whether or not to follow you. 
So it has to be visually impressive, unique, and cohesive. In the following instruction, we discuss how you can have a consistent aesthetic appeal. 
Decide how you wish to introduce your brand
Based on who your target is, choose your vibe. Being casual and fun, minimalist, or formal and composed depends on this question. 
This one is probably the most important feature in Instagram marketing. When you spend enough time planning your posts, you will consider them from respective angles.
For example, you will think about what colors you usually use that your followers recognize you with, or does the editing of your post serve the purpose of having consistent aesthetics.

4. Create a powerful bio
Before creating a powerful bio, you need to select a powerful name because you are unlikely to change it later. Next, you need to choose the right profile picture. After that, target the best audience with your bio. 
In order to create a powerful bio, follow this step-by-step guide. 
Mention your niche so that people easily learn what your business is about. 

Place the link to your main website or online store. 

Be selective when choosing the words for your bio. Keep in mind that you have a 150-character limit to create your bio. Moreover, these words need to convey your importance, personality, and the right mood.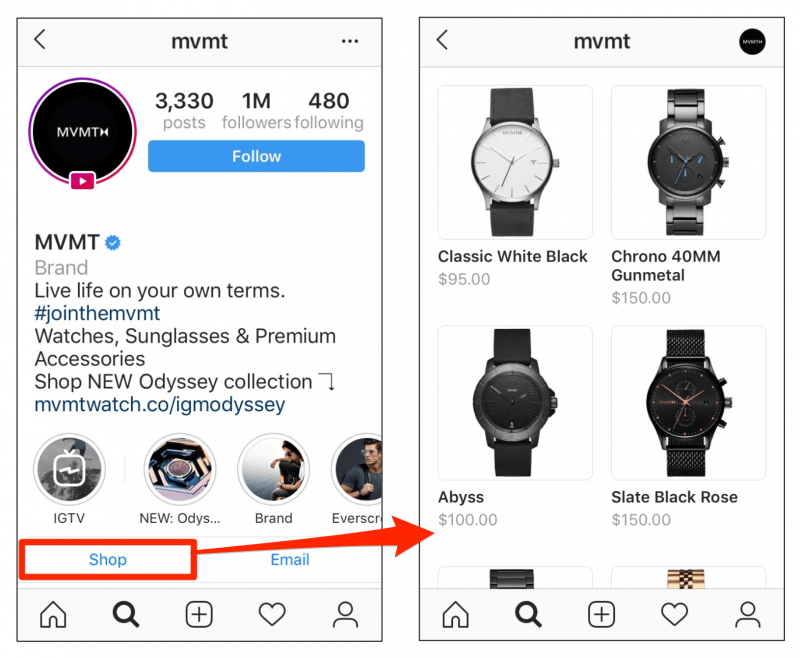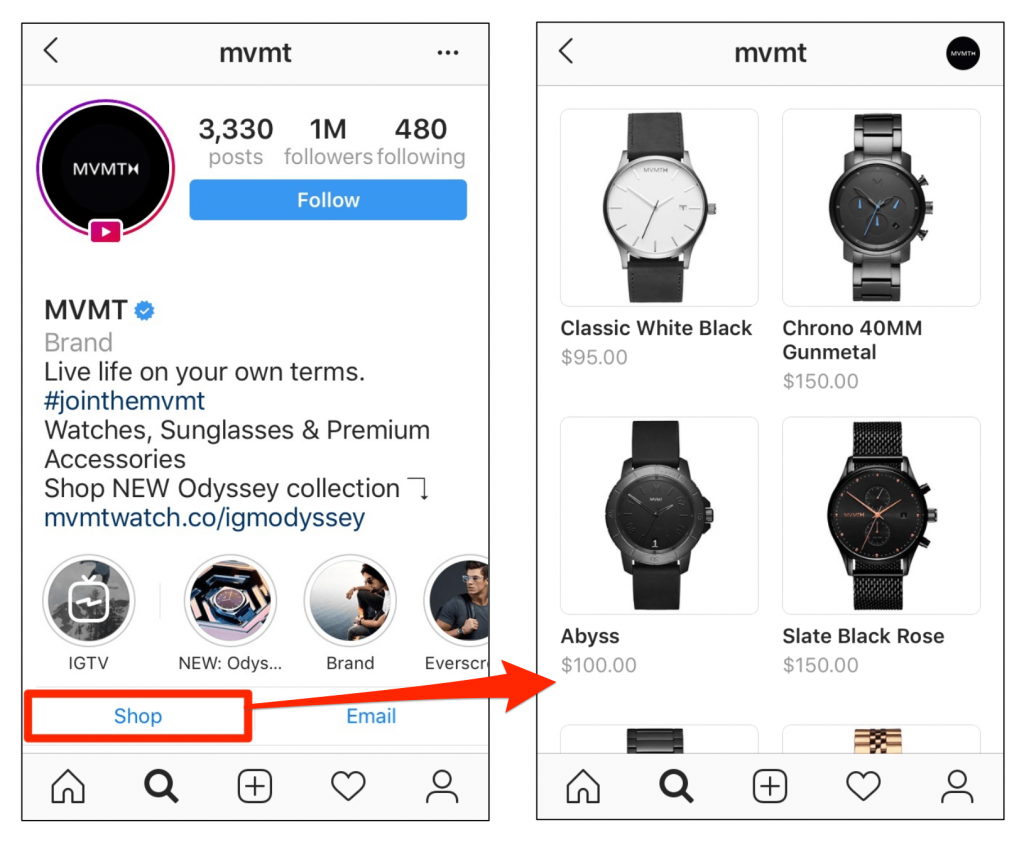 If you wish to take one step further, you can use AiSchedul to share multiple links to your bio. This will allow you to redirect your audience to other social networking sites you have. 
5. Set up Instagram shopping

 
Once you have switched to a professional account, you need to create a catalog on your Facebook and connect it to your Instagram profile. After your catalog is approved by Facebook and matches platform policies, take the following steps to set up Instagram shop. 
Enable product tagging in your settings

A shopping tab will appear next to other tabs above your photo grid. Clicking this tab will show the full catalog to your followers

Although items will appear in a standard photo grid, users can tap on each item to shop. This feature distinguishes between an ordinary post and a shoppable one

By selecting an item, there will be an option that leads users to the website to which you have shared the link.
6. Utilize Instagram stories
Businesses are taking to stories more than ever. On a professional account, you can access these metrics so that more people will view your stories.
The number of people who viewed your story is "reach" on Instagram. 
The number of times your story was viewed. Keep in mind that one user might view your story more than once so this is what distinguishes impressions from reach. 
Track the number of frames per day in your stories to increase your reach and prevent over-publishing at the same time. 
In other words, it is the percentage of impressions of your last story divided by the impressions of your first story. With the retention rate at its peak, you realize that your audience is interested in and pays attention to the contents you share. This is one of the most important metrics that place the focus on the strength of your brand's contents. 
The statistics show that if you have more than 12 frames, almost 80% of your viewers will just tap forward to see the next frame. Usually, this is not a welcome sign as your viewers are ignoring your content. This is either because of over-publishing or there is an issue with your content creating that doesn't really appeal to your audience. 
Unlike tap-forward rate, this one is always a good sign since it means re-engagement. 
The percentage of the viewers who replied to your stories per day is an important metric to measure engagement rate. 
The more you reduce the exit rate before your story ends, the more you increase your engagement rate.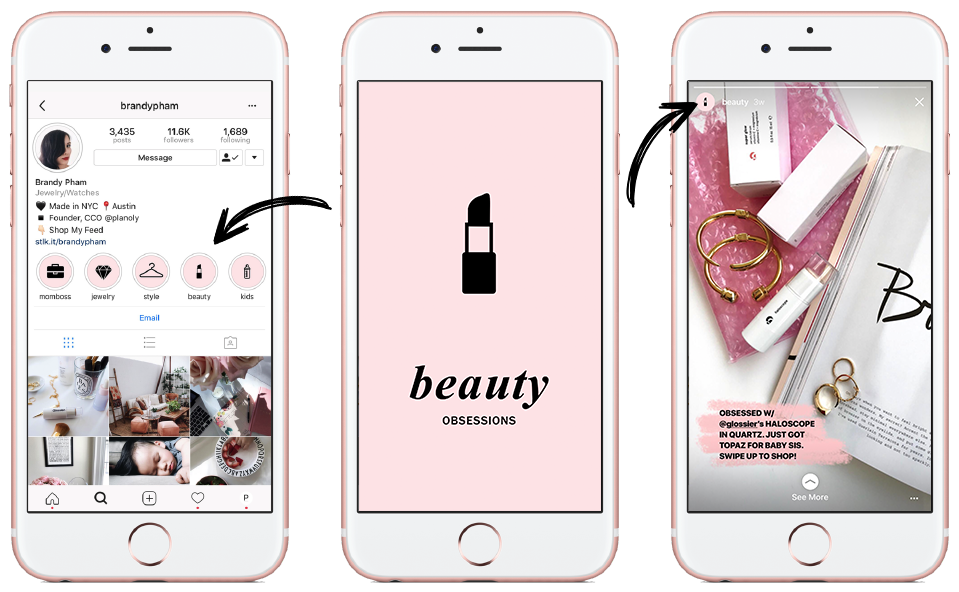 Additionally, you can share the link to your IGTV channel and get your followers to view your IGTV videos more. 
Using story highlights will also help you optimize your Instagram bio. Different kinds of stickers like CTA (call-to-action) stickers or countdown stickers will also increase your engagement rate and your audience's interest. All these techniques will help you sell on Instagram a lot better and easier.  
Keep in mind that stories are very popular with users, and timing is as important as the quality of your content when you post them. So a management tool can help you a lot with your stories. We recommend AiSchedul for its reliability, and lots of other effective features it offers. 
Here is how you can use AiSchedul to plan your content. 
Step #1 – First, sign up for free on AiSchedul and add your Instagram profile to its dashboard.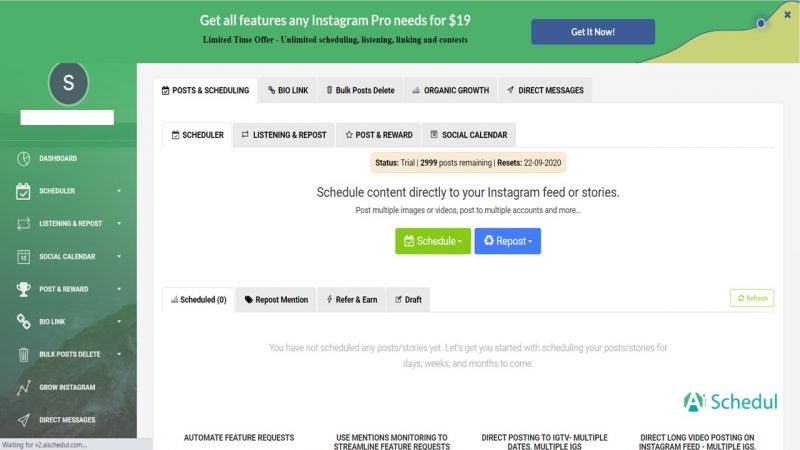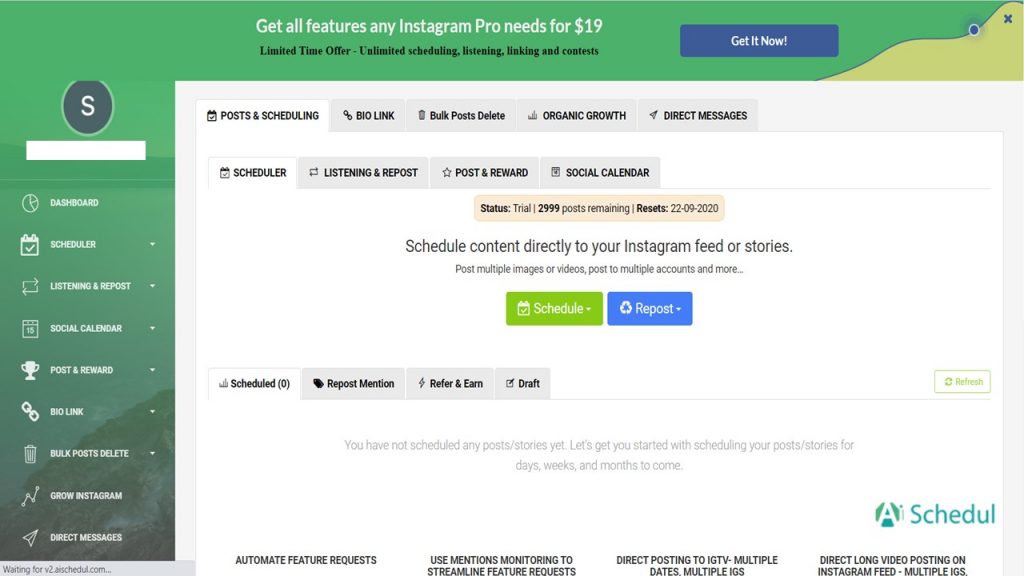 Step #2 – Next, select "Scheduler" on your dashboard and click on schedule.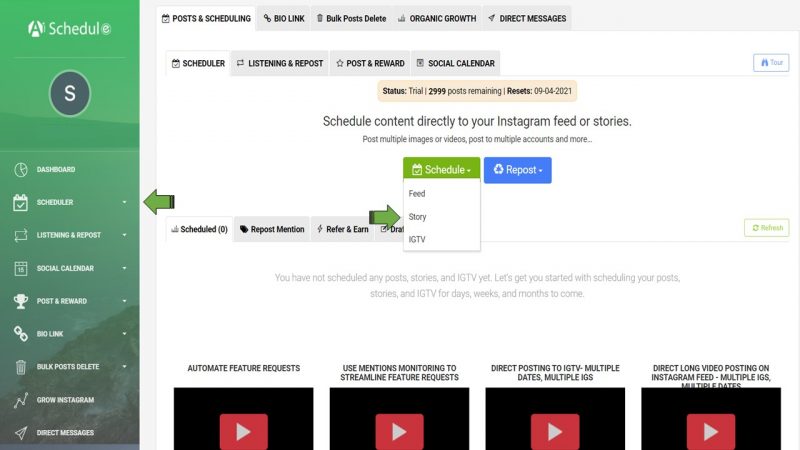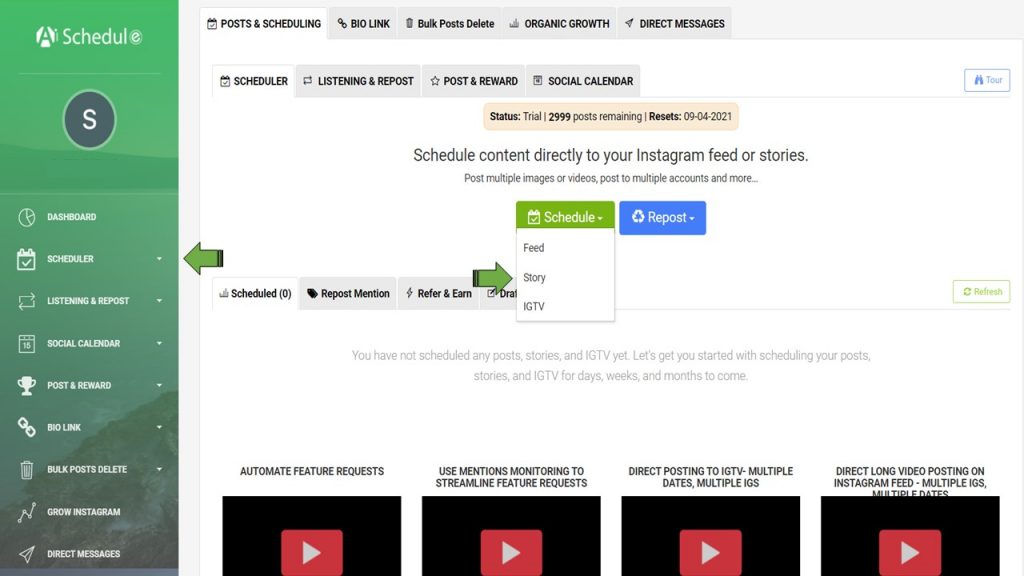 Step #3 – Then, choose "story", upload your image or video and schedule your story to be posted automatically on your Instagram profile.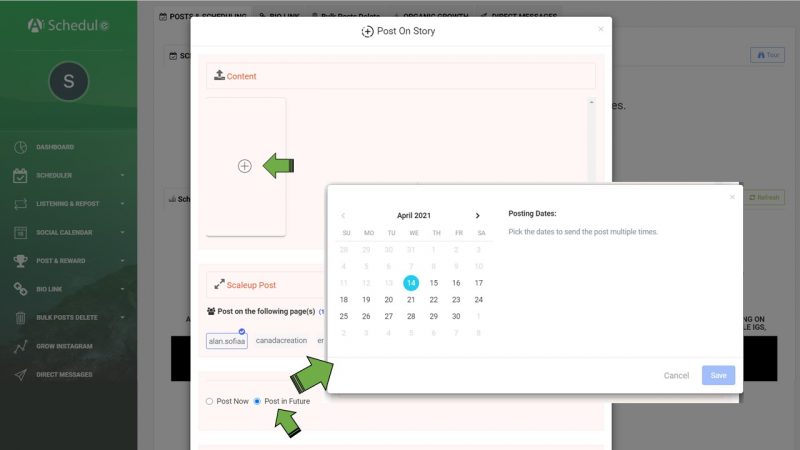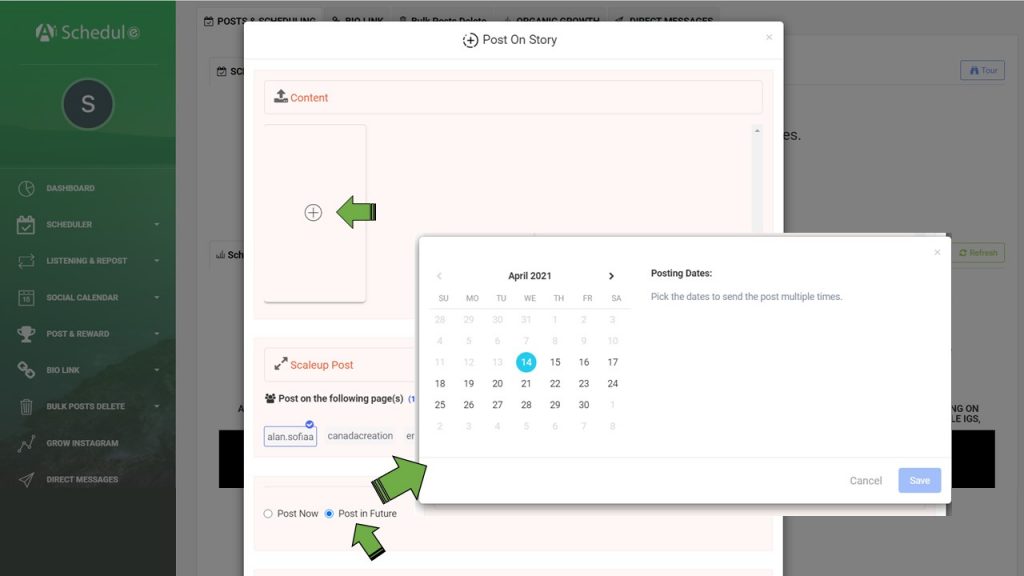 7. Workout the right hashtag strategy
Using the right hashtags can boost your engagement and reach. However, the wrong hashtags can actually damage your marketing. 
So follow this guide to use hashtags effectively. 
Use insights to see which hashtags work best.

Include hashtags in your story.

Avoid using banned hashtags.

Don't use irrelevant hashtags. You need to make sure the hashtags you use are directly related to your posts.
Moreover, AiSchedul is also a great generator tool to find the right hashtags and develop the right strategy for them with two features regarding hashtags. 
Firstly, you can use its hashtag generator tool when scheduling your content. After uploading your videos and images, you can search for popular hashtags or use the specific ones that you saved and belong to your brand or niche.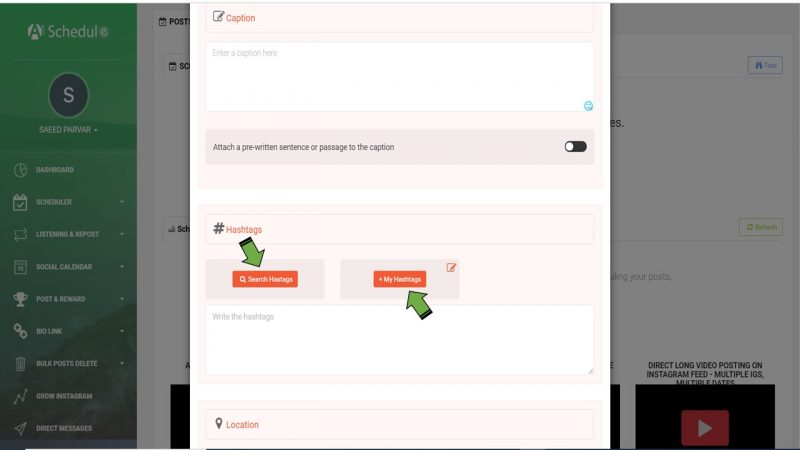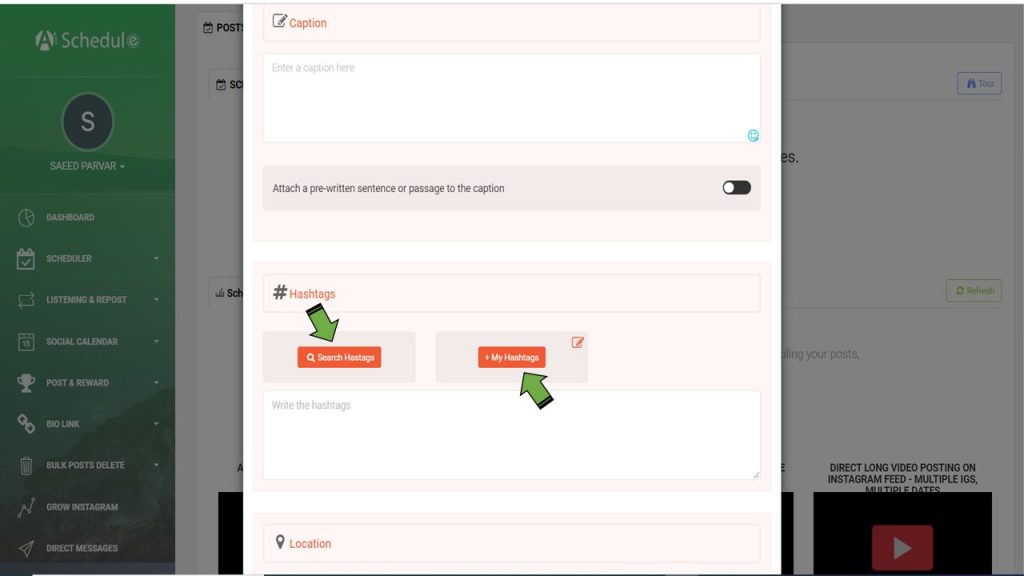 Secondly, you can use AiSchedul hashtag analytic tool. Here is a guide to using this feature. 
Step #1 – Go to your dashboard on AiSchedul and click "listening and report". This will open your analytic tool with 4 tabs, hashtag monitoring, account monitoring, mentions, and saved media.
Step #2 – Then, you can search for hashtags or add your hashtags. AiSchedul tells you how many times each hashtag you choose has been used so far.
Additionally, you can sort the list of your hashtags by usage or name.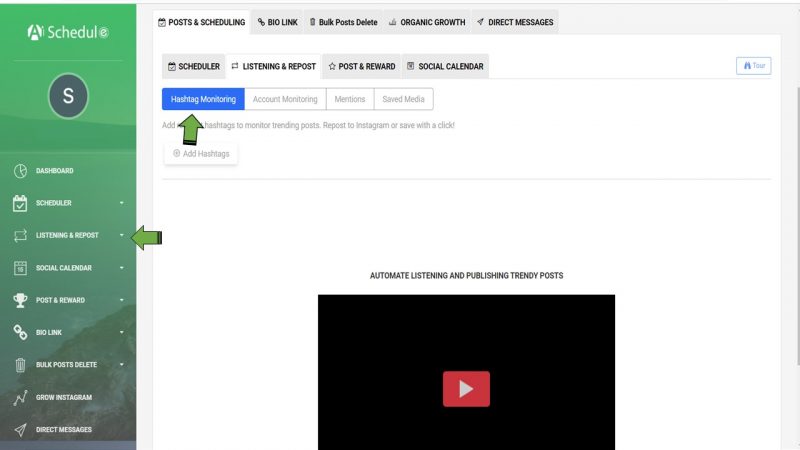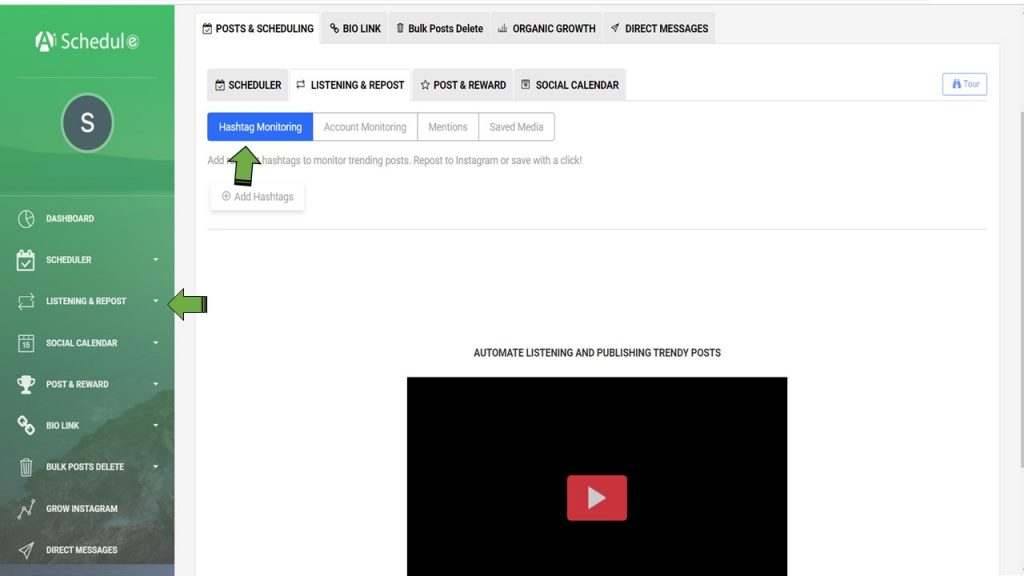 8. Create compelling content 

 
Whether you sell on Instagram directly or try to become a creator, you should learn how each feature works and what type of content suits you on different occasions. 
Here are some great ideas you can use on Instagram to reach more people. 
You can create behind-the-scenes videos to give your followers a look at the human side of your business, the efforts you put into your manufacturing process, and how your office looks different from your storefront. These videos work great for your IGTV channel and Reels. 
User-Generated Content carries an intriguing mixture of authenticity, simplicity, and fun. They work well almost everywhere on your Instagram. For example, you can use them for your IGTV channel, Instagram reels, stories, or wherever you think they fit best. 
Instructional posts always have their own loyal audience and are great for both Instagram guides and your IGTV channel. 
You could choose to show a demo of your product, ask an influencer to prompt it or let a real customer try your product. These videos are great for live broadcasts, IGTV videos, Reels, and Guides. 
In fact, there is no shortage of creativity and authenticity when it comes to content creating for your Instagram profile. All you need to do is learn more about all features you have, plan well and start to sell on Instagram.
How to sell on Instagram within budget?
Instagram ads are a great way to reach a new audience. As over 130 million people tap on shopping posts every month, spending a specific amount of money on your marketing strategy sounds reasonable. 
Here are top tips on how to sell on Instagram within budget. 
1. Create ads directly from Instagram
The most convenient way of promoting a post is to create ads directly from Instagram. The following is a simple guide to creating ads directly within the app.
Once you switch to a professional account, you can choose the post you wish to promote. Next, tap "Create Promotion" at the bottom of the post and finalize your promotion by choosing your destination and audience based on your budget. 
2. Create Instagram ads from your Facebook page
The advantage of creating ads from your Facebook is that your ads can appear on both your Facebook page and Instagram profile.
First, you need to choose the format of your ads. Then name your ad and define your budget. You will never have to spend more than your desirable budget.
3. Sell on Instagram with Paypal
If you don't have access to the Instagram checkout yet, have no worries at all. With a PayPal.Me link, copy and paste it into a direct message to your customer on Instagram. They click it and enter the payment amount — the money is deposited directly into your PayPal account.
4. Use a reliable management tool
Finally, whether you choose to pay or promote your products for free, selling on Instagram depends on consistency, planning, and creativity.
A reliable management tool like AiSchedul can provide you with a lot of help and benefits. 
Here is why we recommend using AiSchedul. 
AiSchedul's pricing and plans
It provides you with three plans, all at an affordable price, including 9$ and 29$ per month, as well as the free plan.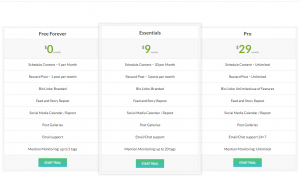 Conclusion
In order to sell on Instagram, there are various ways and methods you can use. The most important thing is to know your audience, set your goals, stay consistent and never stop being creative. 
You don't necessarily have to spend money on your marketing, but either way has its potential benefits inseparable from caring about your customers and having authenticity.